March 25 - 31, 2018: Issue 353
Sydney Royal easter show 2018 show Stopper Beer Brewed by Modus Operandi Mona Vale extends locals input into RAS annual celebration of local products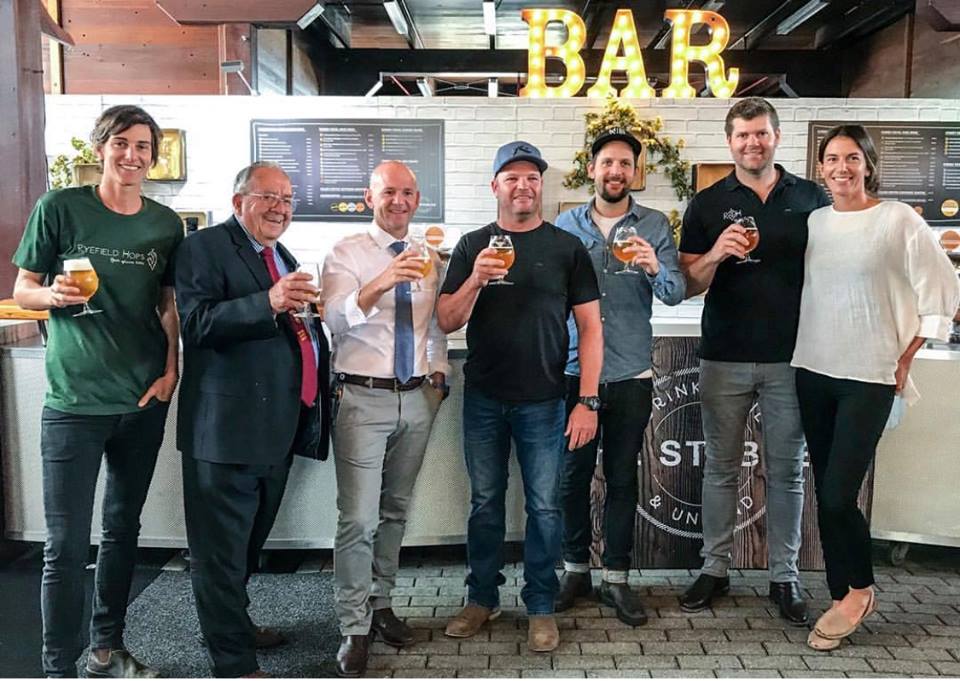 Launching The Showstopper at Sydney Royal Easter Show with
Ryefield Hops, Hon.
Niall Blair MLC - Head to the Stables for a refreshing NSW Grown & Brewed Pale!
Back in the days when Pittwater was a mostly rural area with great farms harvesting great produce from grains through to dairy products many of these early framers would exhibit and win prizes for their chickens and fruit and most of everything else under the sun displayed at RAS Shows.
In 2018 local craft beer makers Modus Operandi are extending and bringing into today that long line of locals who have and are still contributing something great to the Sydney Royal Easter Show.

The Showstopper Pale, brewed by Modus Operandi, based at Mona Vale, is the craft beer of choice at this year's Show. It uses all NSW-sourced ingredients, including hops from Ryefield Hops at Bemboka, NSW and malted barley from growers in western NSW.
Ryefield Hops is a family owned business utilising ex-dairy farming land, breathing new life in to the third generation farm owned by the Taylor family. Sisters, Jade McManus and Karen Taylor, with Karen's husband Morgan Taylor, are dedicated to producing sustainable and spray free hops for the Australian craft beer market.
The Cascade Hops to be used for the 'Showstopper' were freshly harvested and deliver to the crew at M.O. Brewing in late February, 2018.
Court organiser and 2017 Show Legend Tom Dwyer from the Sydney Royal Award winning Western Districts sourced over 350kg of La Trobe malted barley from Trevor & Chris Morrison of 'Tarlemara' at Forbes, NSW.

Trevor & Chris have had a long association with the Western Districts and the Show.

Sydney locals Grant & Jaz Wearin head up Modus Operandi Brewing in Mona Vale. M.O. Brewing was established in 2012 specialising in the art of craft beer, using first class materials and practices. M.O. Brewing has competed in the Sydney Royal Beer & Cider Competition since 2014 and in 2017 took out the title for Best NSW Beer with their Former Tenant Red IPA.

The first beer to be brewed exclusively for the Sydney Royal Easter Show was unveiled on Wednesday, March 21st, by Primary Industries Minister Niall Blair at Sydney Showground, Sydney Olympic Park.

The Sydney Royal Easter Show Pale 'Show Stopper' is an easy drinking craft beer that will appeal to the masses and will leave you wanting more.

More in the video below
Sydney Royal Beer & Wine Bar
Where: The Stables, Hawkesbury Street, When: Daily, 11am 'til late
The gourmet food and wine section of the Show is moving from the great outdoors into this premium pavilion space. Here you can enjoy beer, cider and wine by the glass or try something new at the whisky, gin and rum bar. The venue will also feature pop-up eateries, chic food stalls and the Sydney Royal Corner Store.
Entertainment
The Greatest Easter Show Spectacular doesn't get its name without some jaw-dropping performances. In the center of the main arena will be the Show's very own purpose-built hot air balloon, with trapeze artists performing maneuvers on silks suspended from the balloon, gymnasts on horses and the Double Wheel of Death. With other entertainment highlights ranging from animatronic animals to the new Coca Cola XSCREAM Soundwave, the Paw Patrol Circus Parade and Psycho Sideshow, there truly is something for everyone.
Activities
Hit attraction Little Hands on the Land is back again this year and bringing its big brother Farm of the Future along for the ride. So whether it is venturing into the changing world of Ag-Tech or taking a step back in time at the 1950s Heritage Pavilion you like, we've got you covered. Plus, how can anyone resist the Farmyard Nursery or gaining some culinary tips from Women's Weekly Theatre Kitchen.
Show Food
The Foodtruck Feed Lot is bound to be one of the main eating grounds at this year's Show. Over 18s can then head over the road to The Stables and enjoy a Show Stopper Beer. Made from all NSW ingredients it's the craft beer of choice at this year's Show. If you feel like giving back, head over to the Big Bush BBQ to grab a snag with all proceeds going to a range of rural and regional Shows. Not for the faint hearted, Donut Pies are on the tip of everyone's tongues this year with the Bianco Spaghetti Bun Burger not far behind. So, do you prefer your coffee in a cone or ice cream in a Stroopwafle?
The Classics
Will the CWA Tea Rooms beat last year's record of 51,000 scones and can Southeast QLD uphold their 2017 District Exhibits produce title? - Yes they did - announced Saturday March 24th:
ANNOUNCEMENT: South East Queensland have been announced the winner of the 2018 District Exhibit Competition. Congratulations!

2018 District Exhibits - courtesy Sydney Royal Easter Show media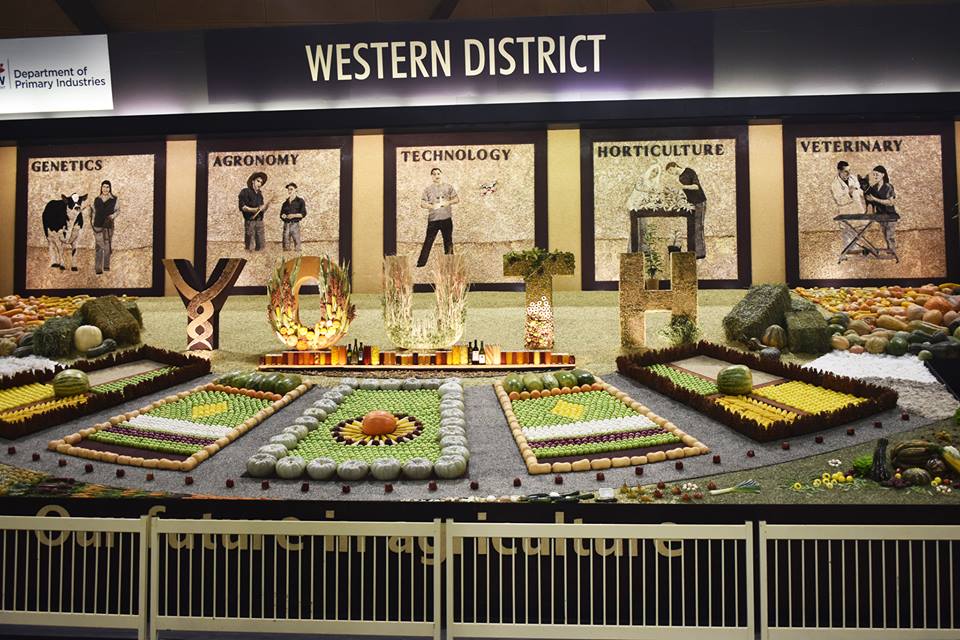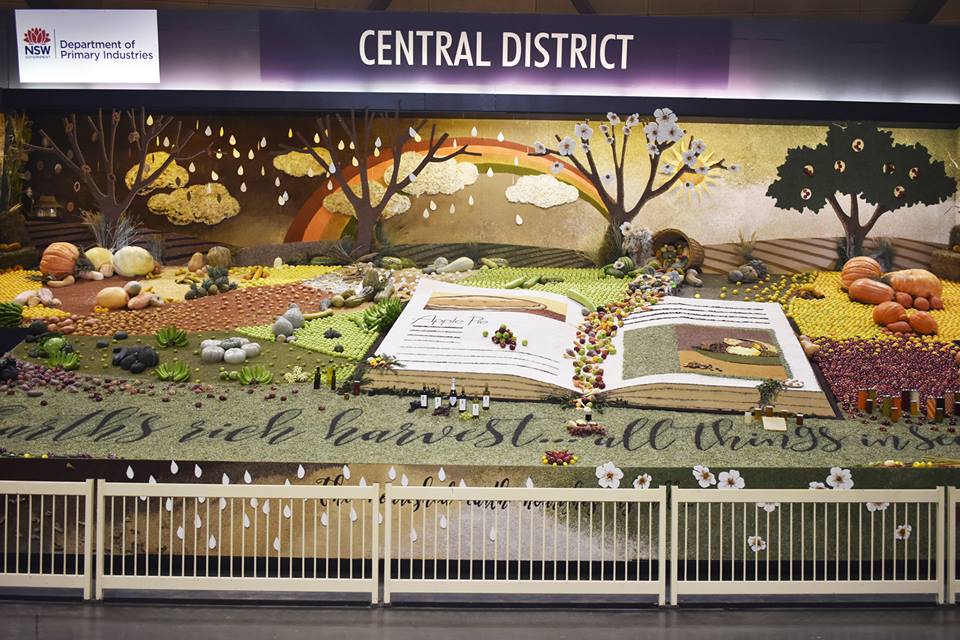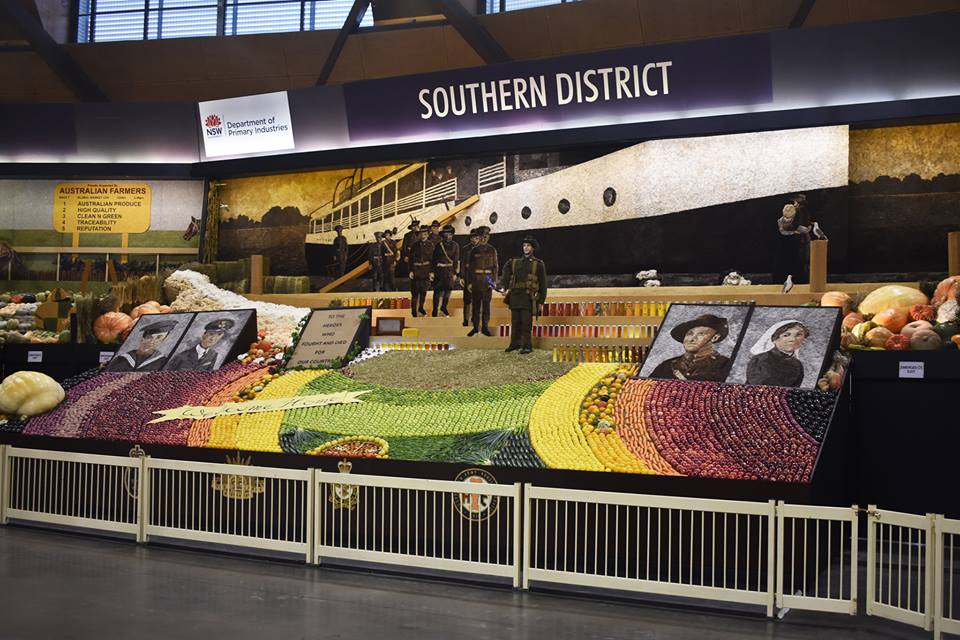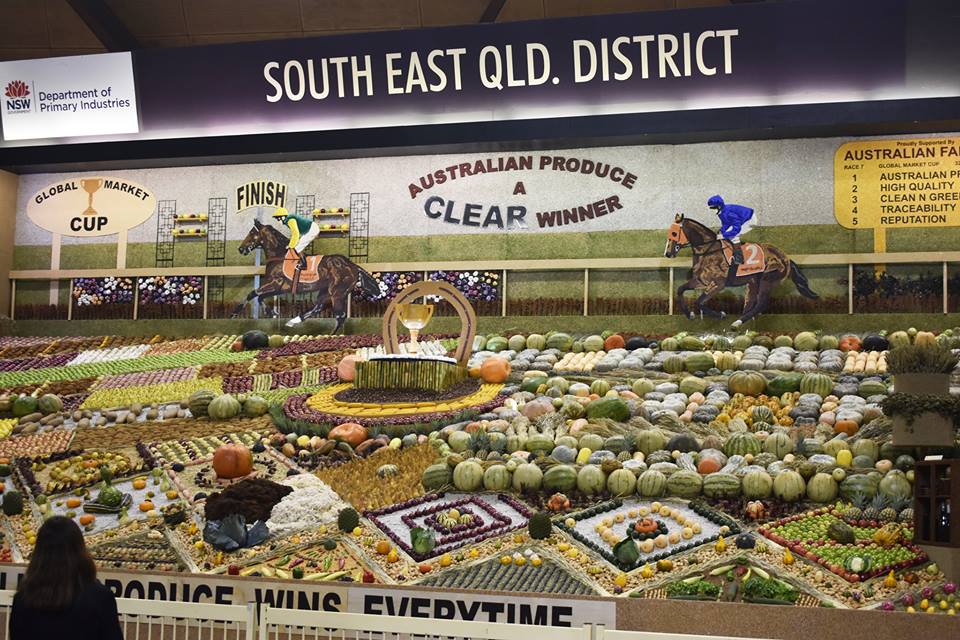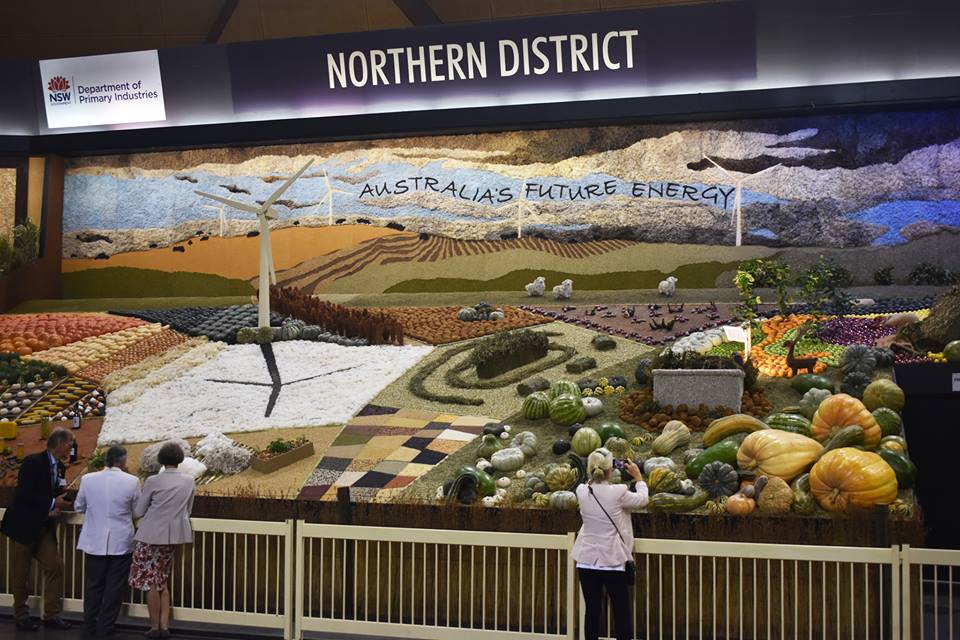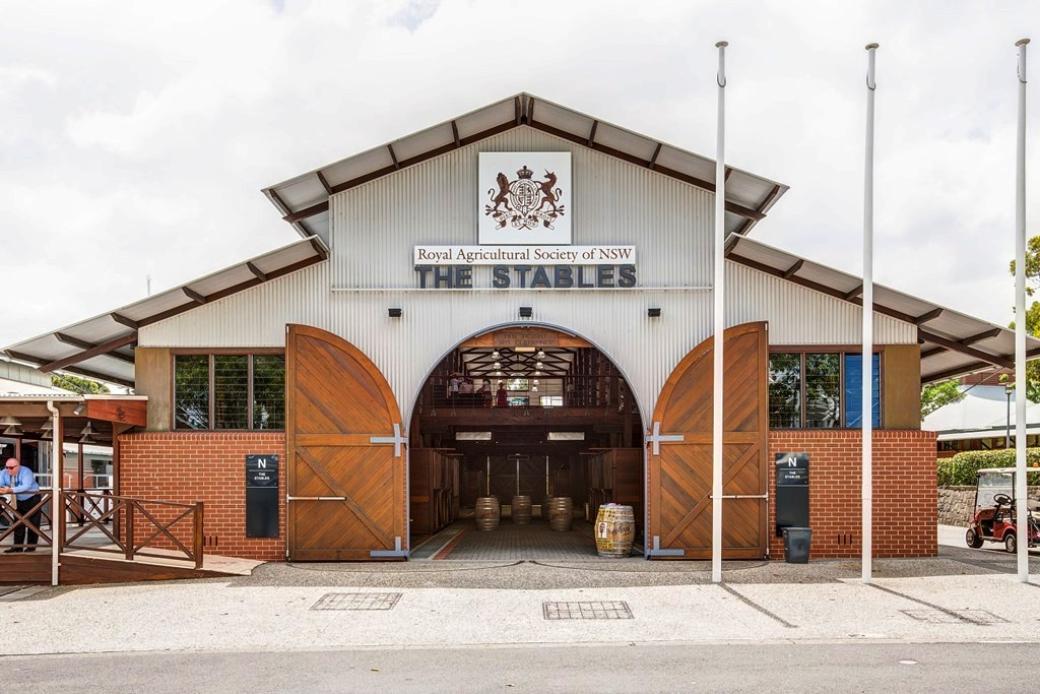 The Sydney Royal Easter Show's 'The Stables' wins International award in Florida
17 November 2017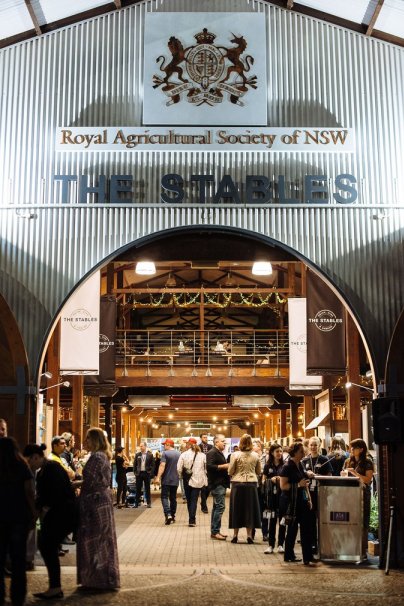 The Sydney Royal Easter Show's popular new venue 'The Stables' has been recognised as "Best New Innovation in Food and Beverage" - (Attendance under 1 million) at the International Association of Amusement Parks and Attractions (IAAPA) Brass Ring Awards held in Florida in the United States.
For many years The Stables was known to showgoers as the temporary home to the popular Clydesdales and the RM Williams emporium.
But at the 2017 Sydney Royal Easter Show The Stables made its debut as a chic two level venue for upmarket food and beverage offerings complete with an old-style barber shop and two bars.
The Stables turned out to be an extremely popular venue for many of the more than 922,000 visitors to this year's Sydney Royal Easter Show and subsequently saw it become a finalist in the Brass Ring Awards.
Shane McGrath, Senior Manager of Operations and Product Development for the Sydney Royal Easter Show says the Royal Agricultural Society of NSW (RAS) is thrilled with the international recognition.
"To be a finalist was fantastic, to walk away with the title amongst some quality competition is thrilling for all involved," he said.
"A great deal of research, work and substantial resources went into designing and delivering the new- look The Stables and this international recognition justifies the effort and desire to keep the Sydney Royal Easter Show fresh, while not forgetting our heritage of almost 200 years.
"We'd also like to congratulate the other Australian attractions who have come away from the Brass Ring Awards as winners including Sea World, Movie World and Sydney's Luna Park.
"It shows that Australia can entertain our guests as well as anyone in the world," Shane McGrath said.
IAPPA is the leading industry association for amusement parks and attraction in the world representing some 5,300 member facilities and manufacturers in 99 countries.
The full list of winners and categories can be found
here
.
Further Reading
The Late Agricultural Show.
We regret that we omitted to record in the prize list of the late Sydney Agricultural Show the fact that

Mr. J. J. Roche, Bayview, Pittwater, won first prize in preserved fruit in syrup,

beating some very choice collections.

Mr. Roche also secured second prize in mandarin oranges. Mr. Roche is the owner of a very fine Orchard and poultry farm at Bayview, Pittwater, and he writes that he is bottling his peaches and apricots, and makes it pay well

, and in his opinion it is the only way to make fruit pay at the present prices. The Late Agricultural Show. (

1895, May 4

). Australian Town and Country Journal (Sydney, NSW : 1870 - 1907), p. 48. Retrieved from http://nla.gov.au/nla.news-article71229161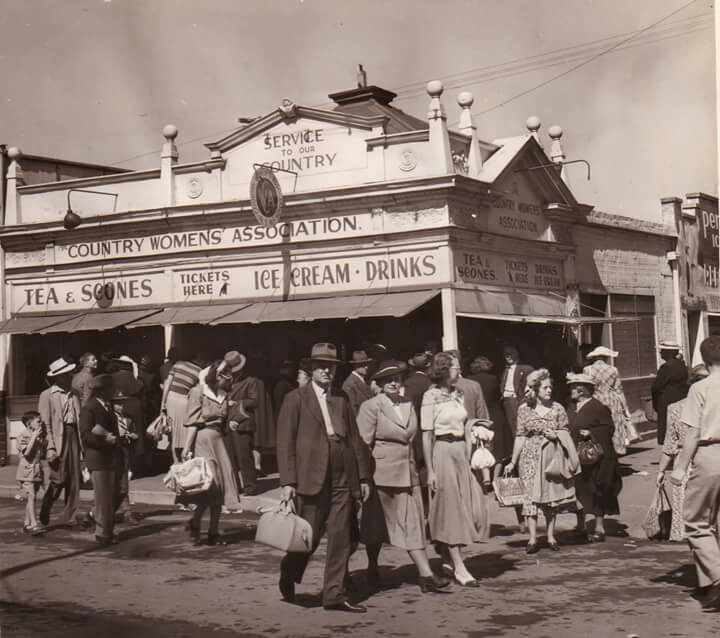 The original kiosk for the Country Women's Association of NSW at Sydney's, Royal Easter Show in 1948.