September 2 - 8, 2018: Issue 374
Save Mona Vale Hospital Big Picnic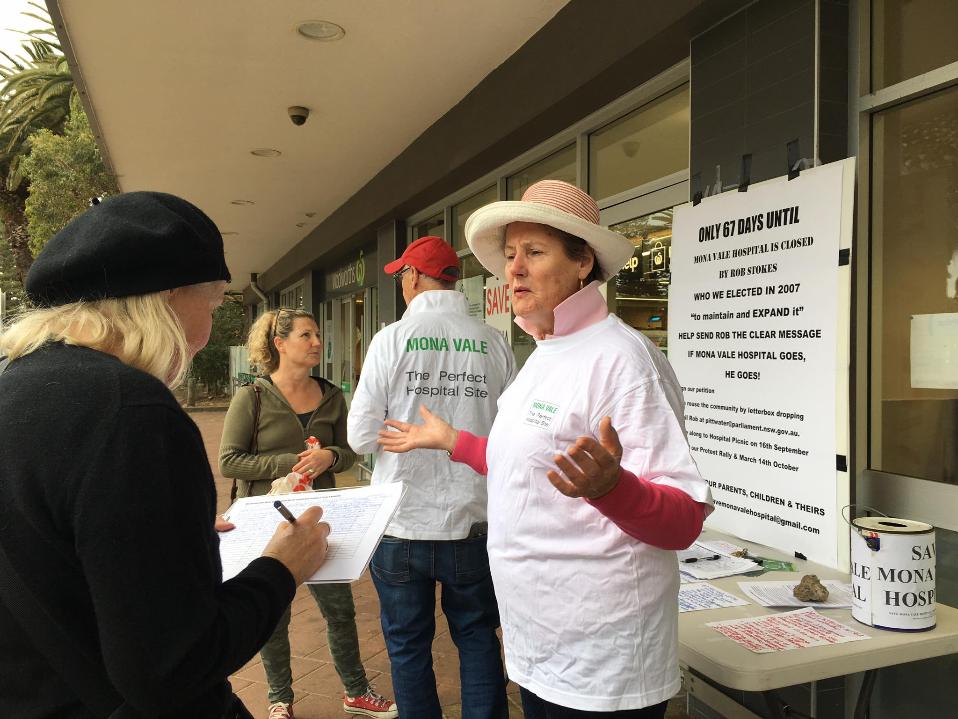 Former Chair of SMVHC Eunice Raymond outside Woolworths at Avalon this week
Community push to save Mona Vale Hospital
Media release: By Protect Pittwater Organisation and Save Mona Vale Hospital Committee
Mona Vale Hospital is set to close in October and be demolished in 2019, but the fight is not over. The community campaign is growing and events are planned in a last ditch effort to save the hospital. There will be a family picnic in September and a rally to follow in October.
The Big Picnic will be held on Sunday 16 September from 11.30 am to 2.30 at Robert Dunn Reserve, behind Mona Vale Hospital.
"Everyone is invited to come along with family, friends and a picnic to show they care", said organiser Pip Rey. "We want to see people whose lives were saved there, who were born there or who have been patched up there over the years. It will be a statement about the importance of our local, community hospital and also a day of fun, with family friendly entertainment, such as pony rides and music."
The events follow on from a standing room only public meeting in July, drawing attention to the risks associated with the closure of Mona Vale Hospital and showing strong support to keep Mona Vale Hospital as a Level 3 hospital, with emergency, surgery and in-patient beds.
"Our Committee has been inundated with members of the Pittwater community who are extremely concerned about the pending loss of Mona Vale Hospital and its Emergency Department" said Save Mona Vale Hospital Chairperson Parry Thomas, who spoke at the meeting.
"They are voicing very real fears that, with poor road access and even worse public transport to the new hospital, people will die. A number of those who have contacted us have no doubt, that had they needed to get to Frenchs Forest with their health emergency, they would not be here to tell the tale."
'We are getting a new hospital that has a similar number of public beds as our two existing hospitals, however the patient catchment area has increased dramatically and will now include suburbs as far afield as Forestville, Mosman, Roseville Chase, Davidson, St Ives and Killarney."
"Add to that the large population increases that are planned and it is obvious that the new hospital will be unable to cope with the demand in the very near future."
"Pittwater residents need and deserve proper Emergency and Hospital services to be retained at Mona Vale."
"The plan to provide our residents with a 24 hour Band-aid station is demeaning and deserves to be rejected outright."
Issues raised at the Forum on 18th July include:
Wakehurst Parkway is often closed due to floods or bushfires
The distance from Palm Beach to the new Northern Beaches Hospital is the more than from Bondi – 28 kms -and will take about 45 minutes

For off-shore residents, it will be a very long trip to the new hospital

There is inadequate public transport to Northern Beaches Hospital from Pittwater.

An untried model of a privately run hospital that also takes public patients

The new Northern Beaches Hospital will have a larger catchment than the current catchment of Mona Vale and Manly Hospitals.

The new Hospital will have 488 beds, 200 beds more than Manly and Mona Vale hospitals. However Northern Beaches Hospital will have only 277 of these beds for public patients.

Losing a local hospital at a time when there is a growing population and increasing congestion

Much greater reliance on ambulances and they are not always reliable

Concern about the future use of the Mona Vale site.