November 13 - 19, 2022: Issue 562

Surf Life Saving Australia's National Awards Of Excellence 2022: Two Meritorious Awards For Avalon Beach SLSC - Two New Life Members From Freshwater SLSC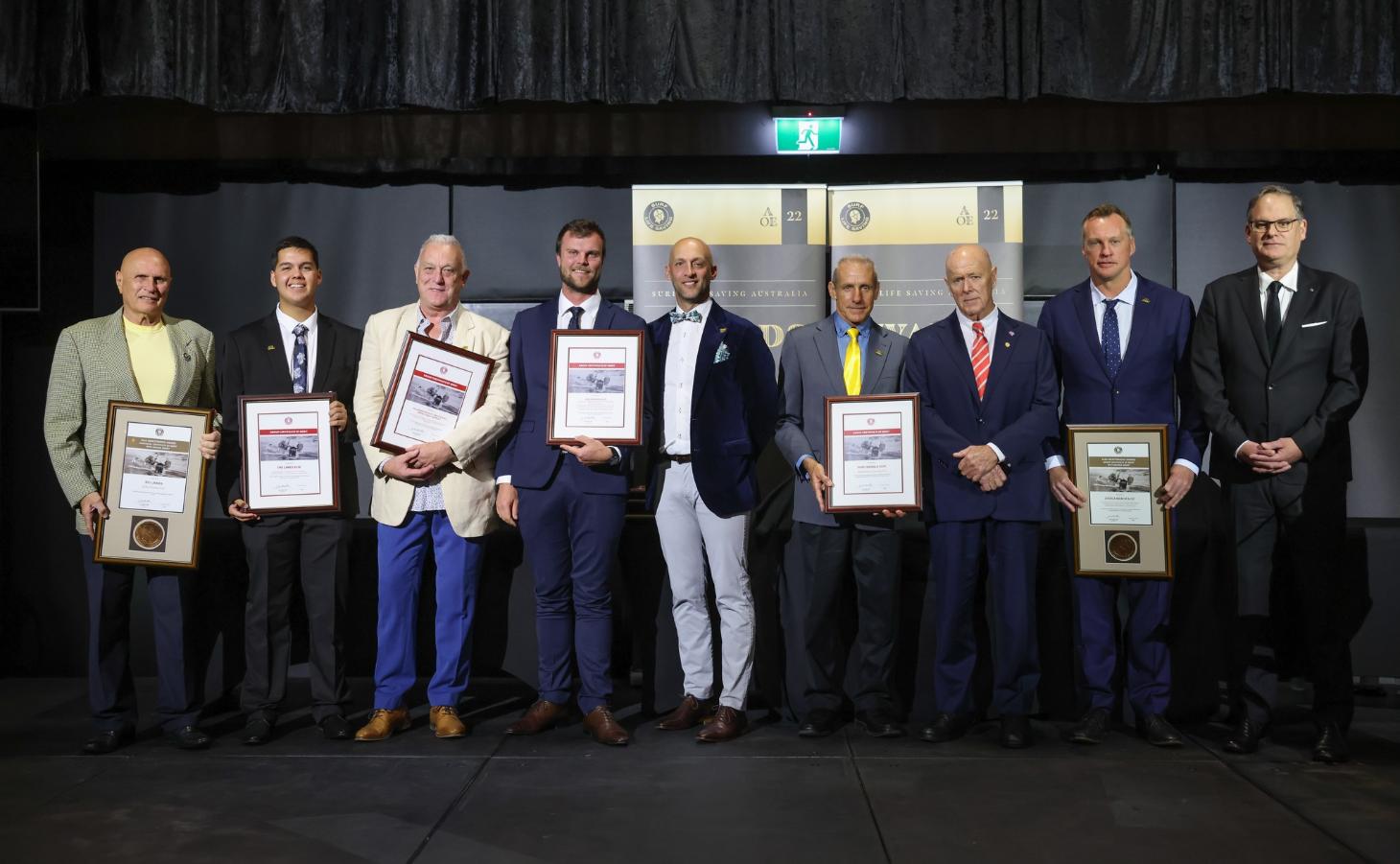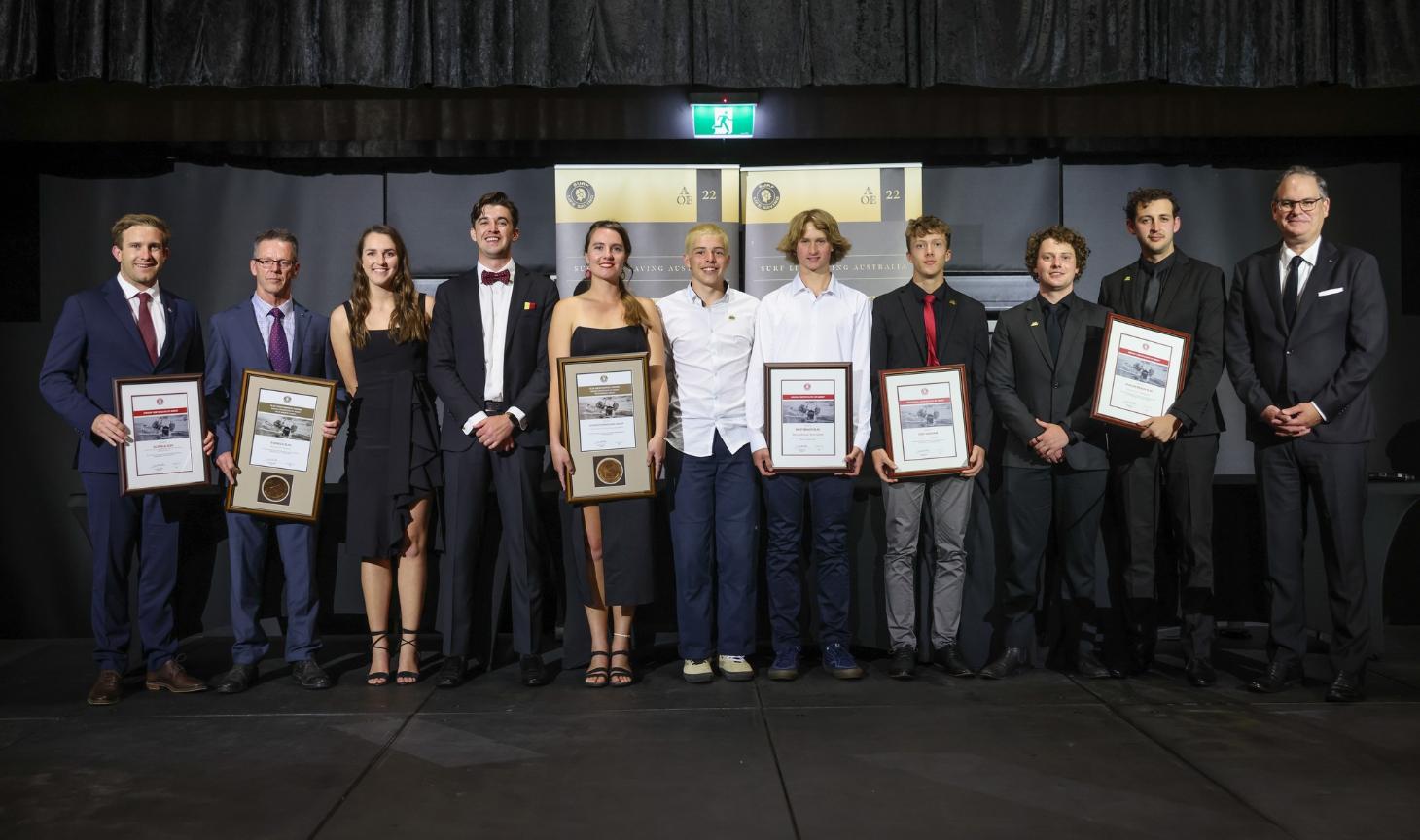 Australia's top surf lifesavers were recognised for their achievements and contributions in the annual Surf Life Saving Australia National Awards of Excellence on Saturday November 5th.

For the first time since 2019, members came together on the Gold Coast for SLSA's night of nights to recognise recipients of awards across the lifesaving, sport and education categories for their outstanding service to their communities.
Surf Life Saving Australia CEO Adam Weir said: "Across the country Surf Life Saving boasts 314 surf clubs with more than 189,000 members all of whom contribute to the 8,900+ rescues and 1,634,223 preventative actions taken to keep Australian beaches and communities safe.
"While volunteer surf lifesavers and lifeguards keep watch of the coastline, there are so many roles that contribute to the success of the organisation – from the trainers to assessors, officials, coaches and many more.
"Each year Surf Life Saving's members give more than 1 million hours to keep Australian beaches safe, and the Awards of Excellence are a great platform that allows us to recognise these members for their commitment to their communities, and dedication to ensuring we keeping the coast safe for all.
"The last 12 months have been focusing on bringing the Surf Life Saving community back together, it has been fantastic to have members from across our diverse community all together tonight for the first time since 2019.
"On behalf of Surf Life Saving I wish to congratulate all our Award winners as well as the finalists from across the country," he said.
Shannon Fox of Wollongong City SLSC (NSW) took out the prestigious DHL Surf Lifesaver of the Year with Richard Lissett – Quinns Mindarie SLSC (WA) awarded DHL Volunteer of the Year, Mermaid Beach SLSC (QLD) was named as DHL Club of the Year and DHL Lifeguard of the Year honours went to Reece Dobbin (NSW).
After another spectacular season, that saw him take out the triple crown, winning the 2021 Coolangatta Gold, 2022 Nutri-Grain IronMan Series and 2022 Australian Ironman title, Ali Day (Surfers Paradise, QLD) took out the 2022 Surf Sports Athlete of the Year.
SLSA was also proud to induct thirteen new members to the Hall of Fame, including three-time Australian Ironwoman champion Georgia Miller (Northcliffe, QLD - previously Newport SLSC), ironman legend Dean Mercer (Kurrawa, QLD), pioneer lifesaver Hayden Kenny (Alexandra Headland, QLD) and surfboarding stalwart Robert Little OAM (Wollongong, NSW).
Among the celebrations, six long-standing SLSA Members were awarded Life Membership having displayed distinguished voluntary service to the organisation sustained over a period of at least 20 years. The newest Life Members include John Baker ESM (Brighton SLSC, SA), Wayne McLennan (Broadbeach SLSC, QLD), Alan Seeney (Bondi SBLSC, NSW & Dicky Beach SLSC, QLD), John Mills OAM (Freshwater SLSC & Coffs Harbour SLSC, NSW), Michael Bate (Freshwater SLSC & Fairy Meadow SLSC, NSW), and Donald Marsh (Carlton Park SLSC, TAS).
There were also 18 Meritorious awards announced on the night, the highest honour awarded by Surf Life Saving Australia for bravery. These awards, to both individuals and groups, recognise acts of bravery by members who went above and beyond, putting their lives on the line to rescue people who found themselves in trouble.
Two were awarded to Avalon Beach SLSC - the details are:
Group Certificate of Merit
Avalon Beach SLSC, NSW
Avalon Beach faced challenging conditions on Sunday, 2 January for both the morning and afternoon patrols. With 71 recorded rescues during the course of the day it was very much an 'all hands-on deck' scenario for the members.
Cyclone Seth was driving 1-1.5 meter swells onto the beach pushing water over a bank and into a gutter before meeting the shoreline. The gutter rip on its own, was easily pushing people outside of the flags, quickly finding swimmers off guard. Due to the conditions multiple rescues were occurring at any one time, quickly stretching resources.
Rips were running at both north and south ends of the beach on the low tide challenging the Avalon patrols with what was believed to be record numbers on the beach that day. The Club made the call to bring in reinforcements to keep the beach open and safe for the record crowds so they could continue to support the many beach goers.
The Avalon Beach average patrol size is 11. On that January day, the club pulled in an additional 20+ members with close to 30 members supporting the team throughout the day.
Without a doubt, Avalon recalls the day as the biggest multiple rescue event on record for the club. The events of that day were a testament to the dedication and commitment shown by the Avalon Beach members on what was its most the toughest of days.
Visit: 60+ Rescues At Avalon Beach Two Days Into New Year

Jason Dale, Nick Sampson Avalon Beach SLSC Club Captains - collected the group award for the Club's rescues on the day of multiple rescues. Zac Dale IRB Driver, Todd Barber IRB Crew - received their award for their rescue of the people from a sinking boat off Careel Head in dangerous conditions.
Group Certificate of Merit
Avalon Beach SLSC, NSW
Zachary Dale, Todd Barber
On Saturday, 19 March Avalon Beach received a Surfcom call to support a mayday call from a 35ft boat taking on water North of the Beach, off Careel Point.
With 45km winds and a 4–5-meter swell, Todd and Zachary launched the IRB and made their way to the scene. Challenging conditions met the IRB as it navigated its way to the boat off the Point.
On arrival Todd and Zachary found three people clinging to what was remaining of the submerged boat, just above the waterline.
Within minutes of getting the patients on board the IRB, the boat quickly sunk out of sight. Any later the rescue scenario would have been completely different. Shortly after the IRB was joined by a Rescue Water Craft as well as a second IRB from Whale Beach. All assisted in returning the patients to calmer waters.
The conditions facing Zachary and Todd that day required a high level of knowledge and skill to be able to navigate the high winds and big swells. Their understanding of the capabilities of the IRB ensured a positive outcome for all involved.
Details in Issue 531: Dramatic Rescue Of 3 People By Avalon Beach SLSC After 35 Ft Power Cruiser Capsized and Sank Off Careel Head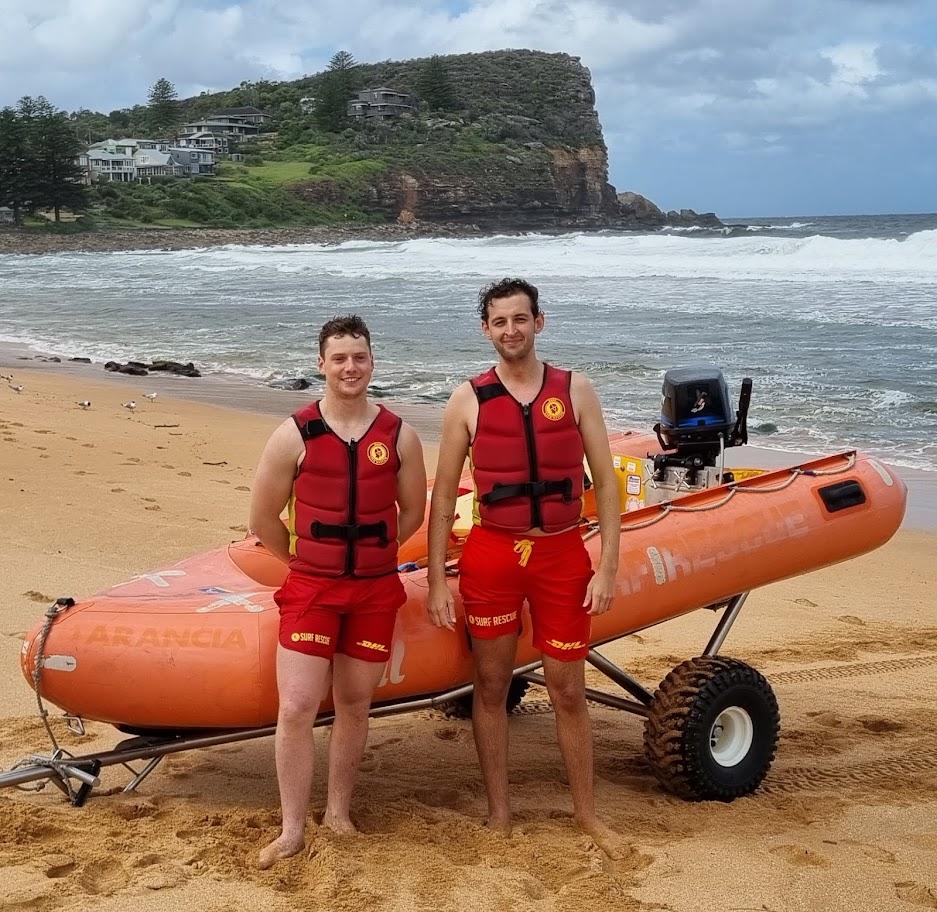 Avalon Beach SLSC IRB Rescuers: Left Todd Barber Crew Right Zac Dale Driver
AOE 2022 Life Members
Life membership is awarded to members who have displayed distinguished voluntary service to the organisation sustained over a period of at least 20 years. There were two awarded to Freshwater SLSC Members. Details are:
John Mills OAM – Freshwater SLSC & Coffs Harbour SLSC, NSW
John is arguably Australia's longest serving and one of the most successful surf sports coaches, dedicating countless volunteer hours driving athletes to excellence with second to none expertise in training and surf knowledge – creating sustained and significant difference to athletes' lives, particularly in regional New South Wales.
Until his retirement from full-time coaching in 2020 it is calculated that John coached, mentored and trained between 5000 and 10,000 young Australians on surf safety, rescue and surf techniques on board, ski, swim and iron on Coffs Harbour's Jetty Beach, coaching and instructing surf lifesavers of all ages – building an extraordinary relationship and imparting his vast surf lifesaving expertise to families across the region.
John has excelled as a coach at the highest levels for more than three decades. Countless competitors have benefited from John's extensive knowledge, versatility, enthusiasm and experience over multiple disciplines. John's coaching skills are multi-faceted. He provides expert advice and guidance based on his years of experience as a competitor and lifesaver for those wanting to improve their swimming, board paddling and ski paddling skills.
John has had an unbroken level of commitment to the Surf Life Saving movement. He actively competed at the highest level for 20 years and has coached both informally and more formally for some 60 years, all on a voluntary basis. His record is truly outstanding and remarkable.
His versatility and innovative ability across disciplines as diverse as R&R, Craft and the art of surf swimming put him in an elite category indeed.
John can genuinely be seen as "a lifesaver for life", an exemplary role model who has been a positive influence over many years for so many by those fortunate enough to have known him. His willingness to offer advice and guidance to those from other Clubs further epitomises the benefit John has provided within the movement which means so much to him.
John has made an eminent, respected and notable contribution to the development of surf lifesavers at all levels over half a century that is both significant and influential. His impact has been truly remarkable and described by many as life changing.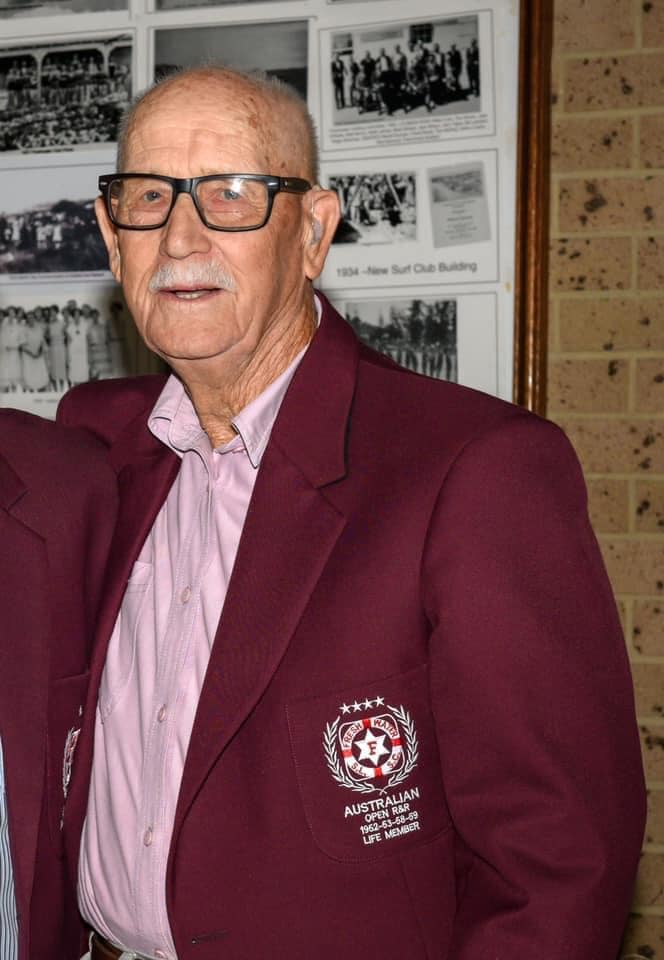 John Mills OAM. Photo: Freshwater SLSC

Michael Bate – Freshwater SLSC & Fairy Meadow SLSC, NSW
Michael Bate has 52 years of continuous SLSA surf lifesaving membership, and has contributed to SLSA in a distinguished, significant, conspicuous, and sustained manner for a period in excess of 50 years.
As a member of the SLSSNB Executive and an integral member of the Branch Building Committee between 2004 and 2009, Michael was at the vanguard of SLSSNB purchasing its own Branch Headquarters. Further, Michael's business and financial acumen was instrumental in SLSSNB in achieving the key financial goal of long term financial stability.
As a result, SLSSNB was the first Branch (including States) to direct SLSA funds back to clubs. Of particular note is Michael's distinguished advocacy to appropriate levels of government to support lifesaving projects and causes. As a member of the SLSNSW Executive Board between 2010 and 2016, Michael also served on the SLSNSW Building Committee and, again with his significant financial skills, was integrally involved in the purchase of the new SLSNSW Headquarters, the land adjacent to the headquarters and the Port Macquarie Regional Headquarters. Michael also played a significant role in the successful establishment of a long-term future fund to help protect the SLSNSW from financial stress.
Michael was Chief Referee at many Interstate, SLSNSW championships and at large events. Michael is a distinguished Referee who is highly respected by organisers officials, and competitors in this role works to deliver excellent events, Michael is also appointed as Deputy Referee. There is no doubt that he always works with seamless energy and without fuss to ensure that his Chief Referee is always highly successful in execution of their roles.
Michael distinguished himself in the international competition arena and was highly regarded by his teams, international officials and opposing teams. Further, the teams led by Michael these teams always distinguished themselves both with success in the competition arena and as outstanding ambassadors for Australia.
Michael has made a prominent, notable and outstanding commitment to contributing roles at the Club, Branch, State and national levels that distinguish him from others.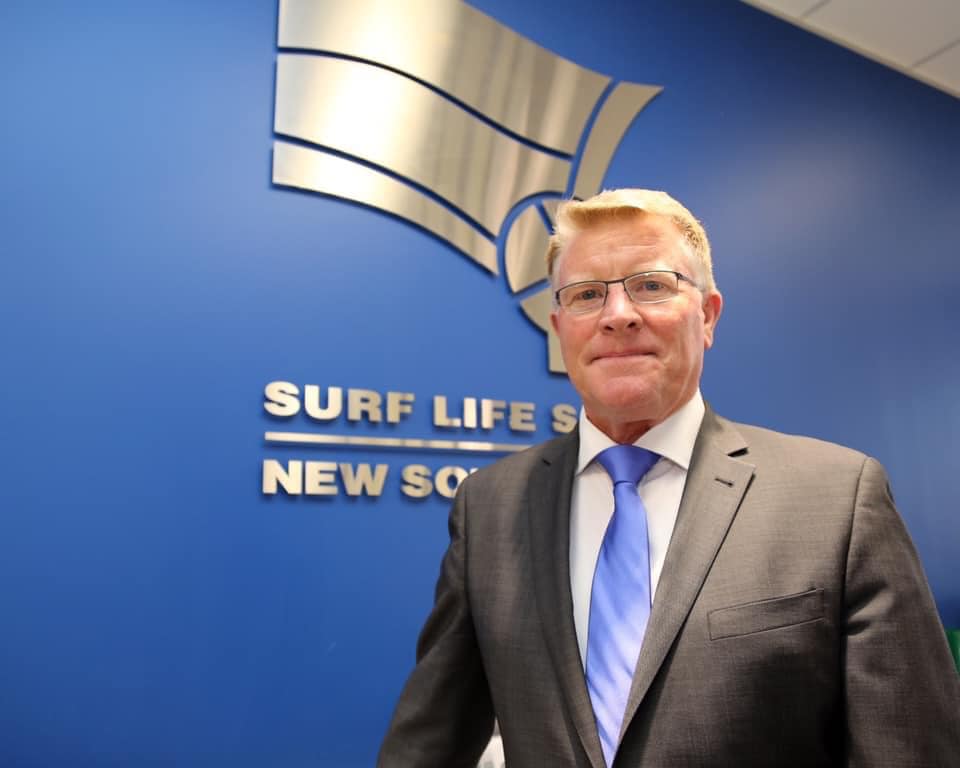 Michael Bate. Photo: Freshwater SLSC

Congratulations to all award recipients at the 2022 National Awards of Excellence.