June 26 - July 2, 2022: Issue 544
Surf life saving sydney northern beaches branch's Awards of Excellence 2022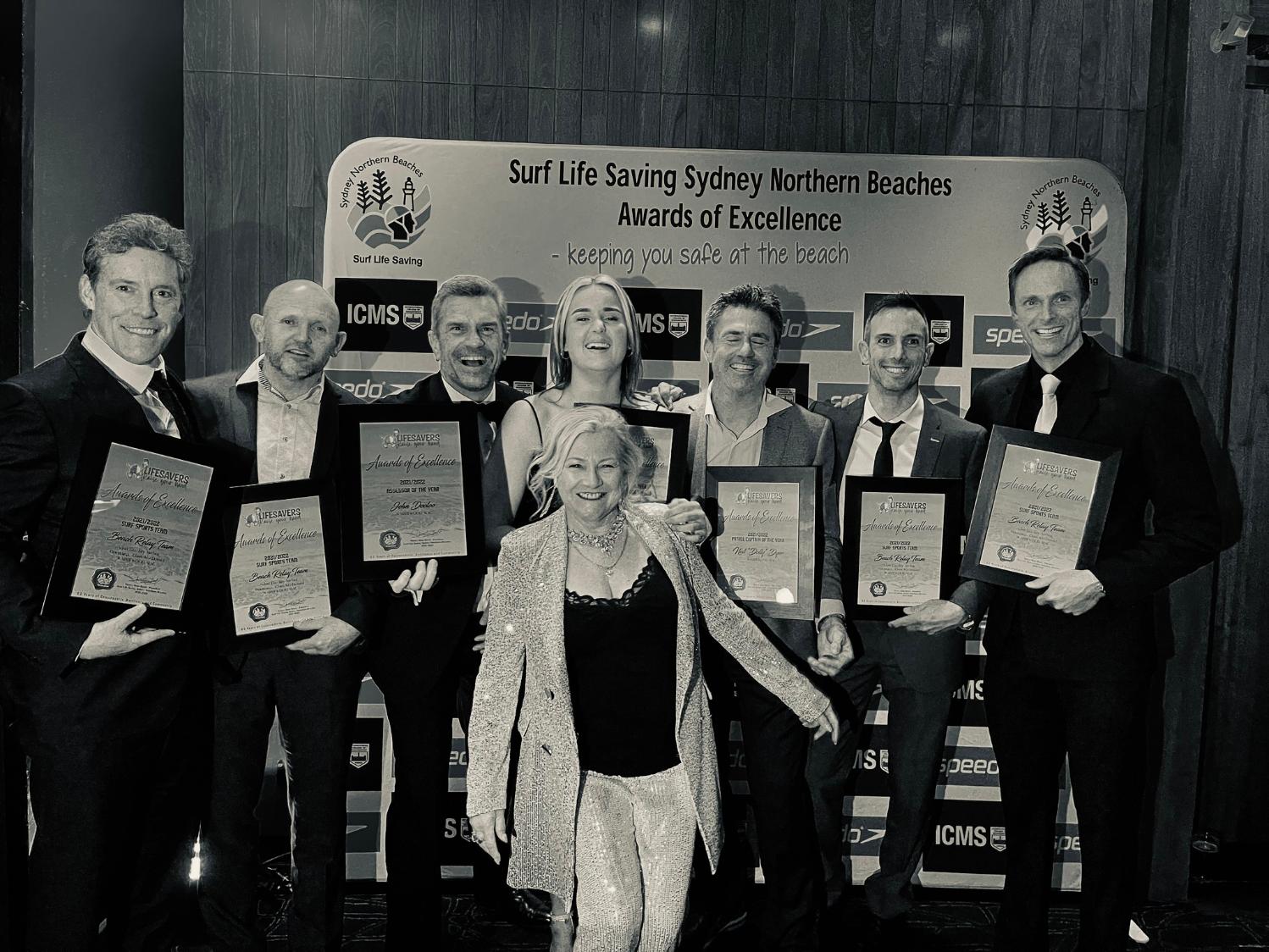 Warriewood SLSC took home a LOT of awards from this year's Surf Life Saving Sydney Northern Beaches Branch Awards of Excellence. Photo: warriewood SLSC
The Surf Life Saving Sydney Northern Beaches Branch's Awards of Excellence 2022 were held on Friday June 17th, recognising members of the local surf clubs for their work and achievements over the 2021-2022 Season.
Sydney Northern Beaches Branch (SNB), is the Administration and Education Centre for the 21 Surf Clubs on Sydney's Northern Beaches and their members, from Manly's North Head to Barrenjoey Head at North Palm Beach.
These surf clubs include:
Manly, Queenscliff, Freshwater, South Curl Curl, North Curl Curl, Dee Why, Long Reef, Collaroy, South Narrabeen, Narrabeen Beach, North Narrabeen, Warriewood, Mona Vale, Bungan Beach, Newport, Bilgola Beach, Avalon Beach, Whale Beach, Palm Beach and North Palm Beach.
SLS SNB Branch's mission: To provide a safe beach and aquatic environment throughout Sydney's Northern Beaches.
The Vision: Fulfil our responsibilities as part of SLSA and provide a valued Surf Life Saving service to the community.
The Branch Charter: The Branch exists for the benefit of the volunteer Surf Life Saving clubs and their members on Sydney's Northern Beaches.
The Branch is run as a co-operative of clubs, it recognises the strength of the organisation is built on the club system and will act within the best interests of all clubs, while maintaining the interests of SLSA in the area.
The Branch is committed to maintaining the volunteer ethos of Surf Life Saving and the valuable, trusted and respected role Surf Life Saving plays in the community.
The SNB Awards of Excellence celebrate the incredible people in this organisation and the impact they have on their clubs, its members and their local communities.
The Surf Sports Awards kicked off the 2022 Awards of Excellence celebration, starting with the Open Branch Championship Handicap Pointscore and the Lionel McDonald OAM Shield being awarded to North Steyne S.L.S.C
The winner of The Combined Branch Championship point score and the Alan Fitzgerald MBE Shield was Manly LSC.
Collaroy Surf Lifesaving Club took out the Overall Handicap Domestic Carnival Point score. They were presented with a Bennett Surf Life Saving racing mal by Greg Bennett, a long time supporter of this award.
The Harry Ragan Outstanding Service Award Congratulations went to Jessica Menzies Newport Surf Life Saving Club. This annual award is for outstanding service by a Board of Education member for their contribution to Education and Support services, and the recipient is selected by the Director of Education and Director of Lifesaving. Jess was nominated for her commitment and dedication not only for the quality training and assessing but contributing to training and assessment processes behind the scenes.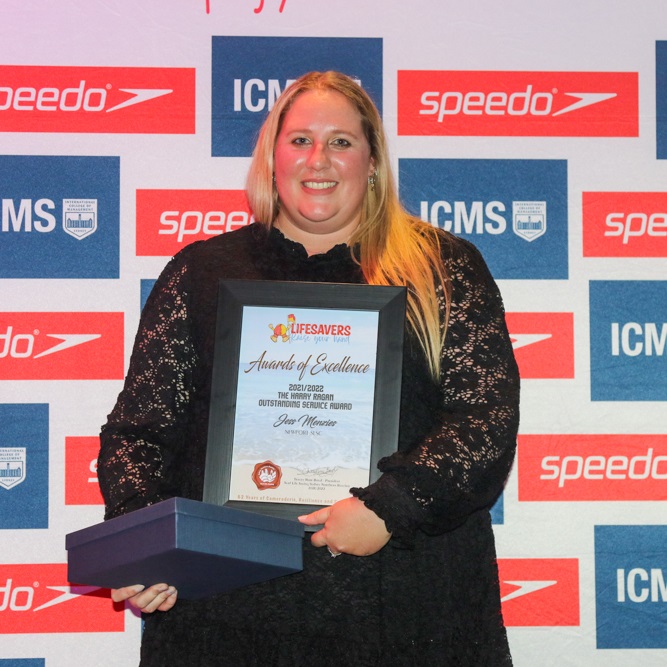 Jessica Menzies - Harry Ragan Outstanding Service Award

Stan Buckman of Manly LSC was awarded the Raymond Matthew Brown Radio Operators Award. A repeat recipient of this award, Stan's calming voice over the airwaves is all we need to ensure you get the assets and assistance you require during an incident.
Chris Roberts was awarded the NSW State Premier's Award for Community Service. Congratulations Chris and thank you for your ongoing and unwavering support of surf life saving.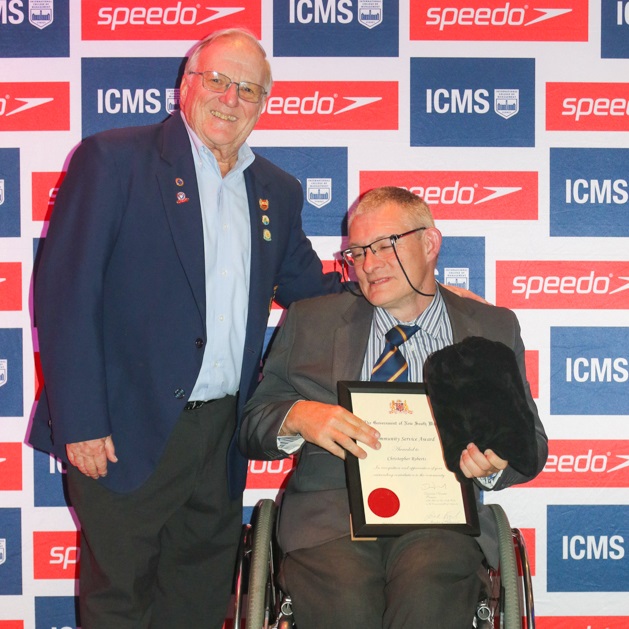 Chris Roberts - NSW State Premier's Award for Community Service, pictured here with Newport's Gary Cook, past recipient of this award

A husband and wife team, Tara and Andrew Sole, were awarded Outstanding Service at the SNB Awards of Excellence held last week. Tara Sole from Collaroy Surf Lifesaving Club initially joined Collaroy in the 1995/96 season and has held several positions at the club. She joined the Board of Examiners in 1996/96 and has been an IRB examiners as well as Assessor for IRB, Bronze and SRC. Andrew Sole joined the same club in 2001, and holds numerous awards including Training Officer for Bronze Medallion and SRC, IRB and ARTC. Assessor for Bronze and IRB. Both are long time surf sports officials.
Peter Kinsey from Long Reef SLSC was award Distinguished Service. Peter joined Long Reef SLSC in 1962 and has just completed his 59th year of active patrolling. He has been heavily involved in assisting SNB to develop a standard lease template which can be adopted by all SNB clubs, utilising his legal background to help navigate the myriad of challenges in this space.
Congratulations Tara, Andrew and Peter on these recognitions for all your hard work over decades as volunteers.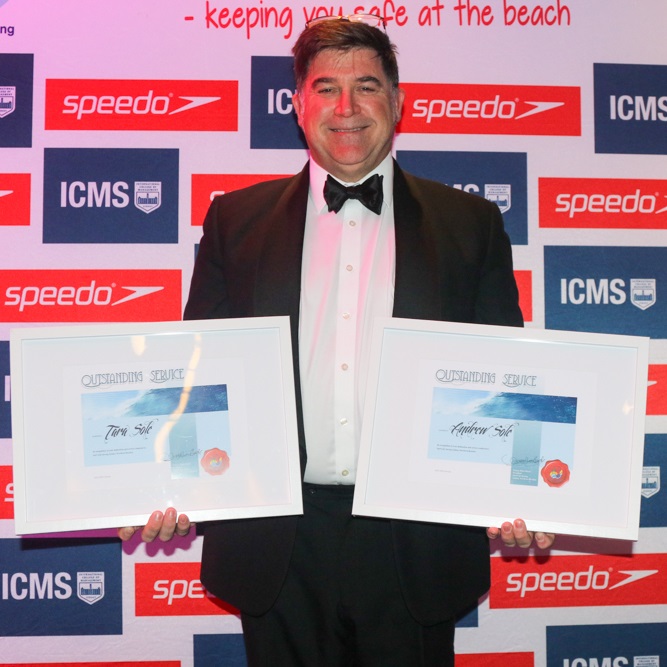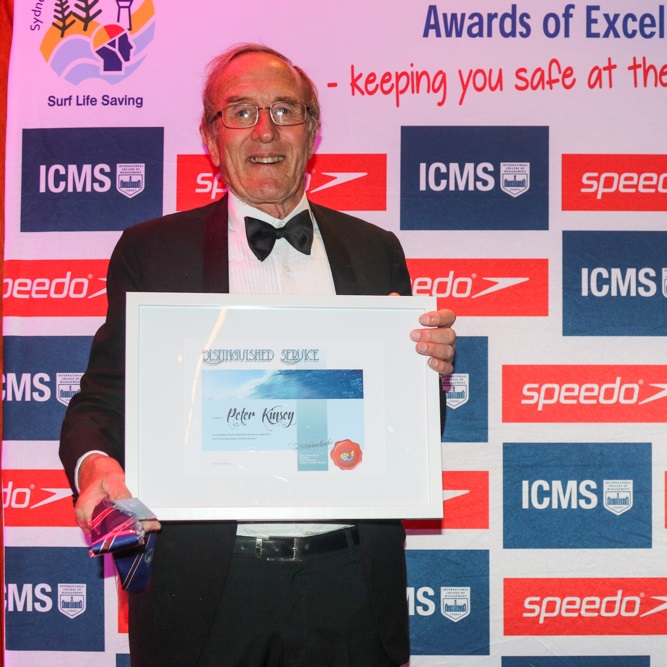 Andrew Sole and Peter Kinsey - decades of volunteer service.

At SNB they like to reward clubs for all sorts of achievements. That includes being consistently punctual with the delivery of reports to the Branch. Last year's winner couldn't be awarded due to Covid, so Bungan Beach SLSC picked up their award at this year's Awards of Excellence, along with this year's winner Long Reef SLSC . And their prize .... the Golden Cup Cake Award ... got to be happy with that !
For the second year running, Sam Capell Newport Surf Life Saving Club was awarded the Movement HQ Young Volunteer of the Year. He has upheld several roles and responsibilities in the past season, including Age Manager for our Under 8 Nippers (Sam has been an Age Manager for the last 4 seasons), coach for junior Nippers in the development board program on Sunday mornings, and has recently accepted the responsibility of Head Coach for the growing Lifesaving team in the coming season. Sam has also been the junior representative of Take 3 for the Sea with Lizzie Welbourn, promoting environmental sustainability with Nippers. Sam has been affiliated with environmental sustainability since his nomination for JLOTY in 2018. Congrats Sam, just outstanding!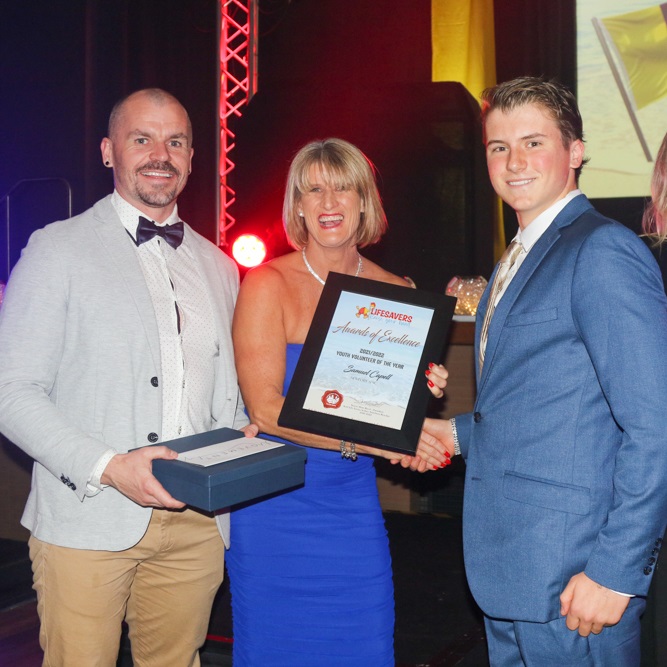 Sam Capell - Young Volunteer of the Year

A High Commendation was given to Emilie Morris from North Steyne S.L.S.C. Emilie embraces all areas of SLS volunteering and whenever there is a club volunteer call out, she is one of the first responders.
Amber Clark from Bungan Beach SLSC was awarded the Movement HQ Volunteer of the Year award for her tireless work around the club. Amber completed over 175 patrol hours, easily that many again in training and administration, and on the education front, is a Nipper Age Manager, IRB Racing Team Manager and has taken on all the merchandising and social activity planning for the club this season. Amber was the role model for a number of the female members in managing some very difficult membership issues earlier in the season and acting in effect as an MPIO without having done the training. Great job Amber and Congratulations!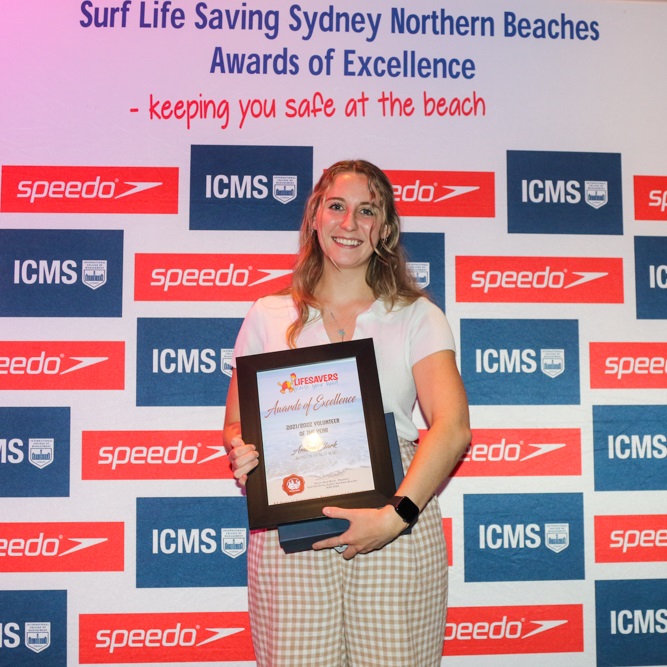 Amber Clark - Volunteer of the Year
This year's United Resource Management Innovation of the Year is the Stephen H20 Nipper Water Program. Funds were bequeathed by Stephen Ho's wife Elizabeth and family to SNB to run a program within Surf Lifesaving that would benefit the members. A program was devised to incorporate Stephen's zest for challenges. 18 of the 21 SNB Clubs run Nippers and the program was derived to encourage those nippers who sit at the back of the group not wanting to get into the water to gain confidence in ocean swimming and get them practicing their swimming, increasing their ability. For some Nippers, their weekly program is the only time they get to practice their swimming and some just aren't confident in the open water.
The Stephen H2O water program was aimed at Nippers U9's (8 year olds) to U12's who need to build on their swimming skills, ability and confidence in the ocean. The program was run over a 6 week period commencing in an ocean pool and ending up in an open water environment. In its first year, 39 children enrolled in the program from 8 Clubs within the Branch.
Thanks to the family of Stephen Ho for carrying forward a great legacy from a lovely man.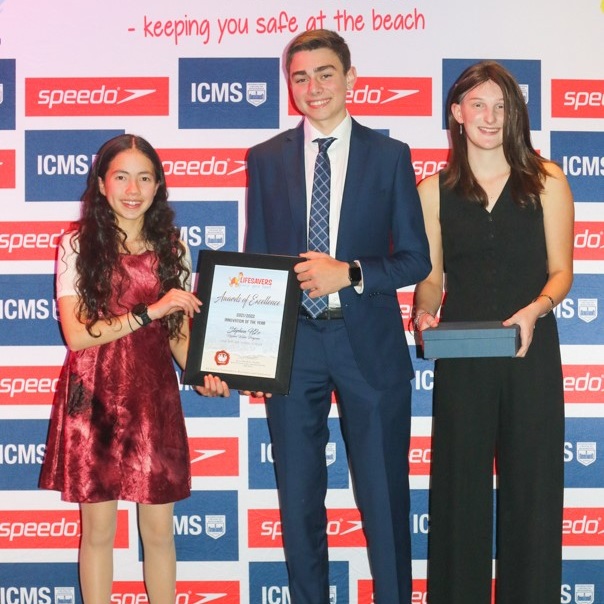 Innovation of the Year - the Stephen H20 Nipper Water Program

SNB has proven to be one of the strongest branches for surf boat competition in the country. So picking up an award at the 2022 Awards of Excellence is testament to the strength and success of the award winning crews.
This year's winners were –
Surf Boats
Reserve Mens - Avalon Beach Pinkies
Reserve Women - North Narrabeen Chilis
U23 Men - Palm Beach Plumbers
U23 Women - Palm Beach Panthers
U19 Men - Collaroy Magnets
U19 Women - Mona Vale Venom
Trainer of the Year: Angela Shanahan, Warriewood SLSC
Assessor of the Year: John Dulieu, Warriewood SLSC
Facilitator of the Year Award: Ross James, Mona Vale SLSC
Youth Volunteer of the Year: Sam Capell, Newport SLSC
Volunteer of the Year: Amber Clark, Bungan Beach SLSC
Community Education of the Year: North Narrabeen SLSC
Innovation of the Year: Stephen H20 Nipper Water Program
Services Team of the Year: Freshwater Surf Life Saving Club IRB Brains Trust - John Lo Schiavo, David Price, James Crittenden
Administrator of the Year: Janine Fahey, Collaroy SLSC
Patrol Captain of the Year: Neil Dyer, Warriewood SLSC
Support Operations Member of the Year:
Youth Surf Life Saver of the Year: Lilly Kovac, Warriewood SLSC
Surf Life Saver of the Year: Matt Edwards, Newport SLSC
Athlete of the Year: Mitch Morris, Newport SLSC
Young Athlete of the Year: Olivia Clues - North Curl Curl SLSC
Masters Athlete of the Year: Michael Gedz, Queenscliff Surf Life Saving Club
Coach of the Year: Andrew Dennehy - North Curl Curl SLSC
Official of the Year: Ernesto Calderon - Dee Why SLSC
Surf Sports Team of the Year: The Sand Dancers: Adam Gee, Iain Archer, Ben Hargy, Chris MacDonald of Warriewood SLSC
Club of the Year: Queenscliff Surf Life Saving Club
Rescue of the Year Award: Avalon Beach SLSC IRB Drivers, Todd Barber and Zach Dale
Congratulations also Warriewood SLSC's:-
Mel O'Connell - finalist for Volunteer of the Year
Craig Perry - finalist for Lifesaver of the Year
Well done Wazza!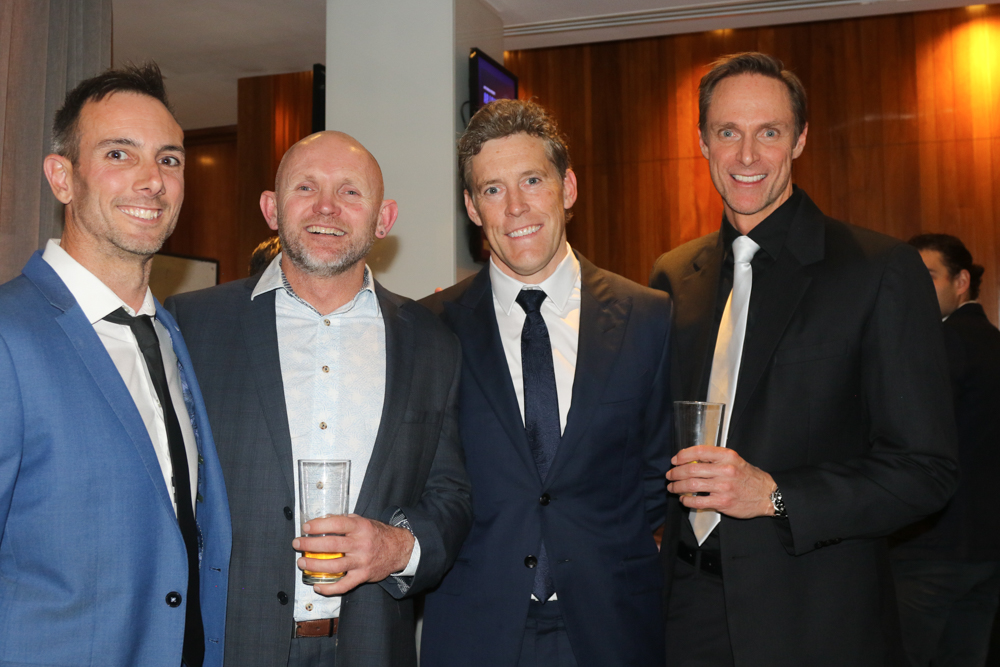 Surf Sports Team of the Year: The Sand Dancers: Adam Gee, Iain Archer, Ben Hargy, Chris MacDonald of Warriewood SLSC

Avalon Beach SLSC's Nominees for Surf Life Saving Sydney Northern Beaches Branch Awards of Excellence attended a gala event to celebrate the best of 2022. Thanks to Club President, Bernadette McKay, our Club had a large number of nominations this year:
Surf Lifesaver: Andrew Clark
Patrol Captain: Jason Dale
Rescue of the Year: Todd Barber and Zach Dale (March 2022)
Official: Ashley Cardiff
Coach: Nathan Wellings
Surf Sports Team: Reserve Male Boat Crew - The Pinkies
Training Officer: Steve Broderick
Assessor: Steve Early
Administrator: Leanne Austin
Avalon Beach SLSC scooped the Patrol Audit award achieving a whopping 98%. Patrol Audits are aimed at promoting best practice patrolling and throughout the season assessors take to the beaches to spot check our volunteer beach patrols to ensure compliance across a range of disciplines including beach management and set-up, uniforms, gear and equipment and practical assessment.
Avalon Beach SLSC Patrol Audits - 98%!

The Pinkies picked up the Bill "Woofa" Barnett Trophy, (shared with Collaroy Knights and South Curl Curl Echidnas), named in honour of ASRL's Life Member and legendary sweep.
Rowing together for over a decade, these boys capped off an extraordinary career in surf sports this year winning a Gold medal in the Reserve Male Surf Boat event at the Australian Championships.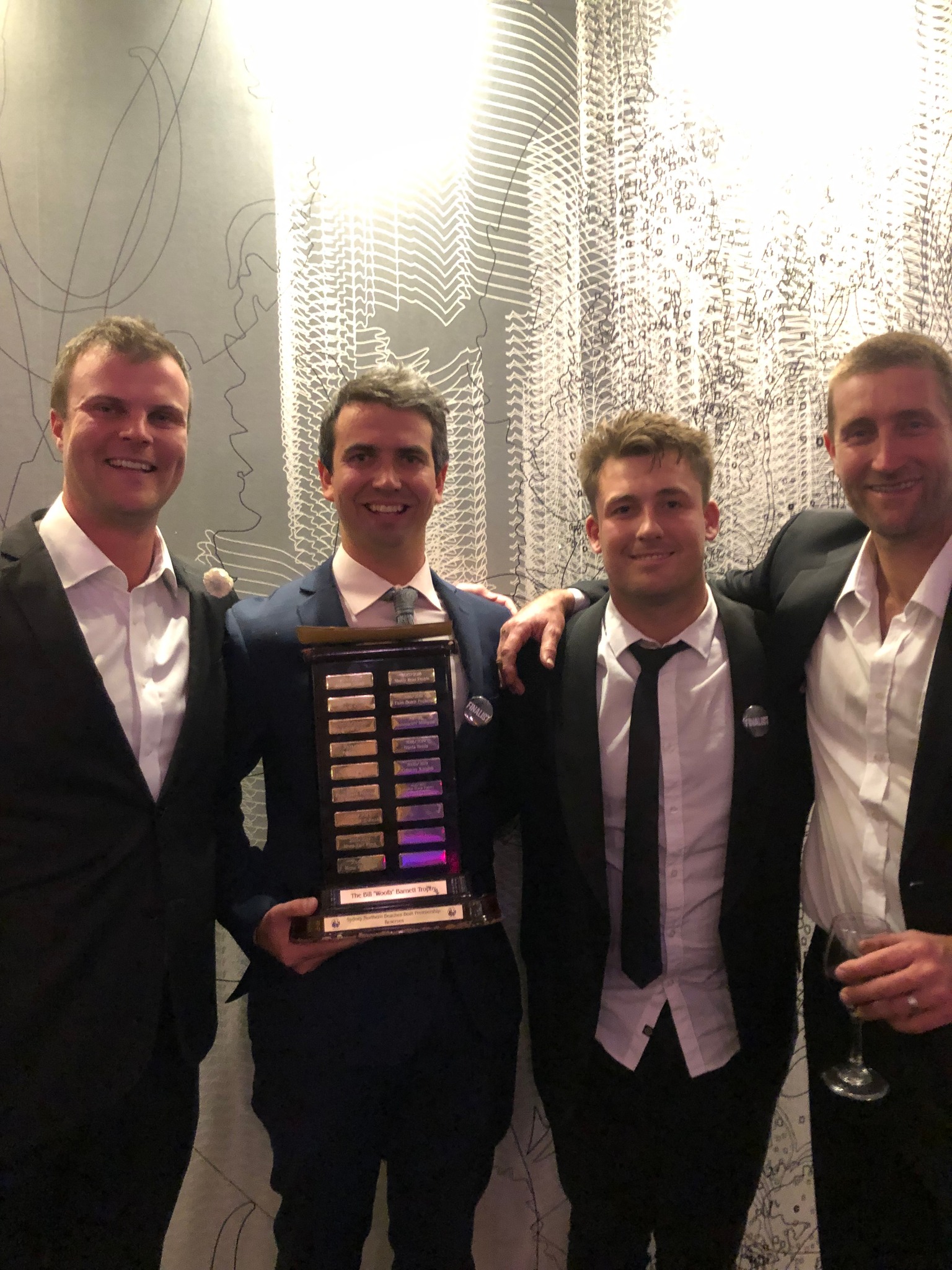 Pictured L-R | Nick Sampson, Matt Mayall, Tom Curnow and Nathan Wellings (sweep). Absent: Andy Bright.
Avalon Beach SLSC's young IRB Drivers, Todd Barber and Zach Dale, at SLSSNB's Awards of Excellence taking out the Rescue of the Year Award for their heroic efforts in March this year.
At approximately 2:30pm, Surfcom put a call out for Avalon Beach to support a mayday call of a 35ft motor power cruiser taking on water. With 45km winds and 4-5 metre swell, the IRB was launched.
Swiftly navigating the challenging conditions, Zach and Todd made it through the surf break and began making their way to the boat in need. On arrival the boys found three people clinging to what was remaining above water of the large boat. Within minutes of getting all onboard the IRB, the boat sunk out of sight. Shortly after other support teams arrived including the RWC and Whale Beach IRB and were in communication with Marine Rescue taking all on board for a safe return to calm waters.
Well earned boys.
Details in Issue 531: Dramatic Rescue Of 3 People By Avalon Beach SLSC After 35 Ft Power Cruiser Capsized and Sank Off Careel Head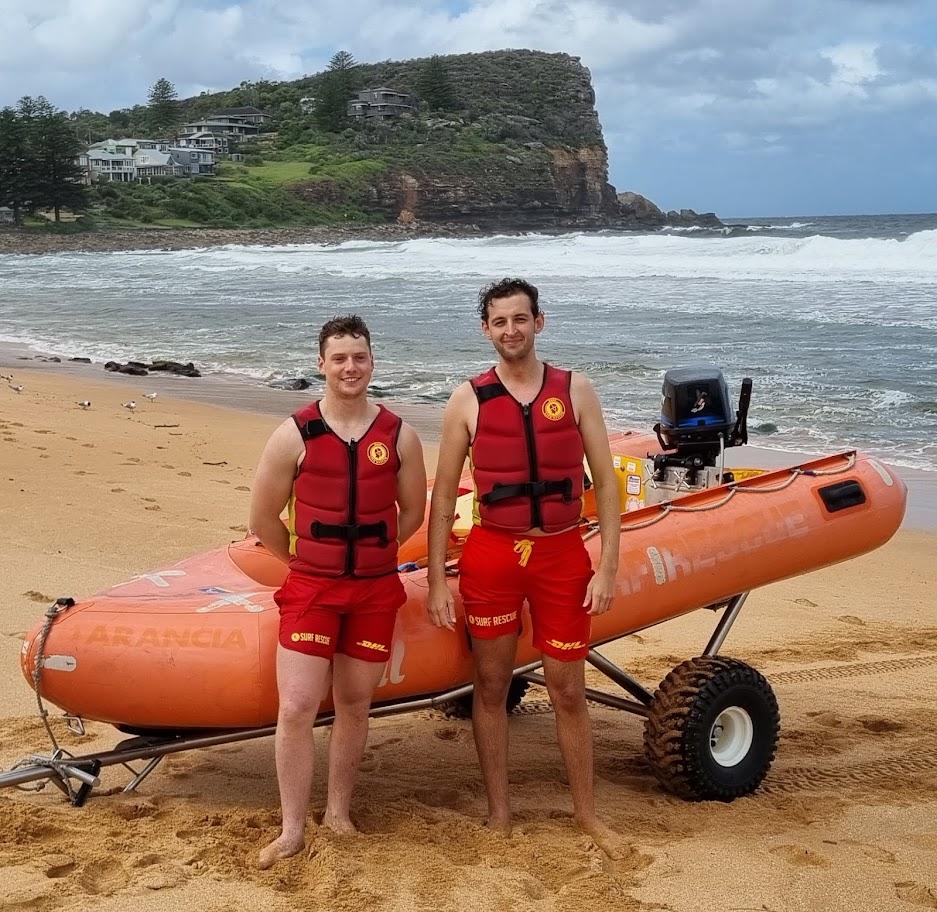 Avalon Beach SLSC IRB Rescuers: Left Todd Barber Crew Right Zac Dale Driver
Congratulations to all the nominees across the 21 Clubs in the Northern Beaches Branch and to all the winners in their respective fields of service.
THANK YOU for your Service!
HUGE Thanks to Tracey Hare-Boyd and her hard-working crew at Branch for organising the Awards event.

Report: SLS SNB, Warriewood SLSC, Avalon Beach SLSC, Roger Sayers OAM. Photos; SLS SNB, Avalon Beach SLSC, Warriewood SLSC - thank you for sharing.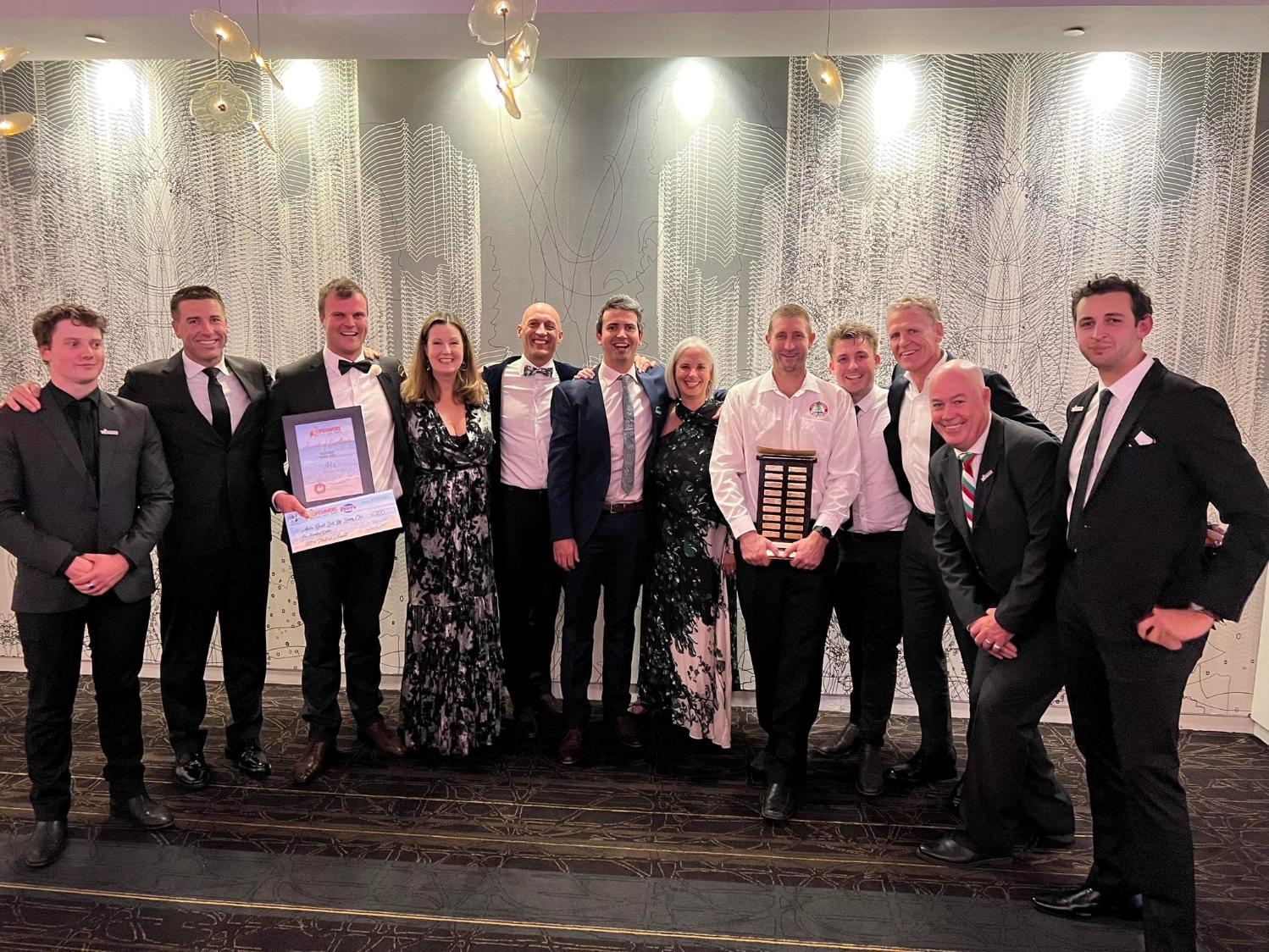 The Avalon Beach SLSC crew at this year's SLS SNB Awards of Excellence