June 10 - 16, 2018: Issue 363

The Roads And Tracks Of Yesterday: How The Avalon Beach Subdivisions Changed The Green Valley Tracks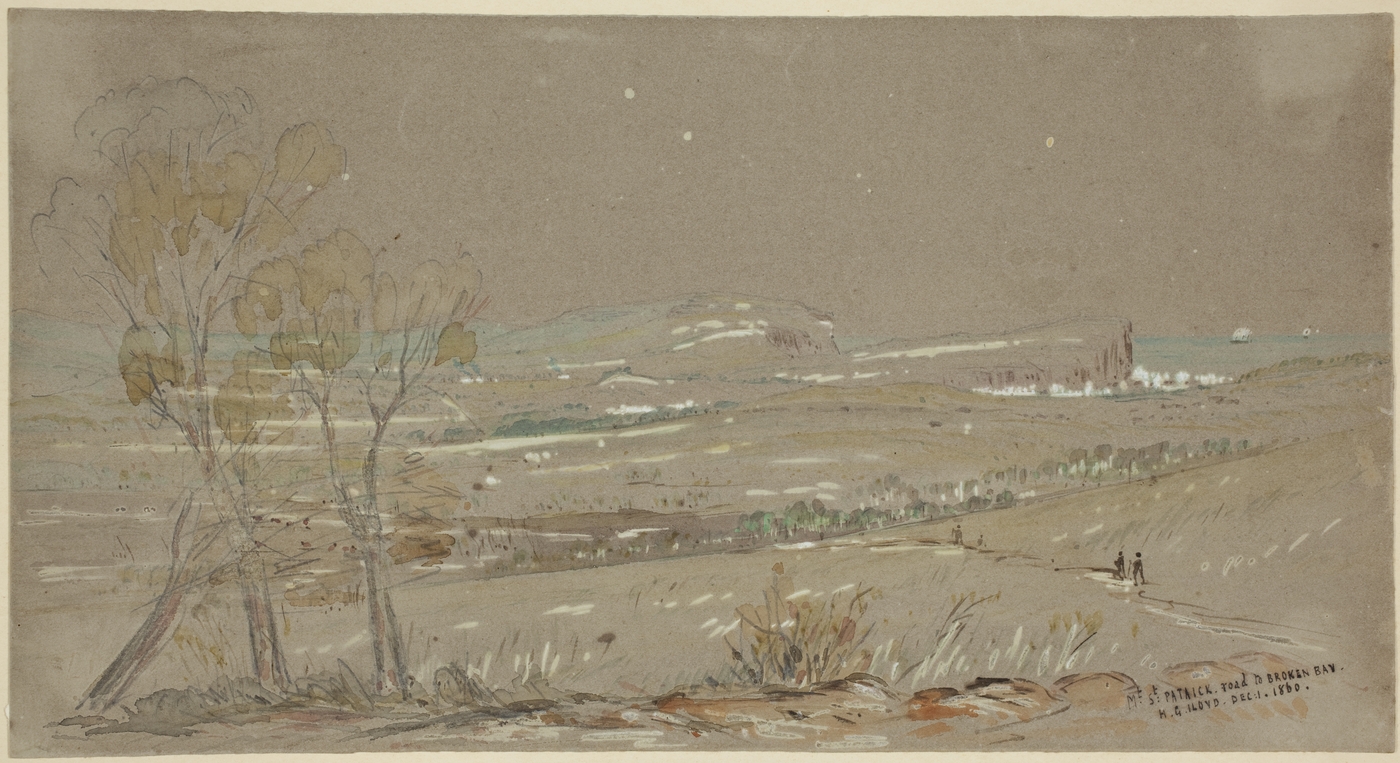 f.110

Mount Saint Patrick road to Broken Bay.

: Image No.: a5894118h from
album: Volume 1: Sketches of N. S. [New South] Wales,

1857-1888

/ by H. Grant Lloyd, courtesy Dixson Library, State Library of New South Wales -
Mount Saint Patrick was the name for what we now call Bangalley Head - Mount Saint Mary, opposite, is where Stapleton Park now sits atop this hill/'mount'. Visit
John Collins of Avalon
and
Careel Bay Jetty and Boatshed
AVALON.
Pearling waves that cream milk-white,
Sun-drenched sands and skies of blue
Linger in my memory -
Avalon, my heart's with you!
DOROTHEA DOWLING.
AVALON. (1935, May 4). The Sydney Morning Herald (NSW : 1842 - 1954), p. 11. Retrieved from http://nla.gov.au/nla.news-article17151649
To celebrate the access to new and unseen photographs as part of the Avalon Beach Historic Society's 9th Great Historical Photographic Exhibition a few items about the Valley of Avalon.

Avalon Beach itself was originally known as part of 'Priest's Flat' and was one of the earliest beach sites to be dedicated for all for all time in Pittwater, a dedication due solely to the vision and aspirations of a gentleman, the Rev. John Joseph Therry (1790-1864), who had received 1200 acres, including the valley of Avalon, in 1833.
Josephton was to be established on the shores of Careel Bay for his workers. These sought coal at Avalon Golf Course, farmed and collected shells for the manufacture of lime. One of many wills he wrote illustrates his plans for his farm here:
"I desire that my farm of eighty acres, formerly known as Peter Petitta's farm at Pitt Water, which is beautifully and most advantageously situated, should be divided into four equal parts of twenty acres each which are intended as the sites for educational establishments for the Benedictines, Jesuits, Franciscans, and the French Mission of the Propaganda respectively."
Also "to the land property with which I have been blessed, namely to establish five villages which are likely to become respectable towns the principal one at Pitt Water to be called Josephton" (Life and Letters. 1922).
Other documents state he planned to call the whole district Josephton and Avalon was to be named Brighton.
At the end of 1862 Father Therry contemplated selling the Pittwater Estate and at that time: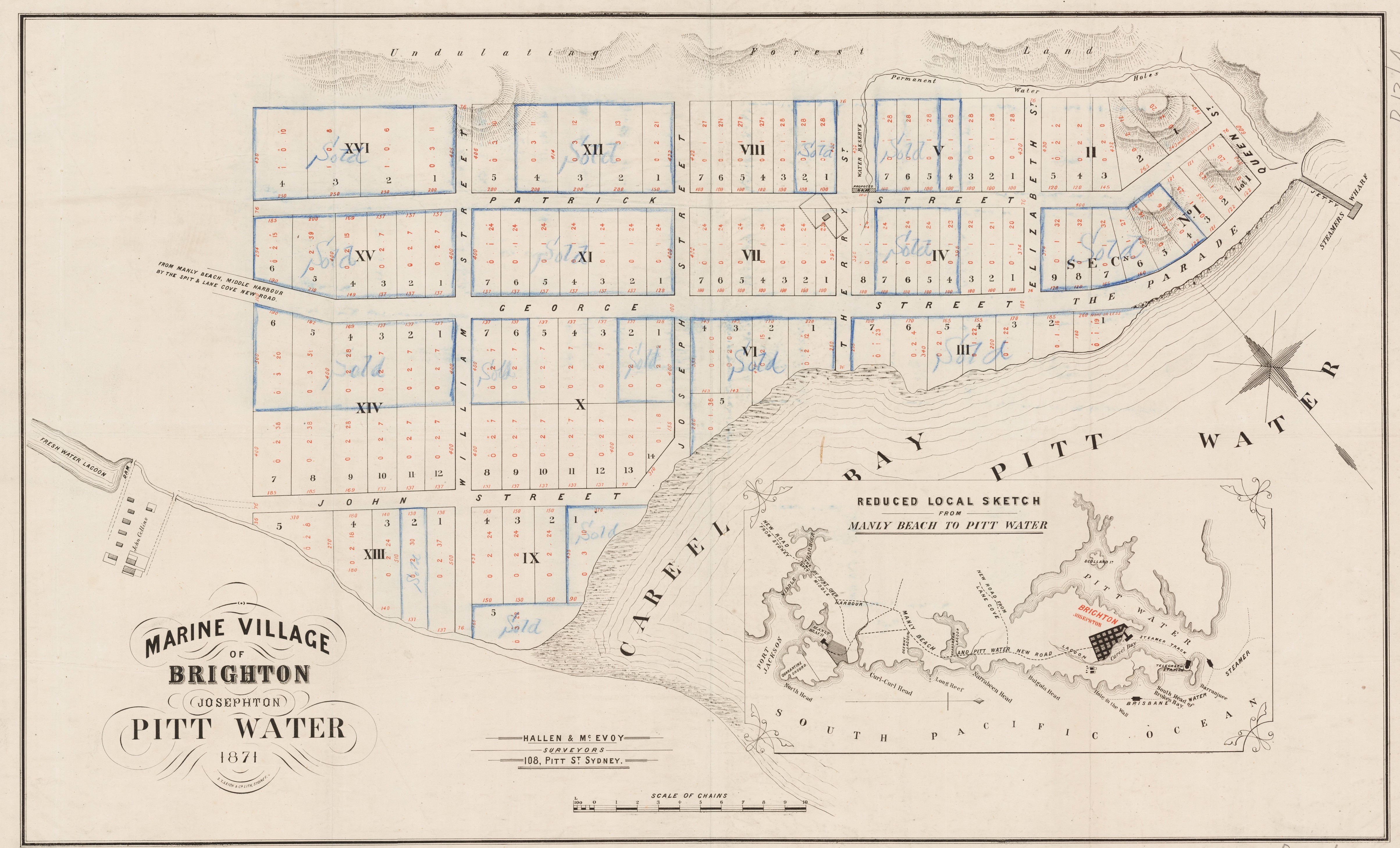 Village of Brighton Avalon Beach, 1871 map for Subdivision. Item No.: c053460004, Subdivision Plans, courtesy State Library of NSW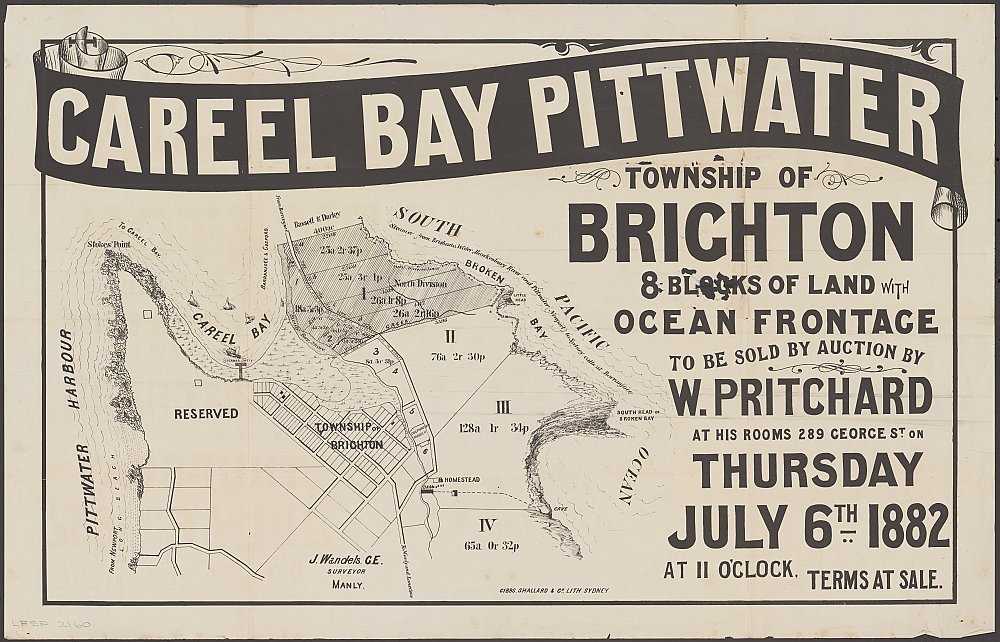 Careel Bay Pittwater [cartographic material] : township of Brighton, 8 blocks of land with ocean frontage 1882. MAP Folder 135, LFSP 2160 by Pritchard, W., courtesy National Library of Australia.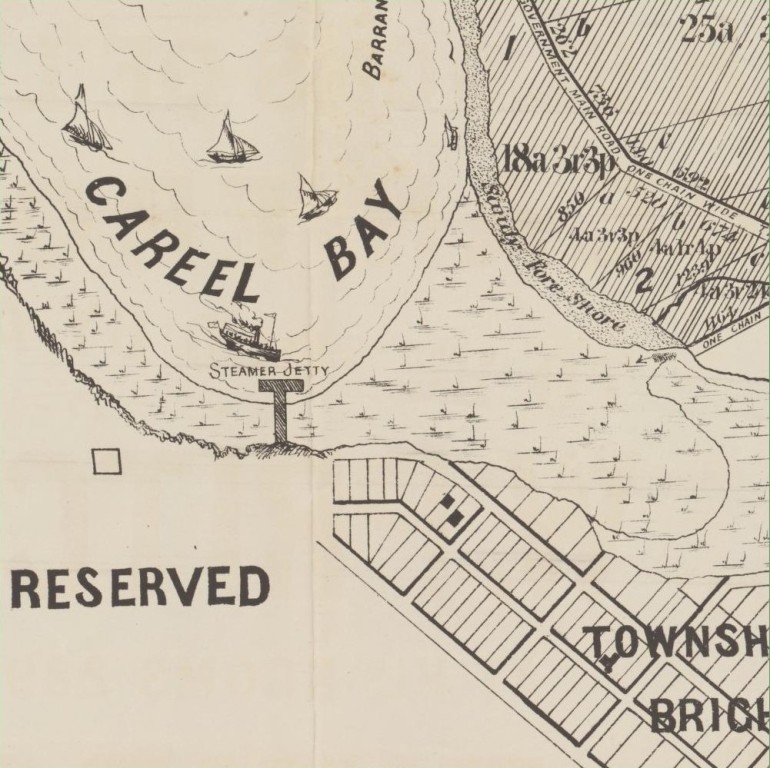 EIGHT MAGNIFICENT BLOCKS OF LAND, CAREEL BAY, PITTWATER, SURVEYOR'S DESCRIPTION. W PRITCHARD will sell by auction, THIS DAY, Thursday, JULY 6th, at 11 o'clock, in his Rooms, 289, George-street. The above magnificent blocks of land.
SURVEYOR'S DESCRIPTION. The land forms the pick of the late Rev. Therry's PITTWATER ESTATE, on CAREEL BAY. It is with regard to beauty of scenery, salubrity of climate, and fertility of soil, unsurpassed in this charming locality, and overlooks the tranquil waters of CAREEL BAY and PITTWATER HARBOUR, backed by the bold MOUNTAINS of the WORLD-FAMED HAWKESBURY on the WEST; and commands an immense and extensive view over the PACIFIC OCEAN on the EAST. Lots A and B. of block 1, rise in gentle terraces from the MAINROAD to BARRENJOEE, to a height of above 200 feet, and then slope down to the coast in a northerly direction. Lots C and D of Block 1 lie on gently rising ground, partly cleared, and are protected against southerly winds by a wall of high COAST CLIFFS. All these four lots contain an abundant supply of USEFUL TIMBER and practicable facilities for a PER-MANENT SUPPLY OF FRESH WATER, particularly lots C and D. which are traversed by a watercourse running into CAREEL BAY.
ALL lots have large frontages to the GOVERNMENT MAIN ROAD leading to the POST and TELEGRAPH OFFICE and LIGHTHOUSE at BARRENJOEE. which connects the land for sale with MANLY, LANE COVE, and M'CARR'S CREEK SETTLEMENTS : and on the portion from the old HOMESTEAD to BARRENJOEE the GOVERNMENT have voted £500 for improvements, so that communication with the POST and TELEGRAPH OFFICE will be EASY and ENJOYABLE. LOTS A. B. and C of Suburban Lot 2, in the primary subdivision of the "PITTWATER ESTATE," are on level ground, bounded on the WEST by the waters of CAREEL BAY and on the EAST by the GOVERNMENT MAIN ROAD to BARRENJOEE. Lots A and B are pretty well timbered, and Lot C is nearly open ground, and enjoys on the South the frontage of another ONE CHAIN ROAD to the MOUTH of CAREEL CREEK.
THERE IS DAILY COMMUNICATION WITHIN A FEW MILES OF THE LAND FOR SALE, either by LAND or SEA, Coaches run duly from MANLY to NEWPORT, and thence a ride, drive, or sail for a few miles brings one to CAREEL BAY. The STEAMER FLORRIE, which runs in connection with the coaches from NEWPORT to GOSFORD, will also land passengers and luggage at BARRENJOEE; steamers run also direct from SYDNEY to the HAWKESBURY and BRISBANE WATER, and land passengers at the LIGHTHOUSE STATION. The whole distance from MANLY is about 14 miles. The GOVERNMENT have voted the necessary funds for a bridge over the NARRABEEN LAGOON, and it is also clearing a new one-chain road from the LANE COVE-ROAD to the PTTWATER-ROAD, andeo avoids the NARRABEEN LAGOON. FOUR SCHOONERS are plying regularly between PITTWATER and SYDNEY, and so facilitate the transfer of heavy material. PLENTY of SPORT with GUN, ROD or BOAT.
(Signed) J. WANDELS, CE., 19-6-82. The land in this locality has been proved to be well suited for ORANGE GROWING ; but in a few months there will not be an acre of land in the locality available for purchase. LITHOGRAPHIC PLANS may be had at the Rooms of the Auctioneer. TERMS AT SALE. Advertising. (1882, July 6). The Sydney Morning Herald (NSW : 1842 - 1954), p. 10. Retrieved from http://nla.gov.au/nla.news-article13514755
Part of his scheme to keep aside areas as green commons grounds was not ratified until decades after those first parcels of lands sales:
Warringah Items.
It was unanimously decided to place the seal of the council to a document from the trustees of the late Father Terrey's Estate, dedicating to the council a 20 acre reserve, including the whole of the beach on "Priest's Flat," Barrenjoey Peninsula. This land was left for a reserve some 25 years ago, when the Pittwater Estate was being cut up, but was never dedicated, and the Registrar-General would not recognise it as such. After considerable trouble the dedication was arranged, without expense to the council, and the shire deserves congratulation on the result of their negotiations.
A numerously signed petition was received for transmission to the Department asking that 10 acres, known as the Oaks Picnic grounds, and owned by the Salvation Army, be resumed for a recreation reserve. Decided to forward the document to its destination with the council's endorsement.
It was decided that the Fisheries Board be asked to erect poles in the mouth of the Deewhy Lagoon, in order to prevent illegal net fishing. It was stated that this was a particular prawning ground, but it is being frequently invaded by net fishers, who decimated the prawns.
Decided to request the Postmaster General to install slot telephones at all the post offices in the shire. Warringah Items. (1912, March 8). The Land (Sydney, NSW : 1911 - 1954), p. 9. Retrieved from http://nla.gov.au/nla.news-article102916271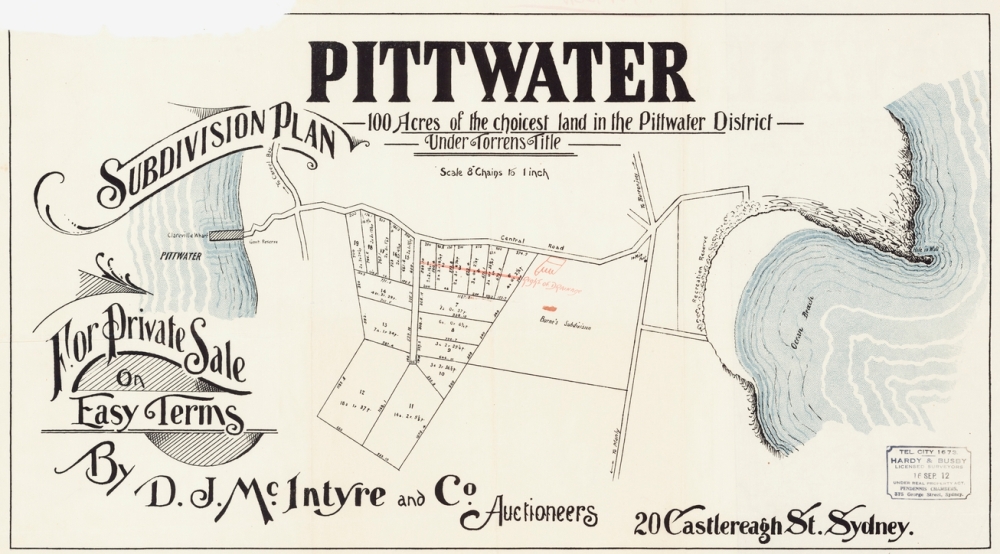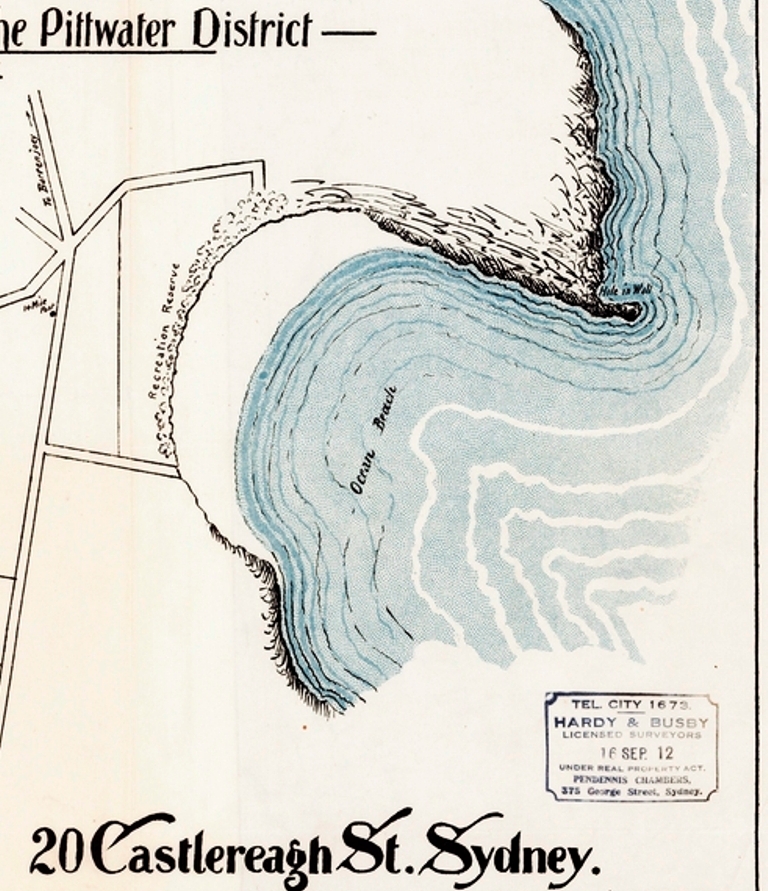 Avalon subdivision plans, September 1912. Image No.: c027560011h, courtesy State Library of New South Wales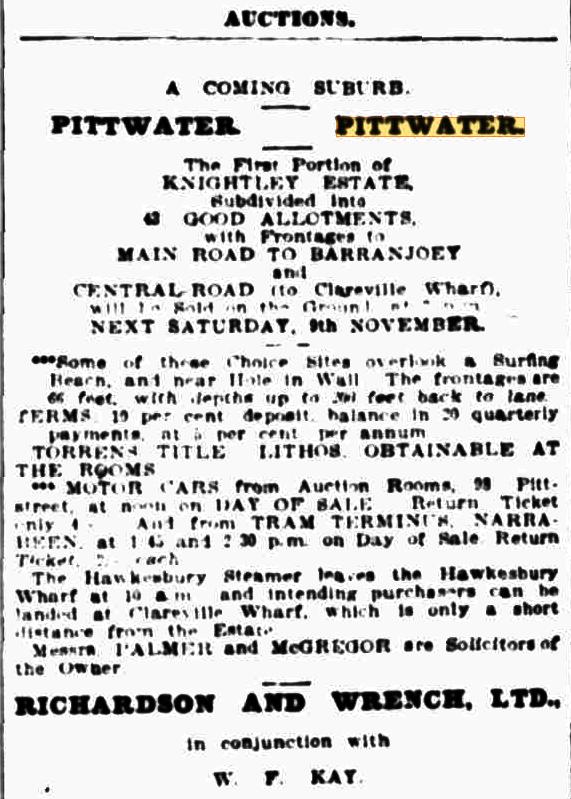 KNIGHTLEY ESTATE Advertising (1912, November 4). Evening News (Sydney, NSW : 1869 - 1931), p. 8. Retrieved fromhttp://nla.gov.au/nla.news-article117687749
What we now call Avalon Beach and its valley looked a lot different in earliest times to what we see now - as shown in St. Michael's Arch, Avalon 1864 To 1962, a landmark now gone, and St Michael's Cave, now closed due to rockfalls, or even 2017's headland rockfall.
ST. MICHAEL'S ARCH.
This beautiful Arch is situated on the estate of the late Very Reverend J. J. Therry, about three miles south of Broken Bay. As the scenery along. the coast from Manly Beach to the Bay is of the loveliest description, we advise all lovers of the picturesque to hire a spring cart from Mr. Miles - who lives about half a mile from the Pier Hotel - and proceed, early in the morning, to Mr. Collins' house, about thirteen miles distance, so as to be able to inspect this extraordinary specimen of natural architecture, and to return to Manly the same day if necessary.
As this excursion may gradually become fashionable, we quote a description of the places on the road from the late Postmaster- General Raymond's valuable work, the "Post Office Directory for 1855."
"Seven and a half miles from North Harbour, - Jenkins' house; the road for the last mile along a level sandy beach. On the left is Narabeen lagoon. Mr. Jenkins has a snug house here, and much land in cultivation, which is an agreeable prospect from the sea. Eleven and a half miles from North Harbour -Hut on the sea shore. The path from the Pennant Hills Road reaches the sea, and joins this coast road at the farm of one Foley - a tenant of. Mr. Wentworth's; the distance from thence being twelve miles. About half a mile further on is the south-east arm of Pitt Water, on which there are some small cultivated farms. The head of Pitt Water as seen from the heights along which the road or path leads, is equal to any lake scenery, and there are many romantic spots, with good land, on its banks, which might be converted into good farms. Thirteen miles from North Harbour - Several farms and cottages. Fourteen miles- The Rev. Mr. Therry has a grant here. Fourteen and three-quarter miles - The Hole-in-the-Wall, being a rocky projection forming a rude archway with the shore."
The arch mentioned by Mr. Raymond is about twenty-two feet across the inside, and between thirty and forty feet high underneath. The rocks, of which it forms a part, are seventy feet in height - the colours of these rocks are exceedingly beautiful. At low water the visitor can pass through the arch.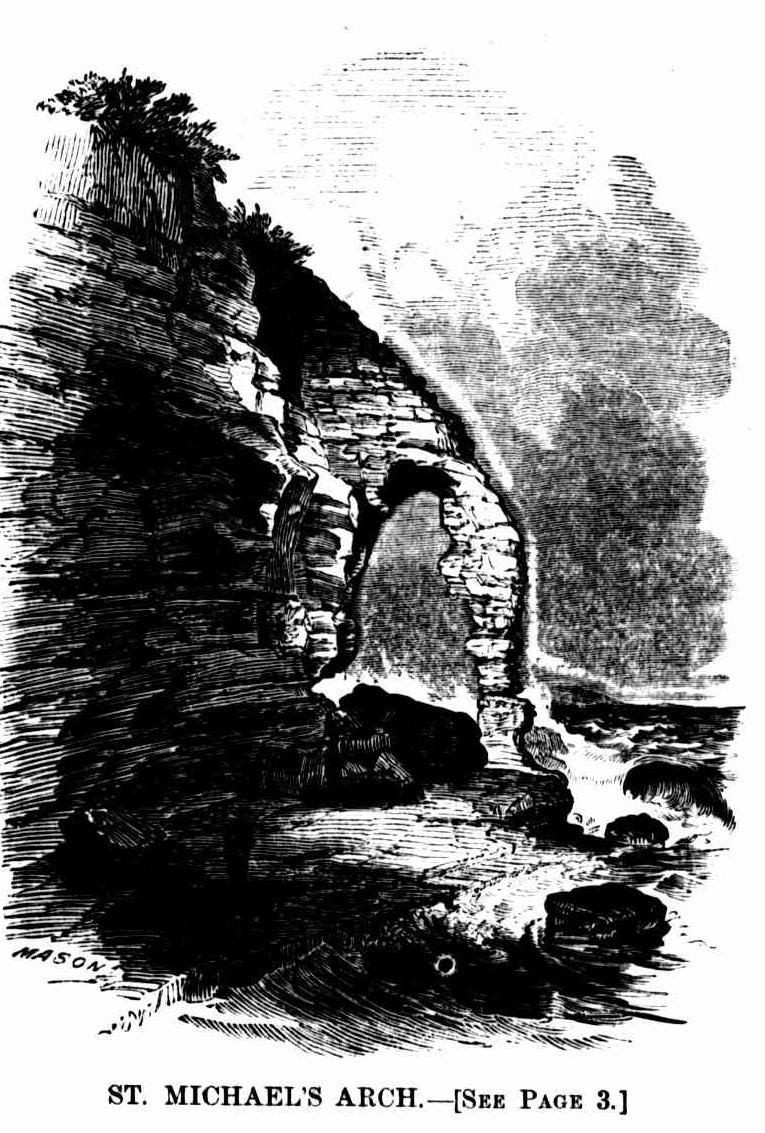 Ascending the cliffs, a view of Pitt Water is beheld, being the harbour belonging to this estate. If an arrangement were madeto have a small steamer plying along the beautifully wooded, lofty, and precipitous shores of the Hawkesbury River, parties of travellers could meet it at this spot, avoiding the disagreeable sea voyage by coming from Manly by land. The steamer could convey them from Mr. Collins' house to Windsor, and the trainwould take them back to Sydney - it being understood that the Windsor railway will shortly be completed.
Illustration: ST. MICHAEL'S ARCH.
ST. MICHAEL'S ARCH. (1864, October 15). Illustrated Sydney News (NSW : 1853 - 1872), p. 3. Retrieved from http://nla.gov.au/nla.news-article63512130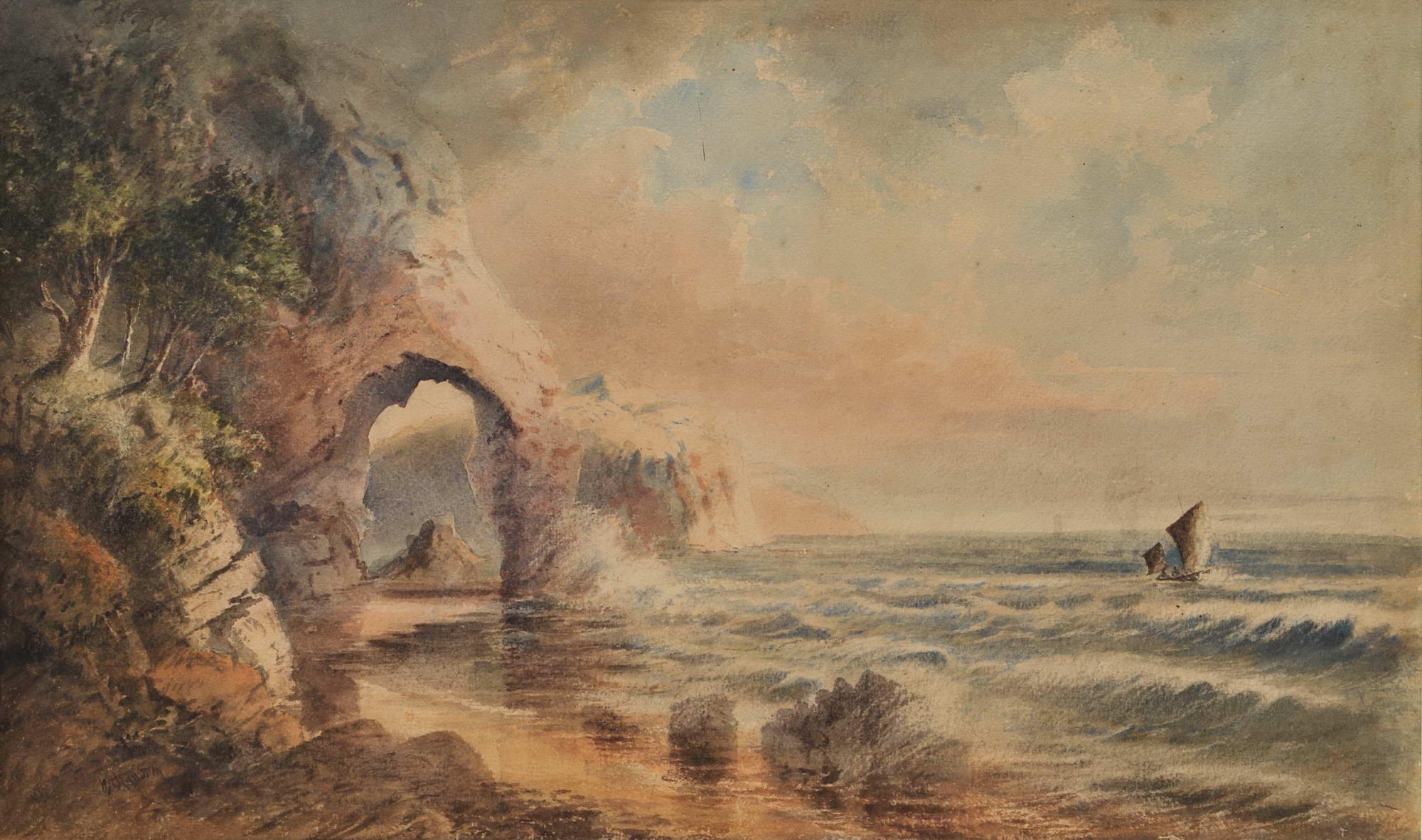 W.H. Raworth (Brit./Aust./NZ, c1821-1904). St Michael's Arch, NSW [Avalon] c1860s. Watercolour, signed lower left, obscured title in colour pencil verso, 34.2 x 56.5cm. Tear to left portion of image, slight scuffs and foxing to upper portion. Price (AUD): $2,900.00 at:https://www.joseflebovicgallery.com/pages/books/CL181-53/w-h-raworth-c-brit-aust-nz/st-michaels-arch-nsw-avalon
BROKEN BAY. [From the Herald's Correspondents.]
June 24. — We have had tremendous weather, but, as far as Pitt Water is concerned, no damage has been done, with the exception to one of our picturesque curiosities, St. Michael's Arch. It has at length yielded to the too mighty elements and the destroying influence of time,— that which, was the admiration of all who have beheld it is now almost a baseless fabric,— there is only about one half of the outer support left, looking at it at a distance it has the resemblance of a colossal pillar. In its fall it carried a large portion of the overhanging rock with it, a thousand tons of gigantic boulders, and in such masses that I think it will stop the ingress from that part to the cave, but as yet we have had no close inspection, for the rollers are dashing to the height of the stupendous rocks. The only idea I can give of the gale is, that the froth of (not spray) the sea came over Mount St. Joseph, opposite the house, half a foot in size, and spread itself down to the dam, at times shading the heights of the mountain, — its resemblance was that of an overwhelming snow storm. The sea at Barranjoey washed away the flower garden in front of the Chinamen's huts, taking soil and all, so that the beach comes close up to their door. There must have been awful havoc in the Hawkesbury, for all the beaches from Barrenjoey to the Long Reach are strewed with fragments of houses, boxes, chairs, doorframes, dead pigs, hay, wheat, broken bedsteads, weatherboard sides of houses, oranges with large branches, pumpkins, melons, corn cobs, and other debris, that scarcely any portion of the beaches can be seen. Mr. Conolly picked up a workbox, in which was contained a number of receipts and letters directed to Mr. Moss, Windsor. The beaches on which are the debris is Barrenjoey, Whale Beach, Collins's Beach, Mick's Hollow Beach, Farrell's Beach, Mona Beach, and Long Reach, so it may be imagined the great extent of destruction. BROKEN BAY. (1867, June 29). Sydney Mail (NSW : 1860 - 1871), p. 11. Retrieved from http://nla.gov.au/nla.news-article166799304
Many resident historians are fairly certain that the above was written by then resident in this region John Collins, or his brother Frank, who worked occasionally at the Broken Bay Customs Station, Barrenjoey headland during these years. Mr. Conolly, who is also mentioned, became a relative by marrying one of the Collin's daughters.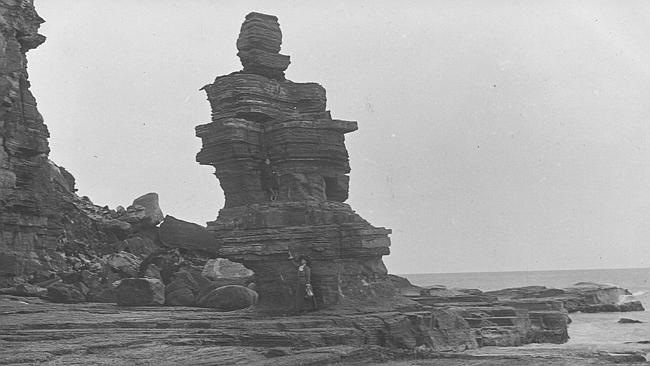 circa 1900 when 'the Pedestal'
In fact the place, alike every place, is constantly changing and has shifted from being a place occupied by aboriginal peoples to a refuge for settlers where shells were gathered to make cement and cows milked to make butter to becoming a health resort via A J Small's 1920's vision to a place that was affordable for families during the post WWII frugality and 1950's and safe for their children to roam about in and play.

Apart from the changes Nature has wrought it is those imposed on the landscape by those who sought a home beside the seaside, or a place to get away to, that changed an open semi-rural valley to a suburb of a city.
IMPROVING AVALON. ROADSIDE TREES PLANTED
Since the sale of Avalon Beach Estate at Christmas additions and improvements have been effected on the estate.
The rock pool baths at the southern end of the beach have been extended 18ft., and are now 57ft. long, with a smooth bottom. Ladies' dressing sheds have been erected immediately at the rear, on a spot once occupied by a jumble of rocks, and a general store and refreshment room of original design has been built close to the beach.
Several landowners are already building homes on their lots. A new, wide road has been constructed, giving the land direct access to the beach, and at the side of all the roads, trees, of eight different varieties, chosen as specially suitable for the land and atmosphere, have been planted. One of these is the Illawarra Flame Tree, which carries blooms of fire color.
IMPROVING AVALON (1922, March 22). The Sun (Sydney, NSW : 1910 - 1954), p. 10 (FINAL RACING). Retrieved from http://nla.gov.au/nla.news-article225222882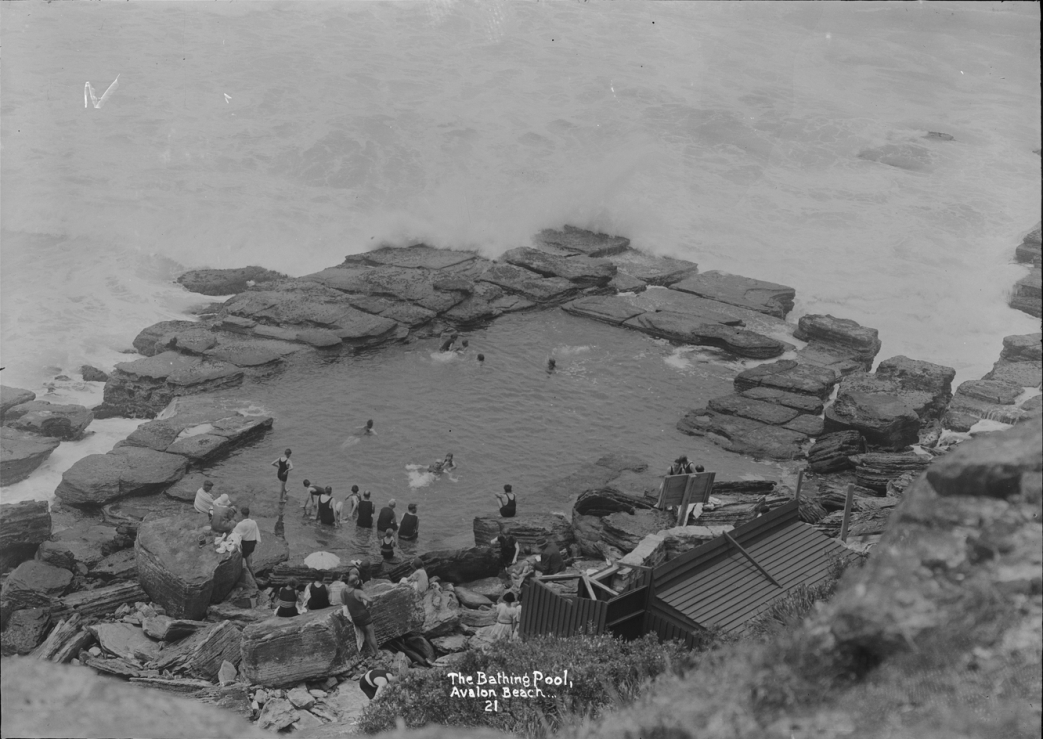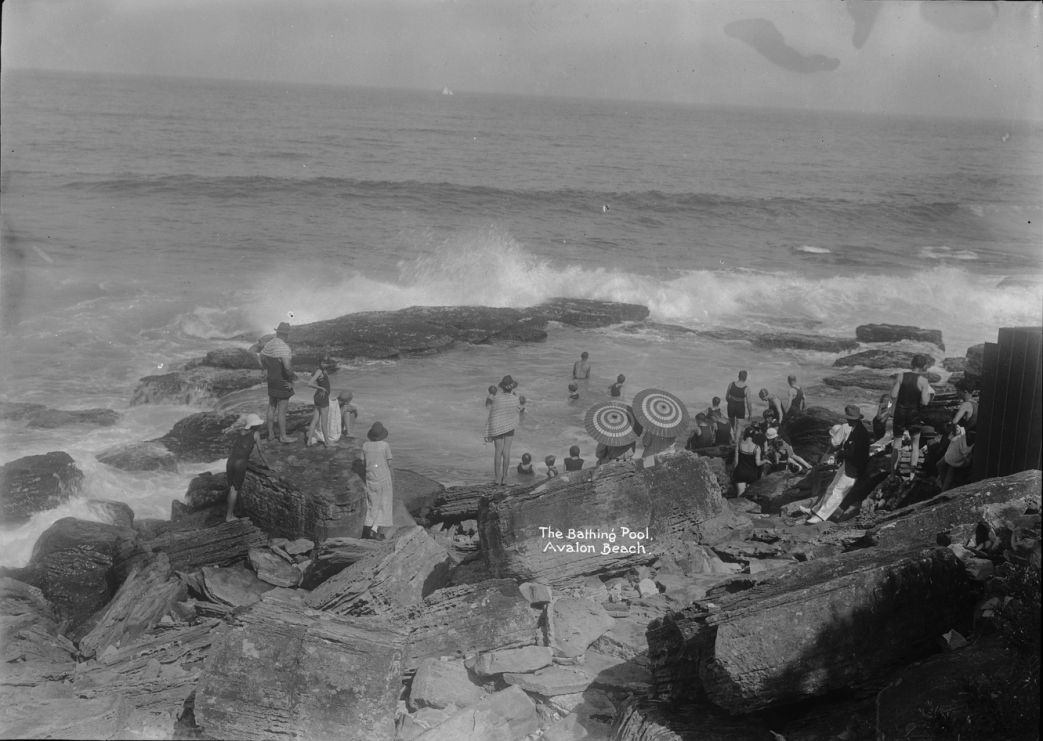 The bathing pool Avalon Beach - photos by Rex Hazlewood, circa 1920-1929 Images Courtesy The Mitchell Library, State Library of NSW, No.: c046220002h and c046220014h Visit; Pittwater's Ocean Beach Rock Pools: Southern Corners Of Bliss - A History
Some of these tree plantings during their formation seasons may be seen in many of the wonderful panoramas held by the National Library of Australia which illustrated the development of the Avalon Beach Golf Course:
That 1921 sale of land slogan that has been taken up with a passion by the Creative Creatures film Festival: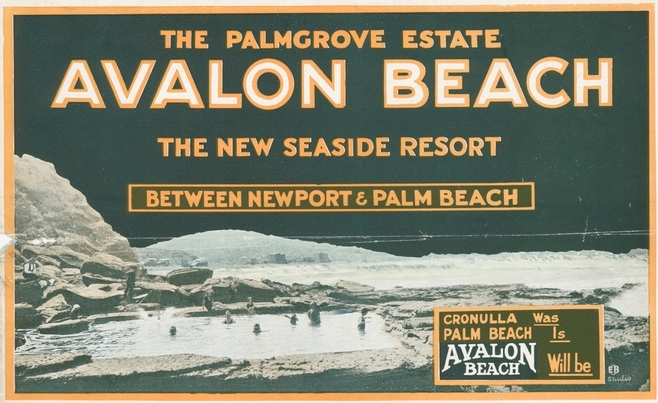 Cronulla was, Palm Beach is, and Avalon Beach will be. This is the catch slogan which has been adopted by the vendor of the Palmgrove Estate at Avalon, which is to be sold by Messrs. H. W. Horning and Co., on Boxing Day. Judging by the beautiful panoramic views which appear in an attractive booklet, and which also occupy a conspicuous position in Messrs. Horning and Co.'s windows, Martin-place, the scenery surrounding the estate must be exceptionally beautiful. Avalon is the new sea side resort between Newport and Palm Beach.
The Palmgrove Estate is on the main Barrenjoey-road, and is right at the beach. The owner has evidently had the public good in mind, as the estate has been well planted with Ornamental shade trees, while a section of it known as the Palm Grove, has been presented as a park. This is a remarkable beauty spot, with a wealth of graceful palms, maidenhair, burrawang, and other ferns. The estate is in every respect a most attractive proposition to those looking for week-end and holiday sites. REAL ESTATE NEWS. (1921, December 11). Sunday Times (Sydney, NSW : 1895 - 1930), p. 10. Retrieved from http://nla.gov.au/nla.news-article123241058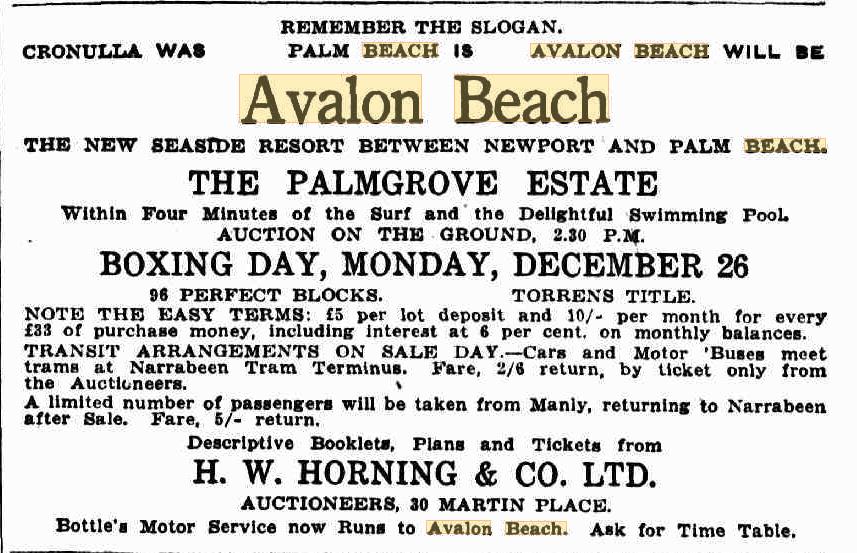 Advertising (1921, December 24). Smith's Weekly (Sydney, NSW : 1919 - 1950), p. 20. Retrieved from http://nla.gov.au/nla.news-article234270570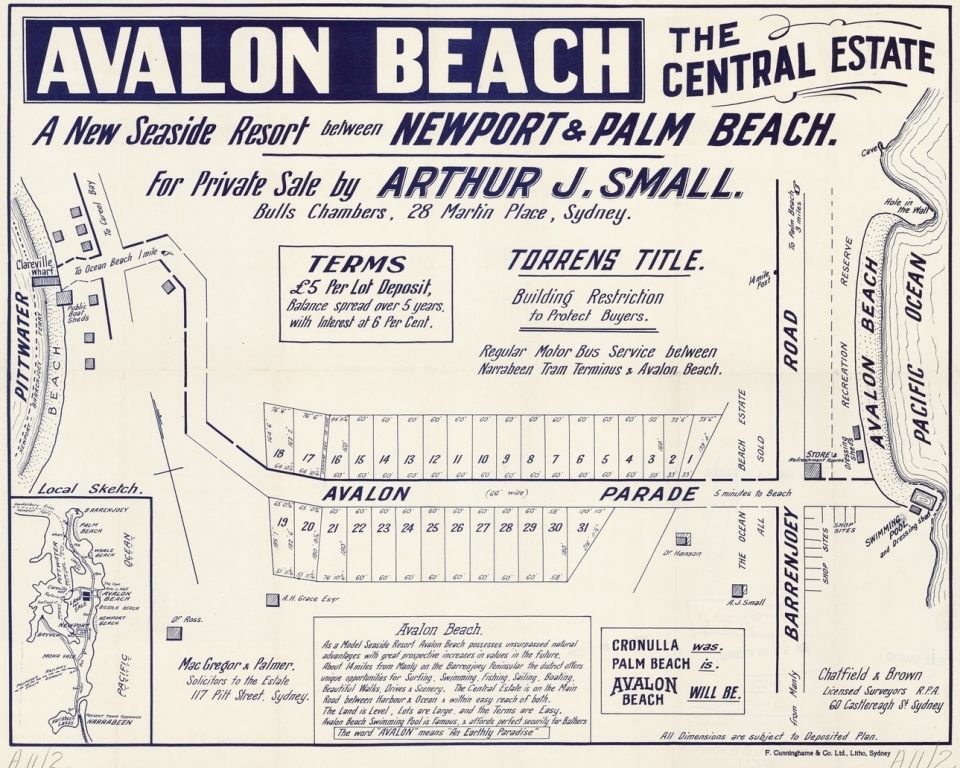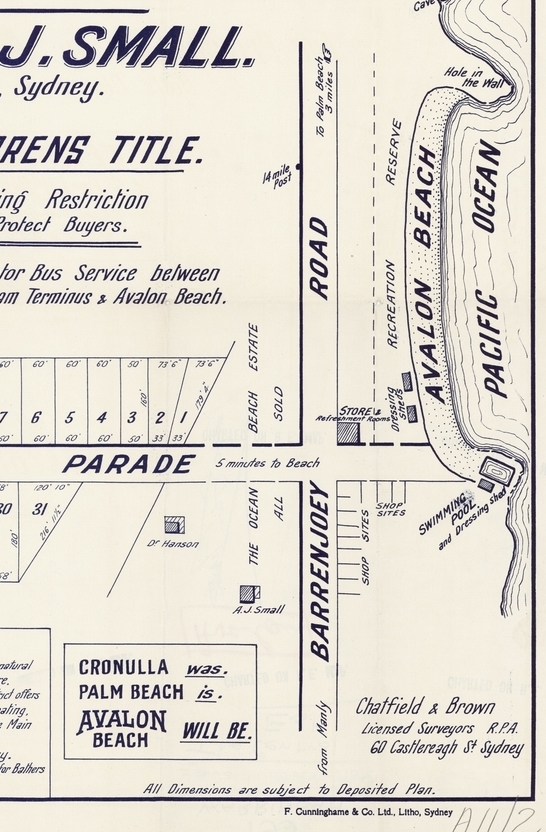 Avalon subdivision plans, Image no.; c027560002h, courtesy State Library of New South Wales.

The State Library of NSW is gradually digitising many of the subdivision maps and posters it holds. Some may also be found online through the National Library of Australia. The one associated with the Palmgrove Estate also allows us some snapshots of the valley of then: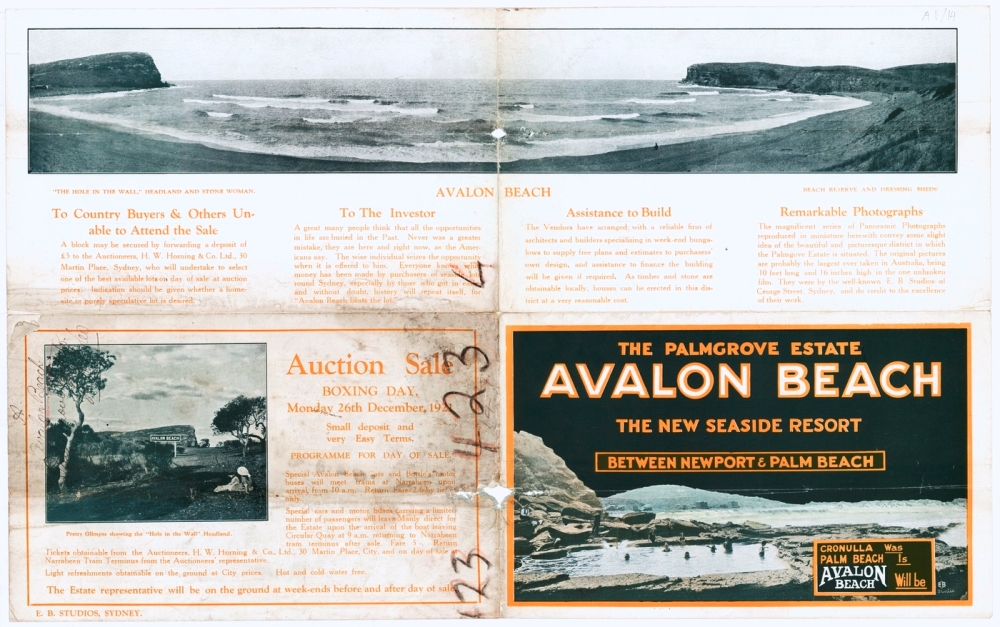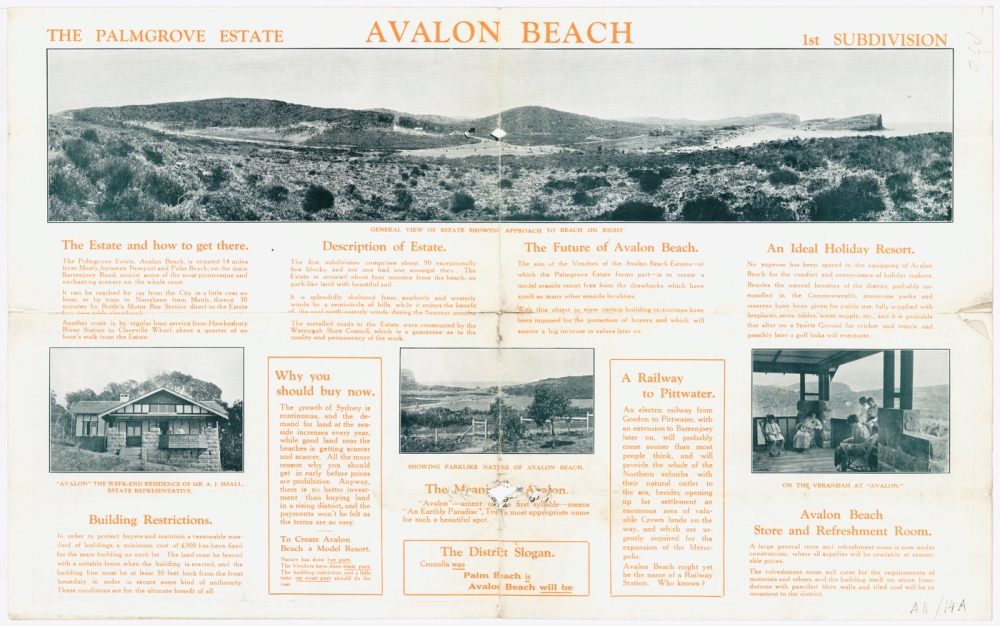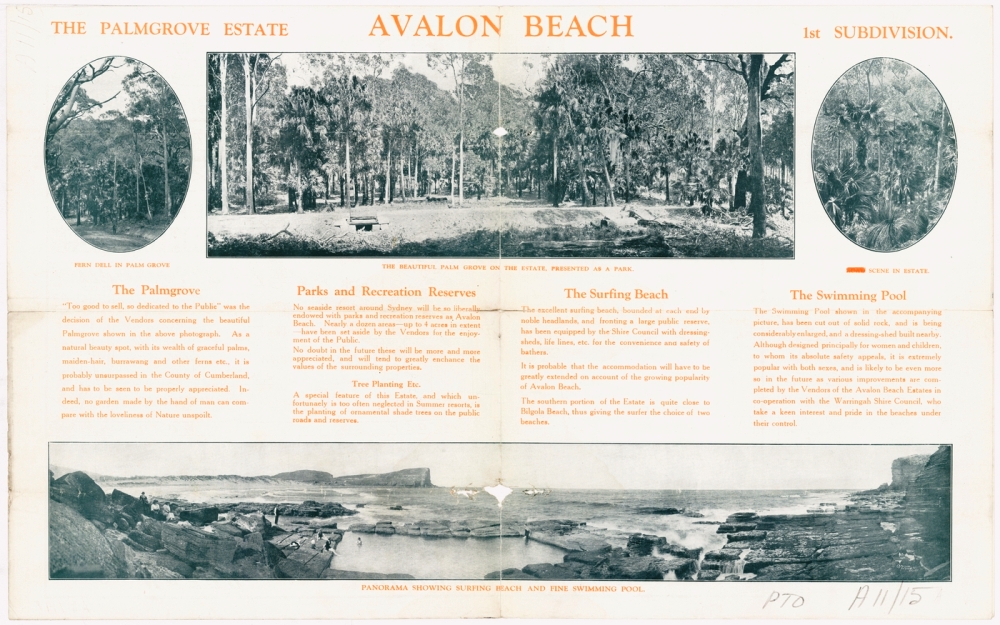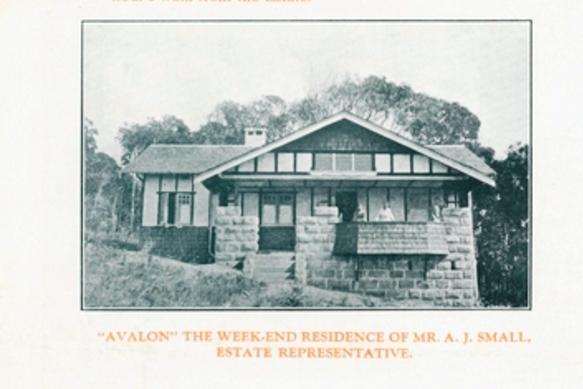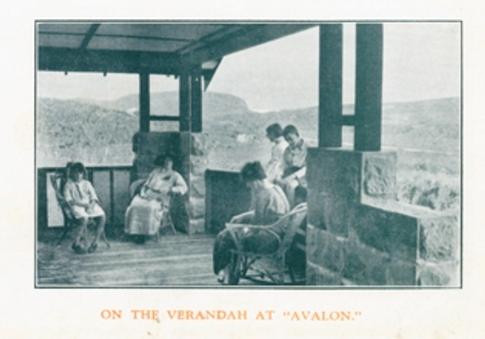 Avalon Beach, Palmgrove Estate; 26-Dec-21, Subdivisions maps and sections from. Images No.: c027560016h, c027560017h and c027560018h, courtesy State Library of New South Wales.

Compare this version from a few years later;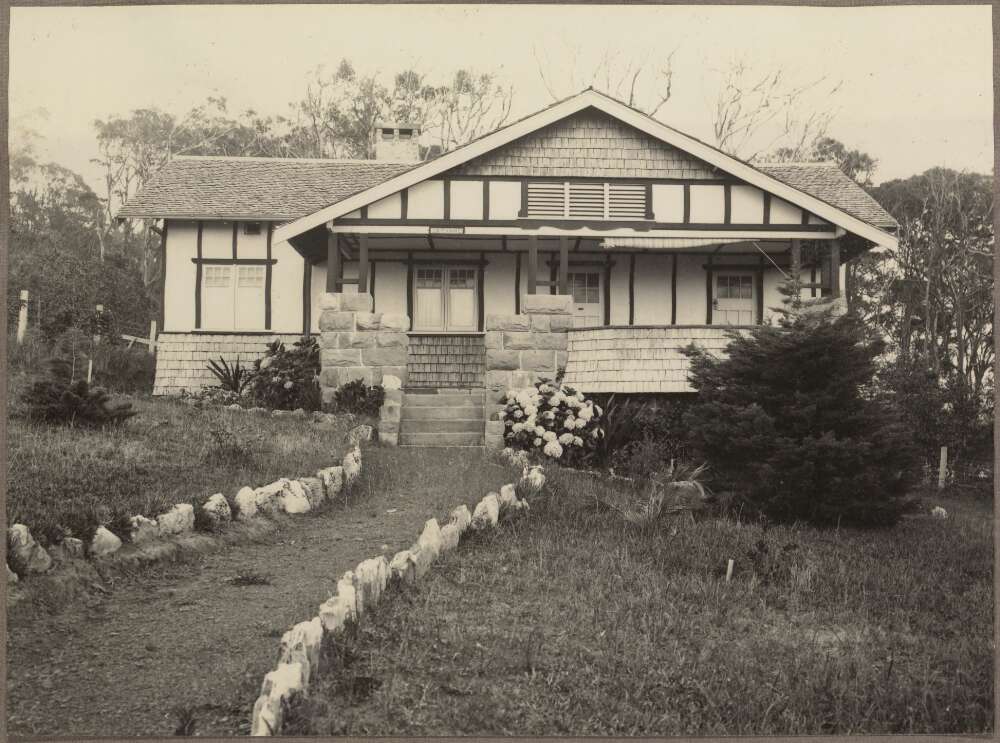 (1930). [House, Avalon, New South Wales, 1930, 2] Retrieved from http://nla.gov.au/nla.obj-147288137 from album Prospectus photographs of Avalon, 1930, courtesy National Library of Australia

Another version:
Sale of Ocean Water Frontages. One of the attractions of the New Year with big advantages attached by reason of the rarity of the opportunity is the auction sale, January 26, of ocean water frontages on a beautiful surf beach at Careel Bay, Pittwater, just above. Manly.No better way to spend Anniversary Day could be found than to visit the spot, for which every provision will be made, as may be gathered from the advertisements. The land for sale is the Careel Ocean Beach Estate, which is only three-quarters of a mile from Clareville Wharf at Pittwater. There are hundreds of splendid deep blocks fronting a beautiful ocean beach and intersected by a fine wide marine parade. Only £3 deposit is required for each £50 purchase, and the balance, in easy installments over a term of seven years. The auctioneers are Messrs. Stanton and Son, Pitt-street, and Messrs. Hanson, Strong and Robey, Manly. The solicitors to the Estate are Messrs. Bowman and Mackenzie, George-street, Sydney. Sale of Ocean Water Frontages. (1914, January 17). The Newsletter: an Australian Paper for Australian People (Sydney, NSW : 1900 - 1918), p. 4. Retrieved from http://nla.gov.au/nla.news-article116942799
Stanton and Son, Ltd, report, 15 lots in the Careel Ocean Beach Estate, with frontages of in all of 752 feet to Marine Parade for atotal of £6781. REAL ESTATE. (1919, January 11). The Sydney Morning Herald (NSW : 1842 - 1954), p. 9. Retrieved fromhttp://nla.gov.au/nla.news-article15819701
This one is great as it allows you to see who owned what structure: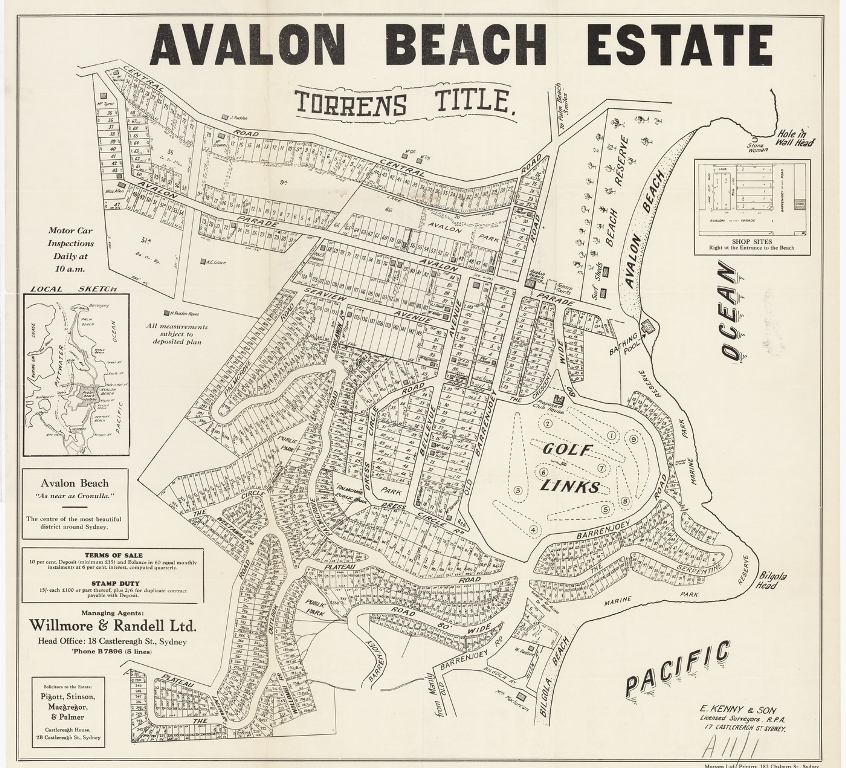 Avalon Beach Estate, Image No.: c027560001, courtesy State Library of New South Wales. Zoomable here
Younger readers may not be aware that what they call 'Old Barrenjoey Road' was originally the way to head north - there was no road along the ocean side;
As can be seen in the first panorama above, and enlarged sections from, there was no road hugging the coast in this Enemark photograph of around 1925 and although the land has been cleared for a golf course, no greens are as yet in place, nor are there any sheds.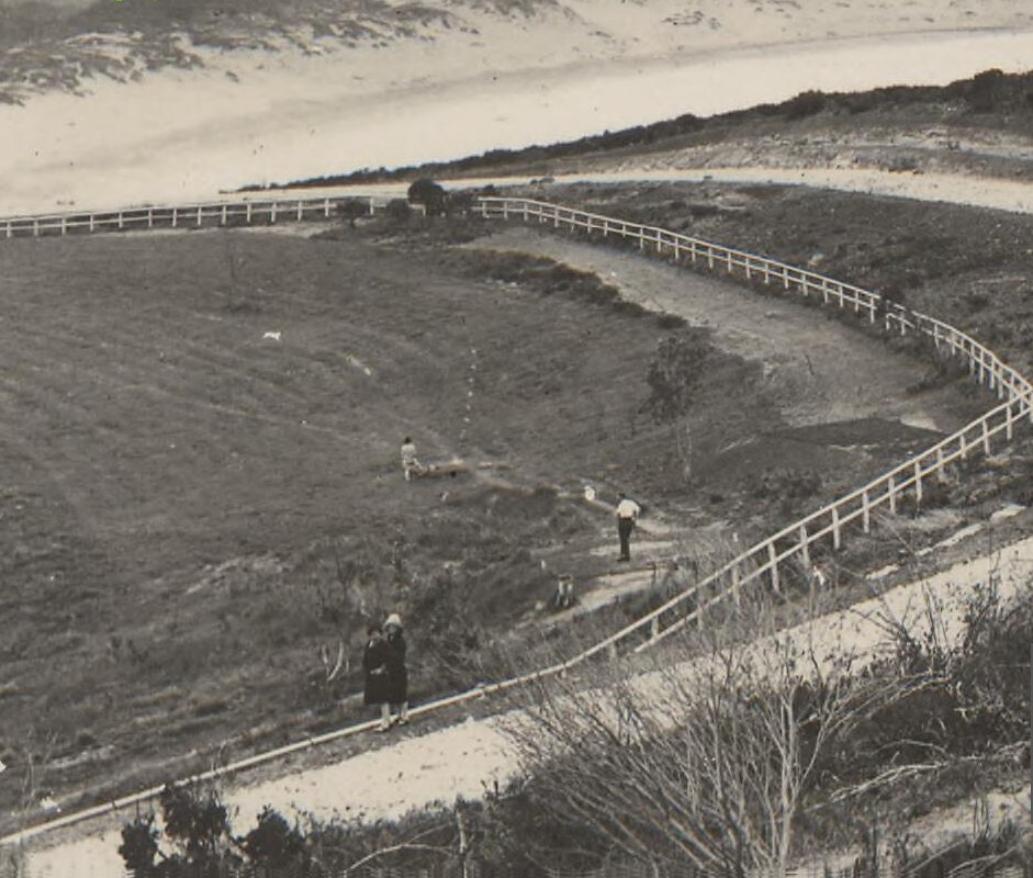 See how there is no tar on the road - just dirt, or dust, and stones.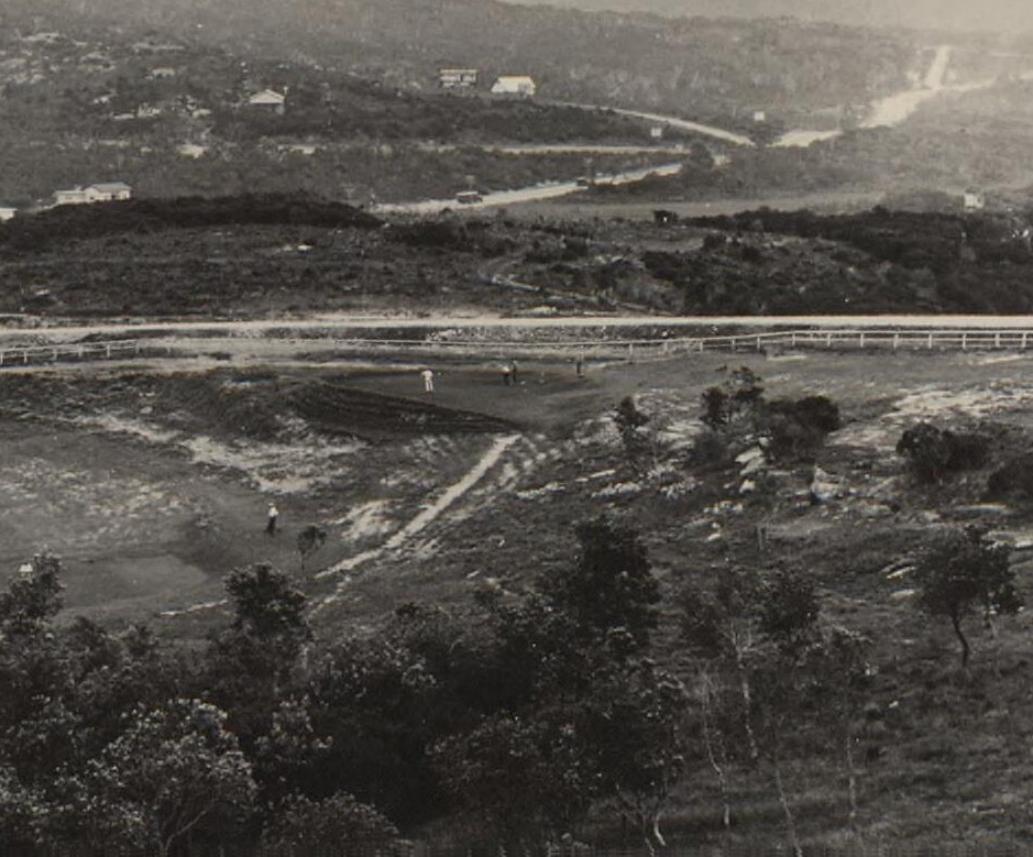 As soon as structures such as homes and shops began to appear on the Avalon valley floor the fact that the place is threaded with creeks created problems every time it rained and drainage problems featured in the then Warringah Shire Council Notices and warranted the state government getting involved in 'unhealthy land' at Avalon due to poor drainage - from Warringah Shire council's Minutes of Meetings we garner and insight into a problem that still hasn't been fixed:
30/4/1928: 40.,Garland, Seaborn & Abbott 13/4/28 Suggesting certain drainage improvements at Avalon Beach to prevent damage to A J Small's property. Resolved Crs. Hitchcock, That the Engineer furnish an estimate of the cost, and the work of cutting the drain be put in hand immediately the transfer is finalised.
62. Garland. Seaborn & Abbott. 29/6/28. Again requesting that the Shire Engineer confer with the green-keeper of Avalon Beach golf links in regard to defective drainage. Referred to the Overseer for attention.
18. Main Roads Board. 16/7/28. Advising that the length of Barrenjoey Road which is proposed to be proclaimed a main road is that extending from Newport to the end of the last at deviation at Avalon. Resolved: (Crs. Hitchcock, Atkins) - That an application be made to have the whole length of Barrenjoey Road proclaimed a main road. 20. H.E. Fry. 12/7/28. Requesting a garage approach to 57, Avalon Beach Estate. Referred to the Overseer for report.
23/7/1928: 45. Garland. Seaborn & Abbott. 10/7/28. Suggesting, as a temporary measure to relieve the drainage trouble at Avalon Beach, that a drain be cut from the junction of Barrenjoey Road deviation and Avalon Parade to the 25-ft.easement opposite the tennis courts. Left with the Engineer to deal with
24. B. Kenny & Son. 6/2/29. Submitting, for affixing of Council's Seal, D.P. of part of Avalon Beach Estate, fronting "The Crescent" and "The Serpentine," and assuring the Council that the complete fencing and culverts will be each completed within the next month. Resolved (Cr. Hitchcock, state Cr. Robertson) that authority be given for the affixing of the Council's Seal to the plan, upon receipt of £250 to be paid into the Council's Trust Fund as a guarantee for the completion of the work on the subdivision, and upon the Engineer certifying that permanent marks and drainage easements have been correctly provided. 25. Same. 6/2/29. requesting the Council to consider the question of tarring the roads in Avalon Beach Estate subdivision, including Plateau Road, the company being prepared to make a reasonable contribution towards the cost of the works. Resolved (Or. Hitchcock, Cr. Austin) That if the Co. will tar the first 30 chains of Plateau Road the Council will give it a second coat and maintain it.

16/12/1929: 25. Perkins Stevenson & Co. 29. Requesting that the matter of attention to Bilgola Creek at Mrs. Maclurcan's property be reconsidered, and holding Council responsible should any further damage result. Resolved (Crs. Hitchcock Robertson) - That the Council without prejudice, that it cannot see its way to more than it has already offered, 26. E. Kenny & Son: 4/12/29 Submitting copies of Deposited Pans of western subdivision of Avalon Beach Estate for council's approval offering monetary guarantee for duecompletion of roadwork, and an under-taking that the road drainage, etc. will be finished within one month from date. (Dealt with. in Engineer's report to this meeting)
Frank A. Nook, 7/1/30. Applying for permission to gather shell grit from the ocean at Avalon Beach. To be informed that the Council has no objection provided the Department of Mine's permission is obtained, and it is understood Council will withdraw permission at any time if thought fit. (Crs. Corkery, Austin.) 26. Avalon Beach Progress Assoc, 4.1.30 Stating that if Council will provide three more garbage receptacles for Avalon Beach, with suitable notices placed on them, the Association will place them in position, (2) on the need for sanitary conveniences at Taylor's Point Reserve, (3) drawing attention to the "appalling condition" of Clareville wharf. Decisions:- (1) Resolved The Association be asked whether it is in a position to arrange for the emptying and cleaning of the receptacles, (2) referred to the Inspector for report.
10/2/1930: That the Overseer's report respecting the removal of grit from Avalon Beach Reserve be adopted, and the Inspector investigate the each matter of the bag structures erected on the reserve.
33.Avalon Beach Progress Aesop. 4/11/30. Requesting that Avalon Beach reserve and beach frontage be put in order, and that the Council apply to the Unemployment Relief Council for a grant of about £100 for the purpose. Resolved, - The Association be informed of the number of applications already made to the Unemployment Relief Council, and the disappointing result of same. (Crs. Greenwood, Hitchcock) 34.4/11/30. Requesting that the southern corner of the Central Road-Barrenjoey, Road junction be rounded off, scrub cleared from both corners, and the Central Road graded Central Road back for a distance of about 50 yards from Barrenjoey Road. Resolved, - That work be carried out by the maintenance men as recommended by the Overseer. (Crs. Robertson, Austin)
25. A. J. Small, 23/7/31, drawing attention to: the "inadequate methods of drainage provided for the area in the neighbourhood of Wickham's Store at Avalon Beach ", explaining that are, in his opinion, the causes of the trouble, and notifying the Council he holds it responsible for the damage done in Wickham's Store during the last heavy rain storm, Referred to A. Riding Councillors. 7. Bobbie & Poxall, Licensed Surveyor, 5/8/31 requesting Council to reconsider its decision in regard to the damage done to Mrs Macluron's property at Bilgola Beach by storm water. Resolved, - That the Council's previous decision be adhered to: (Crs. Campbell, Austin) 8. Reynolds, … & Co., 31/7/31, giving notice of intention to issue a writ for £50 in respect of damage to Mrs. Metcalf's property in Barrenjoey Road, Avalon Beach Resolved, - That the Councils previous decision be adhered to, 94 Creagh & Creagh, Solicitors, 7/7/31, respecting damage to A E Hordern's property at Palm Beach by stormwater: Resolved, That the President and Engineer go into the matter. (Crs Austin. McPaul) Avalon drainage in vicinity of Bayview Avenue and Palmgrove Road - re Ruskin Rowe letter Resolved, - That the report be adopted. (C) Clareville drainage at Beach Parade
Avalon Beach General Store owned by Stan Wickham, on Avalon Parade, New South Wales, 1930, Image No.:nla.pic-an24768496, courtesy NLA from album Prospectus photographs of Avalon, 1930
Stan Wickham, famous Wallaby three-quarter, has been appointed postmaster at the new office at Avalon Beach. His was a glittering football career, and, in more sedate pursuits, he is as popular as ever. Remember, All Are For The State (1933, May 31). The Sun (Sydney, NSW : 1910 - 1954), p. 3 (FINAL EXTRA). Retrieved from http://nla.gov.au/nla.news-article228892621
Alison Bosley stands beside a photograph of her Great aunt, Grace Wickham. Grace was the wife of Stan Wickham, a rugby giant during his younger days.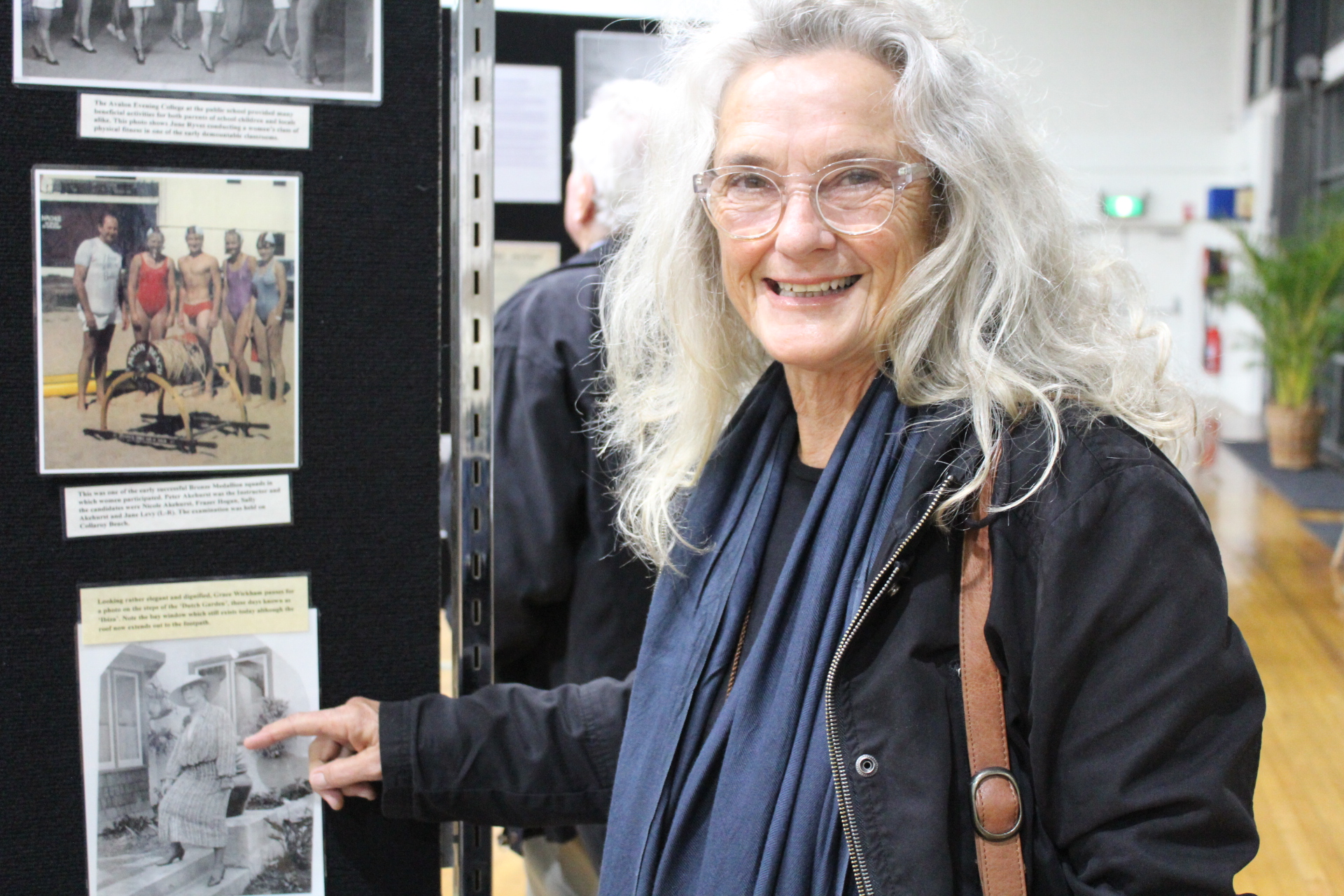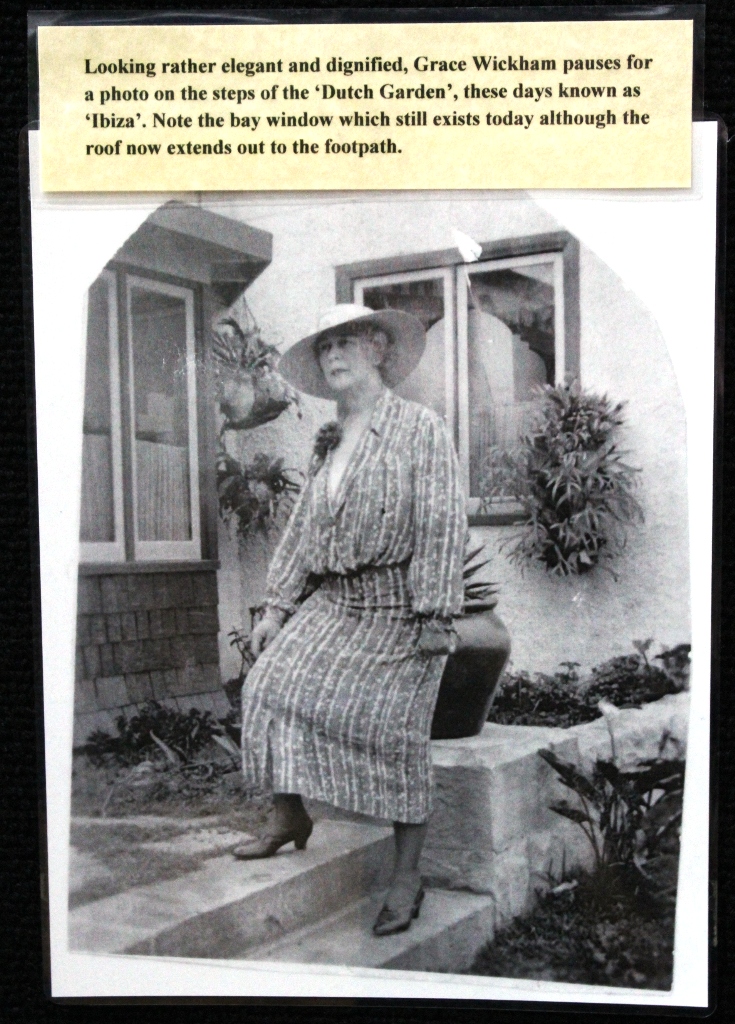 Grace came to Avalon in 1924 with Stan and their two young children to take up tenancy of A. J. Small's General Store.
In 1934 the Wickham's had built their own store on the diagonally opposite corner, where the wine store now stands. While Stan was out making deliveries Grace would run the store, including the Post Office within the store, redirected telephone calls, handled holiday lettings for the cottages and homes as they sprang up, raised her children and as a nurse, acted as the local GP until a doctor had settled in the valley of Avalon.
On a tragic note, she also took the telegram which informed her of her son being shot down over Germany in 1939 whilst a flier for the Royal Air Force.
Wickham Lane, running beside the Post Office's present site is named after the Wickhams.
Alison Bosley explains that this was the path they used to use to go to the shop and later the tea rooms beside it.
"They lived in Central Road and that was the path they walked along to go to work"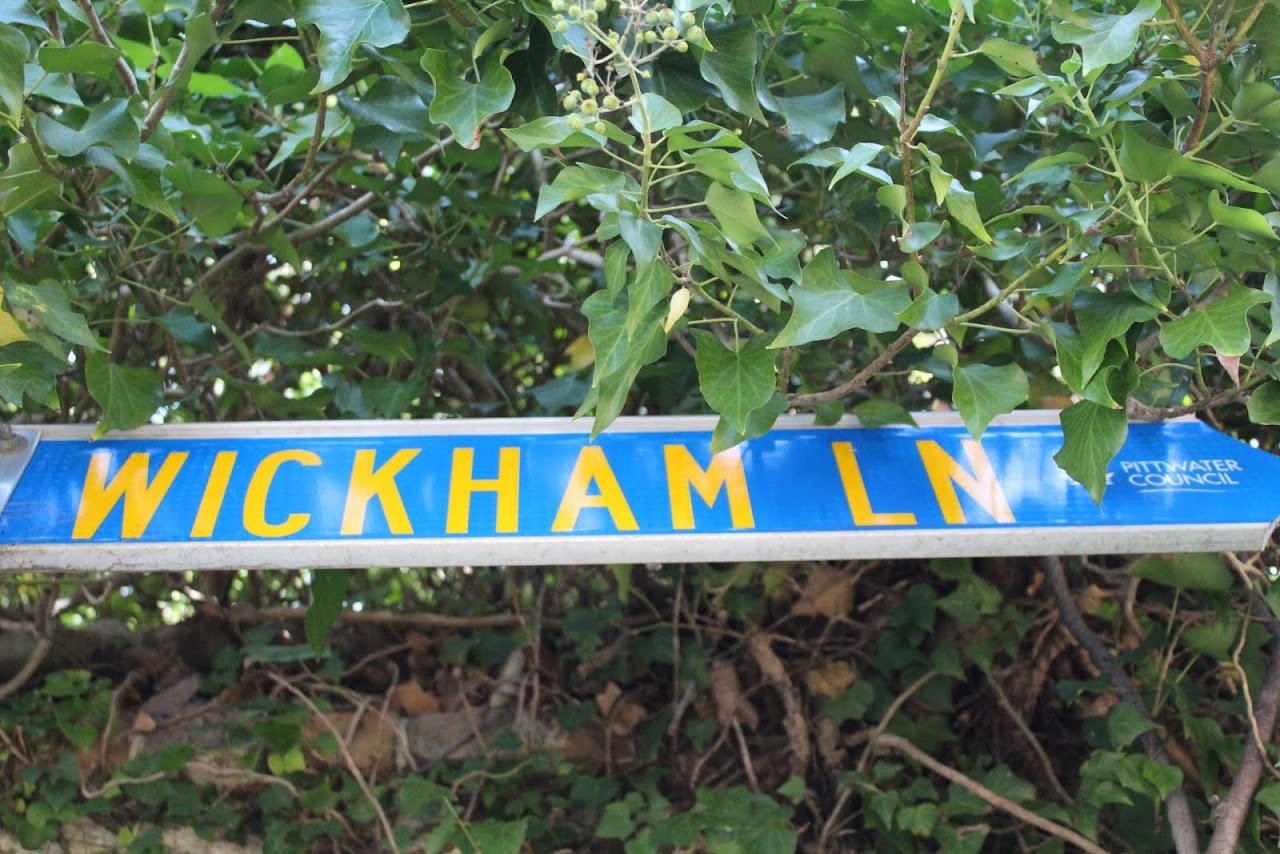 Cows seem to have been a problem to some and part of the landscape to others. As the subdivisions progressed what was the Clairville or Clareville road had become Avalon Parade - this wonderful ABHS image from the early 1920's shows how that road looked: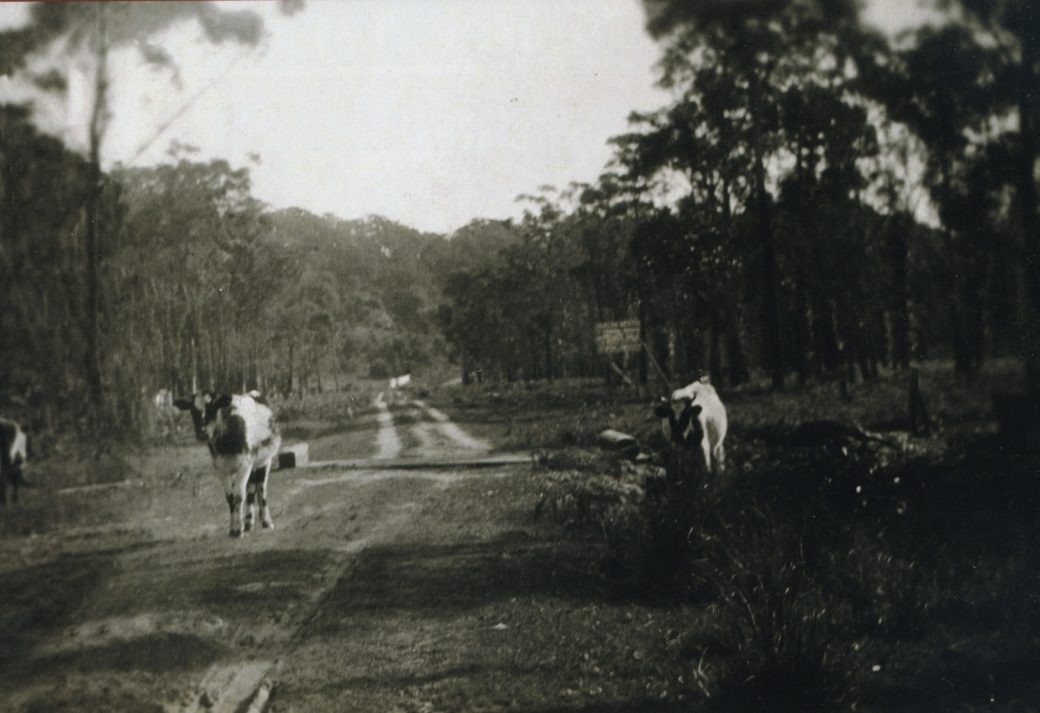 NOISES IN THE NIGHT
IT is no easy task to pick out all the noises that come out of the night, when one is the bush. I am writing this in a camp near Avalon Beach, and while for an instant it might seem that the night is still but for the roar and restless beat of the waves on the sand, and the rise and fall of the wind In the trees, yet a little attention brings a myriad night-noises to the ear.
There is the chorused chirp of distant crickets; there is the rustle of the leaves; there is the drip, drip of some mysterious moisture falling from the tent-fly to the j ground; there is the strain and tiny groan of the 'guys;' there is the 'plop' of a stray frog, and croaks of others from far off. A dog barks intermittently. Now and again the sound of a distant motorhorn pierces the wall of trees. Every little while some forest-thing makes a noise like the faint chop of an axe, but it is more resonant. A bird is whimpering , a low 'caw' at times. There are small whisperings and movements in the grass and amid j the bushes. Some wandering horse or cow too, is cropping at the grass— first a slight tug- and then a soft crunch, and its hooves stumble unevenly over the broken ground. Suddenly the earth seems to respond with a rumble to the heavy passage of a motor-'bus on its way to or from Narrabeen; and, finally the shrill cry of a boy, or the deep note from the throat of a man, comes up, imperiously, from the beach. —WARREN GRAVES.
NOISES IN THE NIGHT (1926, February 27). Evening News (Sydney, NSW : 1869 - 1931), p. 4. Retrieved June 7, 2018, fromhttp://nla.gov.au/nla.news-article126129866
PINNED BY HORSE
While rounding up stray cows at Avalon yesterday, William Easton, 43, a poundkeeper. was pinned by his horse and critically Injured. The horse slipped on the bitumen roadway and fell on the rider. Easton, who resides In Pittwater Road, Dee Why, had his skull, pelvis, right, thigh, and right ; ankle fractured. PINNED BY HORSE (1939, June 7). Daily News (Sydney, NSW : 1938 - 1940), p. 2. Retrieved fromhttp://nla.gov.au/nla.news-article236293584
GARDENING
By " BORONIA "
Sydney Red Gum A National Tree
THERE is an ever-increasing interest in the sanctuary area at Avalon, which has been set aside for the maintenance of the flora and fauna representing the tilings so essentially Australian. The Wild Life Preservation Society has done a wonderfully patriotic service to unborn generations in its laudable effort of preserving to the people of to-day and to-morrow the greatest example of the so-called Sydney red gum, Angophora lanceolate, as a national monument. This tree, the oldest known to exist of the smooth bark apple, is for the term of its natural life safe in its beautiful wild setting of picturesque Avalon, and a cordial welcome is offered by the society to nature lovers to visit what it has appropriately called The Angophora Reserve. This area, besides featuring our native flora in ideal surroundings . of Hawkesbury sandstone and Narrabeen shale, considered in some respects the most remarkable geological formations in the world, holds a wealth of interest for bird and insect students. It is quite on the cards that a native bear may be on view In the leafy branches of one of the lovely spotted gums standing on guard around the giant of the tribe. What the exact age of this huge Angophora is has not been stated, but present Investigations into the structure and rate of growth of euca-lypts leads one to infer that this great patriarch may have numbered anything up to a thousand years. With scientific care in its feeding, non-interference with the root system, and efficiency in tree surgery over broken or decayed limbs, this old-timer may see hundreds of summer dawns break over the blue Pacific. The Wild Life Preservation Society should commend Itself and its aims to all true lovers of their homeland— a movement going far towards the goal aimed at by all workers for wild life conservation. A glimpse of the Great Angophora in its forest' setting of Scribbly gums should make a nation-wide appeal and add materially to the membership roll of the national tree monument at Avalon.
GARDENING (1938, May 15). The Sun (Sydney, NSW : 1910 - 1954), p. 23 (THE SUNDAY SUN MAGAZINE). Retrieved from http://nla.gov.au/nla.news-article231031184
Another charmed by the views on the way to the Valley of Avalon. Niya Becke was the youngest daughter of Louis becke and younger sister of Alreme Becke - although the girls did spend time when younger at a school in Manly this drive to Palm Beach would have conincided with Niya and her mother's return to Australia from England and when they were going to spend time with Niya's sister - Visit: Early Pittwater Surfers Palm Beach I - Alrema Becke: Queen of Palm Beach
A COASTAL DRIVE
Vale of Avalon
BAYS OF BLUE AND GOLD
(By NIYA BECKE.)
Entering the scrub-fringed French's Forest Road, our purring car swung through open, softly, undulating spaces, giving way in the distance to mist softened glimpses of low-lying, plum-purple mountains. Under a clear horizon of pale turquoise, it wended past tended orchards, where apple and peach trees blossomed, pink and white, to, the ardor of the southern sun, against a mellow glow of light green camphor laurels, shadowed with sombre sorrel-and-grey gums. We met with partly-cleared, grass-grown dingles, spangled with shimmering lakes of sunlight, and gemmed with clear, calm pools. We passed down a leafy vale, lovely as a country lane of Old England (only the white and delicate purple violets, wild roses, and primroses were not there), on to a terra-cotta colored highway, between ' smiling fields, richly carpeted in spring green, where calves, brown, black, and piebald lay dreamily, basking in the warmth of the sun-flooded clay. A straight run down a long grey hill, over a stretch of ochre red road, and then, suddenly, afar.. came a flash of intense color, a blazing streak of blue fire. Sensing the promise of the beauty of the sea, we sped onward to the coast.
Over the bridge at Narrabeen. where a solitary pelican paddled placidly, above mysterious, muddy depths, by fields, and more fields, and by cottage colonies clustered in bowl-round hollows, and emerald-covered clearings. On to the blue bay, where stands the travellers' inn of La Corniche with its curiously modelled Interior arches, like those of some prince's pictured palace in a fable of the East. Up a gentle Incline, and we were abreast the little brown-castle of Bungan Head, perched on the extreme edge of the cliff, facing the Peri-guarded gates of dawn, and the everlasting sea.
THE BLUE, BLUE WATERS.
From this point the outlook south towards Manly, and northward to Barrenjoey, revealed, a chain of blue bays, some evenly scalloped, others jagged-edged, broken in one place by a ledge of indigo and reddish-brown rocks jutting in a foam-silvered peninsula, through ultramarine waters. Blue bay after blue bay, and curving beach upon curving beach of fine yellow or coarse red-gold sun-dappled sand, and grass-tufted, wind-ridged dunes. Here cerise-clawed. seabirds paddled .through lambent amber and almond green ripples on the ocean brink. They pressed wave-powdered shells in intricate, marquetry into the shining strand, which the rising tide .would laughingly sweep away to pave 'hidden' paths, deep down in measureless' marine gardens, where Leviathan looms with swordfish and shark, above rotting Chinese junks, a nu sunken galleons from sun-kissed Spain.
We climbed another whale backed hillock by Bungan Castle, which called to mind, so weird, and- cloud-Wrapped, and remote it was, Keats's line —
. . magic casements, opening on the foam .
Of perilous seas, in faery lands forlorn."
For from here there is a gorgeously fantastic view of violet-and-green veined waters, flecked with stars of flame fallen from the crimson coronal of the Sringod of the South. Those who listen intently may hear by these charmed shores, sou-sylphs singing those ballads, sailor men love. On we went again, down a steep declivity to beautiful Bilgola. whose rustling palm grove whispers of Arabs, and camels, and the music of the desert wind at dawn! over the mount at the northern end of the beach, which bears a bright green crest of fresh glass, pendant, in a still cascade, over the cliff-edge, and glistening purple-blue rocks below. We stopped here a moment, and looked on the' sparkling Pacific unrolled in a mighty plain of that inimitable shade to which- may be likened only the radiant -tints of the skies, whence it purloins its magic hue. An we pondered on the glory of a golden springtime day,. "By- the long wash of Australasian shores." Onward, once more, and then, behold!
The Vale of Avalon!
"LOVELY AND LONELY."
The land rises and shelters this gracious valley on the seaward frontage, from the strength of the wind, and it is scrub-surrounded, and denizened by happy-hearted birds. Wild flowers hide amid the guardian lulls of the lonely, lovely Vale of Avalon. Further afield we followed the twisted road, where the valley winds gently down. Rich, kingfisher blue flashes of water glowed to the left, through closely-spaced gums, like a liquid opal bursting the brown husk of the land. A strip of bracken-grown wayside lay parallel with a fair beach of fine, white sand, where upturned fisher-boats offered rounded cheeks to the fires of the sun. The sea, outward from the shoreline, toned from a transparent sheet of opalescent jade, to azure, and sunlit, lapis lazuli. Round a sharp curve to the right, up one hill and down another, under, a canopy of leaves, and Palm Beach was reached, and the end of the road.
We rested awhile on the grass-fringed shore, and watched the great waves swell, and break in a splendor of foam, and ride landward.
To Palm Beach, following the coast, is a bewitching highway to traverse. There stands no angel with a flaming sword before this Eden under southern skies.
A COASTAL DRIVE (1923, October 2). The Daily Telegraph (Sydney, NSW : 1883 - 1930), p. 4. Retrieved from http://nla.gov.au/nla.news-article245994803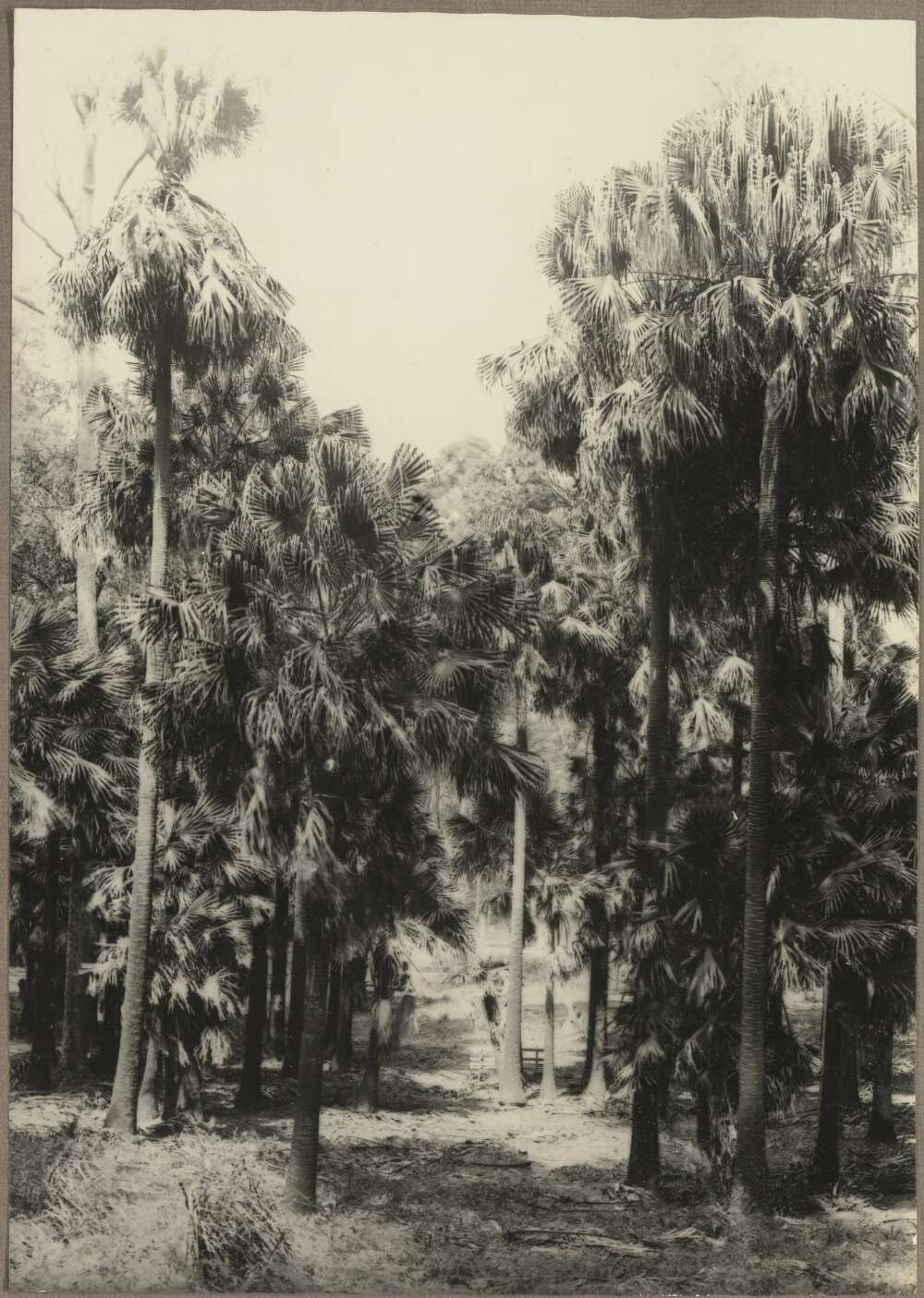 (1930). [Grove of palm trees, Avalon, New South Wales, 1930] Retrieved from http://nla.gov.au/nla.obj-147289482

There were debates about what would be best to do in some situations - there's always 'debates'!:
This great old photo shows the Serpentine running just below the bends. Geoff Searl (President of ABHS) dates this as being early in the 1930's.
While on the Bilgola Bends - that concave tucked on the south side before you come out of the bends heading south to Newport was once actually a quarry. Although it wasn't thgere for too long, it did change the way that little valley looks today: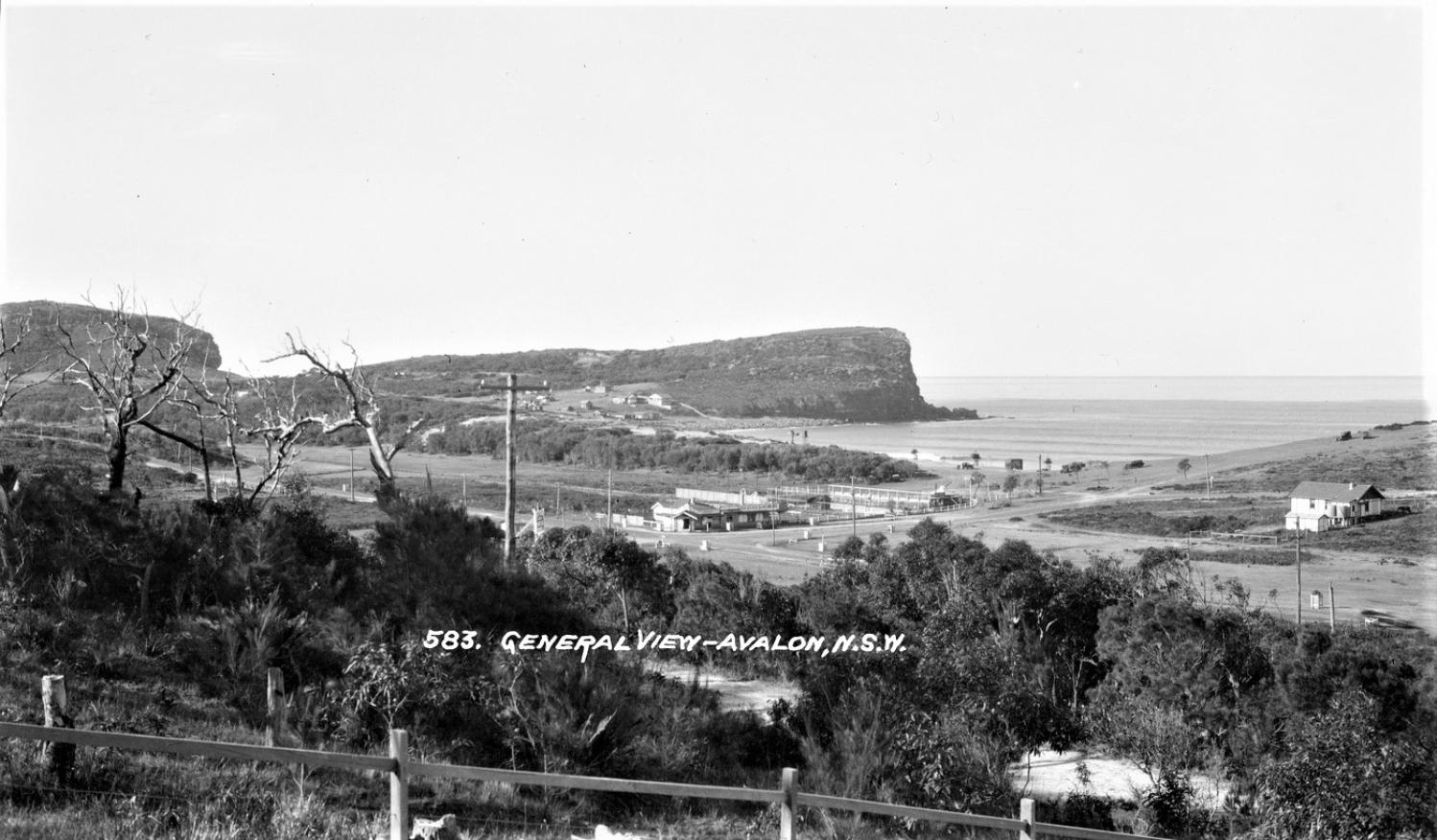 General View, Avalon
, from album 'Samuel Wood - postcard photonegatives of Avalon, Bilgola and Newport,
ca. 1928
', Item a1470004h, courtesy Mitchell Library, State Library of New South Wales