February 20 - 26, 2022: Issue 527

Perfect Send Off For Two ABSLSC Club Legends - Life Members Reg Wood And Don "Imo" Imison
Despite challenging conditions from 2 plus metre continuous swells from Tropical Cyclone Dovi, choppy dangerous surf breaking on shallow sandbanks, strong South Easterly wind, and seaweed in the water, Reg Wood's and brother in law Don Imison's ashes were scattered out the back at Avalon Beach in accordance with their wishes and SLSA tradition on Saturday, February 12th 2022.
Reg and Don both passed away aged 94 early last year. Covid, Covid restrictions on travel and restrictions on the Club and individuals in the intervening period had meant that this was the first opportunity that it was possible for the two family groups and Club members to gather at the Club where the two boys had spent so many happy times in their lives.
Family members and Surf Club members travelled from as far north as Ballina, to Bega on the South Coast and points in between to pay their respects and celebrate the two veteran lifesavers Don and Reg.
Jeff Imison, Don's son, Reg's son, and Warren Young OAM told various stories about the boys' lives and adventures at the surf club.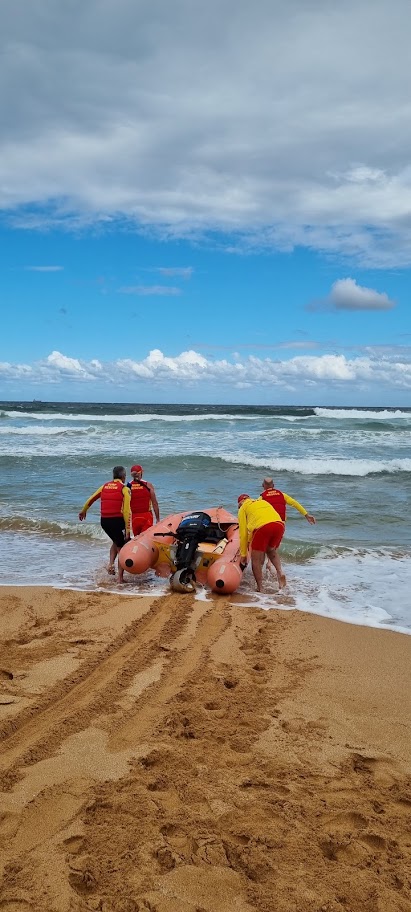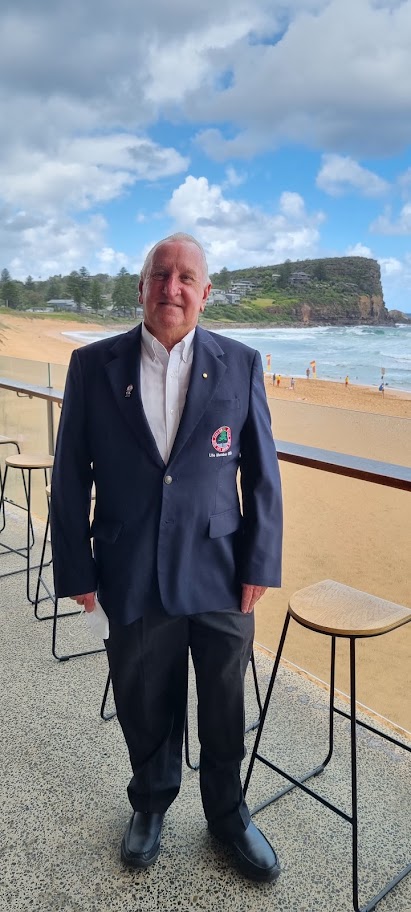 Warren noted that they had both competed in the 1956 surf carnival when one of the first significant displays of Malibu surfboards in Australia took place, as commemorated on a plaque outside the surf club.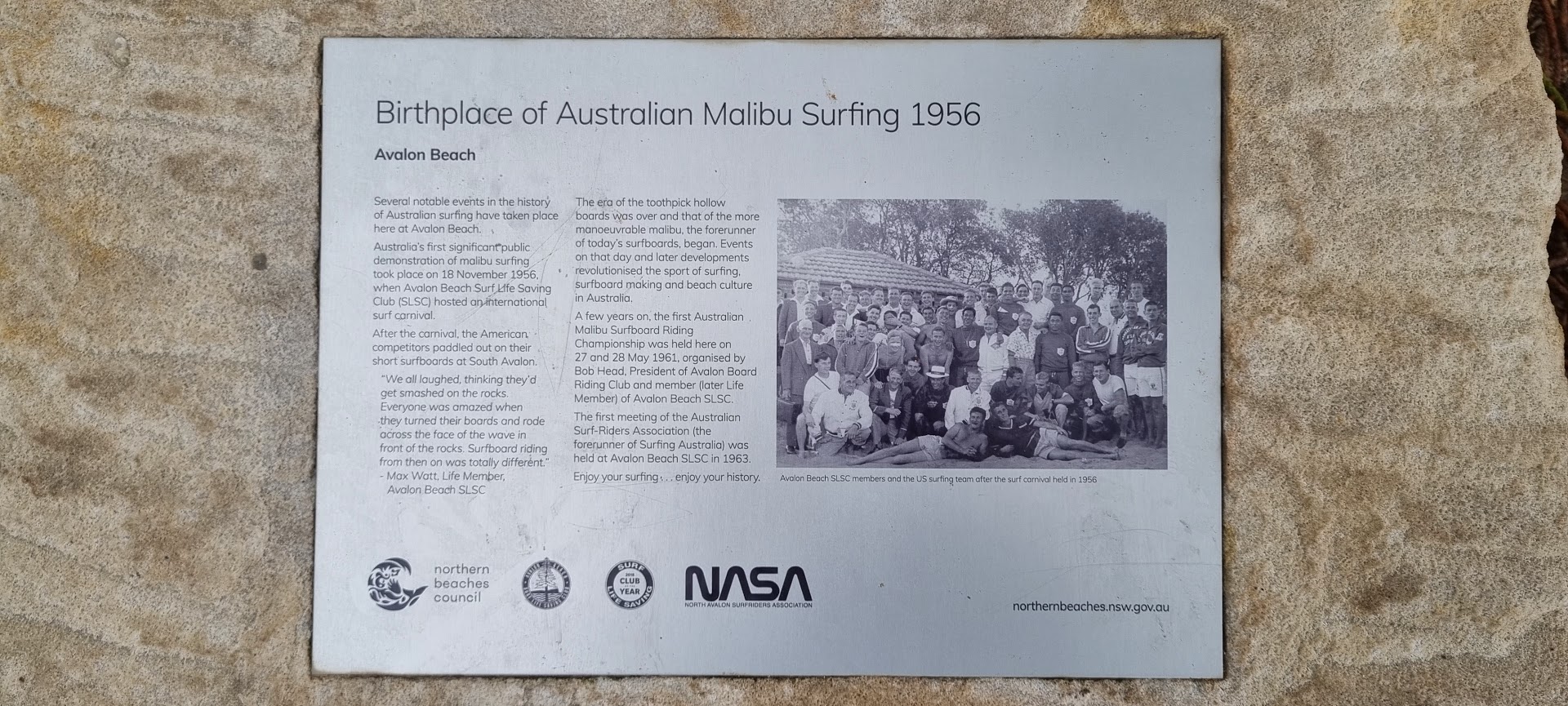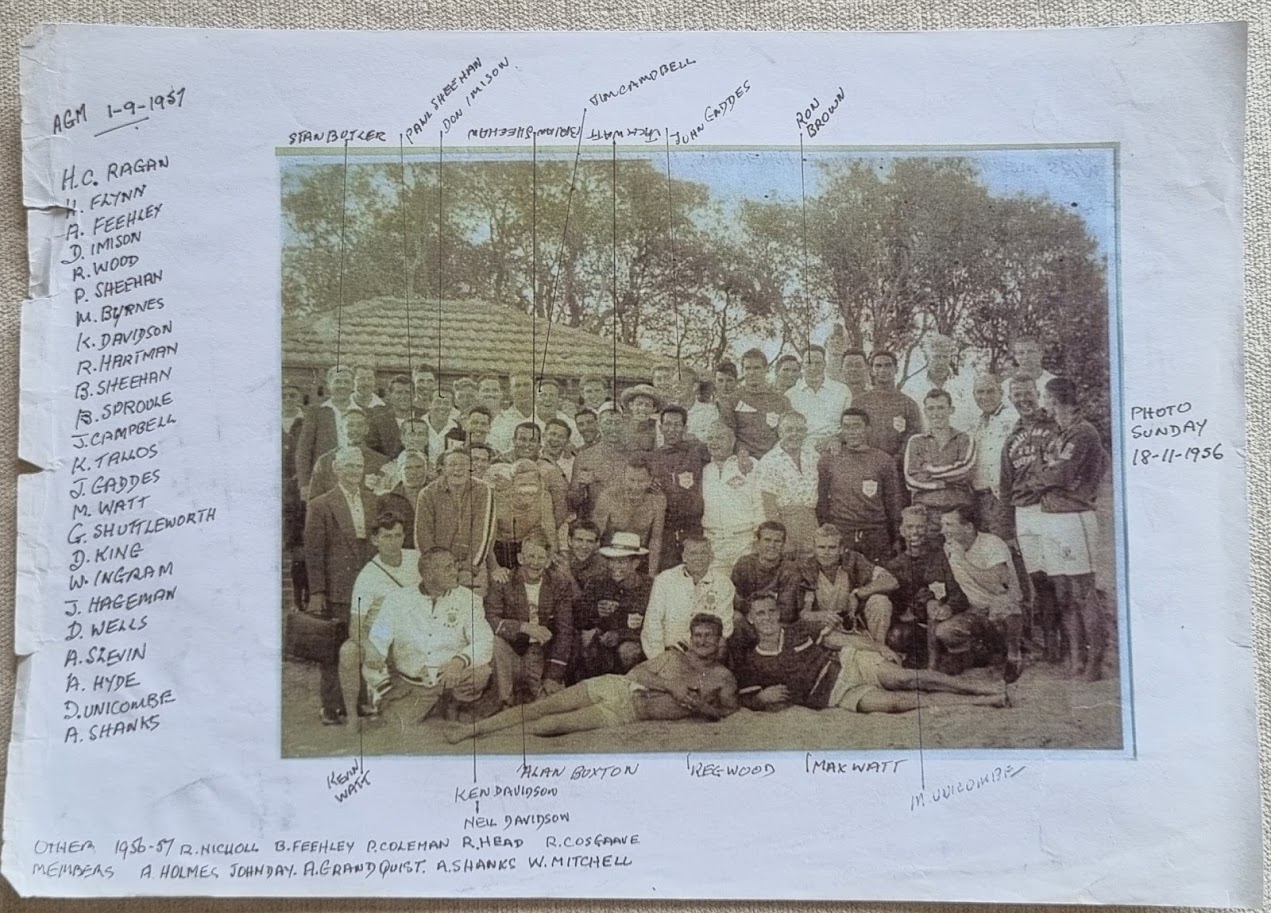 (names thanks to Norma Watt)
Warren said it was fitting that the two boys would now be together in the surf at Avalon Beach.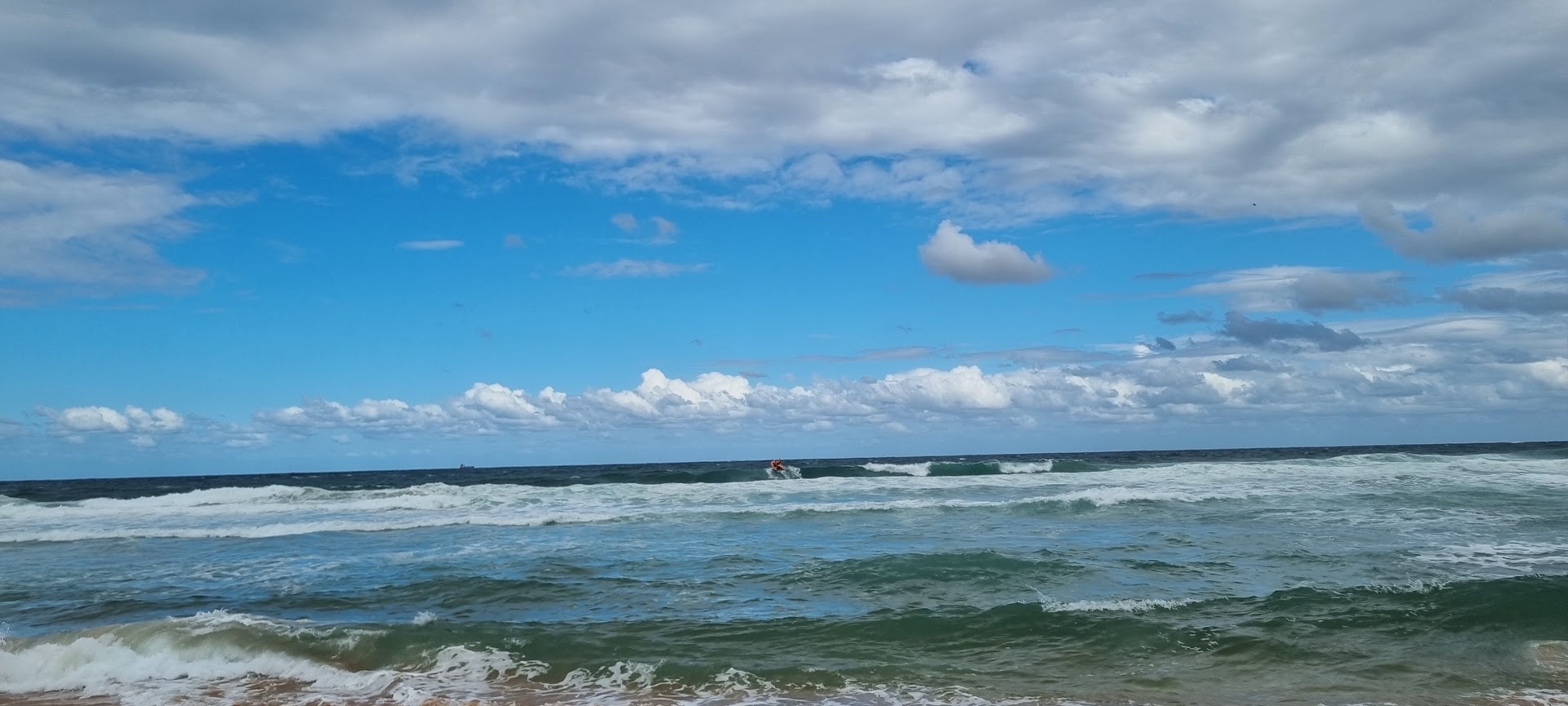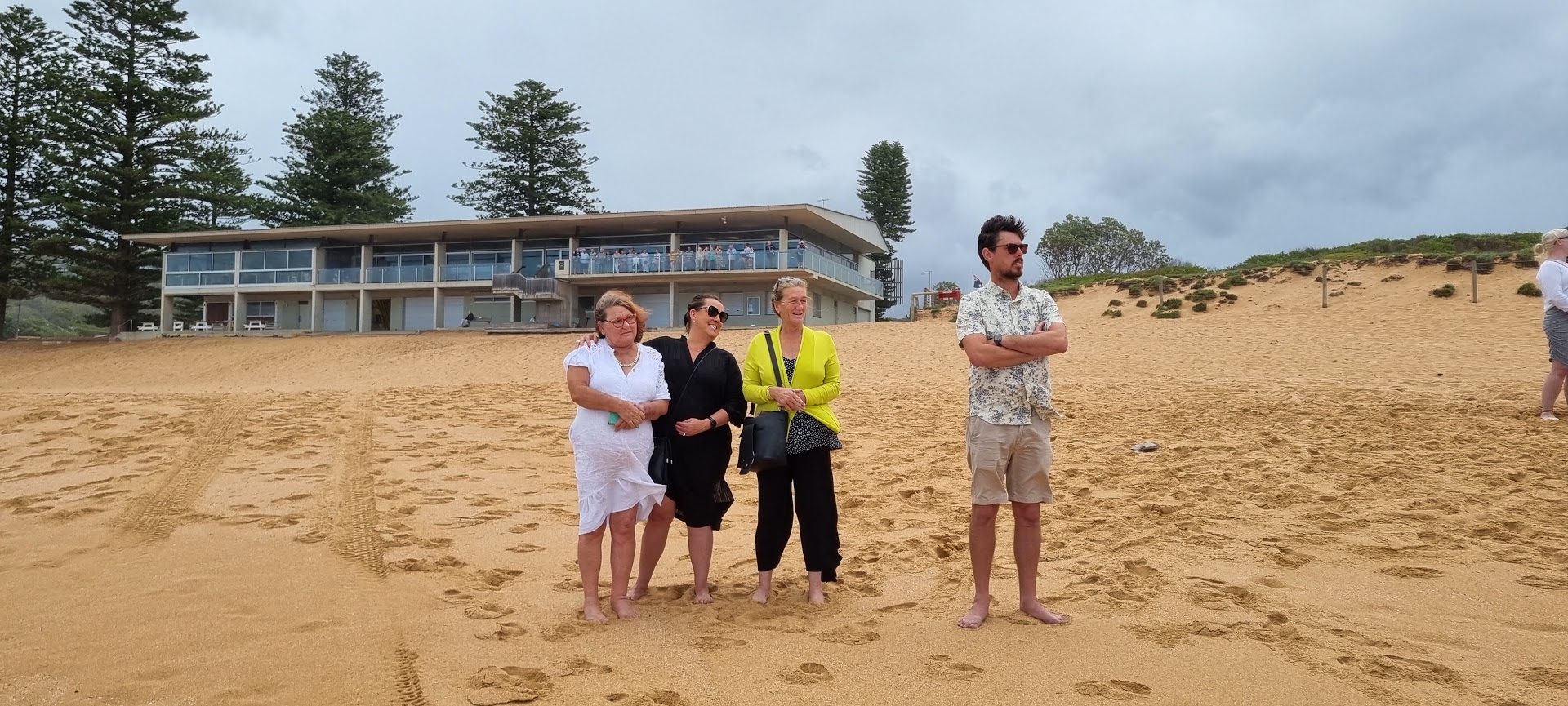 Alan Moran (Driver and IRB Captain) and Ashley Brown (Crew and Club Treasurer) drove the IRB straight out from the beach through 8 or 9 lines of non stop swells, in a display of great skill and surf knowledge.
Pictures: Al Moran with Kathy Reg's daughter and Leanne Austin (Club Administrator) and Ash Brown with patrol IRB Driver Nick Wood.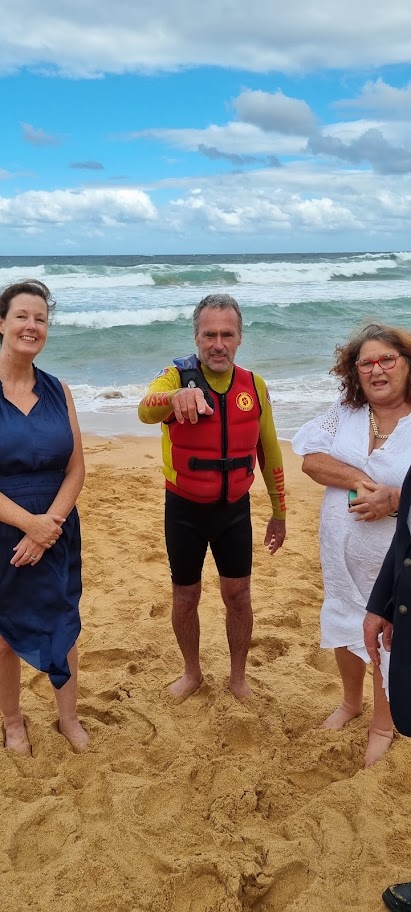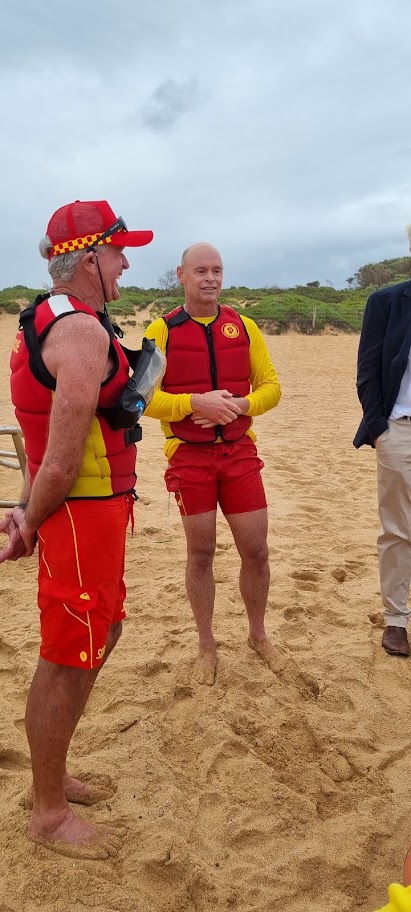 Al and Ash were congratulated by experienced IRB Drivers watching from the beach.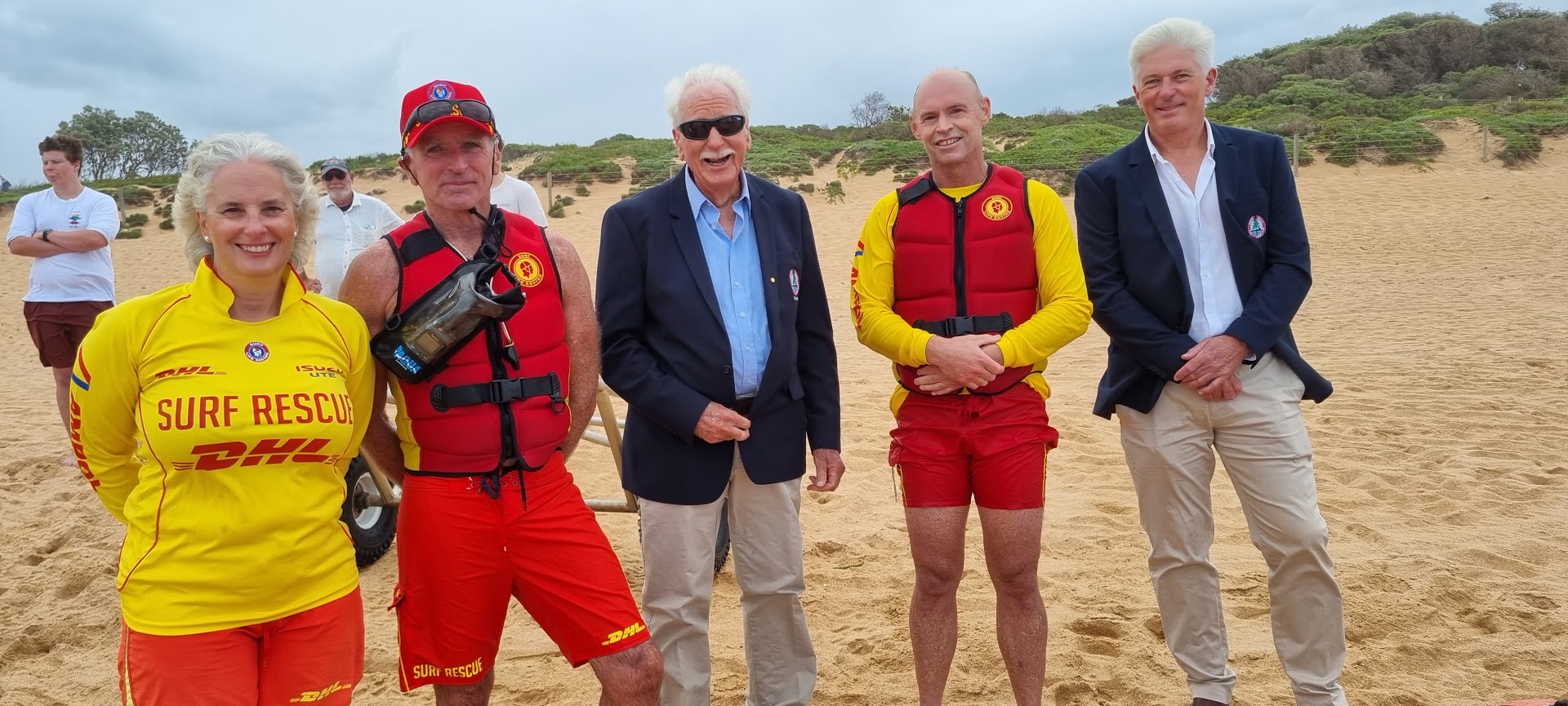 L to R Club President Bernie McKay with just a few of the Club's IRB Drivers past and present Nick Wood, Roger Sayers OAM, Ash Brown, Richard Cole Deputy President
When the IRB finally reached a safe place to stop beyond the waves, it was so far out it could not be seen people standing on the beach.
Those watching from the balcony had a clearer view of the boat and watched as two sea eagles flew over the IRB when it stopped, then flew off to North Avalon Headland, and after the IRB left to return to shore, flew back and circled over the spot where the boat had been, in a fitting finale to proceedings.
Thanks to all those Life Members and club members who could make it.
Roger Sayers OAM
Life Member, Avalon Beach SLSC
1956 Surf Carnival At Avalon Beach Recollections Of Reg Wood - Held On Sunday, 18th Of November.
Surf Carnivals in our time, were a gathering of wide eyed youngsters , full of life, ready to try themselves against whatever "Huey," the mystical god of the sea, could throw at them.
The Clubs from Warriewood to North Palm Beach were banded, by the Association together in a group. It was the practice that during the season each of these Clubs would have a Surf carnival, restricted to Mona Vale, Newport, Bilgola, Avalon, Whale Beach, Palm Beach and North Palm Beach.
They were good days. The events started at midday, and you could compete in any and every event, It was at carnivals like this that one could learn the technique of pretending to move your craft back when the judge thought you had edged in front of the line.
The beauty of these carnivals was that regardless how good you were you could still compete, you knew someone had to come last, so what the hell. Every Club, when it was their turn had to put on an afternoon tea and this ranged from Palm Beach putting on a Keg to North Palm Beach, who had a caravan Park of supporters who put on a terrific spread of cakes and sandwiches.
Naturally North Palm Beach was our favourite carnival. Not only did they put on a terrific afternoon tea but we had a chance of meeting the girls from the caravan park who generally helped at the afternoon tea. Incidentally, we had a terrific Ladies committee, consisting of wives and girlfriends of the members and we generally put on a goad spread ourselves.
We started to win a few restricted carnivals. The boat crew was training well in the old boat on Sydney harbor, the ski and board boys were coming up with wins and places in the carnivals, our swimmers knew they would have to contend with a strong contender from Whale Beach, "Hal" Bailey I think his name was, a bloody strong swimmer. "Craney" was swimming extra laps in Garden Island Dry Dock to beat him and Douglas Wells, "Guts," the King of the Kids was strengthening his right arm for the pillow fight and our beach event lads were doing all right in flags but finding it hard to beat 'Horsey" Harrison from Newport in the sprint. The R & R was a mixture of Ski, Boat and Beach competitors so the R & R Squad comprised of whoever wasn't competing when the R & R was on.
Flush with confidence, when we heard that the Yanks and Hawaiian's were coming out, we applied to run this Carnival, content to put all our effort in running the carnival and forgo the chance of competing because we had been winning a few carnivals the association took a chance and bugger me, we got it.
What a job, over and over we went over who would do what, what was needed, where we would unload the water craft, where to park the trailers, which members would look after this section. Then the incidentals, "Craney" (
Doug Crane
) came good with Flags from all nations that he borrowed from Garden island. "Chera" had a talk with his Dad, a big nob policeman, re road control, another lad had contacts with the ambulance, gee, and a lot of favours were called in. The yacht Cub came good with a cruiser to help with water and I believe the Water Police dropped by for a while. It is marvellous how when you chop a difficult job into bits, it becomes manageable.
I remember we had several meals in the Nan King Chinese restaurant in the Haymarket, where we went over our preparations, item by item, even in the case of emergency, how we were going to get a patient through the anticipated Crowd to the ambulance.
Sunday December 18th, 1956
What a day it was. Bloody beautiful, sun shining, good surf. Hawaiians, Americans and Aussie competitor.,, and what a crowd of spectators, our advertising had paid off. Girls that we had been trying to get to come to our beach turned up, but we were to bloody busy to say more than "Hello" and back to our allotted job. What a bummer.
It was at this Surf Carnival that we were first introduced to the short plastic surf board. I think it was an American who first tried out his board in the surf.
All eyes were on him as he entered the surf, waiting for him to be knocked off his board, but he negotiated the surf not too bad and the crowd waited for him to catch a wave.
"No bloody good in our surf" was the general consensus, then up came a wave…
"Go for it" went up the cry and he did, but Huey wasn't happy and the poor Yank was on a dumper. Down he went and up he came with his board in two bits.
"Told you they were no bloody good" were the bulk of comments around us from the crowd and as usual, there is always one, "How the hell would you know"; Geez trouble I thought, but the pair were content with glaring at each other.
Looking at two different shape surf boards there is good points in both, we have the long racing surf board, fast and in the hands of an expert, able to handle big seas.
But I digress.
Back to the Carnival. As you can imagine in a race the small boards were slower than the long boards but they handled the surf better, when paddling out. The big plus for the small board was the manner in which the short board could travel across the face of the wave, something the long board has trouble with.
The general consensus was "No bloody good here Mate, they can't handle the big seas". How wrong were we?
A carnival would not be a carnival without a few hiccups. The flags for the public were in the middle of the beach and only a small corridor between the competitors and the public. One of the Boat captains had a god complex and bugger me, caught a wave and took his boat that close to the swimming area that his oars, that were in the drag position, had they been rowing would have been inside the flags. I forgot myself and abused the hell out of him, saying he only had to veer slightly and he would have collected the swimmers,
"Not with me sweeping", he said.
Just when things might develop, the carnival referee came down and told the sweep it was dangerous thing he had done and if he did not walk the boat up to the boat area he would not let them compete. You meet all sorts in a Surf Club.
Well, that's about it everything went well, the clean up, putting the gear away was a drag, everyone was tired and some of the boys had broken off to start the Barbecue, but we were content.
The barbecue was a thank you for the boys for working, not competing in the carnival. To ensure we had good meat, Harry Usher, himself a butcher, had brought meat up from Sydney in duffle bags and the best cuts, naturally, were put aside for the surf Club boys that were still putting gear away.
One member only competed in the carnival, you will never guess who it was, and he went in the ski race and won it.
It was strange, the next morning, to see getting on the bus for Wynyard, a surfer with the long shorts that was a trademark of the American surfers with a short board under his arm. He must have enjoyed himself.
A photo was taken of competitors, officials and Club members. Yours truly is laying down in the front with Max Watt and on the right hand side, kneeling down in front of two American surfers you will note Norman May in a white t-shirt, remembered for his cry of "Gold, Gold, Gold" at the Olympics."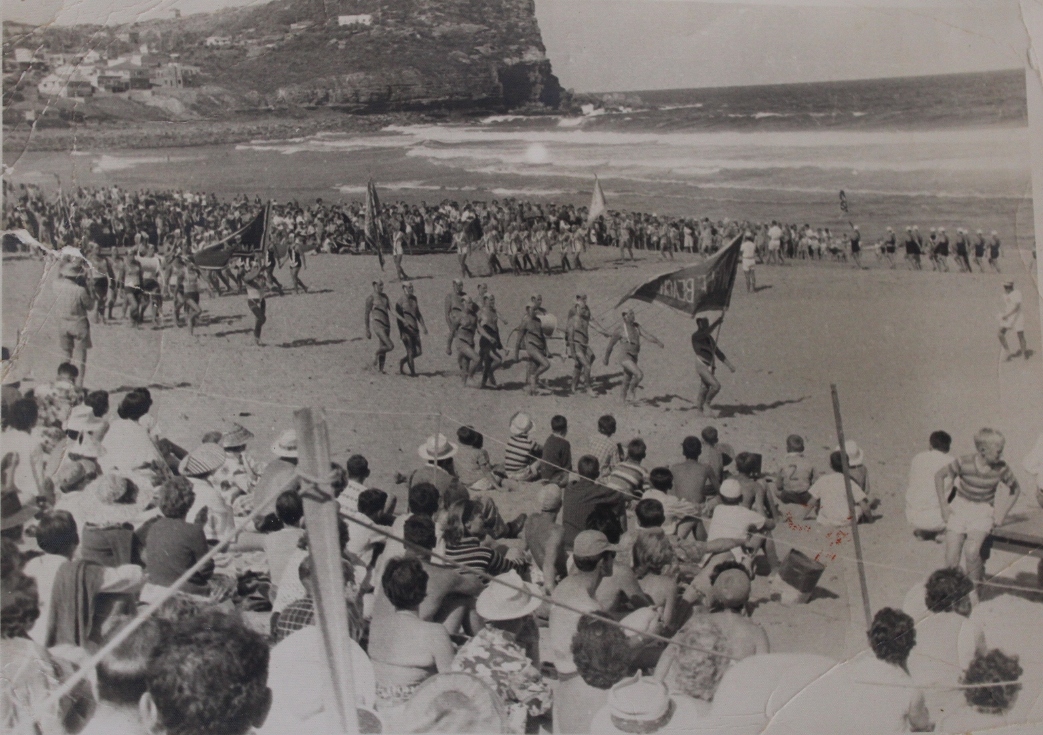 Avalon Beach SLSC Carnival Sunday, 18th Of November, 1956 - March Past - Whale Beach, NSW, Australia leads visiting American team (courtesy
Beryl and Don Imison
) - who also witnessed the display
Malibu Surfers 1956
This photo came to us some years ago from the collection of the late Ken Watson, MBE, former Hon Secretary of the Surf Life Saving Association, although we don't know if he took the photo.
It shows three of the American surf lifesavers who visited Australia in 1956 to take part in the International Olympic Carnival at Torquay Beach, Victoria. The surfers brought with them the game-changing Malibu surfboards, which caused a sensation.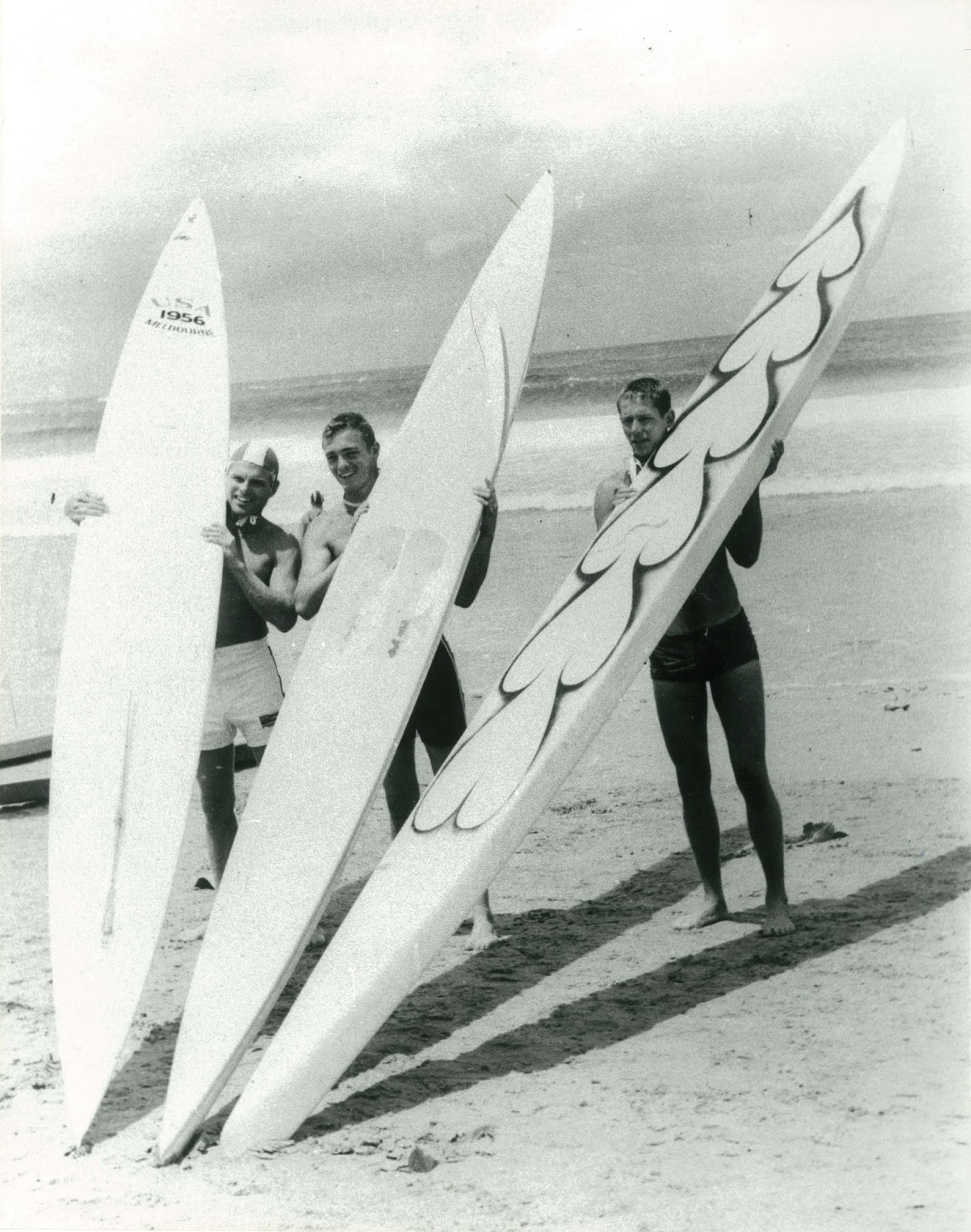 The surfers in this photo have been identified as (left to right): Tom Zahn, Greg Noll and Mike Bright. The setting for the photo is not known. Geoff Cater at the
Pods for Primates
website states that it's most likely to be Torquay, but it could also be Avalon Beach where the Americans gave a surfing demonstration on Sunday November 18th 1956 at Avalon Beach. They had given ne the day before,
Saturday November 17th at Cronulla
and did so again at Collaroy on December 9th.
The Sydney Morning Herald reported:
US Surfers Show New Technique. (Avalon)
Nearly 20,000 went to Avalon for the surf life saving carnival in which lifesavers from United States, Hawaii and New Zealand competed against Sydney clubs.
The American surfers, standing sideways on small 10ft. boards and moving at high speed, received a warm reception from the crowd.
One of the American surfers, Ted Levine (Tad Devine) had the opportunity to demonstrate his country's rescue technique in a genuine emergency.
Instead of the Australian belt and reel, he used a "torpedo buoy'.
Thousands Throng Beaches: Many Saved.
S
ydney Morning Herald.
Monday 19 November, 1956.

Page 3.
The visiting Hawaiian surfers will sell their seven lightweight surfboards, which created a sensation at Avalon last Sunday, after their farewell appearance at Collaroy on December 9.
The boards, which are made from balsa reinforced with two two long strips of redwood and coated with a thick layer of fibre-glass, weigh 26lb.
The lightest racing boards in Sydney, made from 1/2 inch plywood weigh from 33 to 23 lb.
The Hawaiian boards, which have been used at Waikiki Beach for seven or eight years,
can be made in less than a week.
They are eight feet long, compared with the average Australian length of 16 feet, but are about five inches wider than the local board's 20-21 inches.
Three hundred people saw the Hawaiians give an exhibition of board riding after a special carnival at Avalon in a big surf last Sunday.
Unlike Australian boardriders, the Hawaiians stood on the middle of their balsa boards, even when heavy white water from the broken waves swept around their feet.
Harry Shaffer, captain of the Hawaiian squad, said last night of the boards : "There is no question of selling out to the highest bidder.
"We plan to give our boards to the fellows we consider to be the real enthusiasts at only a token cost."
Surfers To Sell Boards. (
Wednesday 21 November, 1956.

Page 15)
S
ydney Morning Herald
Below runs Reg and Don's Profiles from earlier Pittwater Online News Issues.
Reginald Charles Wood (Reg)
Avalon Beach SLSC – legend and Life Member Reg Woods has recently 'retired' from active service, almost 70 years worth, to the Life Saving Clubs of Avalon and Sussex Inlet.
Outside of Surf Life Saving Mr. Woods had a keen interest in wrestling, was Featherweight winner of the Police Boys Club Federation in 1944, was Woolloomooloo – Lady Braddin Featherweight Champion and from 1963, for the next ten years, trained wrestlers at Leichardt Police Boys Club, even helping John Kinsella to the 1968 Mexico Olympics during his tenure there.
Reg gained his Bronze Medallion in 1944 when 18 years old. He was Avalon Beach SLSC Club Captain when what is still referred to by some as the 1st International Carnival on the Northern Beaches, with American and Hawaiian competitors who brought the 'short surf board' with them and then put on a display after the carnival. '
The Arrival of the Mal
' was reported in Sydney newspapers as '
The first public, and most significant, demonstration of the performance and capabilities of the Malibu boards was on Sunday 18th November at Avalon Beach, on the Northern beaches peninsula.
'
Reg held Seniors Vice President, Board Captain Beach Inspector, Competitor, was a SLSA Delegate, Judiciary Committee positions and was awarded Life Membership of Avalon Surf Life Saving Club in 1964/1965, and 25 Years Long Service Aawrd (21.10.1971)
As a competitor he was 1st at Bilgola in the Double Ski (1954/55) and 1st again at Bilgola (1956/57) as well as 1st at Double Ski at Newport that season as well, 1st in the Ski Race at Avalon Beach (1949/50) and 1st at Palm Beach in Ski (1951/52) 1st in the Marathon Race (1946/47)
In 1989 he 'retired' to Sussex Inlet. There he joined the Sussex Inlet SLSC as an Active Reserve. Super-active would be more accurate as from then until January 2014 Reg trained members in all facets of Surf Life Saving as well as undertaking duties as a Resuscitation Assessor, Bronze Assessor, District Supervisor – the list is seventy years long and Reg, a few years back now, had some 45 SLSA Awards – another record, surely.
It all began during 1944 though, when Australia was at war and our strong young men had been sent from their patrols on home beaches to beaches far less friendly and even younger men were called on to fill the voids.

You first came to Avalon from the Woolloomooloo club in 1944?

Yes, that's correct. During the war there was only one life saver left at Avalon and the association got in touch with Leichardt and the Woolloomooloo Boy's Clubs to see if they could get members to man the beach. Which they did. I was in attendance down there – I was in the wrestling class at Woolloomooloo, and about four other members of the class were members of the club.

So you knew Doug Crane?

Yes – Doug came later – he was a Naval Architect with the Navy.

How did you get there?

Well, it was difficult. I lived at Abbotsford, and we had to get the tram to Wynyard, then the tram from Wynyard to the Spit and then the bus to Avalon, with a couple of stops at Narrabeen. That was the original start. Later on they bought us an old Packard – you know, one of the old Packard's with the dickie seat. They used to house it near the railway there. What would happen then is we'd all turn up and you'd get three big blokes in the front, they'd put the dickie seats down and put cushions in there with the kit bags and get four in there as well, and then they'd be four in the back seat, with one laying along. So that was the crowd that we used to get. That was alright for a while but if you missed out on that then you had to get the bus.

Did you stay there all weekend?

Sometimes. We would try to get down for the weekend. Most of the years we spent Christmas down there too; summer and winter we still went down there. It was quite a lifestyle as you can imagine – the only trouble was the eating down there because in those days there were very few shops. About half past five the shops would shut and you could shoot a gun down the street it was that quiet. There was nothing – there was Le'Clerc's on one corner, McDonald's on the opposite corner then A J Small used to have a little box seat where he used to deal Real Estate and then the other side was Parsonage the Butchers, then Wilco's the fruit shop and Mrs. Thornton with her meat pies. She ran a cake shop – we used to love her meat pies, that's what we lived on over the weekend – milk shakes and meat pies.
Later on we thought 'what are we going to do here?' – so we decided we'd try and cook our own food. So we got two primuses and a couple of medium dishes and everyone brought a tin of food of some sort. We bought a loaf of bread and half a pound of butter and potatoes. So we made the potatoes – boiled them, put butter into them, the rest of the butter we'd use for the bread, and then we got six people, six loaves of bread, and then we'd put all the tins in together – spaghetti, sausages – everything went into one big bowl. You'd sit down and eat this with your slices of bread. Thinking back now it was a shocker but in those days it was beautiful food, especially when you're tired and hungry.

Were there many people still going to the beach then?

There was a chap called Ruskin Rowe, a big architect down there, and he had a lot of land down there – most people would know what has been named after him – Ruskin Rowe. He was a big chap, great big chap, we used to see him of a morning in white shorts, a white sailcloth hat with the side turned up, and he had a great big Cadillac – he used to go down to the milk shop at Wilco's with this little tiny bloody milk can and get his milk. It looked so funny, this huge man getting out of his car with this little can getting his milk (laughs). He was a huge man, nice man, well spoken. At any rate, he used to go up there to his land, he had all this land there and during the war he had the Air Force Cadets in – he used to get up there with a big scythe and get them to use the scythe going all over the grounds.
The Air Force Cadets would be down at Avalon for the weekend and they would march down to the beach and then they'd all go into the water. They were pretty regimented - we'd watch them march down and go back again. We knew we'd have trouble when they came down to the beach though – would say to each other 'here they are, watch 'em,' – you had to watch them like hawks because some of the young scrubs were from the country and they didn't know how to swim.
Down on the beach they'd only be about fifty people I suppose – but enough to get into trouble, as you can probably imagine – it's a funny beach, Avalon, there's a few spots there where people can get into trouble.
AIR TRAINING CORPS CAMP AT AVALON OPENED. The R.A.A.F. Air Training Corps camp at Avalon was opened yesterday by Group-Captain W. H. Robertson, Commanding Officer for Australia of the A.T.C. The cadets receive preliminary training at the camp to prepare them for their entry into the Air Force at the age of 18. Left: Pilot-Officer Wadds', D.F.C., Group-Captain Ellis, and Group Captain Robertson with an A.T.C. corporal in the camp kitchen. Right: Rear-Admiral Muirhead-Gould speaking at the opening of the camp, which is the first of its type in Australia.AIR TRAINING CORPS CAMP AT AVALON OPENED. (1943, March 22). The Sydney Morning Herald (NSW : 1842 - 1954), p. 6. Retrieved from http://nla.gov.au/nla.news-article17841433
What were you using to rescue people?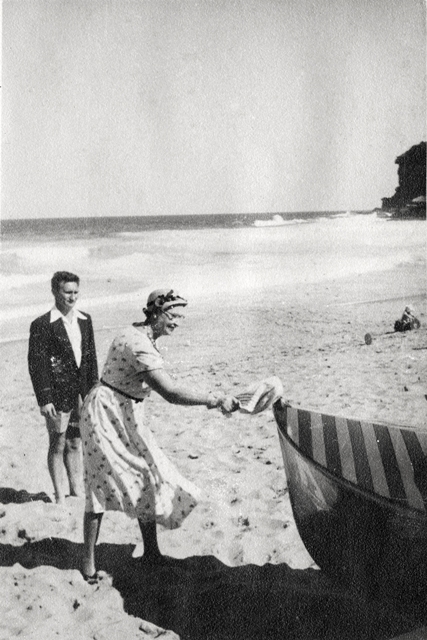 In those days we only had one surfboard – it was made out of half inch timber, so you can imagine how heavy it was. We never used it that much. Most of it was belt, line and reel. We had a surfboat – one was donated by a bloke called Geoff Groven – and we got another one from a Scotsman down there; he gave us one and he named it Ready-Aye-Ready – he did the presentation down in the local theatre.
We were pretty public spirited down there – one of the chaps was Fred Andrews – he was in the Fire Brigade and often when he was down there he fought a few bushfires. Up where the Catholic Church is now, they had a bit of a fire up there and he called down to the boys on patrol and they went up there to help fight the bloody fire.
We ended up one night, Norman Cook, he was a decent bloke, a good bloke, one of the members of the club still now actually, he had something to do with the theatre – the school wanted to put a special night on, a fundraiser, and he got four or five people from the ballet came down – there was a Russian bloke there who had legs on him like tree stumps – geez he was a big man, anyway he conned another chap in the club called Ian Gorrie and I; we were doing judo at present in the Kano club down near the Glaciarium ( Sydney) and he said 'we want you to do a display' – at any rate, we had to do these damn throws on three blankets – that's all we could use for a mat, we didn't break anything but our arms later on….they were funny old days down there.

GLACIARIUM: POPULAR NIGHT ICE SKATING. Open Today 3 pm and 8 pm POPULAR NIGHT TO NIGHT Admission 1/3 (including tax) Skate Hire 1/4 ... B Season closes Jan 13 Sydney s favourite pastime in off duty hours Phone NiABOBl. GLACIARIUM ICE RINK RAILWAY SQUARE, SYDNEY. Advertising. (1945, January 1). The Sydney Morning Herald(NSW : 1842 - 1954), p. 5. Retrieved from http://nla.gov.au/nla.news-article17935885

So you kept going to Avalon after the war?

Oh yes. I was down there, in every billeting down there – I was club Captain, Vice Captain, Assistant Secretary, Board Captain, Social Secretary, Judiciary Committees – I was a delegate down there for about 30 years – Life Membership for 22 years for different bits and pieces, it was going very well.

Did you see the second clubhouse get built?

Oh yes. When I first started going there we'd be there for the weekend. We got there by bus, walked up to the clubhouse, this was about four o'clock in the afternoon, and it was the first time we'd been over since winter, just the start of the season, we opened up the padlocked door and walked in….you've got no idea how bad the air was – the rats had been busy taking over the place – we had cold showers there and there were holes in front of the cold showers where they'd chewed through. so we ended up going into the boatshed, which was at the end then, and we slept on the wooden floors in there. Later on, when you got used to the place, you'd sleep in the sand hills – they were quieter! (laughs).
We progressed, we went to hammocks at one stage; we put two big cables across the clubhouse and we'd hang hammocks on it and then we'd sleep in those.
I remember one chap who brought a collapsible bed down one weekend and made a nuisance of himself by arguing about everything. The boys waited till he was asleep, carefully picked him and his stretcher up and carried him down to the bus stop. He slept on, only to be awakened by the Catholics going to Mass at Mona Vale. True story! Sometimes the lessons were hard but we all learnt.
Did you know that Alan May of "Gold, Gold, Gold!" fame, with one of his mates, dropped into the Clubhouse after a few beers at the Newport Arms and challenged two of our members to a game of '500'. To make it worse they had challenged "Kegs", a wharfie, and his mate. These two always played together and would use any means at hand to win. It was a thing of beauty to see them tick tack the value of their cards. Ala and his mate did not have a chance, they played until the last bus was due, no money, just for the fun of it. They came back several times after that, but with no success. Some people never learn.
Some people used to come on the last bus – which I think went to Palm Beach at 12 o'clock, if you were late and had gone to the dance at Newport, in the surf clubhouse there, you'd have to get that last bus or walk.
The dances in the clubhouse at Newport – they had a girl there with purple hair, they had everything there. That was the trouble – you'd get near the end of the dance and think 'oh well, if you're not lucky tonight, not walking a girl home, then you'd better hurry up and catch that last bus or you'll be walking home.'
There's nothing scarier then down the bottom of Bilgola – these sods used to leave a little bit earlier then you and hide down the bottom there in the bushes and it's dark and all you can hear is the owl going 'oowhhoo' and out they'd jump! And off you'd go like a shot up the hill! Those beggars!

We also used to have dances at the old club at Avalon too. We'd borrow a piano from Mrs. Ward, who lived in the garage (where the present garage is), scrape a candle onto the floor to make it slippery. Naturally we'd have trouble getting the six chaps to carry it back in the morning before they went surfing.

Can you remember people camping behind the dunes?

That's right! Chris Stilkens used to come down every year and put a big marquee up there. The Balmain Tennis Club – they'd come down, I think, twice a year. They were some of those that would have a yearly reunion down there.

The November 1956 Carnival, when you had the Americans out here….

That's it! We worked like blazes for that – we got the Yanks and the Hawaiians out here for it. We used to meet down at the Chinese Restaurant in the Haymarket and we'd work over what we were going to do- going through everything, where are we going to meet, how are we going to get them in, where are we going to get the ambulances, when are we going to stop this bit – we went through everything.
Then when they did arrive it was a terrific day really – they brought their first little boards with them – you know the surfboards they start with now? ; some of those. Trouble was they couldn't handle our surf and I think two of them ended up getting broken up out there on the seas. But it was good – there's a photo around them somewhere with all these Yanks, all lined up – they enjoyed it.
We had a barbecue afterwards – I remember the sight next morning of one of the Hawaiian boys, had his surfboard under his arm, staggering a little bit, waiting for the bus to get on it and go back to Sydney.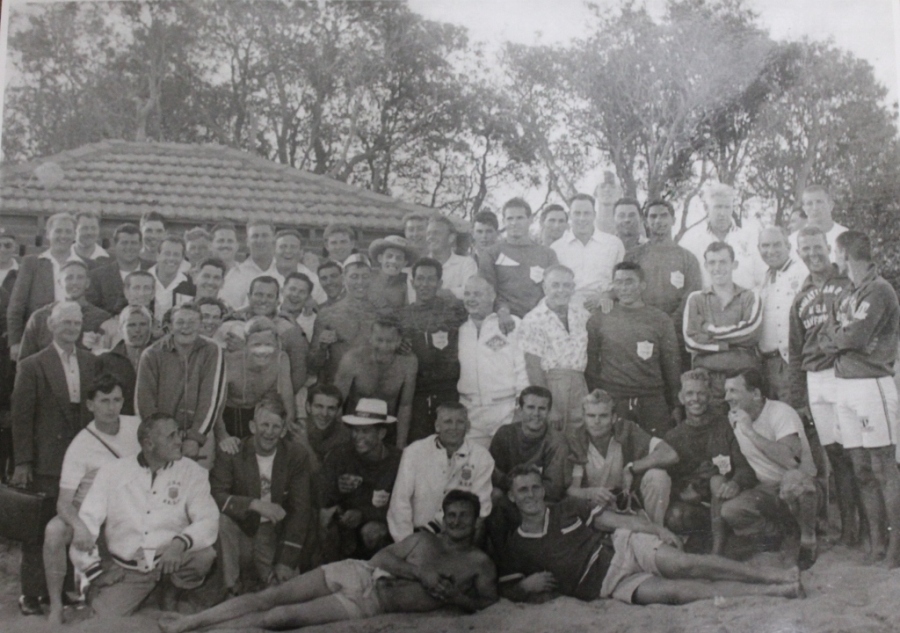 Reg Wood is the young fellow reclining in front, left side of the photo - according to Norma Watt, wife of the late Max Watt who's the fellow reclining on the right side of the photo. Image courtesy Avalon Beach Historical Society.
What was the best carnival for you?

The carnival that I always remember was one at Maroubra and they called it the 'Roman Holiday'. When we got there the seas were Huuge! They were using, to set the boat buoys, they had to come from the beach on the other side- that's how bad they were – the seas were huge. They wouldn't let the juniors in, wouldn't let the seniors in – they tried one seniors board race and I think some of the boys got out alright, so they said that's it, we'll have the seniors boat race – that was the only one they'd put on.
So we were all ready to go – said ;what are we going to do?' and the sweep, Brown I think his name was, big chap, he said 'well what are we going to do?' – none of us were game to say 'no, we don't want to go out!'
So we got into the boat, the gun went off, we went into the water, got about fifty metres from the ground and a wave just rolled over the top of us, so we had to go back in, full of water – emptied it out, got back in the boat and started off again – got out a bit further and another huge wave came in, whack! – back we went to the shore-break, broke an oar on the way and thought – that's it, we don't have an oar, we don't have to go again, and a chap from Bilgola said 'here's an oar – off you go!' – so out we went again.
You don't think you see – you think you're made of steel you see – so away we went and we rowed and rowed and rowed and then the gun went off – you see they only gave you so much time you see and just as the gun went off one wave came in and went whasca! – I used to row bow and they reckon it's the best photo they ever took of me because you can't see me. It reminded people of the Old Spice ad – there was an Old Spice ad like that then - with this boat and the waves smashing into it –

But they used to have small carnivals too – like those at Warriewood and Mona Vale…they were the...

They were the 'Restricted' carnivals?; held just between the clubs from Narrabeen to Palm Beach, and also smaller ones with just the Northern Beaches Clubs - this was post WWII and a few early on prior to then too... those ones?

Yes, that's it – the first ones, they were terrific carnivals – you just turned up on the day, no advertising, and they'd try to outdo each other with their hospitality and so on – they'd have cream buns and everything else laid on – which was alright at the end of the day but probably not a good idea at the start. Some of them used to put a beer on too – Palm Beach used to put a keg on – they were beautiful carnivals – you'd really tire yourself out. You went with a group of chaps who were about the same speed and capability as yourself – and you'd tire each other out. They were good though, very entertaining, you'd meet so many different people. You'd be paddling at some doctor or solicitor or judge, and we were all the same, all just members.
We were all the same on the sand and in the water – it doesn't matter who you are, you're governed by the same rules – I think that's the main thing of it you know, you all abide by the same rules – if you knock someone out – he's gone, doesn't matter who he is.

You have trained a lot of youngsters during your time in SLS Reg?

Oh yes. When I was in Avalon I didn't do many awards – I only got the Bronze medallion. When I came down to Sussex Inlet it was a very small club. I had that much knowledge from Avalon and so started to train the kids down here. I've got to 45 awards now – advanced Resuscitation. – De-fib, everything else needed.
I ended up joining the club and training the kids and members. Then I ended up down at the Branch as it's no good going into the club unless you know what's happening at the Branch. So I became an assessor with the Branch and at the start we used to cover from Warilla to Bateman's Bay and then Bateman's transferred to the Far South Coast. This was good for us because sometimes you'd have to do a Patrol Inspection – so you[d do half the beaches – going from Warilla to Shoalhaven Head and then the next week from Shoalhaven down to Bateman's Bay – a long trip but it was good. I've enjoyed it all immensely.

What to you is the most important thing about bringing the next generation into the surf clubs?

I think you learn a lot about life. When you're in a surf club you learn to read people – when you're in a club you can see how people act when they're doing something, so you learn to read people and what they're like. And you get to know what you can do and what you can't do. It's not regimented – but you learn what to do and what not to do.
When I was younger everyone had to learn how to swim – to my way of thinking CPR should be added to that, everyone should learn CPR, it's a must. I think it should be learned in every work place, in ever place people are.
I enjoyed working at the Branch, became Assessor of the Year one year down there, then Trainer of the Year and got Life Membership with the Branch. So I went for it, but I enjoyed working for it.

What was the best thing about being involved in the formative years of Avalon Beach SLSC?

The winter time was the best. We had a brick wall at the northern end of the beach and there would be big seas or small seas rolling in and you'd be at the side there, out of the wind and in the sun, and you could watch those waves rolling in over that headland – it was beautiful, relaxing - you'd be half asleep – 'will we go for a wave?' – 'no', and then you might be tempted to get your ski out and have a paddle and when you'd get a decent wave coking in everyone would say 'no, never saw you, do it again.' (laughs) – so you'd go out the back again, try and get one wave, get a big one and get back into the beach and there wouldn't have been a sod looking (laughs).

What's your favourite place in Pittwater?

We didn't get around Pittwater much then – Robinson's used to have a trawler and we used to go outside fishing. Sometimes the boy's dad would come up – old Mr Unicombe came once, old man Mitchell – they all used to come out fishing with us. We were a little bit of mongrels then – we'd take some roast chicken out with us and make them sick and then offer them some roast chicken! (laughs)
They were god times.

What is your 'motto for life' or a favourite phrase you try to live by?

I guess mine would be 'if there's something to do, do it'. ..don't wait for somebody else to do it… I think that would be about it lass.
Reg Wood In 1944
Life Member Reg Wood sent Avalon Beach SLSC this great photo and story from his patrolling days in 1944.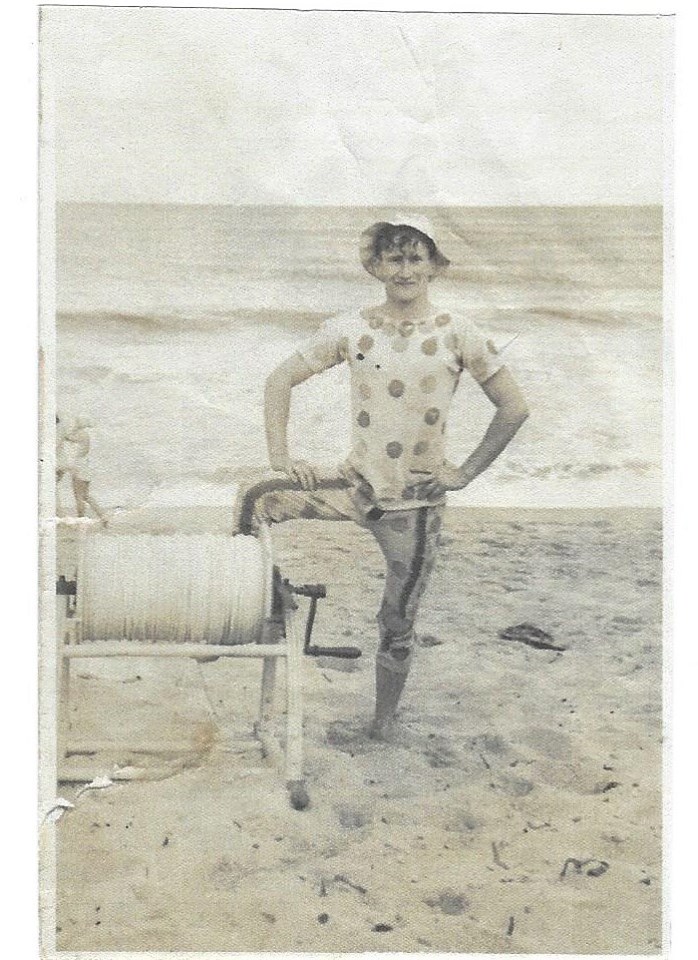 "I have enclosed a photo of myself in a costume I designed myself. It comprised a pair of my Dad's long johns and t-shirt covered in purple and red dots. Some of the boys were getting a bit browned off at travelling for a couple of hours to sit on a wooden stool. (Most lived in the city).
To spark up the hours on patrol I had an idea. After setting up the patrol I slipped off to the toilet and instead went back into the Club and changed into my old style costume I had made up and sauntered down towards the patrol area. One of the boys saw me and gave a laugh with which the whole patrol turned and as one raced up the beach I could not get away from them as I was the worst runner in the Club. By this time all the beach turned to see what was going on as the boys unceremoniously picked me up, twisting and turning, and carried me down to the water and with a one, two, three tossed me into the surf. Wet and spluttering I stumbled from the surf and walked stately back up to the Clubhouse. I had given the boys the lift they needed."
Thanks Reg for your many wonderful memories of life at Avalon Beach SLSC.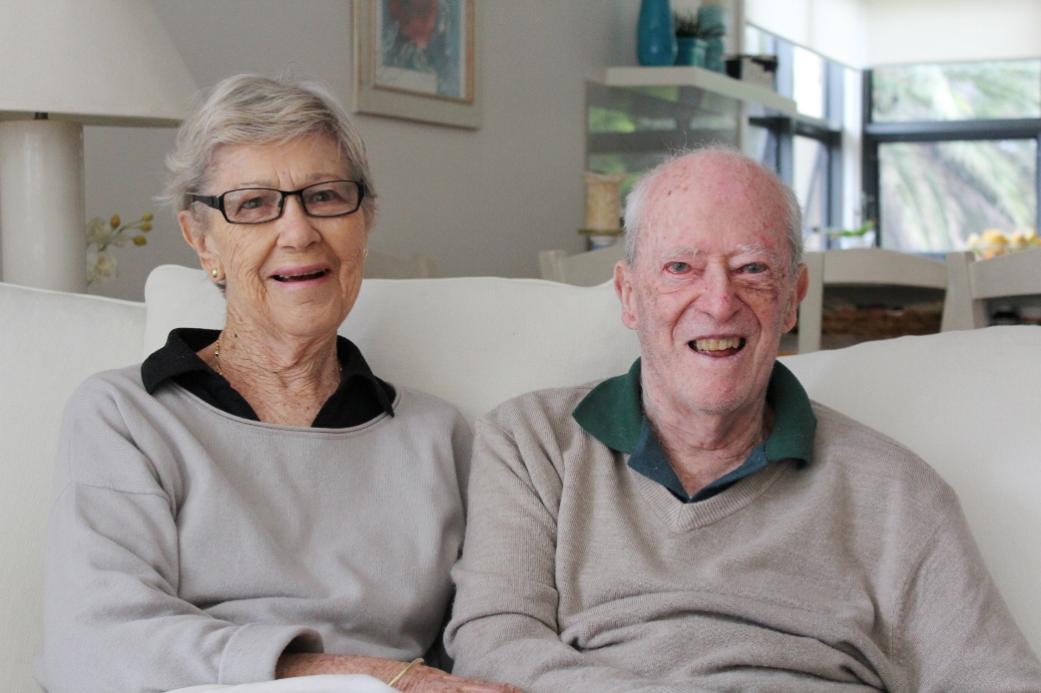 Avalon Beach SLSC's first 60 Year Service Awards went to Life Members Max Watt, Doug Crane, Ken Davidson, Don Imison and Reg Wood in 2006, 11 years ago.
In 2003-04 when Doug was in his 70's, he retired from patrols and the last Sunday swim for the year was renamed The Doug Crane Classic to honour him. Usually held on the same day as the Nipper's Christmas party, winner's names are engraved on the Doug Crane Classic paddle displayed in the Clubhouse's Hall of Champions.
In 2016 Doug Crane's Patrol Members and life members, Don Imison and Ken Davidson started the event, again, and helped Joan, Mrs. Crane, with presentations. A few weekends ago Ken and Don joined fellow Life Members at an annual lunch in the clubhouse.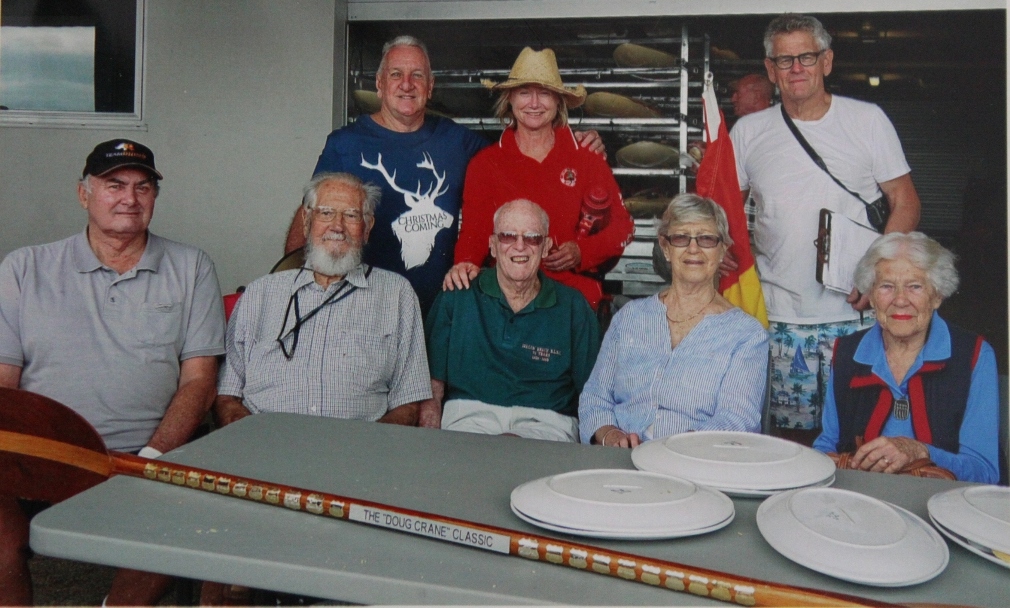 Don has seen the earliest and newest versions of this clubhouse. He's also seen Avalon change from horses that take themselves for an amble down roads made of dirt to traffic lights. Beryl has seen days when there were lots of birds, then years when there were none due to all the developments and cutting down of trees, to now, when there are many more again. She served soft drinks at the clubhouse when The Stomp was all the rage. She served cake and tea and coffee to those who came to Avalon Beach SLSC to film that 1963 version of Bandstand.
When and where were you born?
At Drummoyne, November 5th 1927, I'm 90 years old now. I grew up in Drummoyne from Primary right through to 6th class. I then attended Ultimo Technical College and went on, while working, to get an Engineering Degree.
Where did you go to work?
I went to Nestlés, which was at Abbotsford in those days and sitting on the river as well then.
I then got a message from the head Office stating that they wanted me to go to Smithtown at Kempsey to build up things out there – this was 1950. The Tool Manager there took me over and said I should join the local Surf Club. So I joined South West Rocks SLSC (
http://www.swrslsc.org.au/
) and it rolled on from there. I got my Bronze Medallion at Kempsey.
I was there for just over 12 months and returned to my parents place at Cremorne and went from there straight down to Avalon Beach SLSC. I did around 8 years as the Secretary there before settling down to married life – Beryl and I have been married for over 60 years now.
MR. DON IMISON left on Monday last for Sydney, where he will spend a few days with his parents, before sailing for Tasmania. Don is on holidays from Nestles', Smithtown, where he is a Fitter and Turner.
SOCIETY
(
1951, February 9
).
Macleay Argus
(
Kempsey
, NSW : 1885 - 1907; 1909 - 1910; 1912 - 1913; 1915 - 1916; 1918 - 1954), p. 2. Retrieved from
http://nla.gov.au/nla.news-article234501834
How did you first visit Avalon?
My brother in law,
Reg Wood
, was already a member down here. He's Marjorie's husband.
Where did you meet Beryl?
At her sister's Engagement Party to Reg.
Beryl worked at Abbotsford – at the Nestlés factory too. Beryl worked on the machine where they trim it down and send it on. We married in 1956.
Did you get free chocolate?
Don: you could eat as much as you wanted while at work.
Beryl; And there was a shop with discounts.
Reg recently sent us in some anecdotes about the 1956 Avalon Beach SLSC Carnival where locals witnessed Americans surfing across the waves – do you remember that?
Yes, I remember all of that, I was there that day. It was good. I was just finishing my Apprenticeship then and had become a fully fledged Tradesman.
I didn't surf myself, I was a swimmer.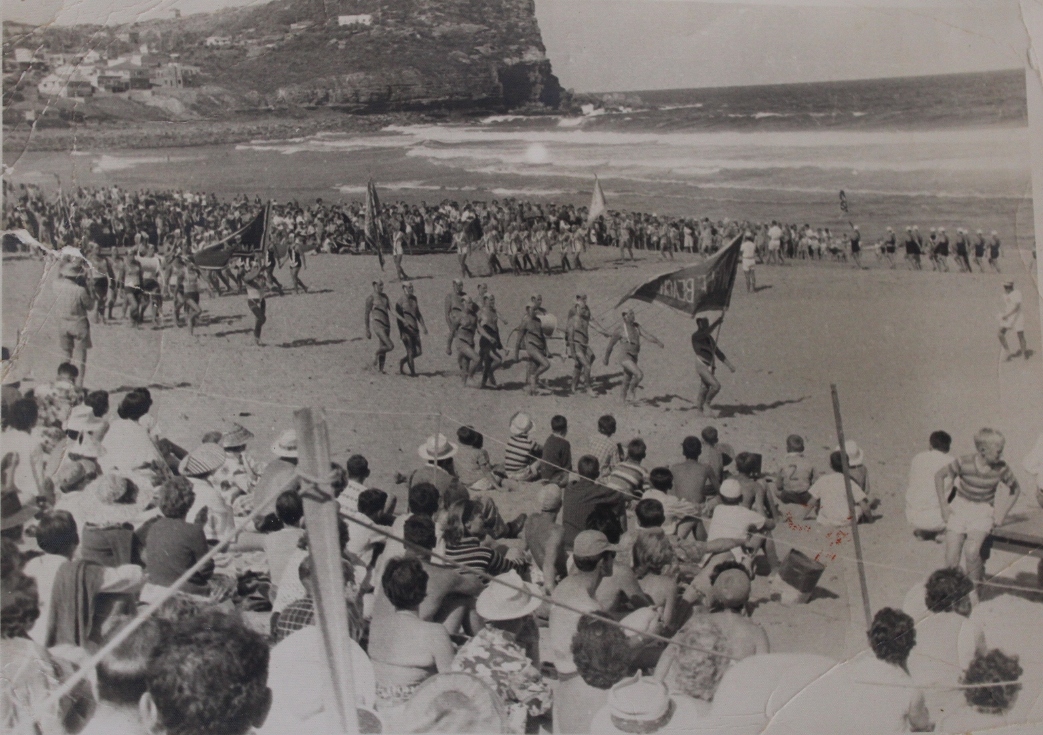 Avalon Beach SLSC Carnival Sunday, 18th Of November, 1956 - March Past - Whale Beach, NSW, Australia leads visiting American team (courtesy the Imisons)

What was Avalon Beach like in 1956?
It was a very popular beach, we'd get a lot of visitors during Summer, thousands. They'd all come here by bus.
Those of us who lived out of the area had to come in by bus for our Patrols too. We'd catch a bus out – sometimes these would run late. There was a chap who lived out here but was also involved in the Police Boys club in town – he would often pick us all up in town and drive us out in his car for the weekend in those earlier years.
Inspired by the remarkable work performed by members of the Woolloomooloo Police Boys' Club in patrolling Avalon Beach
, a batch of youngsters from the Leichhardt Police Boys' Club became qualified life-savers during the week-end. They were tutored by Constable Ray Murdoch, a member of the Freshwater Club, and amazed Surf Life Saving Association examiners by their proficiency and confidence. Murdoch gained his instructors' certificate, and M. W. Koller, R. H. Marshall, D. J. Marshall, A. Hensley, and W. P. Drury their bronze medallions. K. Taylor, who is only 15, secured his qualifying certificate. Although these youths are not attached to any club, they are now qualified life-savers, and are eligible for entry to any registered surf life-saving club. In the last two years more than 40 awards have been made to members of police boys' clubs. SURF LIFE-SAVERS AS HUNTERS. (
1944, December 19
).
The Sydney Morning Herald
(NSW : 1842 - 1954), p. 8. Retrieved from
http://nla.gov.au/nla.news-article17932315
We'd sleep in the surf club for the weekend then, this was before I was married.
Where did you live when first married?
We lived in the Ambulance Station at Drummoyne.
Why the Ambulance Station?
Beryl: we didn't have anywhere else to begin with and as Don's father was a Voluntary Ambulance man at Drummoyne.
Don; and there was a unit there that was completely empty which they weren't using.
Mr. and Mrs. L. Imison, of Drummoyne, with son Don and nephew Brian, are holidaying in Tumut, with Mr. and Mrs. C. Wallwork at the local Ambulance station.
PERSONAL (
1949, January 18
).
The Tumut and Adelong Times
(NSW : 1864 - 1867; 1899 - 1950), p. 2. Retrieved from
http://nla.gov.au/nla.news-article139312485
Beryl: we then moved to a unit overlooking the Lane Cover River – it was beautiful, wonderful view.
Don: then we bought some land and built our house in Patrick street here in Avalon.
Beryl; it must have been around 1959 or 1960 – it was before our daughter Vicki was born and our son Jeff is coming up to 58 years of age in January, so it was around then, when he was born.
John Gaddes and Don used to come down and help out when they were doing subdivisions for extra money. Our block of land came up, a nice big block from Joseph to Patrick, and Don said 'come down and have a look'.
Don: I think we were one of the first ones to put a swimming pool in their property along there.
Beryl: We left there and moved to this place in Avalon around 12 years ago now.
What was Avalon like then?
Beryl; it was lovely, I loved it. Very different, we didn't have a proper road to get into Joseph street and Patrick street, we were on the corner, it was just dirt then off the main road. Koalas used to walk down the street and up our driveway, would just come up and greet us. There were so many birds, beautiful birds.
Were you still travelling out to Abbotsford then?
Don: Yes, I'd just drive into the city and out there. I had a car, an A40, a company car. It took around 50 minutes to drive in then, there wasn't as much traffic. I wouldn't do it in a fit now.
Beryl: He used to take people who lived in Avalon with him into town – then they just had to catch the bus home after work.
Avalon Beach Surf Club, you must have seen it change from that old first building into those in between and the most recent one – what was that like?
Don: Yes, we saw all of that. That was terrific. We started off at the northern end, the work being done by members. We got there in the end.
Do you remember the next clubhouse and The Stomp?
Don: oh yes. Beryl used to look after them
Beryl: I used to go and help out serving Coca-Cola and coffee and tea with a friend Betty Gaddes, and they ended up living two doors up from us.
One of the more chaotic events was when they filmed Bandstand there in 1963. betty and I were in the kitchen, making coffee and tea and plating up cakes to hand out to special guests, it was packed. They were there all day. You can see in that how much Avalon has changed.
What are the most marked changes for you?
Don: The Bus.
Also, we used to have a horse that would go up Patrick street, would wander into the yard, I'm not sure whose horse it was - someone round about.
We saw it go from being fields here to becoming a suburb.
Beryl: Well, the koalas have gone. There was a stage, too, when we didn't seem to have many birds. They've come back again now though, with people putting back in the trees.
Our milk used to be delivered to our home, in bottles. Opposite where Johnson Brothers is now was once a Coles, then it became a Woolworths, then that went too and we didn't have anything for a while.
Don, you're a Life Member at Avalon Beach SLSC – did your children join too?
Jeff did, he loves the water and still surfs, on a surfboard, although he's at Bega now. He was also part of that NASA at North Avalon there while he was growing up.
Was Doug Crane a mate of yours Don?
Yes, another Engineer.
So they were rich with Engineers and Builders at Avalon during those building days – if they weren't a Builder, they were an Engineer?
Beryl (laughs): I think there's still quite a few now.
Don: I knew Doug right from when I first joined Avalon – there was Doug and Max Watts and Davo (Ken Davidson) and Reg and myself.
Beryl: We went to Ken's wedding – we've known him a long time. I think he came to ours too, I know Norma Watts did. It's a nice feeling to have known such great people for so many decades. You know what's going to come out of their mouth before they say it.
We all went away on holidays together for 20 years to Sussex Inlet, our crowd. We'd go the week before Christmas and go for three weeks – it was wonderful.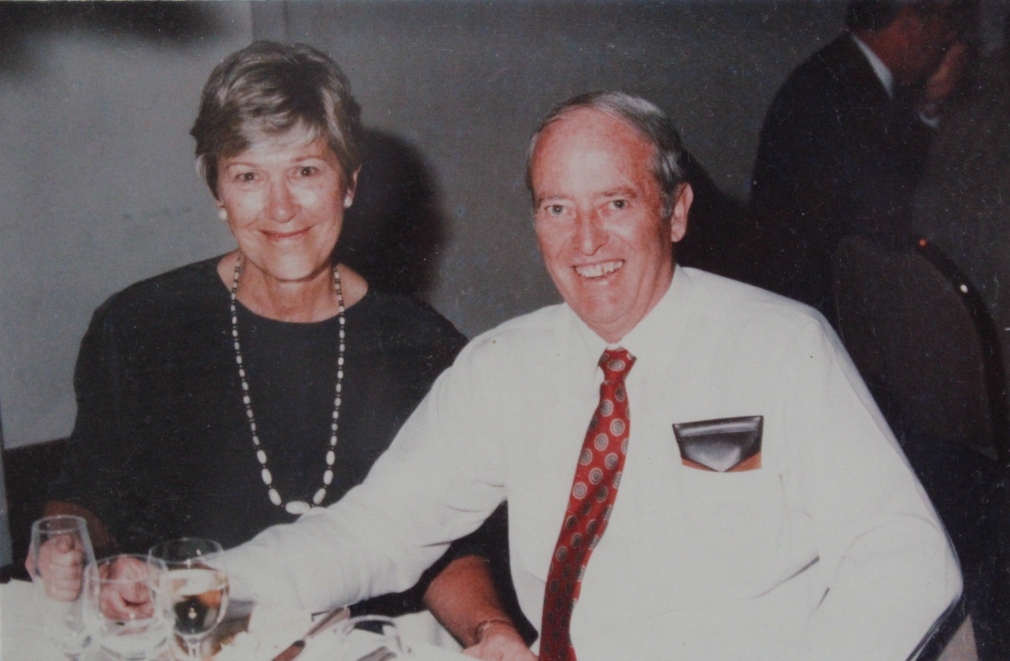 Beryl and Don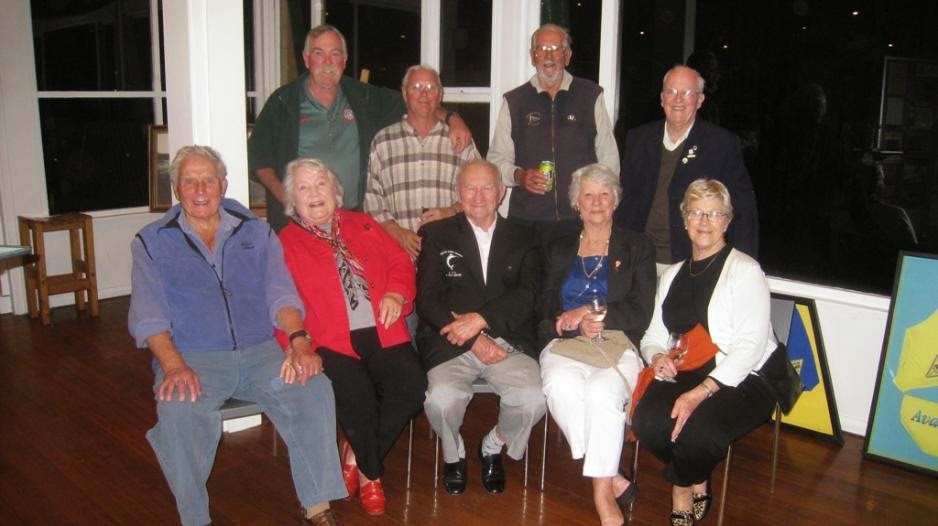 Front row: Max and Norma Watt, Reg and Marj Wood, Beryl Imison.
Rear: Brian Friend, Keith Feehley, Ken Davidson, Don Imison.
What has been the best part for you two of being involved in Avalon Beach SLSC?
Don: The friendships you make, these have lasted a long time. It has also kept me fit, getting in the water.
I enjoyed being part of the boat crew. In that period you had to do something else to keep it all going. We were lucky if we had ten blokes on Patrol, there just wasn't the strength of membership then. A lot didn't have the approval to go on Patrol, hadn't earned their Bronze yet.
Beryl: I didn't work until our children were older, my daughter was 7 and Jeff was 9, so it gave me contact with the rest of the community. I then got a job at the shoe shop in Avalon, Richard's Shoes, and was there for 34 years.
What were the women doing Beryl?
Beryl: We used to sleep in the boatshed when we first started coming down here. It was a bit draughty at times and you had rat visitors but you didn't care because you were so tired after a busy day on the beach.
Don: Then we got the unit above the shops in Avalon Parade and would stay there.
Beryl: We used to sit out on the verandah and watch the world go by. We used to make all our sandwiches up there, cook our cakes. The Carruthers owned that I think, they were involved in the surf club, so they let members use that when on patrol or doing things for the club.
There was a little old Scottish lady, Mary, who used to work in the milk bar – everybody loved her, she used to put extra chocolate on the ice creams for the boys
How did you build up the membership Don?
It just happened really; more people moving into the area and wanting to get involved.
Beryl: Reg Wood also brought along a lot of his friends from the Police Boys Club too.
What are you favourite places in Pittwater and why?
Don: We'd go fishing with Ano (Max Watt) and have no trouble at all landing some beauties. Out off the rocks at Avalon was our favourite spot.
Beryl: we lived on fish, loved it. He just loves Avalon, the whole lot. There's great people here.
Some Notes
The Sydney suburb of Abbotsford was originally part of Five Dock Farm and when subdivided in 1837, was called Feltham. Sir Arthur Renwick, a doctor, philanthropist and politician, built his home here in 1890 and called it Abbotsford House in honour of the residence of historical novelist and poet, Sir Walter Scott. Renwick sold his property in 1903 to Albert Grace, and in 1918 it became the site of a Nestlé chocolate factory, with the house used initially for chocolate production and later as their administrative offices. The factory was closed in 1991, after which the area was redeveloped as the medium-density Abbotsford Cove housing complex.
South West Rocks SLSC was formed in 1919
and has operated continuously ever since.
The club is a community organisation run by volunteers who are dedicated to protecting members of the public who surf and swim at our beaches. We conduct patrols on weekends and public holidays during the season from October to April each year.
Nestles chocolates are known all over the world, and a pleasing display of some of their fancy boxes may be seen in the vestibule at the State Theatre, where they are on sale. Amid charming surroundings at Abbotsford, on the Parramatta River, stands Nestle's Chocolate Factory, the home of Nestles chocolates.
The various buildings are situated in twenty-two acres of picturesque grounds, and are surrounded by lawns and gardens — a truly ideal settling for such a factory. About 800 hands are employed in the factory, where they work under the most ideal and hygienic conditions. Tennis courts, a cricket oval, and dance hall are provided, where the employees may spend their leisure hours., A rest room and trained nurse are also provided. The very latest machinery has been installed to cope with the. increasing demand for Nestle's chocolate and cocoa products. The Nestle an'l Anglo-Swiss Condensed Milk Co. (Ansr.). Ltd.. are also the manufacturers of Nestle's and Gold Medal sweetened condensed milk, unsweetened milk, lactogen. malted milk, and cocoa.
All these lines are household words, not only in the Commonwealth, but in all parts of the world, and it is because they are made by the most improved methods under perfect hygienic conditions, which ensure absolute purity and maximum nutritive value, that they are second to none other. The manufacture of lactogen, in itself, is a model Australian industry. The use of dried milk, such as laotogen, the well-known baby food, is a fairly recent development, being first introduced in Australia about twenty years ago. Since then it has been employed to an averincM-pasing extent all over the world. The showroom installed in Nestles' new offices in Foveaux-street. Sydney, close to the Central Railway Station, is worth a visit. Here a full range of Nestles' high-class lines may be seen in a natural setting, the showroom having been designed for attractiveness' and for convenience of customers, who are thus able to view samples of the company's produts. The research laboratory is one of the most modern and best equipped in Australia, and strict control over all products is maintained. This department is the keystone of the Nestle's company. SWEET HEALTH (
1929, June 9
).
Sunday Times
(Sydney, NSW : 1895 - 1930), p. 25. Retrieved from
http://nla.gov.au/nla.news-article131635582
NESTLES AN INDUSTRY OF NATIONAL IMPORTANCE IN PEACE AND WAR.
STARTING at Toogoolawah (Queensland) in 1908, Nestle's have rapidly extended their activities throughout Australia. Factories and condenseries have been established in New South Wales, Victoria and Western Australia. There are imposing offices in every capital city of the Commonwealth. This means employment for thousands of Australians and an enormous annual salaries bill. The purchase of raw materials also reaches a very high yearly total, while thousands of pounds are spent on printing, cartons and transport. Illustrated in this advertisement are some of Nestle's Australian activities. At foot of page is the chocolate factory at Abbotsford — the largest of its kind in the Southern Hemisphere. In the oval at right is an aerial view of one of Nestle's Victorian factories — this is at Dennington; another is at Maffra. Next comes
Nestle's New South Wales Condensery at Smithtown
on the Macleay River.
Immediately below, we see Nestle's factory at Waroona, Western Australia. These pictures indicate the extent of the industry and its importance in the industrial development of the nation.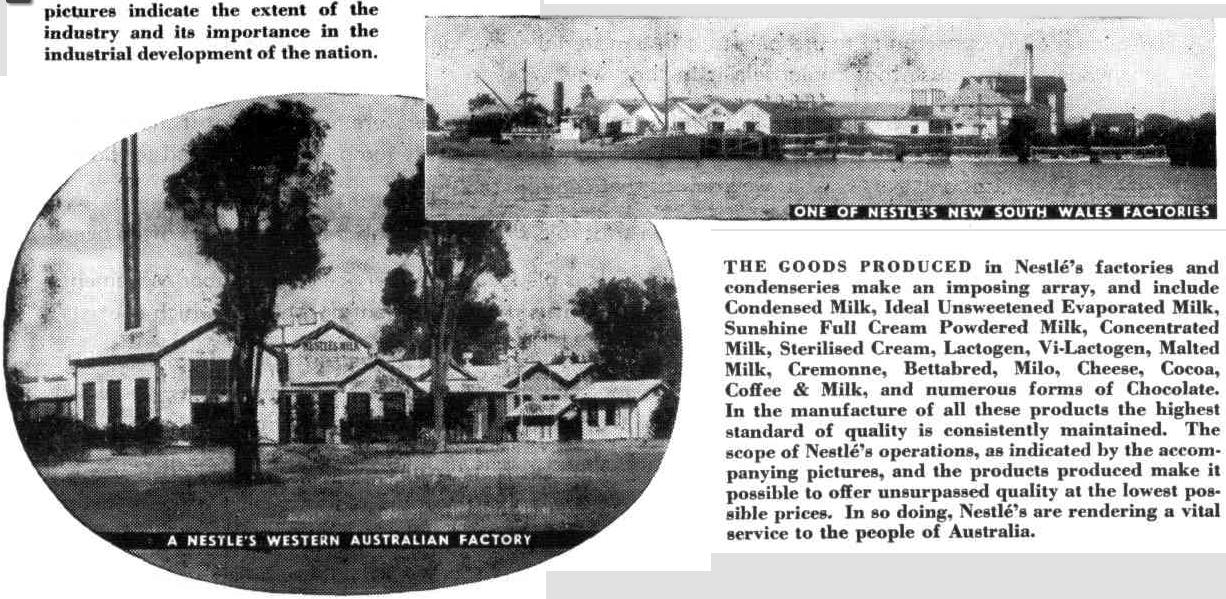 The maintenance of an hygienic supply of milk foods is vital to a nation's well being. Years of unfailing quality in the manufacture of such foods has rendered the name of 'Nestle's' synonymous with purity, richness, nutriment and value.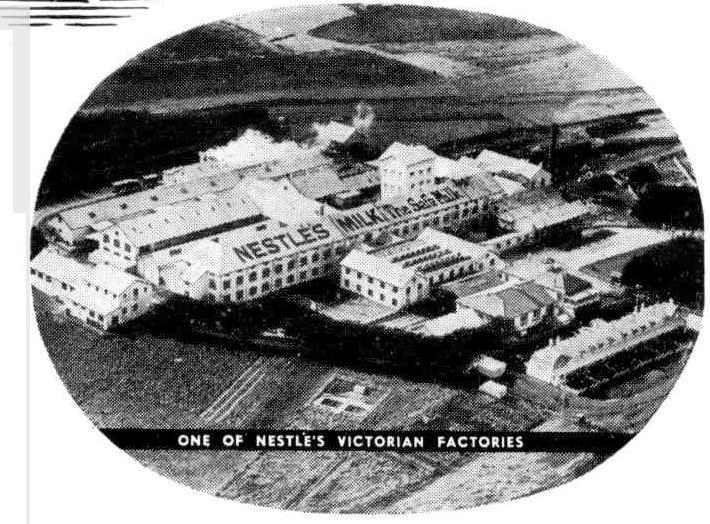 Nestle's insistence on ingredients of the highest quality has, in turn, exerted a profound influence on the Australian dairying industry. Many thousands of gallons of the purest, richest milk this country produces are processed daily at Nestle's modern and spotless factories. In peace and war, Nestle's are proud to be described as an essential industry . . . — proud to know that their products contribute so constructively to the welfare of the individual and of Australia.
THE GOODS PRODUCED in Nestle's factories and condenseries make an imposing array, and include Condensed Milk, Ideal Unsweetened Evaporated Milk, Sunshine Full Cream Powdered Milk, Concentrated Milk, Sterilised Cream, Lactogen, Vi-Lactogen, Malted Milk, Cremonne, Bettabred, Milo, Cheese, Cocoa, Coffee & Milk, and numerous forms of Chocolate. In the manufacture of all these products the highest standard of quality is consistently maintained. The scope of Nestle's operations, as indicated by the accompanying pictures, and the products produced make it possible to offer unsurpassed quality at the lowest possible prices. In so doing, Nestle's are rendering a vital service to the people of Australia.

NESTLE & ANGLO-SWISS CONDENSED MILK CO. (A/SIA) LTD. NESTLES AN INDUSTRY OF NATIONAL IMPORTANCE IN PEACE AND WAR.(
1942, February 4
).
The Australian Worker
(Sydney, NSW : 1913 - 1950), p. 2 (SOUVENIR SUPPLEMENT). Retrieved from
http://nla.gov.au/nla.news-article146237927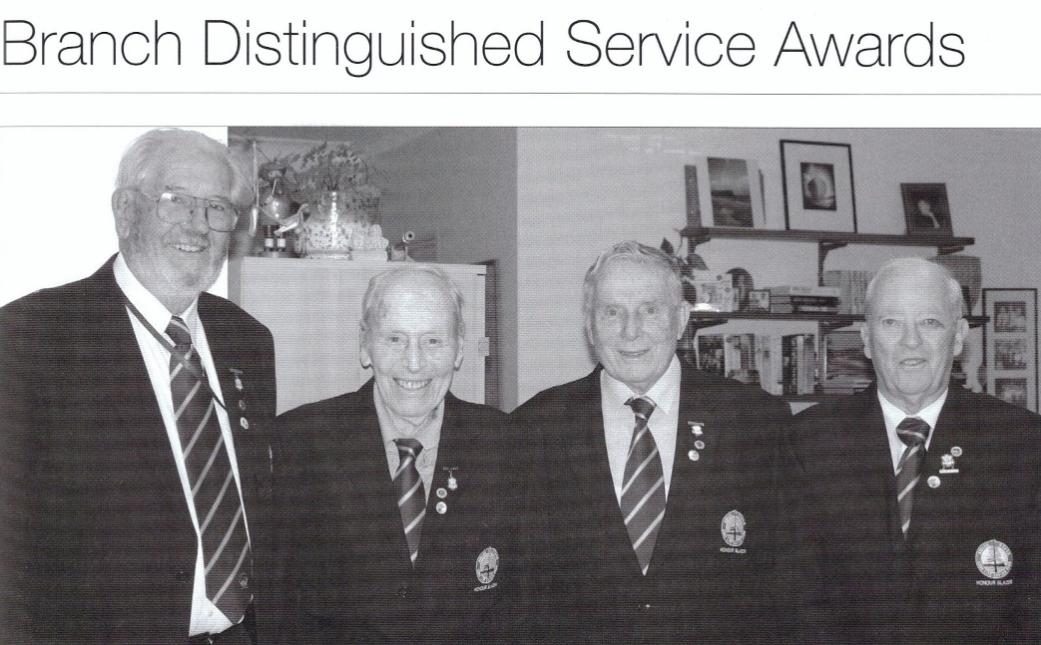 Branch Distinguished Service award: L to R; Ken Davidson, Doug Crane, Max Watt, Don Imison