August 13- 19, 2023: Issue 594
Police Investigation underway after boat fire at Church Point Pittwater: Pittwater fireboats deployed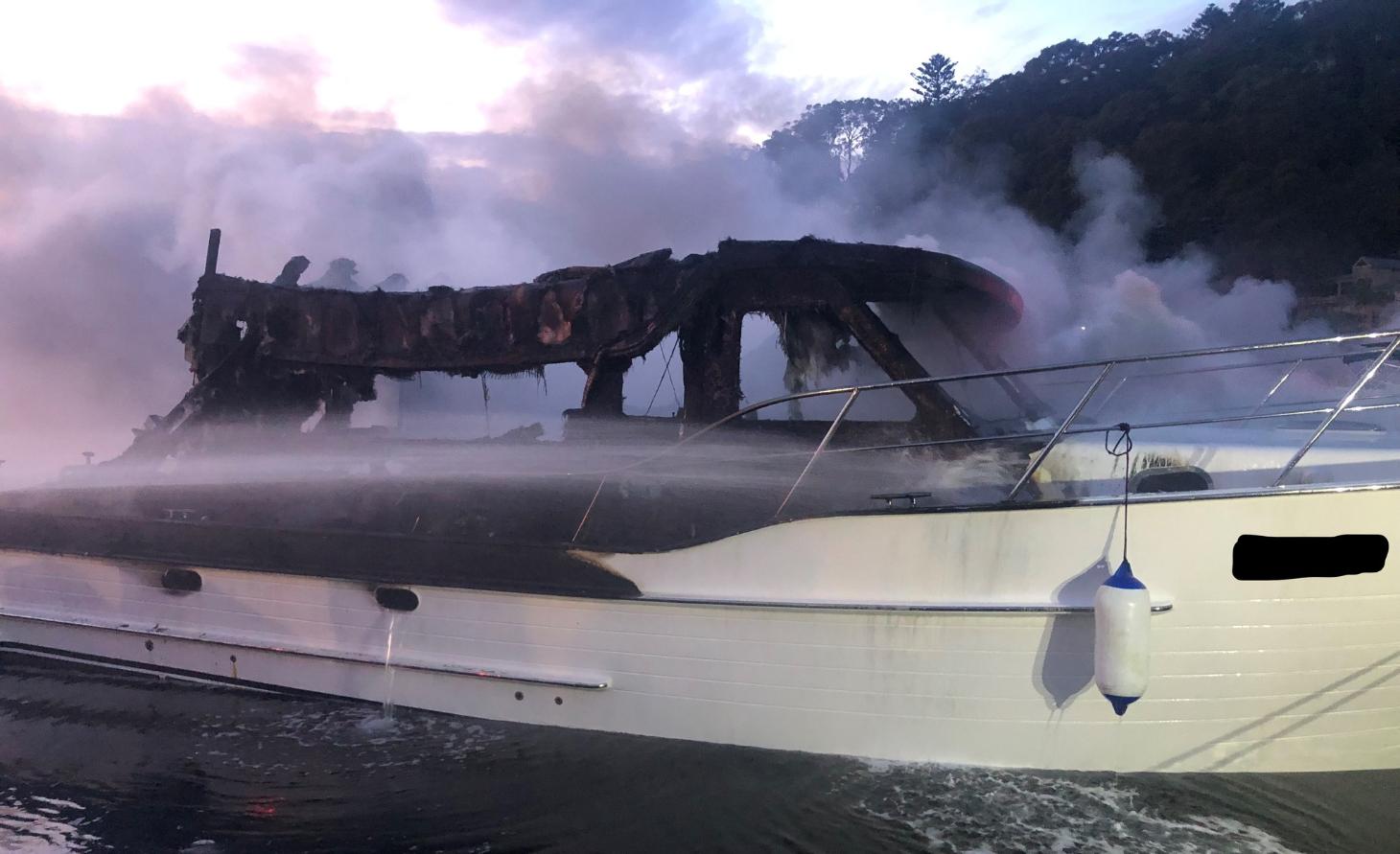 One of the destroyed cruisers. Photo: NSW Rural Fire Service
At 5am on Thursday August 10th NSW Police announced an investigation is underway after three boats were destroyed by fire at Church Point earlier that day.
About 5am (Thursday 10 August 2023), officers attached to Broken Water Police noticed a vessel on fire at a marina on Mccarrs Creek Road at Church Point and immediately called for assistance.
Six Fire and Rescue NSW (FRNSW) trucks and 22 firefighters arrived at the scene and crews managed to prevent the fire spreading to at least 20 other vessels.
Water Police and the Rural Fire Service, with two boats deployed, that Scotland Island and Elvina RFS fireboats, assisted fire crews.
There was no-one on board the burning vessels and no reports of injuries.
The boats were pushed to the shoreline to allow better access to the flames and minimise environmental damage.
The boats were carrying 1000 litres of fuel.
Water Police worked to move the vessel towards the shore where Fire and Rescue NSW and the Rural Fire Service (RFS) commenced to extinguish the blaze; however, the flames had spread to two other vessels nearby.
Continued attempts were made to extinguish the fires as the further two vessels were moved away from the marina.
NSW Maritime assisted Fire and Rescue NSW and NSW Environment Protection Authority with pollution control and navigational management after the three vessels caught fire at a marina at Church Point, Pittwater.

Officers from Northern Beaches Police Area Command attended and established a crime scene while officers from Traffic and Highway Patrol managed local road closures and traffic diversions.
The three motor cruisers were completely destroyed. They were moved against the sea wall where pollution booms were set up to prevent further contamination.
A further two vessels received minor damage due to heat exposure.
There is a webcam at nearby HolmePort Marina and Council has installed CCTV cameras at Church Point, however these are restricted to Council owned or managed land and assets within the local area and Council's workplaces. They may, if functioning at the time, provide insight into what or who was moving in the area at that time.
The vessels were removed from the marina and extinguished by firefighters in the early hours of the morning. Monitoring of small flare ups and potential pollution continued with the vessels being secured within a containment boom.
No one was injured and Marine Area Command - NSW Police Force are investigating the cause of the fire.
''The cause of the fire is yet to be determined.'' NSW Police stated
As inquiries continue, police are appealing for any witnesses or anyone in the area at the time and may have dash cam vision to contact Crime Stoppers on 1800 333 000.
Anyone with information about this incident is urged to contact Crime Stoppers: 1800 333 000 or https://nsw.crimestoppers.com.au. Information is treated in strict confidence. The public is reminded not to report information via NSW Police social media pages.
The FRNSW video below explains the procedures followed to save further boats from being destroyed and look after the environment of Church Point. Below this runs some of the photos taken by NSW Maritime and the NSW Rural Fire Service of the response of all emergency agencies deployed.
These agencies regularly conduct multi-agency drills together.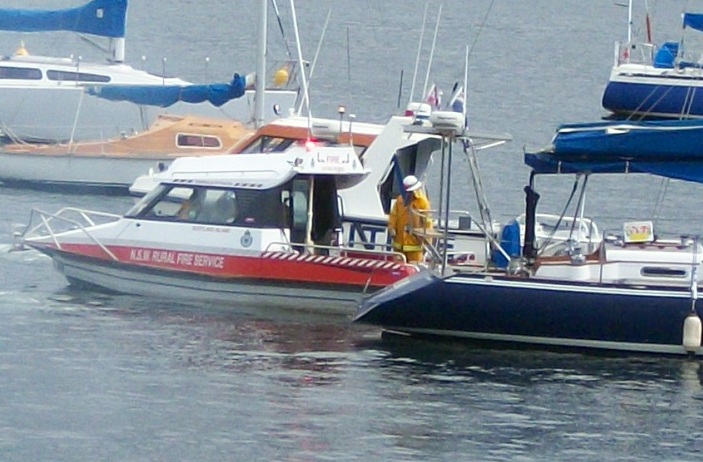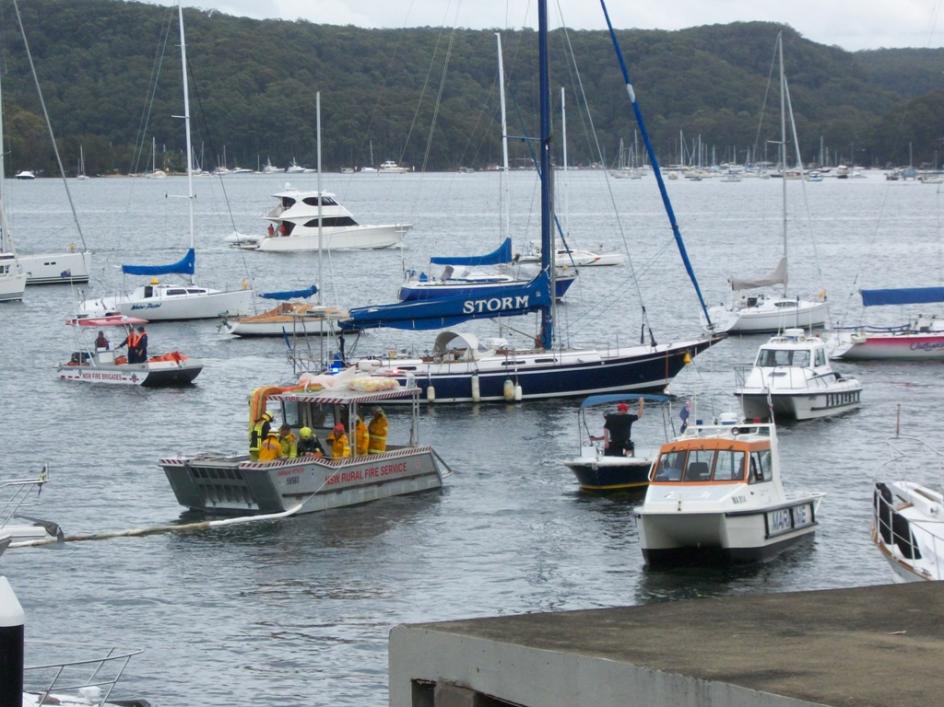 Above Pics: NSW Rural Fire service boat at the Royal Motor Yacht Club - Broken Bay's Multi-agency Emergency Training Drill of March, 2012. Photos: A J Guesdon.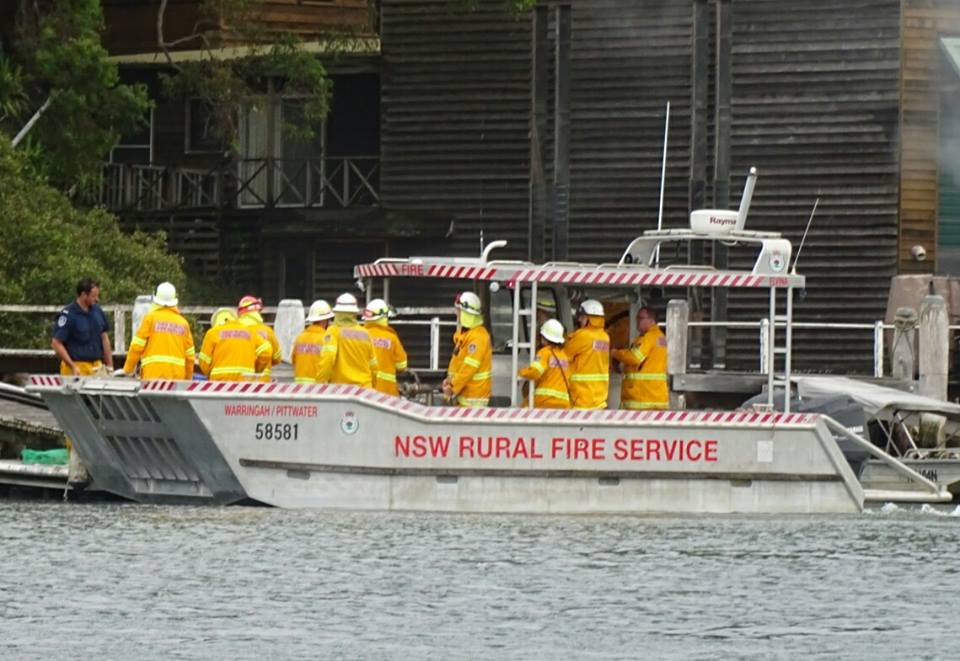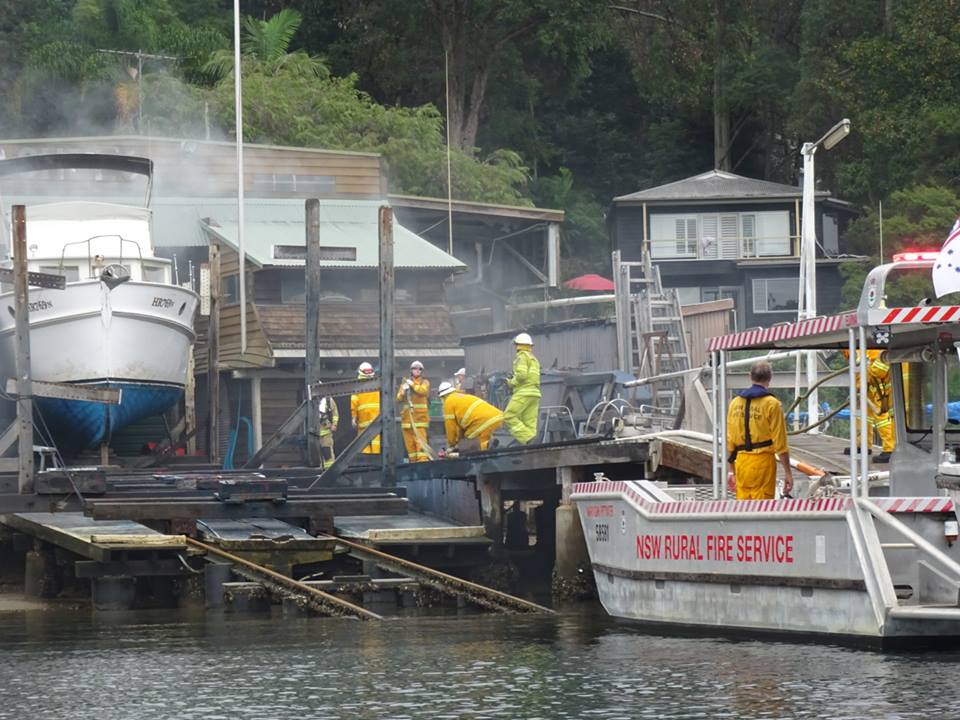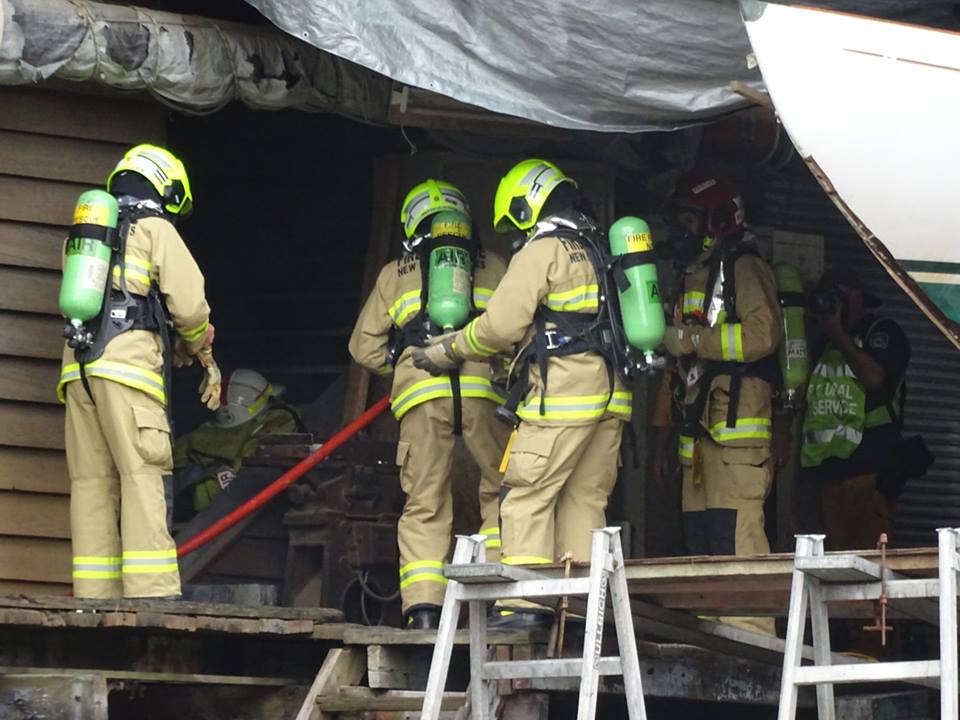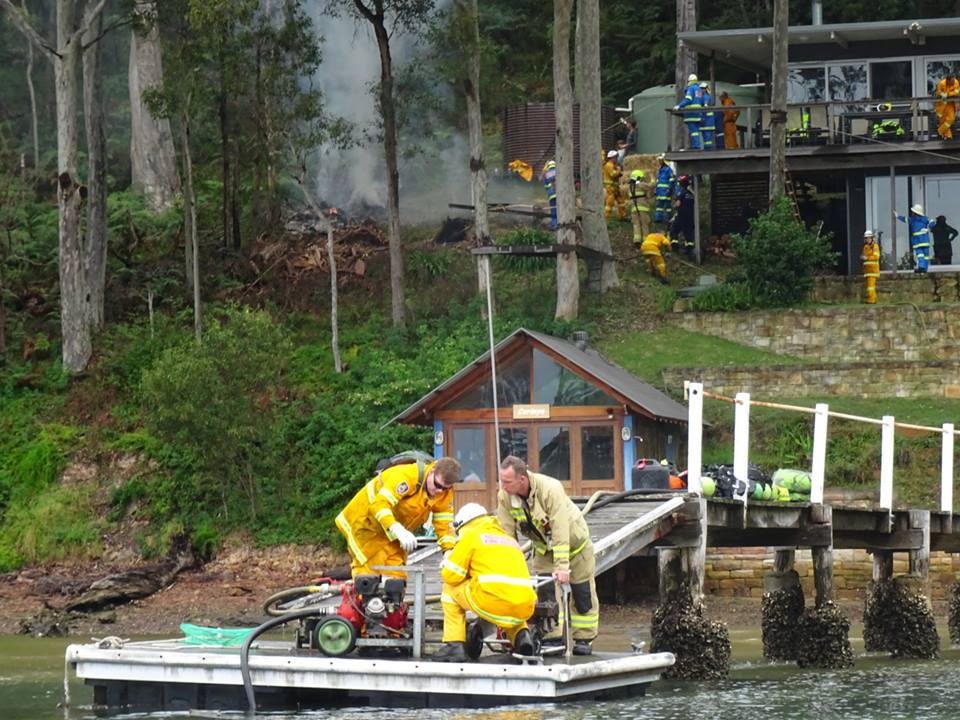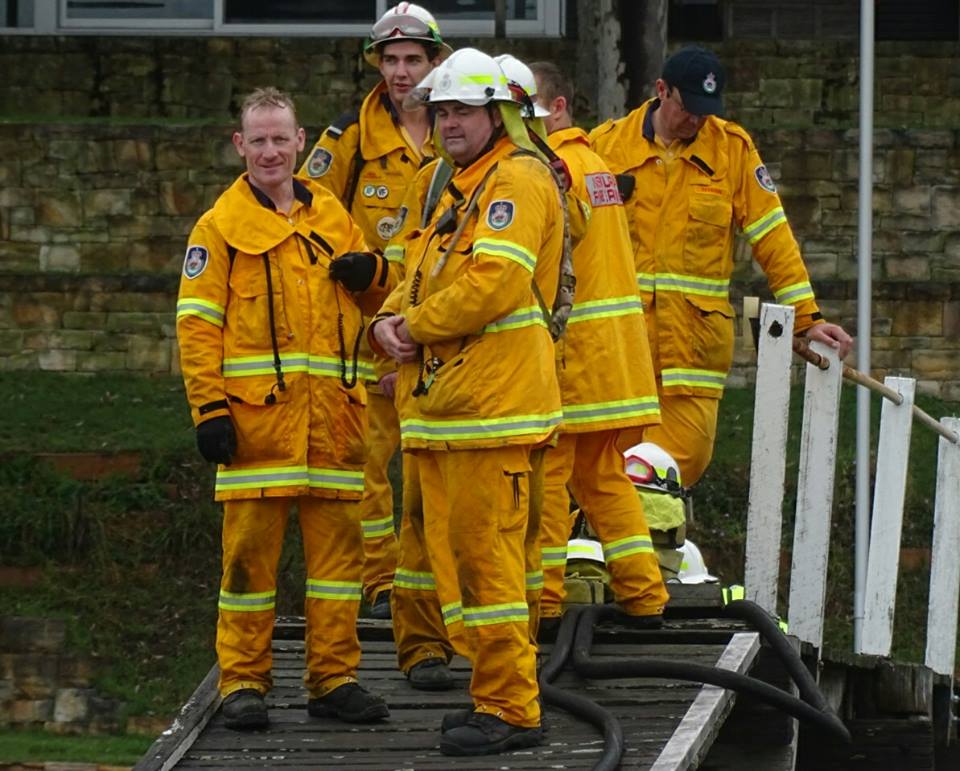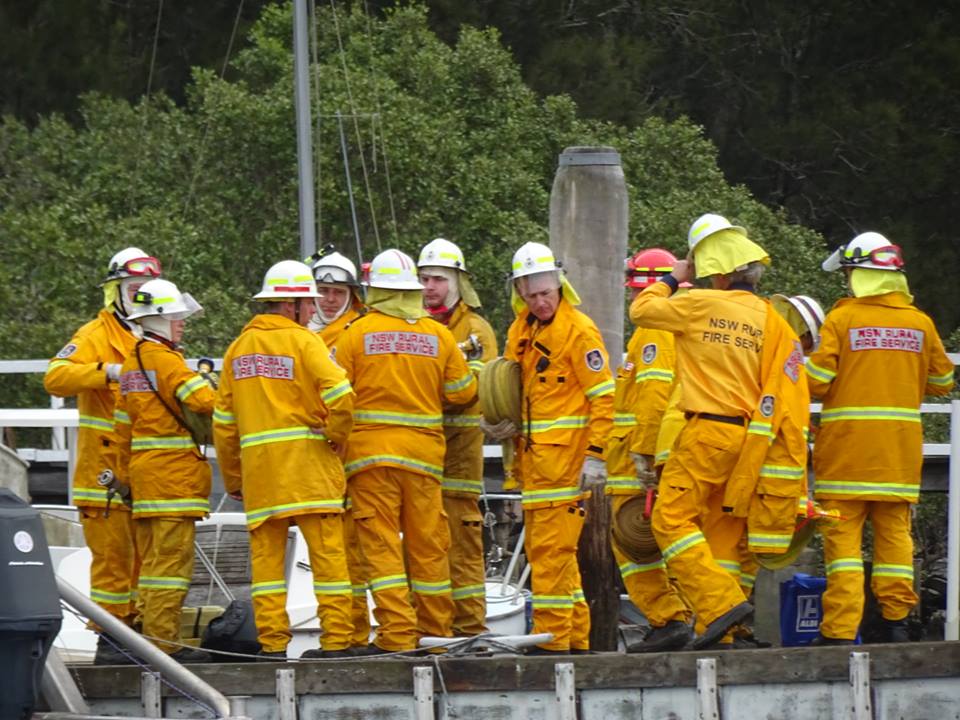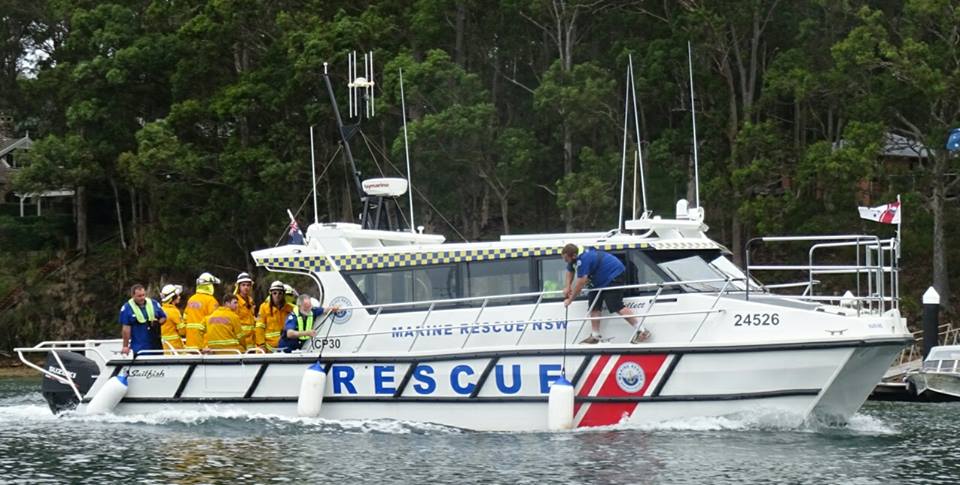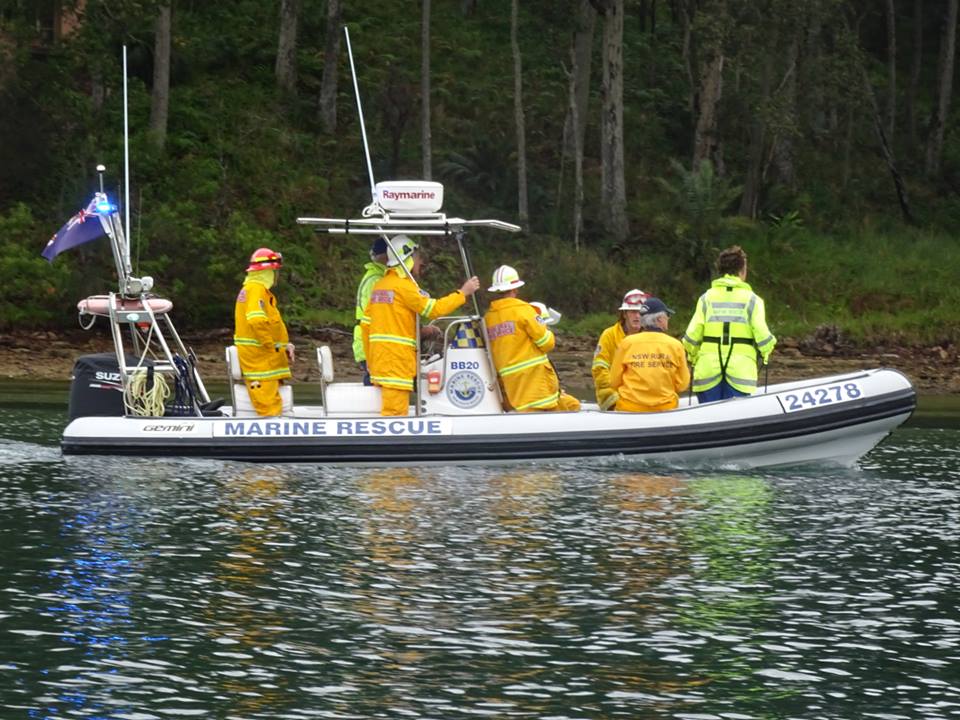 Pittwater Rural Fire Brigades Bush, Boats And Boatsheds Training Exercise, May, 2016. Photos: then Deputy Group Captain & Ingleside Brigade Captain Sean McLoughlin

The July 22nd 2009 blaze at Newport Anchorage Marina illustrates what can happen when fuelled boats set each other alight.
Although vessels were lost and new ways to deal with such blazes on water have become part of finessing training exercises for local brigades since, what is recalled most by witnesses is that we don't stand by and look on - we call the first-responders, especially our NSW RFS Pittwater Fireboats, and keep out of their way unless asked to assist;
What I remember of the 2009 event was the sheer volume of thick, black, dense smoke – it was incredible and the noise it made, it was scary. I thought, at the time, it must have be catastrophic to people and property. The actions of everybody to get in and support the emergency services was amazing and symbolised the Aussie spirit.
Damian Devine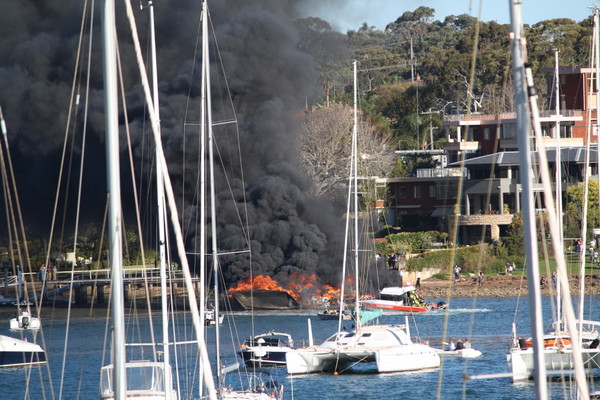 2009 fire at Newport. Photo by Damian Devine.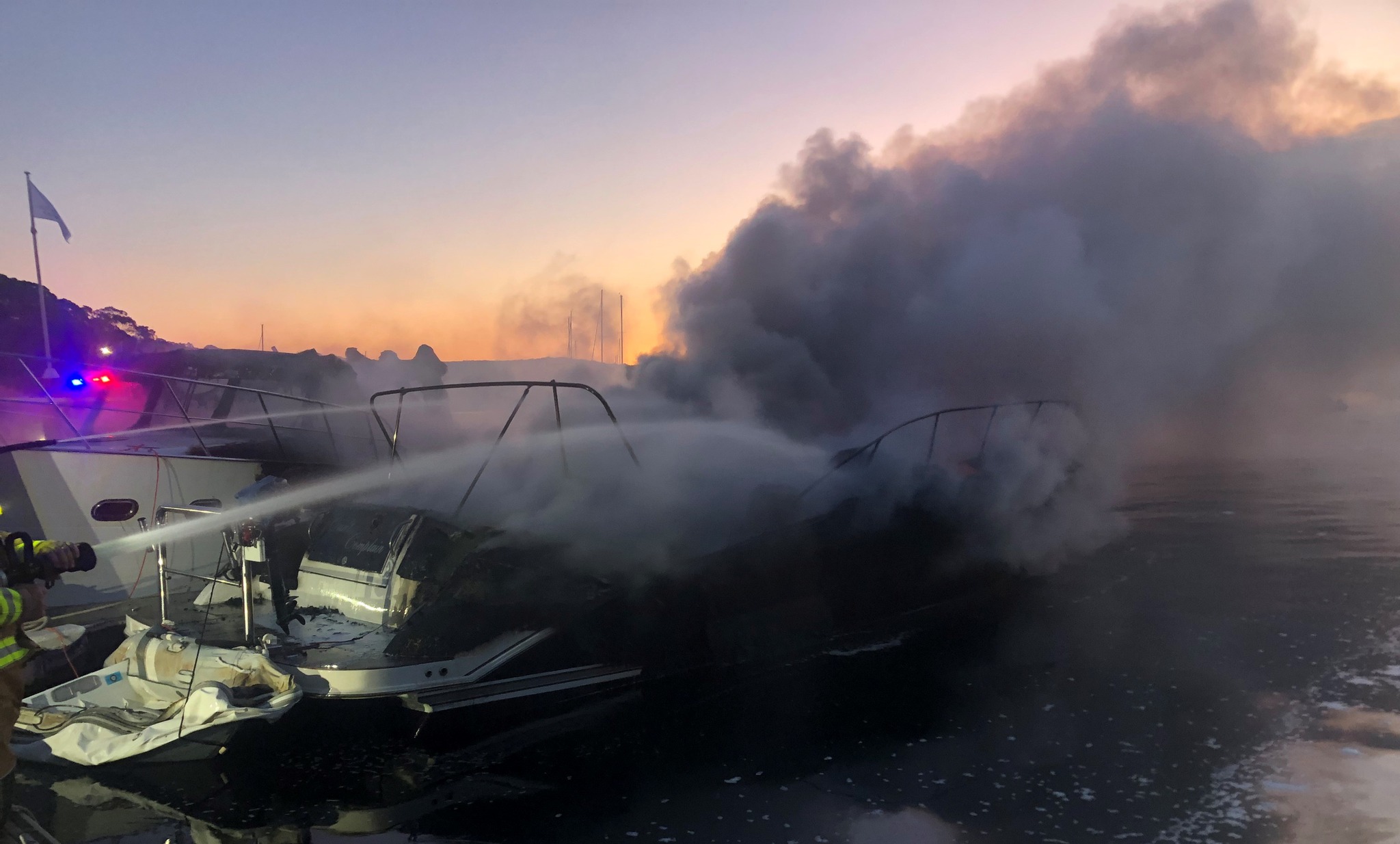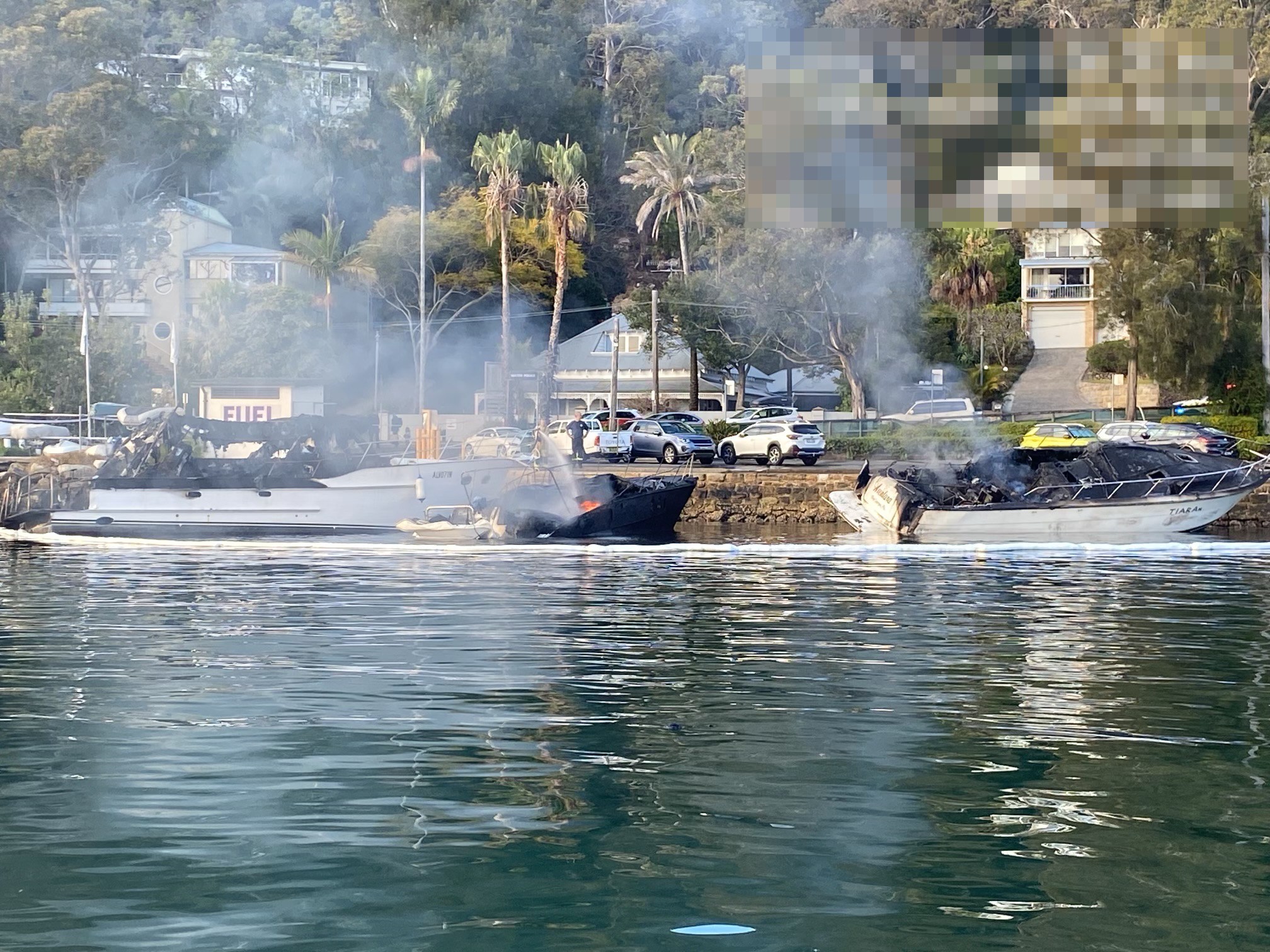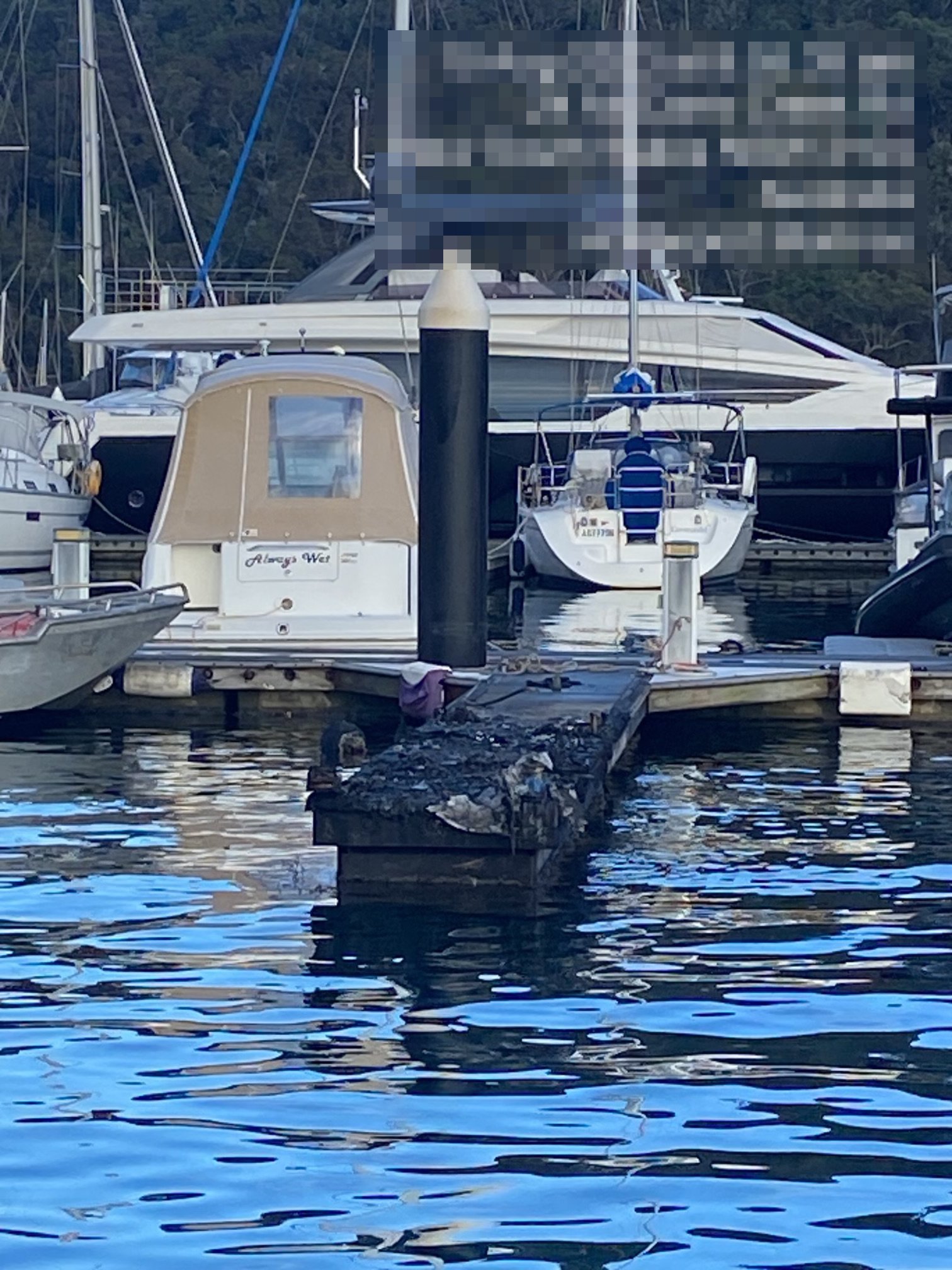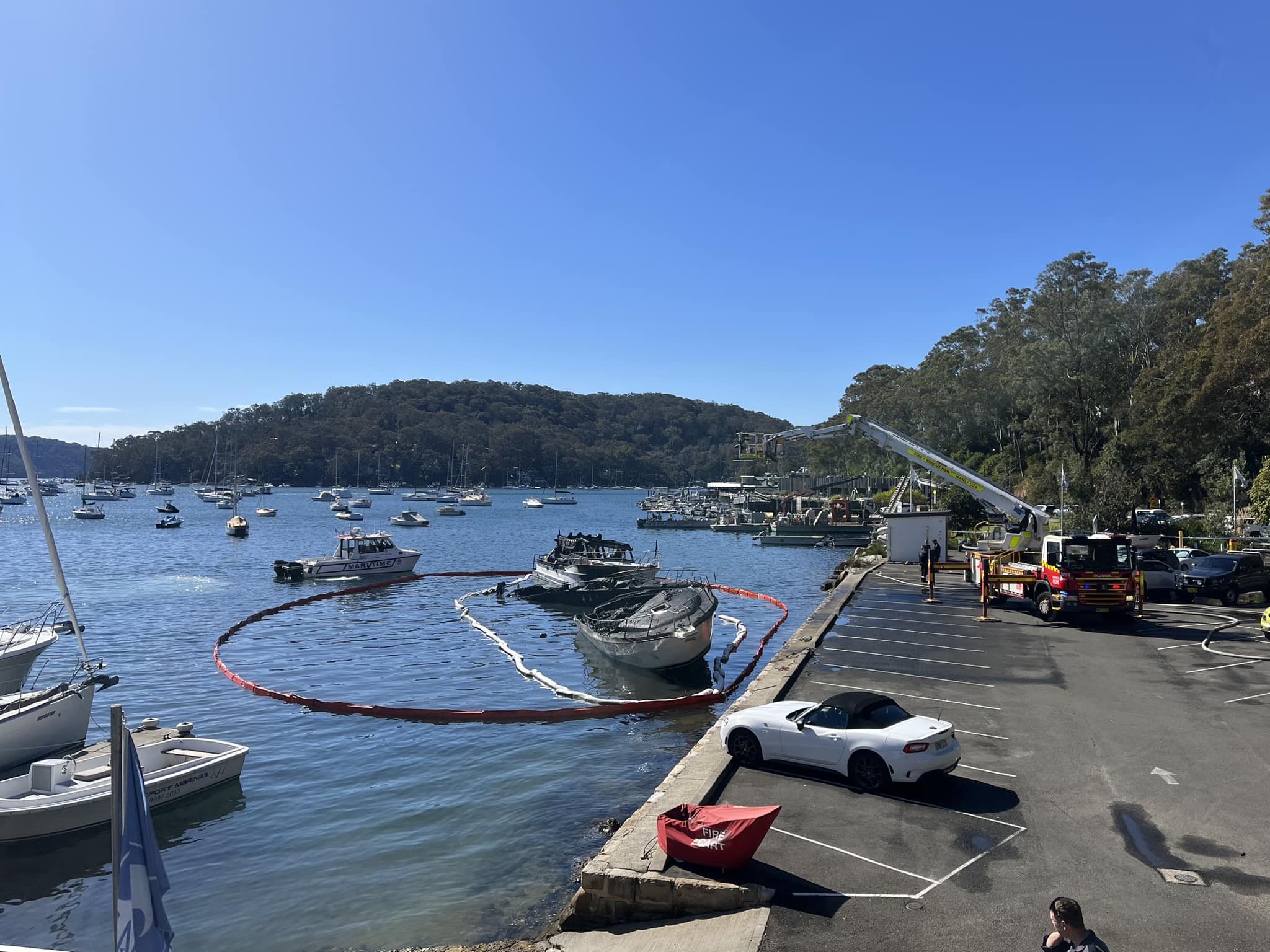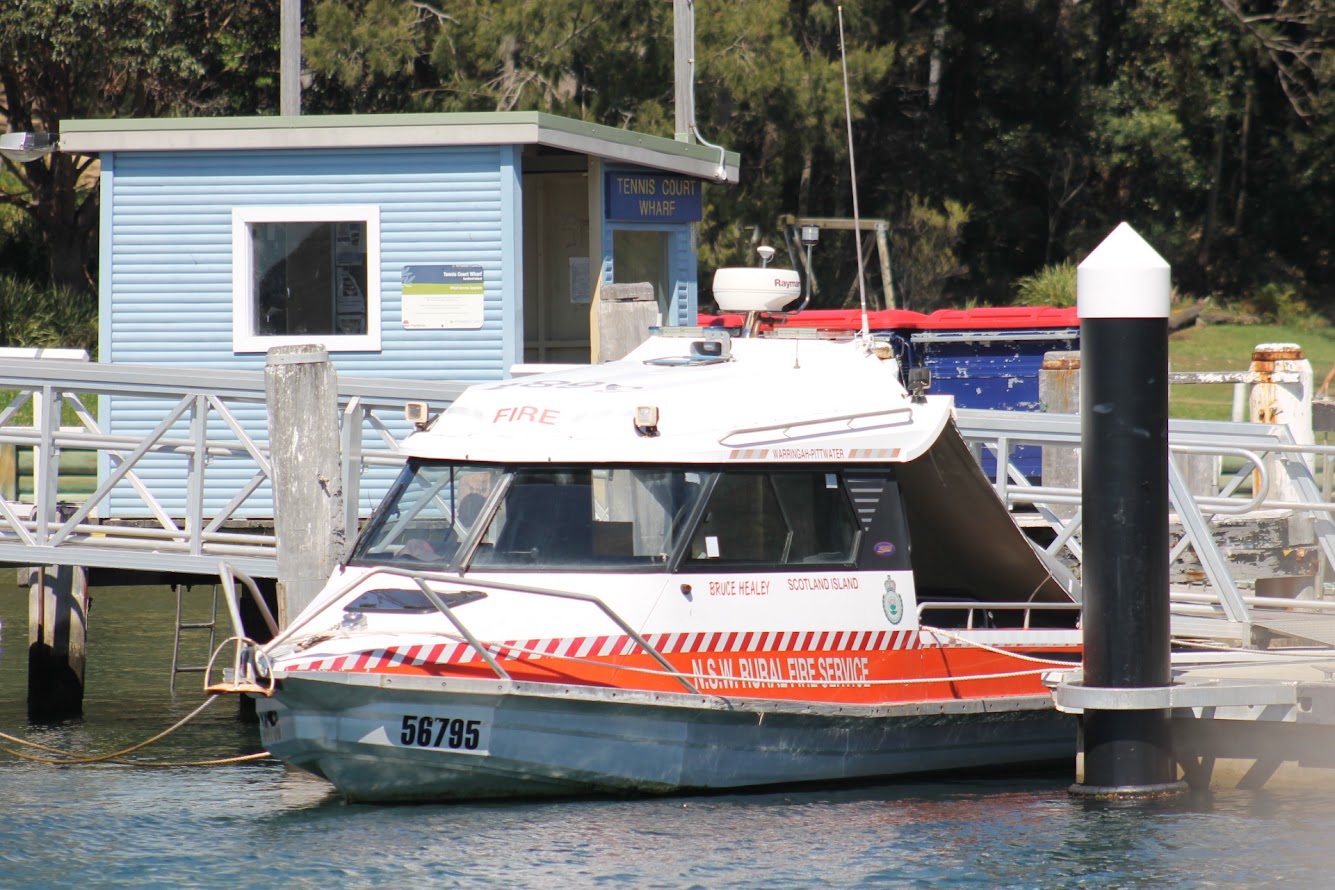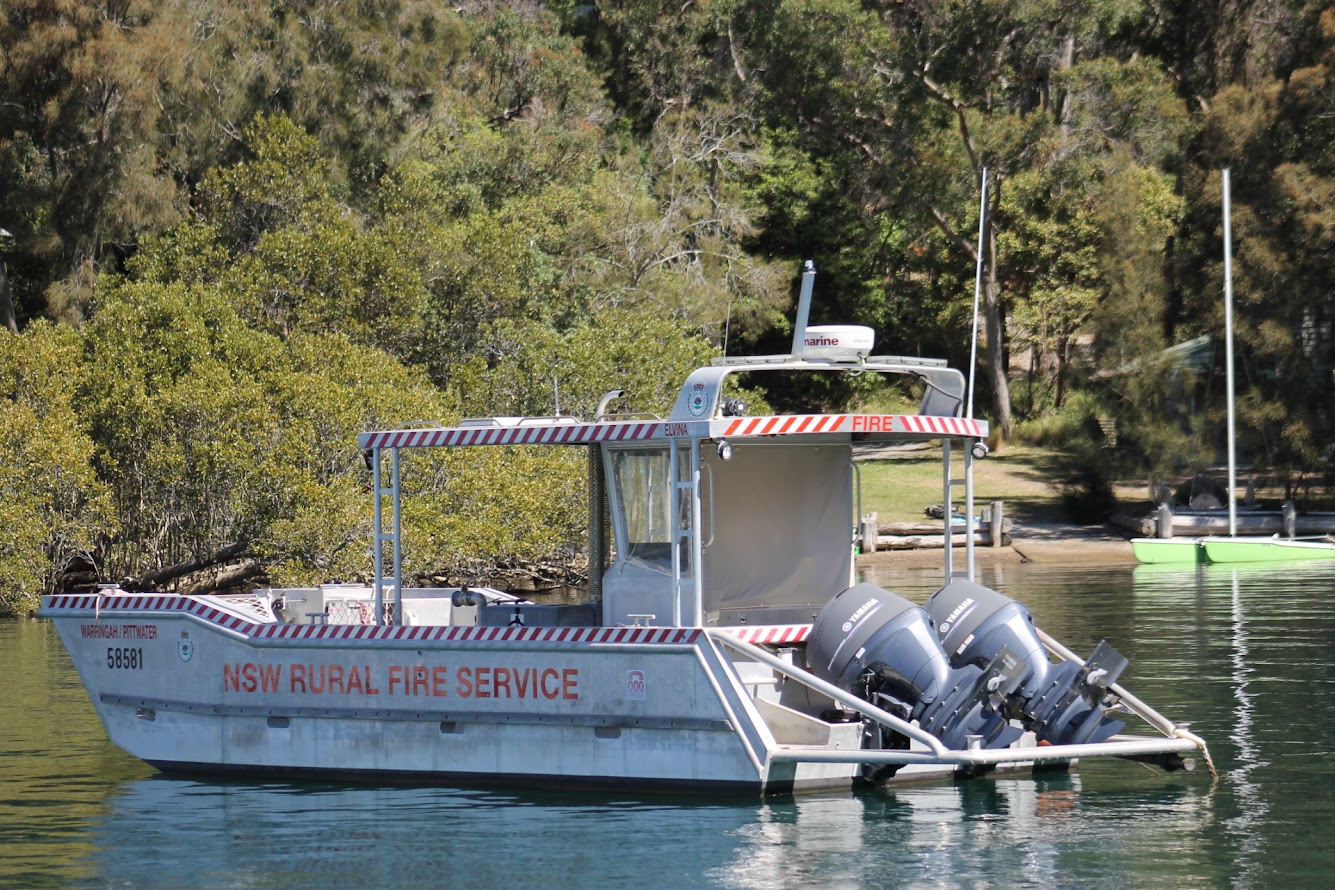 Pittwater's NSW RFS Fireboats - more in this Issue's History Feature