April 1 - 7, 2012: Issue 52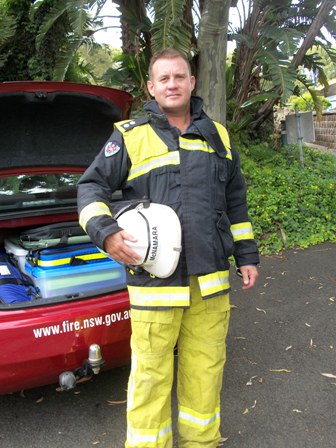 FRNSW Superintendent Kel McNamara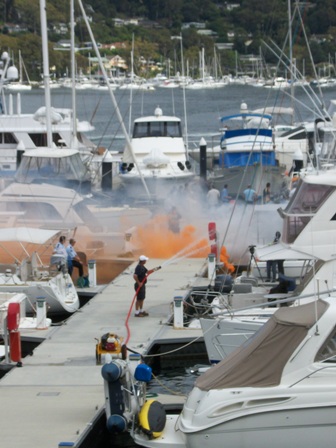 First Boat on fire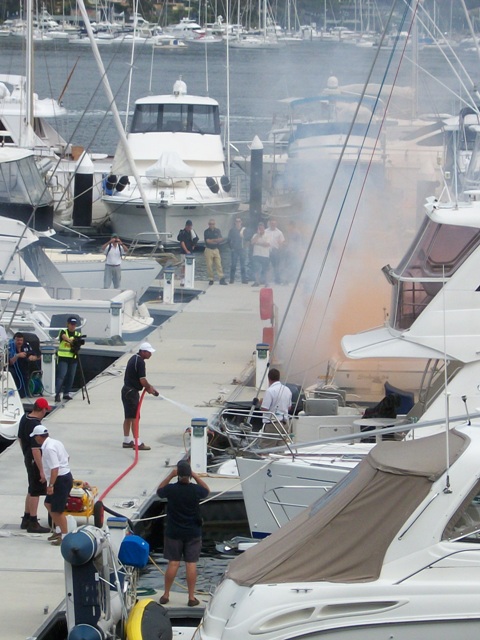 RMYC's New Pump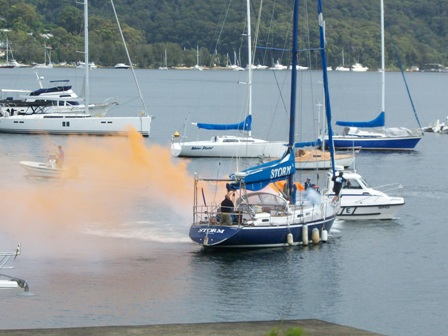 First Boat Towed out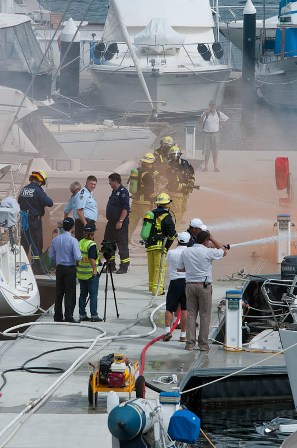 FRNSW using breathing apparatus
RMYC Multi-Agency Emergency Training Drill28th of March, 2012
Firefighters from Fire & Rescue NSW (FRNSW) and the NSW Rural Fire Service (NSWRFS) converged on the Royal Motor Yacht Club at Newport on Wednesday for an exercise that simulated a fire spreading among boats at a marina. Having received an agenda for expected times of arrival of fire trucks from Mona Vale, Avalon and Narrabeen we can assure you that local fire-trucks, the Water Police and NSW Rural Fire Services water boats quickly arrived and brought the situation under control. A new RMYC pump that allows estuary water to be directed onto yachts tied to the seawalls and moving affected boats out and away from other craft were practised.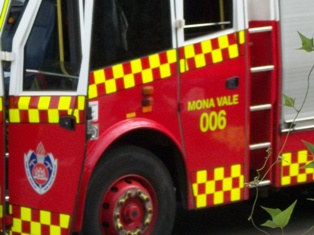 FRNSW Superintendent Kel McNamara introduced the teams that arrived to what was the roll out for the exercise and asked all to convene at the RMYC afterwards to exchange insights on how they may do it better. He cited the marina fire at Newport a few years ago which showed how much needed to be learned in multi-agency co-ordination when attending such fires. The multi-agency exercise, led by FRNSW, also involved the NSW Police Marine Area Command, Roads & Maritime Services, the Boating Industry Association, the Royal Motor Yacht Club, and several marina operators and staff from Pittwater and surrounding areas.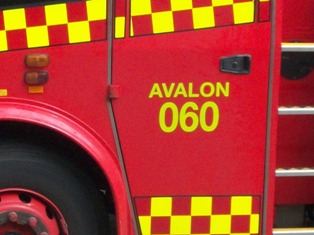 FRNSW Superintendent Kel McNamara said FRNSW firefighters would communicate with other agencies during the exercise to co-ordinate a rapid response. "Firefighters are trained to fight fires involving highly flammable materials, such as the fibreglass on modern yachts," Superintendent McNamara said. "This exercise will simulate a fire on two boats in the challenging environment of a marina, with a third boat on fire and adrift, threatening to spread the fire to other vessels and structures. Some people will be 'trapped' at the end of the wharf and others will act as casualties. Firefighters won't know what to expect until they arrive on their trucks, and rush to the wharf using hose lines, and at times portable water pumps."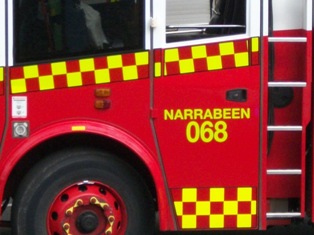 NSWRFS Inspector Wayne Reeve said smoke machines would be used in the exercise, and oranges will be floated around a vessel in 'distress' to mark the bounds of a hazardous material spill that firefighters must contain.
"The NSWRFS has fire boats permanently moored on Pittwater at Elvina Bay and Scotland Island and can deploy our firefighters, as well as FRNSW firefighters and equipment, to Newport at short notice," Inspector Reeve said.
Boating Industry Association (BIA) General Manager Roy Privett said the boating industry has worked with FRNSW to develop solid procedures and guidelines for marinas, boat owners, and the general public to prepare for fire involving boats, and marina-based emergencies.
"This pro-active and co-operative approach by industry and emergency services is really positive, putting us all in a strong position to manage what can be a very complex situation," Mr Privett said.
Marine Area Command Detective Senior Sergeant Chris Morgan said marina staff play an important role in the event of a fire at a marina.
"Marina staff can help the emergency response by ensuring all fuel and power lines are closed, and the marina is safely evacuated prior to emergency service personnel arriving," Detective Senior Sergeant Morgan said.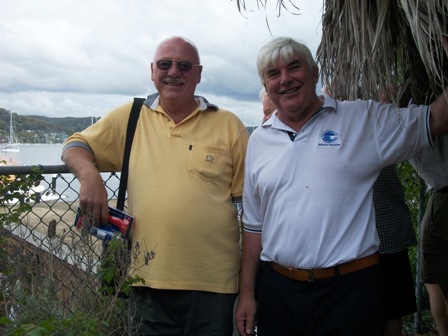 Gordon Cockley - Director RMYC, Mark Lloyd - Treasurer RMYC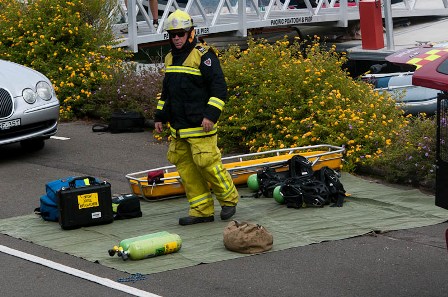 Equipped
Photos by Michael Mannington, Mike O'Flynn and Photos/report: A. J. Guesdon.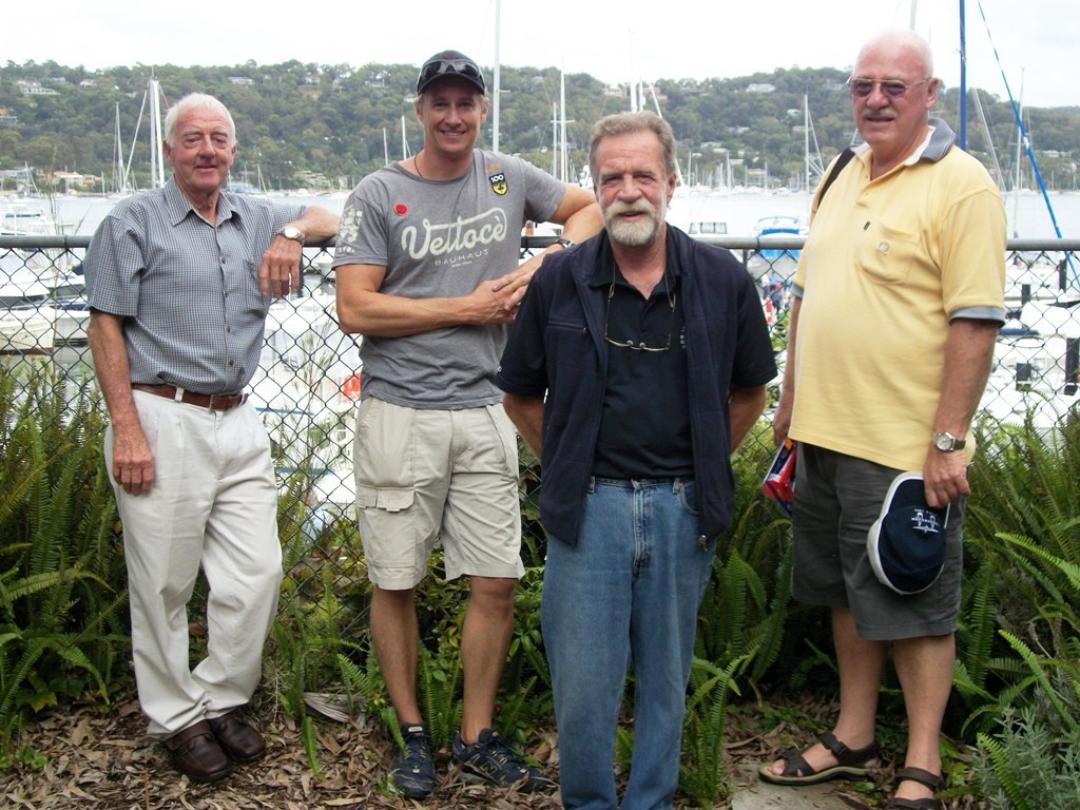 Above: Ken Houlihan -Davis Marina, Martin Thompson - Princess Street Marina, Peter Sharp, Gordon Cockley - RMYC Director
Below: Vehicles and Boats taking part in the drill