September 29 - October 12, 2019: Issue 423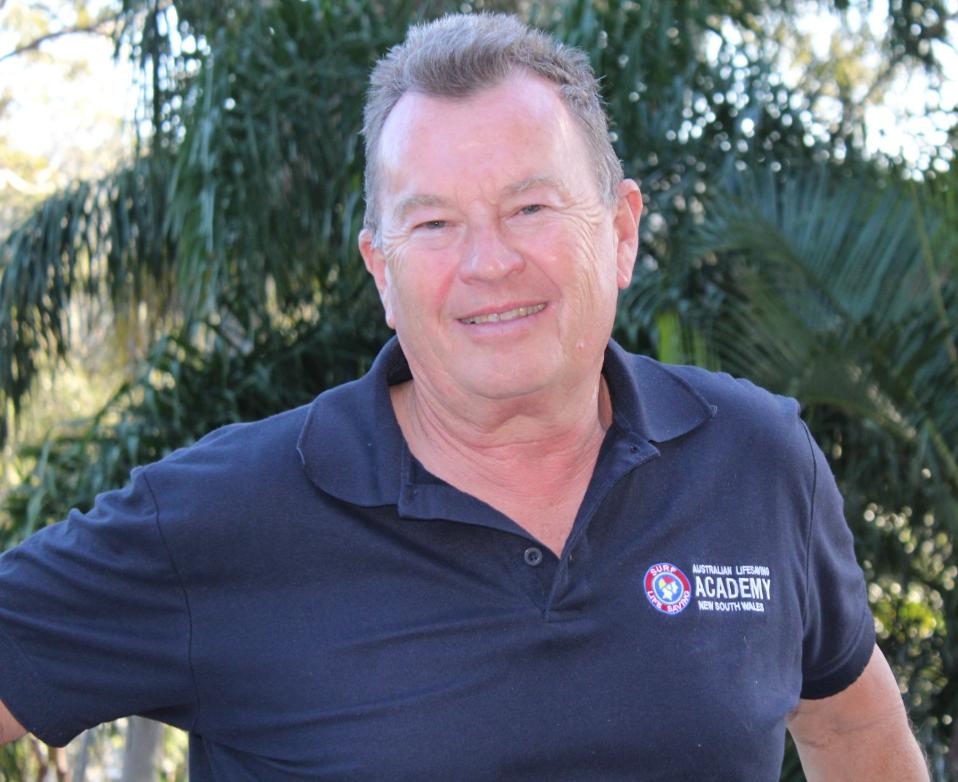 Peter Fenley is the new President at Bilgola SLSC and a Branch, State and local legend!
As Bilgola SLSC celebrates their 70th year of providing Vigilance and Service on Bilgola Beach and in its waters, and the Volunteer Patrol Season commences with the Spring School Holidays, an insight into what makes this great little club and beach safe from one of those who helps keep it so.
How long have you been here?
I've been at Bilgola all my life. I was born at Royal North Shore Hospital but here thereafter. I can actually remember, as a child, when there were koalas at Avalon and Bilgola.
What did you do for fun when younger?
There was the sand mine where the Montessori school is now at North Avalon and all the sand dunes were being mined. We used to go tobogganing down these as they were really big – they're little now compared to what they were like then, or perhaps we were smaller, but they certainly seemed big then.
I went to Avalon Pubic school. When the two storey buildings were opened on Old Barrenjoey Road we were moved from the demountables into those. The headmaster then was Mr. Piper (?) and his wife was the headmistress of the Infant's School.
We then moved and I went to Frenchs Forest High School.
We moved back to Bilgola about 1979, 1980 – so 40 years ago.
How did you join Bilgola SLSC?
I'm a Nipper Parent, and that's how I got involved. When my eldest was 5 we began, and it went on from there – one thing leads to another.
I've been an Age Manager, Nipper Chairman, Club Captain and now President. We have two sons and a daughter and they have all done Nippers, Surf Rescue Certificate and their Bronze Medallion and have all gone on to get extra qualifications as well. My wife Pauline and my daughter Leah are still members of the club.
The two boys have grown up and gone their ways, as you do as young adults.
That brings up one of the greatest challenge in surf life saving of course; you invest this huge amount of resources and training in people and then vie to keep them part of it all but then the HSC and Uni and boyfriends and girlfriends come along, then they get jobs. Eventually they have children of their own of course and then the full circle is turned as many remember what benefits they derived from surf life saving, and how they set you up for life in many ways outside of the club, and they return – as Nipper Parents.
I'd like to underline the benefits through the example of CPR, which you must do as part of the Bronze Medallion. Learning CPR is and has been something our members have been able to use outside of being on Patrol to save lives. CPR is a life skill; not just as a means to bring people back to life and save their life, but also as a skill that you can take with you everywhere for the rest of your life.
We're fortunate that we live in an area where this is part of our culture – this is part of what so many are involved in here.
Young adults today are applying for Uni entry through what they call Early Leadership and they can get that credit through being involved in surf life saving. So they can get into Uni without an ATAR.
I had one of the boys involved in my Patrol last year get into Macquarie Uni six months prior to the HSC and when speaking to him about it he explained that getting that early entry actually took all the pressure associated with the HSC exams off of him. He knew he was into a university even if he didn't get the ATAR he wanted and could get on with it all in a better frame of mind and physical state of being. He did quite well, he was relaxed enough to do well, and credited what was predominantly in his application being his involvement and volunteer work in surf life saving. So there are more positives than are apparent once you join a club and learn more about what's available that extends into what's outside your surf club. Doing this is actually a gift for life, to yourself and to your community, whatever discipline you apply yourself in after that.
I see when we get people signing up Nippers in the under 6's – you see all the old lifesavers coming out then too. Invariably there will be a group of dads who will come back into surf life saving when their youngsters join. They redo their Bronze and start Patrolling again.
What does surf life saving give the youngsters, the Nippers?
They learn beach skills and water skills. They learn how to deal with a rip.
Just learning how to be in the surf is part of this too – being in the surf is vastly different to being in a river or a pool. It's moving water; how do you manage yourself, how do you look after yourself in this environment. They learn to look at the water and read that; where are the rips – where is it safe, where is it not safe?
They also get to meet friends they may not have met otherwise. My eldest son met his best friend through Nippers – they didn't go to school together, they met through the surf club and saw each other only on the weekends. They're both now out in the work force doing their things and are still the best of mates. His mate had a few dark periods a few years back and my son just stuck with him, it was amazing to watch. He just stuck with him and helped him through it – I think, at the very least, it let him know he wasn't alone and did have friends to talk to.
Why did you choose Bilgola SLSC?
It's a very family-orientated club, a lovely little beach, and we think that was great introduction into surfing for our children. At Bilgola there's a focus on teaching skills rather than being competitive. Traditionally Bilgola SLSC has excelled in the surf boats, and although members have also done well in other surf sports, legendary yachtsman Syd Fischer winning surf ski races back in the 1950's for example, its focus on being family-orientated, with all the generations in together, is what we found appealing.
A lot of people may not be familiar with how many great early members we had who went on to great things outside of surf life saving. The club has been going for 70 years now and there are a long list of members who have been great contributors to the area and Australia as much as surf life saving. Bilgola was one of the last surf clubs to form here and initially was a response to the amount of incidents clubs like Avalon and Newport had had to respond to.
What happened at the 70th Anniversary Celebrations?
There are lots of interviews that have been done with early and past members and an audio-visual presentation has been put together of these. We also have some VIP's who will be giving some addresses. There will be music, great food of course and people were encouraged to dress in their best beach themed clothes – so it will be pretty colourful too.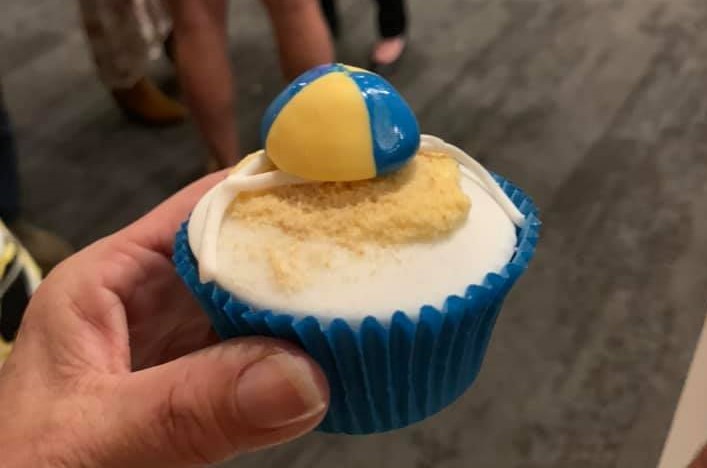 This Season you have taken on the Presidency – another big role?
Yes and no – for the last few seasons I've also taken on the Vice Presidents role so have been working in this area prior to this Season. What's happened is Romilly and I have done a flip and she is now Vice President and can also fulfil all the other roles she takes on in her career and as a mentor for women in sport. So there really won't be that much difference to the way the club is managed now.
We have a great team working together. Although the positions may change it's still the same management with everyone working really well together.
Do you have anything you'd like to bring in while president though?
I'd like to try and reinvigorate the whole Boat Section and introduce this great sport to a whole new generation of youngsters. With such a great history of Bilgola being involved in this surf sport, and with so much knowledge to hand on from our current gold medal winning Aussies teams, it would be a missed opportunity if we didn't try and inspire the next generation of boaties to come through and take up an oar.
The rest of it really doesn't need any change – it's running really well.
There has always been talk about improving the premises, the clubhouse itself. We've been speaking for some time about shifting things around; the caretakers flat and shop are currently situated in the north of the building, and the hall which is what brings so much benefit to the club and community through its being available for use, are at present blocked from the whole view of the beach. Obviously being able to open that all up to offer that full view as well as shift things around a bit so it's more suitable for these functions. So progressing some improvements there is something we'll be looking into in more detail during the next few years.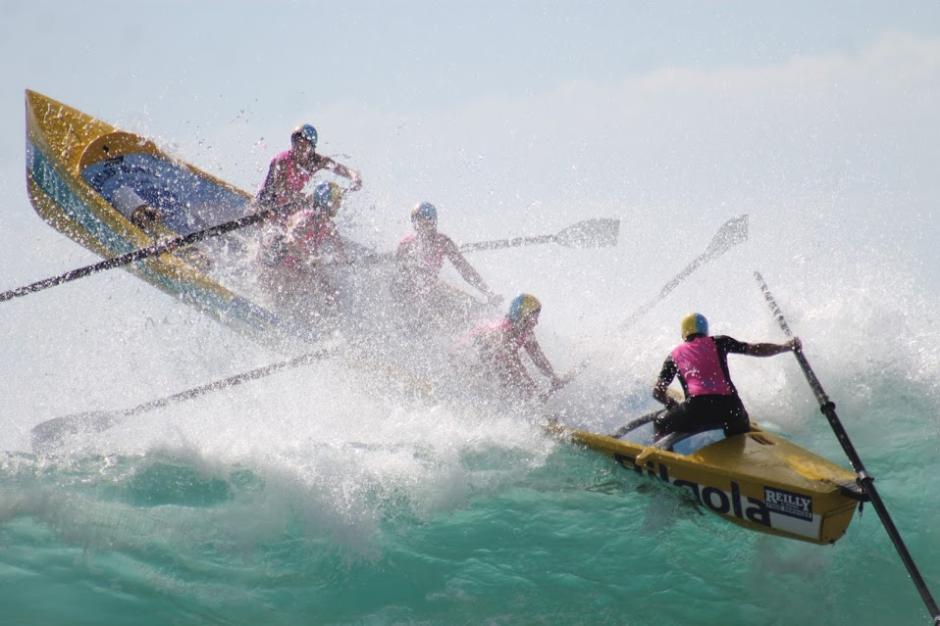 Bilgola SLSC in surf boat action - local SLS SNB Premiership - photo by A J Guesdon.
On the obverse of Nippers are the Life Members, of which there are several who turn up year in year out at Bilgola – why is that do you think?
Well, we still have original members such as David Lyall around of course, and Bruce Robertson who only just stopped patrolling after a phenomenal amount of seven and a half decades of Patrols. There are many others too that will turn up and 'man' the barbecue if there's a carnival on. Unfortunately we are losing some as they move away, up the coast or inland somewhere but those who still live locally are still supporting us.
We also have a lot of current long-term members who not only do their utmost for Bilgola but will also be involved in Branch and State events – you will see Norm Pounder at every surf boat carnival, there's Nigel, who won the Presidents Medal two seasons back, he's always involved in doing officials work as well as being a big IRB member.
You also put in a fair amount of time yourself don't you?
I do Training and Assessing through Branch, as well as being Vice President of Life Saving for Branch as well. You do your physical Patrolling hours each season of course, and when you take on one of the club roles there's a fair amount of behind the scenes work you do as well. Most of my weekends, all weekend, are spent Training or Assessing or doing something surf life saving related. I'm fortunate that my wife is a Nurse who is often scheduled onto weekend shifts and so is quite happy for me to be kept busy too.
I then work for Lifesaving during the week too, Training and Assessing for the Australian Lifesaving Academy and Royal Lifesaving Society.
What's involved in Assessing?
The basic qualification to be a life saver is getting the Bronze Medallion. That involves a whole training process within itself; you have the Trainers in your surf club and then you have to be test assessed, and that is run through Branch.
Branch has a team of Assessors who go to various beaches. For example, on Thursday night this week I'm at Manly Assessing the dry component of the Bronze Medallion. In two weeks time I'm doing Manly again for dry and wet.
So the Dry component of the Bronze consists of all your CPR, Signals, how to use a Radio, and basic First Aid. Once they have done all that they do what is called the Wet component. This is the run-swim-run, which has a fixed time but it depends on the surf conditions too. In addition to that there's Lifts and Carries; you need to know how to lift and carry, how to do a spinal carry out of the water, how to use a rescue tube, and undertake a board rescue, to pick up the patient and bring them back into shore. At the end of demonstrating aptitude in all these skills they have to do what we call a 'scenario' – they are put in a team of six and are 'on patrol' and are given three different incidents which they have to respond to as though they are On Patrol on the beach. They are assessed, in this component, on their ability to work in a team using all those skills.
After that they're deemed competent and can get their Bronze Medallion and go onto a Patrol.
That is also the gateway to being able to learn a lot of different skills such as Advanced Resuscitation, gaining full First Aid qualifications, Spinal Management, IRB, Crew & IRB Driver, - there is a lot more you can learn and do once you have acquired that basic qualification – the Bronze.
At Bilgola SLSC we do the Bronze training, David Madew runs all the IRB's for IRB Crew and Drivers, we do Advanced Resuscitation Certificates and we do SRC, which is for the Nippers under 14 years of age and is like a junior version of the Bronze Medallion. So SRC Members can join a Patrol but are not actually a Patrol Member until they get their Bronze.
You do Patrols as well?
Oh yes, I have two Patrols. I'm part of Patrol 12 which is run by Greg Franks, and that is my original Patrol from 2009, when I first got my Bronze. Greg is still the Patrol Captain there and I still work with him and that group of guys – and that's another aspect of patrols; these are usually a group of people that have worked together well for years and know each other and what role each does within the Patrol.
Then I'm also a Patrol Captain of Patrol 8, which I call my teenage patrol as the members are predominantly teenagers who have done their SRC and their Bronze. Obviously there's a couple of older members as part of that Patrol as well but there's also a lot of 17 and 18 year olds who work really well together as a team, and they're great fun, great to be with.
Each Patrol does a half day every three weeks on average. From my perspective, being on two Patrols, I'm usually there every second week.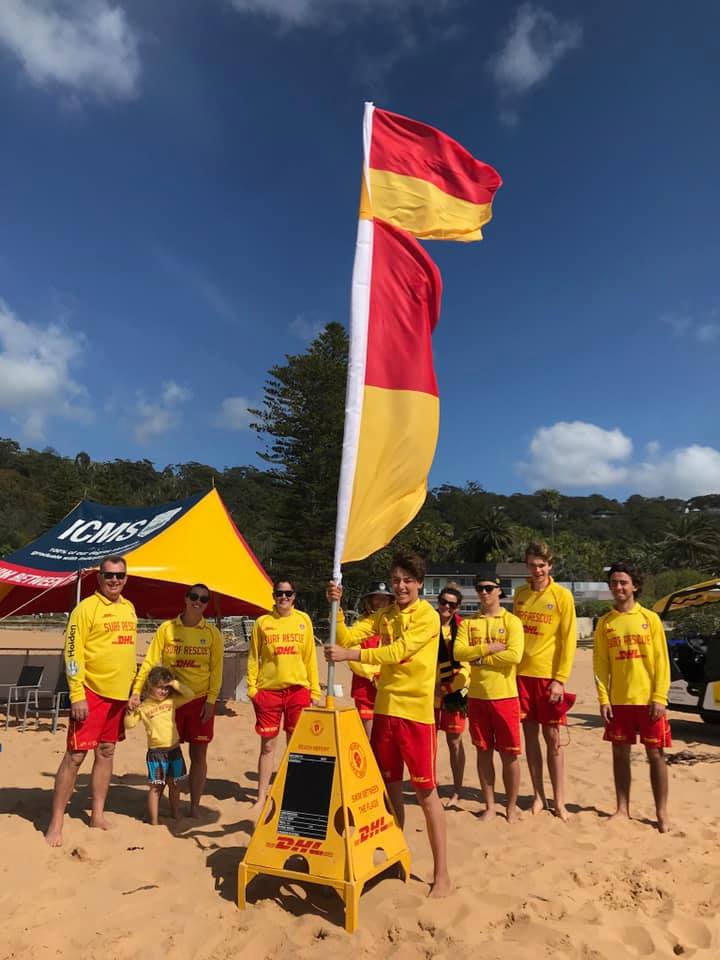 First flags up on Bilgola, Saturday September 28th, 2019. Windy but wonderful with a crew ready to serve! - Bilgola SLSC photo

What's coming up at Bilgola this Summer?
We'll be hosting the first Surf Boat Carnival for the Branch Premiership again this Season, always a great way to open the surf life saving season with that one, that will be on Saturday November 2nd.
SLS SNB 2029/2020 Surf Sports Calendar: surflifesaving.net.au/media/2019-20_sport/2019-2020_Surf_Sports_Calendar.pdf
The Billy Swim as part of the Pittwater Swim Series will be run on the 19th of January 2020 – we've moved it as the water can be a little cold earlier in the Season and in January it's just perfect.
We will also be running the popular Summer Sessions again this Season with some great music offered for the community on Sunday afternoons.
We're also looking into having a Friday night youth orientated 'Food and Groove' held within the clubhouse too. If a trial of this works out we'll be making it permanent. Most of us know what our young adults are constantly telling us is they have 'nowhere to go and nothing to do' in Pittwater so we're going to trial meeting that with something along those lines.
What are you looking forward to this Summer?
No incidences – that everyone visiting the beach swims between the flags and keeps themselves safe. It would great if people listen to those giving up their time to look after this Season and swims between the flags and if asked to not go in or leave an area where there is a rip that they do so.
What has surf life saving given back to you personally?
Friendships with other people within our community. Our children didn't go to local schools while growing up and so, without being members of the surf club, we would not have met so many people within our own community. A lot of the connections people have through our area is through their children and through school – for those who attend schools that are not based locally, the surf club is where they will meet their neighbours and for us this has created a network of friends and like-minded associates.
Prior to becoming involved in the surf club I was working in the corporate world and often travelling overseas to do this job. When our family came along and started growing I thought; do I really want to be having a family where I'm spending all my time away from them doing this job – it may seem glamorous flying all round the world all the time but ultimately, if you've chosen to have a family that's to be part of a family. So I got off that treadmill and downsized from an international corporation top one locally – that puts you in a position where you can at least pick them up after school, or drop them off in the morning and you get to spend time with them – which is all any of us have ever got anyway – time – and choosing how to 'spend' it I guess. You're also sharing the load with your partner this way too rather than one person doing all the work. I chose my wife and my children, to do stuff with them as a family and as a father, which so many fathers simply don't get to do as they're out earning the food for their mouths and the roof that goes over their heads and only see them on the weekends. You have to ask yourself; 'is that why you have a family?' – for me, that wasn't – so I changed it.
What are your favourite places in Pittwater and why?
Bilgola Beach – because of the surf club, and the people there, and the environment, it's a great place to be. If I'm not at the surf club I really enjoy going up to Palm Beach to have fish and chips. When I'm not doing all of that I enjoy taking our dog, a German short-haired pointer, up to Mona Vale headland for a romp.
What is your 'motto for life' or a favourite phrased you try to live by?
Smile.
If you smile the world will smile with you.