June 12 - 18, 2016: Issue 267
Grand Masters International Cup Winners!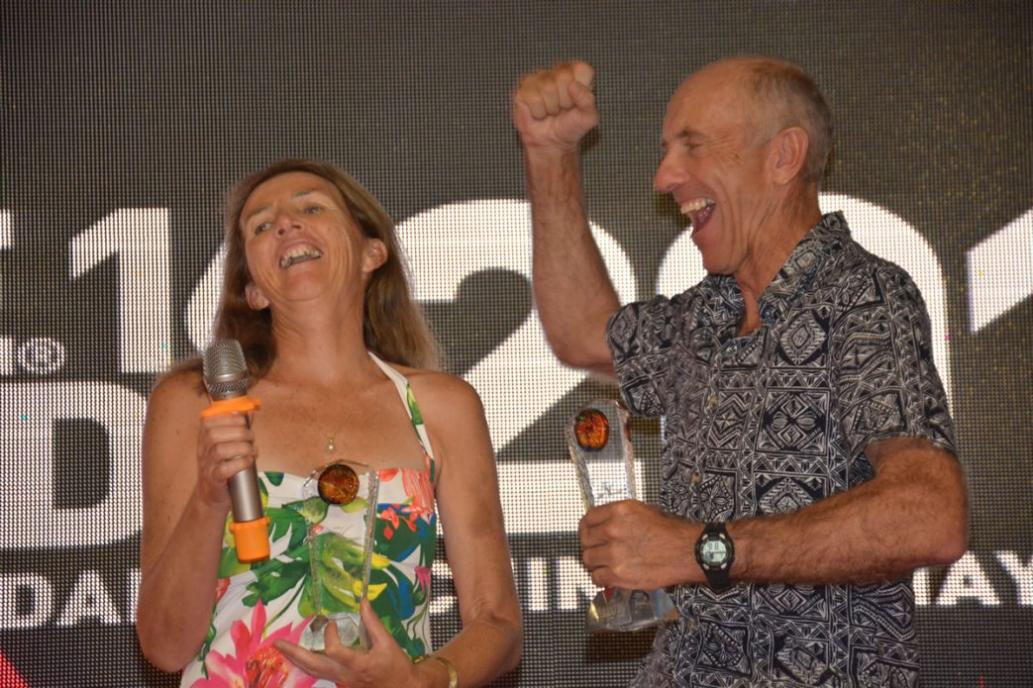 If you think this week's Front Page looks like last week's Front Page - you're right! Rod and Kerry Waterhouse now have two 2016 Hobie Worlds!
Guess who is placed number 1 in the Finals fleet for the Open Finals in the 2016 Hobie Worlds?
Rod Waterhouse from Pittwater, who won the Hobie Grand Masters International Cup earlier this week after a previous victory in the Masters Class only a few days ago. Rod goes into the final series in the lead, this time sailing with his daughter Bridget, after clocking up two series wins so far in this regatta, the Masters and the Grand Masters, with his wife Kerry as crew.Rod shared his thoughts on the event so far:
"The race was called off for the day which leaves us leading which is fantastic and I'm really pleased to get this one. Once again it was a super tough series and it went down to the wire with three contenders going into the last race. So we are really happy to win the Grand Masters and now we have three days off. Hopefully, we'll have some wind for the next few days for the Open Qualifiers."
When asked if he and his crew Kerry were going for the trifecta (winning the Masters, Grand Masters and Open titles), Rod replied.
"We would definitely love that to happen but I know that is going to be a tough ask. We're just going to be happy to be out there amongst some serious competition and with 50 to 60 boats on the start line it's a whole new ballgame, so we're looking forward to it."
Pittwater sailor Nina Curtis, with crew in Haylee Outteridge, placed second overall in the Women's fleet and may have gone one better had the wind been with them. While her mum, with skipper Anthony Duchatel also took out a second in the Grand Masters.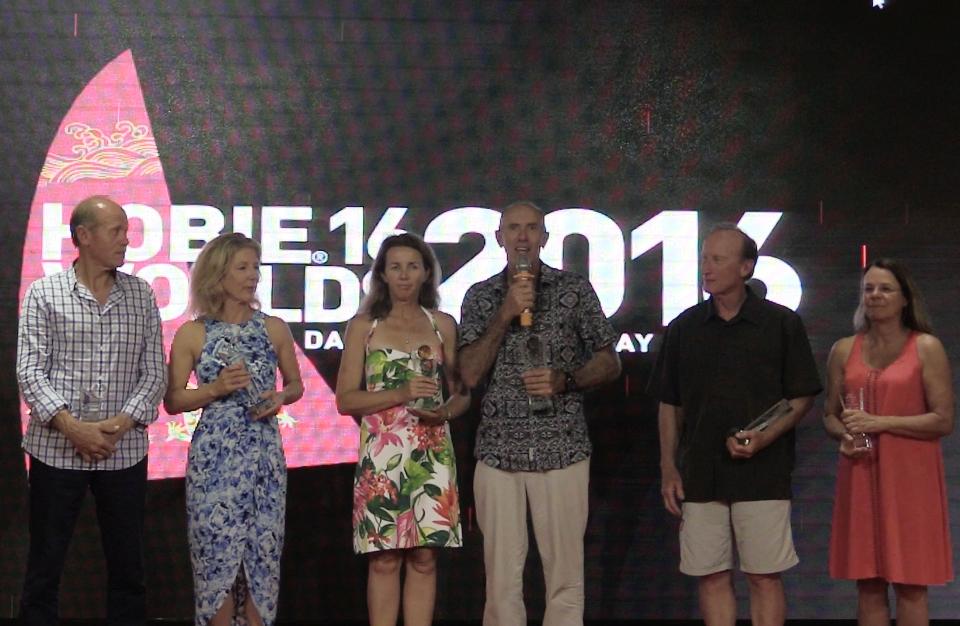 As we go to publish time five Pittwater crews are into the Finals for the Opens in the 2016 Hobie Worlds: 1st Rod and Brigit Waterhouse, 9th Paul Darmanin and Lucy Copeland, 13th Anthony Duchatel and Evelyn Curtis, 25th Nina Curtis and Haylee Outteridge and 43rd David Renouf and Rachel Renouf are in the Finals fleet of 44 out of 56 crews that competed in the Semi Finals.

Outstanding! And certainly a very strong Palm Beach Sailing Club and Royal Prince Alfred Yacht Cub family representation.
On Friday, June 10th, Dave Renouf, from Pittwater, reflected on his semi final performance so far, " We came through the qualifiers and made it to the semis, but we're borderline to go through to the finals. If we get the onshore breeze and it builds, us "fatter" people (Laughs) should do a bit better".
David did much better - he's through!
Another champion, Anthony Duchatel, also a Palm Beach Sailing Club member and former Commodore of the club, said, " We had a great first day we picked up a 1st and a 6th but our third race was not so flash, we just couldn't get it moving. We were 5th coming into today and we're pretty confident of making the finals and we're looking forward to some more sailing and a bit of stronger weather. But it's a great place here".
Mr. Duchatel is in the Finals anyway!
The Hobie 16 Open World Championship Final Races are scheduled to run June 13th.
Catch up on what's been happening this week HERE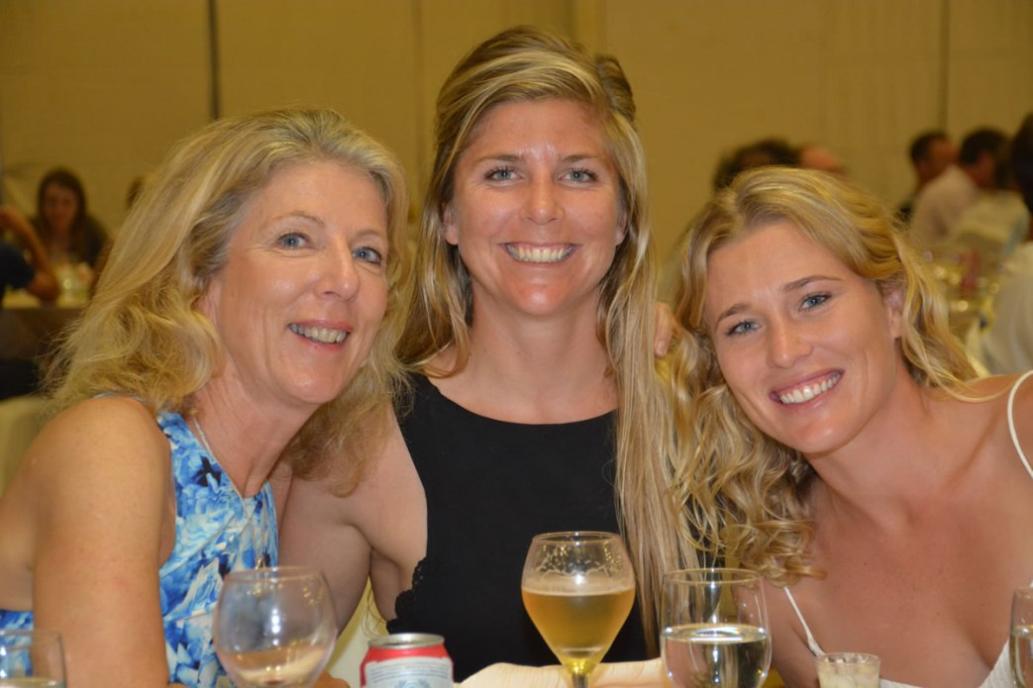 Mother and daughter, Evelyn and Nina Curtis with Haylee Outteridge - the girls took second overall in the Women's 2016 Hobie Worlds, while Evelyn also took second inthe Grand Masters - at the Presentation Dinner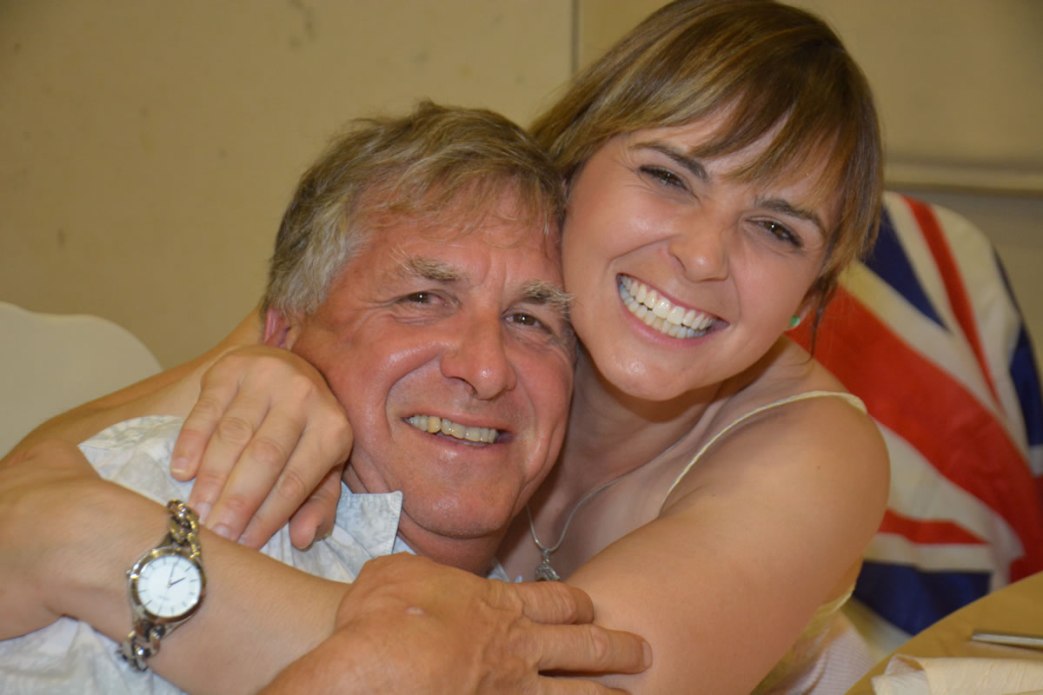 David and Rachel Renouf - in Finals fleet for Hobie 16 Opens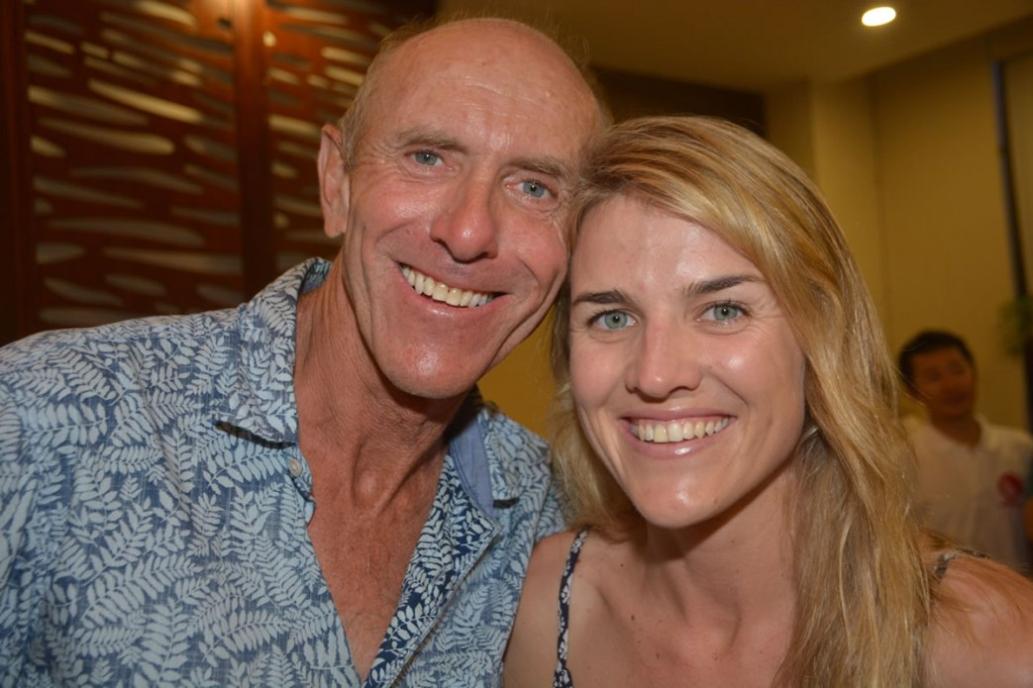 Rod and Bridget Waterhouse
Surfing The Pittwater Estuary: June Storm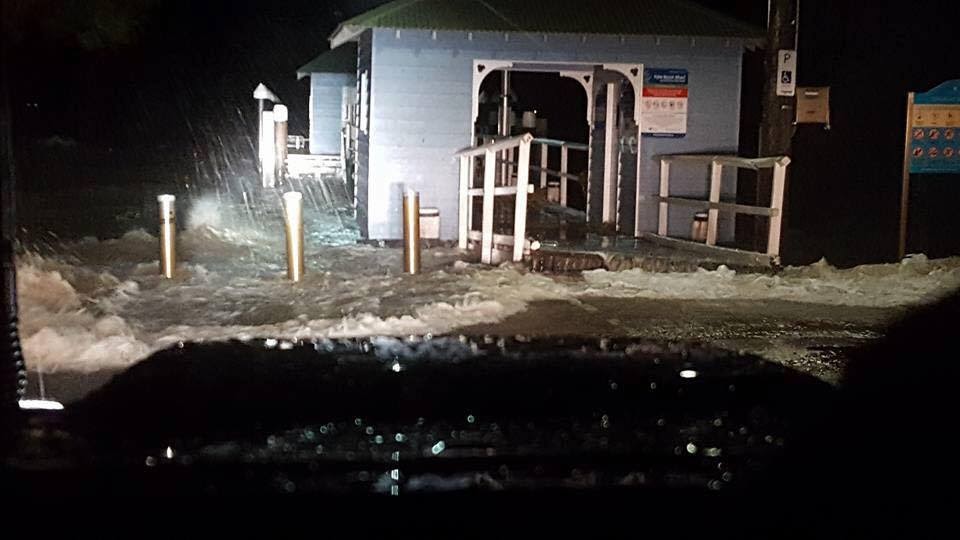 Palm Beach Public Wharf - Sunday June 5th at 10 p.m. - photo courtesy Brian Friend OAM
From Saturday June 4th until Wednesday June 8th, when a massive east coast low combined with king tides and flooding creeks to fill Narrabeen Lagoon, flood all Pittwater beaches and destroy seawalls on the estuary's rim, the resilience of community, and the Australian knack for keeping a smile close by through jokes even when soaked to the skin, saw at least one thousand hands, bent on dispensing thousands more kindnesses, achieve one objective - to weather this storm!
Issue 266's Pictorial shares some of all seen this week by Readers, including those moments of humour, so needed amongst what was happening, and how people expressed their giving a damn about each other - for 24/7 - 5 days in a row.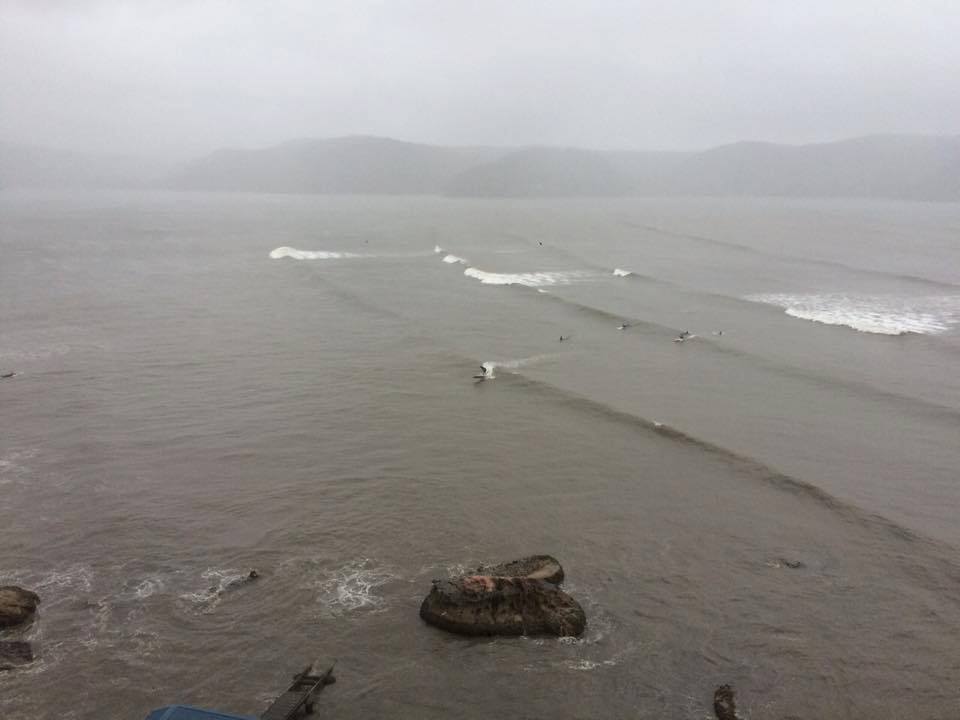 Surfing Station Beach, tucked inside Barrenjoey, Pittwater side of the Estuary, Sunday June 5th. Photo courtesy Matt Chojnacki
NSW Government Funding To Commence $90M Upgrade Of Mona Vale Road East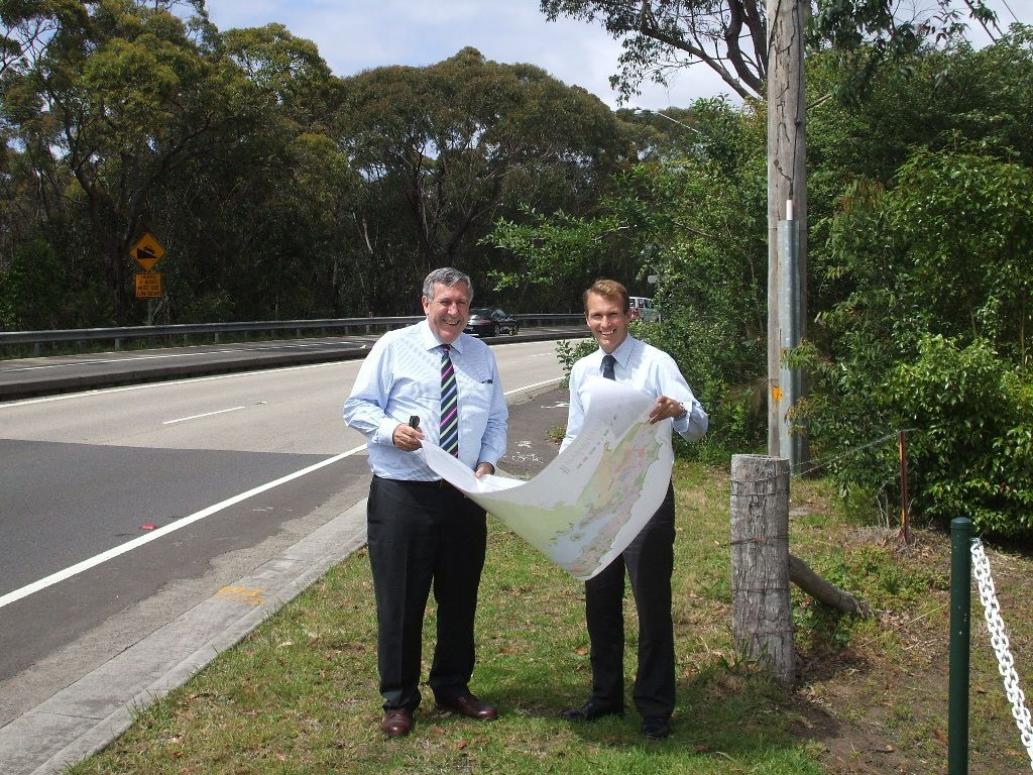 Roads Minister Duncan Gay and Pittwater MP and Planning Minister Rob Stokes at Mona Vale during planning stages for Mona Vale road upgrades
The long awaited $90 million upgrade of Mona Vale Road between Mona Vale and Ingleside will now get underway with funding in the NSW Government's 2016-17 Budget.
$10.5m will be allocated to progress the 3.2km project, between Foley Street at Mona Vale and Manor Road at Ingleside, from planning and design to construction.
A further $3 million will be allocated to finalise environmental assessment and advance road design for the western section of Mona Vale Road between Powderworks Road at Ingleside and McCarrs Creek Road at Terrey Hills.
"This is fantastic news for our community and a huge leap forward for this long-awaited project," Rob Stokes said.
"Design works, geotechnical assessments and property acquisitions have been undertaken over recent years and the project will now proceed towards construction.
"For decades our community has be screaming out for major improvements to safety and travel flow along Mona Vale Road and we'll soon be underway."
Minister for Roads Duncan Gay said the Mona Vale Road East Upgrade had been approved in December 2015 and will improve safety, reduce travel times and provide enormous benefits to the local community.
"With this new investment, we're now 'cracking on' with getting the 3.2km eastern section of Mona Vale Road upgraded from two to four lanes and various safety improvements introduced.
"The upgrade will bring great benefits to the community and is due for completion in 2020."
"Later this year the NSW Government will be asking the community to provide feedback on the review of environmental factors and species impact statement for the upgrade of the western section of Mona Vale Road between Ingleside and Terrey Hills,' Mr Gay said.
Narrabeen Lagoon And Collaroy Beachfront: Storms And Flood Tides Of The Past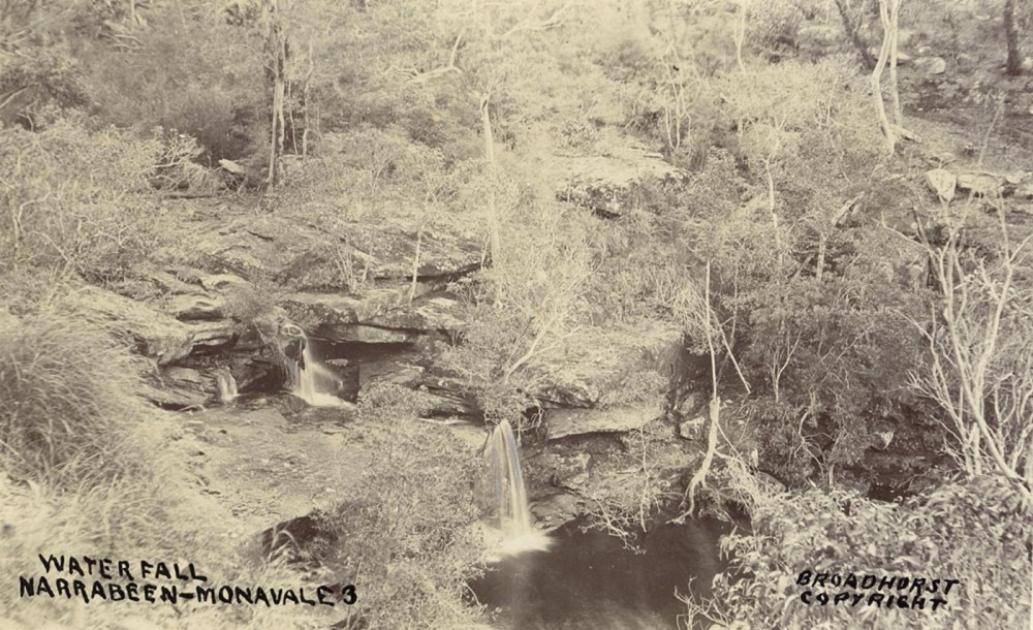 Waterfall Narrabeen - Mona Vale Image No.: .a106060h from Scenes of Narrabeen Album, ca. 1900-1927, Sydney & Ashfield : Broadhurst Post Card Publishers - courtesy The Mitchell Library, State Library of Australia
Over one hundred years of records show that big east coast low storms and flood tides happen towards the end of May and through to the middle of June - a collection of some of these this week is HERE - and a few extras....
North Av. Waves: June 8th, Midday
Not a great GIF, but some indication of how great it was out there this week for surfers - collage by A J Guesdon, 2016
Past Features Archives (pre 2014)
Pittwater Online News was selected for preservation by the State Library of New South Wales and National Library of Australia. This title is scheduled to be re-archived regularly.
Archived Issues (2014 on) may be accessed here: pandora.nla.gov.au/tep/143700