November 19 - 25, 2023: Issue 606
NSW Government's Vaping Roundtable hears problems plus potential solutions to help next generation not become smoking Fatality Statistics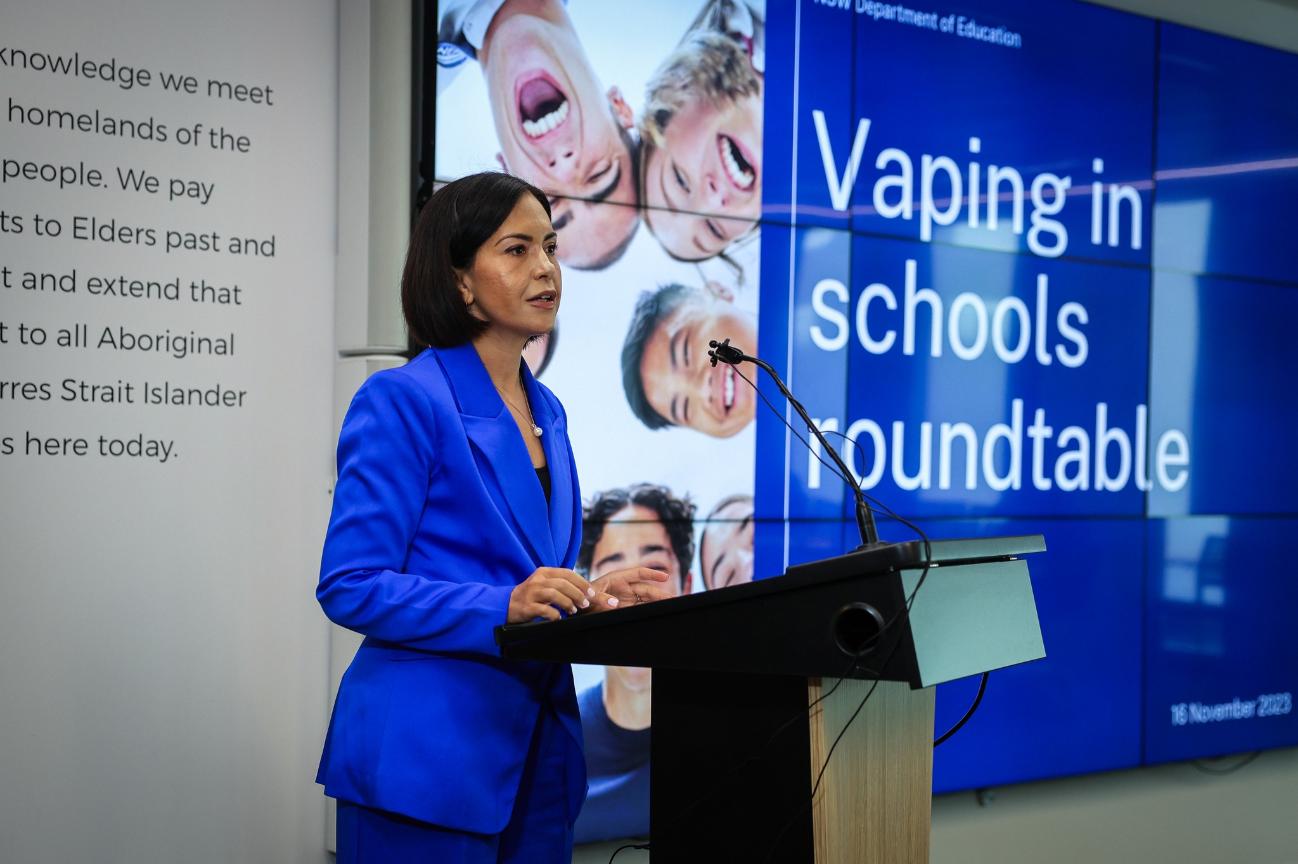 Deputy Premier and Minister for Education and Early Learning Prue Car at the roundtable. Photot: NSW Government
School leaders and health experts convened on Thursday November 16 for the Minns Labor Government's roundtable on the growing issue of vaping in NSW schools. Those invited to the roundtable included
NSW Chief Health Officer, Dr. Kerry Chant,
Manager of the Cancer Council NSW's Tobacco Control Unit, Alecia Brooks,
University of Sydney School of Public Health Associate Professor, Becky Freeman
Leaders from the
NSW Department of Education,
NSW Teachers Federation,
NSW P & C Federation and
NSW Advocate for Children and Young People.
A number of NSW public, independent and Catholic primary and secondary school principals were also invited to the roundtable to discuss their experiences of dealing with vaping and vape-related incidents in their schools.
Information and findings gathered at the roundtable will be used to inform future NSW Government policies and interventions into combatting the issue of vaping in schools.
This is in addition to $6.8 million invested by the State Government in cracking down on the sale of illegal vapes, to support young people addicted to vaping and aims to complement measures implemented by the Australian Government, including its commitment to restrict the sale of vapes and e-cigarettes.
However, AMA (NSW) President Dr Michael Bonning told a senate inquiry on November 1, that while reforms to the Public Health (Tobacco and Other Products) Legislation are an improvement what is really needed is an outright ban on retail sales of vapes.
"The AMA supports the changes to the legislation, as they include evidence-based measures to revitalise Australia's tobacco and vaping control measures to protect Australians from harm," Dr Bonning said.
"These include new measures around rotating health warnings, standardising packaging and terms that can be used.
"Australia has made so much progress in tobacco control over the past few decades, but tobacco use remains the leading cause of preventable death and disability. More needs to be done to crack down on tobacco sponsorship and implement the retail ban on vapes.
"The AMA supports changes that will bring e-cigarettes in line with tobacco advertising restrictions. The AMA also supports the Bill's restrictions on social media marketing that targets individuals based on algorithms."
Dr Bonning, who chairs the AMA's Public Health Committee, told the inquiry, that the AMA does not support political parties accepting sponsorship from tobacco or e-cigarette companies and called on all parties to refuse to enter arrangements that clearly compromise government policy making on public health matters.
"The AMA calls for all political parties to stop accepting sponsorship from the tobacco industry because this clearly compromises government policy making on public health matters."
"Proposed vaping reforms are critical — including a retail ban on all vapes — and are an overdue change to protect younger people from becoming addicted to nicotine.
"Australia needs to protect younger people from addiction to vaping and not make the same mistakes it made around tobacco use in the past. It took decades for the health harms of tobacco to come to light, with the powerful tobacco industry disputing the evidence and relentlessly promoting their addictive products.
"We are seeing the same tactics play out today with vapes, hooking new generations on to nicotine by marketing directly to younger people and downplaying the health harms." Dr Bonning said.
Delivering an election commitment to host the panel and discuss solutions, the November 16 NSW Government Vaping Roundtable heard first-hand accounts from students, teachers, principals and evidence from health experts and researchers, about vaping behaviour and how it is affecting young people.
The Roundtable also heard about the impact vaping is having on schools, and the role the wider community plays in supporting young people.
Vaping is harmful, especially for non-smokers and young people, with direct health risks including nicotine addiction, nicotine poisoning, burns and injuries from devices exploding, and lung damage, according to a comprehensive systematic review from the Australian National University.
New data shows a third of children aged 14 to 17 have vaped or used an e-cigarette, and 9 out of 10 young people found it easy to access vapes, according to University of Sydney Associate Professor Becky Freeman, who presented to the Roundtable on behalf Generation Vape and Cancer Council NSW.
Representatives from NSW Health, Cancer Council NSW, the Advocate for Children and Young People as well as students and primary and high school principals addressed the panel, with members of the public, independent and Catholic school sectors also represented.
'Vaping is a complex, community-wide issue which is having an acute impact on school-aged children. Where there are opportunities for the NSW Government to help, we are determined to have a positive impact.' the government said in a statement
'The Minns Labor Government thanks all the contributors, and will now consider all it heard, including solutions that can be implemented in education settings.'
'As we chart a path forward, a number of actions have been proposed, including creating a vaping guide to assist teachers and help students trying to quit, updating the curriculum so it better addresses the dangers of vaping, creating an online support platform for students, and building better referral pathways between schools and community services.'
''This is part of other reforms introduced by the Government to protect children from the harms of illegal vapes, including $6.8 million invested over three years to crack down on the sale of illegal vapes and to increase support for young people who are addicted to vaping.'
Minister for Education and Early Learning Prue Car said, "Today we heard from students, teachers, principals and health experts about the significant concern vaping is causing across the NSW schooling community.
"Vaping among young people is a community-wide issue that is only increasing in its negative impact. It is clear from what we heard today that an evidenced-based approach is needed to tackle this problem. This is a complex issue and we need to work together as a community to tackle this serious problem."
Minister for Health Ryan Park said, "Vapes can have harmful impacts, especially on young people's growing brains and bodies and we will continue to crack down on retailers who illegally sell nicotine vapes.
"Ask any parent, and they will tell you that these products are pervasive. We are determined to get in front of this growing public health crisis.
"In the intermediate term, we have ramped up our compliance capacity, while boosting our cessation support for young people. But where we can improve our efforts moving forward, we will, and this Roundtable is critical to bringing together the leading expert advice in tackling the prevalence of vaping."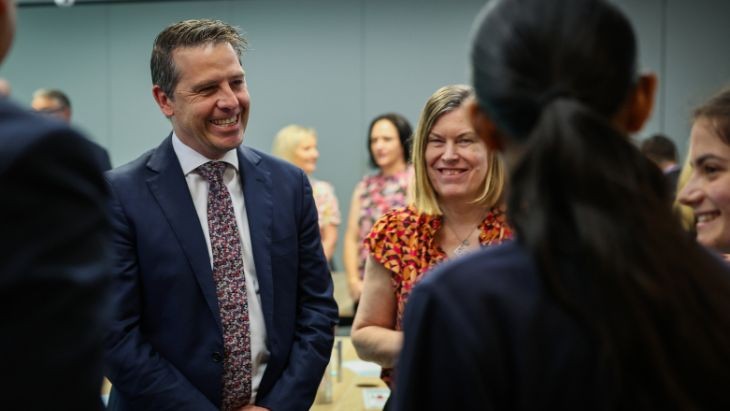 NSW Health Minister Ryan Park and the NSW Chief Health Officer Dr Kerry Chant speak with students at the Vaping Roundtable. Photo: NSW Government

Dr Kerry Chant NSW Chief Health Officer stated, "NSW Health is increasingly concerned about the harmful health effects of vaping, particularly for young people.
"Vapes can cause harm to the health and development of young people, including changes to brain development, impaired learning and memory, and may worsen stress, depression and anxiety.
"NSW Health is committed to increasing support to help young people quit vaping. We have developed the 'Do you know what you're vaping?' campaign and Vaping toolkit to increase awareness among young people and provide parents, schools, and health and community services with strategies to protect young people from the harms of vapes.
"NSW Health has also released a new guide to support health professionals and others who work with young people to assist young people to quit vaping."
_____________________________________________________________________________________
Guide to Support Young People to Quit E-Cigarettes
This guide has been developed to support health professionals and others who work with young people to effectively address e-cigarette use, support young people to manage nicotine withdrawals, and assist young people in quitting e-cigarettes.
Content in this guide will be regularly updated as new evidence and consensus emerges on best practice of managing nicotine dependence among young people who use e-cigarettes.
Date of Publication: 27 September 2023
Visit: www.health.nsw.gov.au/tobacco/Pages/e-cigarette-young-people-guide
Previously: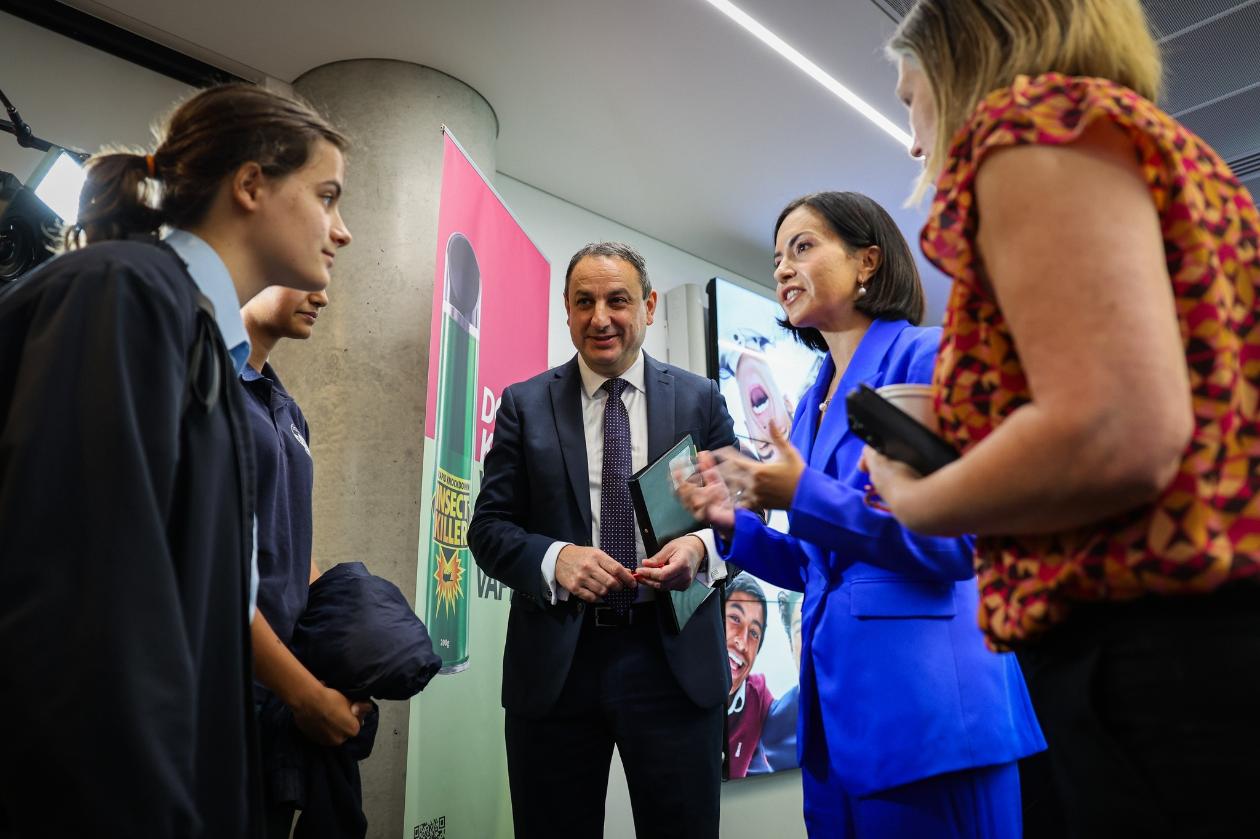 Minister for Education and Early Learning Prue Car, NSW Department of Education Secretary Murat Dizdar and the NSW Chief Health Officer Dr Kerry Chant speak with students at the Vaping Roundtable. Photo: NSW Government