June 25 - July 15, 2023: Issue 589
residents call for immediate ban on e-cigarette shops in areas where teenagers 'hang out'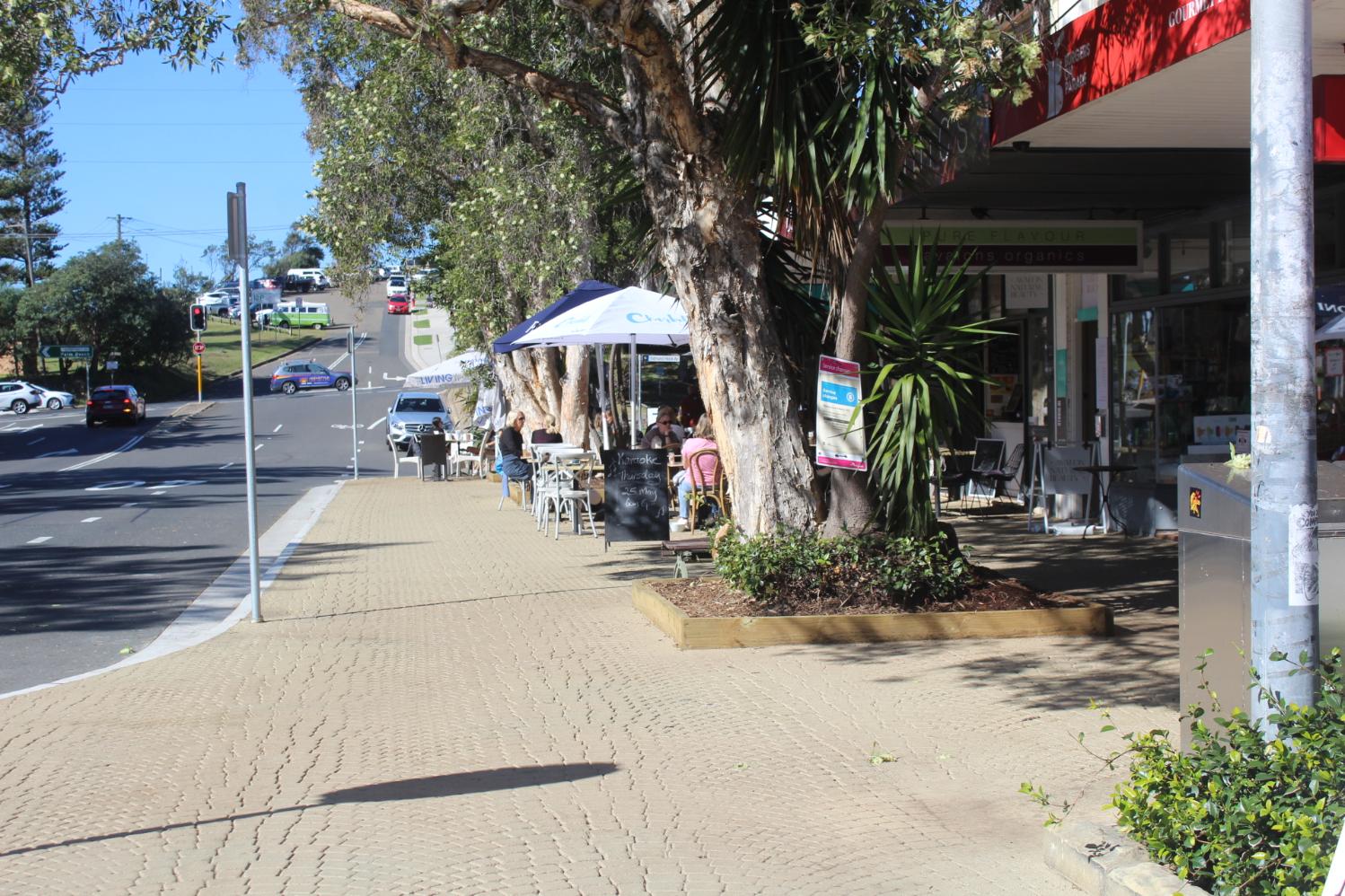 The eastern end of Avalon Parade, a popular young adult 'hang-out' place, is soon to be the site of an e-cigarette store.
In recent weeks residents have forwarded photos and concerns of 'vapes' retailers opening in areas frequented by younger residents, particularly around bus stops or pavement areas where young adults will 'hang out' together before and after school and on weekends.
Parents are calling for more scrutiny by those granting these leases, and those serving in the State and Federal health departments to ensure these locations cannot be used to target teenagers by the 'vapes' industry, which their chosen locations and signage would infer.
A 2020 study found that ''Findings suggest that, in some MSAs, vape shops and convenience stores may target youth and lower income populations.'' [1.]

A 2022 Curtin University (Western Australia) paper states: 'The availability of e-cigarette products from retail shops and particularly vape shops is increasing. E-cigarette retailers are using traditional promotional techniques including point-of-sale displays to market their products, while vape shops are extending their appeal through bar style, lounge layouts and free trials.' [2.]
At Newport a 'vapes' shop has been open for several months some 15 metres from the main Newport Village bus stop for home-bound school students. Now another lease has been granted for a 2nd, larger 'vapes' shop, right at the bus stop, when teens gather.
''Neither tenant stocks anything which could be considered healthy for the teens and sub-teens congregating here. Apart from vapes and vaping equipment, the product range covers sugar-saturated confectionery, caffeine-concentrated drinks and transfats-and-salt-rich snacks. These are mainly imported products, heavily promoted online to our youth, pushing them into the jaws of these two stores.'' states one resident
''And if the teens are shy or nervous about asking for these products instore, they're encouraged to order online for home delivery. Look at a sample from the store product list:
''And what shopper at these stores needs a range of pocket, electronic scales that weigh to a maximum 300gm, in 0.01gm increments!?! ''
''What level of government – Local, State or Federal – can honestly adopt an attitude of "this is outside our jurisdiction"? This is purveying addictive poisons to our young people, directly targeting them as these stores' primary prospects? And Newport Village is now about to have two of them!''
''At least one store lists "Tobacconist' on its store sign.'' the Newport resident states

On Thursday June 22 news broke that a vape shop is opening on Avalon Parade, at the most eastern strip frequented by young adults - another 'hang out' spot. This one will be right next to businesses that focus on good health and pure foods and have a reputation for the same; an Açai shop, Avalon Organics and Nourished.

At Mona Vale a 'vapes' shop had closed at its previous location right at the prior main bus stop location on the corner of Waratah street and Pittwater road when the main bus stop was moved further north. Another has opened around the corner slightly into the Pittwater road run to Bayview where it is right opposite the main Mona Vale bus stops - with a signboard outside advertising itself faced towards that bus stop teenagers 'hang out' at.
Although e-cigarette retailers are advised to set up outlets in main strips of shopping areas with high visibility, just as any other business would logically aim to do, and have signs on doors that state someone must be over 18 to enter, there is a growing sentiment these stores are inappropriate in spaces frequented by young adults.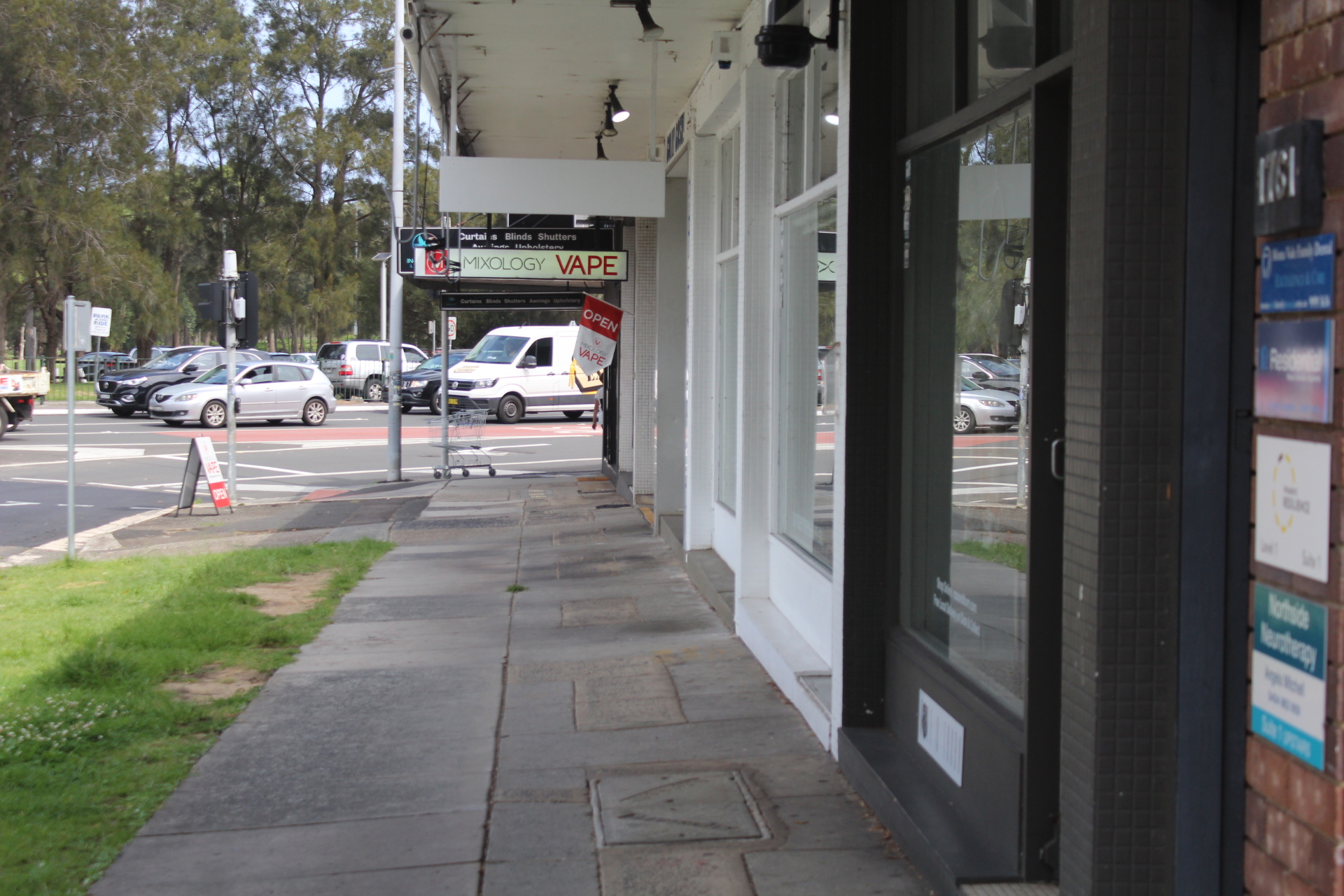 signboard outside an e-cigarette store at Mona Vale faces towards the main bus-stop
Atop this, social media platforms favoured by young adults, such as Instagram and TikTok, overwhelmingly portray vaping in a positive light. This messaging makes it appear that e-cigarette use is common and socially acceptable.
Most platforms have content policies that expressly prohibit the promotion of tobacco product use, including e-cigarettes. But new Australian research, published May 2023, shows these policies are routinely violated with little or no consequences.
In some cases, these messages have even been shown to blatantly target teens.
''Seven popular hashtag-based keywords were used to identify TikTok accounts, and their videos related to e-cigarettes. Posts were independently coded by two coders. Collectively, the 264 videos received 2,470,373 views, 166,462 likes, and 3,426 comments. The overwhelming majority of videos (97.7%) portrayed e-cigarettes positively, and these posts received 98.7% of the total views and 98.2% of the total likes. A total of 44 posts (16.7%) clearly violated TikTok's own content policy. The findings of the current study suggest that a variety of predominantly pro-vaping content is available on TikTok. Current policies and moderation processes appear to be insufficient in restricting the spread of pro e-cigarette content on TikTok specifically, and social media in general, resulting in health implications for this platforms predominantly young users.'' the study states
The findings identified a need for public health surveillance, regulations and legislation for the e-cigarette retail market where shops are using traditional and new promotional techniques to market e-cigarette products. [3.]

A quick search of any social media platform shows advertisements for vapes by local stores in our area, atop those signboards in public space.

Additionally, people are being targeted via email for new products - one just released, and specifically targeting young Australians, trades on another products' name, the other being known for containing non-harmful ingredients such as camomile, while this is touted as a 'non-nicotine' or 'nicotine alternative' product and uses young people to 'sell' the image.
Posted on Reddit:
11 May 2023 — Got something in my inbox from .... today about "St*m" nicotine alternative. I've never heard of it, Anyone tried it? Is it any good?
The push of 'non-nicotine' or 'nicotine alternative' products is to circumvent laws introduced banning e-cigarettes containing nicotine, as in most states in Australia selling e-cigarettes that do not contain nicotine is legal.
However, the content of these 'nicotine alternative' e-cigarettes can be just as harmful.
Despite an ongoing campaign by NSW Health to make young adults aware of the poisonous chemicals found in vapes, including a high level of addictive nicotine, numerous studies point out presenting facts to teenagers when they are being inundated with messaging via social media, email and high visibility stores where they live won't save the next generation from becoming addicts.
Others state messages about the short term and long term impact on their health are premature for teenagers as this age group live in the 'here and now', and before the prefrontal cortex of the adult brain, which relates to rationality, is fully developed - at around age 25 - people do not take such messaging seriously.
This is the part of the brain that responds to situations with good judgment and an awareness of long-term consequences.
However, as local teenagers are clearly able to fathom other rational insights, persistence in sharing what is actually in e-cigarettes must be pursued.
On May 2nd 2023 the Federal Government announced is taking strong action to reduce smoking and stamp out vaping – particularly among young Australians – through stronger legislation, enforcement, education and support.
The Government stated then it will work with states and territories to close down the sale of vapes in retail settings, ending vape sales in convenience stores and other retail settings, while also making it easier to get a prescription for legitimate therapeutic use.

The 2023–24 Budget included $737 million to fund a number of measures to protect Australians against the harm caused by tobacco and vaping products.
These measures were designed to complement the development of new proposed national tobacco control legislation first announced by the Government in November 2022.
Following public consultation led by the Therapeutic Goods Administration in December 2022, the Government is proposing stronger regulation and enforcement of all e-cigarettes, including new controls on their importation, contents and packaging.
The Government stated it will work with states and territories to stamp out the growing black market in illegal vaping, including to:
stop the import of non-prescription vapes;
increase the minimum quality standards for vapes including by restricting flavours, colours, and other ingredients;
require pharmaceutical-like packaging;
reduce the allowed nicotine concentrations and volumes; and
ban all single use, disposable vapes.
The Hon Mark Butler MP, Minister for Health, stated;
"Young people who vape are three times as likely to take up smoking. So is it any wonder that under 25s are the only cohort in the community currently recording an increase in smoking rates?"
"Vaping is creating a whole new generation of nicotine dependency in our community. It poses a major threat to Australia's success in tobacco control and the Albanese Government is not going to stand by and let this happen."
"Vaping was sold to governments and communities around the world as a therapeutic product to help long-term smokers quit. It was not sold as a recreational product - especially not one targeted to our kids but that is what it has become."
The 'vape' sellers have been active locally and across the nation to push back against any reforms that will limit their ability to keep selling e-cigarettes and accessories, one even reposting a push to roll back prescription only laws for nicotine products and allow e-cigarette dealers to sell these again. Videos, pictures, symbols and messages can be readily accessed and are being pushed out, despite changes announced in 2021.
Those unwilling to go into the stores are persistently encouraged to buy online where the landing page again informs you that no prescription is needed. The only 'check' to see if a purchaser is 18 or over is a question asking you the same to which you answer 'yes', and then go ahead and buy what 'nicotine alternative' you want to be delivered straight to you.
In NSW it is illegal to display e-cigarette advertisements. E-cigarette advertisement means writing or any still or moving picture, sign, symbol or other visual image or audible message that gives publicity to or is intended to promote the purchase of an e-cigarette product.
It is also illegal to give out free samples of e-cigarettes, yet one local dealer exhorts you to ''Visit us in store to browse our ranges and try our liquids at the tasting bars!''
Parents and grandparents are calling for more 'boots on the ground' to check compliance with the current NSW regulations and removal of licences to trade where they have been breached.
Residents are stating the October 2021 and May 2023 announced reforms do not go far enough and need to be adjusted to include removing these point-of-sale retail outlets from where they may target young people. They want a ban on e-cigarette stores in retail areas across the LGA, and they want that ban to be implemented immediately.
If tobacco cigarettes can no longer be displayed - why are we allowing e-cigarette products coloured like lollies to be sold from shopfronts shouting what they are in the public domain?
The laws and messages run by NSW Health run below for reference.
Additionally the Vaping evidence summary - NSW Health, from https://www.health.nsw.gov.au/tobacco/Pages/vaping-evidence-summary.aspx - makes interesting reading, especially for those breathing in weed killer or bug spay they've been told is 'just water'.
Or as Mr. Yul Brynner, lead in 'The Magnificent Seven' - a classic film about standing up to bullies - said not so long ago:
references
Berg CJ, Schleicher NC, Johnson TO, Barker DC, Getachew B, Weber A, et al. Vape shop identification, density and place characteristics in six metropolitan areas across the US. Prev Med Rep. 2020; 19:101137. https://doi.org/10.1016/j.pmedr.2020.101137
Scott, L. and McCausland, K. and Maycock, B. and Jancey, J. 2022. The emergence of e-cigarette retail shops in a regulated tobacco control environment. Health Promotion Journal of Australia. 2022. https://onlinelibrary.wiley.com/doi/10.1002/hpja.657
Jancey J, Leaver T, Wolf K, Freeman B, Chai K, Bialous S, Bromberg M, Adams P, Mcleod M, Carey RN, et al. Promotion of E-Cigarettes on TikTok and Regulatory Considerations. International Journal of Environmental Research and Public Health. 2023; 20(10):5761. https://doi.org/10.3390/ijerph20105761
New South Wales Ministry of Health. Enforcement of Nicotine Containing E-cigarette Laws

[Internet]. Sydney (AUST): Government of NSW; 2021 [cited 2022 Jan 19]. Available from:

https://www.health.nsw.gov.au/tobacco/Pages/Enforcement-nicotine-containing-e-cigarettes.aspx
Vaping evidence summary - NSW Health, from https://www.health.nsw.gov.au/tobacco/Pages/vaping-evidence-summary.aspx
TGA Consultation On Nicotine Vaping Product Regulatory Reforms: Minister Butler Launches 'Reignite Tobacco Reforms

' - Pittwater Online News, December 2022
Do You Know What You're Vaping?
Vapes are not water. The main ingredient in vapes is propylene glycol, vegetable glycerine or glycerol. Vapes can contain the same harmful chemicals found in cleaning products, nail polish remover, weed killer and bug spray. They just don't put it on the pack.
Vapes come in a number of flavours such as blueberry or bubble-gum that make them appealing. Many vapes also contain nicotine, the same highly addictive substance found in tobacco cigarettes.
Testing has shown that vapes labelled 'nicotine-free' can have high nicotine levels. People can think they are using nicotine-free vapes and can unknowingly quickly develop a nicotine addiction.
Electronic Cigarette Retailing Laws
It is illegal to sell e-cigarettes, e-cigarette accessories, and tobacco products to anyone under 18 years old.

It is illegal for retailers (other than pharmacies) to sell e-cigarettes or e-liquids that contain nicotine, including online sales.

E-cigarettes that do not contain nicotine are legal in NSW. Adults can buy and use e-cigarettes that do not contain nicotine.

From 1 October 2021 e-cigarettes and e-liquids containing nicotine are a prescription only medicine.

It is illegal to display, advertise or promote e-cigarettes.

It is illegal to sell e-cigarettes that make a health claim, such as 'this product helps smokers to quit'.
NSW Health inspectors visit tobacco and other retailers to check if products containing nicotine are illegally being sold. Action will be taken by NSW Health if businesses are found to be illegally selling products or any tobacco or e-cigarette product to minors.
NSW Health can prosecute retailers for selling products containing liquid nicotine illegally, and for selling e-cigarettes to people under 18 years of age.
The Smoke-free Environment Act 2000 and the Passenger Transport (General) Regulation 2017 prohibit the use of e-cigarettes in smoke-free areas. They can use e-cigarettes where smoking is not banned.
Under the NSW Public Health (Tobacco) Act 2008:
E-cigarette retailers must register their business details with NSW Health. This is a free online process and it should only take 15 minutes. Retailers who sell e-cigarettes and tobacco products must update their registration.
Retailers who only sell e-cigarettes and e-cigarette accessories are able to apply for an exemption, so that electronic cigarettes may be used within their store. There is an application process and additional conditions will apply. Retailers who also sell tobacco products or other products are not eligible to apply for an exemption.
From 1 October 2021, e-cigarettes and e-liquids containing nicotine are a prescription only medicine. This means pharmacists in community pharmacies can supply e-liquids and e-cigarettes (containing nicotine) to their customers (18 years and over) only if they have a valid prescription from a doctor. Pharmacies need to comply with all retailing requirements set out under the Public Health (Tobacco) Act 2008. For more information refer to the Information for pharmacists on nicotine vaping products. Page Last updated: 21 June 2023.
Selling E-Cigarettes And Accessories In NSW
Illegal sale of e-cigarettes containing nicotine
NSW Health has seen an increase in the number of e-cigarettes containing nicotine, or labelled as containing nicotine, being illegally sold by retailers. NSW Health inspectors visit tobacco retailers and vaping stores to check if products containing liquid nicotine are being sold. NSW Health can prosecute retailers for selling e-cigarette and e-liquid products that contain nicotine. From 1 October 2021 penalties increased. The maximum penalty is $1,650 or 6 months prison, or both.
Information for tobacco and e-cigarette retailers in NSW is available in English, Arabic, Chinese (traditional and simplified), Hindi and Vietnamese.
Display
Retailers need to ensure that e-cigarettes and accessories cannot be seen by the public from inside or outside the premises. Ban on display of tobacco, smoking products and e-cigarettes in retail outlets provides more information about this.
Sales
In NSW, it is legal to sell e-cigarettes that do not contain nicotine to people over 18.

E-cigarettes and accessories can only be sold from a single point of sale in each retail outlet. For more information see Single point-of-sale.
E-cigarettes must not be sold from temporary and mobile premises such as a market stall or stand, a tent or a car, or from any mobile structure, vehicle or vessel.
It is also illegal to carry e-cigarettes in a public place for the purpose of selling the products to persons in that place.
Advertising and promotion
It is illegal to display e-cigarette advertisements. E-cigarette advertisement means writing or any still or moving picture, sign, symbol or other visual image or audible message that gives publicity to or is intended to promote the purchase of an e-cigarette product.
It is also illegal to:
give out free samples of e-cigarettes
promote or publicise an e-cigarette product, trademark or brand name through a scholarship
include e-cigarettes in shopper loyalty programs
sell confectionery or toys that resemble e-cigarettes.
E-cigarettes must not make unapproved therapeutic claims
Under both NSW and national law, it is illegal to make therapeutic claims about goods if they are not registered with the Therapeutic Goods Administration (TGA). This means that it would be illegal to sell or supply e-cigarettes if a label, website, poster or website makes a claim like 'this product will help you quit smoking'. Verbal statements by salespeople are also included.
The maximum penalty for these offences is up to five years imprisonment and/or fines of up to $440,000. For more information on therapeutic claims, please contact the TGA on 1800 020 653 or visit the TGA website.
Enforcement of nicotine containing e-cigarettes
NSW Health continues to undertake compliance and enforcement action regarding the sale of e-cigarettes and e-liquids that contain liquid nicotine. NSW Health seizes products containing nicotine and undertakes prosecutions against retailers for the sale of e-liquids that contain nicotine.