October 8 - 14, 223: Issue 600
Crackdown on illegal vape sellers in NSW: Federal government/TGA moves to end retail vape sales in australia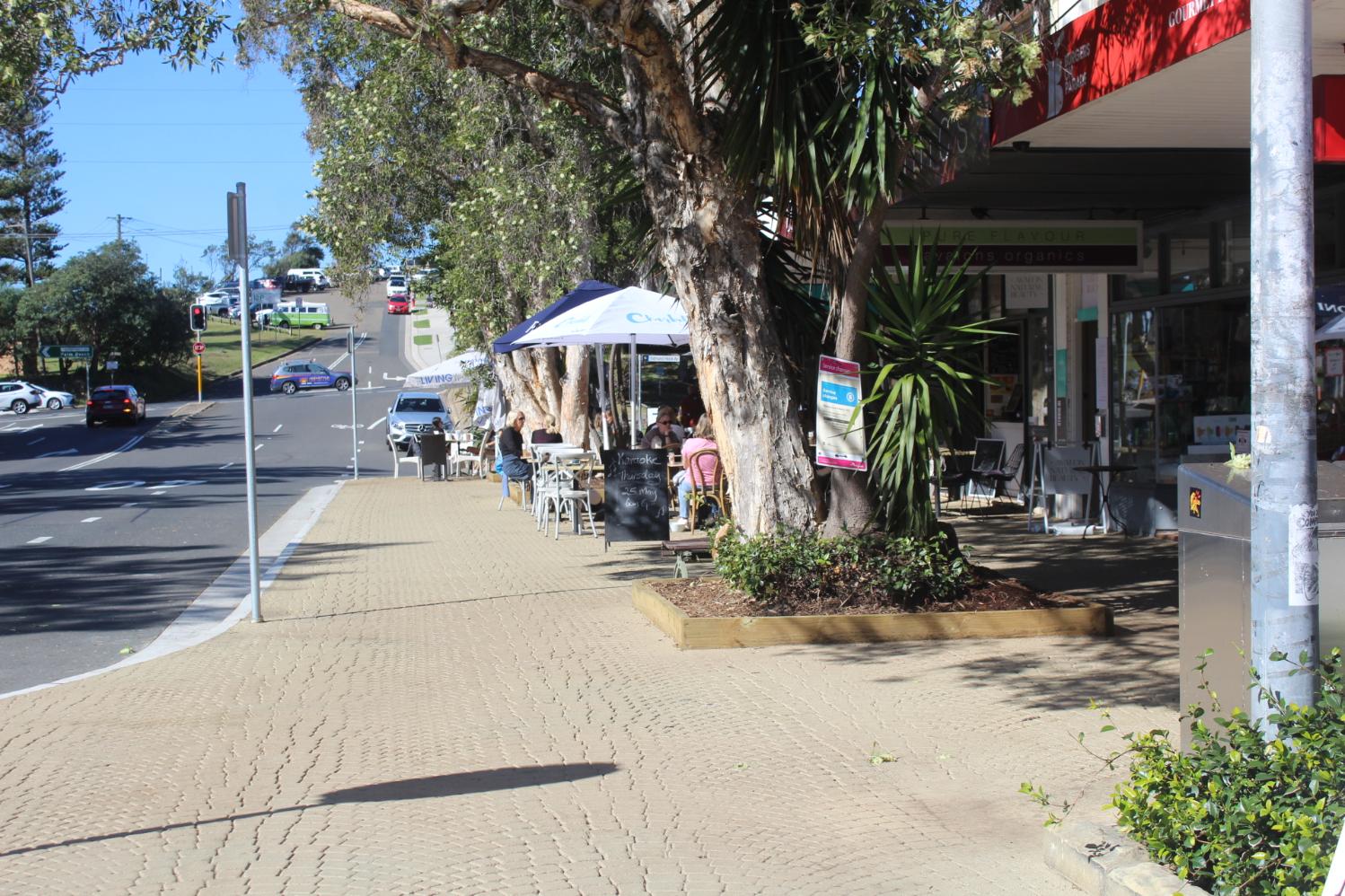 The eastern end of Avalon Parade, a popular young adult 'hang-out' place, and the site of a new e-cigarette store.
The NSW Government has stated it is committing $6.8 million over 3 years to invest in a crackdown on the sale of illegal vapes and increase for support for young people who are addicted to vaping.
The investment, announced September 25, commits:
$4.3 million over the next 3 years to bolster compliance and enforcement to ensure the state meets responsibilities for retail, wholesale, manufacturing, and pharmaceutical controls on vaping products.
$2.5 million over the next 12 months to increase services to help young people quit vaping including a new digital platform, enhancements to the iCanQuit platform and an online learning module for youth services across the state.
Ongoing work by NSW Health highlighted just how important it is further action is taken on the sale of illegal vapes, and provisions are made to support young people who are addicted to vaping.
There is strong evidence that non-smokers who use e-cigarettes or vapes, are 3 times more likely to go on to smoke traditional tobacco cigarettes as people who have never vaped.
For young people, nicotine can cause changes to brain development, impaired learning and memory, and may worsen stress, depression and anxiety.
The Australian Medical Association has supported a proposed overhaul to vaping laws, which would put an end to the retail sale of vapes in Australia and help people kick the dangerous and addictive habit. Under reforms proposed by the Therapeutic Goods Administration (TGA), the importation, manufacture and sale of vaping products — regardless of nicotine content — would be banned outside of therapeutic use prescribed by a doctor and dispensed by a pharmacist.
The proposal will be welcome news to local parents and grandparents who are furious local vape retailers are setting up in known local shop 'hangouts' for children, using exterior advertising sandwich boards facing towards school bus stops, or seeking to entice our teenagers into their shops with bright displays of lollies with some vapes even displaying the same packaging our kids would have eaten before they became the target for vape profiteers.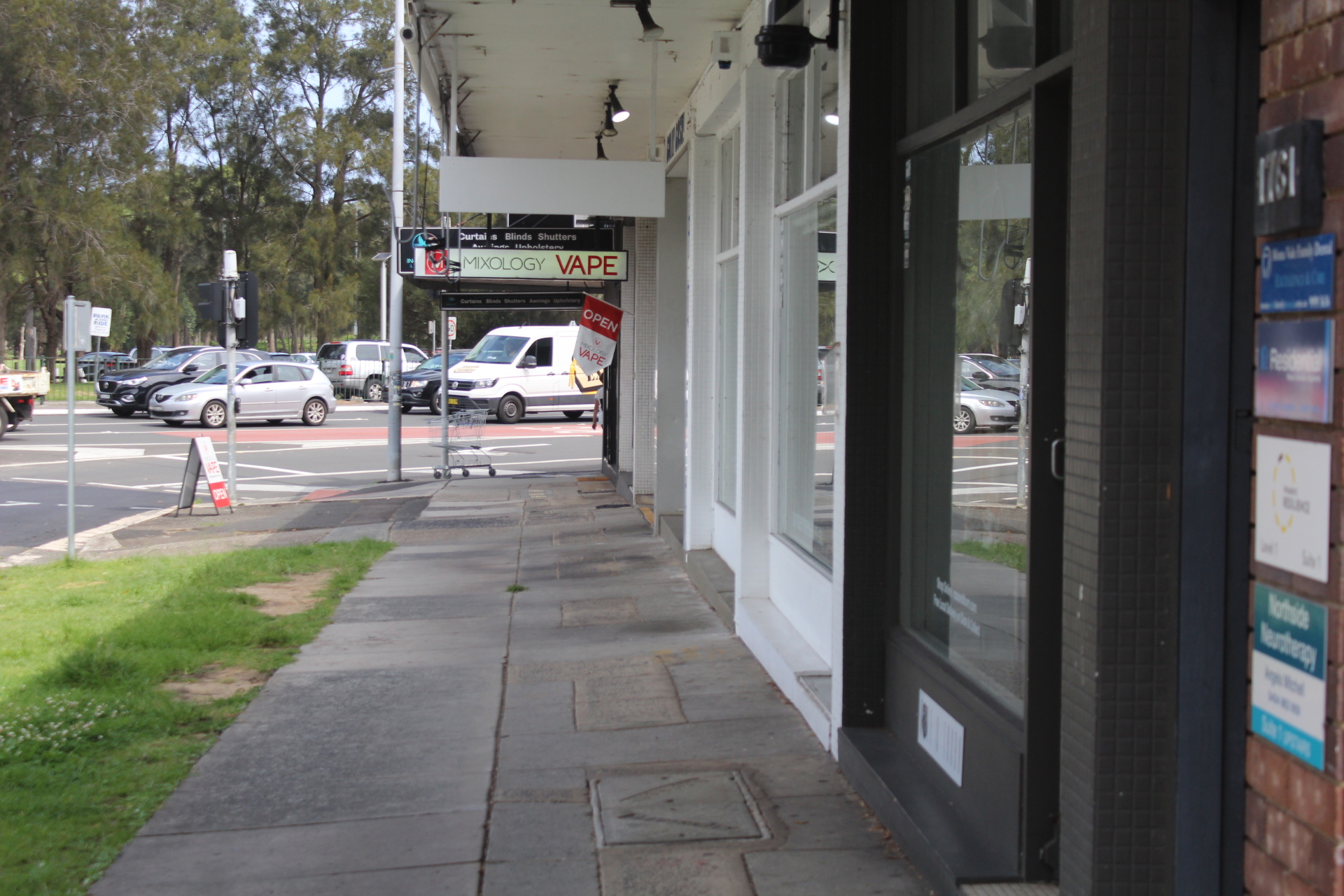 this signboard and 'vape' flag outside an e-cigarette store at Mona Vale faces towards the main bus-stop
In a submission to the TGA, the AMA has supported the proposed reforms, which include the use of plain, pharmaceutical-like packaging with warning signs for vaping products.
AMA President Professor Steve Robson praised the TGA for using expert medical, public health and scientific advice to guide reforms. He also commended the federal government for taking an important step in the fight against tobacco and nicotine addiction by introducing new reforms to Parliament in September.
"The AMA welcomes the federal government's strong action against smoking and vaping addiction. The government has listened to the advice of the AMA and public health experts and is closing loopholes and exposing blind spots exploited by the predatory tobacco industry," Professor Robson said.
"We are in a situation where kids are becoming so addicted, they are hitting the vape in school yards and classrooms.
"This is an entirely unacceptable situation — but it's not the kids' fault. This crisis is on the hands of big tobacco and the industry's insidious tactics to lure kids with bright colours, fruity flavours and false assertions the products are free of nicotine."
The reforms will include legislative changes to allow Commonwealth, state and territory governments to enforce the new rules with criminal offences, civil penalties and improved information sharing, among other measures.
Professor Robson said there was no strong evidence to suggest vaping is an effective smoking cessation tool, despite the best attempts of irrational proponents who claim the opposite.
"The AMA's support for the TGA's proposed reforms is based on cold, hard evidence, which shows people who vape are three times more likely to take up smoking than people who have never vaped, and that former smoking addicts who vape are more likely to relapse," Professor Robson said.
The TGA's reforms include many long-standing AMA proposals, including limits on the flavours and volume of nicotine that can be prescribed or ordered and ending the personal importation scheme, which is a major loophole in the current system.
The Minns government has stated that NSW Health continues to crack down on retailers who illegally sell nicotine vapes as it expands compliance and monitoring activities across the state.
In the week commencing September 5 2023, NSW Health inspectors ran a targeted campaign to crack down on illicit vapes.
These raids seized 23,247 vaping devices with a street value of over $695,000.
NSW is currently on track to more than double the amount of illicit vapes seized in 2022. From 1 January to 30 June 2023, NSW Health seized a record-breaking 187,000 products, up from 61,000 at the same time last year.
From January 1 2022 to 30 June 2023, NSW Health has conducted over 5000 inspections and seized around 369,000 nicotine vapes and e-liquids, with an estimated street value of over $11.8 million.
Retailers who are prosecuted for selling vapes containing nicotine face serious sanctions, including imprisonment for up to 6 months.
The warning to retailers comes amid new research conducted by the University of Wollongong, funded and commissioned by NSW Health, to test vapes for nicotine and other toxic chemicals known to harm health.
The sample included 428 vapes seized from retailers and 322 vapes surrendered by children at Sydney schools.
High nicotine concentrations were detected in 737 of the 750 vaping devices analysed in the study. Most of which did not have nicotine listed as an active ingredient.
Concerningly, 30 of the devices contained at least one substance known to harm health, including toxic chemicals banned from legal nicotine containing vapes by the Therapeutic Goods Administration like ethylene glycol, which is also found in antifreeze.
NSW Premier Chris Minns said, "We're committed to taking the fight against illegal vapes, particularly to protect children and young people from the dangers of vaping.
"The evidence suggests that vaping is now becoming a gateway for an increase in smoking rates in young people.
"This is a significant public health challenge and taking action on the illegal imports of vapes is going to require cooperation with all levels of government."
NSW Minister for Health Ryan Park said,
"The Minns Labor Government is committed to protecting children and young people from the dangers of vaping.
"We are putting resources behind our efforts to ramp up our vaping enforcement to meet the increasing pervasiveness of these products.
"Tough action is needed to stop the illegal sale of vapes containing nicotine, and to prevent vapes from finding their way into the hands of minors.
"As the evidence around just how damaging vaping is mounts and the number of young people who vape increases, we need to put everything into the fight against it.
"Vapes contain dangerous chemicals which can seriously impact a person's health, with young people especially vulnerable.
"Many of the chemicals, including flavours, have not been tested for safety when inhaled into the lungs. I urge the community to support the efforts of NSW Health by reporting those retailers who are doing the wrong thing."
NSW Chief Health Officer Dr Kerry Chant stated,
"The University of Wollongong research shows there is no such thing as a safe vape as you just don't know what is in them.
"This is especially true for children who are increasingly being exposed to high concentrations of nicotine and in some cases known toxic substances.
"As more vapes become available, we are seeing more people seeking help from health services for vaping-related health issues.
"The number of vaping-related calls to the NSW Poison Information Centre has tripled since 2020. What is most concerning is 71% of these calls were about nicotine poisonings in children under 4 years of age."
Background
In 2021, NSW Health launched the Do You Know What You're Vaping? awareness campaign, which provided a toolkit for anyone who interacts with young people, with information and guides to discuss the dangers of vaping. Parents and the community can provide information to inform the NSW Health enforcement action at Report a complaint.
If you need support to quit smoking or vaping, Quitline counsellors are available to answer questions about vaping on 13 7848 (13 QUIT). Quitline is a telephone-based service offering information and advice. Quitline counsellors can provide tips and strategies, and help people to plan their quit attempts based on their own needs and preferences.
They can also help parents and carers think of ways to approach a conversation about vaping with young people.
The Aboriginal Quitline is also available on 13 7848. Run by Aboriginal counsellors, the Aboriginal Quitline is a telephone-based confidential advice and support service.
If you require assistance in a language other than English, Quitline has counsellors who speak Arabic, Cantonese, Mandarin and Vietnamese. You can ask to speak to one of these counsellors. Quitline uses the Telephone Interpreter Service (TIS) for people who prefer to speak a different language.

Image: NSW Health's 2022 Get the Facts – Vaping Toolkit