July 16 - 22, 2023: Issue 590
Milla Brown Wins 2023 Pro Junior + Skullcandy Oz Grom Open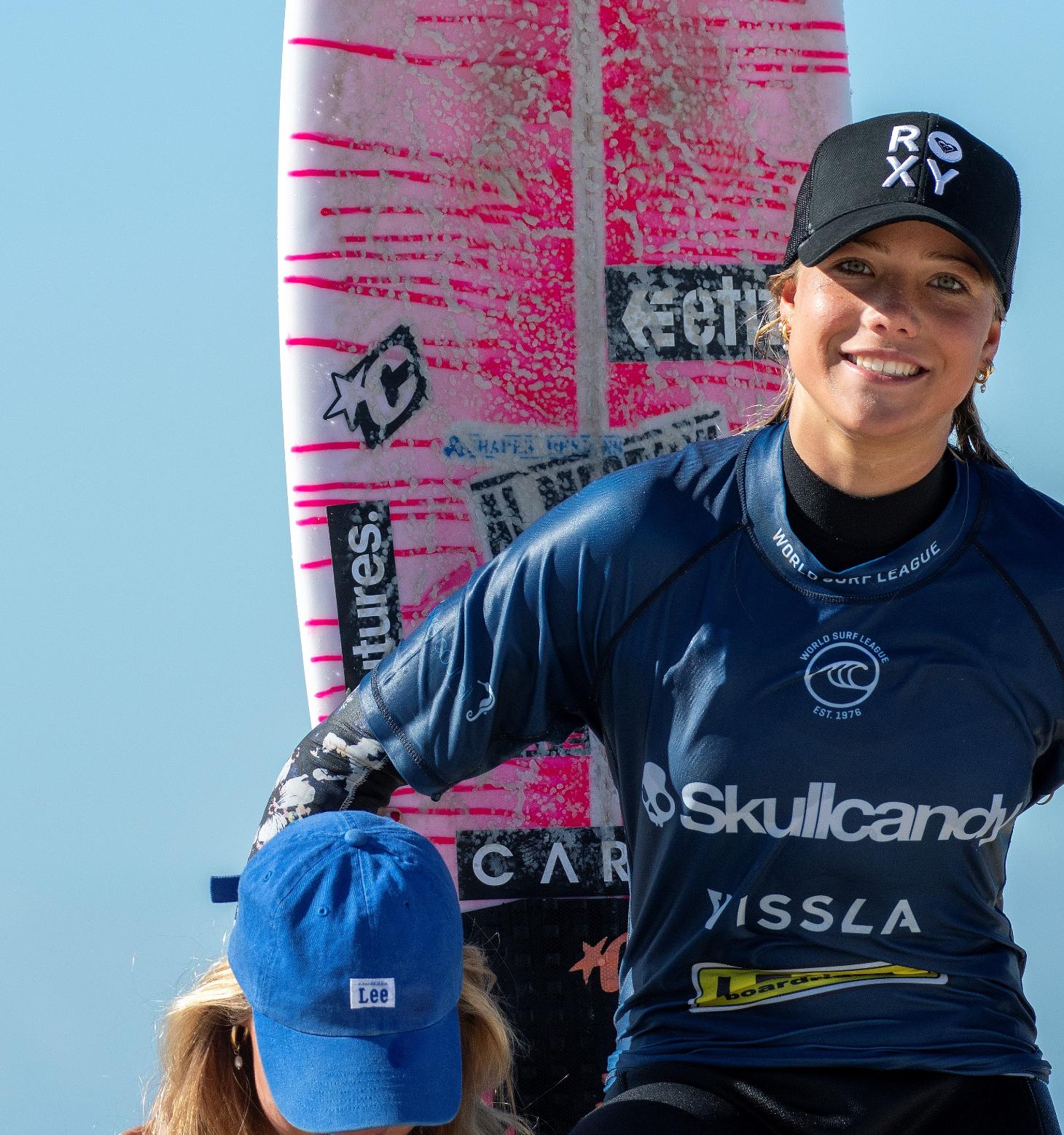 Milla Brown. Photo: Ethan Smith/Surfing NSW
In 2021 Milla Brown finished her State Title campaign with a bang as she
took out the Under-16 Girls final
.
In 2022 Milla Brown Won her Division in the 2022 Australian Junior Surfing Titles and Qualified for the 2023 Irukandjis Team.
On July 11 2023 15-year-old Milla Brown (Bungan Beach) showed she remains one to keep an eye on in future years as she took out the coveted Pro Junior title as well as the Under-18 Girls division in the 2023 Skullcandy Oz Grom pres. by Vissla as well as the World Surf League (WSL) Junior Qualifying Series (JQS) Pro Junior division. After posting the highest heat total of the event the day before (19.40 out of a possible 20 points), Brown returned to Lennox Head and proceeded to make light work of the Lennox Head conditions.
Milla executed a respectable 10.50 heat total in the Pro Junior division to take a win ahead of perennial event standouts Rosie Smart (Sawtell, NSW), Sierra Kerr (Coolangatta, QLD) and Isla Huppatz (Bilinga, QLD) who finished in second, third and fourth respectively. While, in the Under-18 Girls, Brown finished the heat with a decent 10.43 heat total to claim the win ahead of Isla Huppatz, Zahlia Short (Austinmer, NSW) and Willow Hardy (Margaret River, WA).
"This is the best day of my competitive career so far for sure," said Brown. "I didn't even expect to win one division let alone two, especially competing against people like Sierra, who I think is one of the best surfers in the world. I was just stoked to compete against her. Looking forward, I'm heading down to the NSW state titles, but hopefully I can win more titles like this and eventually get onto the World Tour. That's the goal."
The six-day event ran from 6 July –11 July 2023 at Lennox Head and comprised the World Surf League (WSL) sanctioned Pro Junior Qualifying Series (JQS) event as well as an elite competition for promising grommets in the 14, 16 and 18-year age divisions.
In a similar vein to preceding years – where the event has attracted surfers from ten different countries – a full international field competed, with surfers coming from as far away as Europe, USA, Hawaii, Indonesia and Japan to make up a field of more than 270 surfers across all divisions.
A five-person judging panel comprised of current WSL Championship Tour and Qualifying Series judges were on-site as well as a live webcast that collectively set this event above any other junior competition in the world.
Former event competitors include a range of current and past World Championship Tour surfers such as Molly Picklum, Mikey, Owen and Tyler Wright, Jack Robinson, reigning World Junior Champion Jarvis Earle and local surfers Mikey McDonagh and Nyxie Ryan.
From day 1 onwards Milla Brown sent a warning shot over the head of their competitors, notching up a series of impressive scores for critical carves and snaps.

By 8 July 2023 the 2023 Skullcandy Oz Grom Open pres. by Vissla continued to see some of the nation's best grommet surfers tear apart tiny conditions as competitors looked to cement themselves positions into the quarterfinals.
Avalon Beach local 12-year-old Locana Cullen surfed well beyond his years in the quarterfinals of the Under-14 Boys, with the talented natural-footer performing a handful of critical snaps and carves to put his fellow competitors on the ropes. When the final hooter sounded at the end of the heat, Cullen had finished with a gigantic 16.17 two-wave heat total and advanced into the quarter-finals.
At the end of the epic competition Locana finished just behind 13-year-old Rio Luther Barr, a Sawtell based surfer.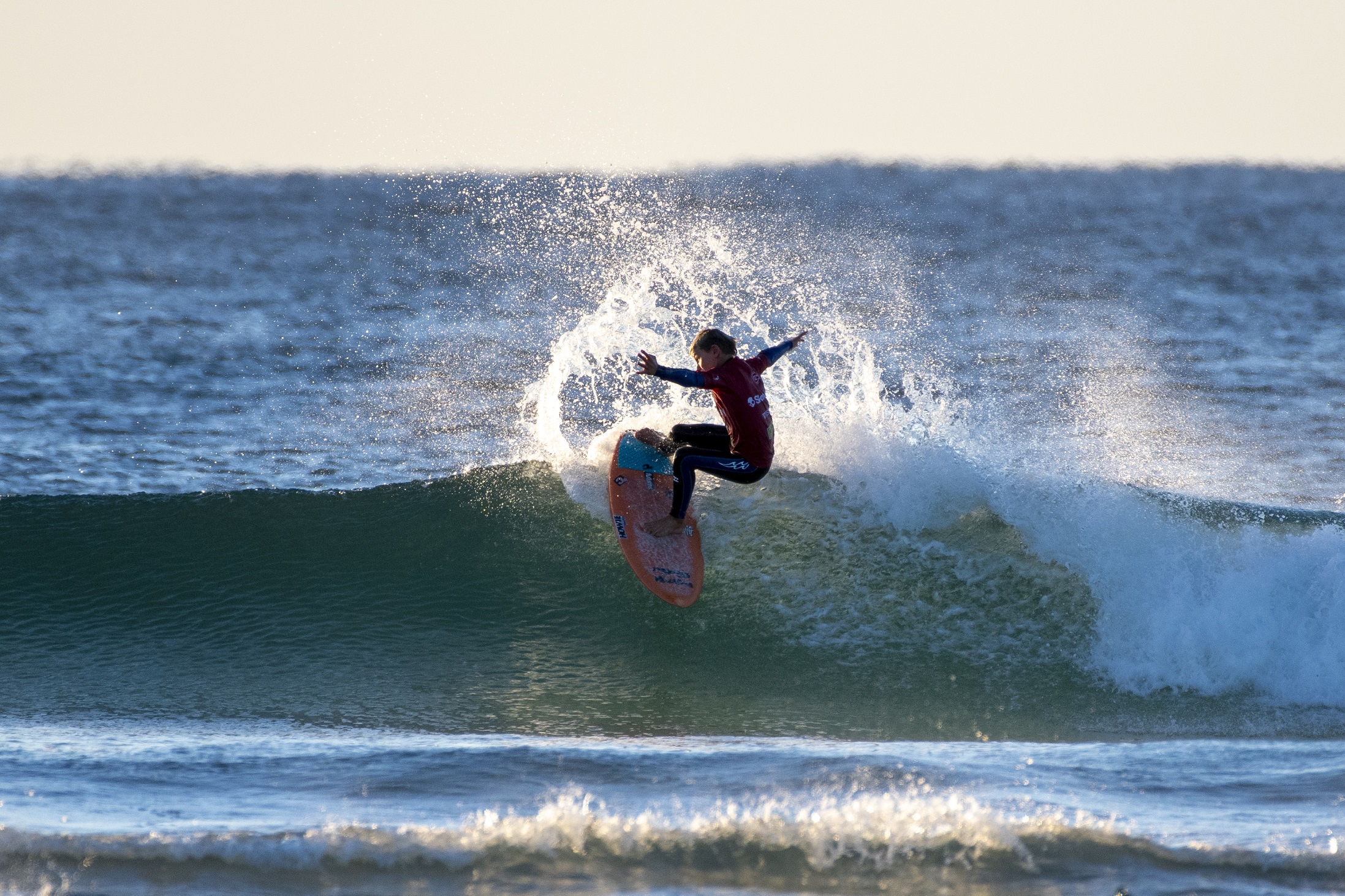 Locana Cullen. Photo: Ethan Smith/Surfing NSW

Monday July 10 set the stage for what was to come as competition intensified and the 2023 Skullcandy Pro Junior, World Surf League (WSL) Junior Qualifying Series (JQS) event saw all semi-finalists decided after a day of exciting battles in near-perfect four-to-five foot conditions.
Marlon Harrison (Coolangatta, QLD) showed why he had claimed the grommet age divisions multiple times over the past decade, throwing down a mix of brilliant snaps, carves and aerial manoeuvres to move through the quarters and seal himself a position in tomorrow's semi-finals. Harrison shone across the earlier divisions today, posting a massive two-wave 16.43 total in the round of 32 as well as a decent 14.26 total in the quarterfinals. Harrison met Tim Bain (Sunshine Coast, QLD), Mannix Squiers (Wollongong, NSW) and Xavier Bryce (Long Reef, NSW) in his semi-final.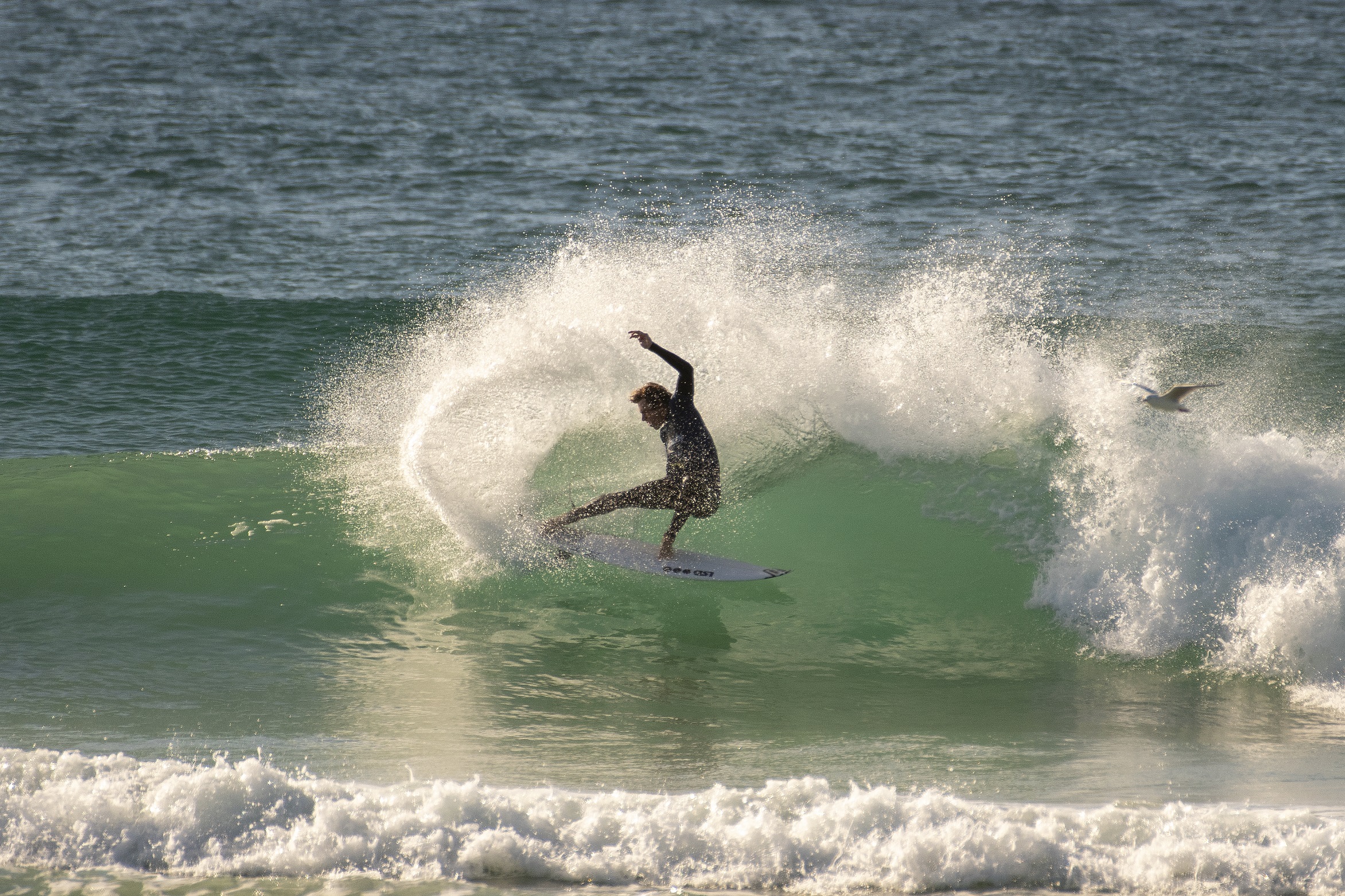 Xavier Bryce. Photo: Ethan Smith/Surfing NSW

"I've been competing in this event for over a decade and I remember winning the Under-12 Boys division when I was really young, so I'd love to be able to close out my time competing in Lennox with a win in the Pro Junior," said Harrison. "After I injured myself before the World Juniors last year, I really hope I can keep getting results throughout the Australian Junior leg of events and make it back there in 2023."
Harry Martin (Gold Coast, Qld), Oliver Ryssenbeek (Newcastle, NSW), Rico Haybittle (Burleigh, Qld) and Mitchell Peterson (Noosa, Qld) will feature in the second Pro Junior semi-final tomorrow.
But once again, Milla Brown was a standout in the solid conditions, smashing out a series of critical re-entries to lock in a decent 14.53 two-wave heat total in the quarterfinal of the Women's Pro Junior division. Competing against fellow wave-smith Sierra Kerr (Coolangatta, Qld), Milla showed she wasn't daunted, as she nailed the aforementioned score and claimed the win in the quarterfinal.
MB then backed up her performance in the Under-18 Girls division posting the only perfect 10-point ride of the event, for a giant frontside straight air, which she was then able to back up with an excellent 9.4 to take her two-wave total to 19.40, the highest heat total of the entire event.
"I've never got a ten-point ride before, so to get one here feels amazing," said Brown. "My whole goal was to lock in a couple of keeper scores and then just try to send it as hard as I could. Those airs were something I've been working on a lot with my coaches at Surfing Australia and I hope I can do more of them in my age division and the Pro Junior tomorrow."
Other Women's Pro Junior standouts included Ava Holland (Dromana, Vic), Rosie Smart (Coffs Harbour, NSW) and Isla Huppatz (Bilinga, Qld) who all won their respective quarterfinal battles.
And then came Finals day and that dual win.
Milla then headed south to Wollongong to compete in the 2023 Woolworths Junior State Titles, the event she won in 2021, running 13-18 July which will also include the 2023 NSW High School Titles: 19-20 July (U16 and U19).
In other 2023 Skullcandy Oz Grom pres. by Vissla and World Surf League (WSL) Junior Qualifying Series (JQS) Pro Junior division Finals placings Marlon Harrison (Coolangatta, QLD) showed he was returning from injury stronger than ever, as he put on a last-second hero performance to claim the win in the Pro Junior division. With the final three seconds counting down and Marlon needing a decent score to overtake fellow Gold Coaster Rico Haybittle (Burleigh, QLD), Harrison took off on a windy righthander and executed a series of impressive snaps to post a solid 7.40 wave score and cement his spot on the top of the winner's dais ahead of Haybittle, Tim Bain (Noosa, QLD) and Oliver Ryssenbeek (Newcastle, NSW).
"I was hearing the countdown as I paddled into that final wave and I knew I had to get moving to make sure I got into it. I wasn't sure if I was going to be able to get it or not, but damn, it feels good to be back," said Harrison. "After getting injured before the World Juniors earlier this year, it feels good to just hit the refresh switch and keep gunning for that World Junior Title. I won the Under-12 division here at this event and I remember watching Kehu Butler win the Pro Junior and I just knew I wanted to do the same one day. I'm so happy."
Dane Henry (Fingal Head, NSW) earned one of the biggest victories of his young career taking out the Under-18 Boys. Henry used his light-footed approach to positive effect in the final, to nail a chain of impressive snaps and carves and claim the win with a massive 15.10 two-wave heat total.
Ocean Lancaster (Merewether, NSW) and Ziggy Aloha Mackenzie (Indonesia) made their presence felt in the Under-16s division, with both surfers taking wins in their final heats. Mackenzie was able to notch up an 11.83 two-wave total to take the win, while Lancaster finished with a 14.13 two-wave total.
Eliza Richardson (Sunshine Beach, Qld) and Rio Luther Barr (Sawtell, NSW) both found a series of long-running right-handers to each take wins in the Under-14 division. Luther Barr notched up a solid 15.94 to claim his respective victory, while Richardson finished her final with a 13.60 two-wave total.
All Pro Junior results can be seen here.
All age division results can be seen here.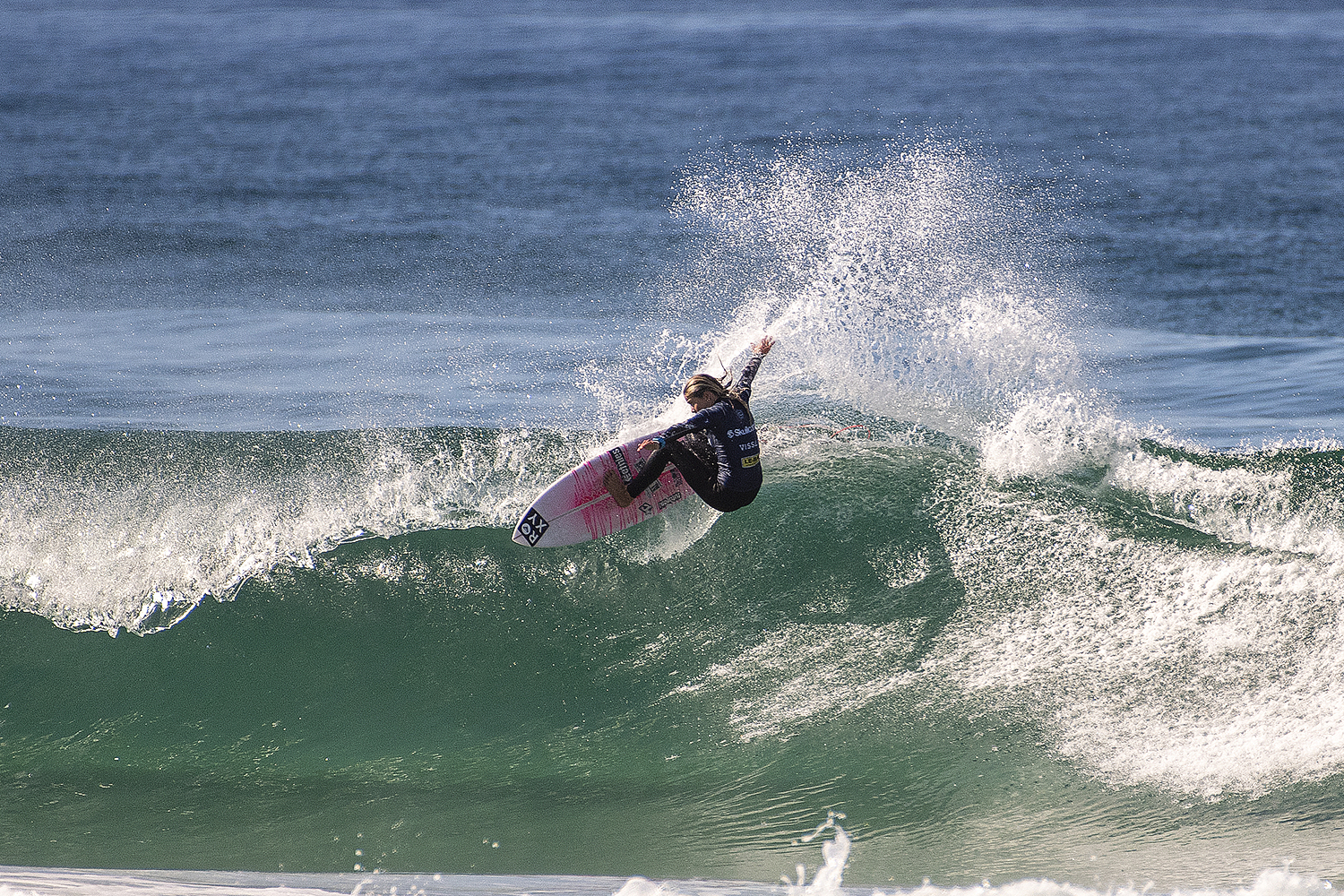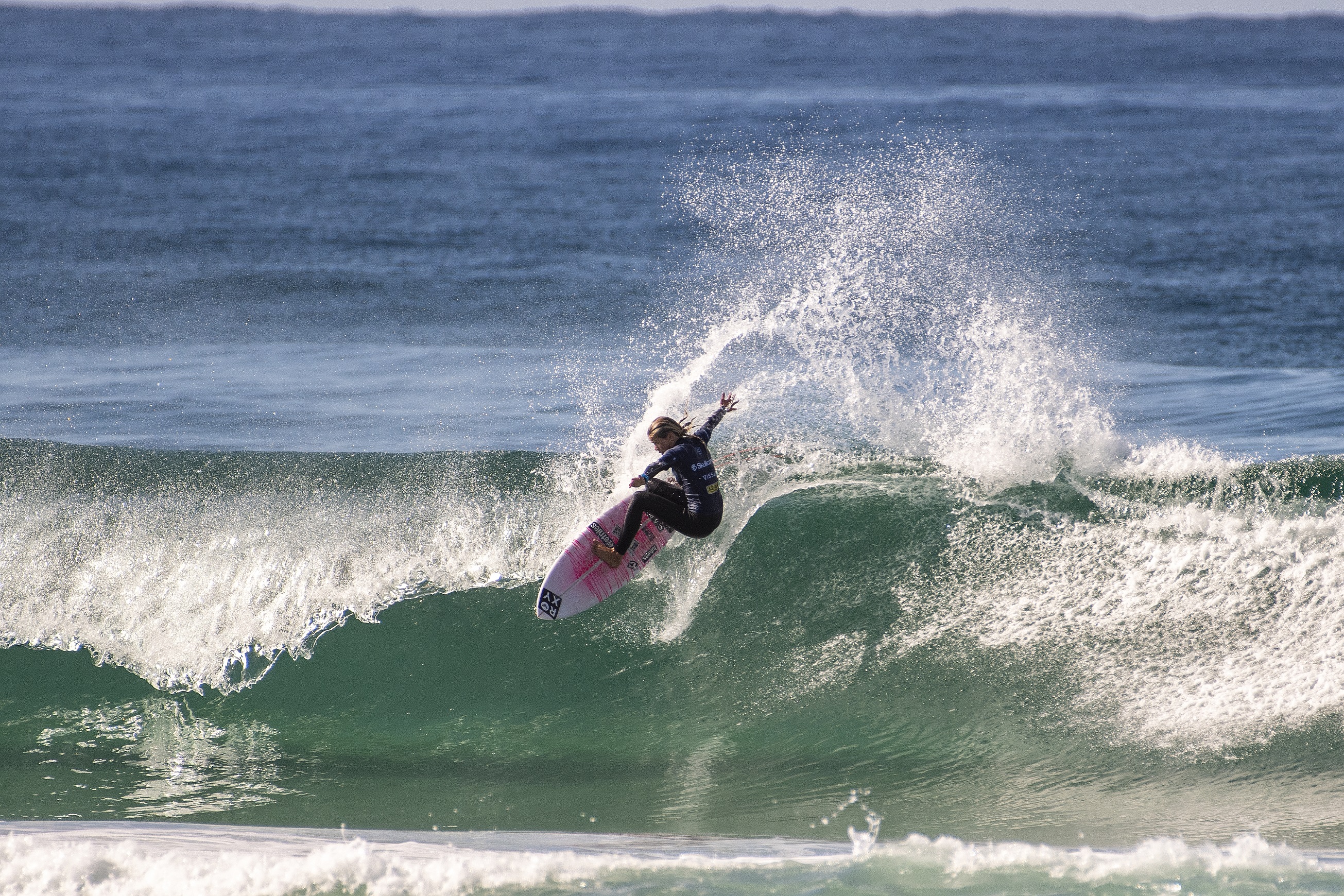 Milla Brown. Photos: Ethan Smith/Surfing NSW