August 26 - September 1, 2018: Issue 373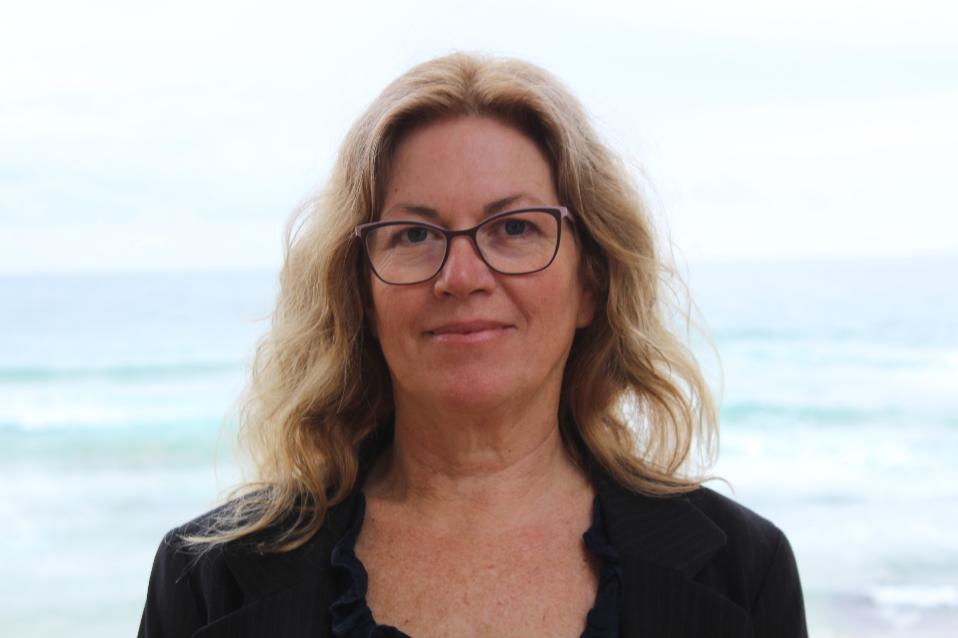 Art, Fine Art, Contemporary Art, Ceramics.
Avalon Beach Artist Michelle Perrett is currently working in the medium of ceramic sculpture and installation. Her works explore the cultural importance of plant species and aims to express their mystical qualities.
Her nursing background has informed her interest in medicinal properties of plants, and previous bodies of work about hospitals, maternity and women's histories.
A mum with girls, and volunteer at Avalon Primary school, this lady was born here, has grown up here and is immersed in the beauty of this place and its ancient custodians.
Michelle has a Masters of Fine Art (research) UNSW, Art & Design and an Advanced Diploma in Ceramics, Northern Beaches TAFE.
In 1994 she won the Gene Sherman student Sculpture Prize. This was followed by Art Gallery of NSW residency, Cité Internationale des Arts, Paris in 1999 and a Residency at Cité Internationale des Arts, Atelier Republique Française, Paris.
Recent exhibitions include
Keeping Company: Saltwater + 'Metamorphosis'
at Manly Art Gallery and Museum, Craft NSW at The Rocks, Kerrie Lowe Gallery, a wonderful solo exhibition in Autumn 2017 at Myer in Brookvale that included several of her female torsos, ceramic mirrors and large vases.
"Making these figures I was influenced by female archetypes and renaissance portraiture. Florentine portraits of women represented women of the time with extravagant jewellery and costumes to convey cultural meaning." Michelle told
Northern Beaches Ceramics
in April 2017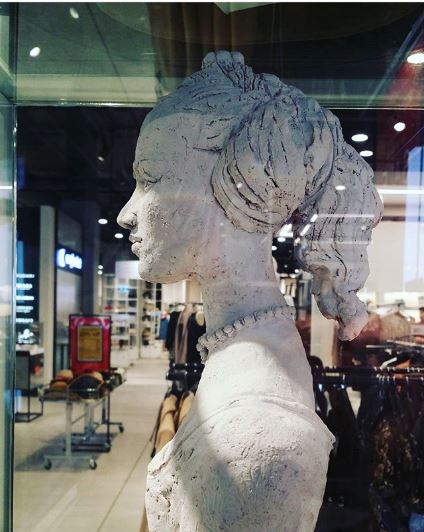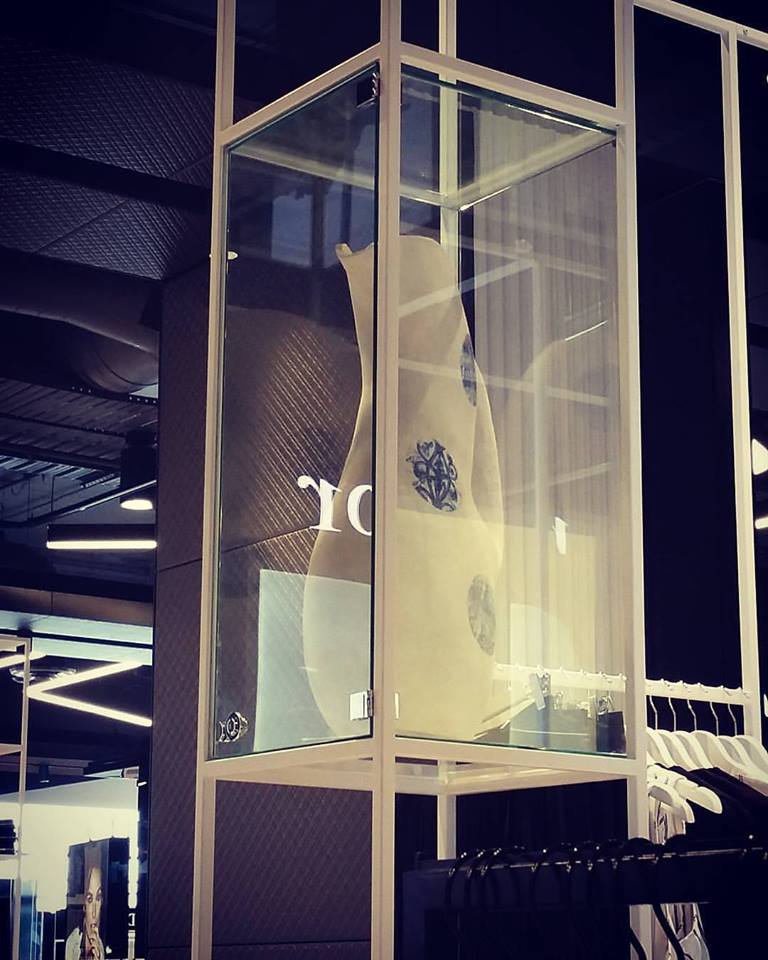 On her Convex Mirrors
"The mirrors are made entirely of clay. They are hand carved and modeled in one piece. The surface treatment used is a glossy silver glaze for the convex mirror and blue dry glazes for the frame area. They are designed to hang on the wall as a normal mirror would.
My first series of small mirrors were inspired by a calming lake in Lennox Head, (Lake Ainsworth) that I used to swim in with my children. The Lake has no access to the sea so is very still and reflective. The water in the lake is black or cola coloured from the surrounding tea-trees and the convex mirror shapes reflect a miniaturised image of the surrounding space.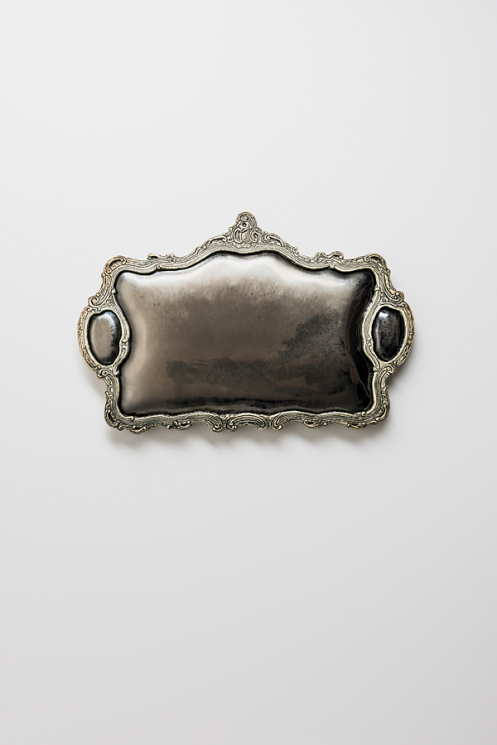 The ornamental medieval, renaissance and baroque frames allude to transitions of time. Figurative images on the frames are characters and stories found in late medieval and renaissance imagery or paintings where dark convex mirrors symbolise ideas about morality and identity. Many cultures invented their own potable mirrors in polished obsidian and metal.is nicknamed the 'Coca-Cola' Lake. These smaller mirrors had a dark reflective glaze that was inspired by the lake and the history of mirrors.
Michelle was also part of the 2016 Meroogal Women's Art Prize, where her ceramic work 'Blue Mirror' was selected as a finalist.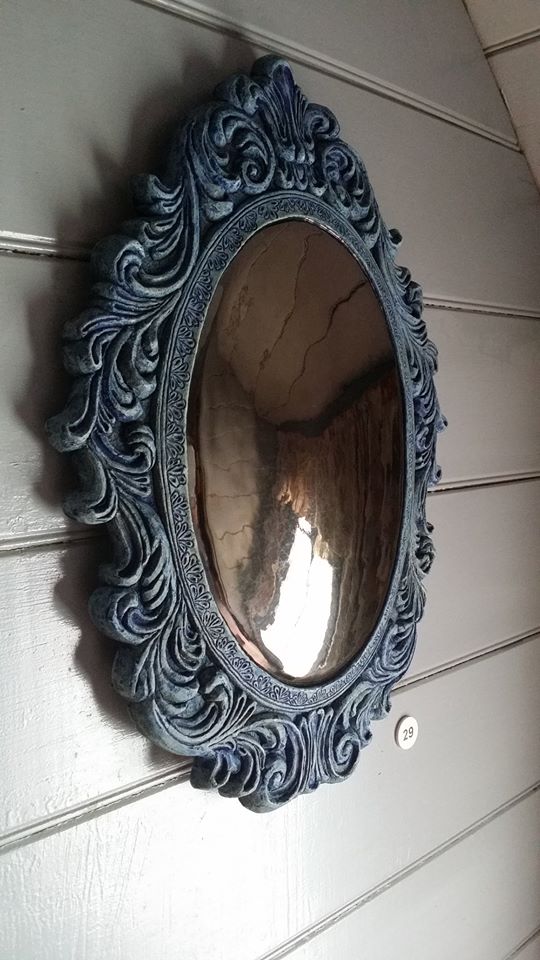 Michelle was one of the Artists who took part in the 2015
On Islands Festival at Eramboo
where artists were asked to respond to the notion of 'On Islands'.
Her work for On Islands - Currents of Memory: an installation of one hundred ceramic miniature canoes displayed on crushed glass. The canoes had inlays of archetypal figures within the vessel offering a medium to enter a collective memory. Michelle was also at Eramboo in 2011 for Unfurl, (Renaissance portraits).
Her third sojourn at Eramboo Artist Environment is the result of securing another residency.

In January 2018
Michelle Perrett was awarded the Northern Beaches Council and Eramboo Artist Environment six month residency. The residency included free non-residential studio space, a stipend of $2000, and artistic support at Eramboo Artist Environment to research, experiment and develop new work.
Michelle researched threatened plant species and created a series of sculptural works in porcelain.
On Saturday September 8th these works will premiere as '
Porcelain Flowers: Michelle Perrett
' and form part of an extended all the way to Eramboo Manly Arts Festival 2018 -
Program available to download here
. All are welcome to the opening and other events focused around Michelle's new solo exhibition - details below.
A little more about Michelle:
Where and when were you born?
September 19th, 1964, at Mona Vale Hospital.
Where did you grow up and what did you do for fun?
I grew up on the Northern Beaches, body boarding at Avalon Beach and going out and to the beach with my friends. Then trained as a registered Nurse at Mona Vale Hospital.
When did you first understand you liked working in the Arts and what was your first creation?
I wanted to make art from the start at high school and drew pictures at North Avalon Rocks pools.
I started printmaking and photography following high school and then started doing ceramics at City Art Institute in Paddington, now Art and Design. I found working with clay more direct and loved the immediacy of making handmade objects with clay.
What clay do you prefer working with and why?
I'm using Porcelain for this project because of the fine and smooth quality of the porcelain clay. It is suitable for the techniques involved with making the small and delicate components for the flowers.
Your previous bodies of work about hospitals, maternity and women's histories – how do you choose a subject to focus on?
I was influenced by my nursing experiences and hospitals as I was concurrently working as a nurse and doing my art studies. At the moment I'm looking at survival generally through flowers in and around Ku ring Gai Chase National Park and focusing on nature and our relationship with it.
Which among these have presented the most challenges to you as a person/artist and in the execution of the work?
Presenting the work in ways that portray my ideas effectively, for example making work about hospitals was difficult because of the contradictions of healing and suffering. I try to focus on my own personal experiences when making art work.
Do you have personal favourites among prior works – if so, what are they and why?
This current project is the most satisfying and enjoyable. It's close to my heart and will be ongoing. I loved making mirrors about women's histories and large ceramic vessels in France in the past.
Installation works – what does this mean and where have you done these?
I did installation work as part of projects curated by Eramboo such as
'Art in Odd Places'
making temporary stencil art works about architecture and culture on the walkways at Manly and Dee Why beach fronts. Installations refer to making work for a specific area or making coherent work in a gallery to transform the gallery.
What is the TAFE NSW Northern Beaches Open Studio Ceramics programme and how did you become part of that?
This programme is run by Chris James at Northern Beaches TAFE at Brookvale. There is a vast opportunity to study ceramics at all levels there. I completed the Advanced Diploma in Ceramics and then did Open Studio. The Open Studio is for students doing a self-directed project. The student utilises the ceramic facilities such as kilns and work areas and is mentored by a highly trained and experienced teacher.
You won the 2018 Residency for an Artist at Eramboo and have just finished – the works will be opened September 8th in 'Porcelain Flowers: Michelle Perrett'. What is at the heart of the work focused on in this six month project?
Interacting plant populations around early expanding local areas became fragmented and restricted to reserves and National Parks. My work looks at stunning indigenous flowers and the cultural histories of Garrigal land. Diminished, rare and threatened plant species in the National Park I have been engaged with are Native Rose Boronia (Sydney Rose), Darwinia Procera, Midge Orchids and Grevillea Caleyi (at the Baha'i Temple) as well as others including Waratah, Bush Iris, Wreath Flower, Bottlebrush, Dog Rose, Little Flannel Flower, Mountain Devil, Boronia, Tea Tree Flowers and Crowea (Saligna).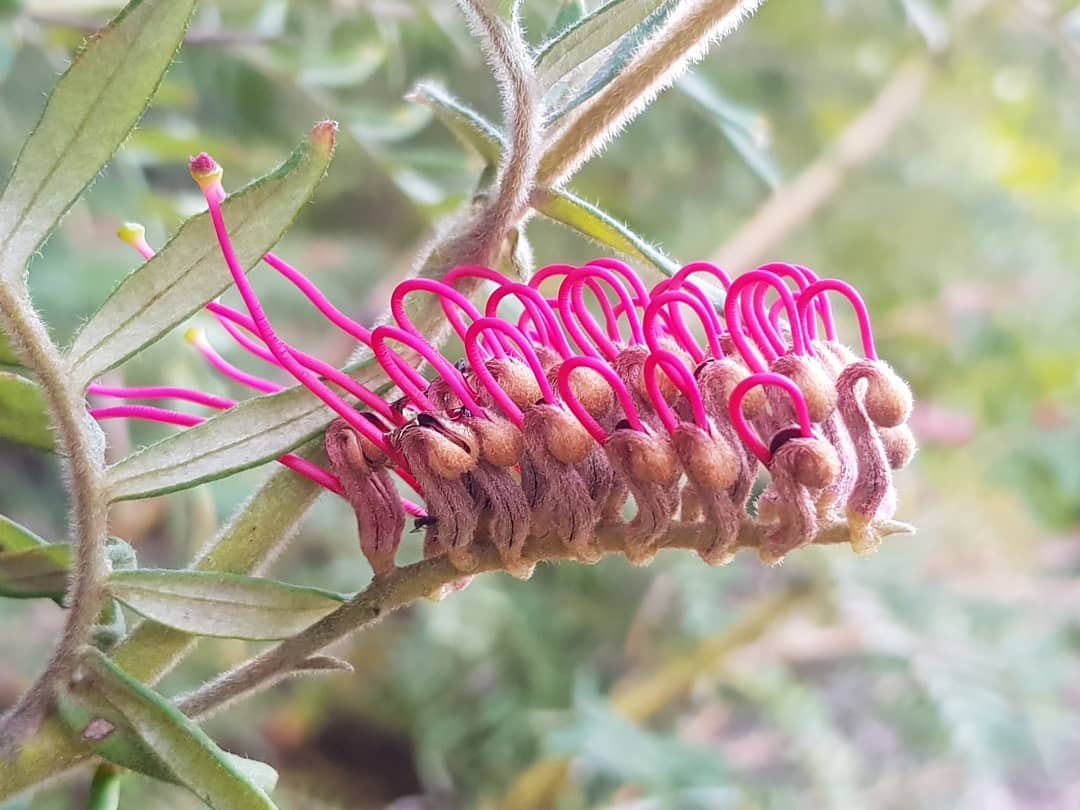 Grevillea Caleyi - photo by Michelle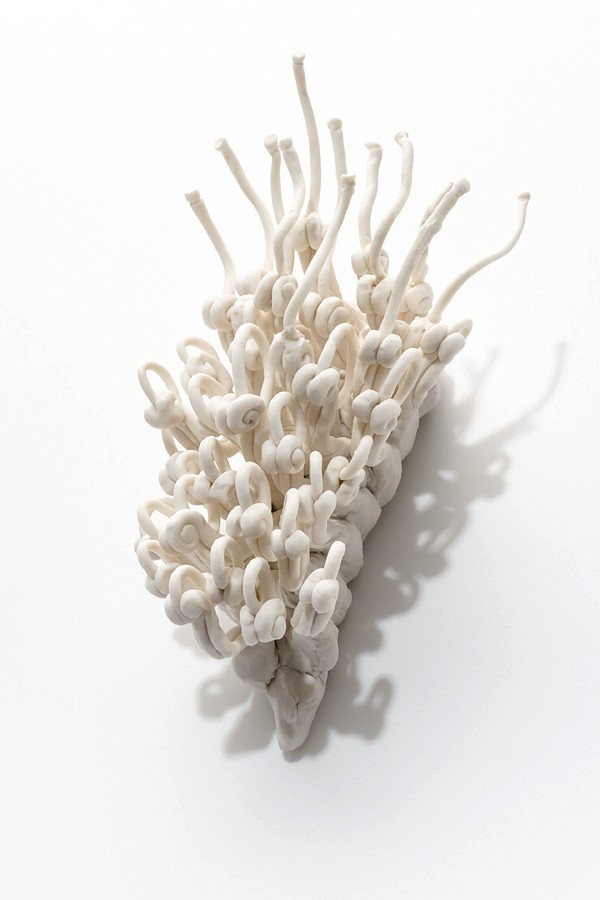 Grevillea Caleyi - photo by
Greg Pipe
How may people acquire one of your works for themselves?
People contact me through FB, Instagram or via my Website and we usually discuss what work they want before acquiring it.
What are your favourite places in Pittwater and why?
Avalon Beach rock pools and the surf because I grew up there and returned here after living in France and the Far North Coast and felt it was my home. I also love Stand Up Paddling across to the National Park from Clareville.
What is your 'motto for life' or a favourite phrase you try to live by?
Don't give up!
Porcelain Flowers: Michelle Perrett
8-16 September, Sat, Sun, 10am-4pm,
Weekdays By Appointment
Porcelain Flowers is a solo exhibition by artist Michelle Perrett, the culmination of a body of work she created, and research she undertook, during her 2018 six month artist residency award at Eramboo, sponsored by Northern Beaches Council.
Michelle employs ceramic techniques to create a series of finely detailed handmade porcelain sculptures that echo botanical illustrations.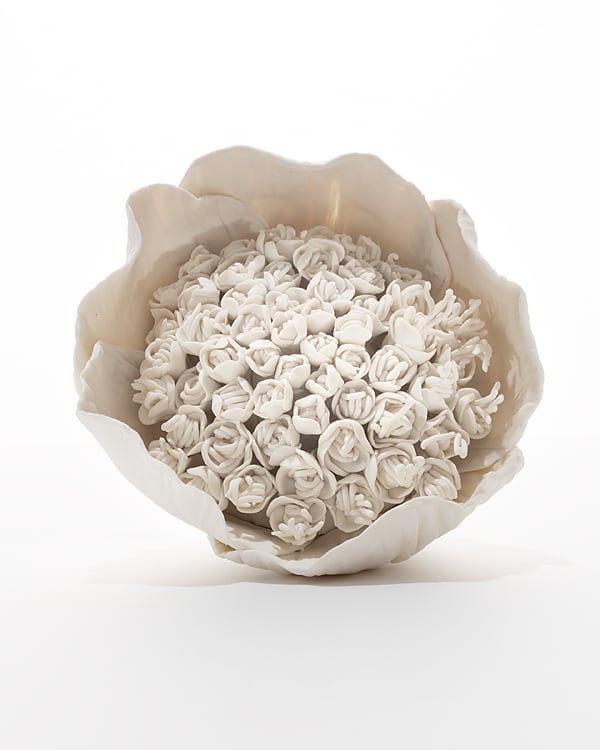 Ceramic flower/Lumina porcelain.
Based on bottlebrush buds.
In her exhibition isolated 'cut flower' forms take on metaphysical qualities and investigate our cultural relationships with the environment. Her delicate sculptures respond to the history of threats to native plant species and their survival within the unique ecosystems of Ku-ring-gai National Park. The exhibition showcases the medicinal powers of its flora and the economic and ornamental narratives of the indigenous flowers of Garrigal land across tens of thousands of years.
Please join us for the opening celebration
Saturday 8 September, 2.00-4.00pm
Michelle Perrett presents Porcelain Flowers, an exhibition of exquisite ceramic sculptures created during her six month artist residency award at Eramboo Artist Environment, sponsored by Northern Beaches Council. Her delicate works respond to the history of threats to flora within the unique ecosystems of Ku-ring-gai National Park and explore the mystical qualities, medicinal powers and economic narratives of the indigenous flowers of Garrigal land.
Porcelain Flowers Q and A with Michelle Perrett and Greg Stonehouse
Hosted by Eramboo Director, Greg Stonehouse, artist Michelle Perrett discusses the body of work she created for her solo exhibition, Porcelain Flowers, research that she undertook and her experiences during the six month artist residency award at Eramboo, sponsored by Northern Beaches Council.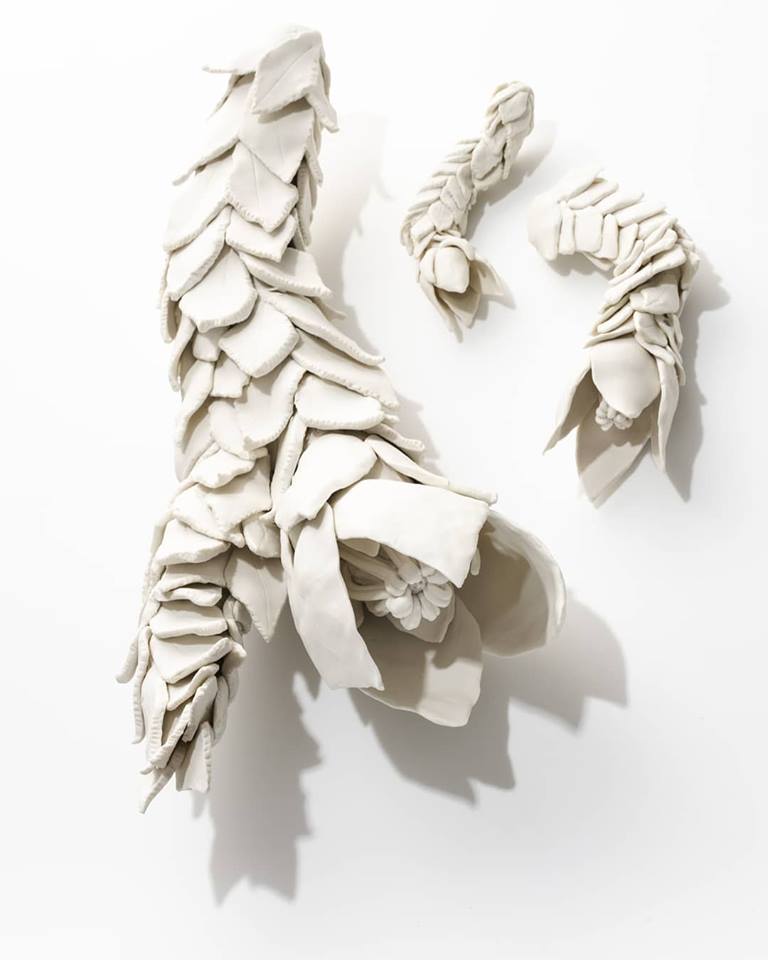 Sydney Rose

Friday 14 September, 10-12
Artist Michelle Perrett's focus during her residency award was researching plant species around Ku-ring-gai Chase National Park including field trips with Dr Suzanne Schibeci, lecturer at the faculty of science, UNSW. Join Michelle and Suzanne for a unique guided walk and talk discussing and examining the plant communities, life cycles and cultural histories that informed the body of work Michelle created for her solo exhibition, Porcelain Flowers.
Meet at the Resolute Picnic Area, Ku-ring-gai Chase National Park. Park fees apply, byo hat, comfortable shoes and optional picnic lunch. Free event.
Sunday 16 September, 2-4pm
Artist at Work: Michelle Perrett Open Studio @Eramboo
Join artist Michelle Perrett as she opens her studio, shares the creative processes behind making a body of work in ceramics and discusses her residency experiences. Michelle was the recipient of the 2018 Eramboo Residency Award, sponsored by Northern Beaches Council.
Eramboo Artist Environment
All photography credits for large ceramic flower images: Greg Pipe