October 11 - 17, 2015: Issue 235
Keeping Company: Saltwater + 'Metamorphosis'
2015 at Manly Art Gallery and Museum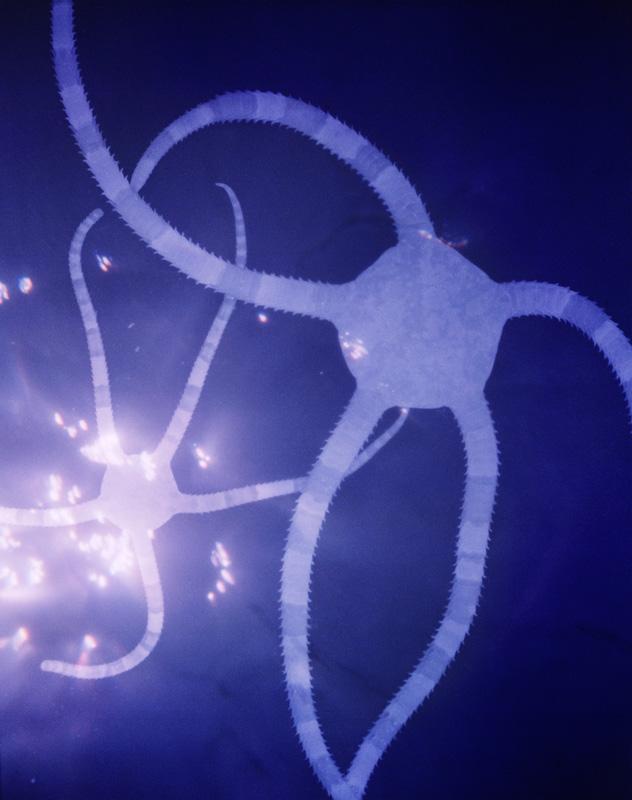 Tim Hixson, Undine (female spirit of the water world), 2015, archival ink jet print
KEEPING COMPANY: SALTWATER - new works by 45 Northern Beaches artists
To celebrate the vibrant arts community of Sydney's Northern Beaches, Manly Art Gallery & Museum is showcasing new art works by 45 established and emerging Northern Beaches artists.
To be opened by ABC presenter James Valentine ('The Mix' and 702 ABC Sydney) at 6.00 — 8.00pm on Friday 30 October 2015, the exhibition titled 'Keeping Company: Saltwater' explores works across a wide range of art disciplines and media.
The exhibiting artists, most of whom are members of the Manly Art Gallery & Museum Society, have taken inspiration from a single theme - Saltwater.
"The concept of 'Saltwater' has been a recurring area of interest for Manly Art Gallery & Museum throughout 2015 and was chosen to reflect the multiple possibilities and perspectives of saltwater as an idea, a metaphor, a possibility, a physical place and as a cultural presence," said Senior Curator Katherine Roberts.
"This dynamic exhibition of works aims to support and encourage creativity on the Northern Beaches and for the promotion and exposure of artists within our region. Keeping Company is a biannual exhibition project. Of the ninety five artists who submitted a creative concept, forty five artworks were chosen."
'Keeping Company' draws on works including photography, painting, drawing, printmaking, sculpture, glass and ceramics, most of which will be for sale.
Membership of the Manly Art Gallery & Museum Society has grown significantly over recent years and now stands at around 600 members. It plays a vital social and fundraising role for the Gallery.
"The Society Committee enjoys the support of its large membership drawn from around the region and is committed to the development of artists, audiences and the collection through its diverse programs," said Society President, Julia Davenport.
"Society members contribute to Gallery life in numerous ways and add immeasurably to the richness of the Northern Beaches' art community. Funds raised by the activities of the Society assist with the conservation and purchase of artworks for the Gallery's impressive collection of paintings, ceramics, prints and photography."
The exhibiting artists are: Mary-Anne Barnes, Alyson Bell, Sandy Bliim, Joao Carraro, Patrick Carroll, Helen Clare, Cherry Corr, Jan Cristaudo, Suzanne Davy, Peter Dittmar, Jill Ferrall, Amanda Fuller, Libby Gilkes, Jacqui Giuliano, Trudy Goodwin, Angela Griffiths, Bernd Heinrich, Tim Hixson, Lisi Klein, June Lahm, Chris Langlois, Nettie Lodge, Roslyn Lowe, Dana Lundmark, Debbie Mackinnon & Fiona Verity, Richard Magee, Lisa Marshall, Sally Mayman, Eunice McAllister, Sarah Mufford, Adrienne Overall, Anne Palmer, Liz Pasqualini, Evert Ploeg, Suzi Poland, Jenny Pollak, Sallie Portnoy, Many Pryse-Jones, Karen Stuart, Angela van Boxtel, Mirre van Dalen, Lilli Waters, Jessica Watts, Michelle Wilkinson, Sandra Williams
Saltwater Forum - Sunday 1 November, 2 - 4pm
Join the panel discussion on the possibilities and junction of art and science with a focus on the cultural, scientific and creative meaning of saltwater, with speakers Dr Lisa Roberts (Visiting Fellow, UTS and Visiting Scientist, Australian Antarctic Division), Will Glamore (Principal Research Fellow, UNSW Water Research Laboratory), Karen Smith (Education Officer at the Aboriginal Heritage Office) and artist Evert Ploeg. This project is supported by the D.I.G. (Dream. Inspire. Grow) Manly Sustainability Program at Manly Council.
RSVP: 9976 1421 or artpallery@manly.nsw.gov.au
Artists in Conversation - Sunday 15 November, 3- 4pm
Senior Curator Katherine Roberts leads a conversation with the exhibiting artists about how they approached the exhibition concept and their creative processes through to realisation of the artworks.
High Tea for Artists & Friends: Sunday 29 November, 3 - 4.30pm
Artists, friends and visitors are invited to join us for afternoon tea to meet fellow artists on the final day of the exhibition.
Manly Art Gallery & Museum, West Esplanade, Manly
Exhihition launch: Friday 30 October 2015, 6 - 8pm
Exhibition dates: 30 October - 29 November 2015
Opens 10am - 5pm Tuesday- Sunday.
Entry: Free
Ceramics artists are all fired up about exciting career 'Metamorphosis'
Manly Art Gallery & Museum is excited to host an exhibition of ceramics by fourteen Northern Sydney Institute TAFE NSW students graduating this year from the Advanced Diploma in Visual Arts (Ceramics) at Northern Beaches Campus in Brookvale. It is the culmination of the artists' journeys to achieve excellence in their ceramic practices.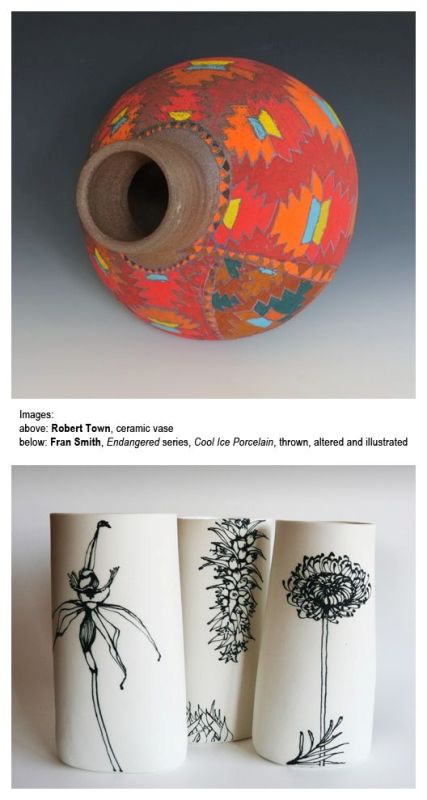 The exhibition will be opened by ABC presenter James Valentine ('The Mix' and 702 ABC Sydney) at 6.00 — 8.00pm on Friday 30 October 2015, and is titled 'Metamorphosis'.
"The idea of 'Metamorphosis' is especially apt for these 14 exciting artists as they transition to the world of professional art practice," said Senior Curator Katherine Roberts.
"We feel very privileged to accompany them on this part of their journey."
"Clay is such a seductive material with many possibilities for manipulation and expression, leaving students' individual mark and personality of the completed work. Each artist has drawn on his or her personal history and perception of the world to create the body of work," said their teacher Walter Auer.
The exhibiting artists are Tony Schlosser, Roslyn Lowe, Robert Towns, Maggie Paradysz, Michelle Perrett, Kara Pryor, Johanna Hildebrandt, Jenny Wiggins, Gorgi Armen, Libby Gilkes, Carleen Devine, Mark Daniels, Lorna Ashfield-Mitchell and Frances Smith.
Manly Art Gallery & Museum has over many years gathered an important collection of Australian ceramics, and often presents exciting exhibitions of contemporary Australian ceramics.
"The gallery's collection of Australian ceramics traces the development of styles and techniques in Australia since 1945," said Senior Curator Katherine Roberts.
"This latest exhibition demonstrates Manly Art Gallery & Museum's commitment to supporting regional artists and further highlights the importance of ceramics to the visual artists."
Through its active acquisitions program and donations, the Gallery's collection has become one of Australia's most significant ceramic resources, totalling more than 350 works and representing many key artists.
Exhibition dates for 'Metamorphosis' are 30 October to 29 November 2015.
Artists in Conversation Sunday 8 November, 3 - 4pm
Join several of the artists in conversation with exhibition curator Katherine Roberts to hear about their ideas, techniques and development of their bodies of work.
Manly Art Gallery & Museum, West Esplanade, Manly
Exhibition launch: 30 October 2015, 6 - 8pm
Exhibition dates: 30 October — 29 November 2015
Open: 10am - 5pm Tues- Sun
Entry: Free