June 12 -18, 2022: Issue 542

Local Efforts Have Cut Plastic Waste On Australia's Beaches By Almost 30% In 6 Years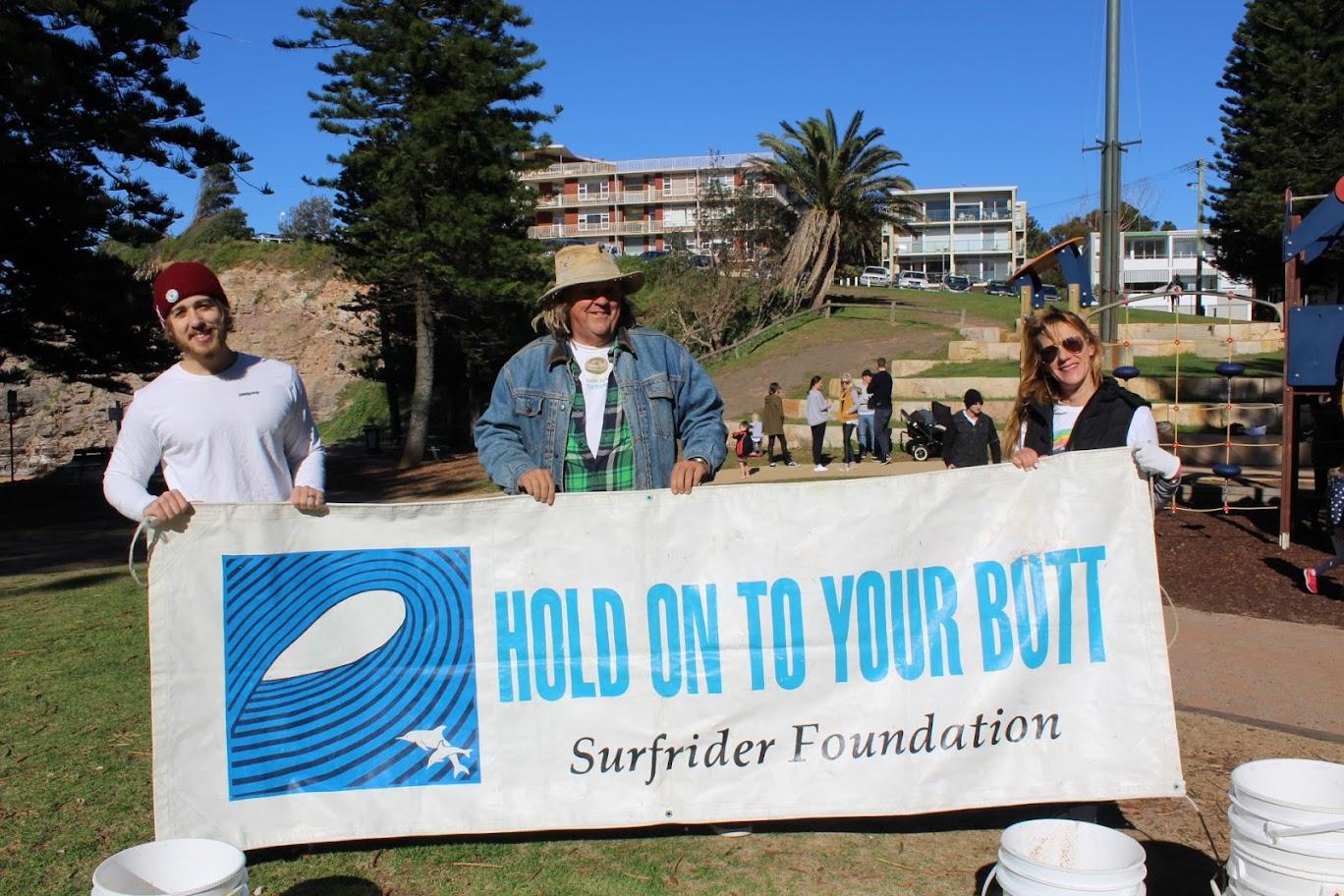 Northern Beaches Surfrider Foundation members Brendan Donohoe (middle) with Jesse and Rowan Hanley - who organise Beach Clean Ups and have campaigned for a plastics ban in NSW. A J Guesdon photo
By Britta Denise Hardesty; Senior Principal Research Scientist, Oceans and Atmosphere, CSIRO, Chris Wilcox; Senior Principal Research Scientist, CSIRO, Joanna Vince; Senior lecturer, University of Tasmania, Kathryn Willis; Marine Socioecologist, University of Tasmania
It's common to hear about large amounts of plastic waste floating around our oceans. But while the problem of plastic waste is growing globally, in Australia it's going the other way.
This is because most plastic rubbish we find on Australia's beaches comes from us, not from other countries. Our new study shows local efforts in waste management have worked, reducing coastal litter by 29% over the last six years.
We found the greatest reductions in litter in the environment when it was simpler to access bins or when people were motivated through economic measures. In essence, these actions either save time or money for people trying to dispose of waste appropriately.
What doesn't work? Awareness raising without tools or infrastructure to back it up. Messages and reminders don't work if there are no options at hand.
Global issue, local solutions
Plastic pollution is a global crisis harming wildlife, economies and livelihoods. The recent signing of the Global Plastics Treaty has added momentum to the world's efforts to cut the estimated 6-12 million tonnes of plastic waste entering our oceans every year.
But we still know little about practical ways of cutting the amount of plastic entering the environment outside of rhetorical campaigns to ban plastic.
To find out what works, we focused on local governments. Councils are well placed to tackle the problem, as they are typically at the coal face of waste management. Councils collect and dispose of our waste while also dealing with illegal dumping and litter.
We undertook 563 litter surveys across 183 beaches in 32 local governments. From this, we identified actions with the largest effect on reducing coastal litter. Then we used three established theories of human behaviour to try to understand what makes these local actions successful.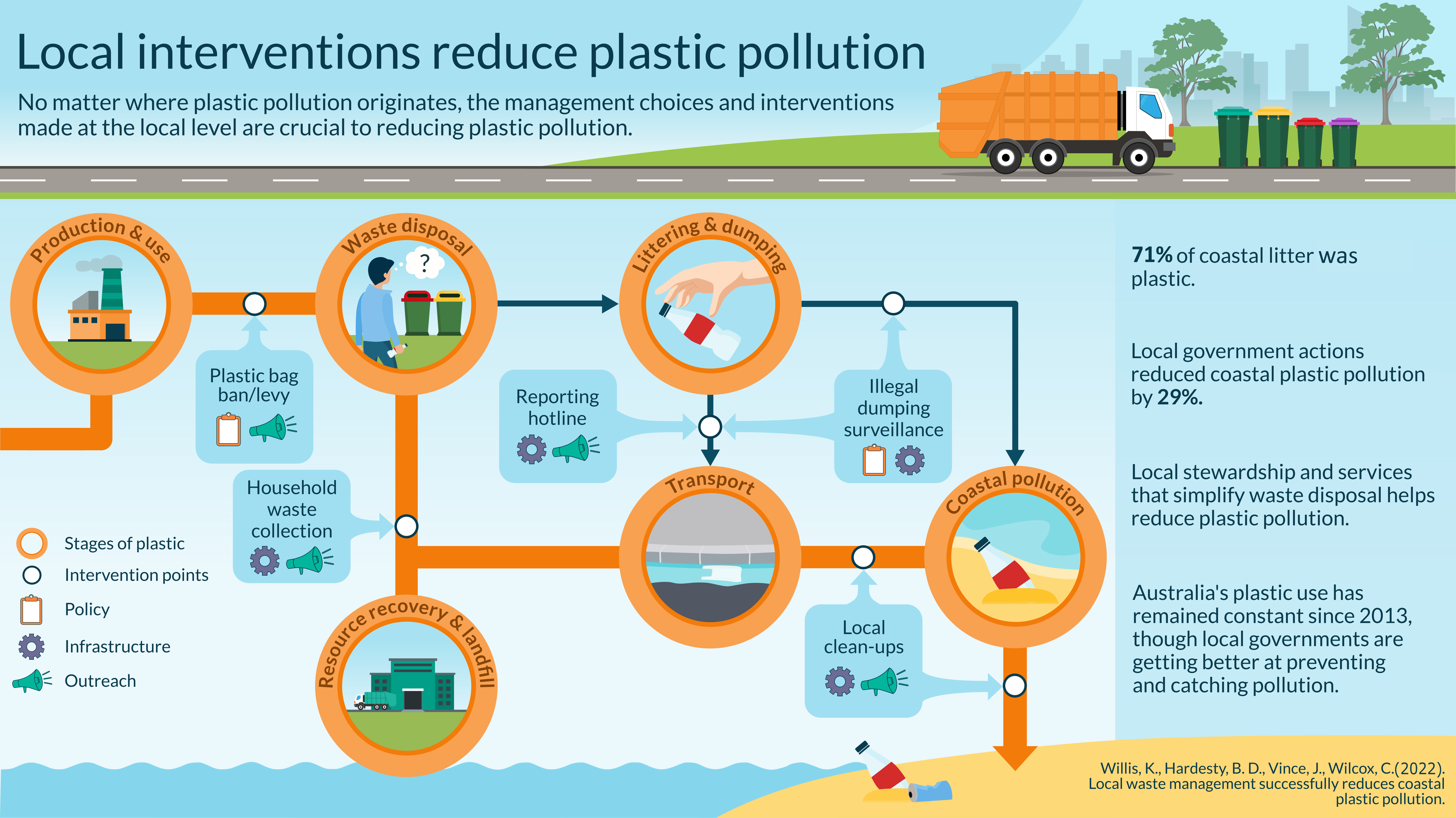 Local interventions reduce plastic pollution in the environment. Author supplied

In short, we found the most successful actions either saved time or money for people and local governments trying to dispose of waste in the right way.
We found that, in isolation, efforts to control plastic waste by targeting personal and social norms in the community did not reduce plastic litter on local beaches. This suggests a narrow focus on raising awareness will not work. But when awareness efforts are combined with tools and infrastructure, they become more effective.
Directly involving community members in clean-up activities like Clean Up Australia Day, or programs focusing on dumping and littering also helped keep our coastlines cleaner. Such programs encouraged people to watch for and report litterbug behaviour through hotlines.
Changing how we think of plastic
To keep reducing waste around Australia, we need to transform our relationship with plastic. If we stop viewing plastic as a disposable commodity and start recognising its value, it will become something too good to throw away.
One of the biggest positive local government changes we saw was the shift towards collecting different streams of household waste and recycling. Local governments and the public are moving away from a collect and dump mindset to a reduce, sort and improve approach.
Many Australian households now have three or four bins to separate glass, green waste (often with food scraps) and paper from their general waste and mixed recycling. These bins not only make it easier for us to separate and discard our waste properly, but well-separated waste and recycling streams make it easier for local governments to produce revenue from rubbish.
With Australia's recent ban on waste exports, better waste management holds clear benefits for people, communities, businesses and the environment.
Tackling litter-prone areas
Although litter is now declining along our beaches, we still have a long way to go. We've found high levels of plastic near our major cities and along remote coastlines, such as the west coast of Tasmania and the Gulf of Carpentaria. Pollution in remote areas is largely due to lost and discarded fishing gear washed up in remote areas.
By contrast, we can do a lot more to tackle hotspots closer to home, such as waterways and bushland near major population centres.
In Australia, we find more litter in socially and economically disadvantaged neighbourhoods as well as along our highways and in car parks and retail strips. By contrast, we find less in areas we associate with higher aesthetic and cultural values such as beaches and parks.
Interestingly, economically disadvantaged areas seem to benefit the most from container deposit schemes and other economic incentives. These incentives appear to shift the behaviour of litterers and create an incentive to collect containers left in the environment.
It is encouraging to know we are the main source of plastic on our beaches. We have the power to change what happens locally. We don't have to wait for global-scale action on plastics.
On this front, Australia has changed quickly and for the better. Our local governments and environmental groups can guide us to make wise decisions on waste.
OceanWatch mangroves and bay clean - Careel Bay 2012 - A J Guesdon photo
Read more:
Plastic On Australia's Beaches Cut By Almost A Third
June 9, 2022
New research by Australia's national science agency, CSIRO, shows Australian coastal plastic pollution has decreased by 29 per cent, the surprise discovery revealed as part of a broader project assessing waste reduction efforts.
CSIRO Chief Executive Dr Larry Marshall said the results showed what could be achieved with a Team Australia approach.
"While we still have a long way to go, and the technical challenges are enormous, these results show that when we each play to our individual strengths, from community groups, industry, government, and research organisations, and we take the field as Team Australia – then we can win.
"Through our recently launched Ending Plastics Waste Mission, we're each keeping a laser sharp focus on bringing together the best of ourselves across science, innovation and technology, to clean up our oceans and beaches for all Australians."
The study, published in the journal One Earth, builds upon CSIRO's extensive coastal litter surveys completed in 2013, and includes 563 new coastal surveys, and interviews with waste managers across 32 local governments around Australia.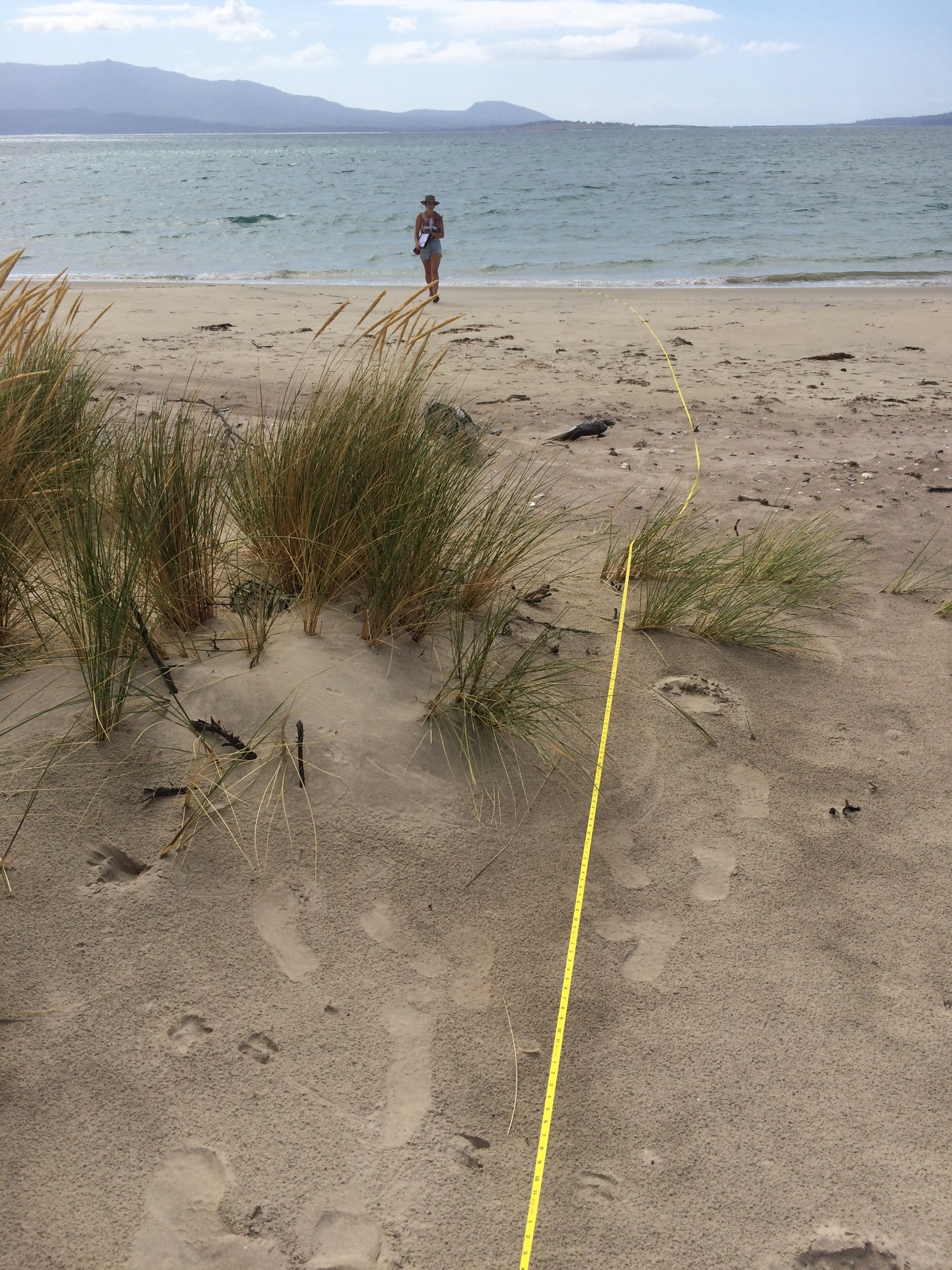 CSIRO researchers conducted 563 new coastal surveys, and interviews with waste managers across 32 local governments around Australia

Lead researcher Dr Kathryn Willis, a recent PhD graduate from CSIRO and the University of Tasmania, said globally waste control was driven at a local level, so the research focussed on identifying which local government approaches had the greatest effect on reducing plastic pollution found on beaches.
"Our research set out to identify the local government approaches that have been most effective in reducing coastal plastics and identify the underlying behaviours that can lead to the greatest reduction in plastic pollution," Dr Willis said.
"We were really surprised and excited to also find that there was on average 29 per cent less plastic on our beaches than in 2013 when similar surveys were conducted.
"Whilst plastic pollution is still a global crisis and we still have a long way to go, this research shows that decisions made on the ground, at local management levels, are crucial for the successful reduction of coastal plastic pollution."
The study sorted local government waste management actions into three categories of how to prevent poor waste disposal. These categories were based on three established theories of human behaviour. These behaviours were:
Planned behaviour

- strategies like recycling guides, information and educational programs, and voluntary clean-up initiatives help reduce coastal litter.

Crime prevention

– waste management strategies such as illegal dumping surveillance and beach cleaning by local governments yield less plastic in the environment.

Economic rationality

– actions such as curbside waste and recycling collection, hard waste collections and shopping bag bans reduce local litter.
Retaining economic-based strategies across the six-year period had the biggest effect on reducing coastal litter. More economic waste management strategies led to comparatively cleaner coastlines.
CSIRO researcher and paper co-author, Dr Denise Hardesty, said that the research showed how quickly change could happen when effective waste management strategies were deployed.
"For example, household collection services, where there are multiple waste and recycling streams, makes it easier for community members to separate and discard their waste appropriately," said Dr Hardesty.
"Our research showed that increases in waste levies had the second largest effect on decreases in coastal plastic pollution. Local governments are moving away from a collect and dump mindset to a sort and improve approach."
Clean-up activities, such as Clean Up Australia Day and surveillance programs that directly involved members of the community were also found to be effective.
"Increasing community stewardship of the local environment and beaches has huge benefits. Not only does our coastline become cleaner, but people are more inclined to look out for bad behaviour, even using dumping hotlines to report illegal polluting activity," said Dr Hardesty.
The study also showed municipalities that did not update their waste management strategies over time, or who removed their budget for coastal waste management had 'dirtier coastlines' over the six-year study period. However, municipalities that improved information about waste management on their website and increased coastal waste budgetary efforts showed significant decreases in plastic pollution along their coastline.
This research supports CSIRO's Ending Plastic Waste Mission, which has a goal of an 80 per cent reduction in plastic waste entering the Australian environment by 2030.
Kathryn Willis recently completed her PhD at the University of Tasmania and is now a Fulbright Scholar at the University of Washington. Kathryn's research was conducted with CSIRO Oceans and Atmosphere and supported by the National Environment Science Program's Marine Biodiversity Hub.
The One Earth paper: Local waste management successfully reduces coastal plastic pollution
Local Environment Groups Focussed On Cleaning Up Our Beaches - Waterways
Careel Multi Layered Coastal Assessment CMCA

South West Lovett Bay Coastcare Group

Careel Creek Cleaners Inspire A Way Forward For World Wetlands Day 2022 On February 2nd

Surfrider Foundation Northern Beaches: Surfrider Foundation Northern Beaches is a volunteer Branch of Surfrider Foundation Australia, protecting our oceans waves and beaches since 1991. Visit: http://www.surfrider.org.au/

Oceanwatch and Hawkesbury-Neapean Catchment Management Authority Healthy Waterways Clean Up Day At Careel Bay - 2012

Living Ocean's Boomerang Bags For A No Plastic Please Avalon - 2015

World Environment Day And World Ocean Day 2016: Taking Action For A Living Ocean And Living Earth Locally
World Environment Day And World Oceans Day 2018 - June 5th & 8th: For An Aquatic Community Beating Plastic Pollution Is Essential: If You Can't Reuse It - Refuse It!
Community Celebration Of Living A Plastic Free Life Sounds All The Right Notes In All The Right Directions - 2018

Life's A Beach: Finding Trends In Marine Debris Across Australia - 2021

Plastic Bag Ban Commences From June 1st In NSW: Plastic Straws + More Banned From November 1st 2022

Living Ocean Join AUSMAP Program: Call For Volunteers: 2018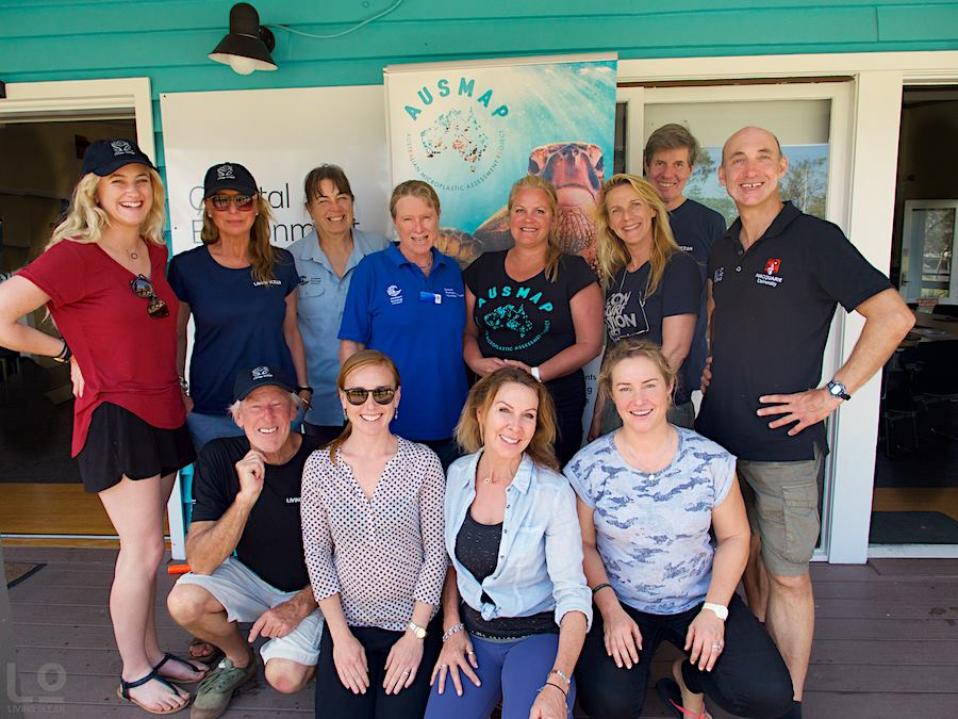 Living Ocean's No Plastic Please team attended a workshop to be accredited as team leaders for the AUSMAP program. Sensational work group with many attendants including Humane Society International Australia & Surfrider Foundation Northern Beaches.
Thanks to the brilliant dedication of Michelle Lemon Blewitt & Scott Wilson and Total Environment Centre for developing the program.
Please contact us
here at Living Ocean
if you would like to be part of our new 'citizen science' program for the northern beaches.
This will target certain areas for Pittwater/Broken Bay/Brisbane Waters and the ocean beaches.
We will be studying and monitoring certain beach and bay locations in these locations for micro plastics and the data will be peer valid for study as part of a global web to understand and control plastics in our marine environment.
This is great 'stuff' and huge move forward. Its fun, rewarding and empowering.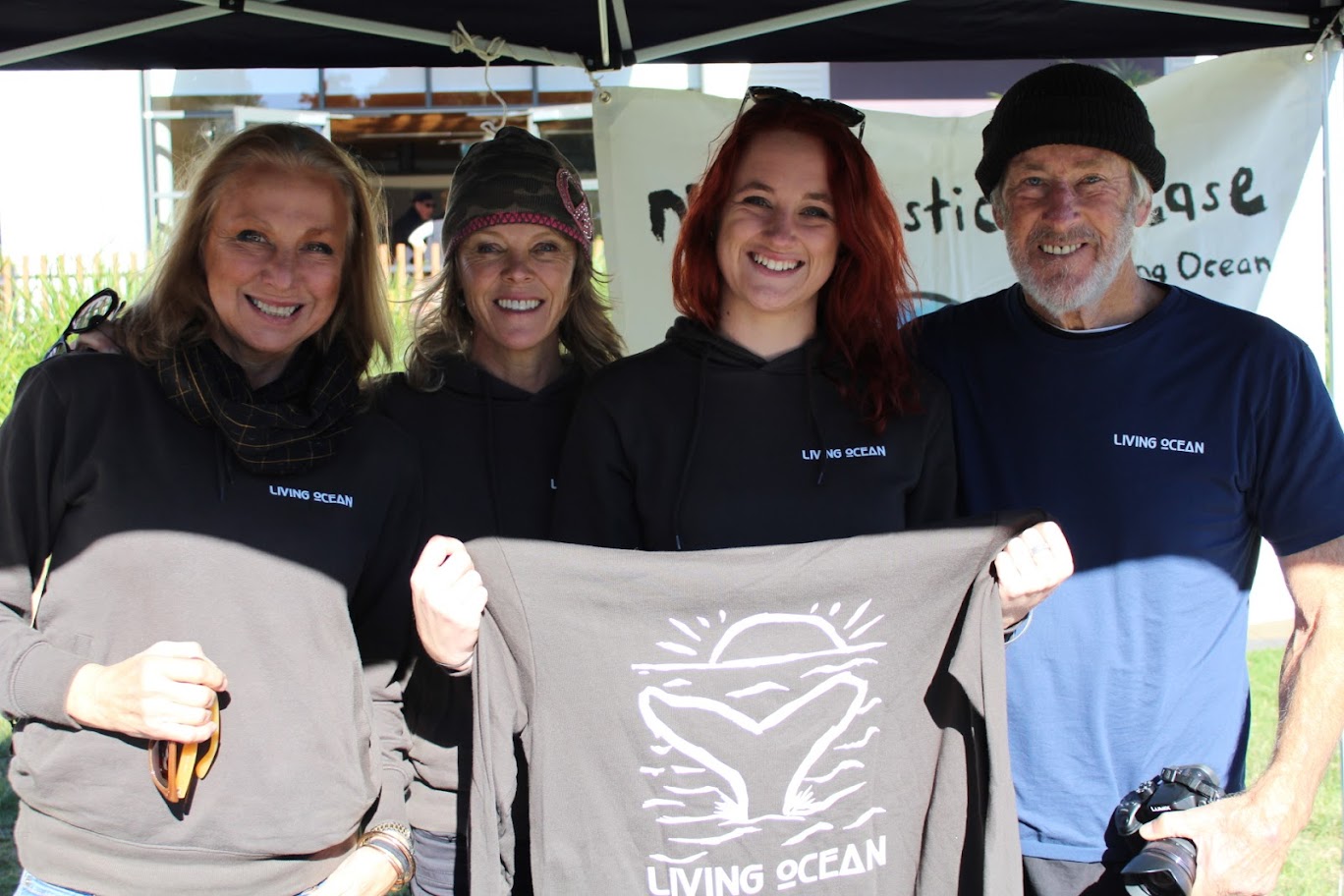 Living Ocean founding members at the launch of Avalon Boomerang Bags in June 2016 - Living Ocean have also campaigned for No More Plastics Please for years and are still focused on studying the impact of micro and macro plastics in our area - visit: Careel Multi Layered Coastal Assessment CMCA
Northern Beaches Clean Up Crew: Northern Beaches Clean Up Crew meets the last Sunday of every month at 10am to clean up a beach or lagoon on Sydney's northern beaches. See our event tab for our next clean up spot. It's a family friendly and welcoming group and feel comfortable coming by yourself too - many friendships have started in this group. (Please leave political, religious and business messages at home, so the group can stay inclusive and welcoming towards everyone.) We provide you with buckets, gloves, bags and sunscreen. Please bring water in a reusable water bottle if it's a hot day. Hope to meet you soon.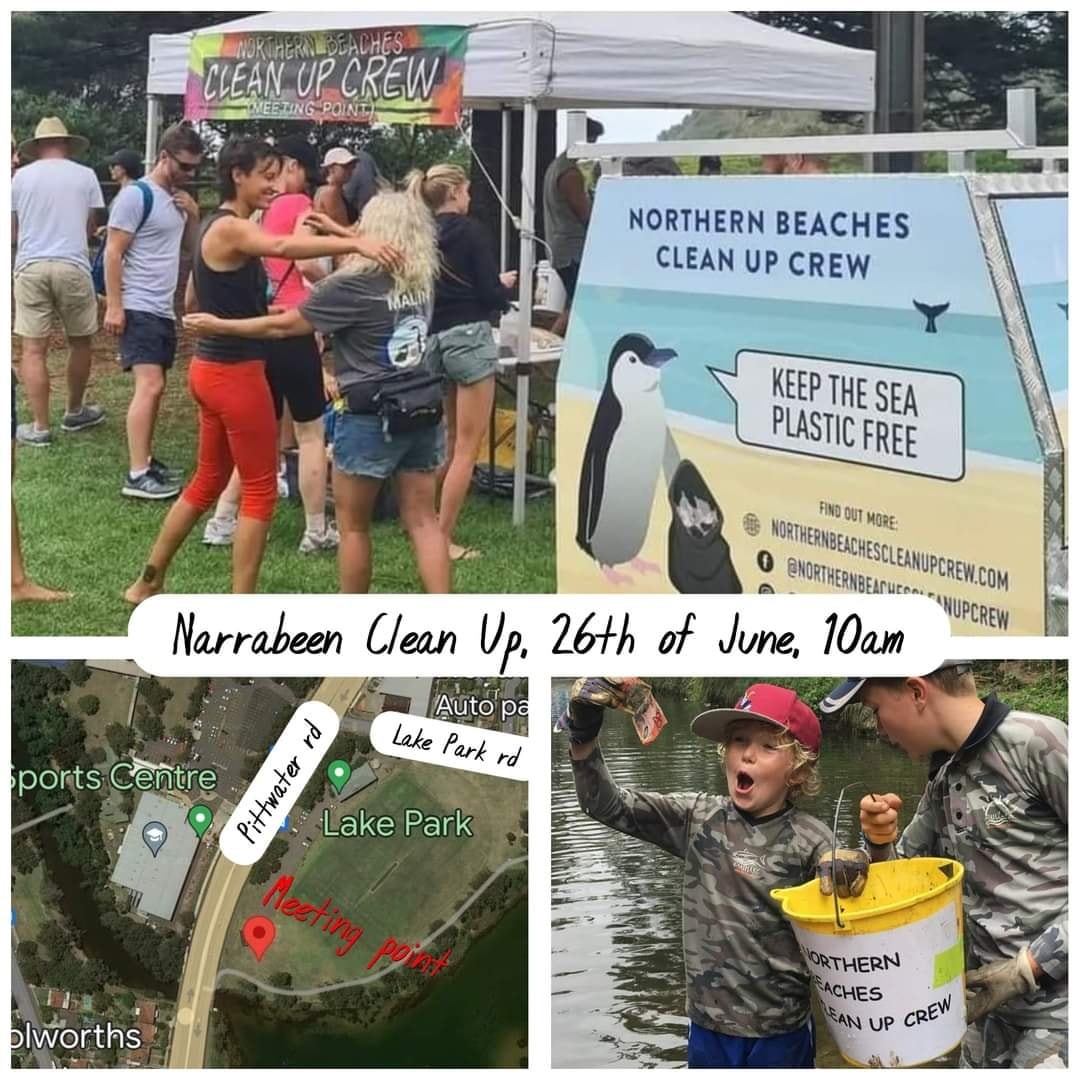 Come and join Northern Beaches Clean Up Crew for our Narrabeen Lake clean up, June 26, 2022.
We'll meet at Lake Park, at the southern end, close to Pittwater rd. For exact meeting point look at the map below. We have clean and washed gloves, bags and buckets. We'll clean up the grass area to try and catch the litter before it hits the lagoon as well as cleaning the lagoon, trying to remove as much plastic, cigarette butts and rubbish as possible. We're a friendly group of people and everyone is welcome to this family friendly event (just leave political, religious and business messages at home so everyone feel welcome). It's a nice community - make some new friends and do a good deed for the planet at the same time. Send us a message or email if you are lost. Please invite family and friends and share this event. This is a Covid safe event so everyone must please stay 1.5 meters apart if you are not in the same household. We meet at 10am for a briefing. Then we generally clean between 60-90 minutes. After that, we sort and count the rubbish so we can contribute to litter research. We normally finish around 12.30 when we go to lunch together (at own cost). Please note, we completely understand if you cannot stay for the whole event. We are just grateful for any help we can get. No booking required. Just show up on the day.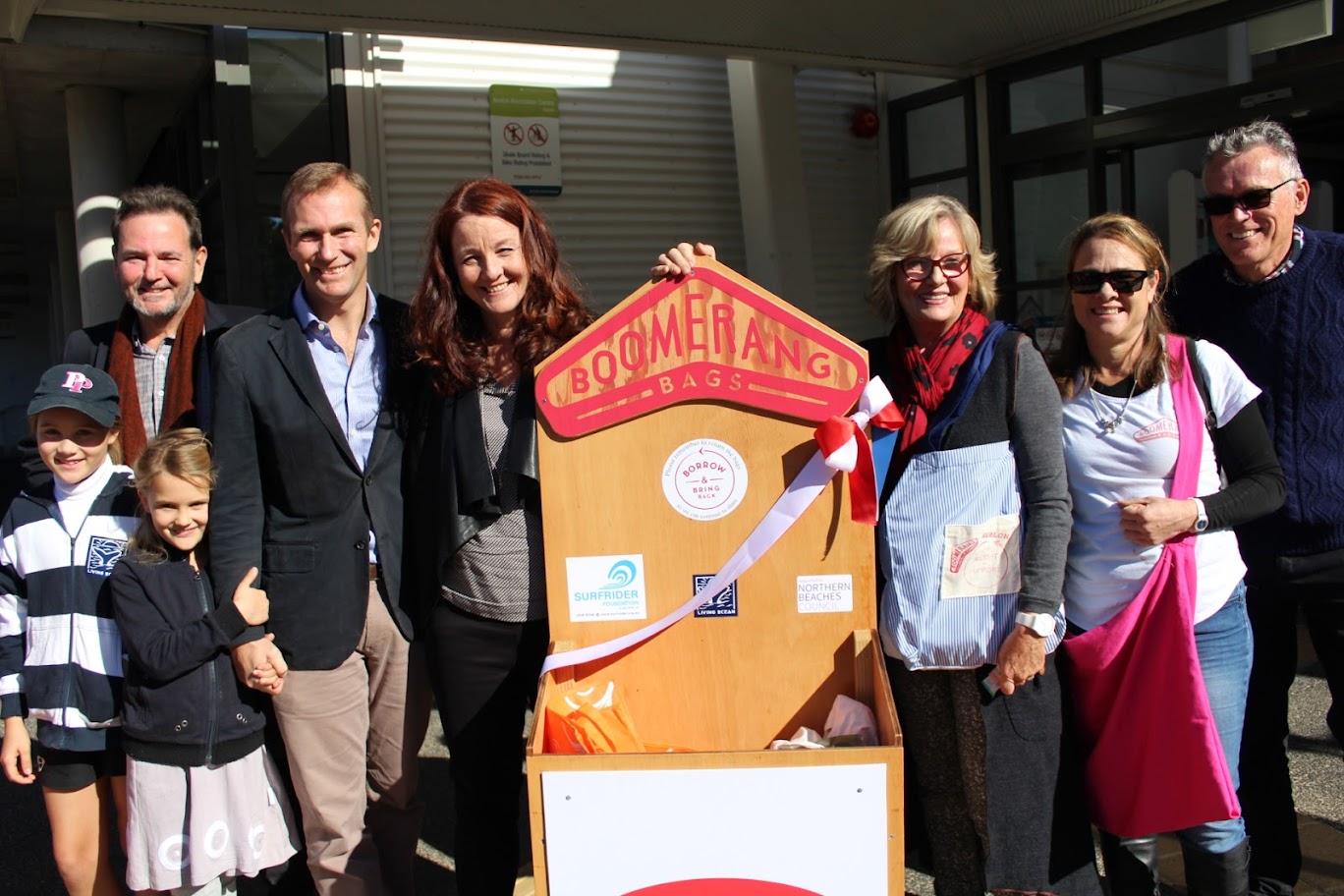 Launch of Boomerang Bags - June 2016: Picture (l to r): Hon. Rob Stokes, MP for Pittwater and NSW Minister for Planning, Former Deputy Mayor of Pittwater, Kylie Ferguson, and Laurel Wood and Kirsty Giles: the ladies then heading up Avalon Boomerang Bags - A J Guesdon photo