September 19 - October 2, 2021: Issue 511
Sydney Marine Institutes living Seawalls Project a finalist in inaugural A Royal Foundation Earthshot Prize - Reviving Our Oceans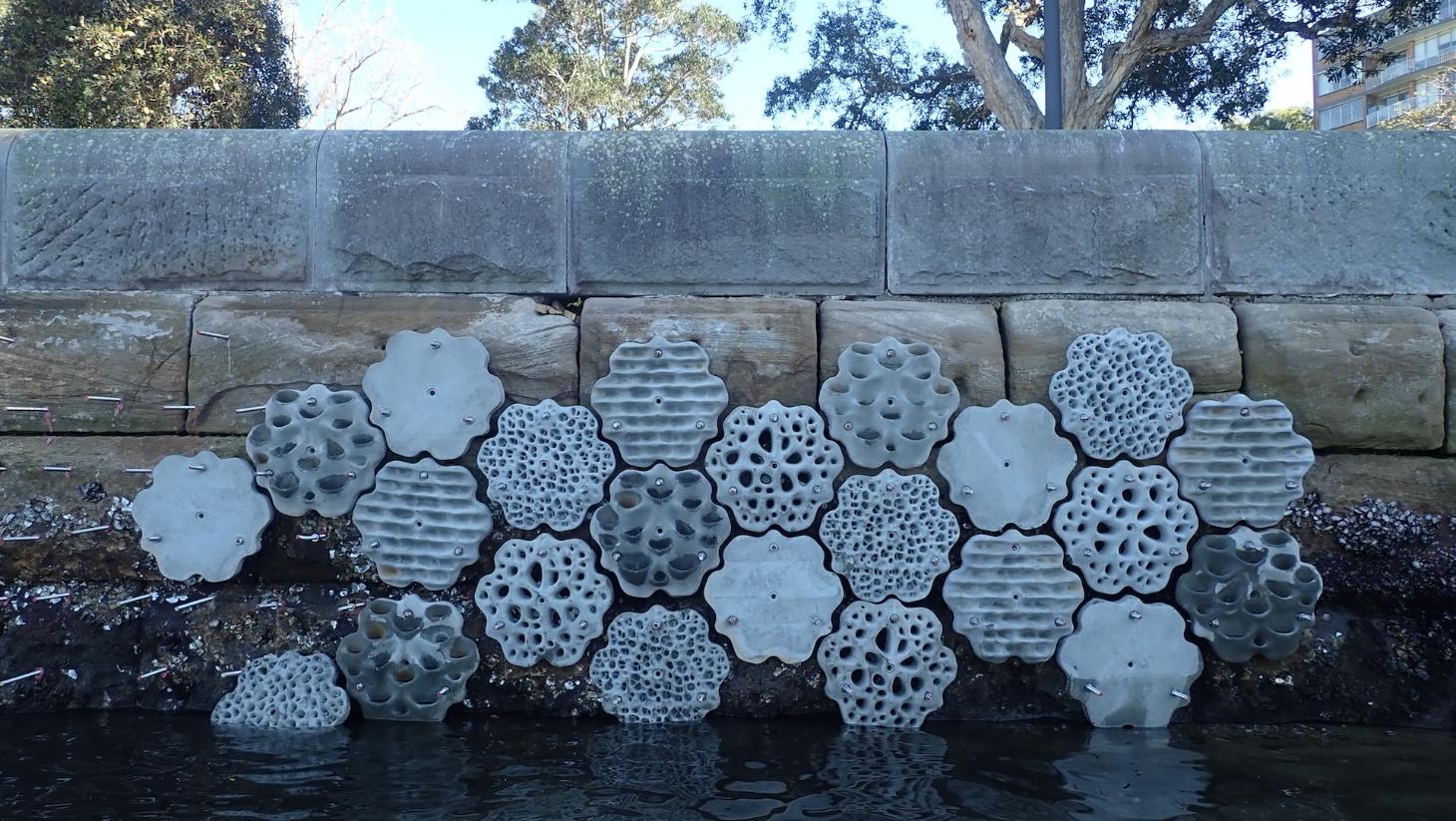 On Friday September 18th 2021 Sydney time as the Living Seawalls project
launched in 2018 by North Sydney Council
was announced as a finalist in the inaugural Earthshot prize.
The Earthshot Prize is the most prestigious global environment prize in history, designed to incentivise change and help repair our planet over the next ten years.
The Prize aims to turn the current pessimism surrounding environmental issues into optimism, by highlighting the ability of human ingenuity to bring about change, and inspiring collective action.
The Royal Foundation of The Duke and Duchess of Cambridge unites people to tackle some of today's biggest challenges, delivering impact on a range of issues that matter to Their Royal Highnesses and to society. The Royal Foundation is currently running The Earthshot Prize until it becomes its own entity by the end of 2021.
In making the announcement Prince William, Duke of Cambridge, KG, KT, PC, ADC, said, "Over half a century ago, President Kennedy's 'Moonshot' programme united millions of people around the goal of reaching the moon.  Inspired by this, The Earthshot Prize aims to mobilise collective action around our unique ability to innovate, problem solve and repair our planet.  
"I am honoured to introduce the 15 innovators, leaders, and visionaries who are the first ever Finalists for The Earthshot Prize.  They are working with the urgency required in this decisive decade for life on Earth and will inspire all of us with their optimism in our ability to rise to the greatest challenges in human history."
The Sydney Institute of Marine Science (SIMS) is committed to developing, activating and communicating the 'science we need, for the oceans we want,' throughout the UN Decade of Ocean Science (2021-2030) and beyond.

This goal requires collaboration, and SIMS is uniquely equipped to draw on the expertise of a broad diversity of skills in marine science through its partnership with UNSW Sydney, the University of Sydney, the University of Technology Sydney, and Macquarie University. SIMS research is solution focused and results in novel approaches for responding to a range of environmental challenges.
Operation Crayweed is one of SIMS' Flagship projects – a great success story where the science of restoring Sydney's underwater forests, including those at Newport, is actively shared with local communities in a way that encourages an enduring stewardship and passion for the marine environment. Earlier this year SIMS hosted the Seaweed Forests Festival at Manly.
Five of the 15 finalists will be awarded the prize and will win £1 million ($1.9 million) in funding for the best solutions of the five Earthshot goals: Protect and restore nature; Clean our air; Revive our oceans; Build a waste-free world; and Fix our climate.
A flagship project of the Sydney Institute of Marine Science (SIMS), Living Seawalls has been selected in the Reviving Our Oceans category.
The University of NSW's Dr Mariana Mayer Pinto co-leads the project along with a team of female scientists from Macquarie University and SIMS; A/Prof Mel Bishop and Dr Katherine Dafforn, Macquarie University, Dr Maria Vozzo and Dr Aria Lee, SIMS, with design expertise from Reef Design Lab, Melbourne. It is the only Australian project nominated for the prize.
Living Seawalls started in Sydney Harbour and has been figuring a solution to rising sea levels. Rising sea levels are a particularly acute problem in Australia where over 80 per cent of the population lives in the coastal zone. While sea defences protect shorelines, they are often flat structures, devoid of shelter for organisms like fish, invertebrates and seaweed.
The project is a collaboration between creative designers and marine ecologists. Its habitat panels, designed to mimic natural formations like rock pools and mangrove roots, are fitted to new or existing sea defences. As a result, life has found its way back to Sydney's shorelines. Sea defences fitted with habitat panels have 36 per cent more marine life after just two years, with further increases expected through time. More than 80 species of fish, invertebrates and seaweed thrive among the panels.
The project operates at 11 Australian locations, including Clontarf beach and Fairlight harbour pool thanks to local philanthropists Dorset Sutton and Jenny Lim Sutton, and now benefits shorelines in Wales, Gibraltar and Singapore. As a project that lies at the intersection of ecology, architecture, design and engineering, Living Seawalls is an example of how science is translated into action to repair the planet. The team has realised the enormous potential to increase the environmental and social worth of coastal structures by designing with nature in mind.
Dr Mayer Pinto said she is thrilled the project has been nominated for the prestigious prize.
"It's an honour to be nominated among the other amazing finalists in this category. This project is about enhancing the ecological value of artificial structures such as sea walls. The amount of area modified by these structures is actually bigger than mangrove forests, so they have a massive footprint on our global ecosystem," she said.
Winning the prize would help fund additional research and development into the project as well as educational programs, Dr Mayer Pinto said.
"It would also help us take the project to areas like developing countries where construction is predicted to increase and they may not have resources to do this. Ideally there would be Living Seawalls on each continent, and we could build local capacity for people to integrate it into their environments in a way that works for them environmentally, economically and culturally."
UNSW Dean of Science Professor Emma Johnston welcomed the nomination.
"The Living Seawalls project demonstrates Sydney's world-leading capacity for developing and implementing nature-based solutions to environmental challenges. Congratulations to Dr Mariana Mayer Pinto and the team at SIMS for being rightly recognised for such a critical restoration program."
Over 750 nominations were received for the prize, with 15 finalists selected from 14 countries.
All 15 finalists will receive tailored support and resources from The Earthshot Prize Global Alliance Members, a network of private sector businesses around the world who will help scale their solutions to realise an even greater impact.
The Australian Marine Conservation Society nominated the SIMS flagship program, Living Seawalls, for an Earthshot Prize.

The five winners will be announced at a ceremony on Friday 17 October in London.
In local associated SIMS news, it was announced on Thursday September 9th that 140 baby White's seahorses raised in the nursery at SEA LIFE Sydney Aquarium were released into the wild at Delwood Beach and Little Manly. The White's Seahorse, also known as the Sydney Seahorse, is an endangered species - as is its natural habitat, seagrass Posidonia beds. The White's seahorse recovery program is now in year two and has seen over 200 seahorses bred at SEA LIFE Sydney Aquarium released into Sydney Harbour.
The program brings together researchers from UTS: University of Technology Sydney, NSW DPI Fisheries, SEA LIFE Sydney Aquarium and SIMS to provide temporary hotels or SeaBnbs for the seahorses while we set about restoring their natural habitat. And best of all SeaBnB, an initiative of Taylors Wines and SIMS has created an opportunity for us all to be part of this world leading recovery conservation. Book a stay for a seahorse today at SeaBnB.com.au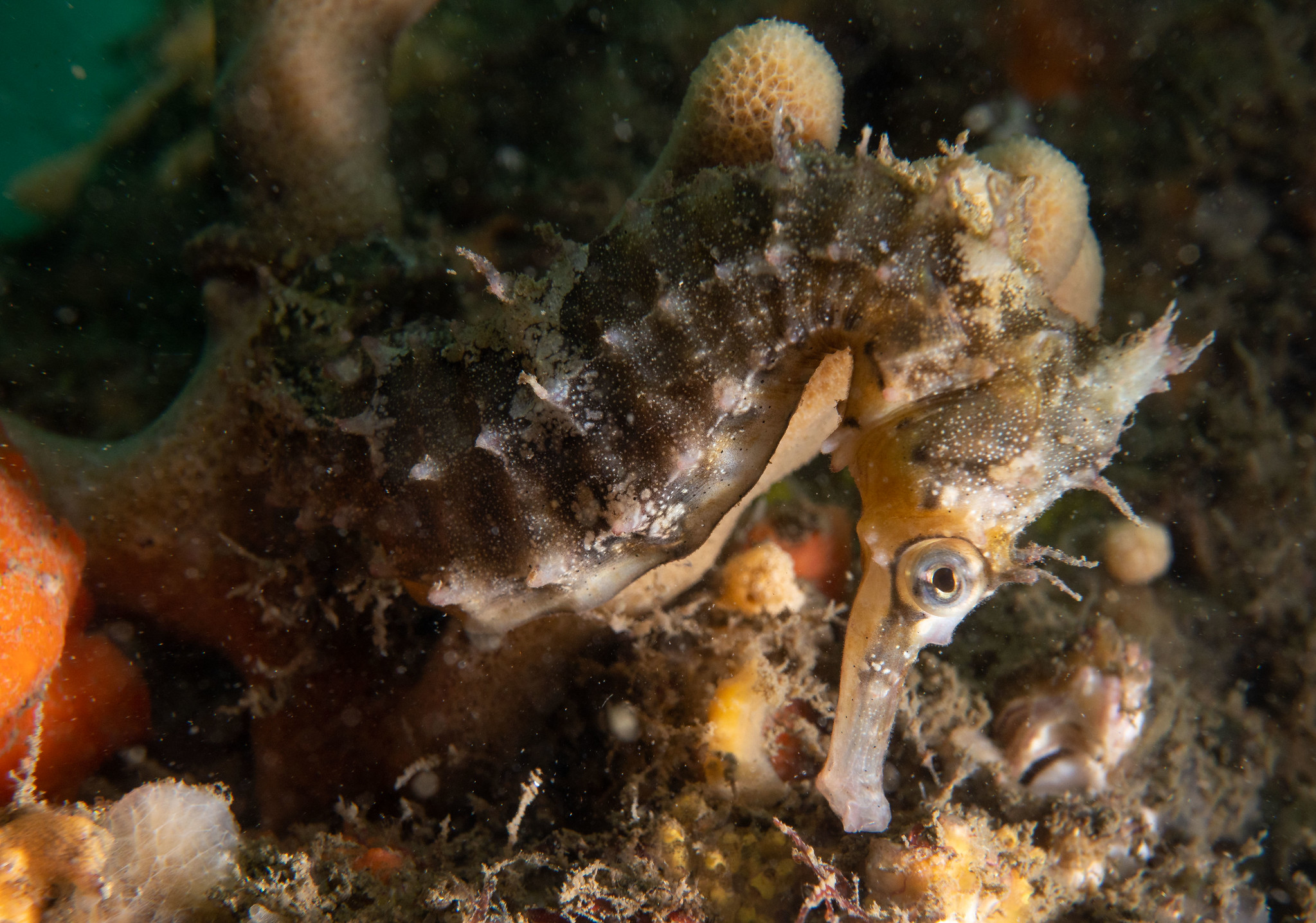 Whites seahorse, Clifton Gardens URG Xmas dive 2020. Photo: John Turnbull / marineexplorer.org