January 22 - 28 2023: Issue 568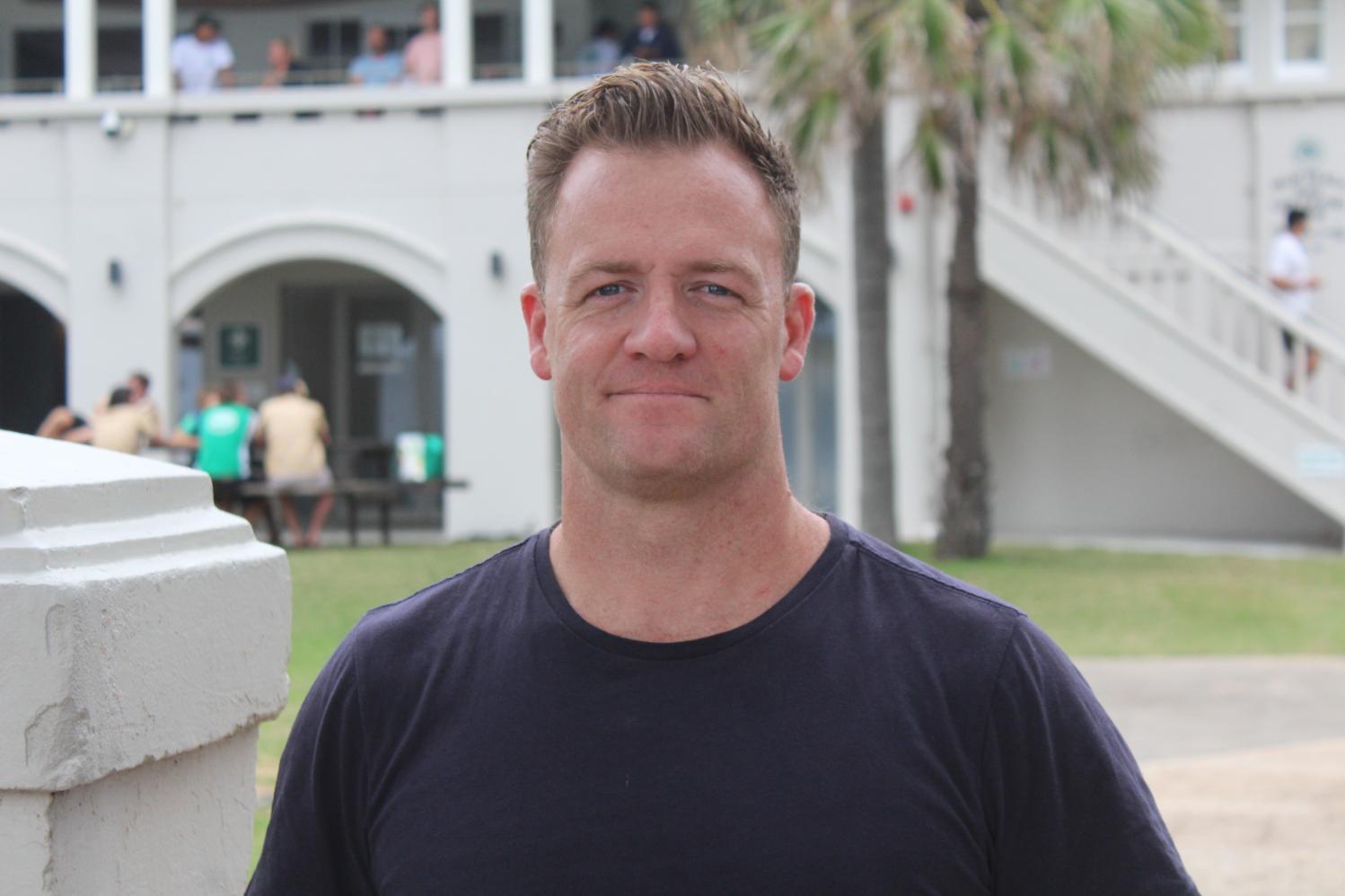 The President of the Palm Beach SLSC, Jeremy Black, has family links with Palm Beach going back generations and a strong sense of 'giving back' to community through the same. Once you understand Jeremy's ancestors have been serving the community in a variety of ways on both the paternal and maternal side, you can well understand his references to the history of Palm Beach SLSC and Palm Beach itself and his commitment to looking after the same.

Palm Beach SLSC is currently celebrating its 101st year and Season. Along with running its annual Brats, Brutes and Bruisers within club carnival, Active volunteer members are looking after residents and thousands of visitors on the beach - as they have been for a long time. Palm Beach SLSC members were behind the movement to rename the Palm Beach Pavilion to honour Lieutenant Colonel Douglas Marks DSO, MC, a WWI Veteran who tragically drowned when he went to the rescue of Johanna Rogers off south Palm Beach on Sunday January 25th, 1920.
His loss was one several occurring during those years before Palm Beach SLSC commenced:
A School Teacher Drowned.
Leila Barrett, 23, a school teacher,
was carried out by the current while surfing at Palm Beach on Tuesday afternoon, and was drowned. Miss Barrett and two friends — Miss Hegarty and Miss Cole — were staying at the Palm Beach Boarding House, about eight miles from Mona Vale. On Tuesday afternoon, while they were in the surf. Miss Barrett was suddenly swept out to sea. Her friends ran for assistance. The life line was taken out by a mile surfer, but Miss Barrett had disappeared. About half an hour later her body was washed up on the beach, but attempts at resuscitation failed. Miss Barrett resided at No. 9 Mosman-street, Mosman. A School Teacher Drowned. (
1917, December 20
).
Mudgee Guardian and North-Western Representative
(NSW : 1890 - 1954), p. 13. Retrieved from
http://nla.gov.au/nla.news-article156185205
Mr. Jamieson, Acting City Coroner, this morning conducted an inquiry regarding the death of Leila Barrett, 23, a school teacher, who was drowned in the surf at Palm Beach, near Mona Vale, on Tuesday last. In evidence Annette Hagarty stated that she, with a girl friend (Miss Cole), and Miss Barrett, went into the water together. Witness went in up to her waist, and the two others into slightly deeper water. Miss Barrett came in on the crest of a wave; but was taken back almost immediately, and appeared to be in difficulties. Witness notice Miss Cole go for the life-line, and she (witness) went to the boarding-house for help.
Messrs. Thompson and Marks came down, and Mr. Thompson went in with the life-line, but was not able to reach Miss Barrett. Later Mr. Marks recovered the body as it was being washed in by the tide. Efforts were made to restore animation, but without avail. The Coroner returned a verdict of accidental drowning. PALM BEACH FATALITY. (
1917, December 24 - Monday
).
Evening News
(Sydney, NSW : 1869 - 1931), p. 1. Retrieved from
http://nla.gov.au/nla.news-article113948710
Three men and a young women were caught in the undertow while bathing at Palm Beach. One of the former, J. V. Caldacott, returned soldier, was carried out to sea and drowned.
The others eventually succeeded in getting ashore on the rocks after a hard struggle, during which they were badly knocked about. BATHING FATALITIES. (
1918, December 12
).
Daily Examiner
(Grafton, NSW : 1915 - 1954), p. 5. Retrieved from
http://nla.gov.au/nla.news-article195550399
CALDECOTT.— A tribute of remembrance to
Gunner Jack Caldecott, accidentally drowned at Palm Beach, December 10th, 1918
. Inserted in sorrow by Gerty Seaton and Dina Leigh, Gwynd, New South Head Road, Double Bay
CALDECOTT.— A tribute of remembrance to Gunner Jack Caldecott, accidentally drowned at Palm Beach, Dec. 10, 1918. Inserted by his sorrowing comrades.
Private Jensen, Private E. Sharpe, Randwick Military Hospital.
Family Notices (
1918, December 17
).
The Daily Telegraph
(Sydney, NSW : 1883 - 1930), p. 4. Retrieved from
http://nla.gov.au/nla.news-article239571645
CALDACOTT. —
In sad but loving memory of our dear husband and father, Gunner J. Caldacott, who was drowned at Palm Beach on December 10,1918. Inserted by his loving wife, Maud Caldacott, and baby daughter, Doris.
CALDACOTT. — In loving memory of Gunner J. Caldacott, who was drowned at Palm Beach on December 10, 1918. Inserted by his sister and brother-in-law, Ellen and Harry
Wiles, and sister-in-law Louie Beckensall.
CALDACOTT. — In remembrance of Gunner J. Caldacott, who was accidentally drowned at Palm Beach, December 10, 1918. God knows best. Inserted in sorrow by Gerty Beaton. Family Notices (
1919, December 10
).
The Sydney Morning Herald
(NSW : 1842 - 1954), p. 10. Retrieved from
http://nla.gov.au/nla.news-article28093147
DROWNED AT PALM BEACH
BODY IN THE BREAKERS
A tutor, Walter A. Corry, of Whitton, was found drowned in the surf at Palm Beach late on Tuesday afternoon. He arrived in Sydney recently, and was staying with his sister. Mrs. Budge, in Holdsworth-street. Woollahra, He was a tutor at Mr. J. J. Taylor's station, Whitton, for some years. When the body was recovered the name was unknown, but Identification was established late yesterday by 'Mr. Andrew Sherard, of Whitton, in Sydney, on his way home from Victoria.
The body had not long been in the water when it was recovered. Mr. Meggitt, a resident, was walking along the beach when he saw the body in the breakers. Constable Grant, Mona Vale, was informed, and later he secured it. There was a gash on the forehead which had evidently been caused through contact with rocks. DROWNED AT PALM BEACH (1920, March 11). The Sun (Sydney, NSW : 1910 - 1954), p. 3. Retrieved from http://nla.gov.au/nla.news-article221380215
The beginnings of PBSLSC:
SURF LIFE-SAVING ASSOCIATION.
At an executive meeting of this association on Monday a good deal of business was put through. Palm Beach Progressive Association notified that they had decided to set up a complete life saving outfit, and will have an expert life saver on the beach. Assistance was asked for from the association, and it was decided to meet them in the matter. The secretary of the S.L.S.A. will confer with the Palm Beach body. ON THE BEACHES (1921, February 18). Arrow (Sydney, NSW : 1916 - 1933), p. 12. Retrieved from http://nla.gov.au/nla.news-article103430118
The President has a clear message for those who will visit this popular beach during the remainder of the Patrol Season, especially during the upcoming Australia Day public holiday, forecast to be hot and sunny.
The vista of Palm Beach along with our whole peninsula is one JB has treasured since a youngster and which has developed into his capturing through is work as The Drone Guy Aerial Photography - a combination of his passion for technology, making him among the first to use this medium, and photography itself.
JB has also worked as an Executive Producer for several networked radio programs, been a Radio broadcaster and voice over professional, Event coordinator, Fundraising specialist and is known as a great creative problem solver and even a good Musician.

The Summer in Pittwater focus continues with a chat with the President of Palm Beach SLSC.
When did you join Palm Beach SLSC?
I joined back in 1992 as a Cadet member. I was a Cadet member for 2 Seasons and then a Fresher after that.
Was there a Brats, Brutes and Bruisers Carnival then?
There was, I got to be part of the Brats team for 3 years. I think, until last year, we were one of the few teams that actually won a BBB's Carnival. We had some great members as part of our posse at that time, some of who were national swimmers or excelled in other surf sports, so we probably had a bit of an edge. The members tricks, such as waxing our surfboards with soap, made it pretty difficult for us, but we still won all that fun and games.
You are the Members President at Palm Beach SLSC this Season, what tasks do you undertake as part of that?
It depends on how good the Captain and Vice Captain and others on the Committee are, how much history and experience they hold in the club. Normally the President's role is to guide the more active members on the Committee through a Season, point out how the Club has handled certain issues in the past – this is what has worked for us, this is what hasn't - and just be that piece f history that ca sit there that they can all reflect upon. The President's role is also a shield, where there's a lot of administration work that needs to be done – correspondence, people complaining about something, people with ideas for Club centred subjects. It's also a role where I am making sure that the Captain, the Vice Captain, the IRB Captain, the Surf Activities Captain, they are able to do their jobs of looking after the beach and not get bogged down by that paperwork side of the club.
Why Palm Beach and why join Palm Beach SLSC – where does that connection stem from for you?
My family have been around the area for many many years. My grandmother, my mum's mother Valmai Pratten, had a house at Palm Beach many years ago and we used to go there for school holidays all the time. We absolutely loved it.
The Pratten family has links to Palm Beach going back generations. She was actually an Arnott, and a great granddaughter of William Arnott.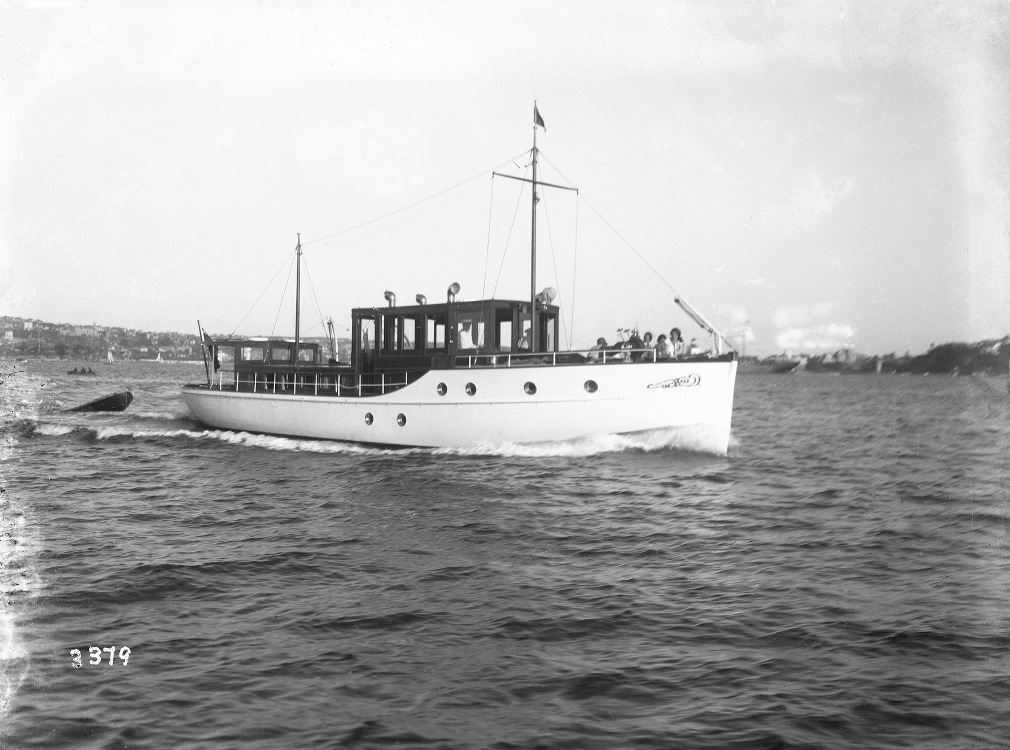 OOMOOBAH was built for the Arnott family (of Arnott's Biscuits) and launched in 1927 - she was often brought out to Pittwater by Percy Arnott and moored off the Palm Beach wharf during Summer. OOMOOBAH was one of the most luxurious vessels of the day, and its launch was covered in a large feature in the April 1927 edition of 'The Australian Motor Boat and Yachting Monthly.' This photo is part of the Australian National Maritime Museum's William J Hall collection. Image Object no. 00011879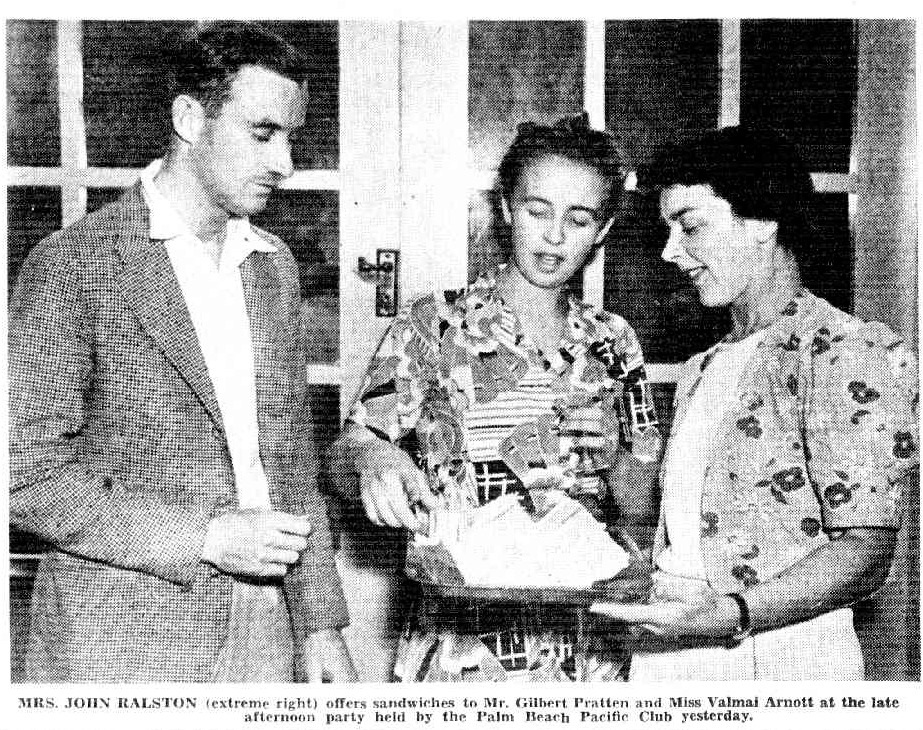 MRS. JOHN RALSTON (extreme right) offers sandwiches to Mr. Gilbert Pratten and Miss Valmai Arnott at the late afternoon party held by the Palm Beach Pacific Club yesterday. Hostesses And Guests At First Party Of Palm Beach Social Season (1938, November 28). The Daily Telegraph (Sydney, NSW : 1931 - 1954), p. 10. Retrieved from http://nla.gov.au/nla.news-article247438723

JUST MARRIED!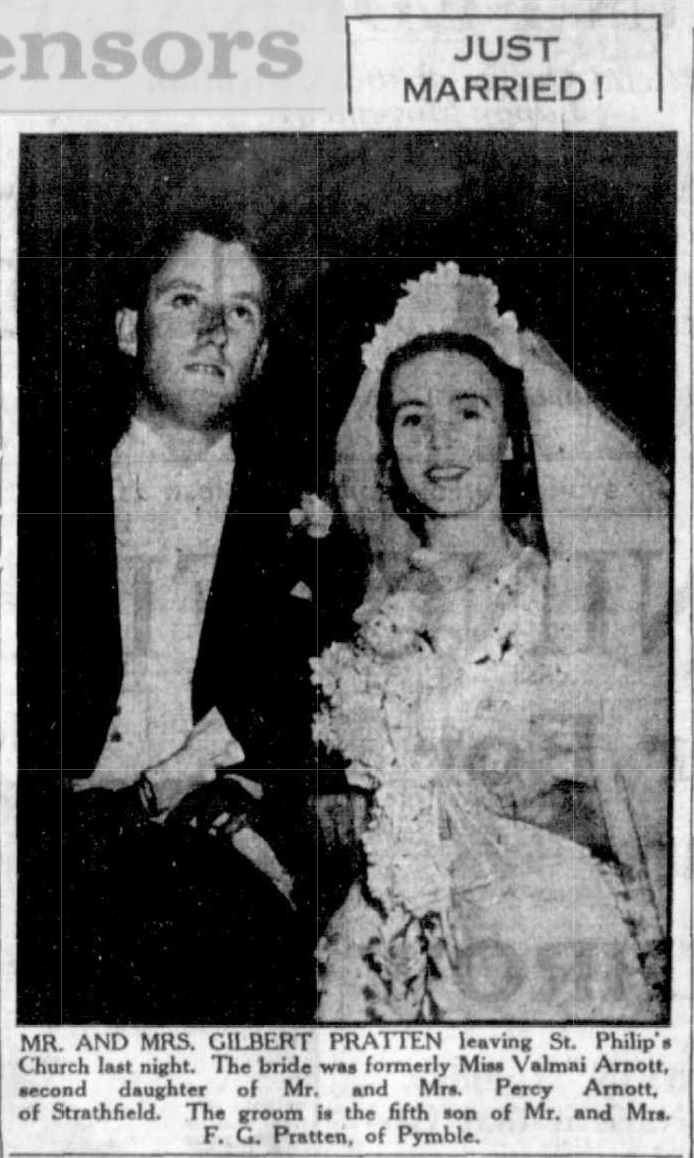 MR. AND MRS, GILBERT PRATTEN leaving St. Philip's Church last night. The bride was formerly Miss Valmai Arnott, second daughter of Mr, and Mrs. Percy Amott, of Strathfield. The groom is the fifth son of Mr. and Mrs. F. G. Pratten, of Pymble. JUST MARRIED ! (1939, November 29). Daily News (Sydney, NSW : 1938 - 1940), p. 2. Retrieved from http://nla.gov.au/nla.news-article236335371
When she passed away, the house, sadly, was sold. My brother Sinclair Black had already put his hooks into the surf club and I was peering over the fence wanting to be a part of the ruckus I could see and it was always going to happen. Our dad was a member years ago, and absolutely enjoyed his time as a part of the club, although he wasn't actively involved like we are – so there was always something about Palm Beach and the Surf Club in our family. So spending all that time and seeing all those activities and serving others on the beach was always something I wanted to be a part of.
I can remember the old days of the Brats, Brutes and Bruisers carnivals and seeing these people up on what you thought were 10 metre platforms for pillow fights, when they were still allowed, it just seemed like great fun and something I always wanted to do.
What, for you, is the best thing about being on Palm Beach during Summer?
That it is Palm Beach. This is one of those places where when you are there and get to spend a little bit of time there you can't help but walk away with warmth in your heart. There is a sense of belonging, it feels like you are a thousand miles from anything and yet still a stones' throw from one of the biggest cities in the southern hemisphere.
Your love of the beauty of Palm Beach is well known amongst locals and often celebrated in the work you do as The Drone Guy. For those who have not encountered your work there yet, what is that?
This is a little business that I started up about 9 years ago now. I love technology, I've always loved photography, have always been making films and taking photos of whatever catches my eye, and mixed the two together back when drones were first becoming available. I just found it fascinating to be able to take perspectives that only a bird would see or unless you're lucky enough to be in a helicopter. I love the idea that there is nowhere you can't put a camera anymore to capture something – some people may find that scary but I find that really exciting that when used in a positive and appropriate way we now have limitless access to seeing our world. When you look at some of those top down images you are looking down and seeing colours, fish, the shape and contours of the landscape. These snapshots are really just a capture of our world that a human wasn't really ever meant to see unless they climb up a tree.
I got into doing this as it was a little bit of a sideline for me, just doing work for real estate companies and developers but the landscape photography side of this just overtook all of that and has become this thing where I get to capture beauty from perspectives that no one gets to see.
And thanks to you Jeremy we also have records of community events such as the paddle out tribute for Midget Farrelly in 2016 – those were your great shots we ran as part of honouring and making a record for that beloved Palm Beach resident and PBSLSC member. Do you have a favourite, among the thousand of captures you have taken?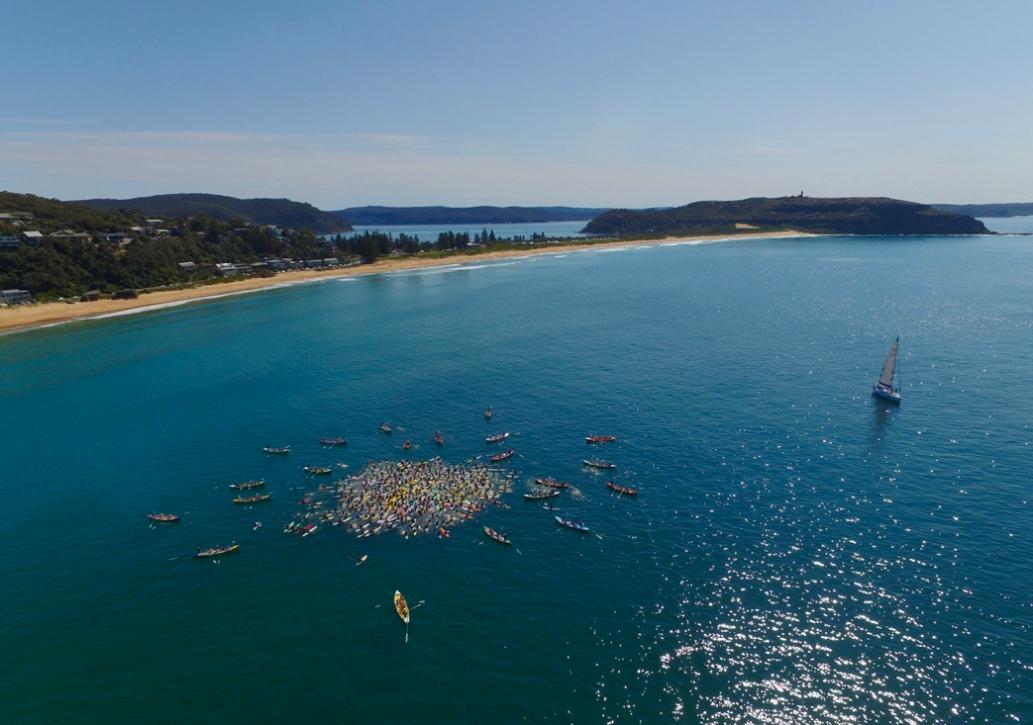 Midget's Paddle-out, Spring 2016. Drone shot by JB
There is one called 'High Noon'. This is taken at low tide in the middle of Summer at Palm Beach just in front of the Pavilion. The colours were just amazing, there's the shadows of a couple of people going onto the sandbanks. You can see this rip forming just out the back of the waves – it's just one of those captures that epitomises mid-Summer at Palm Beach.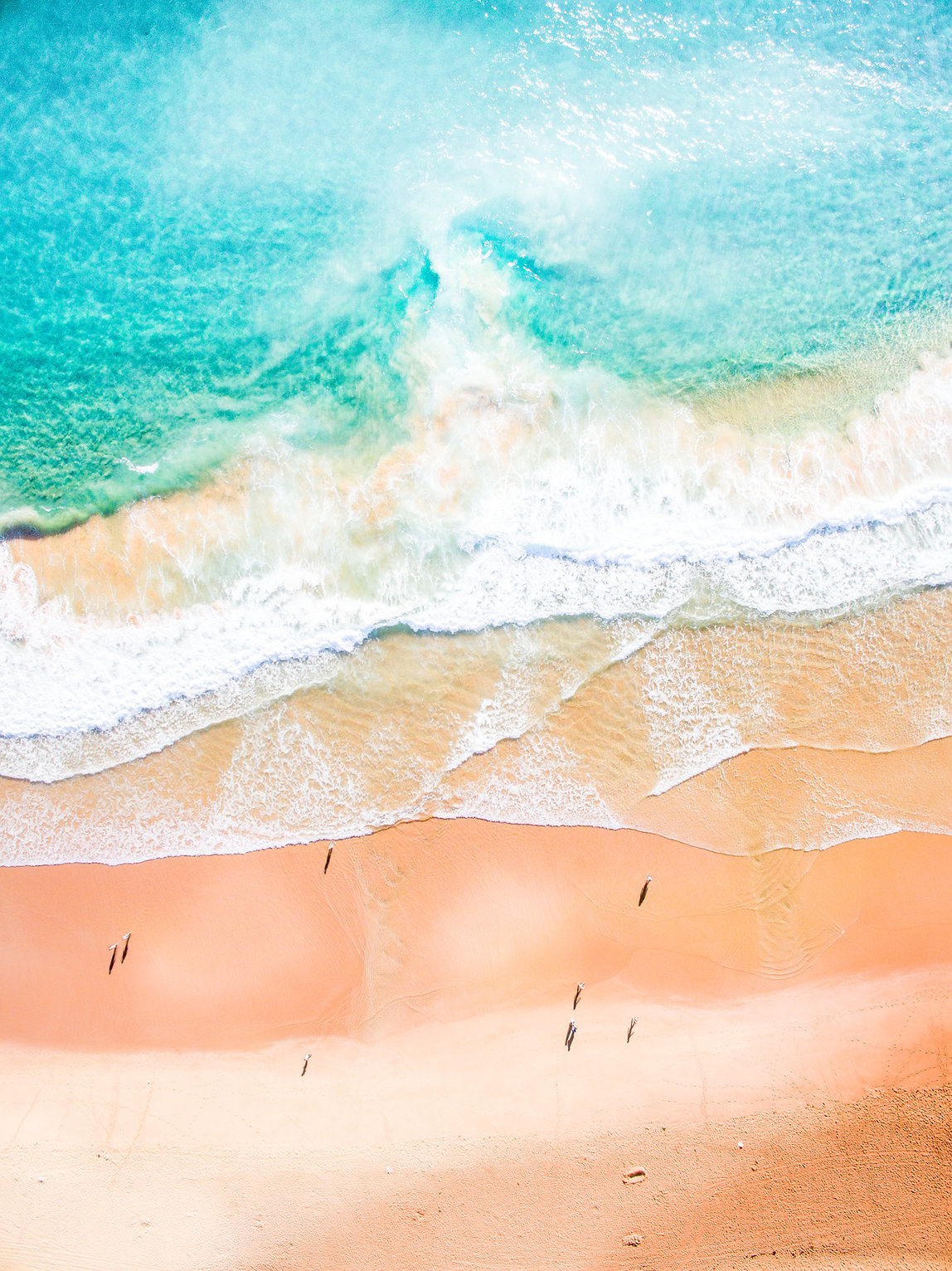 'High Noon'. by Jeremy Black thedroneguy.com.au
The Australia Day public Holiday happens this Thursday January 26th and 100 years on Palm Beach still attracts thousands of visitors on a daily basis over holiday periods and especially public holidays – what would you like visitors to be aware of if they are visiting this Summer or on Australia Day?
Whether you are arriving by a car, boat or by bus, please make sure that you obey what the lifesavers are telling you. They are volunteering their time to keep you safe when you visit Palm Beach and their object is to make sure you can go home the same way with the same amount of people that came with you. Just because it's crowded does not mean you should go and find a quiet place to swim. It's crowded in these places because that has already been identified as the safest place to swim where you can relax and enjoy the beauty that is Palm Beach. So; swim between the flags.
Speaking of being in the water – the Big Swim from Palm Beach to Whale Beach happens Sunday, January 29th, one of the few annual club fundraisers for Palmy and Whale Beach SLSC's to enable them to do their work – two clubs which have a long history of working together. What is so great about still doing work with Whale Beach and the Big Swim itself?
Palm Beach SLSC provides a huge amount of water support for this ocean swim – we have 3 Patrols on the day plus a lot of volunteers who aren't rostered on coming down to help. Every single rescue board, IRB and jetski and apparatus we have is taken by our volunteers to guide swimmers around to Whale Beach, along the whole of the course, in what I think is probably the greatest Ocean Swim on the Ocean swim calendar. This is also one of the original Ocean swims and one so many want to take part in, at least once.
For us, having that history with Barton Lynch's dad Bob is also something special for members. Obviously Barton still surfs around the area and having that lovely history of that swim still being run, and why it is, and who it is named after means a lot to the community and we do everything we can to make sure it goes off without a hitch.
Palm Beach SLSC is celebrating its 101st Season this Summer – thousands of people coming out to Palm Beach and keeping people safe was the primary reason the club was formed in 1921. Have you had any celebrations?
All of last year we celebrated our centenary. We had a huge Ball in April as the climax, which was just unbelievable. There were some brilliant Speakers, a great showcase of Palm Beach SLSC history put on by members.
Since then there has been a project that is nearing completion which is a book celebrating Palm Beach SLSC history and its centenary. This has been researched and is being compiled by Sean Brawley and his team. Sean was the gentleman who researched and compiled the first book focused on Palm Beach SLSC, 'Beach Beyond – A History of the Palm Beach Surf Club 1921-1996'.
Having read the drafts and seen the materials, photographs found by members and the community, and wat's in the research and stories, this will be an outstanding follow on from that original work. We are hoping that will be finalised for the opening of the 2023-2024 Season.
There is just so much information and obviously having had and having so many Members, there are quite a few stories that need to be told and a lot of work being done for this. We want to make sure that we do it right and do it right the first time.
We are currently sorting through some amazing photographs – the community have been so generous in going through their own albums or looking at what's hanging up on their walls and coming forward with 'have you got this shot?' and our response has been 'amazing - thank you!'.
Through this we have been able to see what I think was our third clubhouse, on the site of where the Pavilion currently is. There are very few shots of that third clubhouse and there was one that came to us a couple of months back that was just a 'wow!' moment for all of us.
There is just beautiful old Mals lining up against it on the beach. We also have a past Captain ed Day, who is amazing at going through archives and talking to other associations in the area who has tracked down some amazing materials.
We really should put it on display somewhere as we get nearer to the book launch. It would be great to put something together and show everybody because the photos have really blown me away. The changes on the beach, the angles and what they show, and what was on the beachfront and no longer is. What is amazing is that in looking at shots from 100 years ago and seeing so much of that still here today.
Thanks to the formation of Palm Beach SLSC and it retaining control of its Members buildings, the community still has the original Chorleys' building, even if modified, the first weekender on the Palm Beach ocean front, along with the Peters residence, finished in 1920, which has just been spruced up, thanks to a state government grant. That upgrade was a finalist in the Heritage category for the 2022 NSW Architecture Awards. So there is a lot of history and heritage to be celebrated and shared.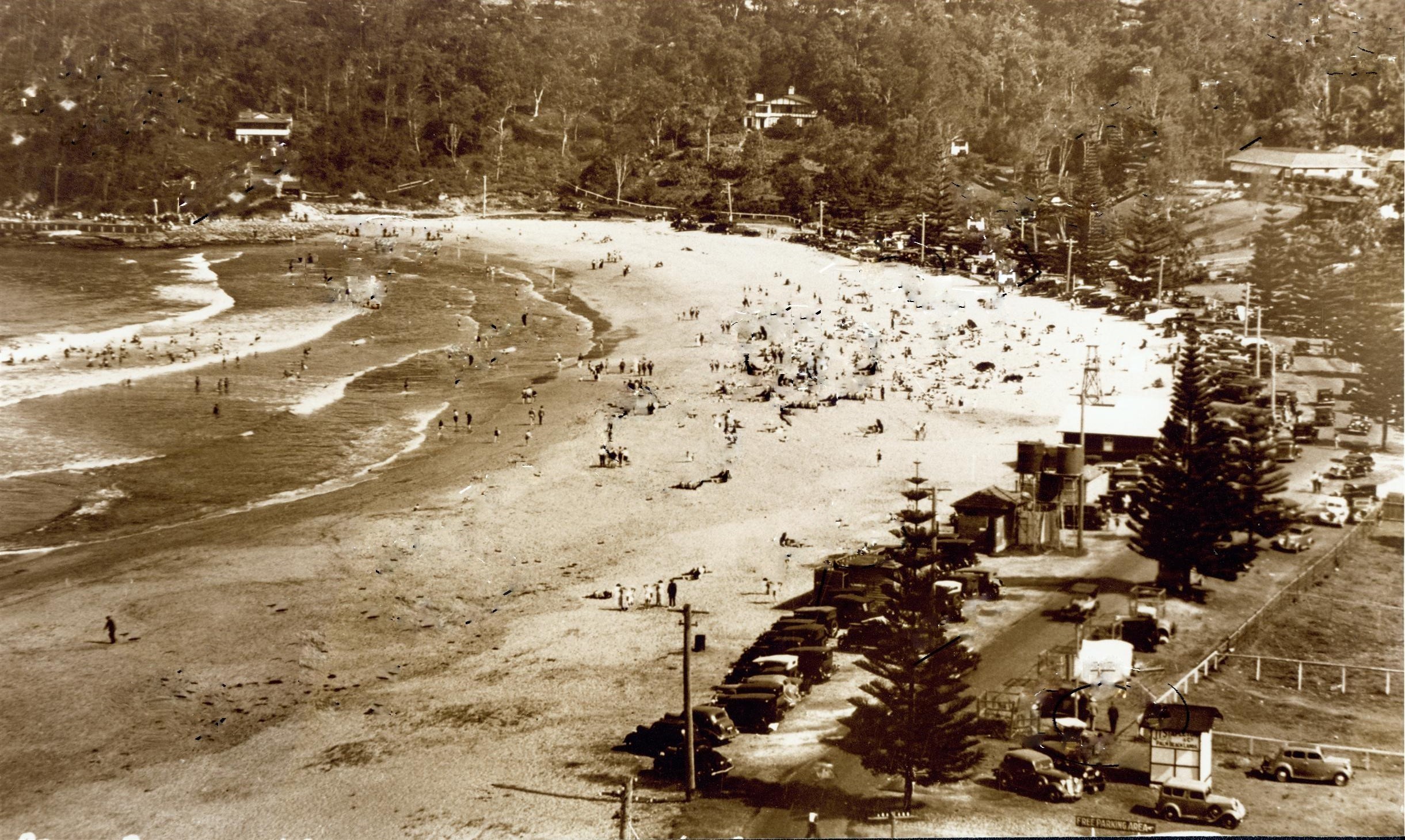 Palm Beach beachfront 1935, changerooms and PBSLSC bunkhouse/clubhouse prior to the building of the 1936/1937 opened PB Pavilion. Photo: PON library
What are your favourite places in Pittwater and why?
Although I love the beauty of the nature of the whole of the northern beaches, one of my favourite places would have to be Resolute Beach. If there is ever an opportunity to grab a surf ski and paddle over, and I think I've swum over there a few times too with some people, then I go. It is just that world away from the world away that is Palm Beach. It is just magic, you watch life going by. If you get there for a twilight paddle the Barrenjoey lighthouse is blinking, people heading out or in on boats, seaplanes landing, it's just so beautiful. Now that I've said it – whoops – I'm so glad that not many people go there.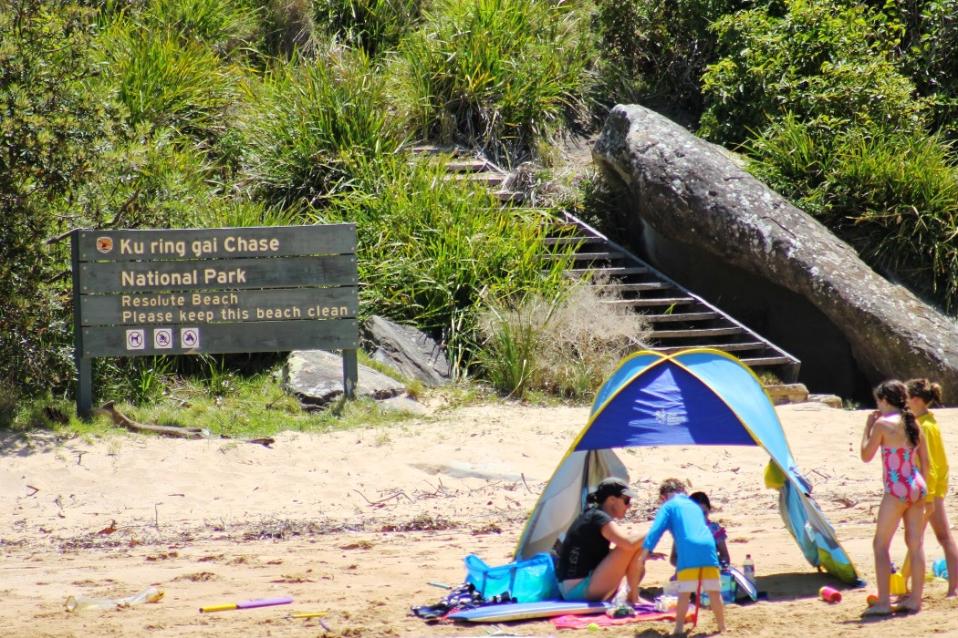 What is your 'motto for life' or a favourite phrase that you try to love by?
My life motto is to never shy away from being me. Find the fun in everything and share it with everyone.