December 11 2022 - January 14, 2023: Issue 566
Jacqui Scruby announced as Independent Candidate for Pittwater for NSW 2023 State Election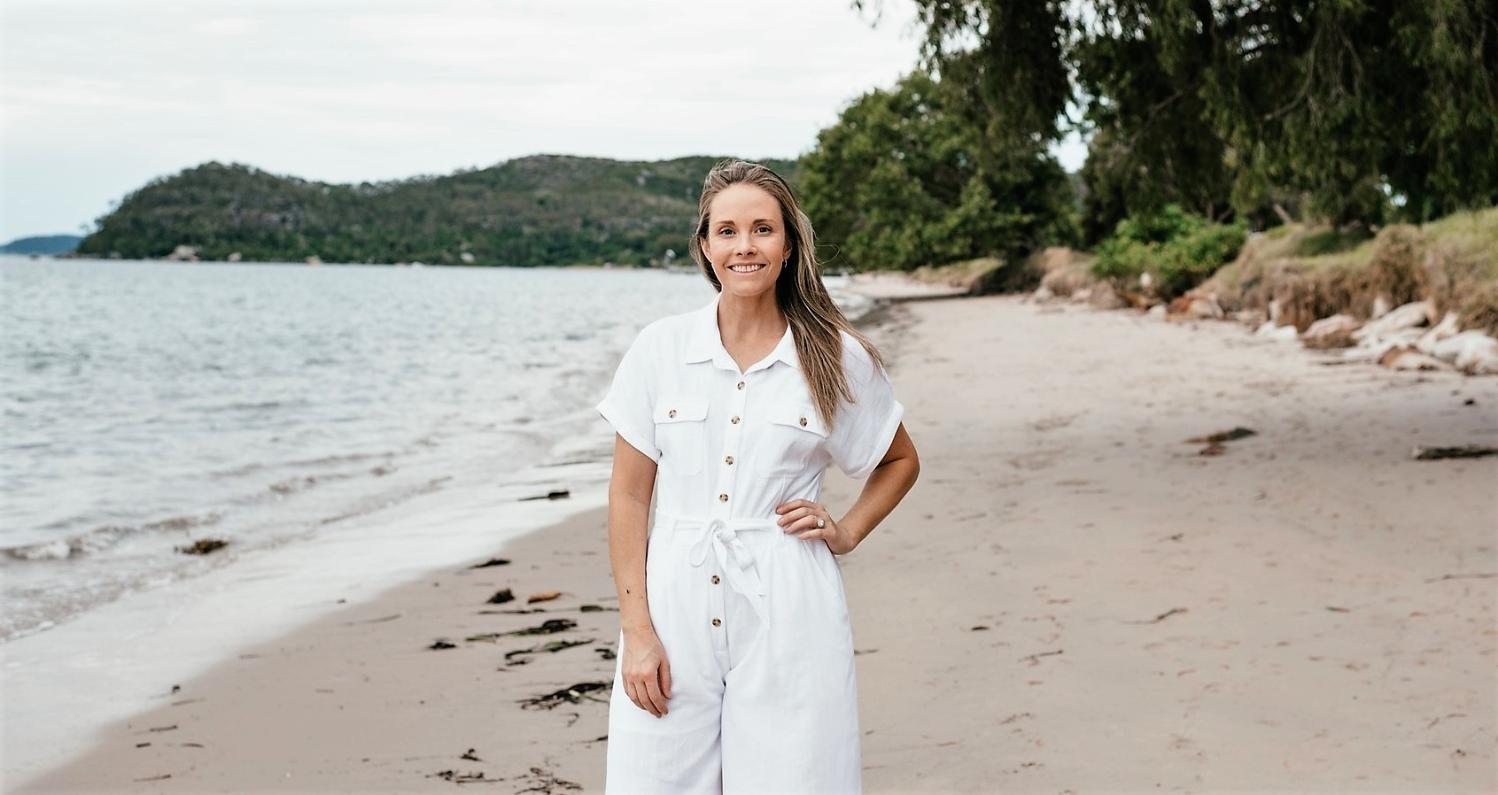 Local environmental lawyer, former business owner and climate change advisor to be Pittwater's voice at state election
Environmental lawyer and corporate climate change advisor Jacqui Scruby has announced her community-backed candidacy for the state electorate of Pittwater.
Scruby's announcement comes as the controversial issue of oil and gas drilling just kilometres off the electorate's coastline reared its head again, with the company announcing the project is "far from over".
Scruby, 39, lives in Pittwater with her husband and two daughters and launched her campaign saying local people need a genuine voice representing them in state Parliament.
"I'm a mum, environmental lawyer, and most recently was an advisor to our wonderful federal independent MP, Sophie Scamps," Scruby said.
"Having just worked with Dr Scamps to improve the Climate Change Act and usher in the new National Anti-Corruption Commission, I've seen first-hand how independents bring their community's voice to Parliament. But the job is far from done."
Scruby will advocate for strong climate action, restoring integrity and trust in state politics, and ensuring NSW's economy is managed responsibly. Having been a small business owner herself, she will work hard to make sure the state government doesn't stand in the way of the incredible small businesses in Pittwater. She'll also advocate for equality and acknowledges that NSW Parliament has a way to go to reflect the NSW community.
"Cost of living is a major issue for the people of Pittwater. Businesses and households should be energy independent. As the home of abundant sunshine and cheap renewables, fuel and electricity prices should be immune from inflation and global markets - it's policy failure that they're not. We need to make sure every family and business has affordable access to our abundant and cheap renewables to eliminate petrol costs and avoid energy bills. It's a no brainer."
"Having worked the majority of my career advising Corporate Australia on managing risk and seizing the opportunities of the renewable economy - it's time to take that approach to make sure NSW captures the opportunities of a renewable economy. The people of Pittwater get it - they know what makes environmental sense, also makes economic sense and therefore makes common sense."
A Pittwater local, Scruby states she will fight to make her community's voice be heard on local issues, including on legislating against oil and gas drilling, including the PEP-11 project, right off the electorate's coastline.
"The Liberal/National government hasn't legislated against offshore oil and gas drilling projects. PEP-11 and future projects remain a risk to our beaches. Our community has made their voice clear: we must save our beaches. No oil and gas on our coastline." she says
Added to this LGNSW stated on December 12 2022 property developers have been gifted an early Christmas present after the NSW Government announced it would sideline councils and communities from assessing new major housing developments.
Under the Rezoning Pathways Program, developers can nominate rezoning proposals for more than 1,000 dwellings on sites in metropolitan NSW and at least 300 dwellings in regional NSW. These proposals would bypass councils and instead be assessed by the state's planning department.
Despite the major implications of the scheme, the NSW Government has failed to detail how local provisions will be considered when these residential developments are assessed and what community consultation, if any, will occur.
LGNSW President Darriea Turley AM said the new program was the latest example of the NSW Government cosying up to property developers at the expense of councils and the communities they represent.
"The changes that are being proposed here would affect every council area in the state. It also brings into question what, if any, consideration will be given to existing local plans and policies when major housing developments are being assessed," Cr Turley said.
"A few years ago, the NSW Government took development application powers off Sydney councils and introduced mandatory local planning panels. The argument was that councillors should focus on strategic planning rather than on individual development applications.
"Now with this latest announcement, the government is coming after the strategic planning as well.
The impact on local communities of the loss of local remnant bushland to further property development has also been an issue residents have stayed focussed on, particularly the plan to further a development at Belrose (Lizard Rock),
which the Council objected
to again in November. This is a clear instance of what LGNSW has spoken against. Residents are also opposed to state government plans to
clear koala habitat
in western Sydney. Pittwater koalas became effectively extinct in 1985 due to property developers following their own agenda and cutting down the food trees that linked the koala paths to food areas in our area.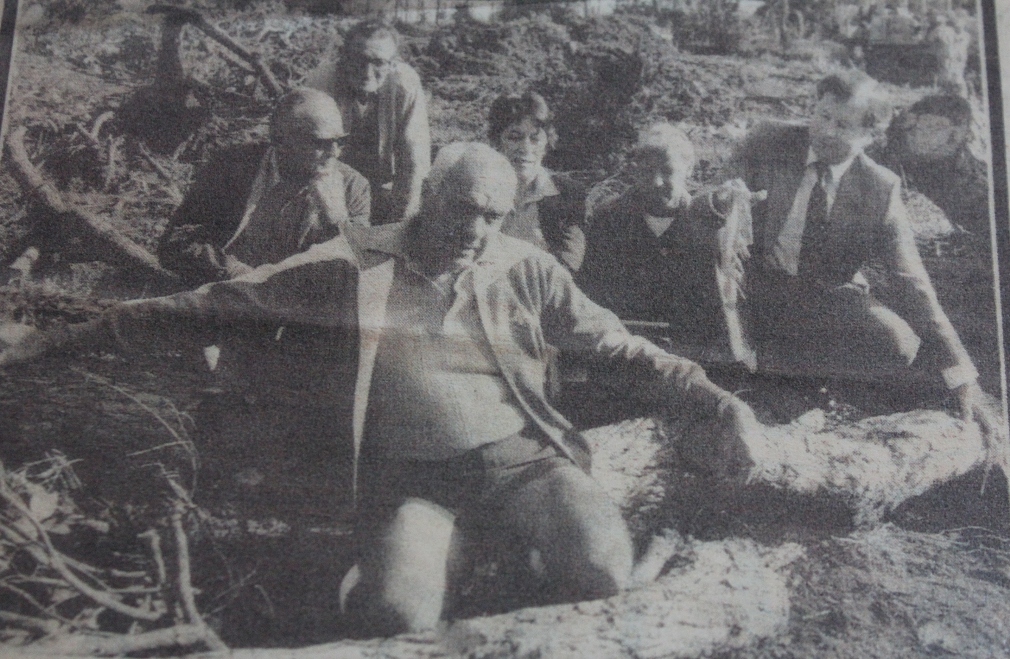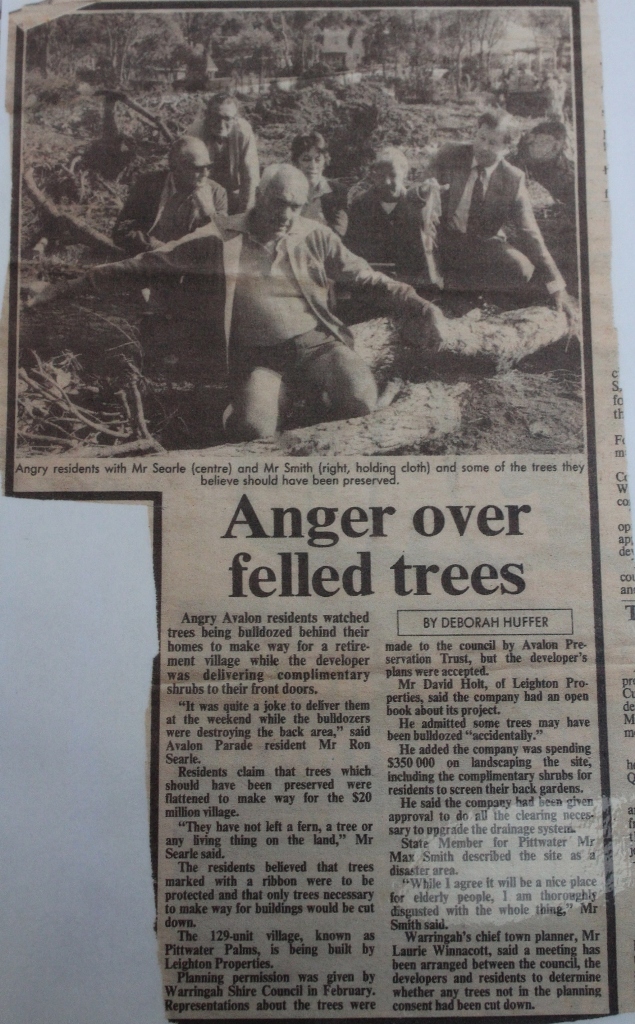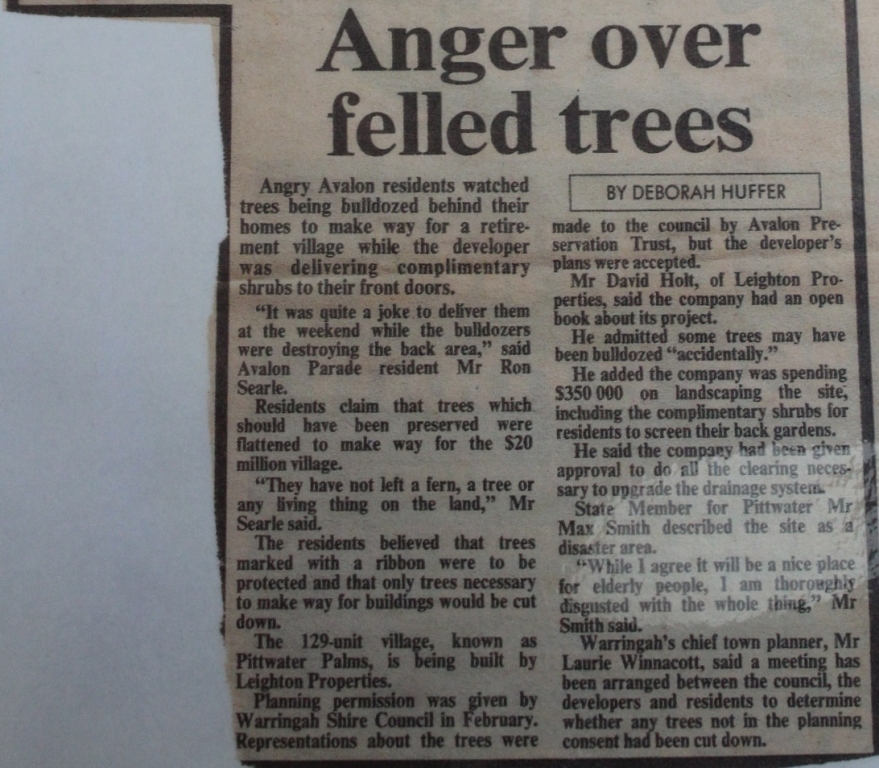 Ron Searl and then State MP for our area Max Smith - ABHS newspaper clipping - Manly Daily; 'He admitted some trees may have been bulldozed 'accidentally'
The Pittwater community is not only passionate about conserving its local natural beauty. People are appalled at NSW currently clearing an area of native forest 50 times the size of Sydney's CBD each year, as well as costing the NSW government $29 million annually.
"In NSW we have the National party hellbent on killing koalas, insisting we continue logging native forests at the tax payers' expense - turning our best carbon stores into woodchips for foreign toilet paper. It's another case of the tail wagging the dog when it comes to the coalition." Scruby states
"People are savvy when it comes to climate. They know the job is far from done. In NSW we've opened 11 new coal mines under the current government, completely negating any action on climate - and our export emissions are abhorrent. It's time to say no to new coal and gas."
Scruby added: "There are pressing local issues too. For too long, Pittwater has been neglected - we've lost our public hospital, we no longer have Pittwater Council, and one of our main roads floods seemingly every time it rains. The Pittwater community wants to protect our beautiful area - and the best way to do that is to have an independent voice in state Parliament. As a community-led independent, I will always vote in the interests of our community, not in a party's best interests."
"We need to get serious about climate action to ensure Pittwater is resilient to impacts of climate change like coastal erosion, flooding and polluted water. We are blessed with the best renewable energy resources in the world, so we should step up as a leader on climate action and legislate a 60% by 2030 emissions reduction target," she added.
A Launch event to meet the candidate is being held on Tuesday December 13 2022 at the Park House, Mona Vale, commencing at 5.30 pm.