November 19 - 25, 2023: Issue 606
Newport Surf Clubs' Sports Academy Athletes Going From Strength To Strength: Coolangatta Gold Wins + Athletes In 2023-24 Nutri-Grain Iron Start List + Summer Of Surf Series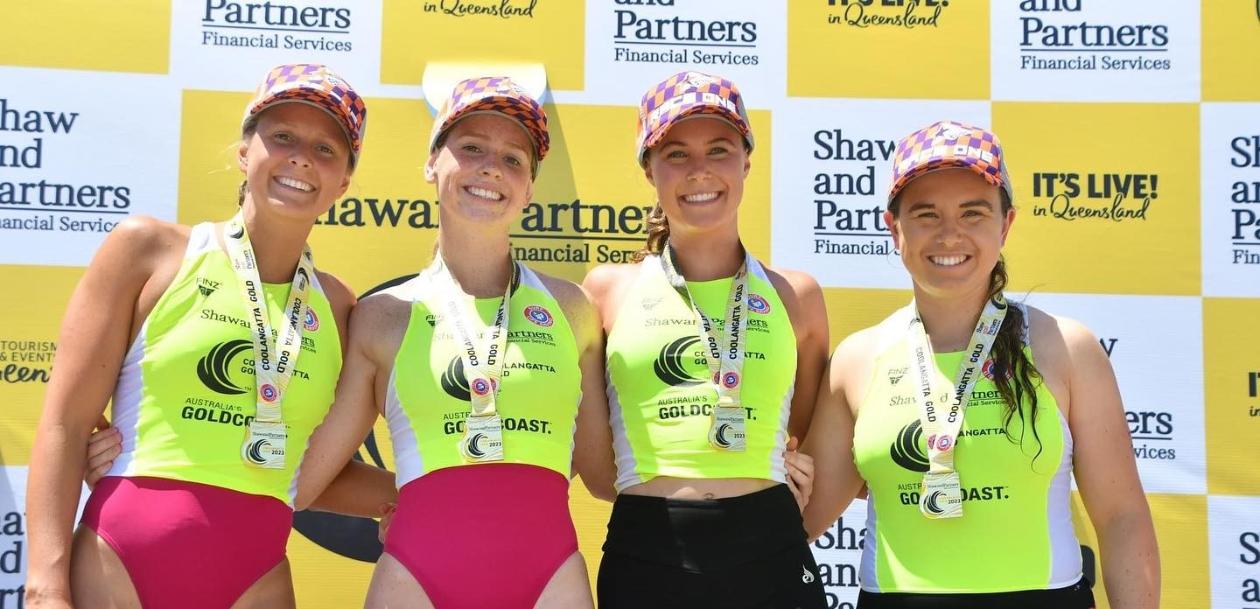 Newport wins gold at 2023 Coolangatta Gold: Lizzie Welborn (on board), Dominique Melbourn (swimming) Piper Harrison (running) and Jemma Smith (on ski), – Open women's short course team 1st. Photo: Newport SLSC's Newport Kinghorn Surf Racing Academy
Ten years ago the
Newport SLSC Surf Racing Academy
was launched. Since then the academy attracted the strong support of Jill and John Kinghorn to become the Newport Kinghorn Surf Racing Academy and successfully achieved its aim to increase the quality of surf lifesaving at the Newport Surf Club through its surf sports programme.
Its purpose can be read in this extract from the Academy Constitution
…established for the public charitable purpose of providing advanced training for those engaged in surf life-saving and to foster excellence in teaching and encouragement of surf safety practise, swimming, water safety and water sports.
The opening day of the 2023 Shaw and Partners Financial Services Coolangatta Gold on October 14 delivered sunshine and testing conditions as competitors took on the 21km short course race as well as teams and youth events.
Newport Ironman Jackson Borg powered home to deliver an emphatic win in the Open Male short course.
"That's an awesome way to start the season, means that what I've been doing in the off season is working and gives me a bit of confidence," Jackson said.
"I had a lot of ups and downs last season, and so I have to trial for the Nutri-Grain IronMan Series this season. I wanted to focus on the short course this year, be a bit sharper, instead of focusing on my steady pace.
Jackson led from start to finish, managing to pull away from the field in the opening ski leg and carrying his momentum through for the two hour plus race.
"I kept on looking back, so I was trying to keep an eye on the boys behind me. But Archie (Vernon) and Mitch (Stitt) are good athletes, they are both so young and kept me honest the whole way.
"It's always awesome to come up and do the Coolangatta Gold, it's such an iconic event. It's definitely on my bucket list every year, it's one that I've been able to cross off a few times now," he said.
Newport's Jemma Smith, Lizzie Welborn, Piper Harrison and Dominique Melbourn finished first in the Open Female Teams while their Under 17's of Olivia Clues and Pipi Te Pania placed 1st in their age division as a Team and overall in the short course teams event, coming in just under 4 minutes ahead of the Newport Girls Team.

Jemma also won the Downwind Paddle Open women's event. Smith, who won the inaugural title in 2022 and is the current world champion, showed why she is among the best paddlers in the world, claiming a commanding win ahead of New Zealand's Danielle McKenzie.
Jemma said she was super proud to be part of the event and see so many paddlers joining in.
"I think the greatest thing to see was when we were lining up and just how many people were there. It's unreal that everyone has really got behind this event. It's the second year it's been run, and to see the numbers grow has just been awesome.
"I'm really stoked to be a part of it, and I hope that everyone has had a great day out here at Coolangatta. I even got to paddle alongside a whale out there, which was really cool," she said.
Smith said she's now eager to head over to Perth, where she hopes to defend her 2022 world title.
"Going over to Perth, we've obviously got Race Week straight into Worlds, so there will be a lot of paddling on offer for everyone.
"Really looking forward to getting over there and lining up against the best in the world. It will be a really good time over there, and I can't wait for it to come around," she said.
Newport's youngsters did well this year with Charli Barbour placing 1st in the U15 women's youth challenge, Tom Shrivell winning 3rd in the U14 male junior gold and Matilda Young placing 4th in the U14 women's youth challenge. Newport does well in Masters events as well with Bec Capell winning 3rd in the 40-49 women's short course.
This was followed by the 2023/24 Nutri-Grain IronMan/IronWoman Series Trial at Tugun SLSC, QLD on 11-12 November.

Here again Newport athletes excelled with Jackson Borg, Charlie Brooks, Lizzie Wellborn and Piper Harrison having qualified and 2023 SLSA Surf Sport Youth Athlete of the Year, Conner Maggs, securing a wild card just a few days ago, on November 15.
Newport's Charlie Verco, Pipi Te Pania and Analise Kibble all showed their talent in the open category and made the list for Sunday November 12 final qualifying round.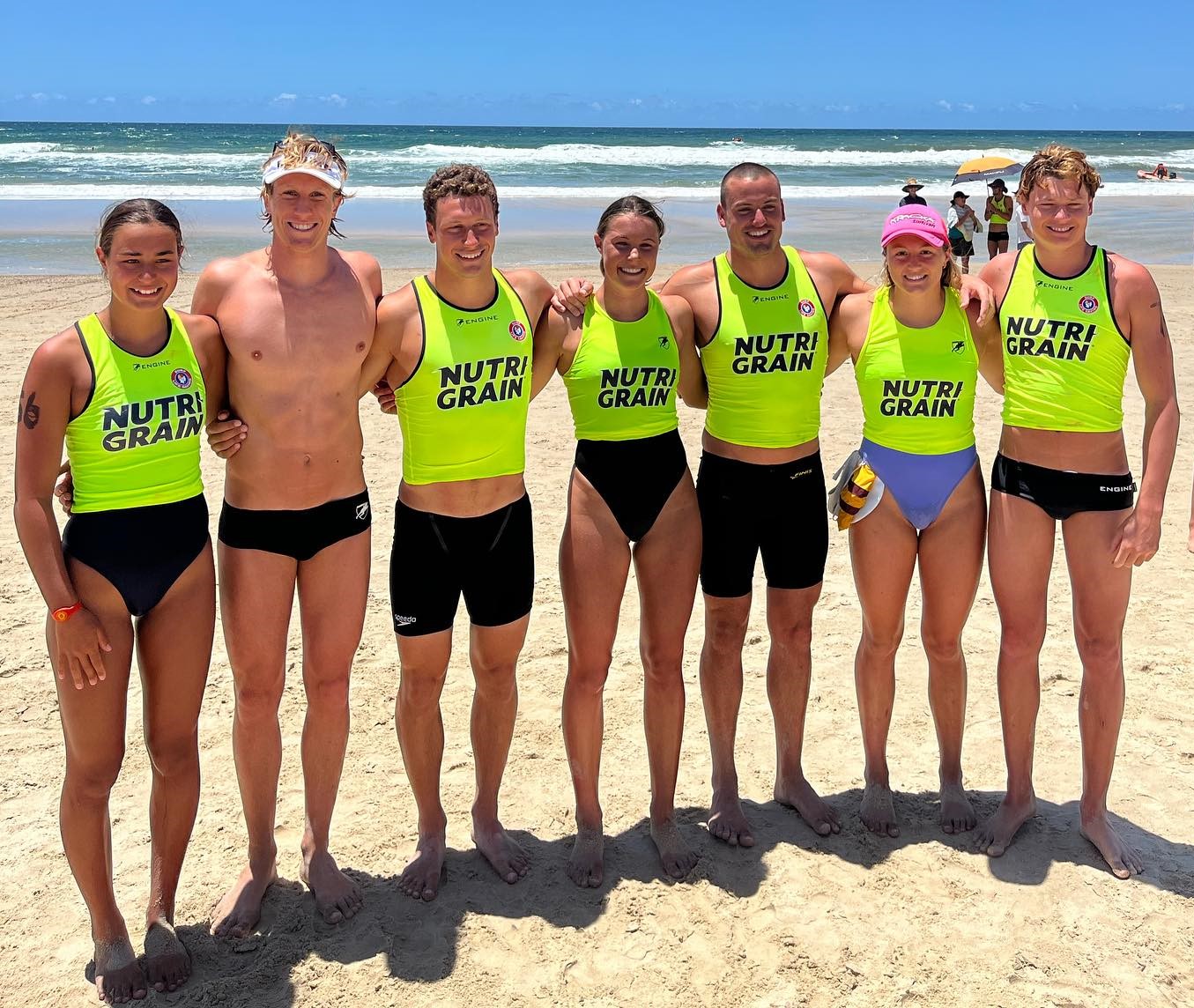 Some of Team Newport at the Nutri-Grain trail. Photo: Newport Kinghorn Surf Racing Academy
Pittwater Online spoke to Guyren Smith, President of Newport SLSC about these recent results.
''These are just fantastic results and I'm stoked for the girls who did so well at this year's Coolangatta Gold, for Jemma who is heading across to Perth along with a few other of our athletes, and for Jackson, Charlie and Connor, along with Lizzie and Piper for securing their places in the upcoming Nutri-Grain series.'' Guyren said
''Essentially 10 years ago when we started the Newport Sports Academy we were focussed on using what is learnt by our members through this to strengthen their work and capacity in our Patrols on the beach.
That they have started their season so well is a testament to what has been achieved during the past decade through the academy. To have 5 out of the 6 New South Wales athletes competing in the 2023/24 Nutri-Grain series come from Newport signals we're getting something right.
Newport athletes will also be competing in this Season's Summer of Surf series as well. This weekend (November 19) members have headed down to the Bulli Sydney Water Shaw and Partners Summer of Surf.''
In the female Summer of Surf series Newport young gun, Piper Harrison has headed south to continue her early summer success. Taking the win in round 1 at Wanda in the Summer of Surf series, recently qualifying for the Nutri Grain Ironwoman Series, and looking to back up at Bulli this weekend, Piper is excited to be back on the beach.
"The Summer of Surf series has become such a big and exciting event on the calendar, and I love being a part of it," she said in an interview with Summer of Surf.
"I have always been encouraged to race as much as possible, you learn so much from racing that can't be emulated by training! I wouldn't miss it."
Newports' Connor Maggs also produced the goods at Wanda in the first final of the day and began his Summer showing no signs of a "second season struggle." The U19 athlete had two wins and a second in the big 4 events at Wanda - 1st in the Swim, 1st in the Board and 2nd in the Ironman, making him one to watch this season. North Curl Curl's Luke Higgs won 2nd in the Mens Swim .

Newport's Charlie Verco finished with the bronze in the board race of a high quality final that saw a few of the big guns missing after getting knocked in the semi's.

Manly's Kendrick Louis won 1st in the Open Mens ski, an event in which he excels.

The women's Surf Race was another one for the up and comers with Newport's Sarah Locke taking the win in huge conditions. Sarah is a gun pool swimmer turned Ironwoman and with her Dad being the oldest bloke to ever win a medal in the mixed double at Aussies, the future is very bright for her.

North Curly's Ashleigh Windsham finished second in the swim.

In the Womens Board Race Manly's Georgia Singleton finished first, North Curl Curl's Ashleigh Windsham scored her second silver for the day and Newport's Analise Kibble was rewarded for a tough day with a Bronze after being close in most of the other finals.
2023 ISA World Para Surfing Championship: Emma Wins again! Kirk Watson and Joel Taylor Win Gold Too!! - Seven medal haul for the Irukandjis at the 2023 ISA World Para Surfing Championship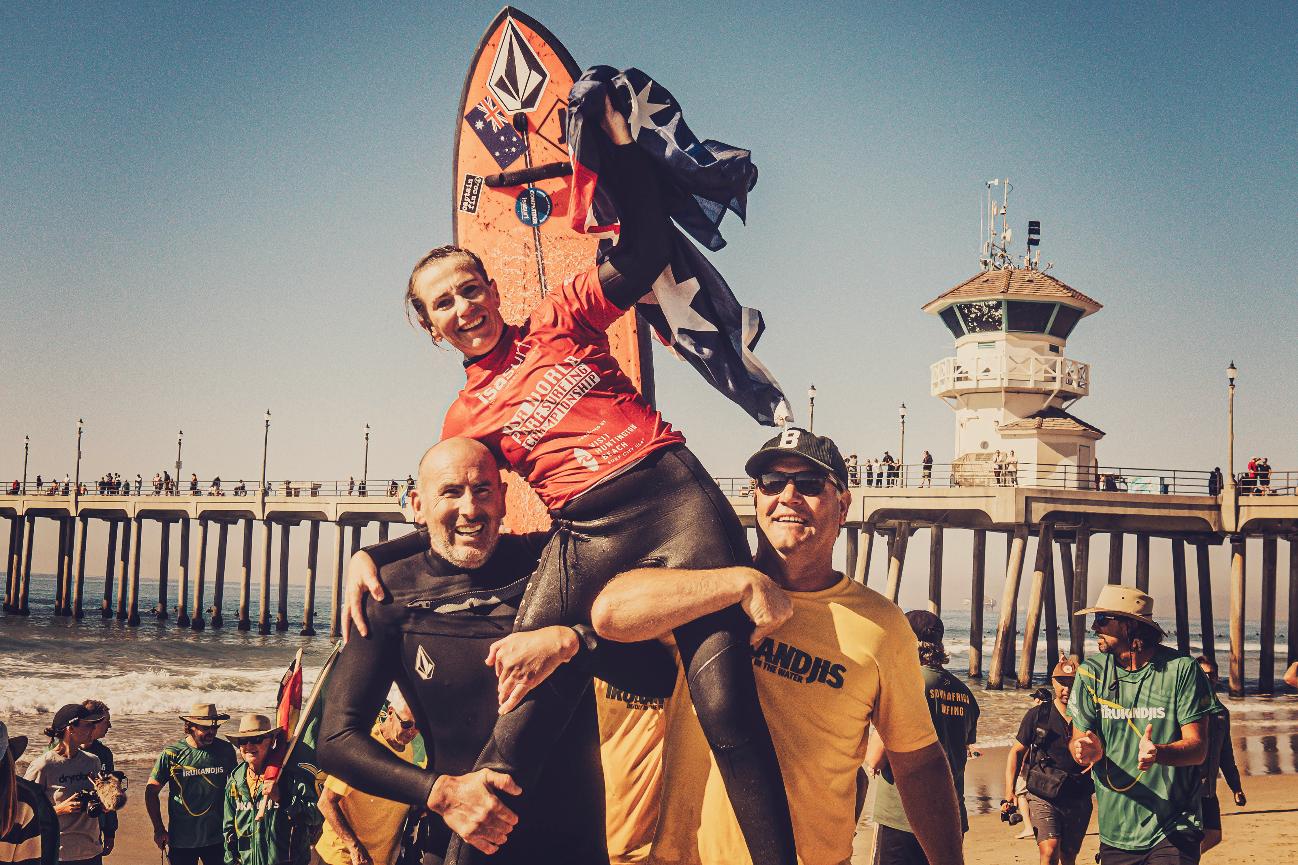 Emma Dieters, Photo Credit: ISA / Pablo Franco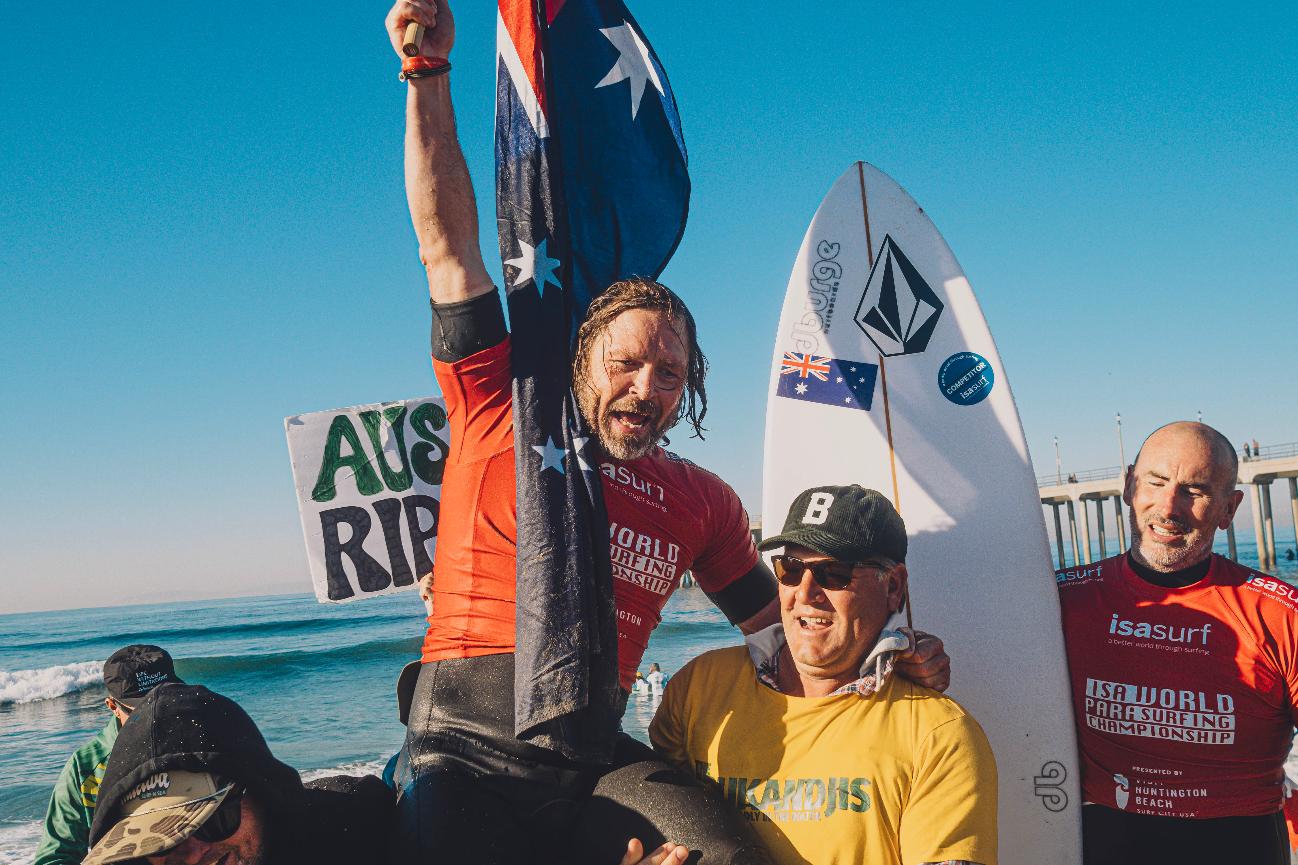 Kirk Watson, Photo Credit: ISA / Pablo Franco
Emma Dieters (Mona Vale, NSW), Kirk Watson (Mona Vale, NSW) and Joel Taylor (Lennox Head, NSW) are our latest World Champions after winning gold in their divisions at the Huntington Beach 2023 ISA World Para Surfing Championship.
Emma and Kirk are both members of the Northern Beaches Para Surfer Boardriders Inc., based at Mona Vale Beach, Pittwater.
In total, the Irukandjis took home seven medals, with Jocelyn Neumueller (Adelaide, SA) finishing second in her division and Reddog Wheatley (Newcastle, NSW) third. Jack Jackson (Central Coast, NSW) came fourth in Men's Vision Impairment 2 and Kai Colless (Burleigh Heads, QLD) was fourth in Men's Prone 1, both returning home with copper.
Taylor topped the podium in his very first ISA event.
"Winning [a world title] with my family here by my side has been the best experience of my life," Taylor told Surfing Australia.
"I waited 30 years for this. I've dreamed of being a World Champion since Eppo [Michael Eppelstun] won the first bodyboarding world title for Australia in 1993. I was a professional bodyboarder when I had my injury in 2001 and had over 20 years out of the water. To win, after just 12 months as a para surfer, is mind blowing."
Joel Taylor, Credit: ISA / Pablo Franco

Emma Dieters, who last year won gold in the Women's Prone 1 division at Pismo Beach in California, said: "I can't believe it happened again. So stoked. I moved up to the unassisted category this year so I really worked hard for this one. I didn't want to be a one hit wonder. Thank you to everyone that had a part in helping me achieve my goal this year. Congratulations to all the Aussies who performed so well, especially the young ones Kai and Annie in their first World Championships. Congratulations to all medal winners."
Watson won his first gold medal after multiple previous finals.
Kirk said: "Fourth attempt's the charm, very strategic final lots of manoeuvring for priority. Congratulations to all the fellow Irukandjis and great to see some young talent perform well."
2023 ISA World Para Surfing Championship – Team Irukandjis:
Joel Taylor – PS-Prone 1 *GOLD
Kai Colless – PS-Prone 1 *COPPER
Mark "Mono" Stewart – PS-Kneel
Reddog Wheatley – PS-Kneel *BRONZE
Jocelyn Neumueller – PS-Prone 2 *SILVER
Annie Goldsmith – PS-Prone 2
Emma Dieters – PS-Prone 1 *GOLD
Kirk Watson – PS-Vision 1 *GOLD
Jack Jackson – PS-Vision 2 *COPPER
Matt Formston – PS-Vision 2
On Day 3 of the 2023 competition Emma Dieters dropped into one of the biggest waves of the day to mark her debut in the Prone 1 classification. After winning gold in Prone 2 in 2022, her first year of para surfing competition, the 41-year-old is happy to be back representing her nation.
"It's cool to come back with the Australian team and try and get that vibe going again that we had last year," Emma said. "We all did really, really well for Australia, so hopefully we can replicate that again this year."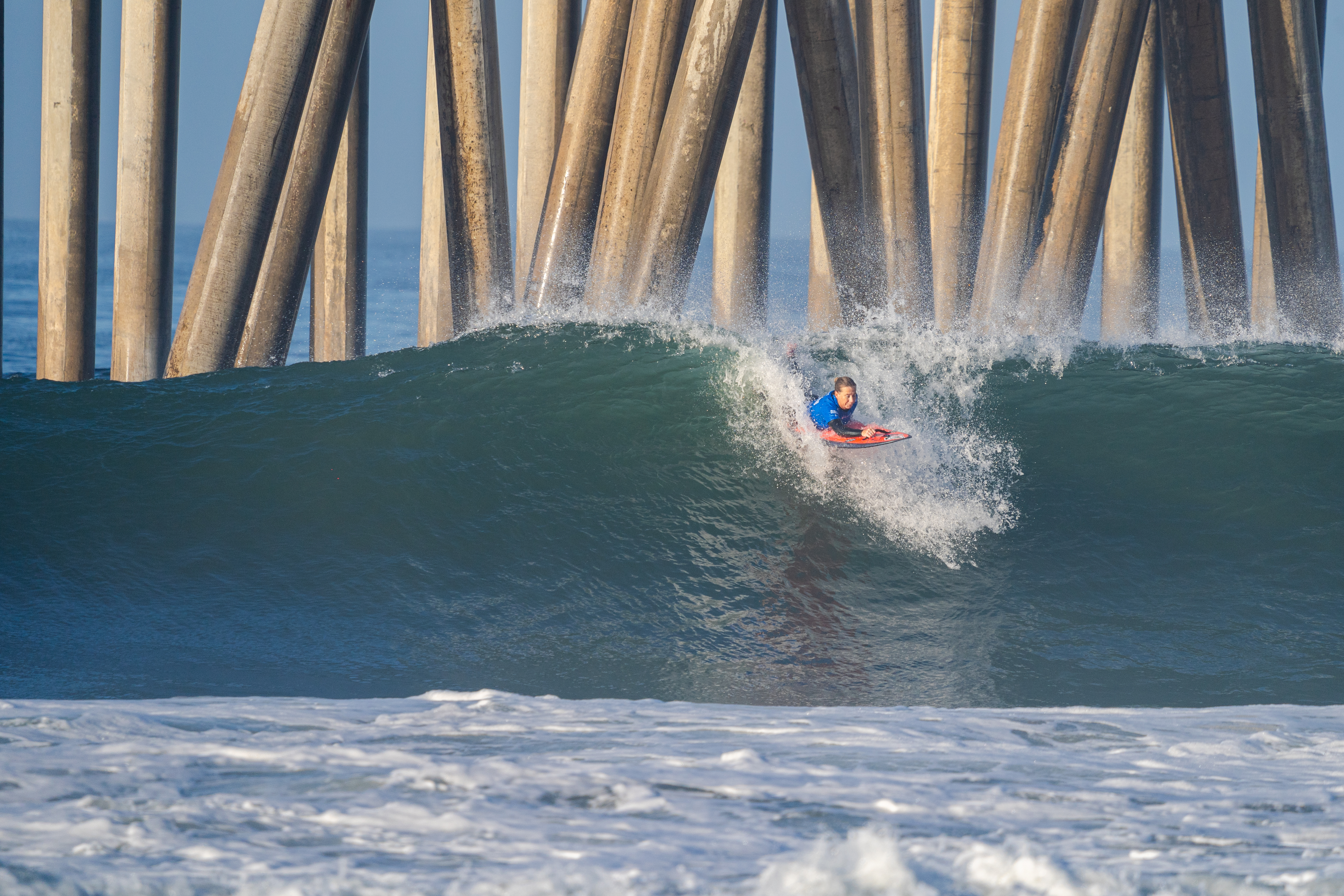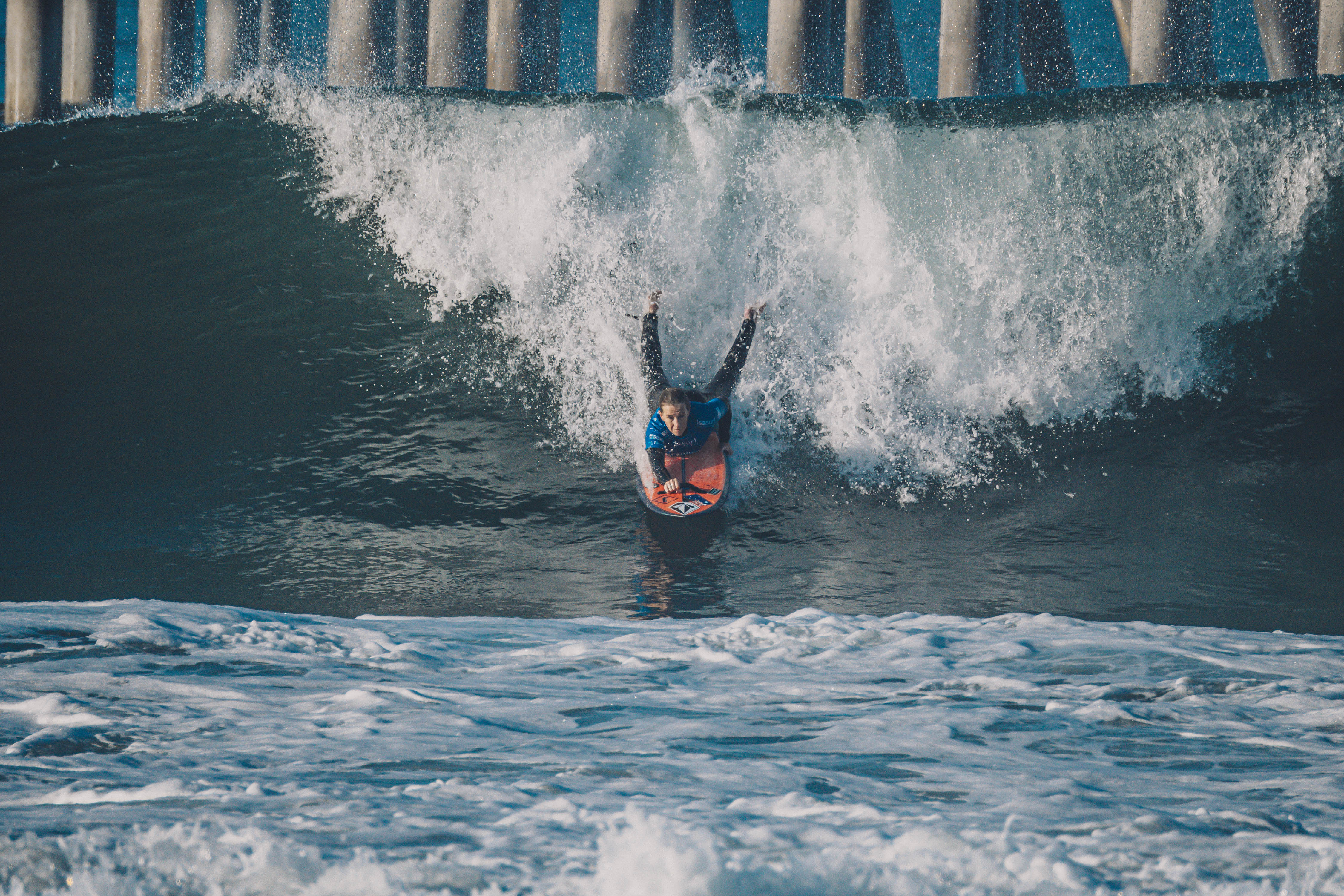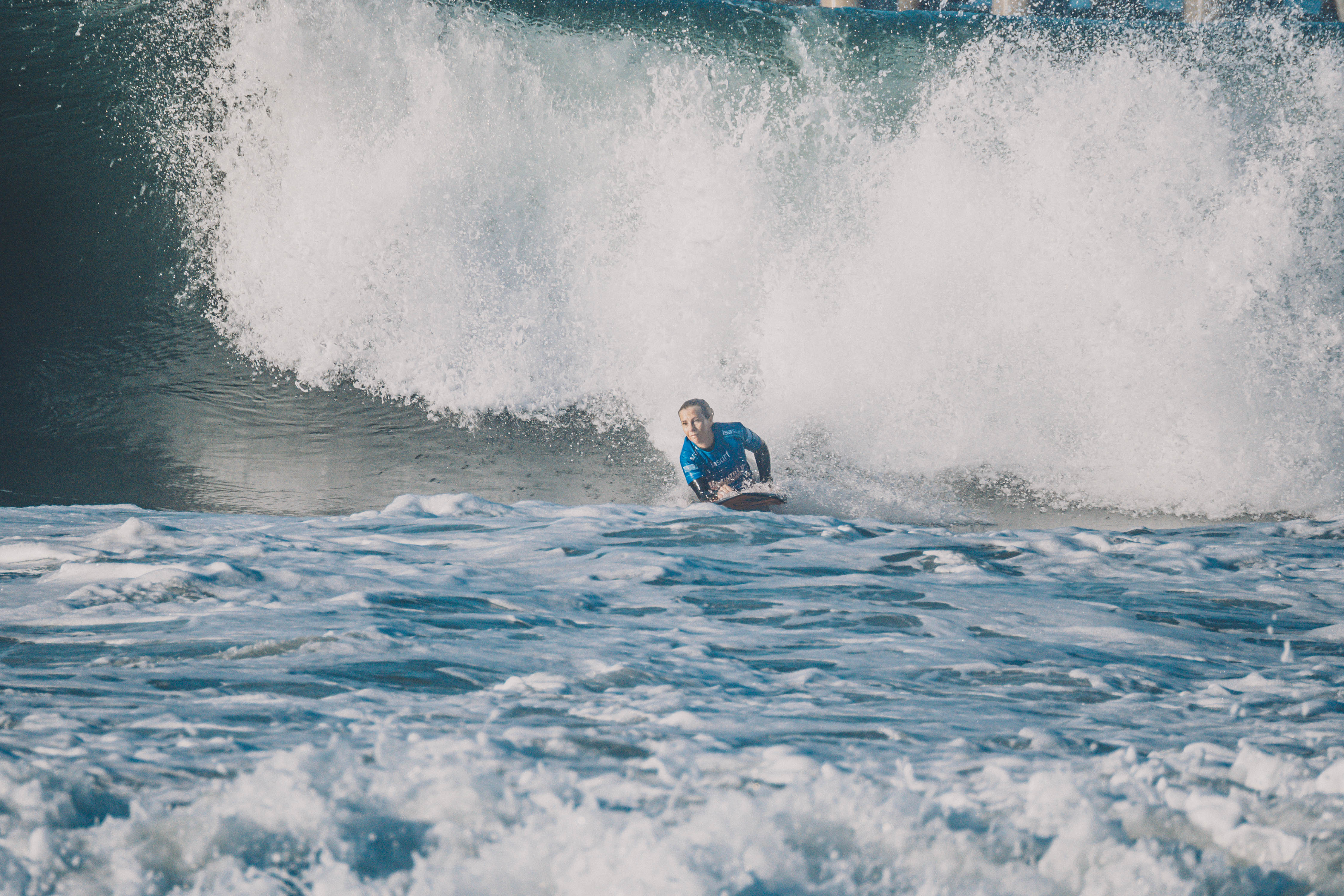 Out & About On The Pittwater Estuary: Etchells NSW State Championship Being Sailed From The Stunning Royal Prince Alfred Yacht Club, Palm Beach Sailing Club's Beware The Bullets Regatta Day 1 2023, A Day At The Basin, The 2023 DF65 Masters Club Challenge
Etchells NSW State Championship: Day 1 + Day 2
Day 1 report:
It is tight at the top at the Etchells NSW State Championship currently being sailed from the Royal Prince Alfred Yacht Club - RPAYC with Chris Hampton and the team on Tango AUS1466 from the Royal Brighton Yacht Club, leading on a countback over Mark Thornburrow on Racer CC AUS1482 from the Royal Hong Kong Yacht Club (RHKYC).
"We had a great day on the water", said Hampton. "It was great fun close sailing with 31 boats, and relatively short courses at 1.1 - 1.2 nm in plenty of breeze".
"There were big shifts, and the key was to join up the pressure & shifts which was easier said than done. There was also some tidal and water flow relief from overnight rains closer to shore", he added.
"A great day's racing at RPAYC", he finished.
The day could have been better for visiting South Australian Corinthians, Shoulda Gone Left AUS1395, who have dropped from sixth place to eleventh on retiring from race 3. They are still the leading Corinthian, and with a drop, which comes in after five races, and some good sailing for the next few days (maximum of 9 races), could be back in the hunt.
"I would like to blame everything else but ourselves, but this was on us", said the skipper Robin Deussen. "We haven't sailed an Etchells here before, and we sailed inside the moorings, we broke Rule 14.1 in the Sailing Instructions. So we retired from the race [race 3], there is no excuse", he admitted.
"But it doesn't matter too much. We are here to learn. We are going good enough to compete with them all anyway. We don't have anyone to race against regularly being from the Cruising Yacht Club of South Australia, so that is why we are here, and we learn so much in this fleet. We are doing everything State level and up except the Victorian States before the World Championships because of how much we get out of it", he finished.
Day 2 report:
The Australia II legend John Bertrand chooses to race Etchells in his spare time, and was exceptionally complementary of the current leaders following day two at the Etchells NSW State Championship at the Royal Prince Alfred Yacht Club - RPAYC
"Chris Hampton and his team bolted today", said Bertrand. "They kept their racing clean, very smooth. We sailed in 10-17 knots, with 10-30 degree shifts. Typical Etchells racing…the top teams were glued together in terms of boat speed".
"It really makes for superb racing. Crossing within seemingly cm's", Bertrand described. "What a way to live!"
Steve Merrington, the Race Officer called in just after the sixth race of the series got away.
"Today we are down in our usual spot just north of Scotland Island. We started in 10 knots, and it built slowly all day. Right now it's blowing 15-18, but it's been seriously steady, at 045 all day", Merrington said.
"The last two races have been black flag starts, you know me! We blew a few people out of race 5", he exclaimed.
"I have got an awesome team of volunteers, there are six of us here, Pam from the CYCA as well. It's working beautifully with them", he finished.
"It was a bit up and down but very tight racing", said David Dunn, skipper of Great White Hunter AUS1483 who is sitting in fourth overall.
"We had a win in Race 3 on day one, and got it together in the second race, Race 5 today, and had a win. But then we had a bad one. We changed our rig to our heavy air settings and we didn't have quite enough punch. So we shot ourselves in the foot a bit", he admitted. "Now we have a bad one, and will have to carry our ten from Race 1. We were in fourth in that race, but I tapped the last mark, and had to do a turn, and the racing was so tight we went from fourth to tenth!".
"It's fantastic camaraderie as always on shore, but there were a few dings out there today", said Dunn. "Polly [Peter McNeill] had his rig taken out. And there will be a bit of night sailing going on tonight", he finished.
For the full results click here.
The Etchells NSW State Championship runs 15 - 19 November on Pittwater with the final day of racing set to commence from 10:55 on Sunday.

Fantastic imagery by Terry Calley of Hippodrone of Day 2 racing: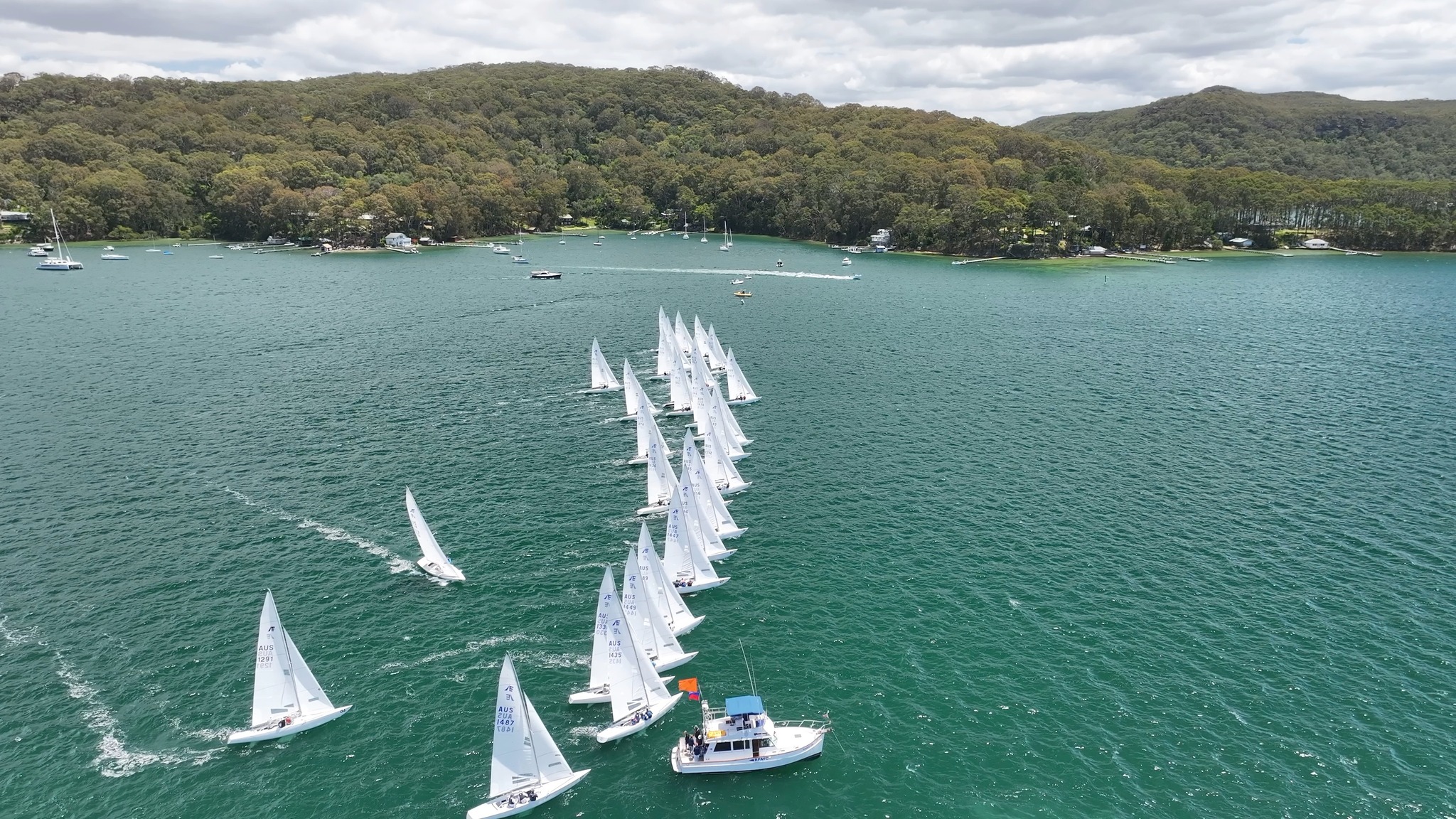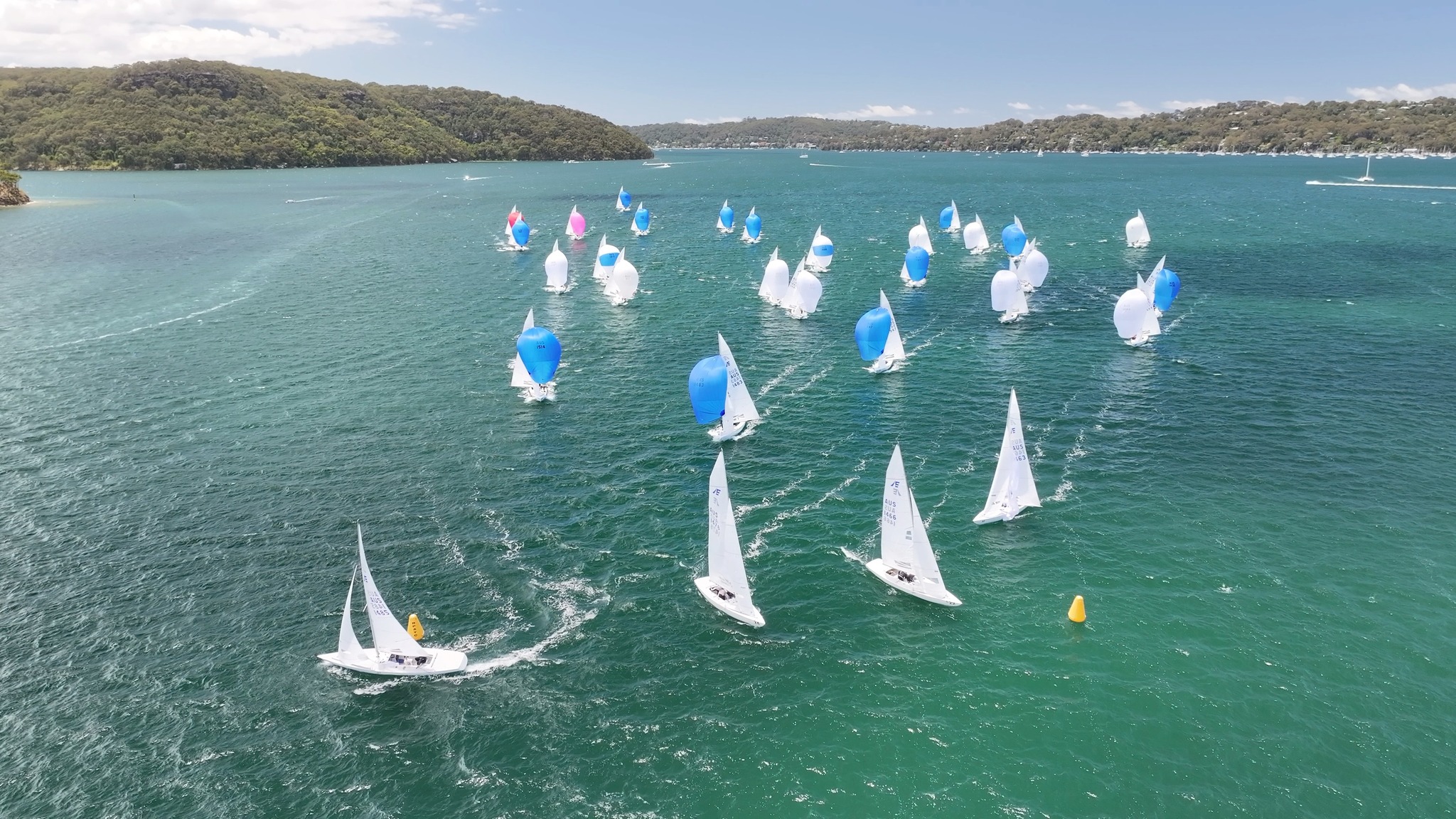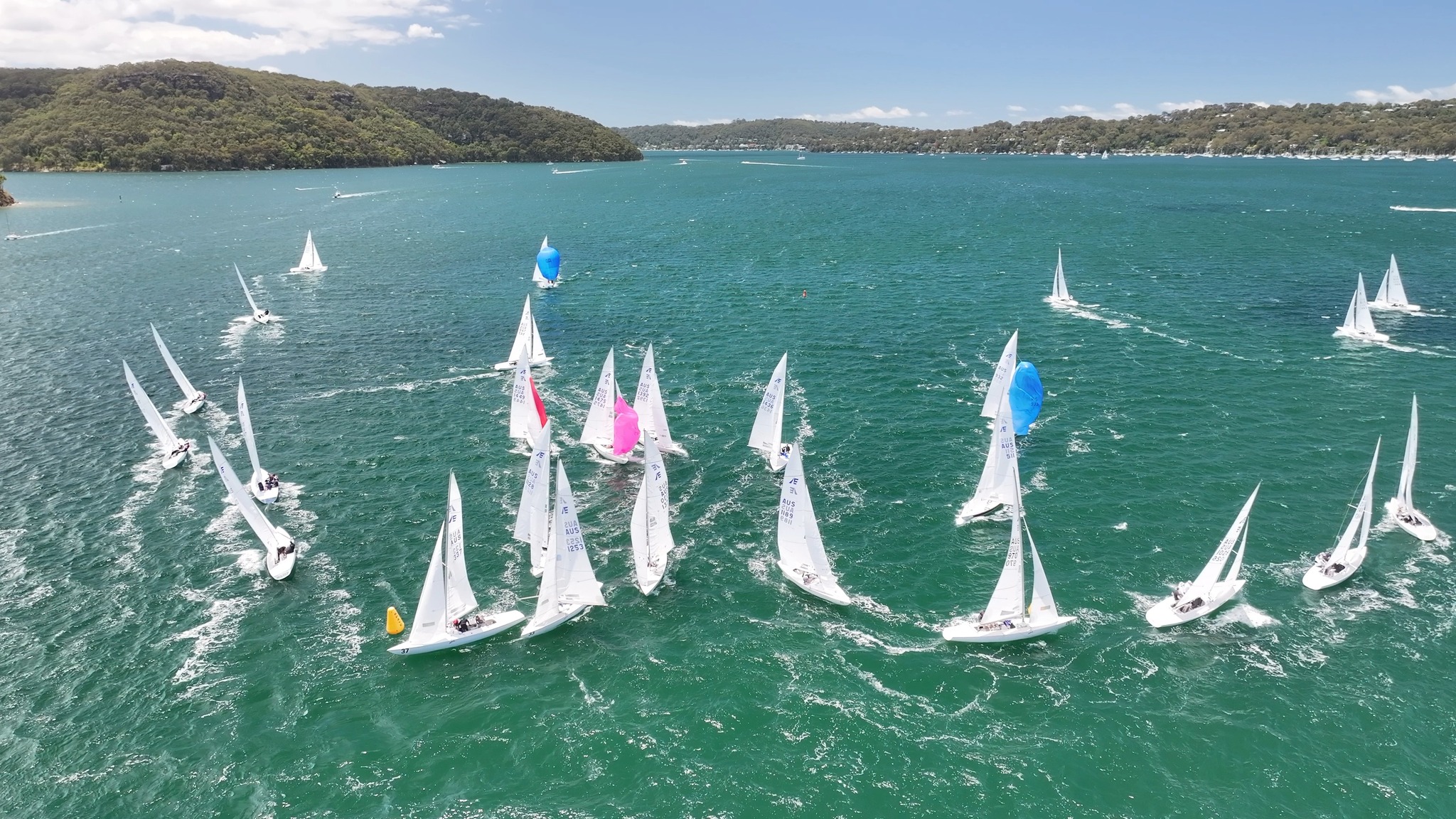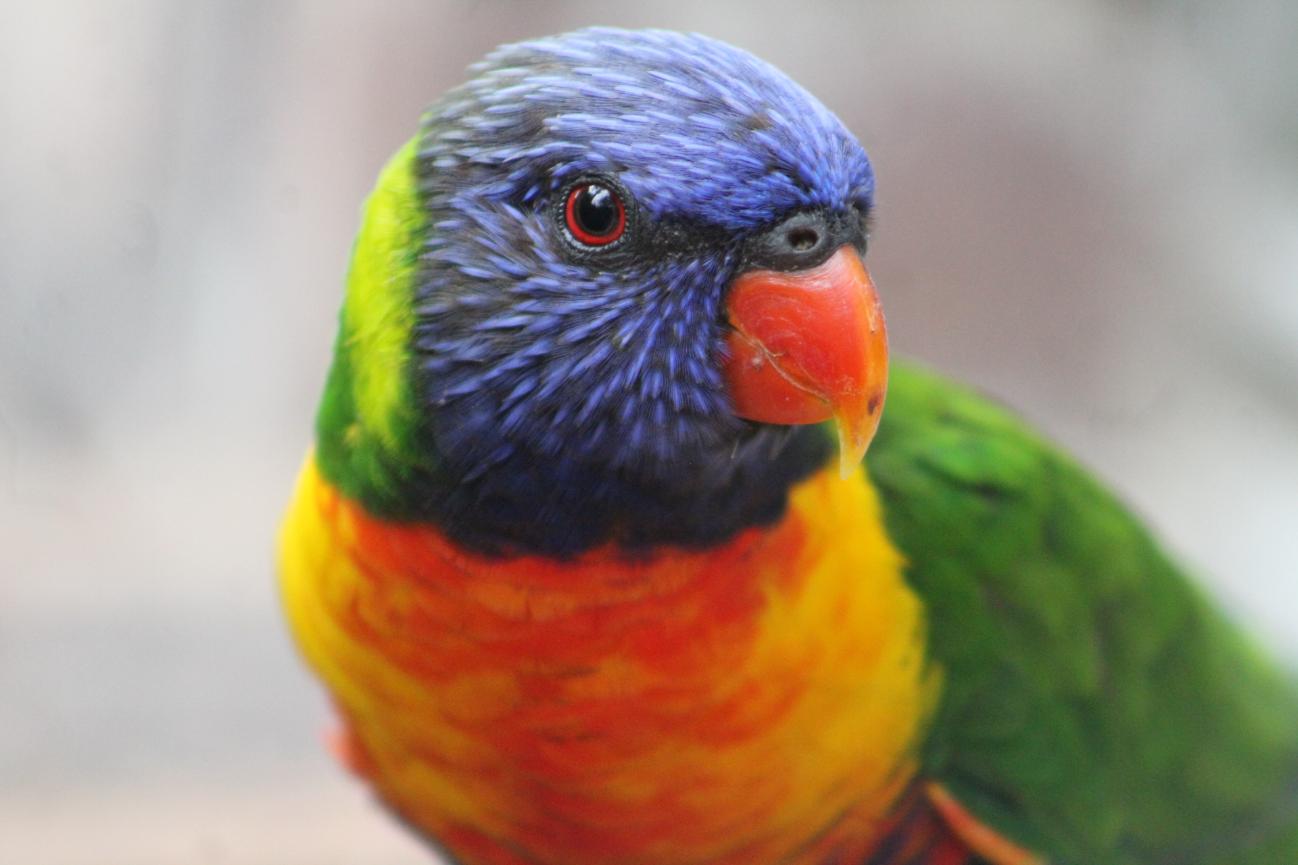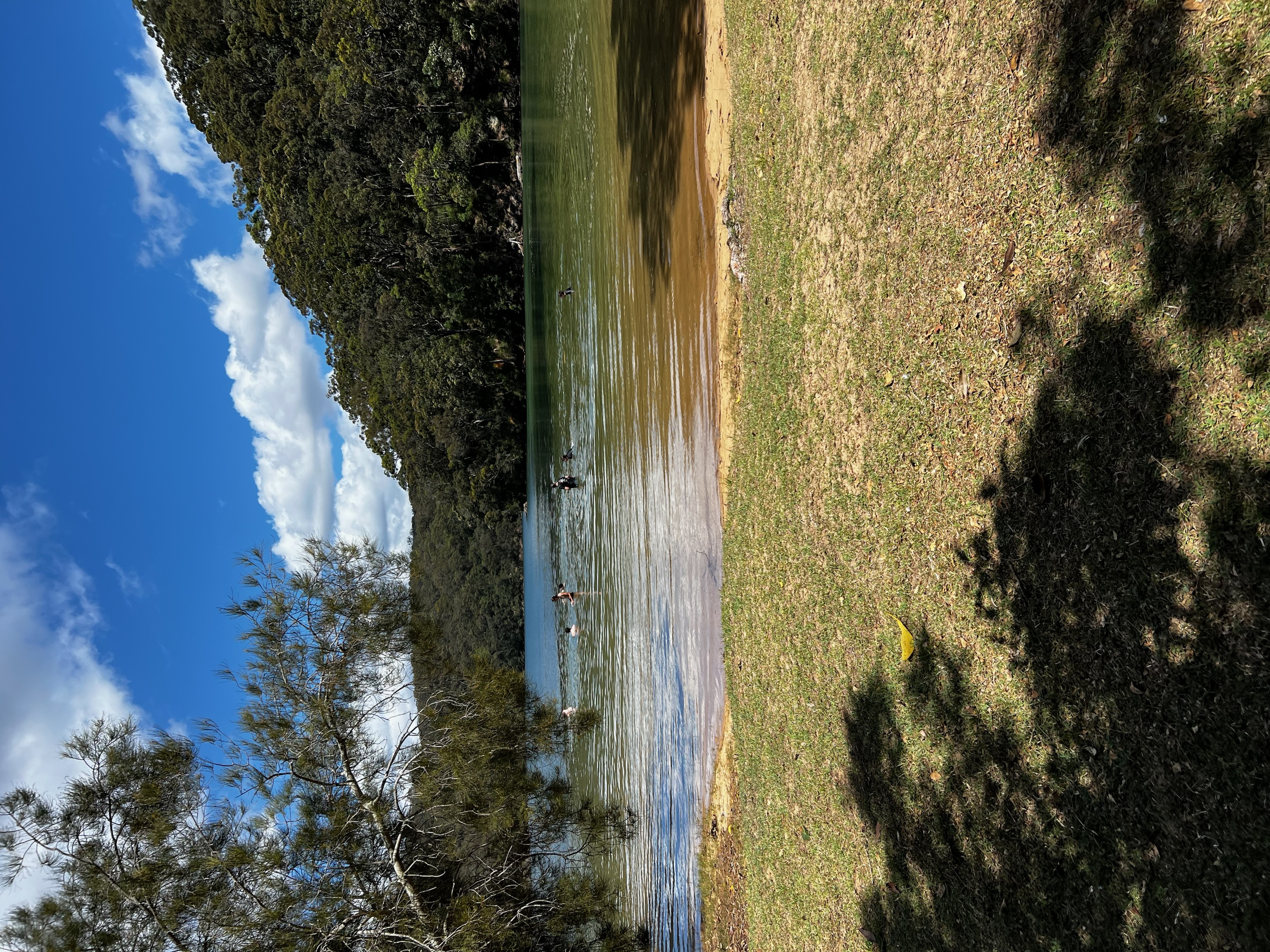 At
The Basin, Pittwater. Saturday November 18, 2023
. Photo by Selena Griffith
Past Features Archives (pre 2014)
Pittwater Online News was selected for preservation by the State Library of New South Wales and National Library of Australia. This title is scheduled to be re-archived regularly.
Archived Issues (2014 on) may be accessed here: pandora.nla.gov.au/tep/143700
Past Issues are also listed on site on the Community News page, by month.