November 19 - 25, 2023: Issue 606
Newport Surf Clubs' Sports Academy athletes going from strength to strength: Coolangatta gold wins + Athletes in 2023-24 Nutri-Grain Iron Start list + summer of surf series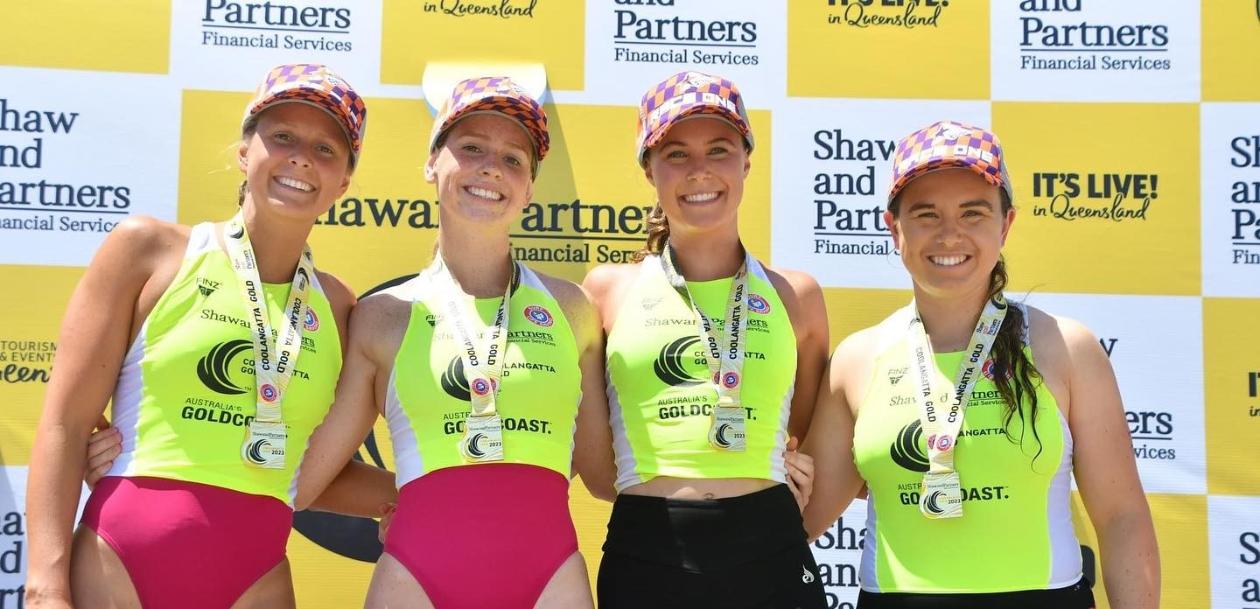 Newport wins gold at 2023 Coolangatta Gold: Lizzie Welborn (on board), Dominique Melbourn (swimming) Piper Harrison (running) and Jemma Smith (on ski), – Open women's short course team 1st. Photo: Newport SLSC's Newport Kinghorn Surf Racing Academy
Ten years ago the
Newport SLSC Surf Racing Academy
was launched. Since then the academy attracted the strong support of Jill and John Kinghorn to become the Newport Kinghorn Surf Racing Academy and successfully achieved its aim to increase the quality of surf lifesaving at the Newport Surf Club through its surf sports programme.
Its purpose can be read in this extract from the Academy Constitution
…established for the public charitable purpose of providing advanced training for those engaged in surf life-saving and to foster excellence in teaching and encouragement of surf safety practise, swimming, water safety and water sports.
The opening day of the 2023 Shaw and Partners Financial Services Coolangatta Gold on October 14 delivered sunshine and testing conditions as competitors took on the 21km short course race as well as teams and youth events.
Newport Ironman Jackson Borg powered home to deliver an emphatic win in the Open Male short course.
"That's an awesome way to start the season, means that what I've been doing in the off season is working and gives me a bit of confidence," Jackson said.
"I had a lot of ups and downs last season, and so I have to trial for the Nutri-Grain IronMan Series this season. I wanted to focus on the short course this year, be a bit sharper, instead of focusing on my steady pace.
Jackson led from start to finish, managing to pull away from the field in the opening ski leg and carrying his momentum through for the two hour plus race.
"I kept on looking back, so I was trying to keep an eye on the boys behind me. But Archie (Vernon) and Mitch (Stitt) are good athletes, they are both so young and kept me honest the whole way.
"It's always awesome to come up and do the Coolangatta Gold, it's such an iconic event. It's definitely on my bucket list every year, it's one that I've been able to cross off a few times now," he said.
Newport's Jemma Smith, Lizzie Welborn, Piper Harrison and Dominique Melbourn finished first in the Open Female Teams while their Under 17's of Olivia Clues and Pipi Te Pania placed 1st in their age division as a Team and overall in the short course teams event, coming in just under 4 minutes ahead of the Newport Girls Team.

Jemma also won the Downwind Paddle Open women's event. Smith, who won the inaugural title in 2022 and is the current world champion, showed why she is among the best paddlers in the world, claiming a commanding win ahead of New Zealand's Danielle McKenzie.
Jemma said she was super proud to be part of the event and see so many paddlers joining in.
"I think the greatest thing to see was when we were lining up and just how many people were there. It's unreal that everyone has really got behind this event. It's the second year it's been run, and to see the numbers grow has just been awesome.
"I'm really stoked to be a part of it, and I hope that everyone has had a great day out here at Coolangatta. I even got to paddle alongside a whale out there, which was really cool," she said.
Smith said she's now eager to head over to Perth, where she hopes to defend her 2022 world title.
"Going over to Perth, we've obviously got Race Week straight into Worlds, so there will be a lot of paddling on offer for everyone.
"Really looking forward to getting over there and lining up against the best in the world. It will be a really good time over there, and I can't wait for it to come around," she said.
Newport's youngsters did well this year with Charli Barbour placing 1st in the U15 women's youth challenge, Tom Shrivell winning 3rd in the U14 male junior gold and Matilda Young placing 4th in the U14 women's youth challenge. Newport does well in Masters events as well with Bec Capell winning 3rd in the 40-49 women's short course.
This was followed by the 2023/24 Nutri-Grain IronMan/IronWoman Series Trial at Tugun SLSC, QLD on 11-12 November.

Here again Newport athletes excelled with Jackson Borg, Charlie Brooks, Lizzie Wellborn and Piper Harrison having qualified and 2023 SLSA Surf Sport Youth Athlete of the Year, Conner Maggs, securing a wild card just a few days ago, on November 15.
Newport's Charlie Verco, Pipi Te Pania and Analise Kibble all showed their talent in the open category and made the list for Sunday November 12 final qualifying round.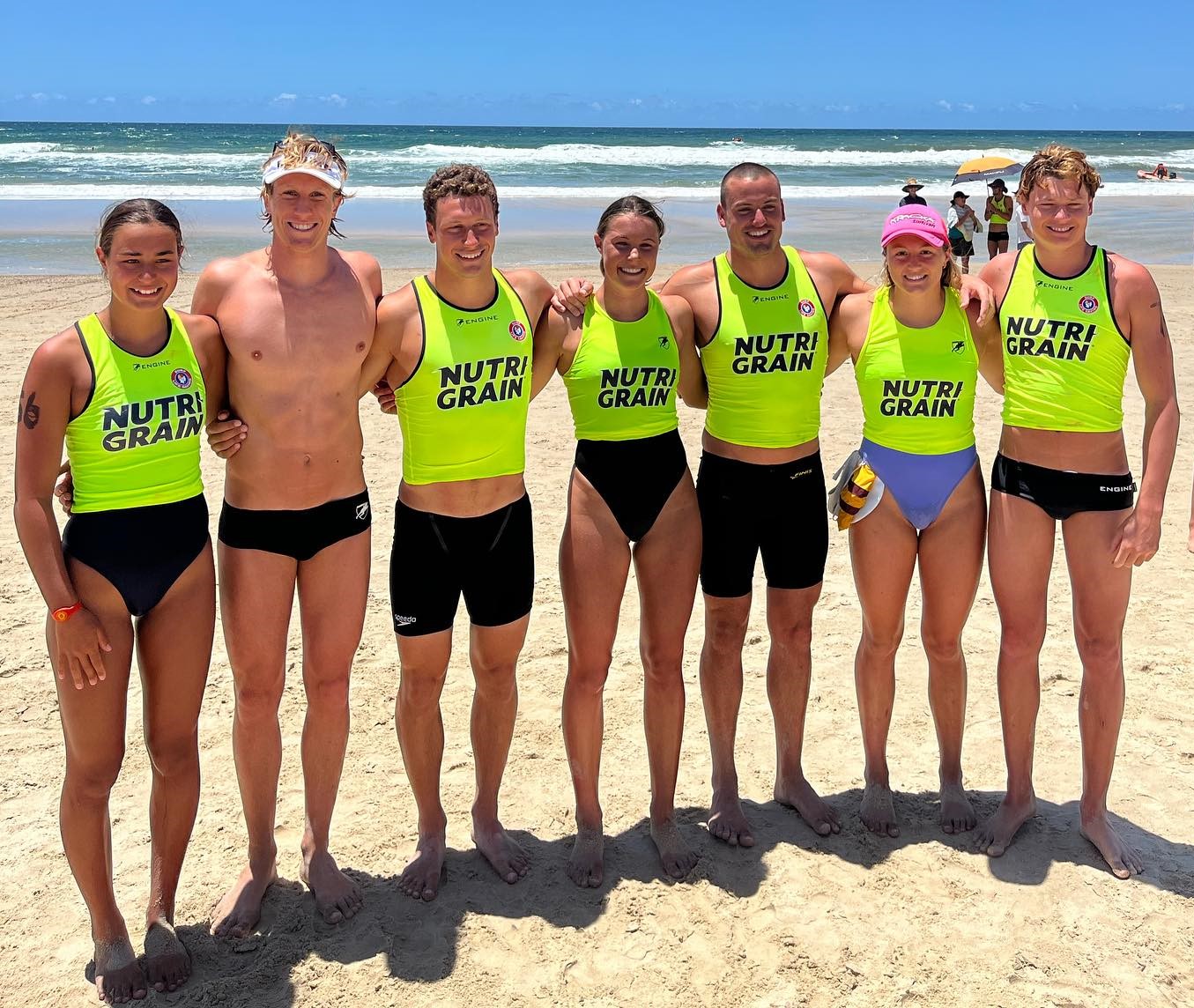 Some of Team Newport at the Nutri-Grain trail. Photo: Newport Kinghorn Surf Racing Academy
With the qualification of these competitors in each field at Tugan over the weekend, there were just two male and two female positions remaining to complete the 2023/24 Nutri-Grain IronMan and IronWoman Series.

Former Series Champion Harriet Brown (Northcliffe) and Sunshine Coast IronWoman Tayla Halliday (Alexandra Headland) were awarded the female wildcards, whilst SLSA Athlete of the Year Connor Maggs (Newport) as stated above, and last season's Next Gen competitor Auden Parish (Northcliffe) being awarded wildcard spots following the trial, to confirm the field of 20 ironmen and 20 ironwomen for the season.
Prior to that those announced overall were: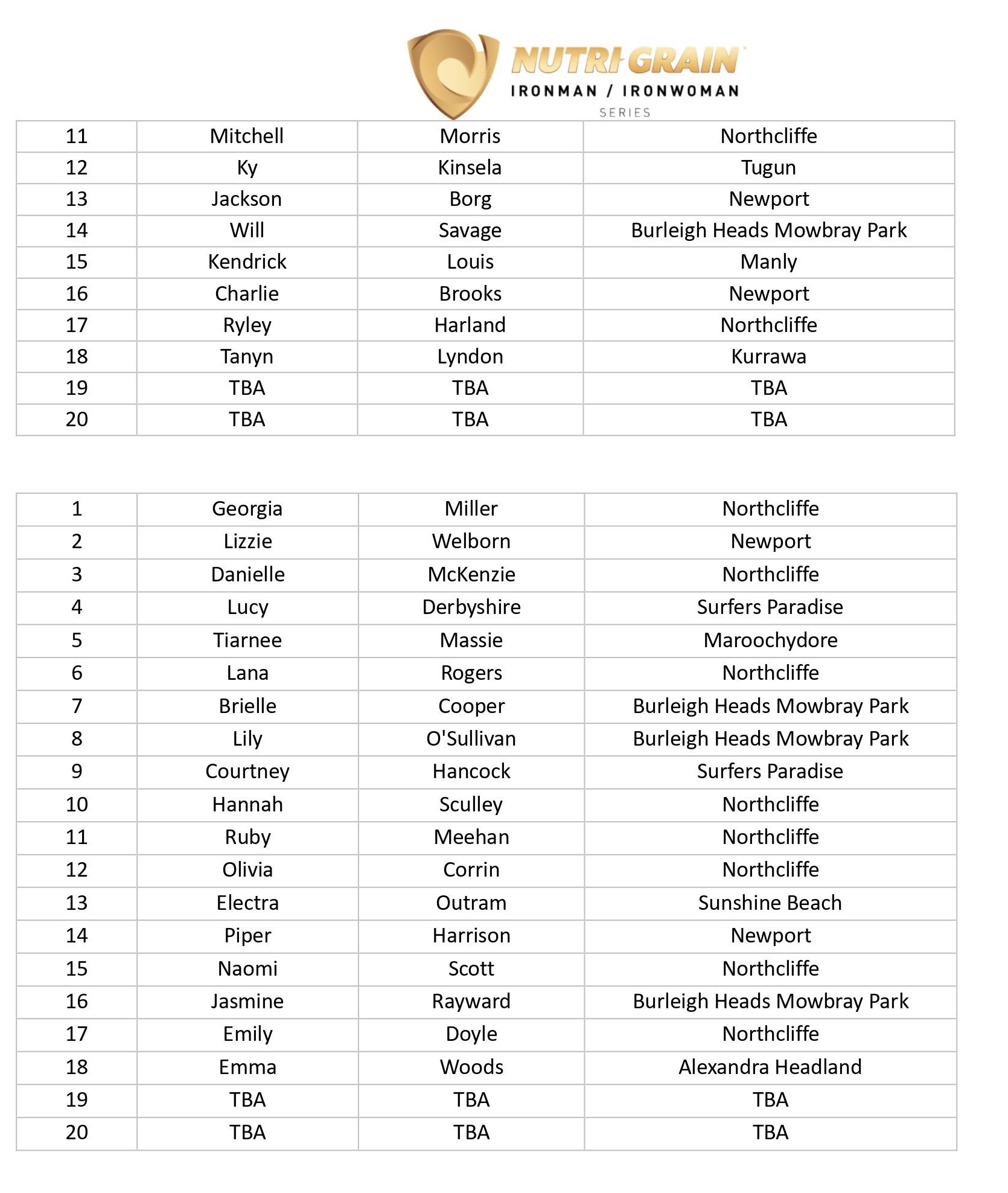 Hosted across three weekends at three iconic locations the 2023/24 Nutri-Grain Iron Series will incorporate various race formats incorporating all aspects of Ironperson racing. The Nutri-Grain Ironman & Ironwoman Series will be held across six rounds with all the action live on SBS:
16-17 December 2023, Rounds 1-2, Manly Beach (Sydney)
13-14 January 2024, Rounds 3-4, Maroubra Beach (Sydney)
3-4 February 2024, Rounds 5-6, Kurrawa Beach (Gold Coast)
Pittwater Online spoke to Guyren Smith, President of Newport SLSC about these recent results.
''These are just fantastic results and I'm stoked for the girls who did so well at this year's Coolangatta Gold, for Jemma who is heading across to Perth along with a few other of our athletes, and for Jackson, Charlie and Connor, along with Lizzie and Piper for securing their places in the upcoming Nutri-Grain series.'' Guyren said
''Essentially 10 years ago when we started the Newport Sports Academy we were focussed on using what is learnt by our members through this to strengthen their work and capacity in our Patrols on the beach.
That they have started their season so well is a testament to what has been achieved during the past decade through the academy. To have 5 out of the 6 New South Wales athletes competing in the 2023/24 Nutri-Grain series come from Newport signals we're getting something right.
Newport athletes will also be competing in this Season's Summer of Surf series as well. This weekend (November 19) members have headed down to the Bulli Sydney Water Shaw and Partners Summer of Surf.''
In the female Summer of Surf series Newport young gun, Piper Harrison has headed south to continue her early summer success. Taking the win in round 1 at Wanda in the Summer of Surf series, recently qualifying for the Nutri Grain Ironwoman Series, and looking to back up at Bulli this weekend, Piper is excited to be back on the beach.
"The Summer of Surf series has become such a big and exciting event on the calendar, and I love being a part of it," she said in an interview with Summer of Surf.
"I have always been encouraged to race as much as possible, you learn so much from racing that can't be emulated by training! I wouldn't miss it."
Newports' Connor Maggs also produced the goods at Wanda in the first final of the day and began his Summer showing no signs of a "second season struggle." The U19 athlete had two wins and a second in the big 4 events at Wanda - 1st in the Swim, 1st in the Board and 2nd in the Ironman, making him one to watch this season. North Curl Curl's Luke Higgs won 2nd in the Mens Swim .

Newport's Charlie Verco finished with the bronze in the board race of a high quality final that saw a few of the big guns missing after getting knocked in the semi's.

Manly's Kendrick Louis won 1st in the Open Mens ski, an event in which he excels.

The women's Surf Race was another one for the up and comers with Newport's Sarah Locke taking the win in huge conditions. Sarah is a gun pool swimmer turned Ironwoman and with her Dad being the oldest bloke to ever win a medal in the mixed double at Aussies, the future is very bright for her.

North Curly's Ashleigh Windsham finished second in the swim.

In the Womens Board Race Manly's Georgia Singleton finished first, North Curl Curl's Ashleigh Windsham scored her second silver for the day and Newport's Analise Kibble was rewarded for a tough day with a Bronze after being close in most of the other finals.

All this underlines that starting the sports academy at Newport in 2013 is achieving the important goals within the programme, including:
Improve Newport SLSC's standing at the Australian and NSW Championships.
Increase the number of athletes qualifying and competing in the elite Kellogg's Nutri-Grain Iron Series.
Promote opportunities for female members to increase their lifesaving capability through surf sports.
Expand the programme across all sports disciplines, including IRB & lifesaving specific events.
Expand the programme to support our Nippers, including the Marlins and Dolphins (for children and adults with special needs).
In 2013, members of Newport SLSC formed the Newport Kinghorn Surf Racing Academy with clear aims:
Top club at the NSW Championships.
Top 3 club at the National Championships.
Reduce the NSW talent drain to the affluent Queensland Surf Life Saving Clubs.
In March 2023, Newport won their 9th consecutive NSW Championship point score. They have been in the top 3 Australian clubs on 6 occasions: 2015, 2016, 2018, 2021, 2022 and 2023 (Newport were ranked 48th in 2011). In April 2023, Newport won the Australian Championships Handicap Point Score.
And all this stems from wanting to offer a second to none option in NSW for surf sports athletes and to excel in volunteer patrols on the sands at Newport beach each Season.
As Guyren says, ''Community service is at the very core of the surf lifesaving movement and what we do at Newport surf club. The Newport Kinghorn Surf Racing Academy programme instils the importance of that commitment in every member of the academy.
We believe that in supporting this programme we are not only supporting the retention and development of elite athletes, we are supporting the creation of a better local community with the most efficient and effective surf lifesavers patrolling our local beaches.''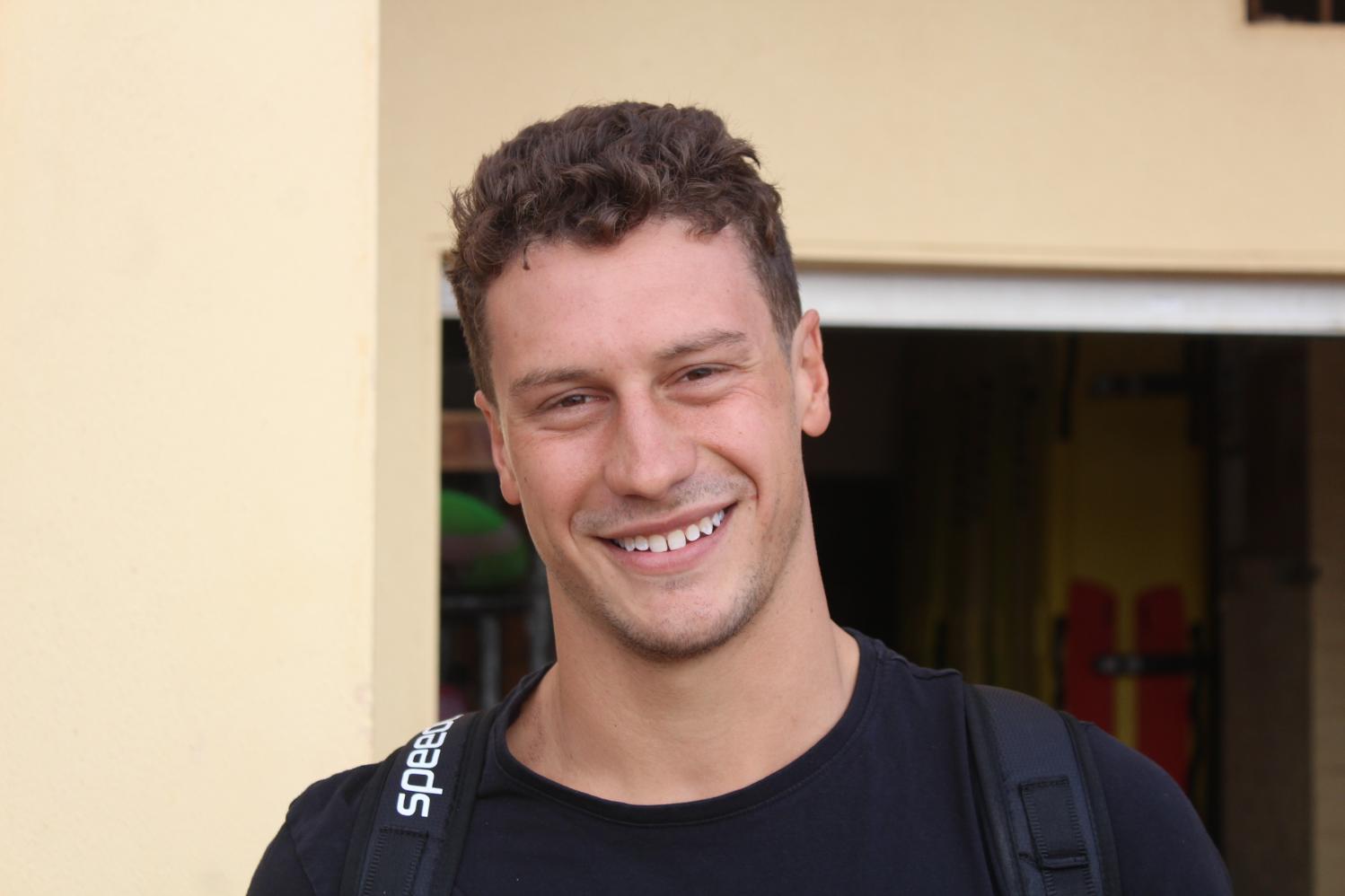 Jackson Borg - opens his 2023/24 Season with a Coolangatta Gold 2023 win. Photo: A J Guesdon/Pittwater Online