November 12 - 18, 2023: Issue 605
Surf Lifesaving Australia's Awards of Excellence 2023: SLSA Meritorious Award for Avalon Beach Rescue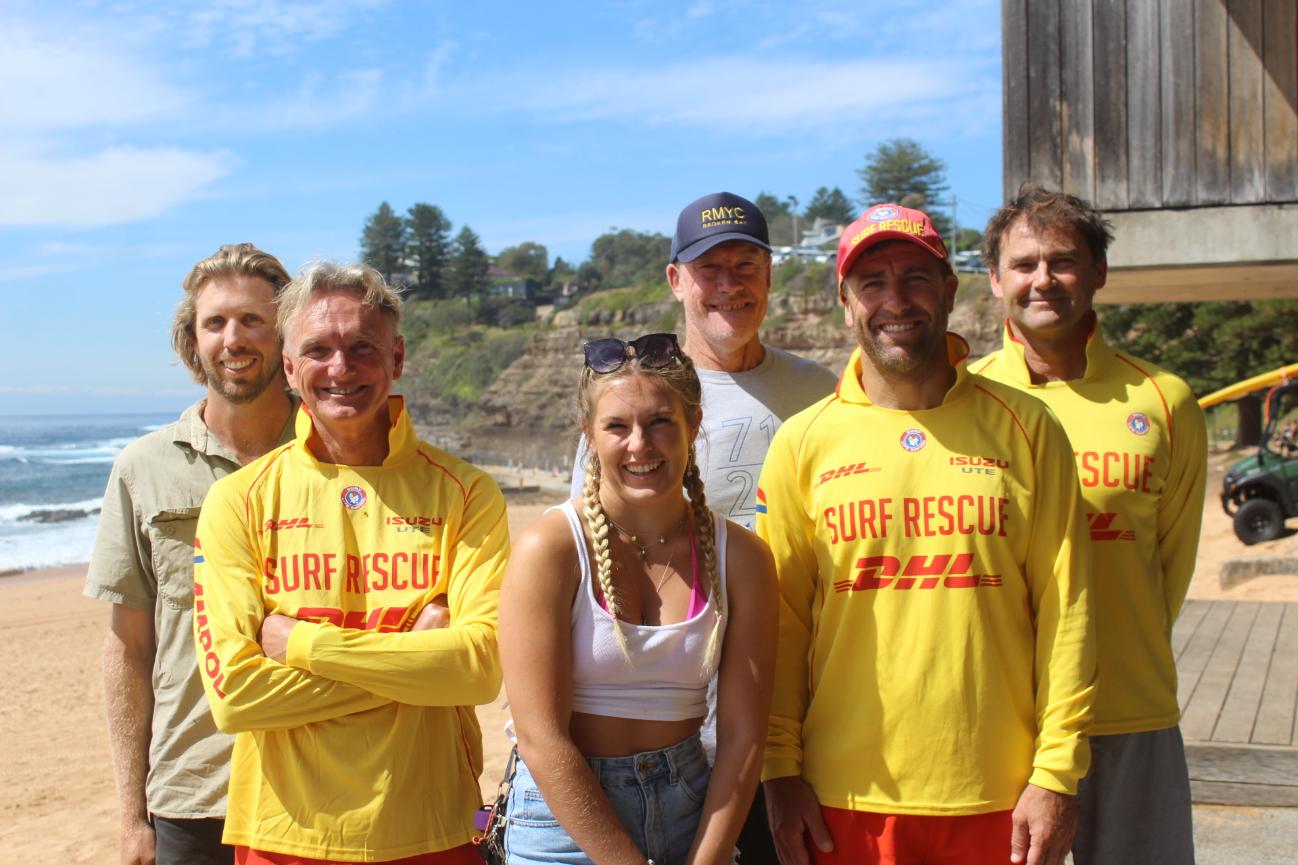 Left to right: Karl Attkins, Mike Stanley-Jones, Blaze Roberts, Stuart ('Stretch') Cooper, Andrew Clarke (Clarkie) and Lucas Molloy. Photo: A J Guesdon.
SLSA MERITORIOUS AWARDS were given to four Avalon Beach Surf Lifesavers and two local big wave surfers on Saturday night, November 4 2023, in recognition of their combined rescue of a fellow ABSLSC Surf Lifesaver who was brought back to life by them after drowning.
Avalon Beach SLSC members Michael Stanley-Jones, Andrew Clark, Stuart Cooper, and Lucas Molloy, along with Blaze Roberts and local surfers and friends Stuart Cooper and Karl Attkins carried out the rescue of Surf Club Trainer Mark Head who suffered a freak accident in the surf at South Avalon on Friday September 16 2022.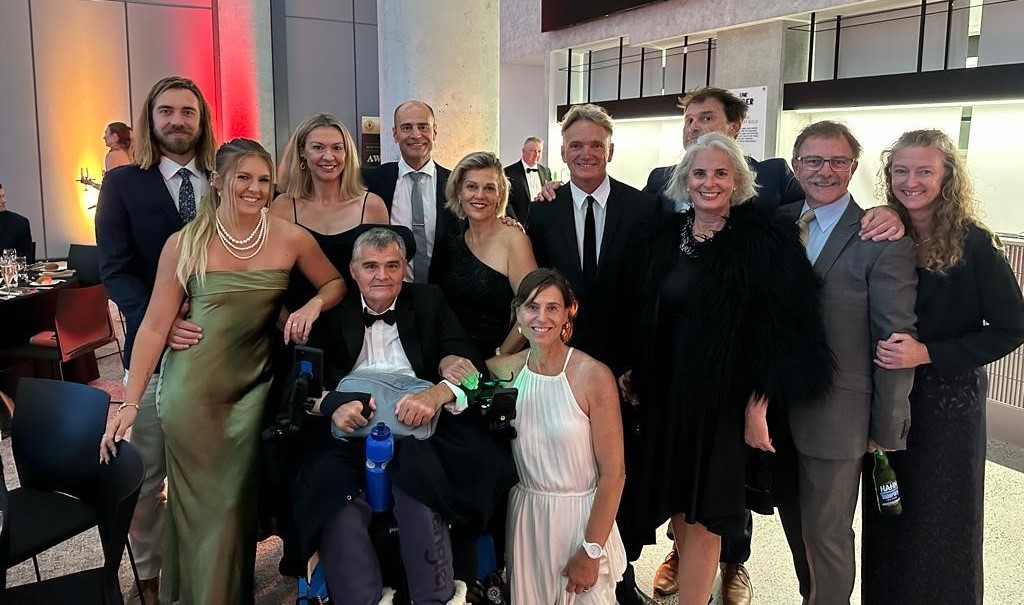 September 16, 2022, started as a routine Friday at Avalon Beach, but it quickly transformed into an extraordinary day. Four highly experienced surf lifesavers, Mark Head, Mike Stanley-Jones (MSJ) Andrew Clark (Clarkie) and Gem Lehman, gathered at the surf club for their usual training session. Gem opted for a quick swim, while the others grabbed rescue boards and headed out to the waves.
Amidst the waves, an unexpected event unfolded. Commotion on the south headland and frantic car horns attracted their attention. At first they thought the noise was to warn them of a shark so they started to return to shore. As they did Mike saw a rescue board had washed up on the beach. Local surfer and former Avalon Lifeguard Stuart Cooper ( "Stretch"), ran down from the headland grabbed the board and started paddling out, and yelled there's a body out there.
Mike Stanley-Jones went back out. To his horror he discovered their mate Mark's body floating under the water.
Mike initially tried to paddle Mark back to shore, but they were both thrown off the board by a sudden wave, which knocked them both off, losing the board. Stretch got Mark onto his board but the conditions required the combined effort of Stretch, Karl Attkins and Mike paddling together against the South Avalon rip to get Mark to the beach. Clarkie had made his way to the clubhouse to get oxygen and a defibrillator, promptly returning to the beach for the administration of CPR and oxygen.
Retrieval of Mark was made difficult and dangerous by large sets of waves, however, Mike, Stuart and Karl successfully rescued Mark from the water and brought him to shore where Andrew and an off-duty fireman were waiting to administer first aid with the rescue equipment.
During this critical moment, Blaze Roberts, surf club member and local surfer, assisted the team with first aid and CPR, and the defibrillator was applied to Mark with additional support from an off-duty fire and rescue officer.

The group administered CPR, oxygen and a defibrillator whilst attempting to resuscitate Mark for over 30 minutes, waiting for an ambulance and Paramedics to arrive.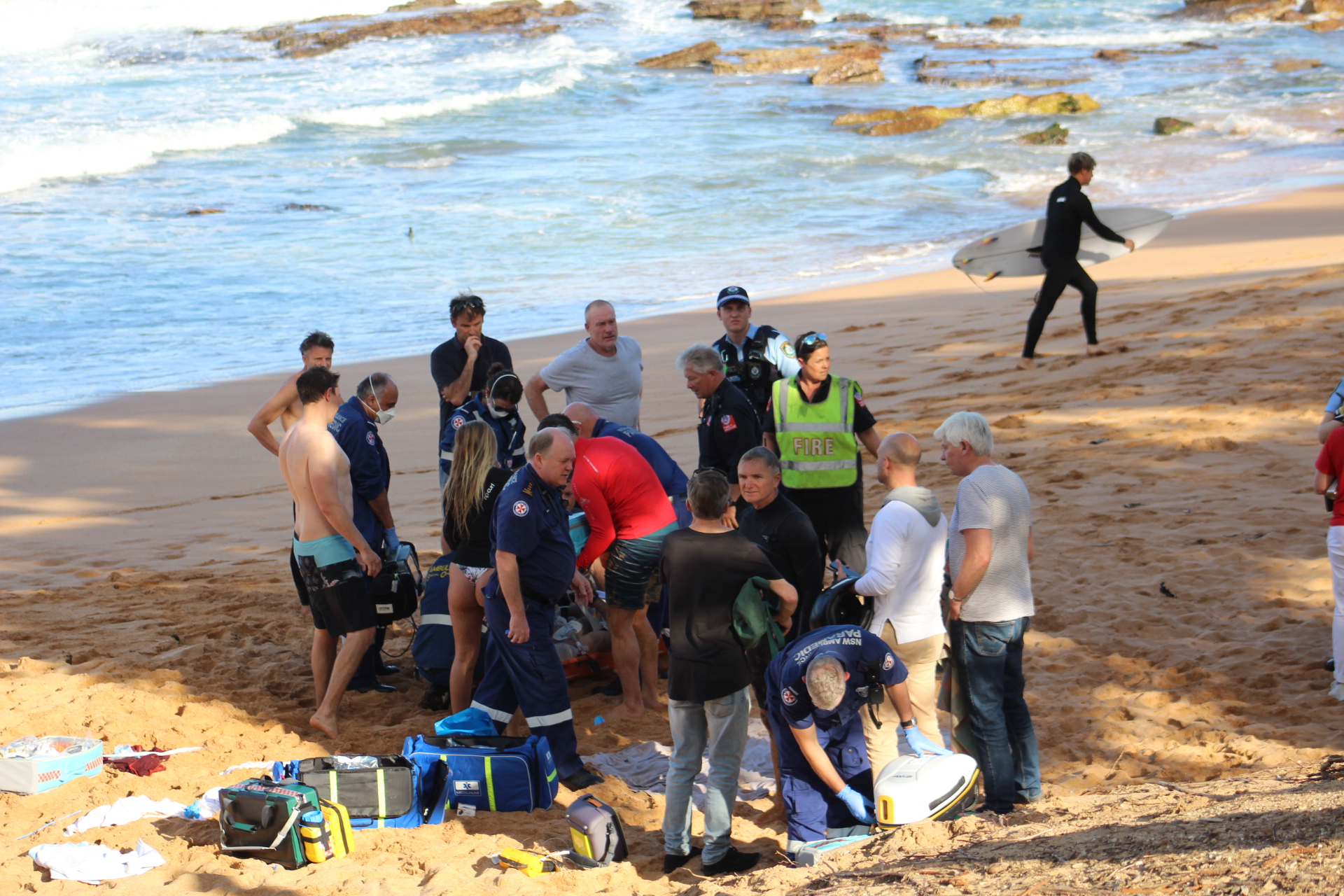 Friday September 16, 2022. Photo: A J Guesdon
After 30 minutes of sustained CPR use on Mark, by them acting in teamwork, rotating positions, paramedics arrived, administered adrenaline, and attached an automatic compressions machine to him before transporting him to the hospital, where they later informed the team that Mark had regained a heartbeat.
Mark had not been breathing for over 40 minutes, and everyone had feared the worst. It was subsequently found that his lungs were 100% full of water.
Mark's journey to recovery has been remarkable. He spent four days in an induced coma, with his strength and resilience leading to a gradual recovery. He has no recollection of what caused the accident but collision of his head with the board or rocks has left him with significant injuries. Despite this his brain is functioning perfectly and he suffered no brain damage from being face down on the water for approximately 8 minutes and a further 40 minutes of CPR, with no sign of life.
From the citation:
The incident's successful resolution was a testament to well-trained rescuers, swift access to equipment, efficient paramedic response, and unwavering determination. It highlighted the significance of preparation, teamwork, and community support within the realm of surf lifesaving.
In Mark's words:
"Last night, my 6 rescuers finally got the recognition they so richly deserve."
The combined efforts of trained surf lifesavers, and experienced local surfers all acting as a team is something for the Avalon Beach SLSC and the whole Avalon Beach community to be proud of.
Importantly, Mark does not want his accident to put anyone off enjoying the pleasures and health and wellbeing benefits of surfing, and joining a surf club.
Far from it, the incident shows the importance of learning what to do to help someone in trouble in the surf, not to stop or give up on CPR despite the length of time, and to not give up on getting better afterward.
In the face of the most challenging of circumstances, these exceptional individuals demonstrated skill, resilience, and unwavering determination. Their teamwork and dedication displayed during this rescue saved Mark's life and turned an ordinary day into an extraordinary one.
We extend our heartfelt congratulations for their well-deserved award. Their actions embody the very essence of our movement and we are grateful and immensely proud of their remarkable contribution to the preservation of life within our community.
Mark's own fight for survival has been nothing short of remarkable and he is applying the same resolute determination towards his recovery, supported by his Dad, Bobby Head, Louise and Charles Lindop and his many friends who continue to support him every day with his recovery.
After four days in an induced coma, 13 days in ICU, 3.5 months at Royal North Shore, 6 months at Ryde Rehabilitation, 5 months at Ferguson Lodge and soon Mt Wilga Rehabilitation Hospital, we are over the moon that Mark will soon be returning to his beloved Avalon Beach. More on that closer to the time.
The SLSA Meritorious award is the highest honour awarded by Surf Life Saving Australia for bravery. These awards, to both individuals and groups, recognise acts of bravery by members who went above and beyond, putting their lives on the line to rescue people who found themselves in trouble.
Report by Roger Sayers OAMJ, Life Member of Avalon Beach SLSC
Talking With The Rescuers On Their Work That Afternoon, Friday September 16, 2022 - From Their Individual Perspectives
Stuart Cooper (Stretch); I was on the headland watching, around 3 o'clock in the afternoon – my son was coming down to have an after-school surf. I was watching surf club members have a surf and recognised Mike (Stanley-Jones) as I know his surf style. I then saw Mark Head catch a wave and then saw him fall off and the board went forward. I didn't see what happened but did see the rescue board wash in to shore. I watched for a little longer and couldn't work out where the surfer was who had been on the board. At first I thought he may have swum over to where the other guys were or come in via shark alley.
I looked away, towards North Avalon to se what was happening there and then looked back and saw the board just about in the shore-break with no one swimming towards it. I thought 'that's really odd' and kept watching and saw a dark mass float towards the surface, which I thought at first was seaweed. Another 30 seconds passed and the mass rose to the top and I could see it was a body, face down. I looked around and there was no one around me then saw these guys still out the back – and they hadn't seen it – so I ran down the from the headland to try and ;let these guys know that 50 metres away or so there was someone in the water. I knew it was a clubbie because the rescue board had come in.
As I ran down to the beach I heard whistling and calling and waving from the headland and saw these guys coming in on the wave. When they came in they thought it was a shark out there – I said 'it's not a shark, there's a body out there' and I think I added in a few expletives.
Mike said 'where?', I replied, 'out there to the right' and we took off – I grabbed the rescue board that had come in to get out there.
I got smashed by a set and Mike beat me out there to Mark. The worst thing for me was I knew it was a clubbie, Mike didn't know it was a clubbie, let along his best mate, so when he got to him, he was about aboard length in front of me, I grabbed his leg and pulled him back so I'd get there first. Mark's head rolled back and Mike said 'It's Mark - NO!'
Mike pulled him back and rolled him up onto his board and then this very large set came through, smashed Mike and Mark and we lost him. When he water settled back down I could see Mike was around 20 metres away.
Something then went beneath me and hit my feet – I knew what it was because it was big and didn't' feel good. I reached down and pulled Mark to the surface and tried to get him on my board. A wave came and we got smashed and knocked him off. I got him back on again, he got washed off – this happened around half a dozen times while I was by myself
Karl Attkins then paddled over and said 'what do you want me to do?' – I said 'help me get him on the board', I couldn't get him on the board and keep him on. Karl was then able to help me get hm on the board - we then had two surfers on either side of him. I asked Karl to hold on to his wetsuit neck and hold on to the surfboard and said 'Karl, whatever you do, don't let go of him, no matter how smashed we get because if we lost him, he's going to sink like a stone.'
Then lots and lots of sets hit us – I heard Mike yelling towards the beach, probably organising Clarkie and those guys – Karl and I just got pounded. The rip kept taking us out and even though we kept paddling towards the shore that south Avalon rip just kept taking us out. Because Mark wasn't conscious, wasn't able to hold on and help us, and because I wanted to keep his mouth out of the water, we had him face up for a reason, in case we could to mouth-to-mouth or cardiac, which wasn't possible – I tried some cardiac compression from the water level, which I'd been taught as a Lifeguard, but it didn't work. I hit him six or eight times and saw some foam coming out of his mouth but given his mouth was open the whole time, and every wave just kept going over us, he would have taken in more saltwater.
When we saw we were getting further away from Clarkie and the others on the beach, we were physically still going backwards, we focused on just getting to the beach because we could see so much help waiting there.
More big sets hit us and we got washed, finally, towards the rocks. Those sets kept washing in to the shallower and shallower water. Finally a wave broke over our heads and I said 'hang on, we're up on the rocks'. As soon as we were up on the rocks everyone was there – Mike was there, Clarkie was there, I saw lots of people I knew and thought 'thank God for that, thank God the troops are here'.
It was definitely one of the hardest rescues I've done in 20-30 years.
North Narrabeen's Laura Enever Sets New World Record For Largest Wave Surfed Paddle-In (Female)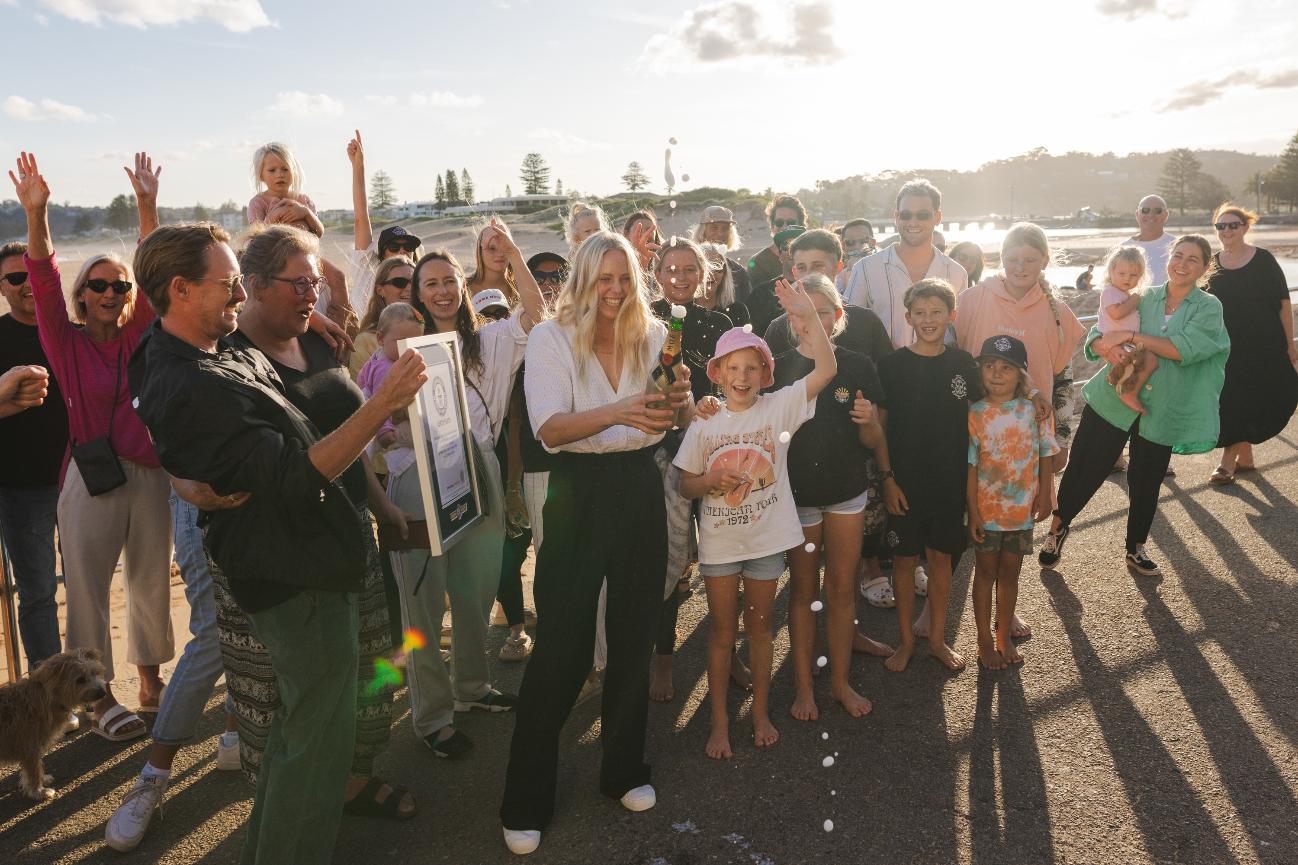 Laura celebrating with family and friends at North Narrabeen. Photo: WSL / Matt Dunbar
Wednesday, November 8, 2023
The World Surf League (WSL) announces that Laura Enever (AUS) has set a new GUINNESS WORLD RECORDS™ title for the Largest wave surfed paddle-in (female). The WSL officially analysed, measured, and verified Enever's 2023 record-breaking ride at 43.6 feet (13.3 meters) as part of the WSL Big Wave Record Chase, making it the biggest wave ever paddled into by a woman.
Enever, who is 31 years old and from North Narrabeen, successfully surfed a wave measuring 43.6 feet (13.3 meters) from trough to crest at Outer Reef, the big-wave break on the North Shore of Oahu, on January 22, 2023.
"I knew it was big when I paddled into it, and then when I took off, I looked down, and I knew it was definitely the biggest wave I've ever caught," said Enever. "I knew it was the wave of my life, the whole way it all came together and the way I committed, backed myself, told myself to go, and trusted I could do it. The ride was such a breakthrough for me and a moment that will be special and monumental in my surf career. To get awarded this months later is really cool, I can't believe it.
"I would never be in this position if it wasn't for all the big wave surfers who have come before me and paved the way, especially the really brave, courageous females who have always inspired me and made me feel like I could get out there and give it a crack. So, thank you to all the amazing women. I'm just constantly in awe. Andrea Moller held this record before me, and it's an honor to hold that record and keep pushing big wave surfing. And I know that the next girls, the next generation of female big wave surfers, are going to do the same."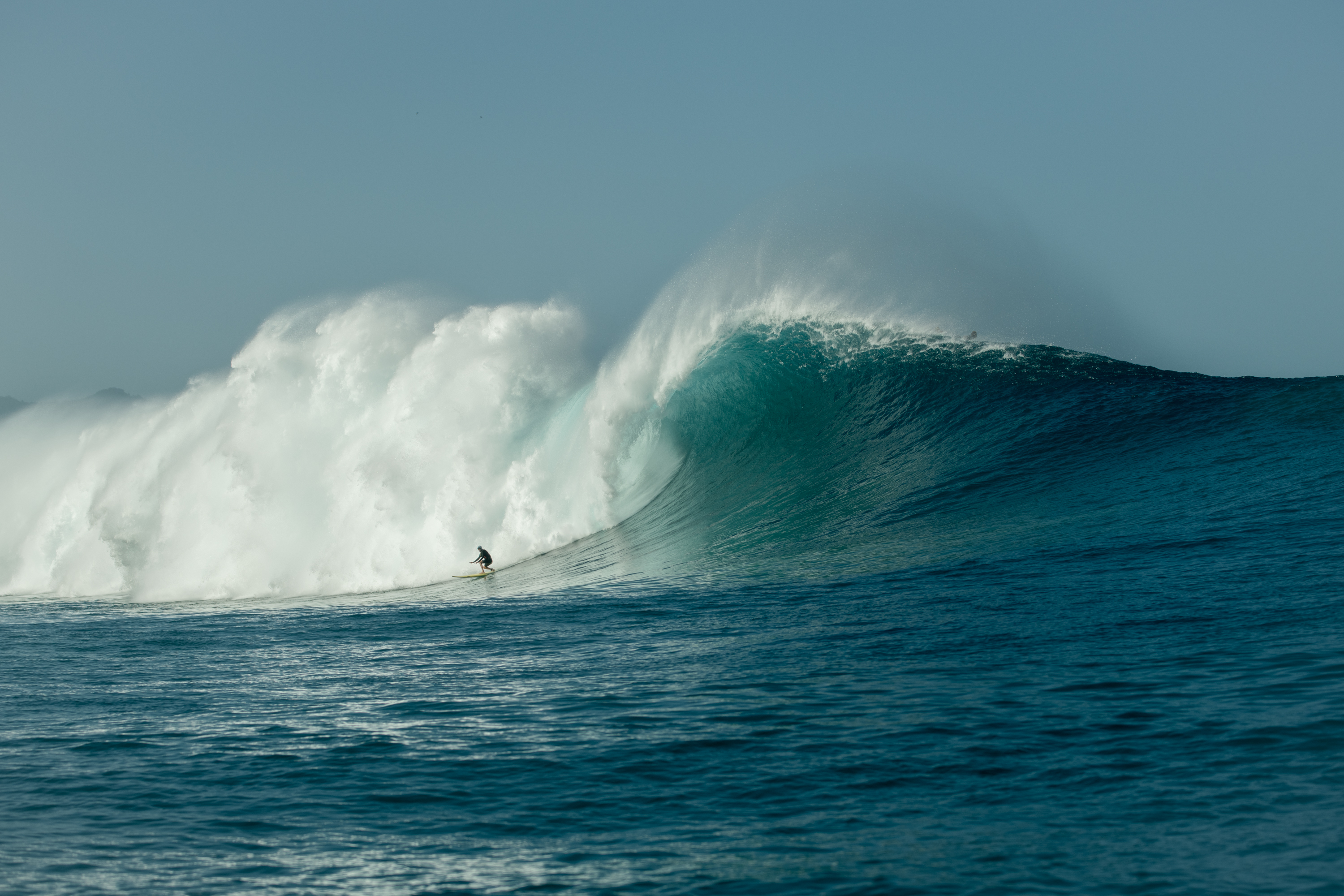 Photo; WSL / Daniel Russo
Enever's World Record adds to an already stellar surfing career. She was the ISA Junior World Champion and Triple Crown Rookie of the Year in 2008, and World Junior Champion in 2009. In 2011, Enever qualified for the WSL Championship Tour, where she competed for seven years, consistently finishing in the Top 10. She has gone on to compete in WSL Big Wave events and push the limits of big wave surfing.
"Huge congratulations to Laura for this incredible achievement," said Jessi Miley-Dyer, WSL Chief of Sport. "Laura is fearless, committed, and a real inspiration, and I'm so proud to celebrate her. These World Records really allow us to shine the spotlight on athletes like Laura who are pushing the boundaries of Big Wave surfing."
Enever was awarded the GUINNESS WORLD RECORDS™ certificate in her hometown of Narrabeen in New South Wales, Australia, where she celebrated the accomplishment with her family and friends.
"I've worked my whole life to be a professional surfer and to be on the World Tour," continued Enever. "I was there, and I gave that up for this pull and urge to surf big waves. I was just thinking I just wanted to go do this for me, and to be here today and to have a GUINNESS WORLD RECORDS™ title for the biggest paddle, I can't believe it."
Enever's record bettered Andrea Moller's previous record by just one foot, which was caught on January 16, 2016, at Pe'ahi, Maui. Moller, an internationally recognized waterwomen, pioneer of big wave surfing, and respected paramedic, held the record for seven years. She was the first woman to paddle into a wave at Pe'ahi, the first woman to catch a wave in the prestigious Eddie Aikau big wave contest, and an advocate for equality and progression in big wave surfing.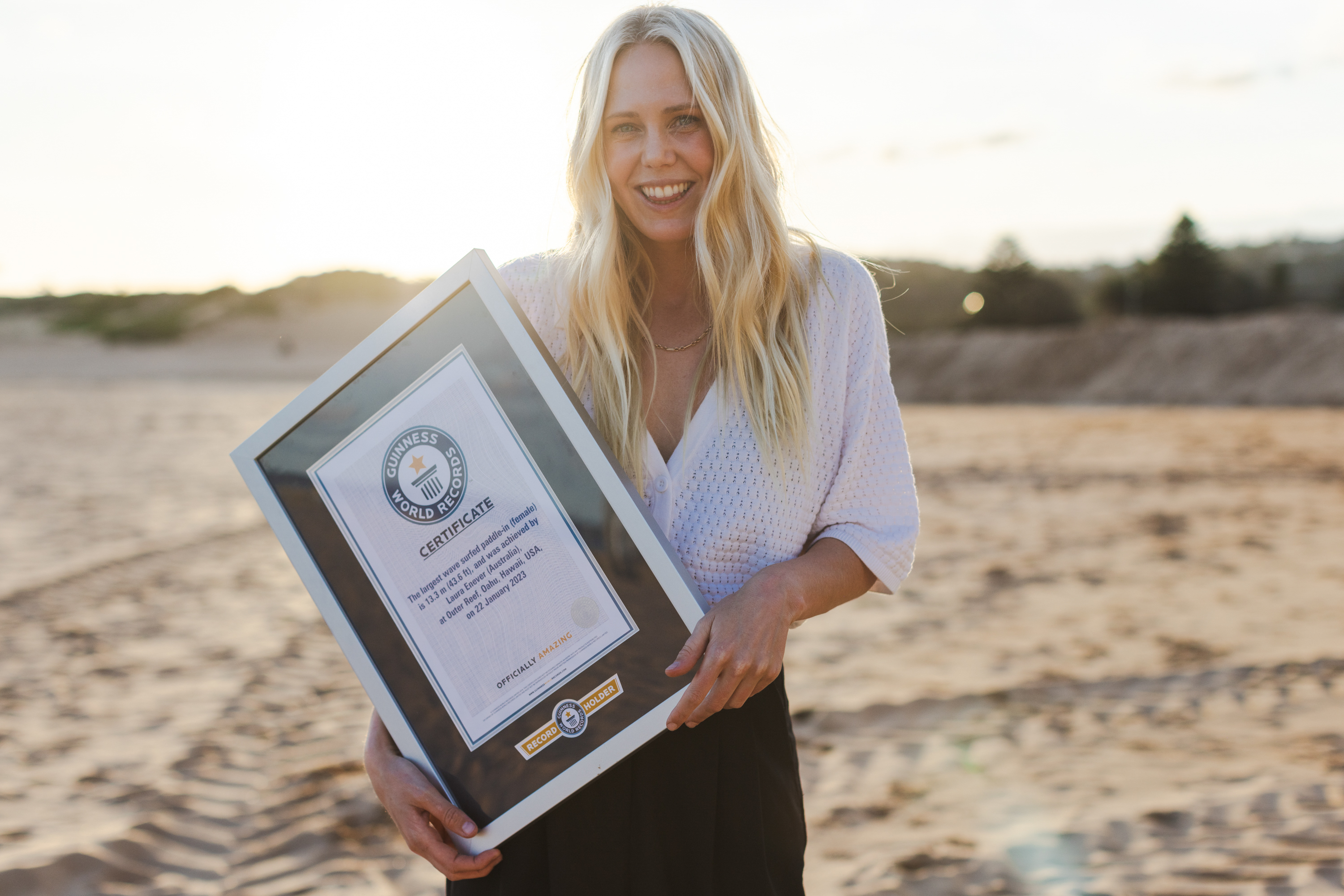 Photo: WSL / Matt Dunbar

About the Measurement Process
The WSL Science Team, led by Michal Pieszk, Senior Research and Development Engineer of the Kelly Slater Wave Company (KSWC), collaborated on the analysis of the largest waves ridden in the Paddle-In category during the 2022/23 WSL Big Wave Record Chase season. The team used a range of wave-measuring techniques using video footage, detailed information about the site, the location of the videographers and location of the wave, to determine the wave height
Several frames from the video footage were extracted and geometrically corrected based on camera positions and angles. Using known objects such as jet skis and actual measurements of Enever's body geometry, it was possible to calibrate the images for conversion from pixels to feet. The location of the trough and crest of the wave was determined from analysis of the video from two different angles.
For more information, please visit WorldSurfLeague.com.
Avalon Beach RSL + Pittwater RSL Sub-Branch Remembrance Day Commemorative Services 2023
Photos by Michael Mannington OAM, Community photography, and Brian Friend OAM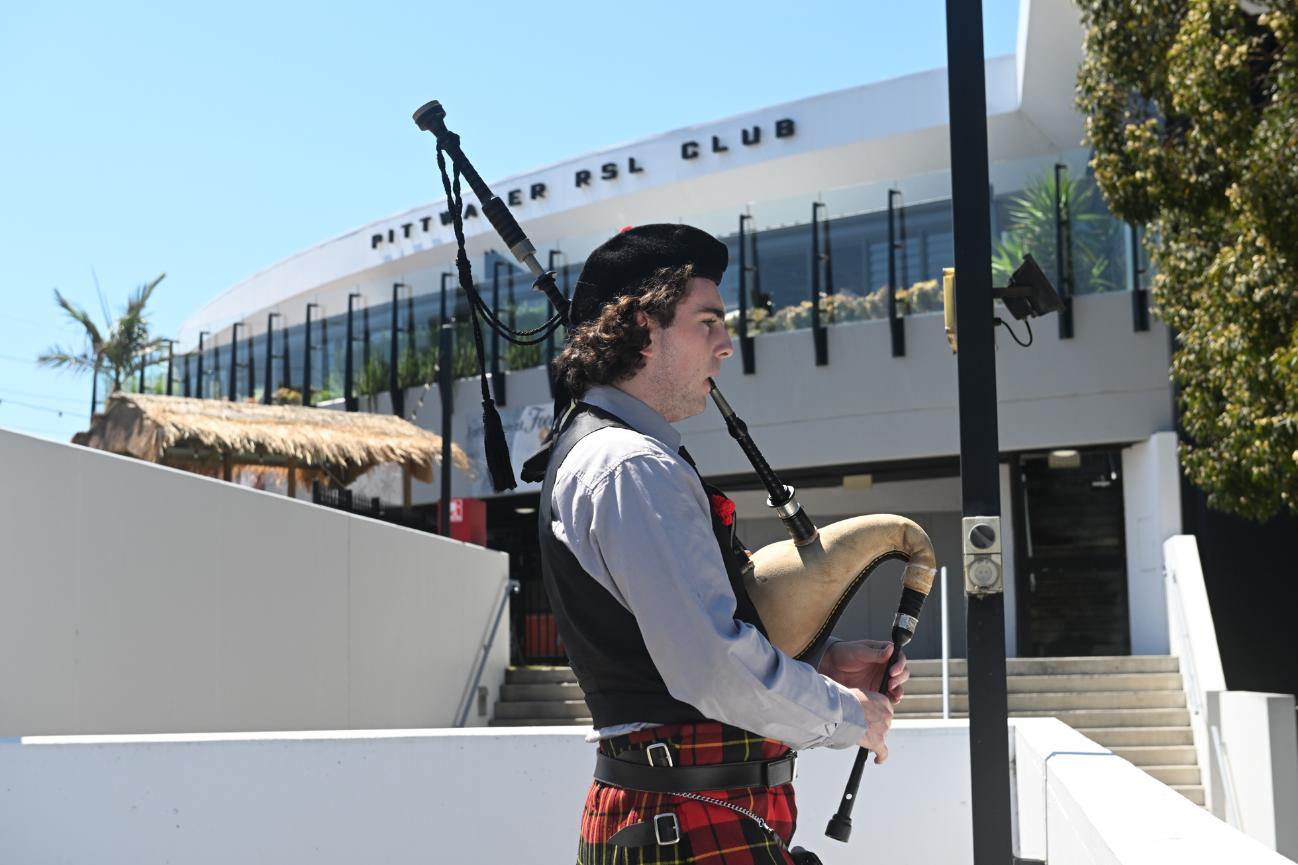 Aaron Erdstein, Piper, at Pittwater RSL Sub-Branch Remembrance Day 2023 Commemorative Service. Photo: Michael Mannington OAM
Sydney harbour was alight with red poppies at sunrise on Saturday morning November 11, as the sails of the Sydney Opera House projected the iconic image to mark the commencement of Remembrance Day.
Minister for Veterans, David Harris was joined at a Remembrance Day sunrise service by incoming RSL NSW President Mick Bainbridge, who recited the Ode before the Last Post rang out across the harbour in front of the poppies on the Opera House.
For more than a century, red poppies have been used as a symbol of community respect and recognition, marking the end of fighting in the First World War. Poppies have been projected onto the Opera House since 2014 and will light up the sails once again at 8pm tonight.
Large crowds gathered with the Premier and Minister Harris at the State's Remembrance Day Service at the Cenotaph in Sydney's Martin Place, as well as local memorials throughout Pittwater and the state to honour the service and sacrifice of Australia's servicemen and servicewomen.
A minute's silence was held at 11am to mark the moment on 11 November 1918 when the guns fell silent on the Western Front at the end of the First World War.
This year we also particularly acknowledge the service of our Korean Veterans following the 70th anniversary of the signing of the Armistice of the Korean War, as well as our Vietnam Veterans who commemorated the 50th anniversary of the extraction from Saigon.
North Narrabeen Win Australian Boardriders Battle Central Qualifier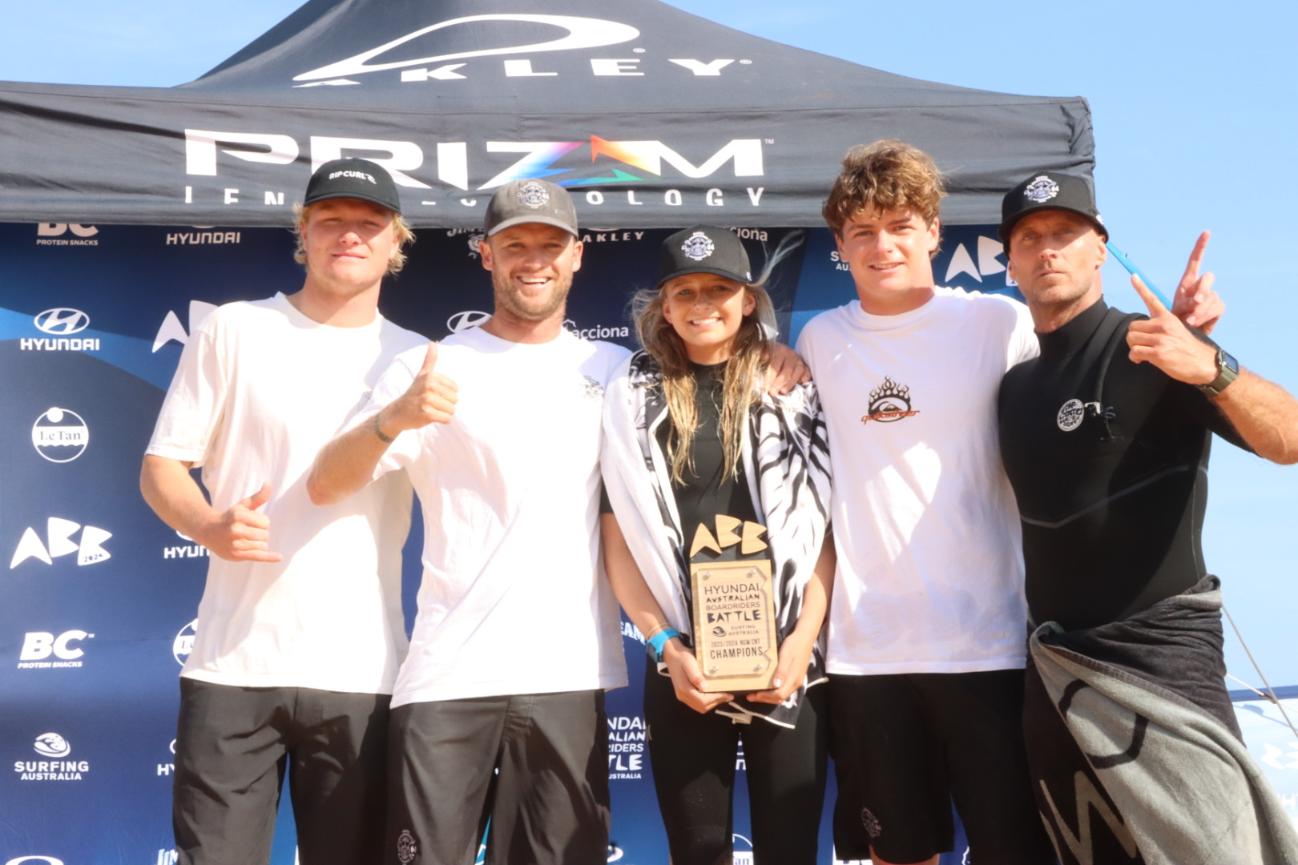 Winning Team - North Narrabeen Boardriders. Photo by Surfing NSW
North Narrabeen, NSW
Saturday, 11 November 2023
North Narrabeen Boardriders have taken out the Australian Boardriders Battle Central NSW regional qualifier at home. Following a giant day of action-packed heats in three-foot playful peaks at North Narrabeen Beach.
The local crew from North Narrabeen Boardriders was comprised of Nathan 'hog' Hedge, Davey Cathels, Benny Wilson, Tommy Hinwood and Ruby Trew.
Narrabeen's finest Davey Cathels also took home the Oakley Prize Award which recognises the stand out surfer of todays event. In the final Davey scored a 9.17 for his team, after bagging a 9.5 in the Semi-Final. His local knowledge led him to out-surf his fellow competitors.
North Narrabeen, North Avalon (NASA), Freshwater, Merewether, Bungan and North Shelly all have now qualified for the National final, which will be held on the 9th and 10th of March 2024 in Burleigh Heads, QLD.
View the full day of results here.
Other awards included the Letan breakthrough prize awarded to Manning Gregory (Merewether) for pushing the limits, and the Jim Beam Club Spirit award to NASA (North Avalon Surfriders Association) for great sportsmanship.
Clubs that competed included North Shelly, Merewether, Queenscliff, Dee Why, Avoca, North Steyne, Mona Vale, Curl Curl, North Avalon, Bungan, Freshwater, Macs Own, Long Reef, North Narrabeen, East End, and Wamberal Express.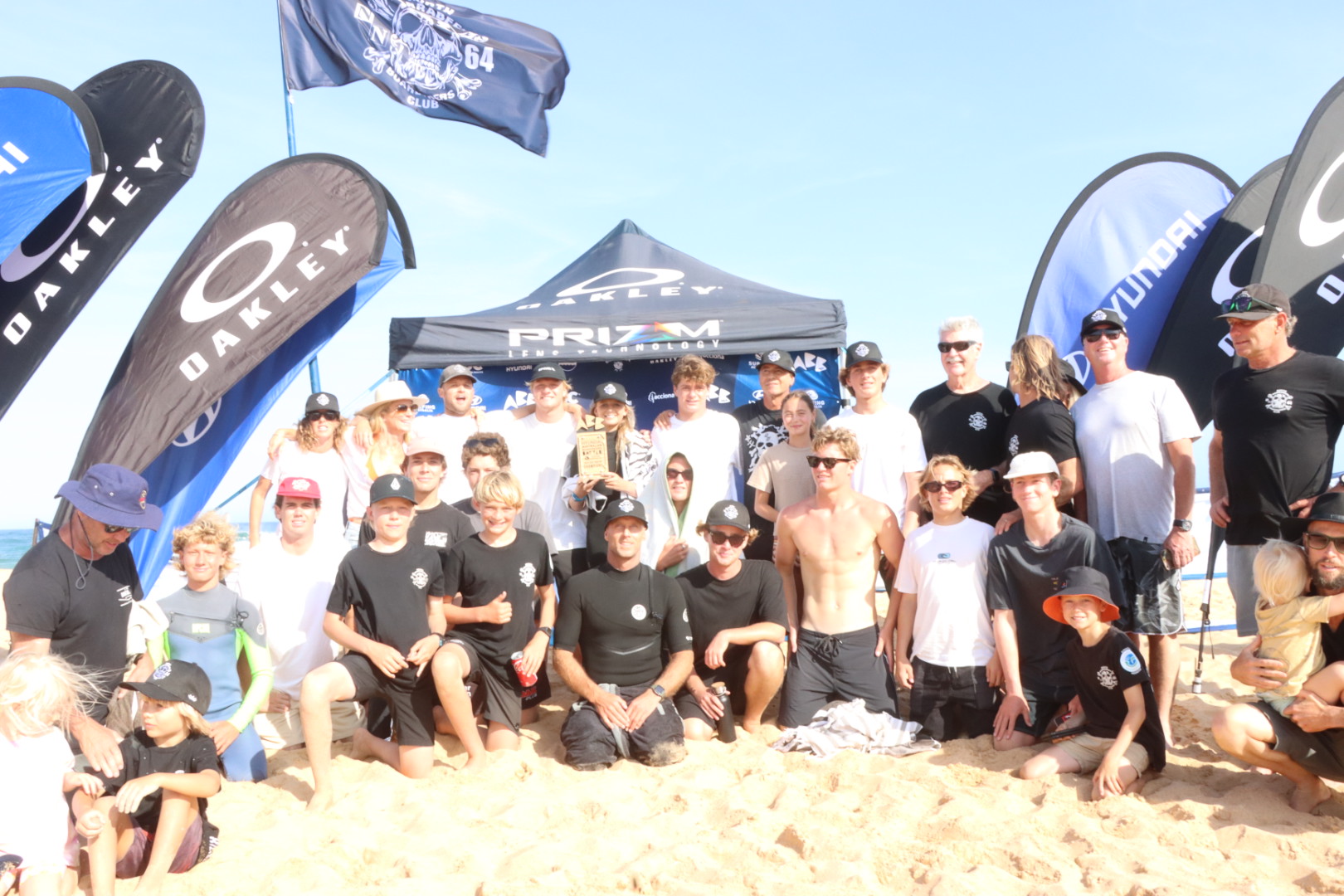 2023 Pittwater Community Service Awards Recipients: Robert Hopton, Judy Kelly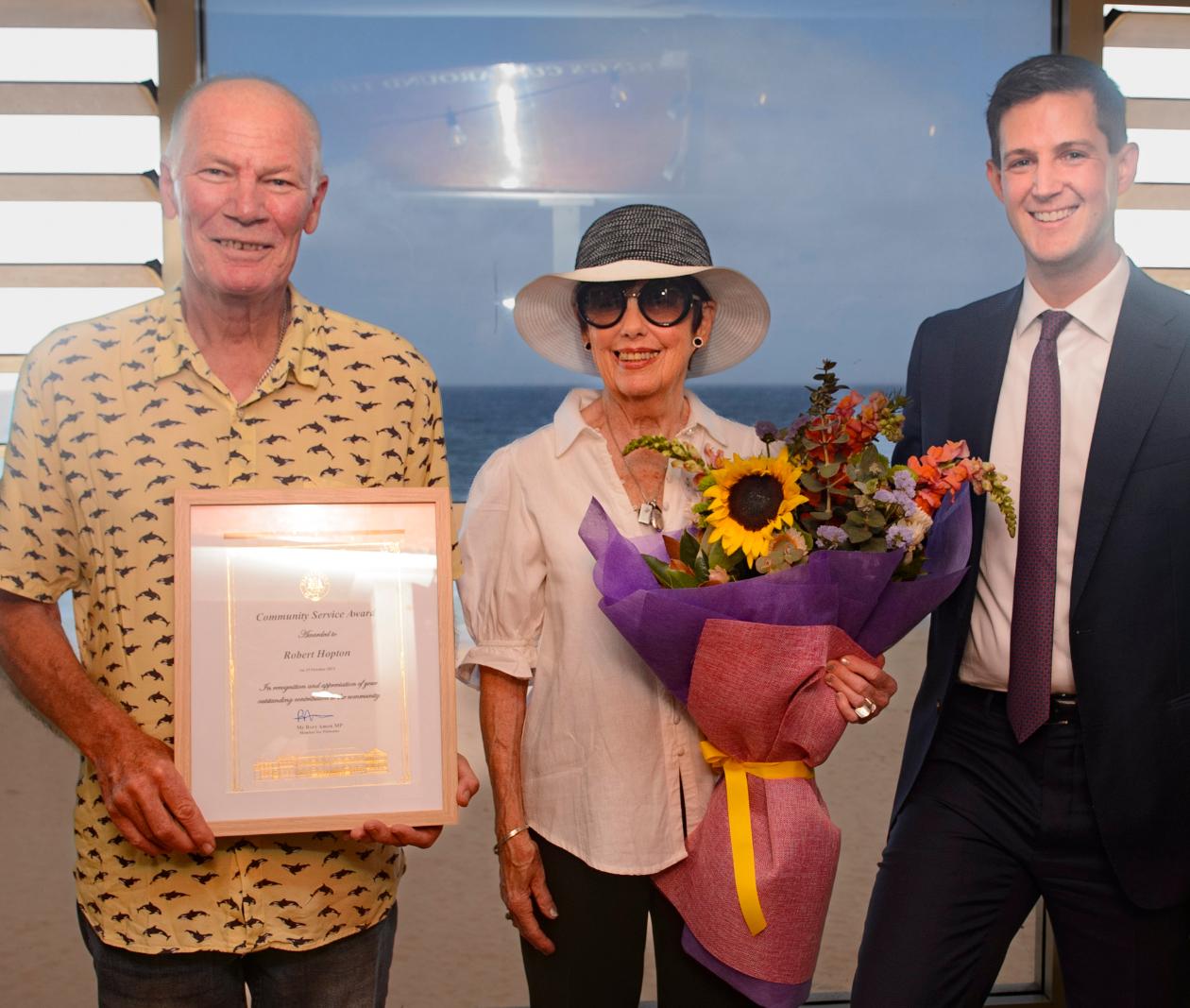 Pittwater MP Rory Amon with Pittwater's 2023 Community Service Award recipients Judy Kelly and Robert Hopton. Photo Michael Mannington OAM
Pittwater's 2023 Community Service Award recipients were announced as leaders and volunteers from a diverse cross-section of the local community came together to be thanked for their selfless service by the Member for Pittwater, Mr Rory Amon, at his inaugural community leaders' event on Wednesday 25 October 2023 at Newport Surf Life Saving Club.
"The thing that makes Pittwater the best place to live is its people, its community and volunteer spirit. In Pittwater, the 2021 census shows that 50% more of our community volunteer than in Greater Sydney, with nearly one in every five Pittwater residents over the age of 15 serving their community. Pittwater is a caring community," said Mr Amon in his address to those in attendance, including school principals, P&C presidents, faith leaders, sporting clubs, surf clubs, Rural Fire Brigades, community service organisations, and local charities.
Each year, two Community Service Awards are granted to Pittwater locals, in recognition and appreciation for their outstanding service. This year, Mr Amon honoured Mr Robert Hopton and Mrs Judy Kelly with this Award.
"Robert's contribution will be felt for generations. Since the Avalon Surf Life Saving Club building project was conceived in 2007, the Club has grown 50% from 725 to 1,100 members. Robert's vision and drive to get this build done is a wonderful legacy. The impact of this Club in saving lives and helping young boys and girls become women and men, through their nippers and bronze medallion programs, is immense. I am privileged to acknowledge Robert's leading part in this."
"Judy's service over many, many years is an inspiration. To continue as she has is remarkable.
Her impact in spending time with the most vulnerable means more than we may ever know," said Mr Amon.
Details of the award winners run HERE
Mountain Bike Incidents On Public Land: Survey Launched To Gather Data On What's Happening To Public Parks - Community Land - Bush Reserves In Pittwater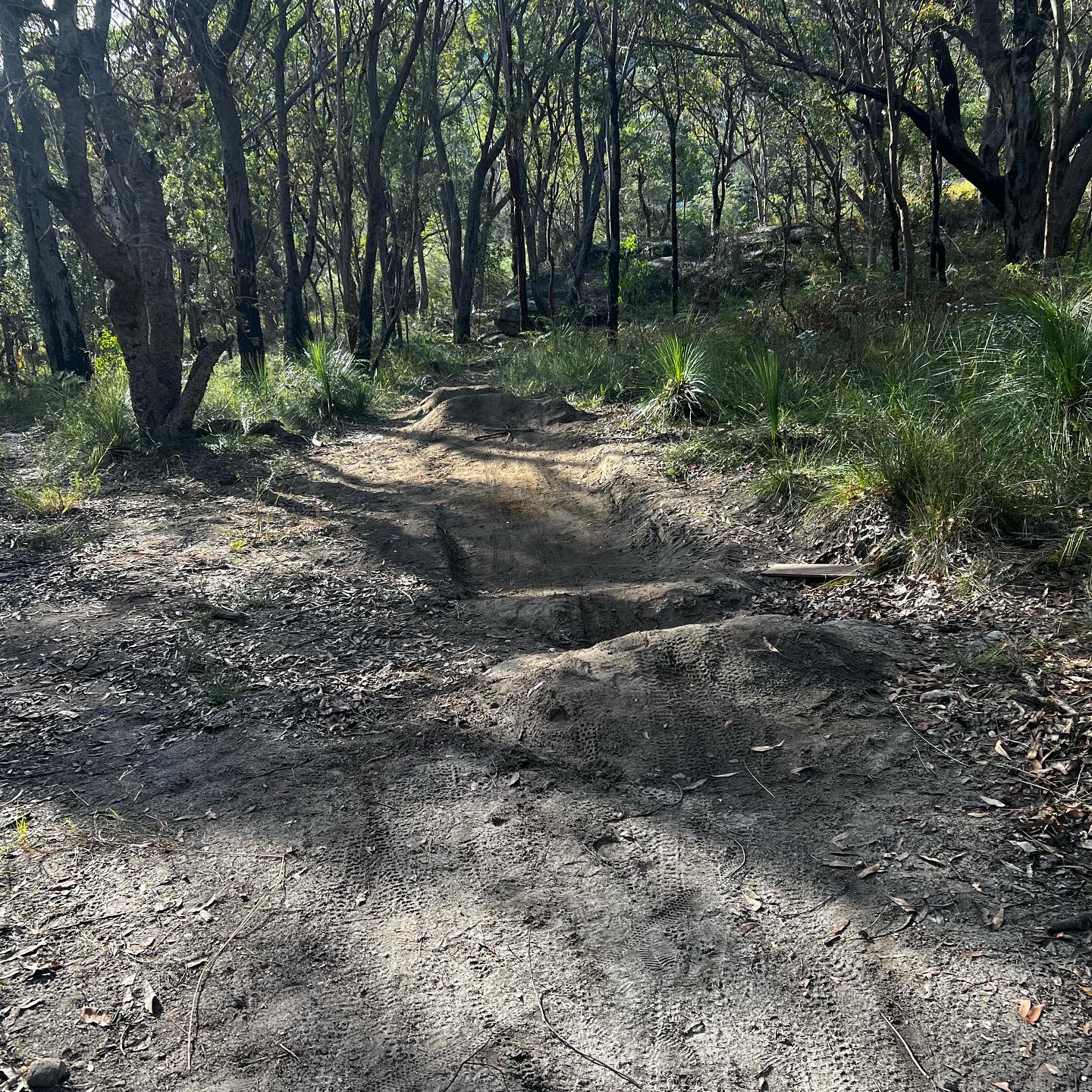 The rise of illegal mountain bike tracks being built in parks and bush reserves, for the benefit of a few and at the exclusion of all else; all wildlife, endangered ecological communities and all other residents, is being chartered by the recent commencement of a survey which will run for 12 months collecting data on the same.
The survey, which aims to document mountain bike related incidents on public land, is available at:
https://www.surveymonkey.com/r/K88PSNP
a
nd will form part of a future report or study on the same.
On Sunday October 29, 2023 two women were in a council bush
reserve
at Elanora Heights which had been
destroyed by children and teenagers who have built an illegal mountain bike track there – this had contained vulnerable and endangered plant species.
The two women had gone to the reserve to try and prevent further destruction of this public/council place.
The women allege they were verbally abused by around 15 12 to 17 year old males and had rocks thrown at them. One parent then arrived and pushed one of the females to the ground, she states, whereby she sustained bruising as a result, and as that person then too threatened her as well – also stating he/they know where she lives – she called the police for help.
She alleges she had already called them 4 hours earlier but they did not attend the scene.
Once she had been assaulted it took 2 hours for them to turn up, she alleges.
They then required her to produce a person as witness who was 'unbiased' – the person with her apparently not counting, asked her to produce pictures of the minors, which she stated it is illegal to take.
The woman states their questions and manner made her feel as though she was the person who should be charged with something.
She also told the police that she had been the target of intimidation, stalking, damage to her home in a prior incident. She alleges the police offered no support, no incident number and no protection should what has occurred before occur again.
She alleges the children told her that the Mountain bike group 'Garigal Gorillas' had told them they could do so and that the Council also permits them to.
One of the women alleges: ''I called the police a number of times across the day to report I was being verbally abused, intimidated, and physically assaulted – at
2.35 pm, 3.55 pm, 4.08 pm, 4.17 pm, 4.34 pm. Police did not come until 7 pm.
I had gone home by the time they turned up and when I drove back to the reserve one of the mountain biking men was talking to them. He then proceeded to take photographs of me, my car and numberplate. This was an aggressive act of intimidation.
I felt uneasy that they had been lobbied in some way by the man who was part of the group of men and boys who were violent towards me. Their line of questioning was not around my assault but more around trying to get me to agree that the kids should be able to build bush tracks and that I should not prevent them from doing so. They also said their job is not to protect council reserves. They implied I had not been assaulted because I did not have dirt on my clothes or visible marks where I had been hit by rocks. I felt like I was being gas-lit.'' the woman told Pittwater Online News

''They (the police) did not give me an incident number or take a proper formal statement. I had to ring Dee Why police 3 times to have an incident number begrudgingly issued.
As this was physical violence and intimidation by a man and boys against a woman I would expect this to be documented properly. Too many women are being injured by men. Police ignoring this sends the wrong message to the boys that they can treat women with aggression and disrespect and there is no repercussion. There needs to be timely responses to reports, and proper documentation of incidents.''
This person's
experience
is not the first where where residents were being
threatened
, stood over and
intimidated
and called the Police and council with, they allege, little to no response or attending a
scene
in a timely manner.
On August 29th 2021 at 1.15pm the bush care volunteers of
Crescent Reserve Newport
called the council rangers as that reserve was being destroyed by mountain bike tracks and jumps being built. This reserve had been restored by this group over 24 years.
In the space of the last couple of weeks trail bike builders have removed barriers erected by council staff last year, after a similar incident damaged and felled shrubs and trees in order to create several bike trails, erected a den and tree house, excavated soil at creek level to create jumping mounds, installed a garden bench, foldable chairs, and left the tools used to destroy this reserve, namely wheelbarrows, a bush saw, brooms, shovels, chainsaw and general rubbish.
While waiting the teenagers informed the volunteers that 'they were doing nothing wrong' and 'council didn't mind'. One lad even claimed his dad 'owned the council'.
Their comments escalated and became threatening, with the aforementioned tools allegedly being wielded and even their parents joining in, causing the volunteers to call the police.
They stayed until about 4.00pm without a council ranger or a police person showing up.
The volunteers stated they had been informed by a local councillor and bushcare friends the damage described was happening from one end of the LGA to the other and council have no appetite to do anything about it mainly because the mental health of the youngsters in lockdown had to be considered.
The volunteers objected to this premise, wondering why the mental wellbeing of those who have invested decades of their efforts into restoring these areas and now see them being destroyed without any checks, is not also taken into account.
Similarly, a mother with two young children
at Warriewood
became the target of attacks when another illegal track was built beside her home. She
had
rocks thrown at her home on Friday evening, July 30th 2021, by those using that pump track. One went straight through the lounge room window smashing it to pieces and spreading glass clear across the room and into the hallway. Her two young children were home and thankfully not hurt, although the youngest could not get to sleep that night, asking his mum over and over 'are they coming back?'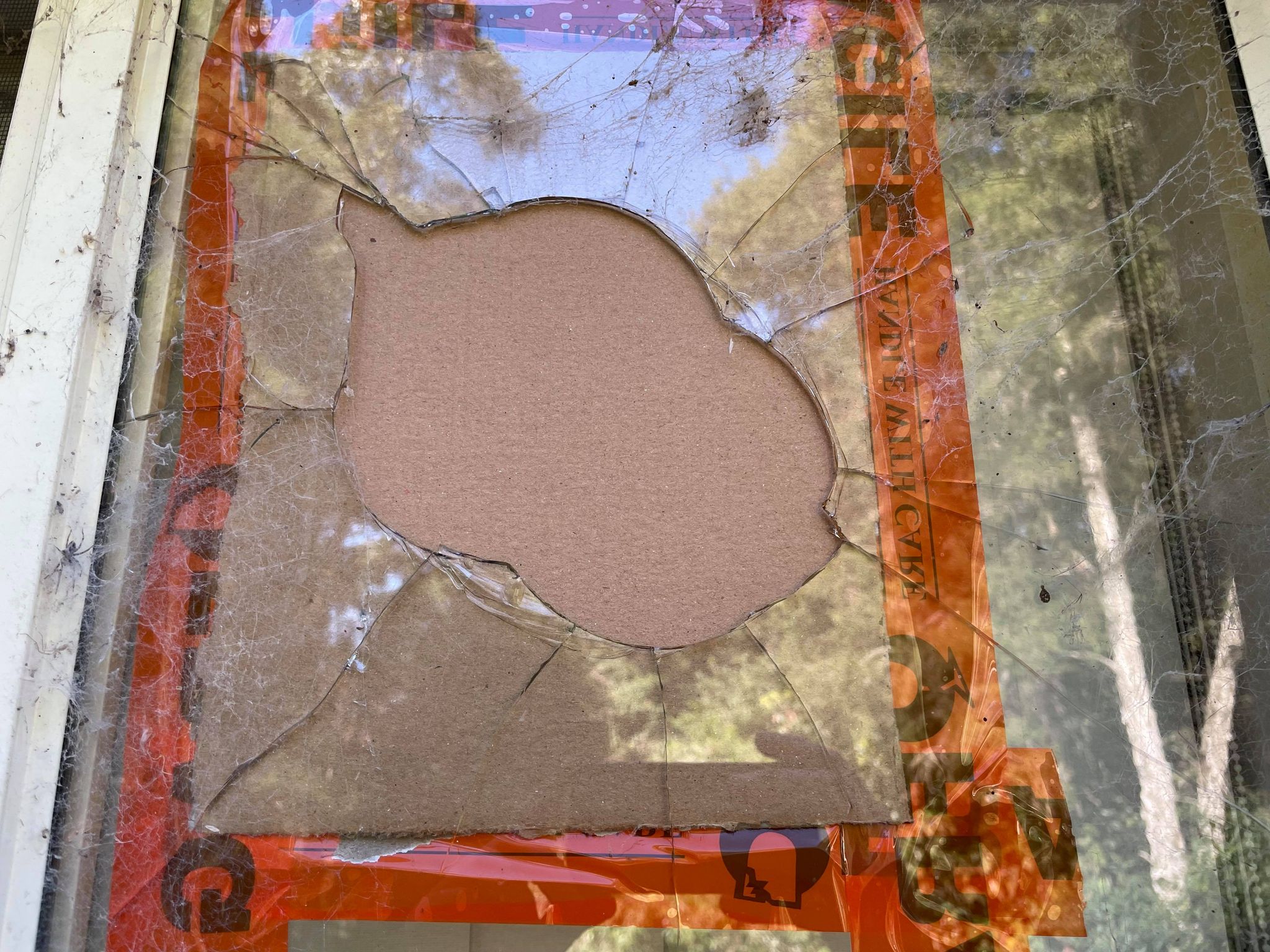 Window smashed at Warriewood home through rocks thrown - photo supplied

That mother had also contacted the Northern Beaches Council numerous times about this illegal incursion into a Wildlife Protected Area and stated she was fobbed off.
Pittwater Online News contacted the NSW Police to inquire why it had taken so long to attend the scene of the Elanora Heights alleged incident and if anyone had been charged. A query was also sent as to why no one attended the Newport incident.
The reply statement was:
About 7pm on Sunday (29 October 2023), officers from Northern Beaches Police Area Command responded to reports of alleged anti-social behaviour at a reserve along Woorarra Avenue, Elanora Heights.




Police spoke to the people involved; however, due to insufficient evidence no further police action was taken. The damage to the park was referred to council.




Police are a mobile resource and respond to incidents as they arise. Response times can be affected by various factors, including the number of urgent calls, distance of required travel, traffic congestion, weather events, and peak periods.




The safety and wellbeing of the community is priority for police and officers will continue to respond to incidents as they occur.
And why no one turned up when people were being threatened at Newport;
We can't comment on police response to an incident that occurred two years ago. There is no further comment to what has already been provided.
No assault charge, no charge for intimidation, no charge for deliberate destruction of community property charge, no charge for vandalism.
November Colours: Spotted Gum + Jacarandas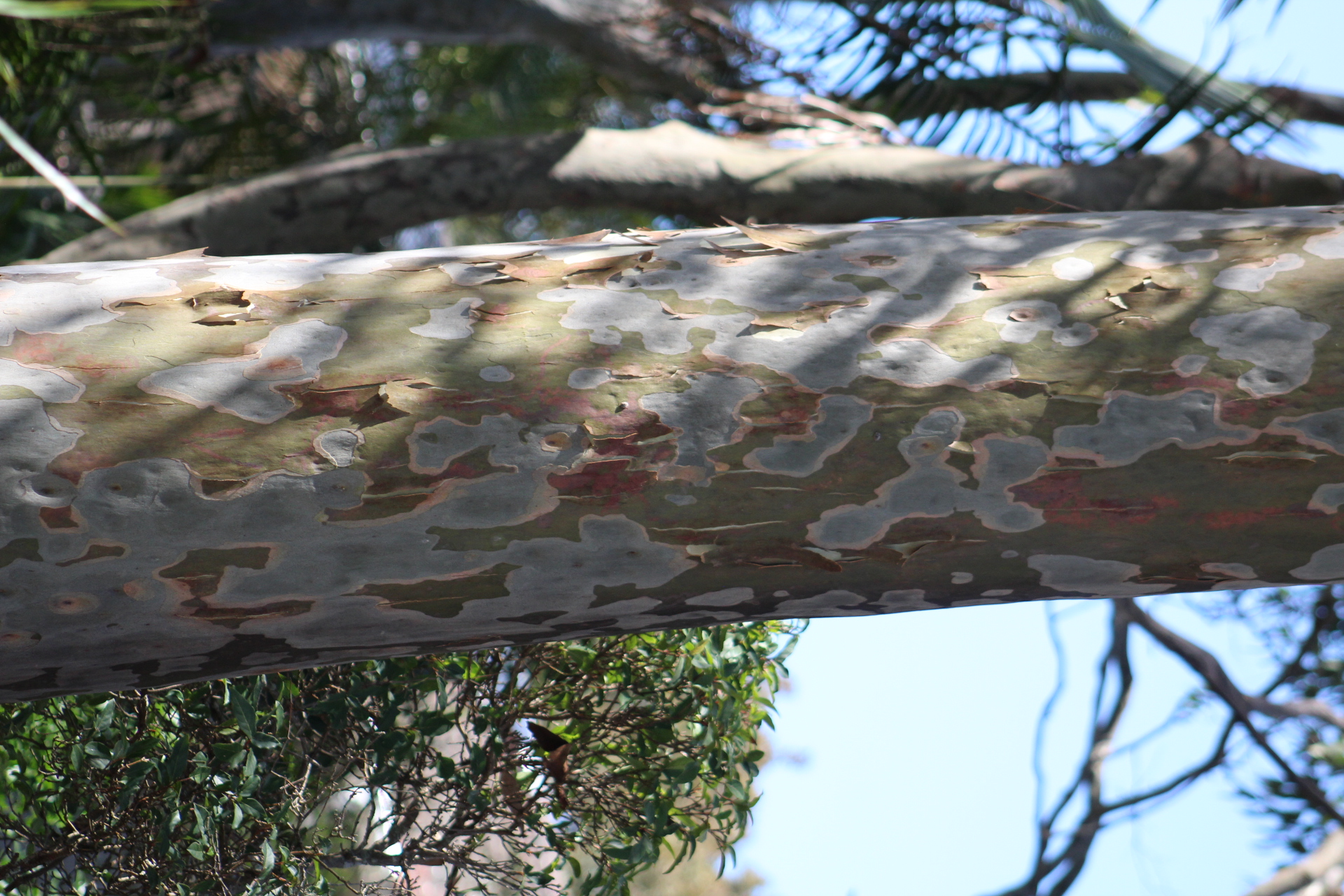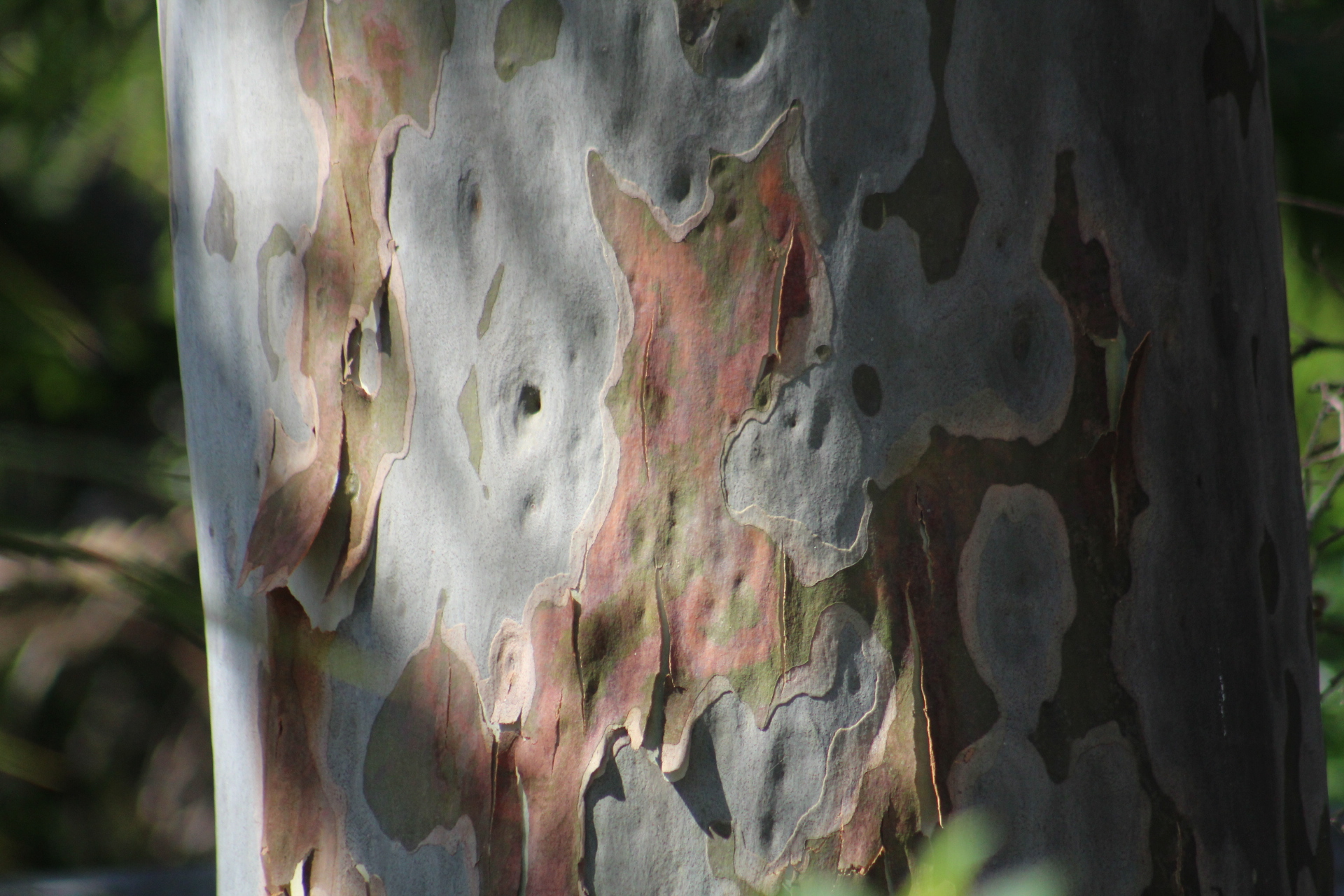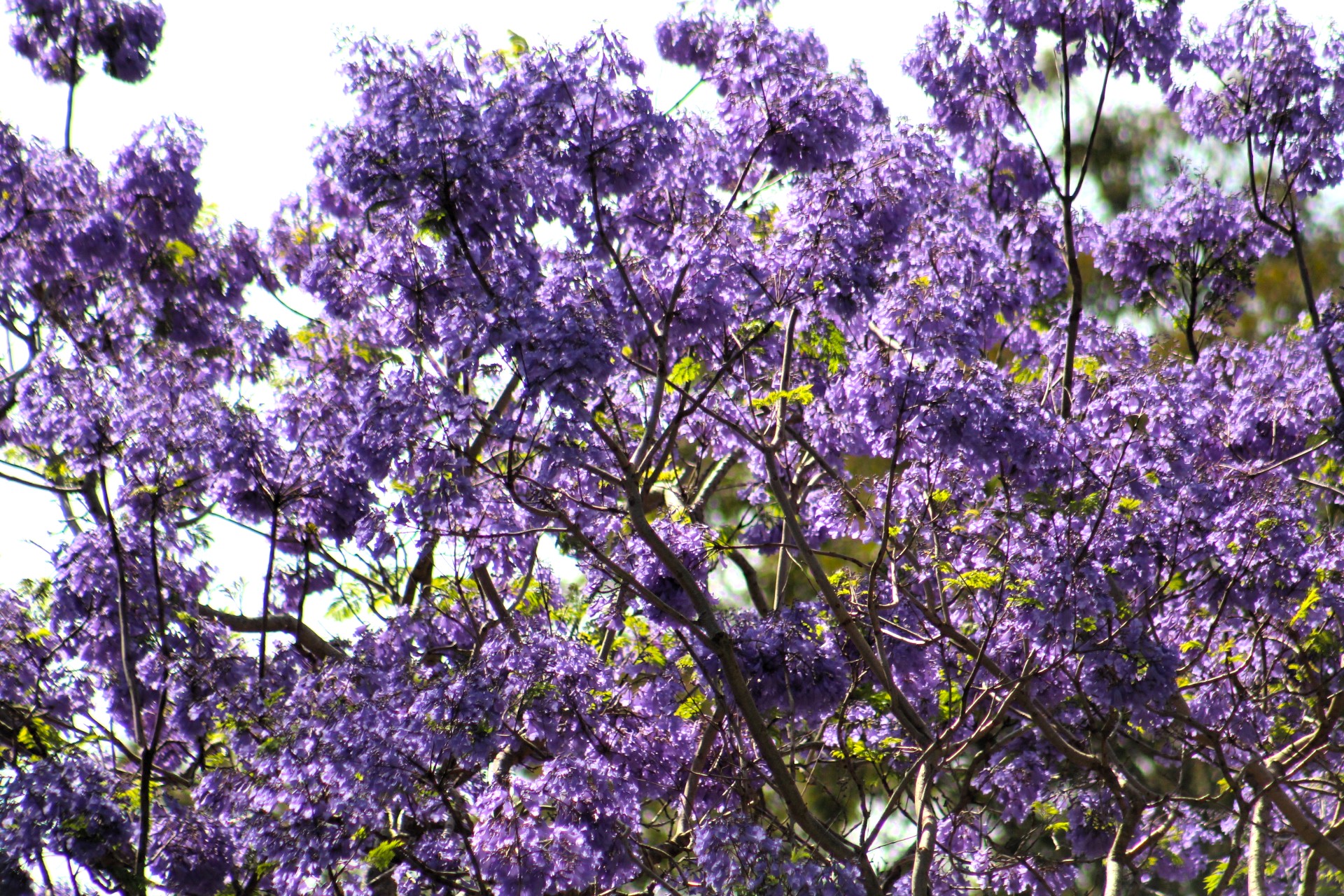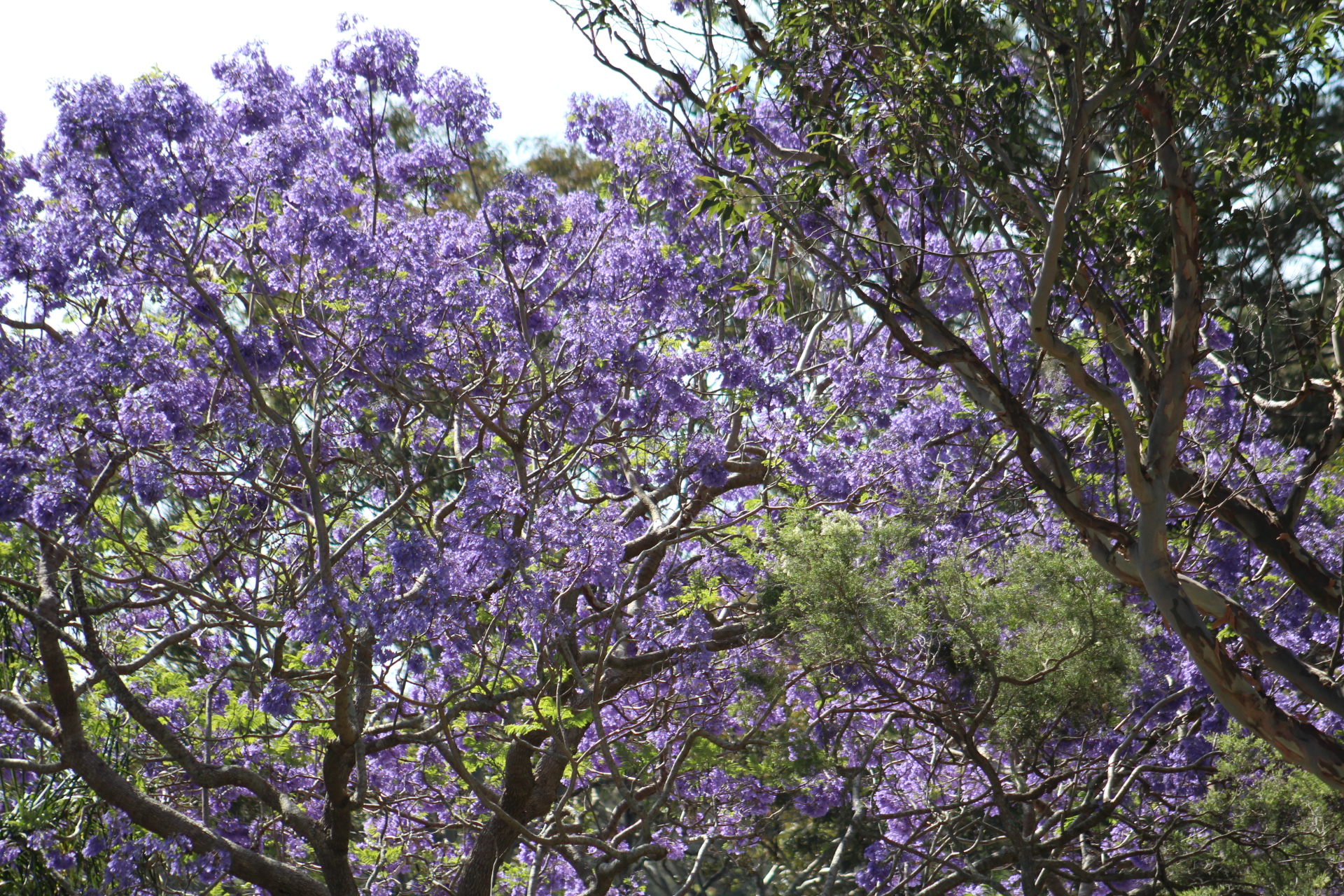 Past Features Archives (pre 2014)
Pittwater Online News was selected for preservation by the State Library of New South Wales and National Library of Australia. This title is scheduled to be re-archived regularly.
Archived Issues (2014 on) may be accessed here: pandora.nla.gov.au/tep/143700
Past Issues are also listed on site on the Community News page, by month.