November 12 - 18, 2023: Issue 605
2023 Pittwater Community Service Awards Recipients: robert hopton, judy kelly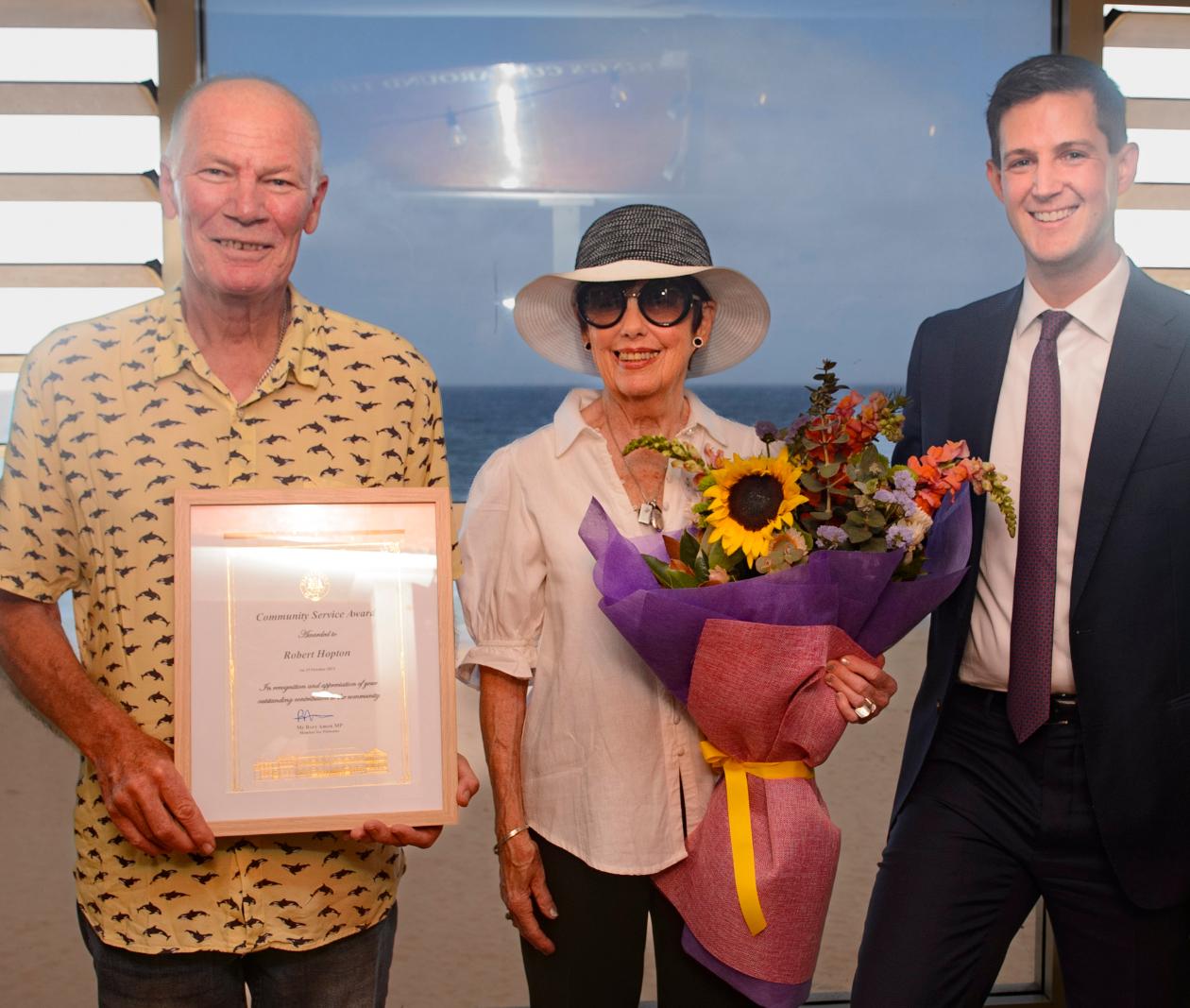 Pittwater MP Rory Amon with Pittwater's 2023 Community Service Award recipients Judy Kelly and Robert Hopton. Photo Michael Mannington OAM
Pittwater's 2023 Community Service Award recipients were announced as leaders and volunteers from a diverse cross-section of the local community came together to be thanked for their selfless service by the Member for Pittwater, Mr Rory Amon, at his inaugural community leaders' event on Wednesday 25 October 2023 at Newport Surf Life Saving Club.
"The thing that makes Pittwater the best place to live is its people, its community and volunteer spirit. In Pittwater, the 2021 census shows that 50% more of our community volunteer than in Greater Sydney, with nearly one in every five Pittwater residents over the age of 15 serving their community. Pittwater is a caring community," said Mr Amon in his address to those in attendance, including school principals, P&C presidents, faith leaders, sporting clubs, surf clubs, Rural Fire Brigades, community service organisations, and local charities.
Each year, two Community Service Awards are granted to Pittwater locals, in recognition and appreciation for their outstanding service. This year, Mr Amon honoured Mr Robert Hopton and Mrs Judy Kelly with this Award.
"Robert's contribution will be felt for generations. Since the Avalon Surf Life Saving Club building project was conceived in 2007, the Club has grown 50% from 725 to 1,100 members. Robert's vision and drive to get this build done is a wonderful legacy. The impact of this Club in saving lives and helping young boys and girls become women and men, through their nippers and bronze medallion programs, is immense. I am privileged to acknowledge Robert's leading part in this."
"Judy's service over many, many years is an inspiration. To continue as she has is remarkable.
Her impact in spending time with the most vulnerable means more than we may ever know," said Mr Amon.
Details of the award winners run below.
Judy Kelly – CatholicCare Diocese of Broken Bay
Judy Kelly gives her time visiting elderly aged care residents and dementia patients, breaking down isolation, building connections and friendships; and improving quality of life.
She is a volunteer with the CatholicCare Diocese of Broken Bay Community Visitor's Scheme; however, she has also volunteered for the Red Cross Telecross service and supporting people in palliative care.
Judy commenced volunteering for CatholicCare in 2011. She visits two seniors via the program, one being the lovely Margaret who has dementia. Judy patiently reintroduces herself at each visit and has the same conversation each time. To help Margaret remember her, Judy kindly brings chocolate to each visit, as Margaret loves dark chocolate! Judy has taken to directing Margaret's memory to things that happened in her childhood and youth and to her family, which she remembers.
When Judy visits Margaret becomes animated and is keen to chat which is wonderful to see.
At 87 years-old, Judy continues to visit her aged care companions, often travelling for more than 45 minutes each way to ensure she maintains strong bonds and connections.
Robert Hopton – Avalon Surf Life Saving Club
Robert became a member of Avalon Beach SLSC in 2001 Robert received his IRB Driver's Award in 2003 and has continued to patrol and provide water safety duties ever since. In 2016 Robert became a Long Service member of ABSLSC. In 2021 Robert was awarded Distinguished Service by the Life Members and Service Honours Awards Committee.
Robert holds 30 lifesaving awards.
Robert has recorded 608.75 patrol hours in Surfguard, plus there was another 30 hours recorded in 2001/2 season (per Annual Report pre-Surfguard). There were no patrol hours recorded in the 2002/3 annual report, but we can assume Rob patrolled his rostered patrol hours that season. Despite being a long service member Robert has continued to provide substitute patrols for members who cannot make a rostered patrol, patrolling the equivalent of many rostered members.
Robert is involved across all aspects of Avalon Beach SLSC. He is a regular volunteer at all the club's events. He has won the following Club awards:
- 2005/6 Outstanding Patrol Service Award
- 2006/7 The Norman Cook Most Outstanding Member of the Year
- 2012/13 President's Award
- 2020/21 President's Award
In October 2010 he was one of a number of members to be awarded the Rescue of the Month by Surf Life Saving NSW for actions in assisting a man who had fallen from the southern headland of Avalon beach.
Robert was Age Manager for several years from 2007/08 season taking the under 12s through to their Cadetship and Bronze Medallion with Ross Bidencope.
Above and beyond his regular contributions to the Club, it is Robert's sustained contribution to the rebuilding of the Clubhouse and continued maintenance that has been his most outstanding service.
In 2007, then President Wilson Gamble wrote in the Annual Report: "We have previously canvassed our long-term plans for the building. These plans are progressing in the background largely through the work of Robert Hopton who has been tireless in his patient negotiations with Pittwater Council to ensure that we end up with a facility that suits our needs. Robert has also provided his services to Pittwater Council to ensure that the brief of what both organizations want, will result in a building of which the whole community can be proud."
Together with his wife, Life Member Christine Hopton OAM, Robert was the driving force behind the rebuilding of the Clubhouse. In the 2009/10 Annual Report, Robert reported as Building Supervisor and provided plans of the proposed major renovation. Then followed years of painstaking work that included obtaining the approvals, documenting the construction, attracting sponsors, seeking funding to pay for the works, working with Pittwater Council, meeting with the public, auditing the Club's possessions and organising the move to containers during the build, site meetings and administration with the builders and many other responsibilities.
This vast amount of work culminated in the official opening of the new Clubhouse on Sunday August 21 2014. The building has been a huge accomplishment and transformative to the success of the Club.
Robert has continued as Building Officer, arranging ongoing maintenance and improvements to the building. This is an onerous task that involves a significant amount of time meeting contractors, getting quotes, supervising work and negotiating with Council.
During the Covid pandemic of 2020/2021 Robert was the Club's delegated Covid Officer. He led the Club's Covid Committee, was responsible for documenting and submitting the Covid Safe Plan and tirelessly ensured that the building and members achieved compliance with the plan.
Robert has been the Club's safety Officer since 2017. This role entails ensuring that the Club's building and equipment meet safety standards and regulations. Rob was instrumental in arranging and organising the installation of the Honour Boards in the Club's Hall of Champions. This was a massive task that involved the documentation of all the sporting achievements of members throughout the Club's history, a task that is ongoing.
Rob has been a competitor for the Avalon Beach Surf Life Saving Club in the Masters Team since at least 2011. He has competed at all levels including local, Branch, State, Aussies and Worlds. While not collecting hordes of medals, his consistent training and participation in events for more than a decade has bolstered the team. His results include:
- 2012 Branch Championships Bronze 150 years ski relay
- 2013 Branch Championships Gold 60 - 64 years Male Ski
Robert has contributed to all of the Club events over decades including the Ocean Swim, Lion Island Challenge, where he helped manage the start, Carols at the Beach, the 2020 Bushfire collection and many other Club event where volunteers are called.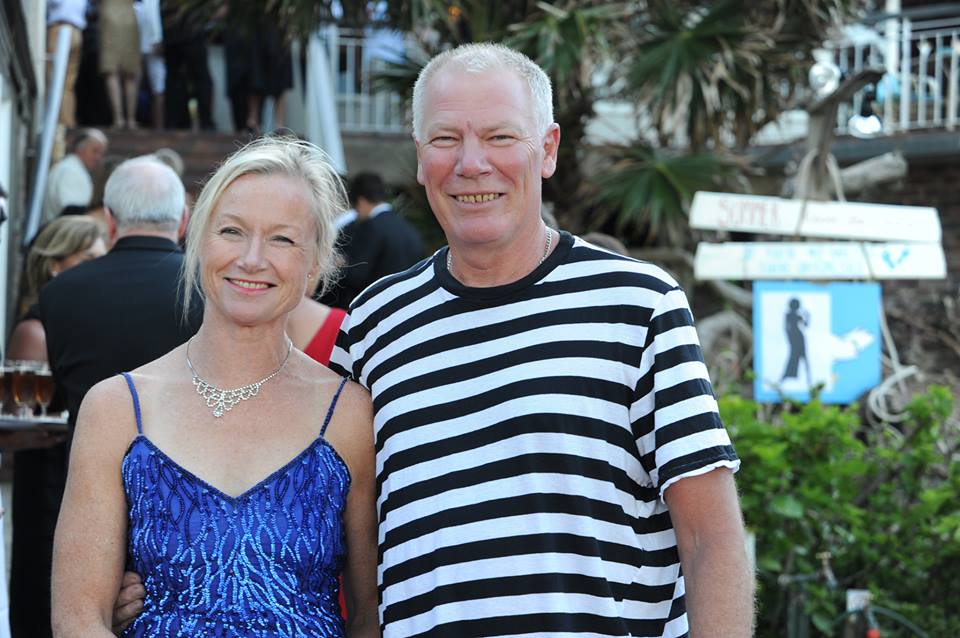 Christine and Robert Hopton at Casino Royale fundraiser for Bilgola SLSC, 2014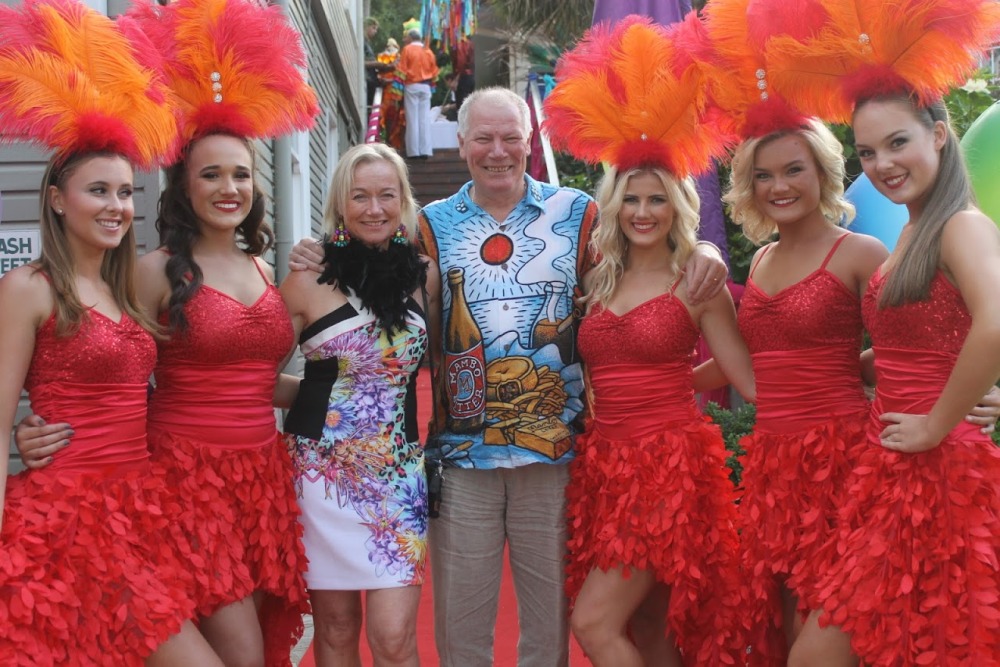 Christine and Robert Hopton at Pacific Club's Carnival Rio fundraiser for Palm Beach SLSC, 2016