August 27 - September 2, 2023: Issue 596
Congratulations Narrabeen FC On Winning The Manly Warringah Football Association's
2023 Premier League Grand Final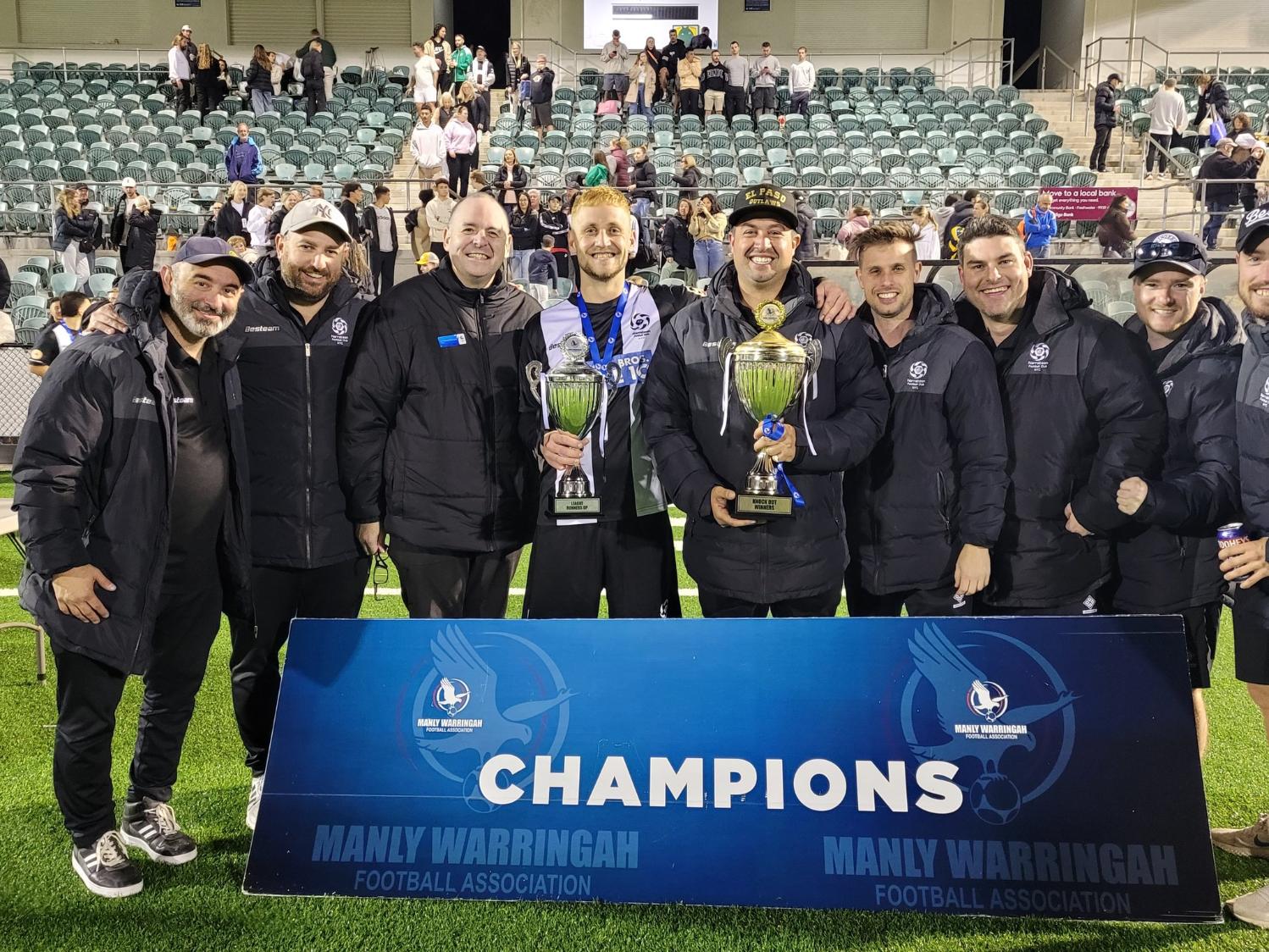 Grinning Narrabeen FC Winners. Photo courtesy Cr. Vincent De Luca OAM
Congratulations to the Narrabeen FC's Men's Premier League players, coaches and managers on a fantastic win over Pittwater RSLFC in their Saturday August 26 knockout Final!

A great way to cap off a successful season with the boys coming back from a 1 goal deficit to equalise just before half time.
The second half and 10 mins each way of extra time still not enough to separate the two teams despite Narrabeen playing some incredible attacking football and dominating for the majority of the match.
With the match to be decided by penalties, a spectacular save by Beenies keeper Declan Annear proving to be the difference which then saw Andy Higginson put away the final penalty and Narrabeen take it out 4 goals to 3!!
A big turnout from the Beenies Black and White Army to cheer the boys home too 💪🏼🖤🤍 Well done!
Go Beenies!!!!
NFC has been fostering football in the Narrabeen and Warriewood areas since 1965.
Find out more at: www.narrabeenfc.com.au
24 Hour Row 2023 For Mental Health Runs September 9-10: Join In Creating Hope Through Action This Spring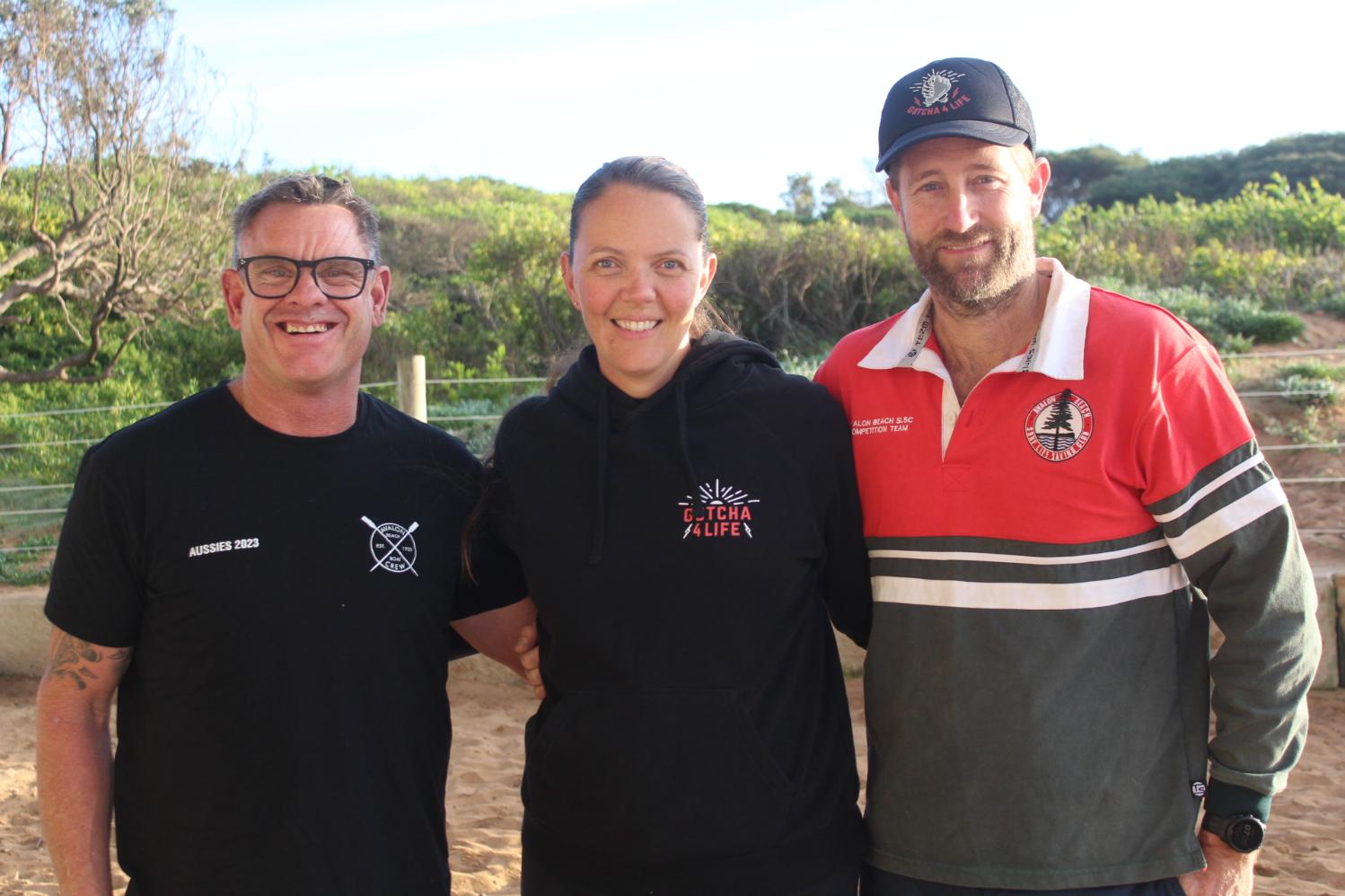 Peter Carter, Mel and Nathan Wellings
Sign up to row or donate to teams or individuals at: 24hourrow.com.au
Runs 9-10, September 2023
The 24 hour row is now in its 6th year. Started by long time Avalon Beach Surf Lifesaving Club members Nathan and Mel Wellings back in 2018, initially, just one club wanted to make a difference after seeing too many lives lost to mental health struggles in our area
Each year the event has grown with more surf life saving clubs taking part. Last year 57 clubs, gyms, schools and teams around Australia made a difference! This year 63 clubs and gyms and groups have signed up, just 7 short of the 70 teams organisers are aiming to have participate in this year's event.
"We love this event because it brings so many communities together and shows solidarity and passion for a suicide free Australia." - Nathan and Mel Wellings
Pittwater's NSW Government Community Service Award recipient for 2021 was presented to the founders of the Gotcha4Life 24-Hour Row, Mel and Nathan Wellings. The mental health awareness initiative commenced at Avalon Beach Surf Club has grown into an Australia-wide event held annually on World Suicide Prevention Day.
This year that will be held on Sunday September 10 2023, when rowers across Australia are completing the final leg 12 hours of the 24 hour row that commenced at midday on September 9.
The 10th of September each year aims to focus attention on the issue, reduces stigma and raises awareness among organisations, governments, and the public, giving a singular message that suicides are preventable.
Suicide is a major public health problem with far-reaching social, emotional and economic consequences. It is estimated that there are currently more than 700, 000 suicides per year worldwide, and we know that each suicide profoundly affects many more people. All those who have lost a loved one, a friend or family member to this illness are impacted for the rest of their lives.
"Creating Hope Through Action" is the World Health Organisation's triennial theme for the World Suicide Prevention Day from 2021-2023. This theme serves as a powerful call to action and reminder that there is an alternative to suicide and that through our actions we can encourage hope and strengthen prevention.
By creating hope through action, we can signal to people experiencing suicidal thoughts that there is hope and that we care and want to support them. It also suggests that our actions, no matter how big or small, may provide hope to those who are struggling.
Lastly, it serves as a reminder that suicide prevention is a public health priority and urgent action is required to make sure suicide mortality rates are reduced.
Creating Hope through Action is definitely what the 24 Hour Row is about. It's pretty easy to get involved - you can do this in 3 steps:
Step 1: Register - Register your team/club to row and this will create your team fundraising profile.

Step 2: Recruit - Recruit your rowers and get them to create their own individual fundraising profiles within your team/club.

Step 3: Fundraise - Ask your friends, family and colleagues to donate to your club or individual fundraising page. Let them know that all donations go towards educational workshops and programs.
Of course, that midnight to dawn shift can be where the hard yards start. Your body is used to being at rest during this time. However, at Avalon Beach SLSC, where the rowing machines are booked solidly for the whole 24 hours, and Peter Carter and Nathan Wellings taking the hard yards during those hours, they have some extra help being 'egged on' by younger members of the surf club.

Mel and Nathan Wellings along with fellow Avalon Beach SLSC Member Peter Carter share a few insights this Issue on what's happening this year.
How many clubs are involved this year?
Mel: 63 clubs so far, and it's not just surf clubs, it's gyms, football clubs and schools all around Australia.
What's happening here at the initiating and founding club, Avalon Beach SLSC – and more importantly, who is taking on the midnight to dawn shift Pete Carter?
Peter: more than likely it will be us – Nathan and I usually do the graveyard shifts. We have set ourselves a little additional challenge this year, but we'll leave that to see if it happens.
How do you crash through that barrier that happens around 4am?
Peter: I'm a shift worker, so I already have some experience in doing that, and the entertainment from some of the younger members that come down here at that time of the night, or morning, tends to push you through (laughs). They tend to really 'egg you on' so to speak.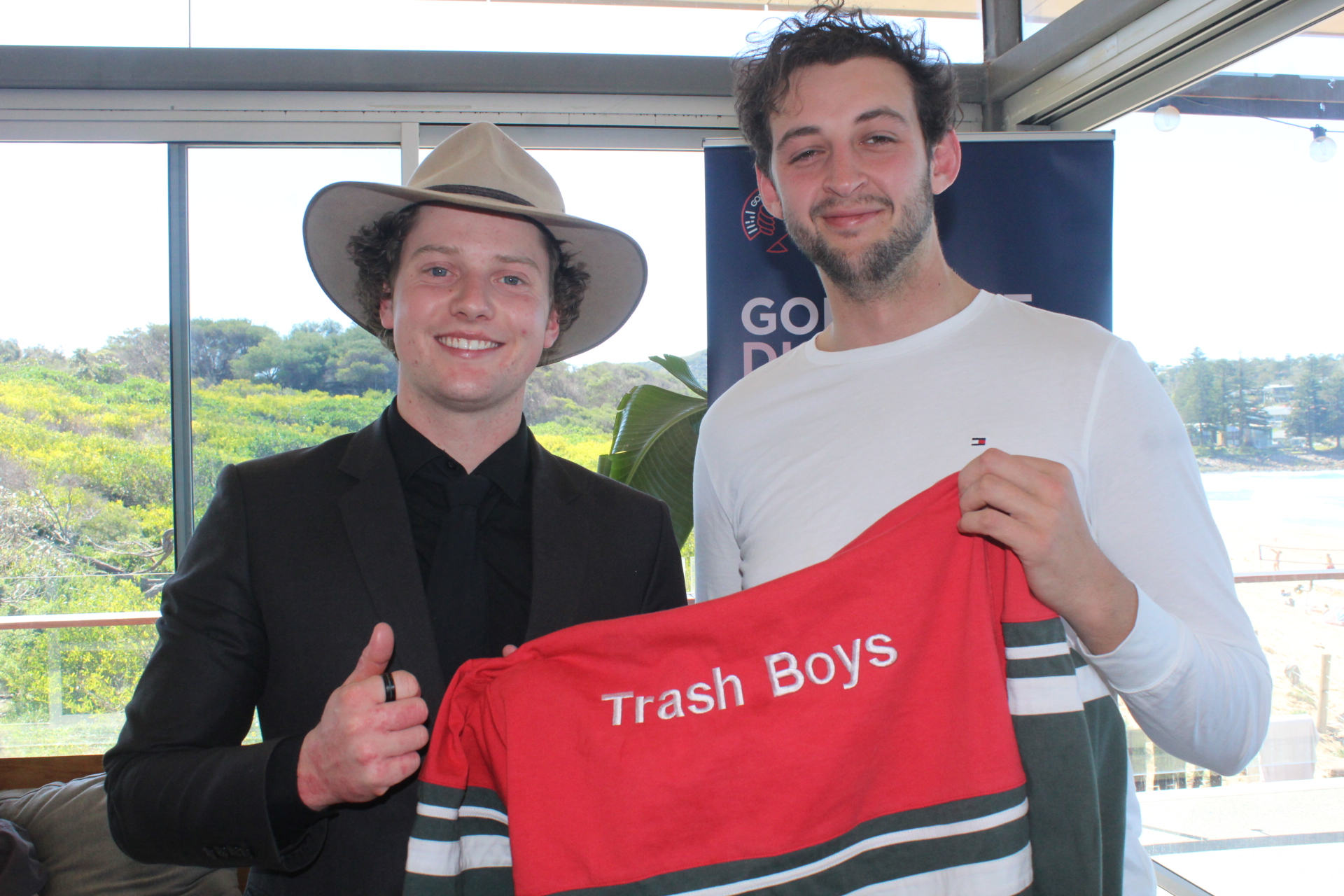 Some members of the champion 'a.m.-ers' cheer and rowers crew
What about you Nathan, you work during the day – how do you get through that barrier?
Nathan: as Peter says, it's usually the rotation of people coming down to row or watch and support those rowing that helps keep us all moving towards the dawn and sunrise. So every hour or every half hour you have new people rocking up, so there's always a new conversation, or someone to keep hydrated – all those things that help us work as a team to get it done. It does keep you awake and keep you going.
Before you know it the sun is coming up, which we have a great view of here at the surf club, and then there's new people coming in playing new music that amps everyone up, and we're tuning in via the internet to what other rowers are doing at the other surf clubs and gyms. For the final morning to 12pm of the 24 hours we have people from tv coming in, along with great local supporters from sports clubs and local personalities – everyone wants to help cheer you on.
It's more the 12 o'clock mark in the middle of the day that's the struggle, when we're finishing off.
Will there be a celebration down here at the club at 12 or the usual chaos of getting over the line?
Mel: it will just be the usual chaos, us all elated that we've completed the 24 hours of rowing. Gus will be here, he comes in for that final hour to cheer us on. We're hoping Dr. Sophie Scamps manages to get back for the finish again, she is starting out among the first rowers at the beginning this year, and may, again, be doing another row at another local club. We've got some Manly players coming down as well, which will be fun.
The Sunday is always when everyone in the Avalon Beach SLSC comes together to cheer on those final rowers notching up those final metres. The 23 Hour Row brings everyone in the whole club together, from our young members through to our Life Members.
It's really timely, the perfect time of the year to bring everyone back to the club ahead of the Volunteer Patrol Season and gives everyone a reset as we head into the Spring School Holidays and those back to the beach weekends. The Patrol Season will commence this year on Saturday September 23, so it will be a good kickstart for members.
Protect Pittwater Association Ramps Up Its Case For Council 'De-Merger'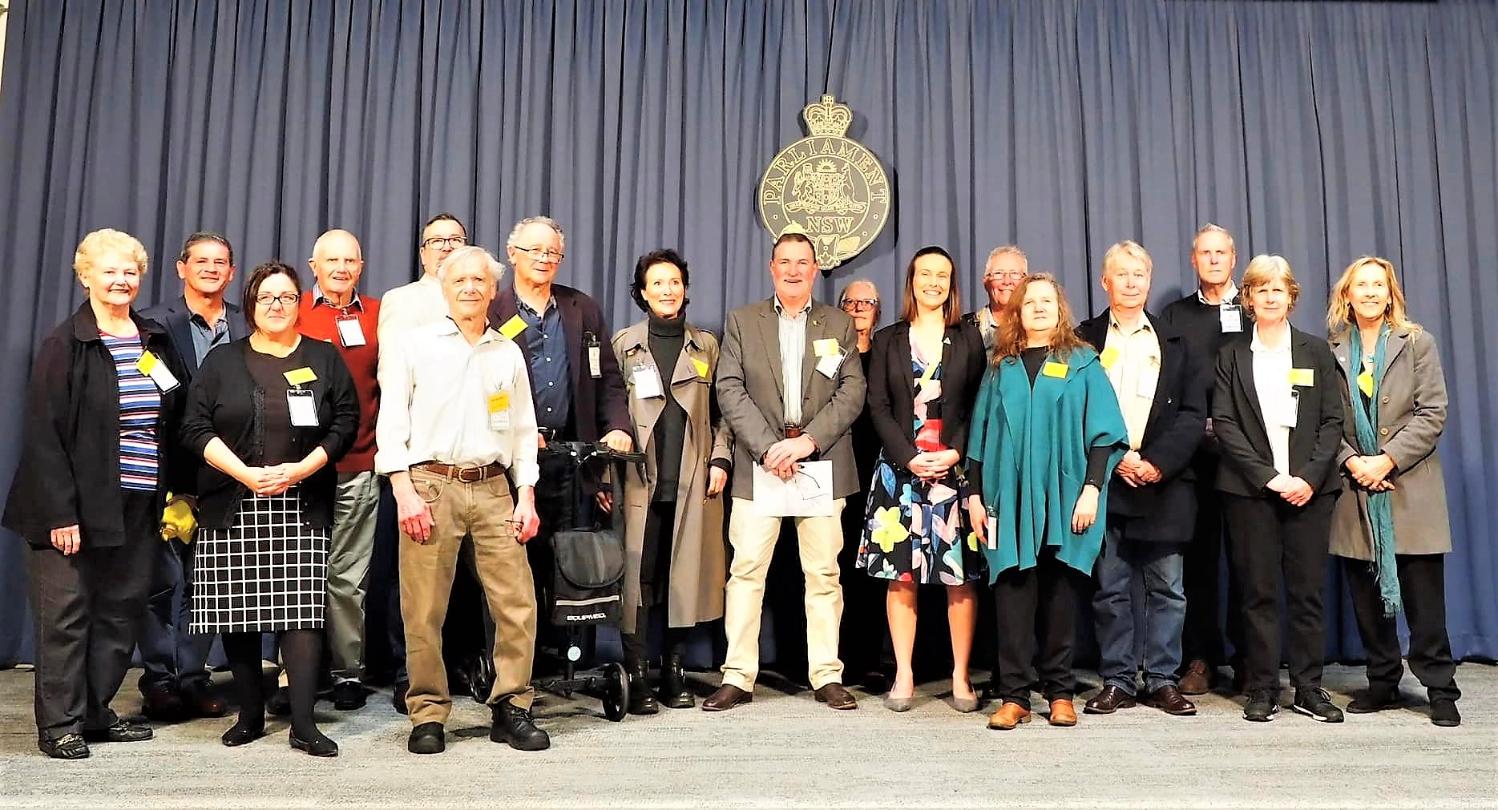 Demerge NSW Alliance members and Protect Pittwater Association members with Dr Amanda Cohn, Greens spokesperson for Local Governmen at Parliament House last week, August 23
Community efforts to restore a standalone Pittwater Council have taken a new step, through a joint appeal to the NSW Parliament by councils impacted by amalgamations.
The Protect Pittwater Association (PPA) joined with the broader Demerge NSW Alliance (DNA) at State Parliament on Wednesday August 23 to share the concerns of citizens from a number of merged mega councils across the state.
The Protect Pittwater Association is seeking support from the community and the NSW government to reverse the 2016 forced amalgamation of Pittwater Council with Warringah and Manly Councils.
The President of Protect Pittwater Association, Simon Dunn, said the joint approach direct to NSW parliamentarians is aimed at highlighting the widespread discontent among former Pittwater Council residents at being undemocratically forced into a mega-council alliance.
"We believe that a majority of Pittwater residents support a reversal of the council amalgamation, and we are calling on the NSW government and all parliamentarians to support a formal plebiscite that would pave the way for Pittwater to de-amalgamate," he said.
Mr Dunn said Protect Pittwater believes DNA's proposed 'Six Steps' pathway to de-merger is consistent with the government's commitments and is a logical and practical way to proceed.
At the heart of Protect Pittwater's case, is the failure of the merged Northern Beaches Council to deliver the financial benefits, service improvements and the environmental benefits that were promised, in fact the opposite is occurring.
From the outset, approximately 89% of Pittwater residents who were polled ahead of the merger did not want it to proceed. Pittwater residents rightly feared having their local voices lost – something that has been borne out as the unique character of Pittwater has been absorbed into a "one-size-fits-all", developer-friendly mega bureaucracy.
The amalgamation has seen the loss of focus on the area's unique geographical, environmental, and cultural characteristics.
"The mega-council has resulted in an increased number of previously non-compliant development applications being approved and plans to discard conservation zoning that would threaten habitat and fragile environments," Mr Dunn said.
"This is accelerating the destruction of protected trees, canopy, native flora and fauna, and habitat," he said.
Mr Dunn stressed that Protect Pittwater is not opposed to appropriate urban development, and, noted that Warriewood Valley has been one of the fastest growing suburbs in NSW.
"Medium density development has been occurring at pace for years in largely flatter areas of Pittwater that are well served by road, transport and other infrastructure, and that do not have fire, flood or slip risk hazards," he said.
In supporting the Demerge NSW Alliance, Protect Pittwater Association is acting on behalf of residents who call on the NSW government to adhere to its pre-election pledge to "Put the Local Back Into Local Government" by allowing a process by which demergers can take place and by supporting such demergers with transition funding.
Protect Pittwater Association believes it is an opportune time to gauge the views of the local community on this important issue through a plebiscite.
It is only by allowing local residents to have a democratic say in their local government that residents can be confident that they are genuinely being listened to on vital issues affecting their community.
Representatives of the Demerge NSW Alliance, made up of community advocacy groups from local government areas across the state, were at Parliament House to call on all NSW MPs to support amendments for binding plebiscites on council deamalgamations in the Local Government Act.
DNA spokesperson Grantley Ingram, from Save Bombala Group, said DNA is suggesting amendments which have the support of cross-bench members.
The proposed changes would bind the Local Government Minister to proceed with deamalgamations in former council areas which have returned majority vote in a plebiscite.
"The 2016 amalgamation of councils has been a failure," Mr Ingram said.
"Members of Parliament have indicated their support for communities' views on deamalgamation to be respected," he said.
"Communities have had seven years to weigh it up: we are suffering a loss of representation, a loss of accountability and our rates have gone up — sometimes exponentially.
"The Minister must take democracy seriously: if a majority votes in a plebiscite to deamalgamate their council, the Minister must direct the Office of Local Government to prepare a road-map to deamalgamate."
Vietnam Veterans Day Services 2023 - 50th Anniversary Of The End Of The Vietnam War: Collaroy, Narrabeen, Palm Beach
photographs for Collaroy, Narrabeen and Palm Beach Services by Michael Mannington OAM, Community Photography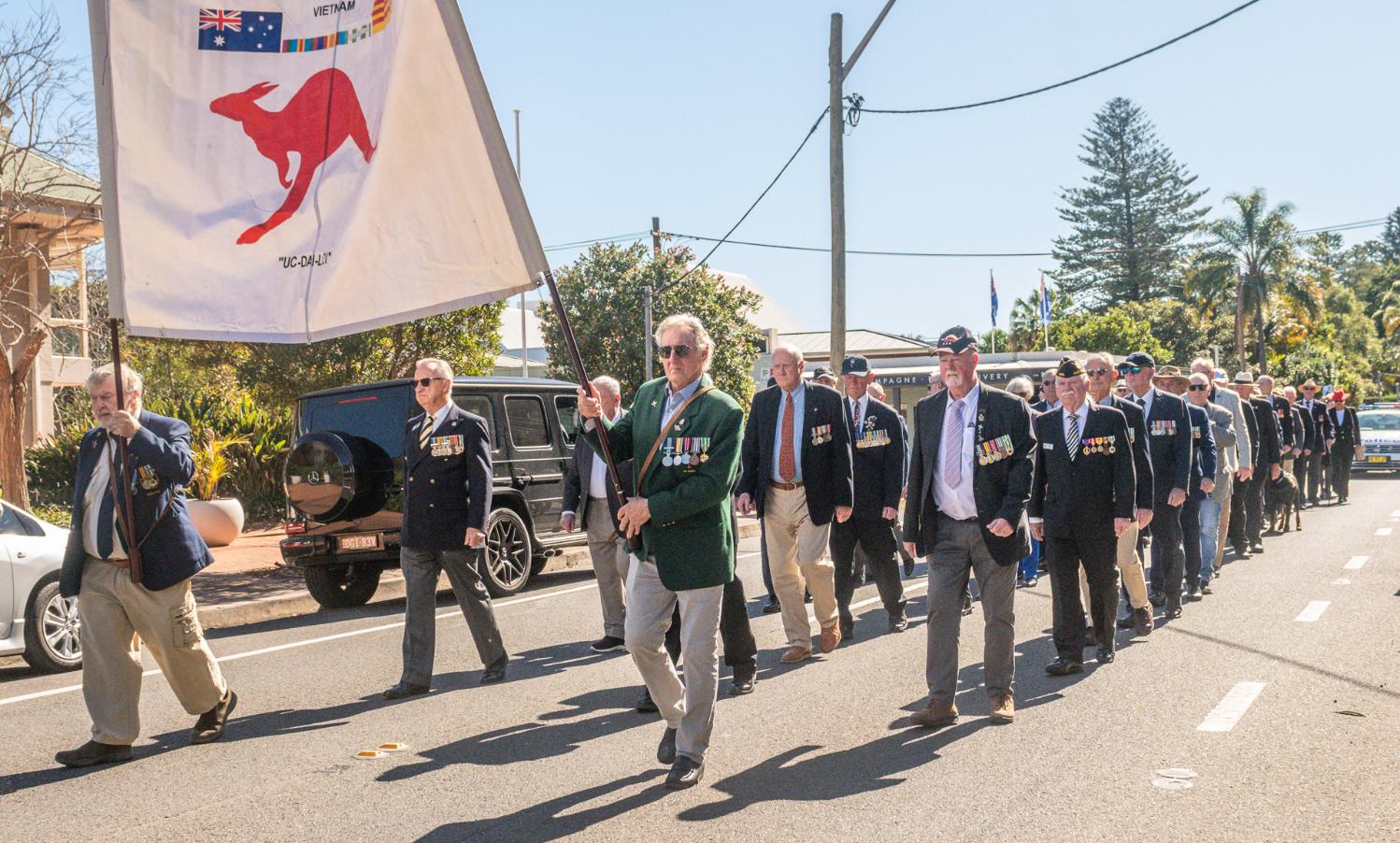 Palm Beach Directors President and Vietnam Veterans
Bryan Webster
and Palm Beach Vice President John Oliver carry the Vietnam Veterans (Northern) banner and lead the March held on Sunday August 20 2023 to Palm Beach RSL Sub Branch Cenotaph.
The annual Vietnam Veterans (Northern) Chapter Commemorative Service, a branch formed specifically for Vietnam Veterans in our area, held its 50th Anniversary of the end of the Vietnam War March, Service and get-together on Sunday August 20, 2023 led by Mark Ferguson OAM, Vietnam Veteran.

This was a combined March and Service this 50th year of all Northern Beaches District Council of Sub Branches.
The Address at the Vietnam Veterans (Northern) Chapter, was given by Bob Lunnon, President of Forestville RSL Sub Branch and President of the Northern Beaches District Council of Sub Branches. Bob served in the Citizen Military Forces (CMF), joining Officer Cadet Training Unit (OCTU) in 1964 and, upon graduating, was appointed to Royal Australian Army Service Corps (RAASC), serving for six years, intertwined with his travel industry employment.
Bob's Address runs in full this Issue.
The Vietnam Veterans (Northern) Commemorative Service was attended by Mackellar MP Dr. Sophie Scamps and Pittwater MP Rory Amon, Mayor Sue Hiens, and the Northern Beaches Police Area Command.
The Knox Old Boys Pipe Band led the March, followed by Vietnam Veterans and then other Sub-Branch members. A commemoration service commenced at 11am at the Club's cenotaph.

Presidents and representatives of every Sub-Branch in the Northern Beaches District Council of Sub-Branches laid wreaths as part of the Service.
As a prelude to this 50th end of the war year, stories from, about and by Vietnam Veterans were shared. All of these are listed at placesofpride.awm.gov.au/news, including Pittwater Online's 2023 precursor, Vietnam Veterans Day (Northern) 50th End Of The War March At Palm Beach - All Welcome, All Belong Anniversary
Vietnam veterans and nurses are also being honoured in a new exhibition at the Anzac Memorial in Hyde Park. The Stories of the Dat Do Dogs is a photographic exhibition with digital stories from over 50 veterans sharing their experiences from Vietnam.
Minister Harris who opened the exhibition said the memories shared by these veterans will enable their legacy to continue.
"The photographs and digital stories produced are essential to ensuring the sacrifices of these veterans are not forgotten, and their legacy is passed down to future generations."
The exhibition will feature in the Auditorium at the Anzac Memorial in Hyde Park Sydney through to March 2024.
This year Deborah Carter, President of Pittwater RSL Sub Branch, along with photographer and Pittwater RSL Member Michael Mannington OAM, attended Services at Collaroy Beach RSL Sub Branch, led by John Fairless, President Collaroy RSL Sub Branch, and at the village's chapel for the War Veterans Village [Narrabeen] RSL Sub-Branch, led by Bob Durbin, Chaplain and President of The War Veterans RSL Sub Branch. His pictures from these solemn Commemorations run this Issue.
At a Vietnam Veterans' Day service at the Martin Place Cenotaph in Sydney on Friday August 18, RSL NSW President Ray James OAM, on behalf of the League in NSW, apologised for the mistreatment of veterans who returned home from the conflict – and reaffirmed the League's pledge to stand for all veterans now and in the future.
His apology speech runs in full as part of this year's Vietnam Veterans Services 2023 report
Winter In Pittwater Becomes Spring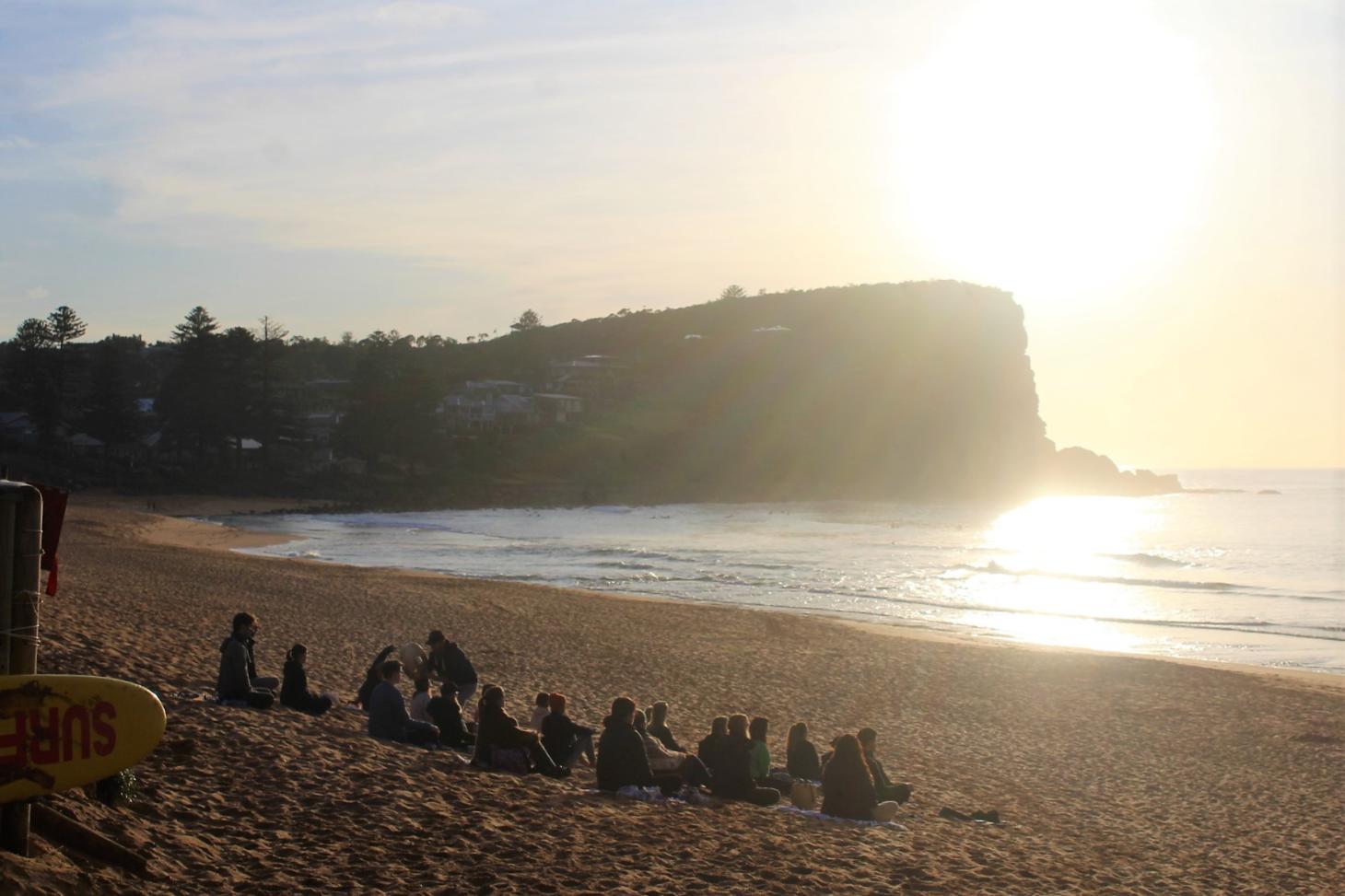 Sunrise meditation on Avalon Beach, Saturday August 26 2023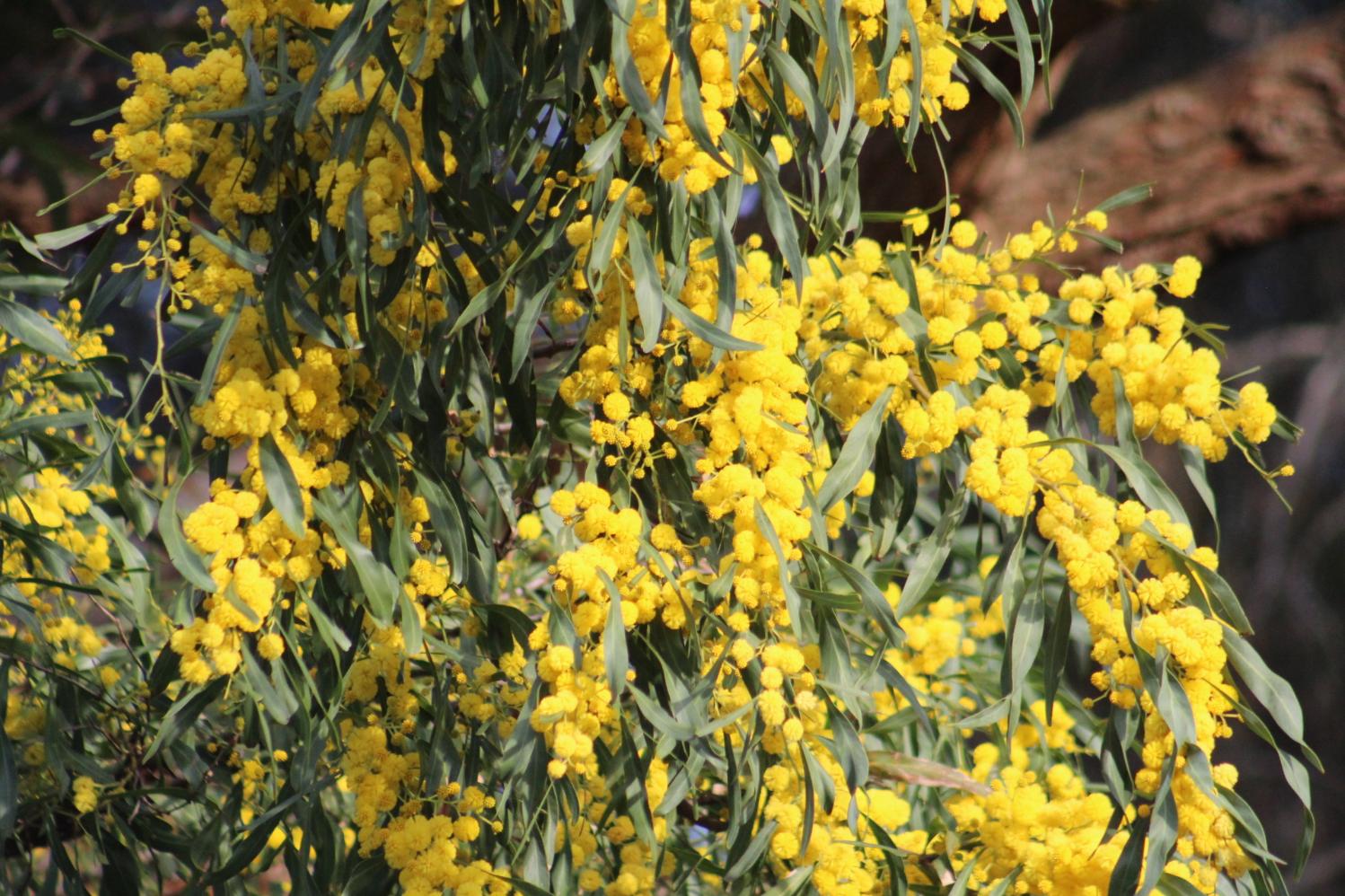 Winter wattle finishing at Careel Bay
Past Features Archives (pre 2014)
Pittwater Online News was selected for preservation by the State Library of New South Wales and National Library of Australia. This title is scheduled to be re-archived regularly.
Archived Issues (2014 on) may be accessed here: pandora.nla.gov.au/tep/143700
Past Issues are also listed on site on the Community News page, by month.