August 13 - 19, 2023: Issue 594
Vietnam veterans day (Northern) 50th end of the war march at palm beach - all welcome, all belong Anniversary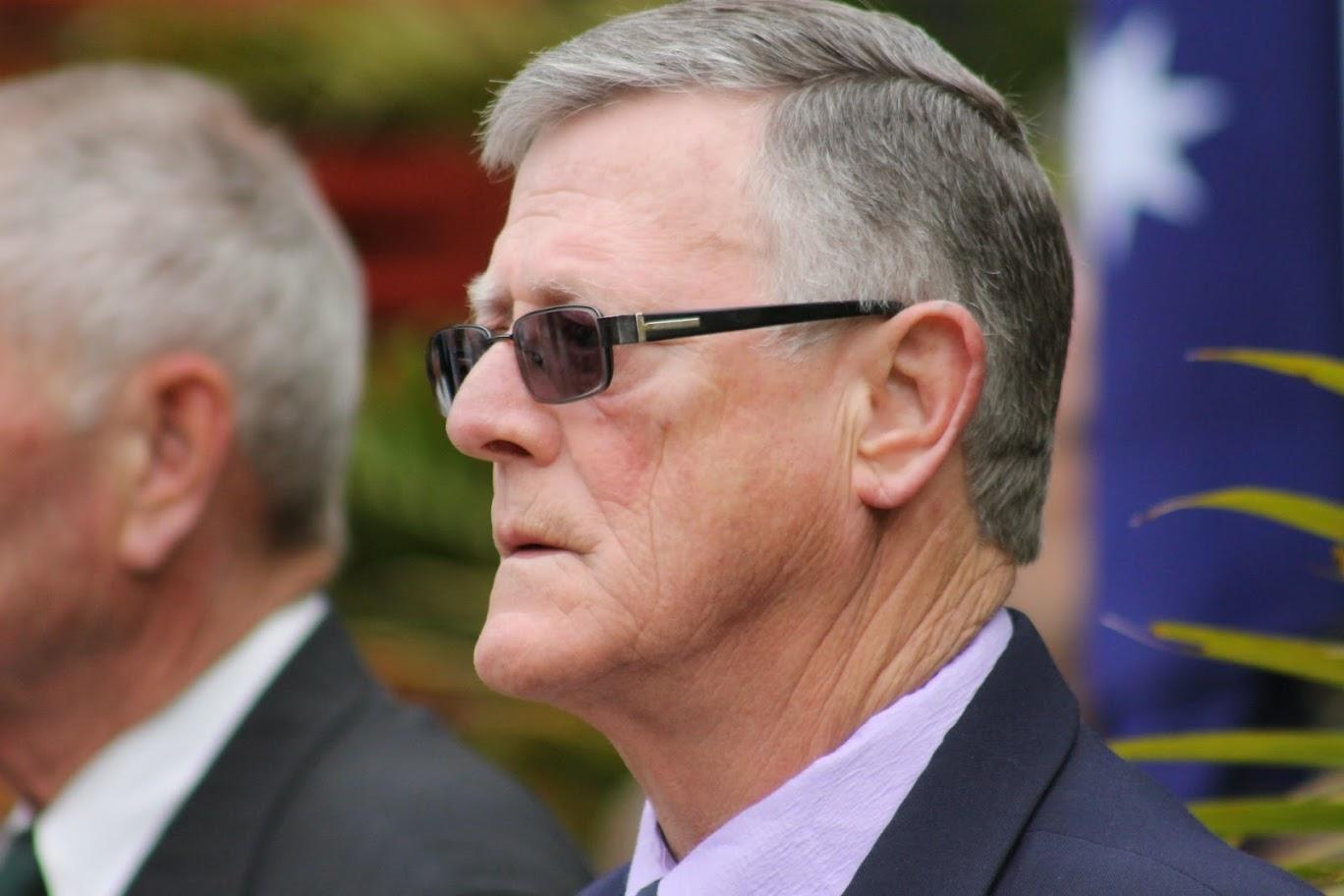 Mark Ferguson OAM, at Vietnam Veteran (Northern) Day Commemorative Service at Palm Beach RSL Cenotaph. Photo: AJG
A very special Vietnam Veterans (Northern) Commemorative Service takes place on Sunday August 20th, with a March to the Cenotaph of the Palm Beach RSL (commencing at 10:45 am from Iluka corner near General Store) led by Knox Old Boys Pipe and Drums Band.
Organisers are asking all in the community to support local Veterans by attending this year's March and Service as 2023 marks the 50th anniversary of the end of the Vietnam War.
All sub-branches in the Northern Beaches District Council of RSL Sub-Branches will be attending.
President of Vietnam Veterans (Northern) Mark Ferguson OAM, who started the chapter with Ian Lascelles Traveller (R.I.P.) and John Roxburgh, explained, ''This is a special Service this year, the 50th anniversary of the end of this war, with Vietnam Veterans from all over our area taking part in the March and Service.
''The road will be closed from Iluka to the Cenotaph. The 2023 Commemorative Service will commence at Palm Beach Cenotaph at 11:00am. We'd like everyone to attend and cheer them on.''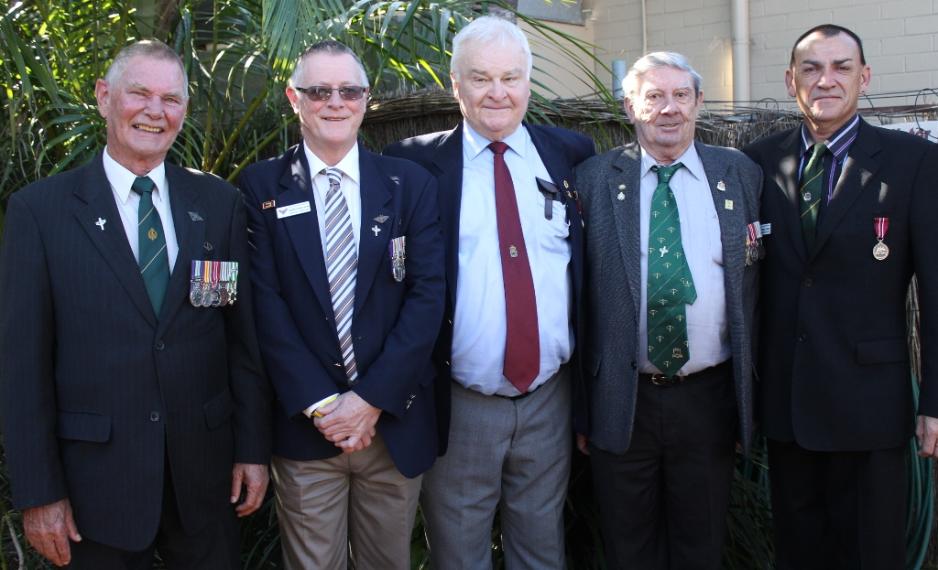 Left to right: Peter Rumble, Mark Ferguson, John Roxburgh, Ian Traveller and Russel Marsh. Vietnam Veterans (Northern) Day 2013. Photo: A J Guesdon.
Mark was part of the 8th Battalion, The Royal Australian Regiment (8RAR). During his Profile interview he shared they lost 20 fellow Australians.
He was 18 when he enlisted, he was only 19 when he served in Vietnam.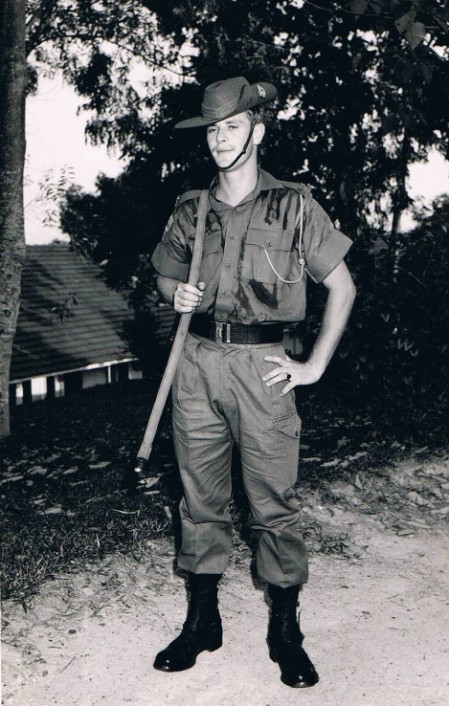 Mark, just after his 19th Birthday, while based at Malacca, Malaya.

Mark explained ''My Battalion, 8 RAR 1968-1970, can stand tall. The Unit received its colours overseas in Malaysia; the only Unit to do so in the RAR. 8th RAR was awarded a unit citation emblem, Cross of Gallantry, with Palm, on 29th of October, 1970, due mainly to its involvement in the Long Hai Hills. Here the Viet Cong were down in their tunnels listening to the B52's dropping their ordnance. Then they all popped up, (after bombers had passed) to re-engage us.''
''Our biggest problem over there was called the Long H'ai's. The enemy was the D445 Battalion, the Vietnamese Regular Army. They had tunnels, bunkers, and hospitals underground. There were landmines everywhere. We found it very hard to get in there. We were successful but we kept losing too many men through mines and other factors. So they said, no, we can't go back up there any more, so they laid on about two weeks of B52 bombing and it didn't make any difference. The mines; too many, lots of the men were injured from these.''
Then of course, when this war was over and those men came home, physically wounded, shell shocked, emotionally scarred, they were vilified by their fellow Australians for having served in this by then unpopular conflict – so the war wasn't really over for them and they did not get to heal, to return, to Come Home. They were still in the line of fire and were wounded here anew, this time by their fellow Australians.
What they met in coming home compounded what they had just been through, it was isolating, disconnecting and harmful. Their defences went up, and for some, never came down.
It took until the October 3rd 1987 Welcome Home Parade for some of those who served in this conflict to begin to feel they had finally come home – even then, as other veterans of Vietnam have stated in further interviews, some never took part in any Anzac Day or any other veterans events – they did not feel welcome or, after years of being abused, did not want to be part of the society that had rejected them for being conscripted or serving Australia.
As Mark explained during his interview; ''Was I patriotic or stupid in 1968? – Vietnam; more then 60, 000 served, 523 died, 3000 were wounded. Many more have died from their own hand and from disease and illness since. Veterans were rejected by their country – even by the RSL Hierarchy - that has changed since the Welcome Home March – which I did not attend because of the bitterness I still felt.''
The Welcome Home Parade was organised by the Australian Vietnam Veterans Association. While many units had marched through the streets on their return to Australia, there had been no national celebration or victory parade in the 1970s because the War had been deeply divisive and ended in withdrawal. The veterans felt Australian society did not respect or recognise their service.
The Welcome Home, finally, Parade, although among the events held for Vietnam veterans that weekend, was symbolic for these veterans and their families. It commenced a healing, in being welcomed home – set up a bunker against the damage that had been inflicted on veterans in returning to Australia after this conflict.
Addressing the RSL Conference in August 1987, Prime Minister Hawke noted: "I firmly believe that the October parade will be the culmination of a long process of reconciliation and community acceptance of its obligations to the veterans of Vietnam. I believe we must honestly acknowledge that our involvement in Vietnam did cause deep divisions in the Australian community. But whatever our individual views on the merits of Australian involvement, we must equally acknowledge the commitment, courage and integrity of our armed forces who served in Vietnam."
On 3 October 1987, after a Dawn Service held at the Cenotaph in Martin Place, 22,000 Vietnam veterans marched through the streets of Sydney in the parade. The Veterans mustered in the Domain before marching through the city, passing enthusiastic crowds who packed the streets along the route, in some places ten deep.
More than 500 Australian flags, each representing an Australian soldier killed in the Vietnam War, were carried by relatives and friends at the head of the parade, the staff of each flag bearing a metal plaque engraved with a serviceman's name and unit.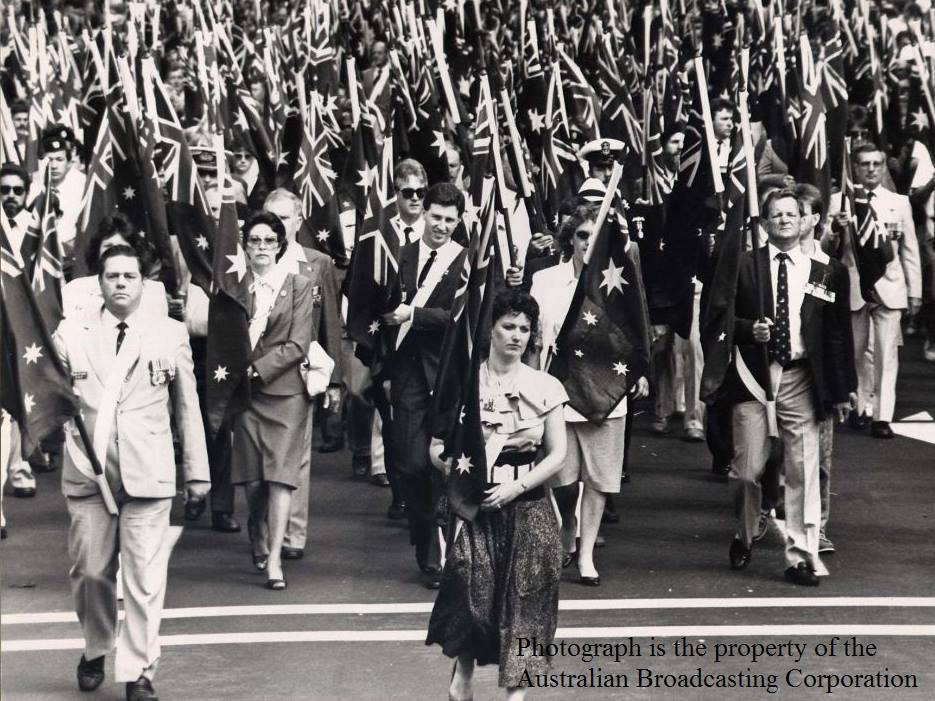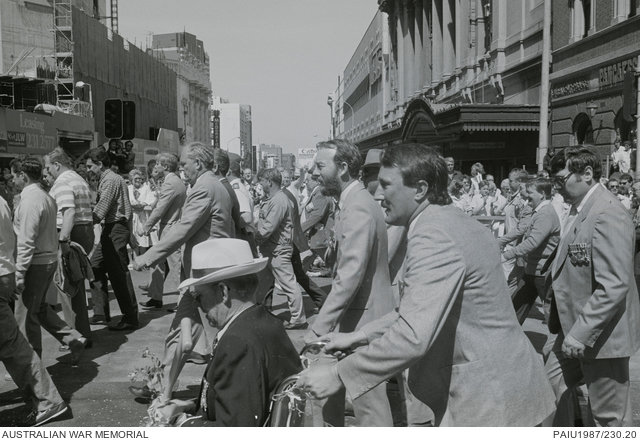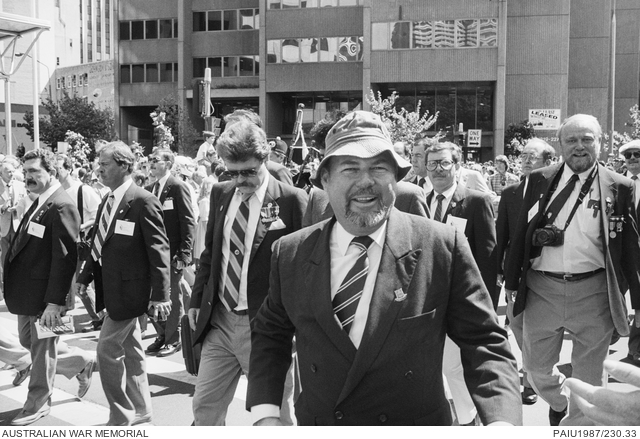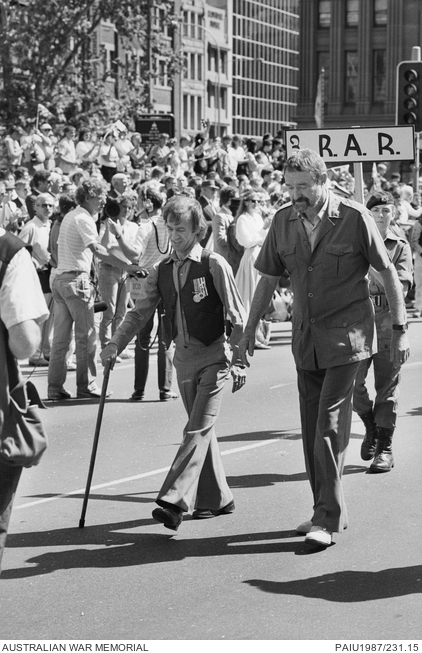 Australian Vietnam Forces Welcome Home Parade. Photos: Peter David West, AWM. © Australian War Memorial

Large groups of American, South Korean, Vietnamese and New Zealand veterans participated, along with members of Australian civilian medical and surgical teams, entertainers, and war correspondents.

The March concluded with participants applauded from the steps of Town Hall by Australian Prime Minister Bob Hawke, armed forces chiefs, and other dignitaries.
And that's one of the reasons, on this 50th year of the end of this conflict for Australians who served, it would be great to see Barrenjoey road Palm Beach absolutely packed with loudly cheering locals, recognising the sacrifice their fellow Australians made then and in the decades that followed.
On 11 January 2023, the 50th anniversary of the then Governor-General Sir Paul Hasluck proclaiming an end to Australia's involvement in the Vietnam War occurred. This milestone marked the beginning of recognising in 2023, the 50th anniversary of the end of Australia's commitment to the war and to acknowledge Australia's involvement in the Vietnam War.
More than 60,000 Australians served in the longest conflict Australians were involved in during the 20th Century.
On March 29th 2023 the Prime Minister and Minister for Veterans' Affairs launched a commemorative medallion to honour those who served in the Vietnam War.
The medallions are available for every veteran, and can be applied for by Vietnam War veterans, widows of veterans and other family members of veterans.
The launch of the medallions continues the Australian Government's recognition of this significant anniversary throughout 2023, culminating in a national commemorative service on Vietnam Veterans' Day, 18 August 2023.
For more details on the commemorative medallion, including how to apply, or for more information about the other commemorative events planned, visit the DVA website: www.dva.gov.au/vietnam50.
Prime Minister Anthony Albanese said in January, "This year, as we mark 50 years since the role of Australian troops in the hostilities in Vietnam came to a close, let us acknowledge your service and sacrifice."
"Your experiences during and after the war are a powerful reminder of the sacrifices made by those who have served our country and the debt of gratitude we owe each and every one of you."
"These medallions are a small but meaningful way to honour your service - to recognise the sacrifice of those who never returned home, and of those who did, and endure the scars of service."
Minister for Veterans' Affairs Matt Keogh said, "This was a war that was at times contentious at home, and for some veterans their service not recognised as it should have been."
"To each and every one of our Vietnam veterans: We honour you. We thank you."
This year as part of 50th Anniversary of the withdrawal of troops from South Vietnam there are many commemorations occurring. One is The Vietnam Veterans Vigil. See: https://www.vvv.org.au
They intended to hold a Service of Remembrance at every grave or Commemorative plaque site across the nation and overseas on the 3rd August 2023. The first being held at the AVFNM in Canberra. Other Services were held at 11:00am (local time across Australia and in Malaysia). The last Service will be held in Scotland, at Birkhill Cemetery where LCPL Robert Buchan is laid to rest with his Mum and Dad.
The DVA Nominal Rolls list 61,319 Australians who served in Vietnam. Of these 17,188 Vietnam Veterans came from NSW. There are 154 Vietnam Veterans from NSW on the casualty list who died during the Vietnam War, and this represents 29.5% of the Australian casualties.
Vietnam Veterans' Day, 18 August 2023, recognises the service of all Australians in the Vietnam War and honours the sacrifices that they and their families made. The Vietnam Veterans (Northern) Service always occurs on the Sunday immediately following – in 2023 that is Sunday August 20th.

And this year, especially, the Vietnam Veterans Northern chapter asks everyone to attend the March and Commemorative Service.
All are Welcome - because - All Belong!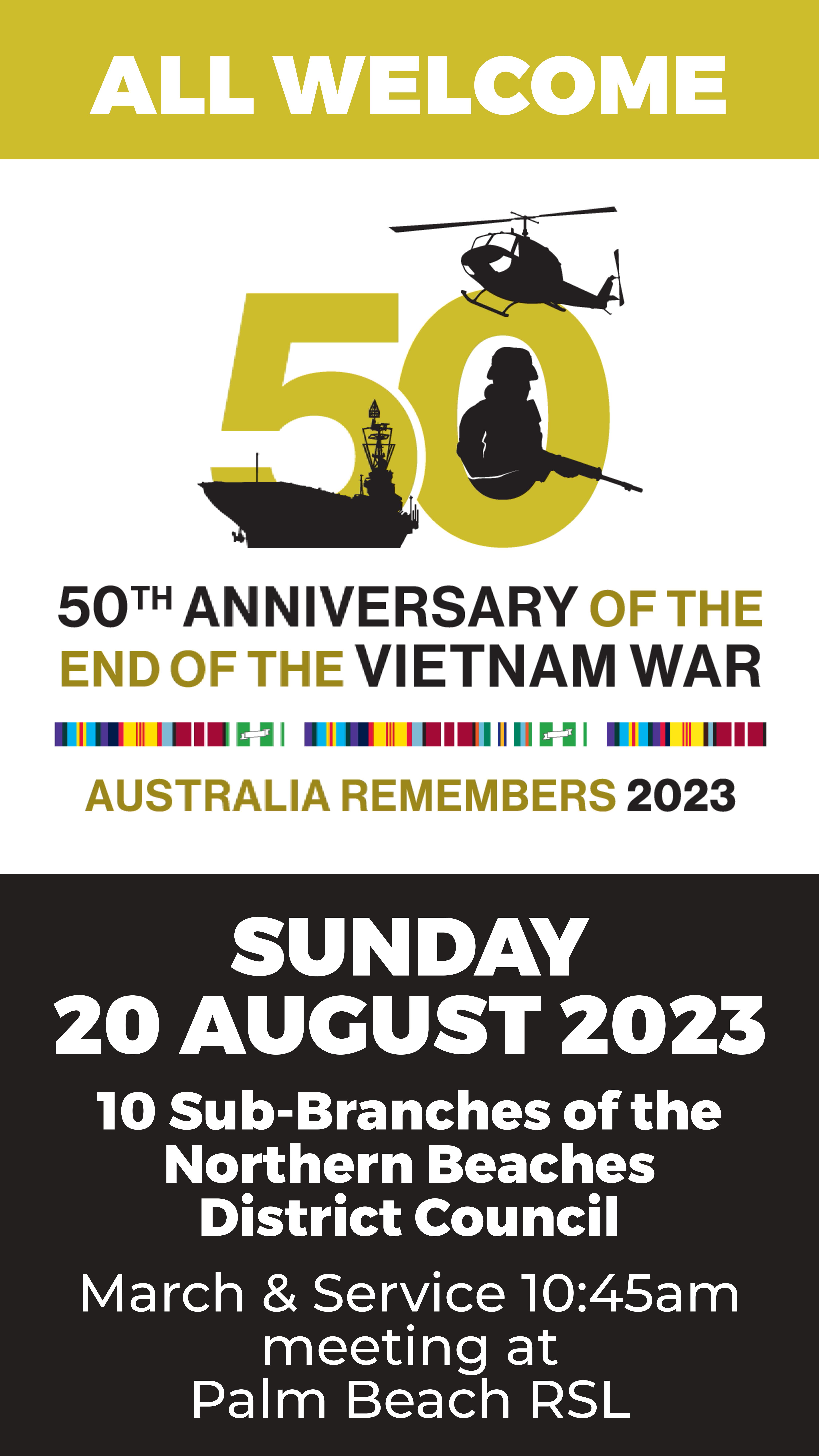 I Was Only 19
"I Was Only 19" (also known as "Only 19" or "A Walk in the Light Green") is a song by Australian group Redgum. The song was released in March 1983 as a single, which hit number one on the national Kent Music Report Singles Chart for two weeks.
The song is a first-person account of a typical Australian soldier's experience in the Vietnam War, from training at a military academy in Australia to first hand exposure to military operations and combat, and ultimately his return home disillusioned and suffering from both PTSD and, it is implied, the harmful effects of Agent Orange.
Redgum's lead vocalist-guitarist, John Schumann, wrote the song based on experiences he heard from veterans, particularly Mick Storen (his brother in-law) and Frankie Hunt. The mine experiences in the story pertain to an incident during Operation Mundingburra on 21 July 1969 of which Storen experienced. Schumann has said that "the power derives from the detail, provided by my mate and brother-in-law, Mick Storen, who was brave and trusting enough to share his story with me."
For the live version, Schumann explained the title, "A Walk in the Light Green", as referring to operational patrols in areas marked light green on topographical maps, where dark green indicated thick jungle, plenty of cover and few land mines and light green indicated thinly wooded areas, little cover and a high likelihood of land mines.