August 27 - September 2, 2023: Issue 596
Protect Pittwater Association ramps up its case for council 'de-merger'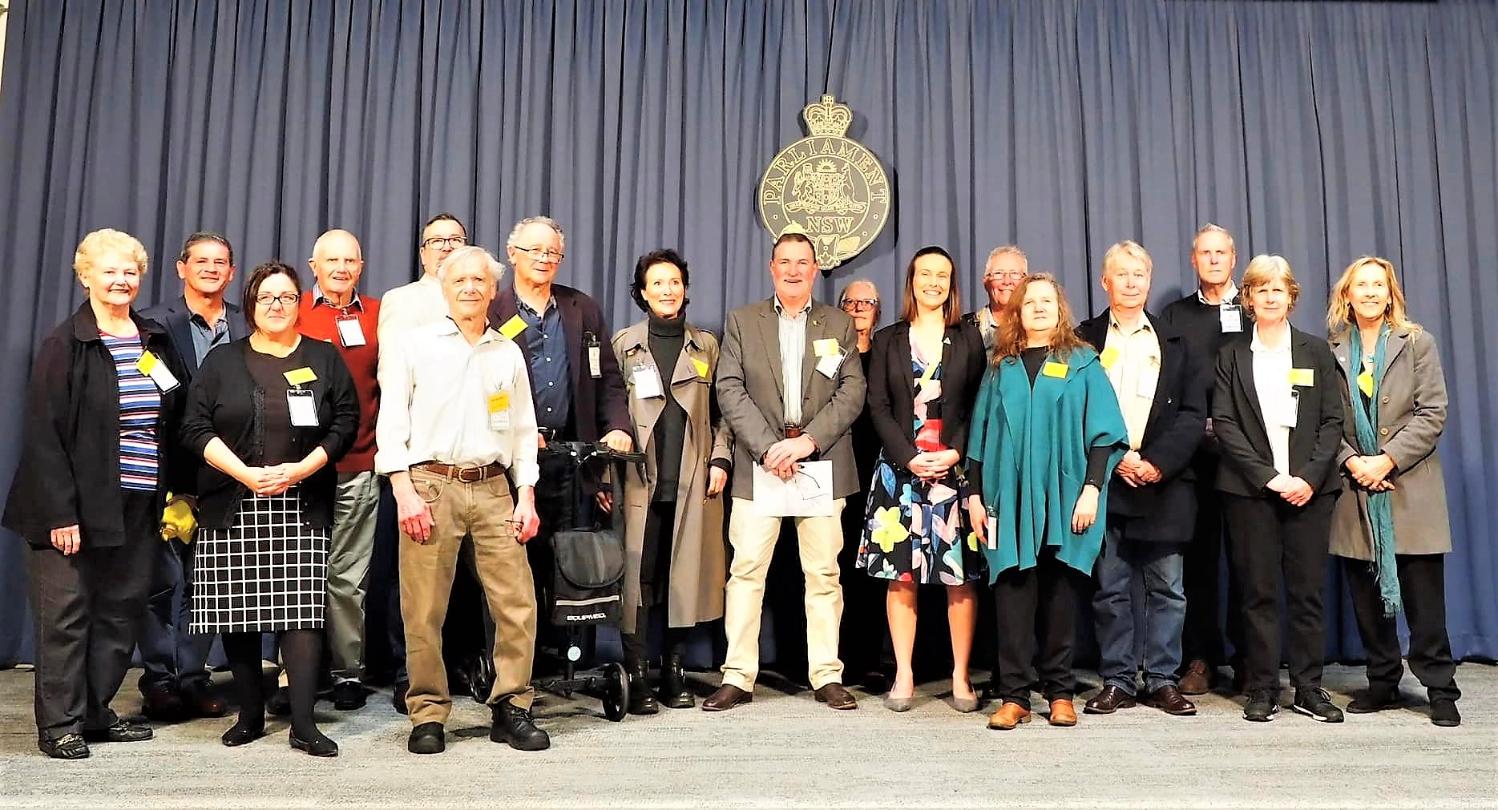 Demerge NSW Alliance members and Protect Pittwater Association members with Dr Amanda Cohn, Greens spokesperson for Local Governmen at Parliament House last week, August 23
Community efforts to restore a standalone Pittwater Council have taken a new step, through a joint appeal to the NSW Parliament by councils impacted by amalgamations.
The Protect Pittwater Association (PPA) joined with the broader Demerge NSW Alliance (DNA) at State Parliament on Wednesday August 23 to share the concerns of citizens from a number of merged mega councils across the state.
The Protect Pittwater Association is seeking support from the community and the NSW government to reverse the 2016 forced amalgamation of Pittwater Council with Warringah and Manly Councils.
The President of Protect Pittwater Association, Simon Dunn, said the joint approach direct to NSW parliamentarians is aimed at highlighting the widespread discontent among former Pittwater Council residents at being undemocratically forced into a mega-council alliance.
"We believe that a majority of Pittwater residents support a reversal of the council amalgamation, and we are calling on the NSW government and all parliamentarians to support a formal plebiscite that would pave the way for Pittwater to de-amalgamate," he said.
Mr Dunn said Protect Pittwater believes DNA's proposed 'Six Steps' pathway to de-merger is consistent with the government's commitments and is a logical and practical way to proceed.
At the heart of Protect Pittwater's case, is the failure of the merged Northern Beaches Council to deliver the financial benefits, service improvements and the environmental benefits that were promised, in fact the opposite is occurring.
From the outset, approximately 89% of Pittwater residents who were polled ahead of the merger did not want it to proceed. Pittwater residents rightly feared having their local voices lost – something that has been borne out as the unique character of Pittwater has been absorbed into a "one-size-fits-all", developer-friendly mega bureaucracy.
The amalgamation has seen the loss of focus on the area's unique geographical, environmental, and cultural characteristics.
"The mega-council has resulted in an increased number of previously non-compliant development applications being approved and plans to discard conservation zoning that would threaten habitat and fragile environments," Mr Dunn said.
"This is accelerating the destruction of protected trees, canopy, native flora and fauna, and habitat," he said.
Mr Dunn stressed that Protect Pittwater is not opposed to appropriate urban development, and, noted that Warriewood Valley has been one of the fastest growing suburbs in NSW.
"Medium density development has been occurring at pace for years in largely flatter areas of Pittwater that are well served by road, transport and other infrastructure, and that do not have fire, flood or slip risk hazards," he said.
In supporting the Demerge NSW Alliance, Protect Pittwater Association is acting on behalf of residents who call on the NSW government to adhere to its pre-election pledge to "Put the Local Back Into Local Government" by allowing a process by which demergers can take place and by supporting such demergers with transition funding.
Protect Pittwater Association believes it is an opportune time to gauge the views of the local community on this important issue through a plebiscite.
It is only by allowing local residents to have a democratic say in their local government that residents can be confident that they are genuinely being listened to on vital issues affecting their community.
Representatives of the Demerge NSW Alliance, made up of community advocacy groups from local government areas across the state, were at Parliament House to call on all NSW MPs to support amendments for binding plebiscites on council deamalgamations in the Local Government Act.
DNA spokesperson Grantley Ingram, from Save Bombala Group, said DNA is suggesting amendments which have the support of cross-bench members.
The proposed changes would bind the Local Government Minister to proceed with deamalgamations in former council areas which have returned majority vote in a plebiscite.
"The 2016 amalgamation of councils has been a failure," Mr Ingram said.
"Members of Parliament have indicated their support for communities' views on deamalgamation to be respected," he said.
"Communities have had seven years to weigh it up: we are suffering a loss of representation, a loss of accountability and our rates have gone up — sometimes exponentially.
"The Minister must take democracy seriously: if a majority votes in a plebiscite to deamalgamate their council, the Minister must direct the Office of Local Government to prepare a road-map to deamalgamate."
Dr Amanda Cohn, Greens spokesperson for Local Government, gave Notice of a Bill to amend the Local Government Act to enable communities to have their say through binding plebiscites.
"Councils provide essential local services like libraries, sports facilities, and community centres, and make decisions that shape the future of our built and natural environments. To function effectively, communities must be empowered to participate in the decisions that impact them through local democracy," Dr Cohn said.
"Communities from right across the state have made their voices heard loud and clear that some forced council amalgamations have been a real disservice. Those communities must have their views respected by the government."
Ingram is calling on Labor to support these amendments, which are in line with its policy presented to the election in March.
The policy promised that:
"NSW Labor will not support the forced merger of local councils, nor will it support any forced demerger. NSW Labor does not oppose the merger or demerger of councils, but insists that this must be done voluntarily with the clear support of local residents as confirmed through a local plebiscite. NSW Labor will legislate to put in place independent mechanisms to enable this to occur." (Better Local Governance 1.1108)
"Communities in Bombala, Pittwater, Canterbury Bankstown, Central Coast, Guyra, Inner West, Hilltops and Tumbarumba are campaigning for the return of their former councils and to 'Put the Local back into Council'.
"It is urgent to start the process now, so that local government elections in September 2024 can include polls for councillors for the newly deamalgamated councils, should their communities vote for deamalgamations in plebiscites," Mr Ingram said.
Protect Pittwater Secretary Anna Maria Monticelli, who attended the announcement with fellow PPA member, stated
'' Amalgamation took our rights away without our consent. We were pushed into a super council that was structured to prop -up their revenue while at the same time ignoring us. We went from our own council which had 9 councillors that represented the area to 3 councillors in a council of 15. So, our concerns are basically ignored because of the numbers game. In other words, when we were amalgamated over 63,000 Pittwater residents were immediately disenfranchised.
Local government is supposed to be the most democratic and the closes access for citizens to vent their concerns on issues that directly affect them. The Northern Beaches Council makes a mockery of this important principle, causing anger and frustration.
We are in an area that has unique challenges logistically and environmentally. We have a Peninsula which has one road in and one road out. There is limited access - this is a geographical fact. Pushing more development into a confined space is a recipe for disaster. Not only for the quality of life for residents, but the threat of a catastrophic bush fire season which would endanger lives and property, with traffic gridlock and panic because there is limited escape.
We have environmental assets which attract world-wide visitors, why would a government want to destroy the reason people come?
Our organization Protect Pittwater wants to return a Pittwater Council that responds directly and efficiently to the pressing issues that are in our area.
We demand our democratic rights to be returned.''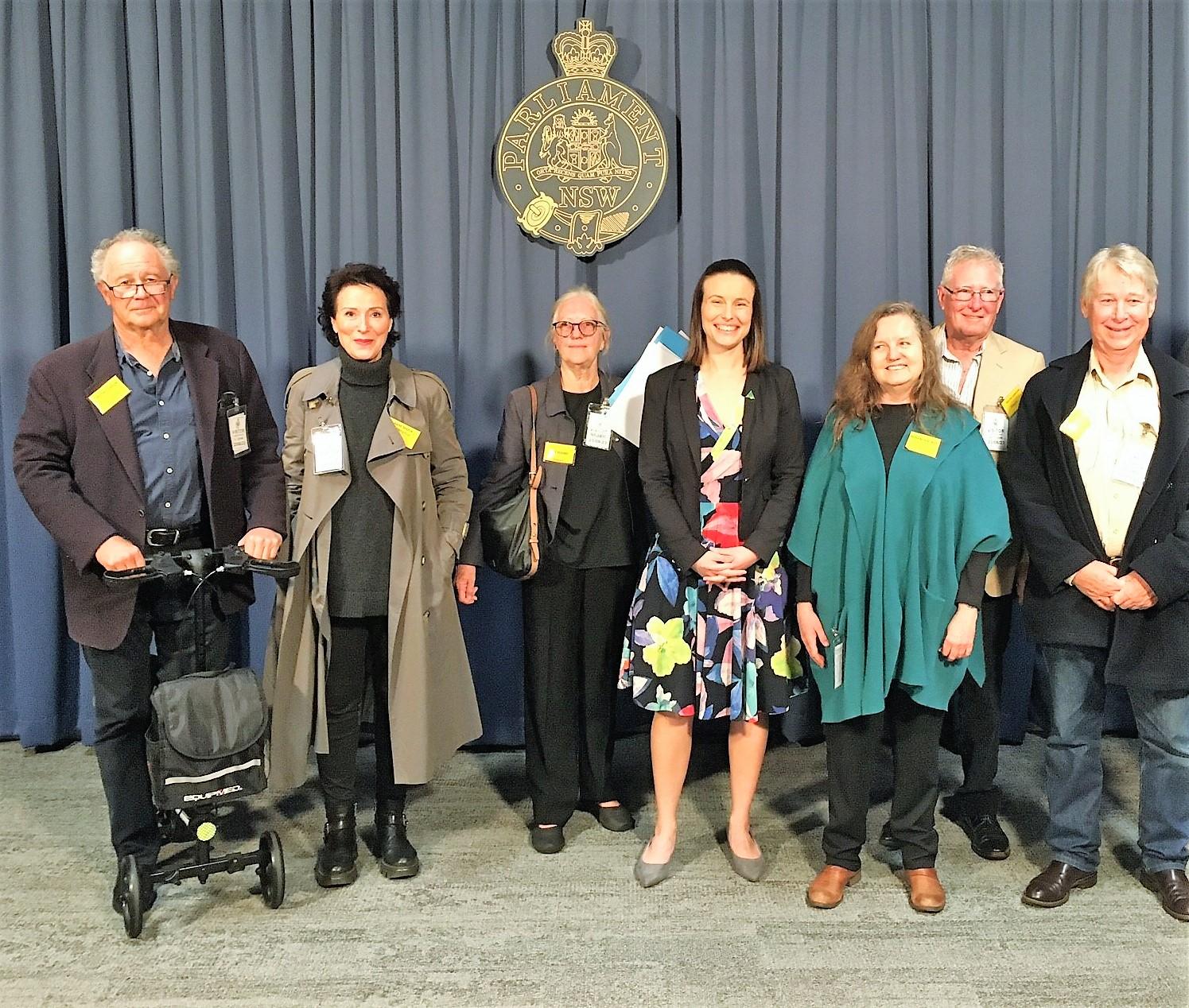 PPA members with Dr Amanda Cohn, Greens spokesperson for Local Government