January 15 - 21 2023: Issue 567
Residents Call On Everyone In Sydney To Join Community Protest Against The Commercialisation Of Barrenjoey Headland - Sunday January 22, 11am At Station Beach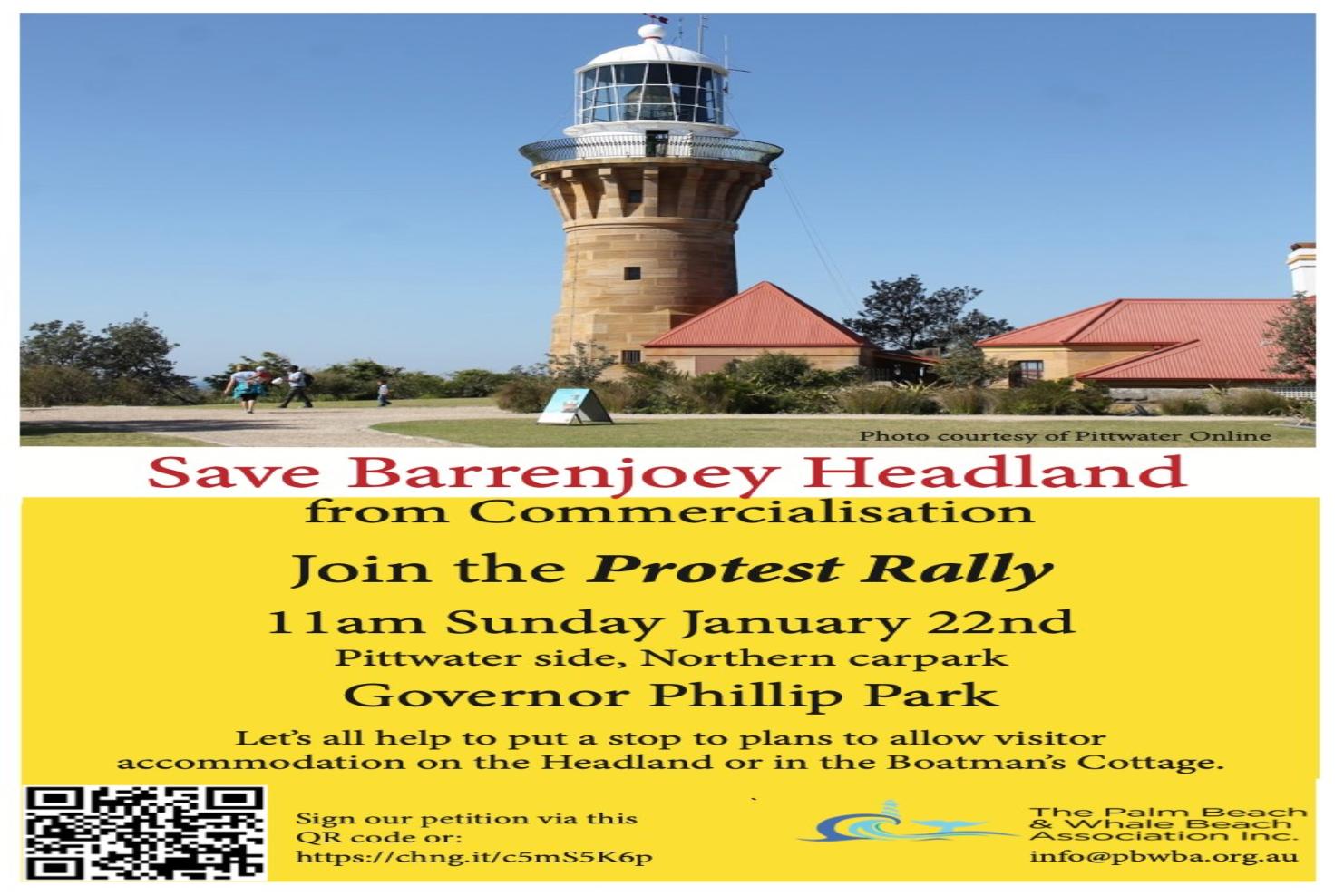 The Palm Beach Whale Beach Association members once again find themselves having to oppose the commercialisation and exclusion of the public from a publicly owned asset, Barrenjoey Headland and its historic buildings, and have organised the second Barrenjoey Rally for next Sunday, January 22nd at 11am in Governor Phillip Park, just north of where the Boat House was. They are calling on residents, visitors and supporters from across the Sydney Basin to join them and send a clear message to the State Government that the NSW community is vehemently opposed to the excise of public assets into private hands through the commercialisation of National Parks and historic buildings.
Along with the rally, the Association has launched a petition: www.change.org/p/save-barrenjoey
Barrenjoey and Ku-ring-gai Chase National Park are just one of a series of plans the government has pushed through recently in these pristine and heritage areas, running 'have your say' changes to Plans of Management for National Parks to insert commercial activities or build tracks for cyclists, followed soon after by that same government approving their own plans, despite opposition, and then a short period for 'feedback' for private leases of the same that reek of done deals, and offer scant details of what will occur. Some instances of these that have happened in just the last few weeks run here, all completed while residents were 'clocked off' for end of year holidays.
Many people consider National Parks to be the last bastions or arks for our native flora and fauna and exist to preserve the same - that was certainly the case for the National Park that runs adjacent to and crowns Pittwater, as Eccleston Frederick Du Faur stated in 1894:
KURINGGAI CHASE.
TO THE EDITOR OF THE HERALD.
Sir,-When on 6th October, 1892, I first submitted officially to the Minister for Lands the proposal to "dedicate the waters of Cowan Creek, and lands adjacent to same, as a national park for North Sydney, one of the principal arguments adduced was that "steps could be taken to prevent the reckless destruction of native flowers .eg, the rock-lily, formerly so abundant, is becoming scarcer every year, and must soon become extinct it not to some extent protected."
Two flowering seasons passed away before my suggestion was adopted by the preliminary notification of Kuringgai Chase in the Government Gazette of 20th June, 1894. During that interval of over 20 months wholesale depredations had been committed, not by the tourist but for trade purposes which left the foreshores for miles denuded of the special vegetation which had made them attractive in former years- the last tree ferns had been cut down, the rocklilies almost extirpated. The cutting of their flowers did no permanent harm, but almost every accessible plant had been torn away by the roots, and hundreds of Christmas bush trees of fifty growth and upwards had been felled, merely to lop off the top branches for decoration of the butchers shops &c. in Sydney. The removal of a few cartloads or boatloads of such vegetation each year would not have done any irremediable damage, but many of the depredators made a practice of camping on the creek for a week or two before Christmas and ruthlessly destroying everything they could find in accessible places, which they did not want for themselves, in order that others might not join in their harvest and cheapen the market against them at Christmas time.
Against this state of things the trustees have hitherto been unable to act owing to certain formal matters in connection with the dedication of the Chase not having been completed , but, seeing that the anticipated destruction during this season (the third) would put back the place for years a strong effort has been made, and being courteously backed by the department the dedication of the Chase was finally secured by gazette notice of the 11th instant and, after overcoming further obstacles the publication of the bylaws was obtained in a supplement Gazette of the same date.

Full arrangements having been made, in anticipation, linen posters of notice of bylaws, &.c , were delivered the same evening at a distant camp at Cowan Creek, where two men had been retained to post them along the foreshores of the Chase on Saturday. Similar posters were distributed on Saturday morning at the stations along the North Shore line, and accompanied by a constable and special constable I left for Pittwater the same morning on similar duties, and to establish a repressive force there, and to interview various residents who had promised to assist the trustees as far as lay in their power.
This morning (Monday) a strong body of special constables, under the authority and instructions of the trustees and the guidance or the local constable, commence a daily patrol in a steam launch from the head of Cowan Creek down to the Hawkesbury. Under such prompt and repressive measures the trustees feel confident that they will be able to put a stop to any piratical practices on the Chase during this season and that if the necessary support is afforded them by the Government, and the moral support of the general public is on their side, such practices will become impossible for the future and that both the flora and fauna of this large tract of country, abutting on the 10-mile circuit of Sydney, will be protected for future generations in Kuringgai Chase, although probably they will have utterly disappeared from most other places.
It is to be regretted that a section of our legislators, in ignorance, I presume, of the circumstances should by their recent vote have crippled the action of the trustees. On the evening after that vote I was obliged to discharge a road party at work (uncompleted) on the Chase, and other working men, who were anxiously awaiting the commencement of other works proposed to be carried out for the convenience of the public, were advised that they could not be commenced. Thus, as all administration by the trustees is performed gratuitously, the whole weight of that adverse vote falls on the working men of the Lane Cove and Hornsby districts, of whom, I am sorry to say too many able and worthy men are unemployed, while, furthermore, the proposed increase of convenience to the public, which would have largely increased our railway receipts, must stand in abeyance.
…. E. DU FAUR, trustee. December 17. KURINGGAI CHASE. (1894, December 18). The Sydney Morning Herald (NSW : 1842 - 1954), p. 6. Retrieved from http://nla.gov.au/nla.news-article14000128
The NSW public has the same stance when it comes to historic buildings. Although some government websites state these are 'owned by the state government' incumbent governments are only the custodians with the real owners being the NSW, the Australian and International public, those alive now, and those still to be born.
These publicly owned assets are then modified irreversibly to install bathrooms, lighting and kitchens, roads and tracks are put in, carparks built where greenspace was.
The destruction of these heritage items is just the first blow. Plans to erect new installations quickly follow.
People from across Australia have been opposing the follow on of modifying the heritage Green Cape Lightstation Keepers' Cottages in the form of erecting two luxury "eco lodges" in the formerly named Ben Boyd National Park (Beowa National Park NSW), at Hegarty's Bay and Mowarry Point since 2018.
In response The Beowa - Light to Light Walk - Community Action Group was established to co-ordinate efforts to share information and protest against newly proposed privatisation and commercial developments within the Beowa National Park NSW and the existing Light to Light walk. Along with a petition, already signed by thousands, they have been disseminating what the state government propose.
''These developments are aimed at high-paying users and many of the so-called improvements are likely to be beyond the means of most people. This and a ban on camping at the proposed sites effectively locks Australians out of our National Park. This is a growing issue in Australia and across the globe and if we don't take a stand, these areas will be unavailable for us and for future generations.'' the founders of the group state.
The main points of concern with this development proposal are:
1 - Construction of two large accommodation facilities within the national park at Mowarry Point and Hegarty's Bay. These are each capable of catering for 36 walkers per site and include communal kitchen/dining/seating area, work area and storage, helipads, toilets, hut officer accommodation. Note that accommodation facilities are already provided at two established campsites (Saltwater and Bittangabee Bay) and at Green Cape Lighthouse, along with other local businesses.
2 - No estimates provided on costs associated with staying in the proposed accommodation
3 - Opening up the park to "privately owned" commercial tour operators. Based on information provided on the Great Walks of Australia website, these walks will cost about $600-900 per night.
4 - Restricted access to beaches, walking tracks, surfing and fishing areas.
5 - 'The Light to Light Walk Strategy' and accompanying amendment have been proposed whilst environmental impact assessments are 'being conducted' and no information on the associated environmental impacts have been released.
6 - No information regarding the impacts on cultural heritage has been released, this includes the cultural heritage assessment.
7 - The development proposal does not explicitly provide local Aboriginal people with employment or training opportunities.
8 - Restricting backpack camping within Beowa NP forcing hikers to stay either at established, drive-in sites, or pay an undisclosed amount to stay at the accommodation at Hegarty's Bay or Mowarry Point.
9 - 10km of new and realigned tracks to be built with associated clearing and other environmental impacts.
10 - $7.9 million dollars spent on this project could be better spent in the broader community rather than this project which is targeted at a small number of high paying guests.
More recent information states the cost of this publicly-funded proposal has increased to $14.5 million.
The NSW Government press release claims the new developments are about 'how best to make the Light to Light walk accessible to everyone'. However, when you find out that many Light to Light campsites are currently free, and eco-glamping retreats can cost upwards of $795 per night, the spin is cast in a different light.

In an August 2022 report '' 'Stealth privatisation' in national parks threatens mental health boosts'' Griffith University researchers point out that;
''If we let the tourism industry take greater control over park access for private profit, we risk turning famous natural places into exclusive havens for people with money. This is not to say tourist ventures have no place. Commercial nature tourism businesses can benefit, and contribute, by guiding inexperienced visitors to visit national parks. But the parks themselves, and all their facilities, should remain publicly owned and accessible to all.
National parks are a major tourism drawcard. Commercial enterprises benefit from visitor spending along access routes, in gateway settlements outside park boundaries, and by operating mobile guided tours inside parks under similar conditions to independent visitors. Private lodges inside parks compete with these existing businesses.''
Further:
''We don't have to give private interests everything they ask for. While some other countries do allow private lodges in national parks, the models are very different from those in Australia.
In Botswana, for example, private leases in protected areas are short, facilities are fully removable, and private tour operators pay 80% of the parks agency budget. For comparison, proposals for a private island heli lodge in Tasmania's Lake Malbena offered only A$4,000 a year. *
In the US, the National Parks Service subcontracts visitor services to private concessionaires, but owns the facilities, requires bonds equal to 100% of capital value, and sets all conditions and prices.
In India, luxury lodges must generally be located outside park gates, while private hotels inside parks in China have been removed by the parks agency.''
* The ABC reported in 2020 that documents released by the proponents of one Tasmanian eco-tourism proposal showed they would pay about $6,000 a year in rent to the state government while planning to charge $4,500 per person per trip.
And this is what is planned for Barrenjoey Headland and Ku-ring-gai Chase National Park.
A December 12, 2022 update of the State Government's NSW Department of Planning and Environment website and webpage 'Park visitor survey' shows there were 50,085,238 visitors to National Parks in NSW in 2020. This occurred during the pandemic lockdowns and while many were impacted by the horrific bushfires that raged at the opening of that year.
Ku-ring-gai Chase is listed as the 3rd most popular National Park for visitors, with 3,099,270 individuals visiting in 2020 and the bulk of these visitors were residents of NSW.
Barrenjoey Headland and Palm Beach attract thousands of visitors on a daily basis.
This all begs the question - is the State Government not making enough money from us visiting our own National Parks? Ku-ring-gai Chase National Park entrance fees are $12 per vehicle per day - Vehicles over 8 seats are charged $4.40 per adult, $2.20 per child (per day), Students on educational programs: $1.10 per student.
Richard West AM, President of the Palm Beach & Whale Beach Association stated this week,
''If these cottages are used for short-term rental, only a select few will have access to these beautiful buildings, and needless to say, the renovation will destroy their heritage features.
If this plan is approved, safe access to the headland will have to be radically upgraded and this will result in great destruction to the natural environment.
We believe the money that would be spent on renovations for short-term rentals should be spent on restoring the cottages to their original heritage state and making them available for use by all.
We believe there should no commercial development on this beautiful heritage site.
If you want Barrenjoey Headland to remain as it is, with access available to all, please attend the protest rally.''
The second Barrenjoey Rally takes place on Sunday January 22nd at 11am alongside Station Beach, where the first occurred in 2013, just north of where the Boat House was in Governor Phillip Park, Palm Beach.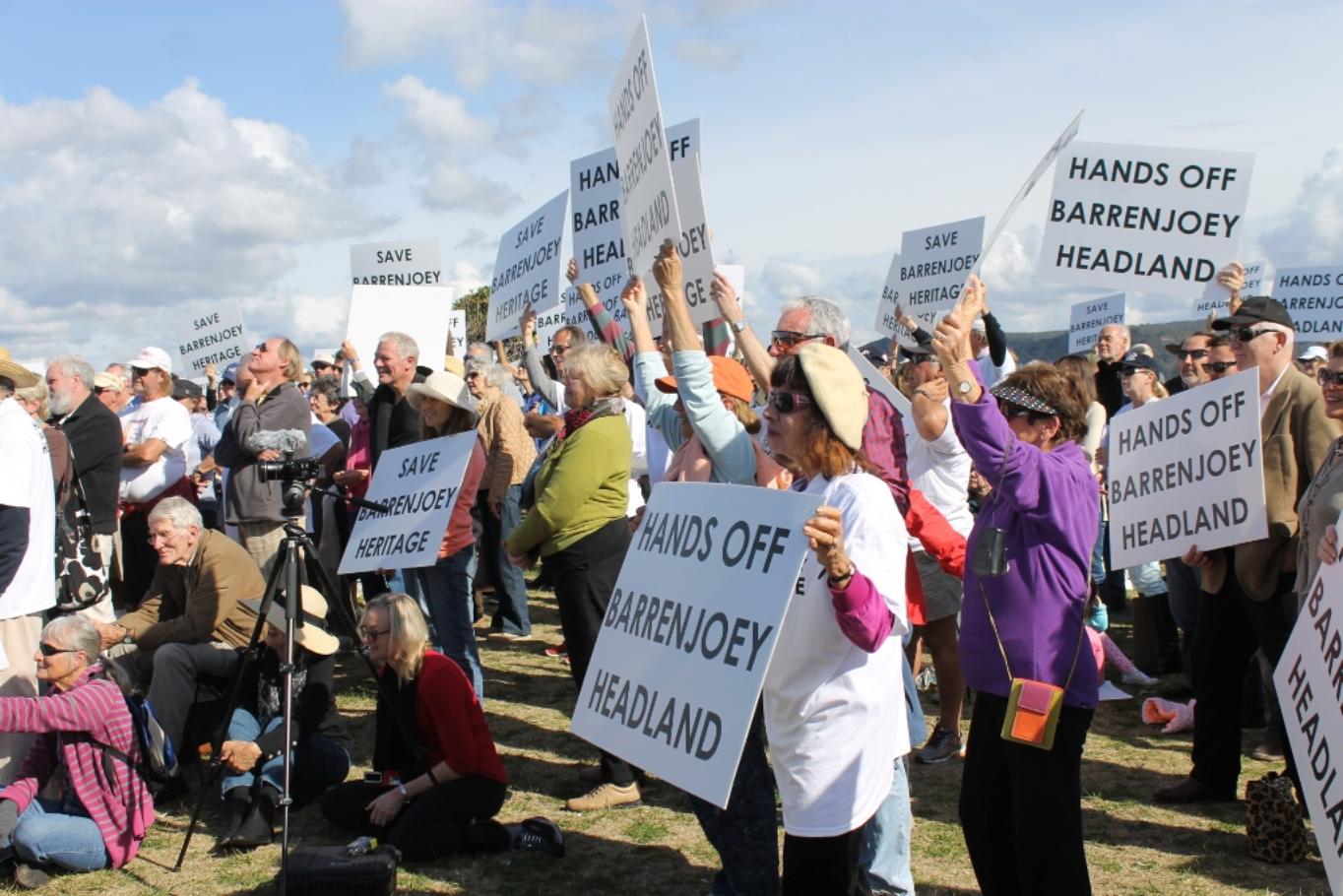 2013 Barrenjoey Rally. Photo: Pittwater Online News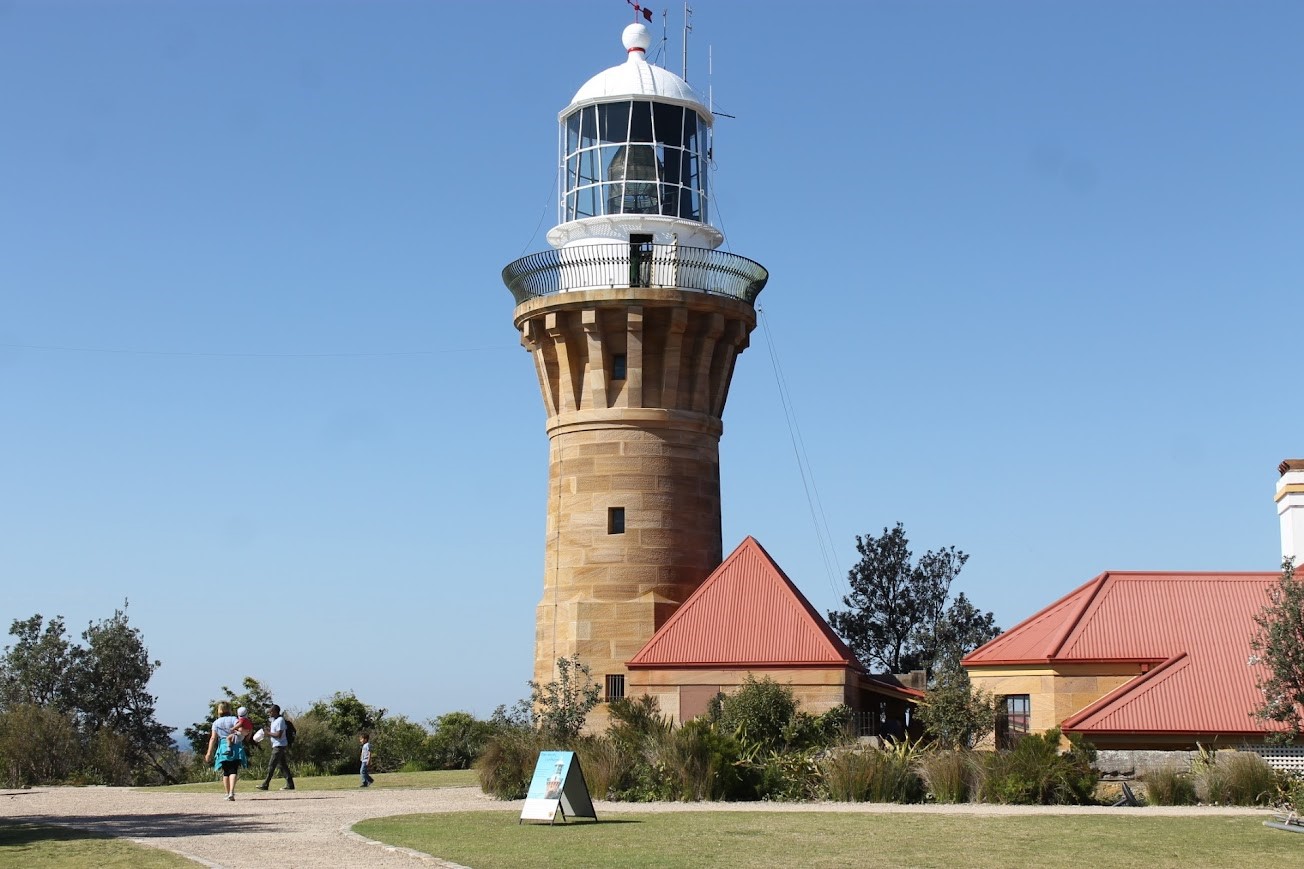 If We Can't See You We Can't Save You: Please Swim At Patrolled Beaches Between The Flags - Over 1660 Rescues Performed In NSW Since Summer 2022/23 Began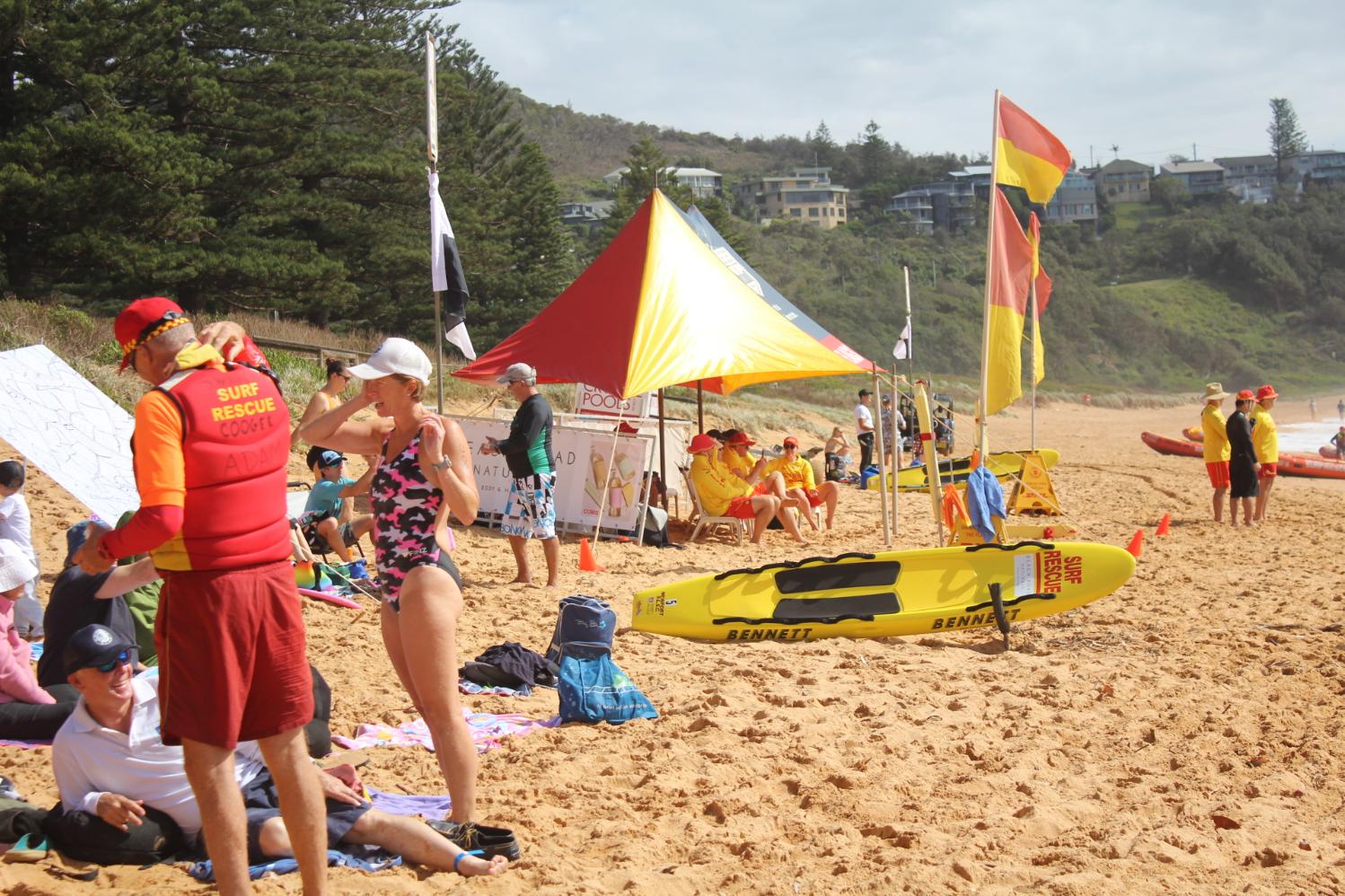 Surf Life Saving New South Wales states a staggering 1,200 rescues have been completed by surf lifesavers over the Christmas / New Year period, illustrating the importance of the volunteer-based movement as it continues to provide an essential service on our beaches.
For the period from 23 December to 2 January, 1,194 rescues were completed by volunteer lifesavers and lifeguards along the NSW coastline, with more than 800 of those coming on Boxing Day, New Year's Day and the public holiday Monday that followed.
It's the highest number recorded in the last five years by the Surf Life Saving NSW State Operations Centre (SOC) for that 11-day period.
In that time, surf lifesavers and lifeguards also completed 56,470 preventative actions, administered first aid to 1,428 people, and called 75 ambulances to attend incidents.
Emergency incidents tallied 85 – another record past five years figure.
All recorded drownings over summer came at unpatrolled locations.
On Monday January 9th Surf Life Saving NSW was again urging beachgoers to understand their limits and to swim at a patrolled beach when visiting the coastline after two deaths inside four hours on that day.
A woman in her 50s was pulled from the water at Gordon's Bay near Clovelly just after 1.30p.m. and despite members of the public, lifeguards and paramedics conducting CPR for more than half an hour, was pronounced deceased at the scene.
It came just hours after a man in his 60s was declared deceased after being pulled from the water at Caves Beach, Jervis Bay by members of the public. It's believed he came into distress while surfing.
Caves Beach is an unpatrolled location while the incident at Gordon's Bay occurred a short distance from where the red and yellow flags fly at Clovelly.
If We Can't See You - We Can't Save You: Swim At Patrolled Beaches
Warm and fine conditions are predicted up and down the NSW coastline for the remainder of January – conditions which will see many flock to the beach – and SLSNSW CEO, Steve Pearce wants any potential beachgoers to take stock of the numbers of fatalities so far this summer.
"Since December 1st volunteer lifesavers and Australian Lifeguard Service lifeguards have performed over 1660 rescues along our coastline," he said.
"For the summer so far, there have been eight coastal drowning incidents, and each of those have come at an unpatrolled location or away from the red and yellow flags.
"If we can't see you, we can't save you. That's been our message all summer and we really hope that beachgoers ensure that, if they're visiting the coastline, they swim at a patrolled location between the red and yellow flags."
The coastal drowning toll for summer currently sits at 8 while there have been 19 fatalities since July 1st 2022.
Newport's Pool To Peak Ocean Swim Kicks Off The Pittwater Ocean Swim Series 2023: 4 More Opportunities To Dive On In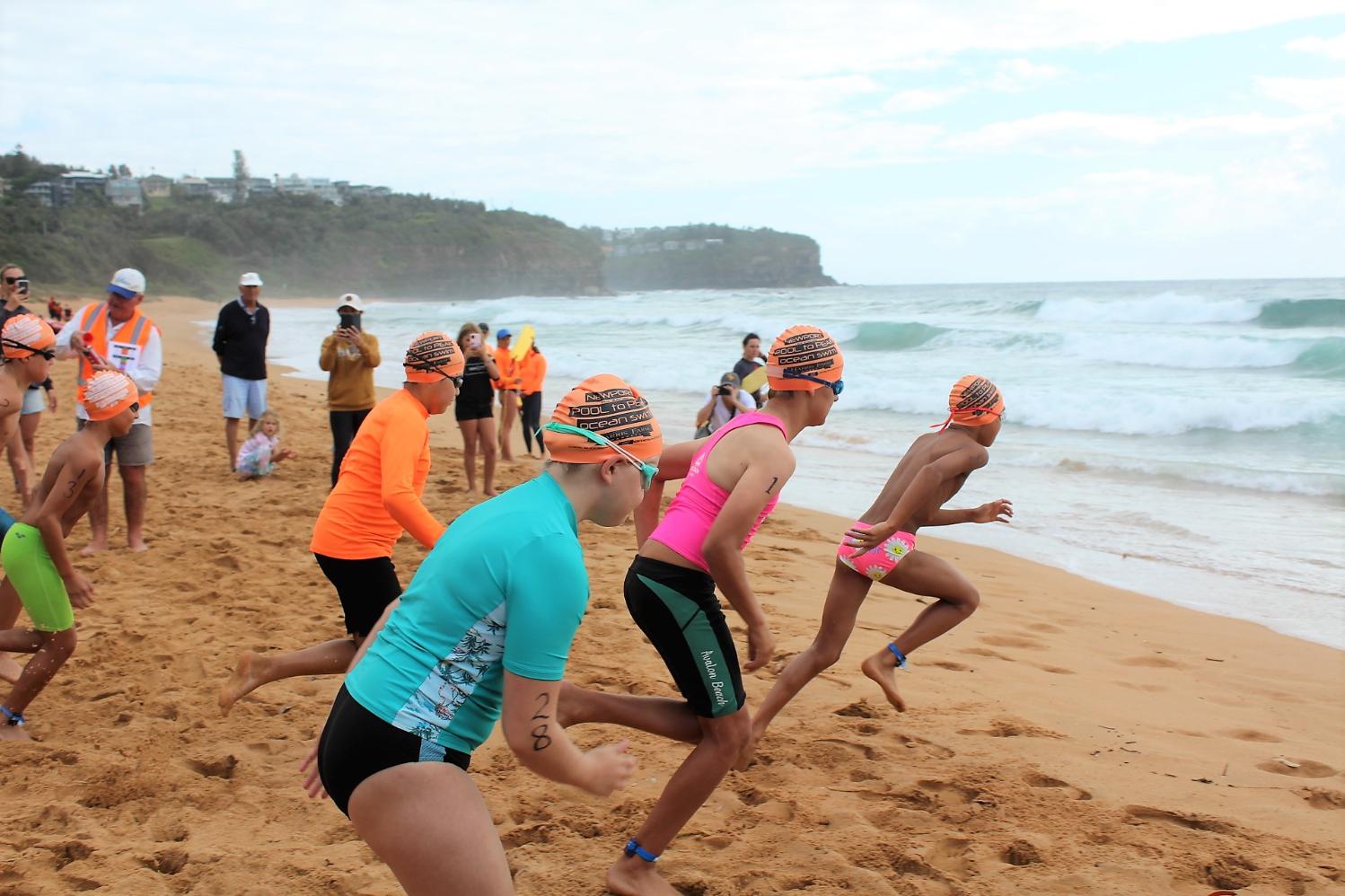 The Pittwater Ocean Swim Series is a brilliant excuse to take in the beauty of our local beaches during the height of summer while supporting the local surf lifesaving clubs who organise the events.
Enter and complete 3 out of 5 swims in the Pittwater Ocean Swim Series and you'll go in the draw to win an OceanFit Swim The Whitsundays swim tour valued at $2,295!
There are five swims in the Pittwater Ocean Swim Series that are held across and four left to run this year at Bilgola, Mona Vale, Palm Beach and Avalon.
Newport's 2023 Pool to Peak was again popular as the lead out event, with well over 200 participants in the 2 kilometre swim, including Mona vale SLSC's Jon Wall who successfully completed a crossing of the English Channel, in 13hrs, 14 mins in July 2022. Jon completed the 2k in 36 minutes, 7 seconds.
However, it was the youngsters that led the pack home in the marathon swim this year, with Lachlan Warrener completing the swim in 20 minutes 50 second in the Male 20-29 age Division and two Male 13-19 age Division swimmers in 2nd and third, with Zach Paul finishing in 25 minutes 11 seconds and Fernando Gonzalo in 25 minutes 19 seconds.
Zach also came home first in the 400m swim romping across the line in just 6 minutes and 37 seconds.
First female across the line in the 2k was Charli Barbour in 28 minutes 5 seconds. Charli swam in the Female 13-19 age Division and is known as one of the strong swim competitors that has come out of Newport SLSC in recent years with great focus and determination.
A team of three women took part in the 800m swim representing Mona Vale SLSC with MP for Mackellar Dr. Sophie Scamps, MVSLSC President Paula Tocquer and fellow member Harriet Strudwick supporting each other - all three finished with great times.
Dr. Scamps was also starter for the 800m prior to taking her place to dive on in with her teammates as her wave/age division started in that ocean swim.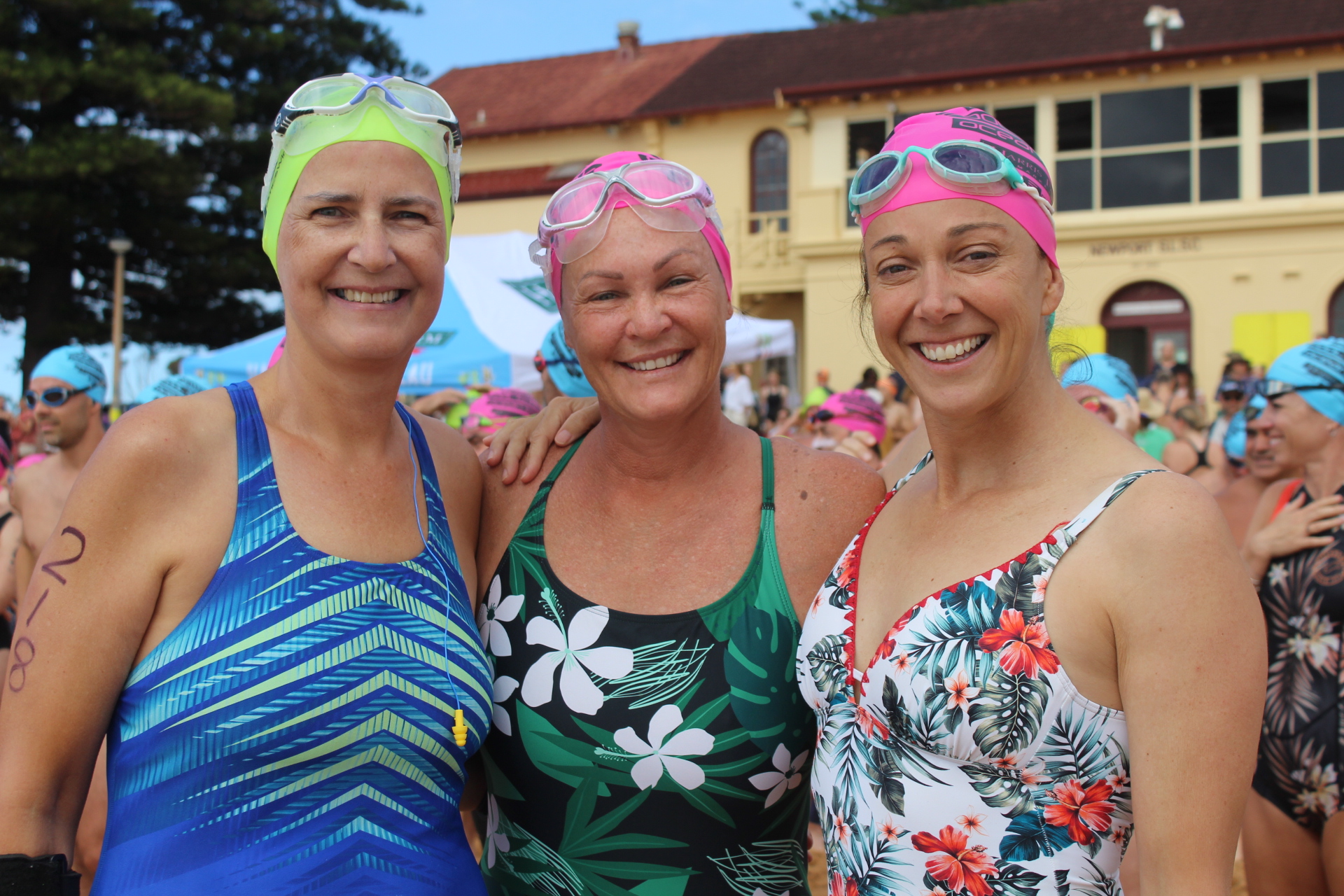 Harriet Strudwick, Paula Tocquer, Dr. Sophie Scamps.

Newport Surf Club's Sam Cappell was first in the 800 metres, completing the swim in 11 minutes 27 seconds with a dead-heat for the next two swimmers, Brydith Peters and Koby Upton both crossing in 11 minutes 34 seconds, and all in the Male 13-19 Division. Ashely Brown, Male 50-59 age division, crossed a minute later, completing his 800m in 12 minutes 30 seconds, and Christie Krenkels, Female 50-59 age Division, was the first female across the line in 12 minutes 34 seconds.
The organisers stated after the 2023 Newport Pool to Peak, ''A really big thank you to all the swimmers who came to the Newport Pool to Peak on Sunday. It was a wonderful day despite the weather prior to the event. And what an effort by all our volunteers who were unbelievable.''
First Profile For 2023: Jackson Borg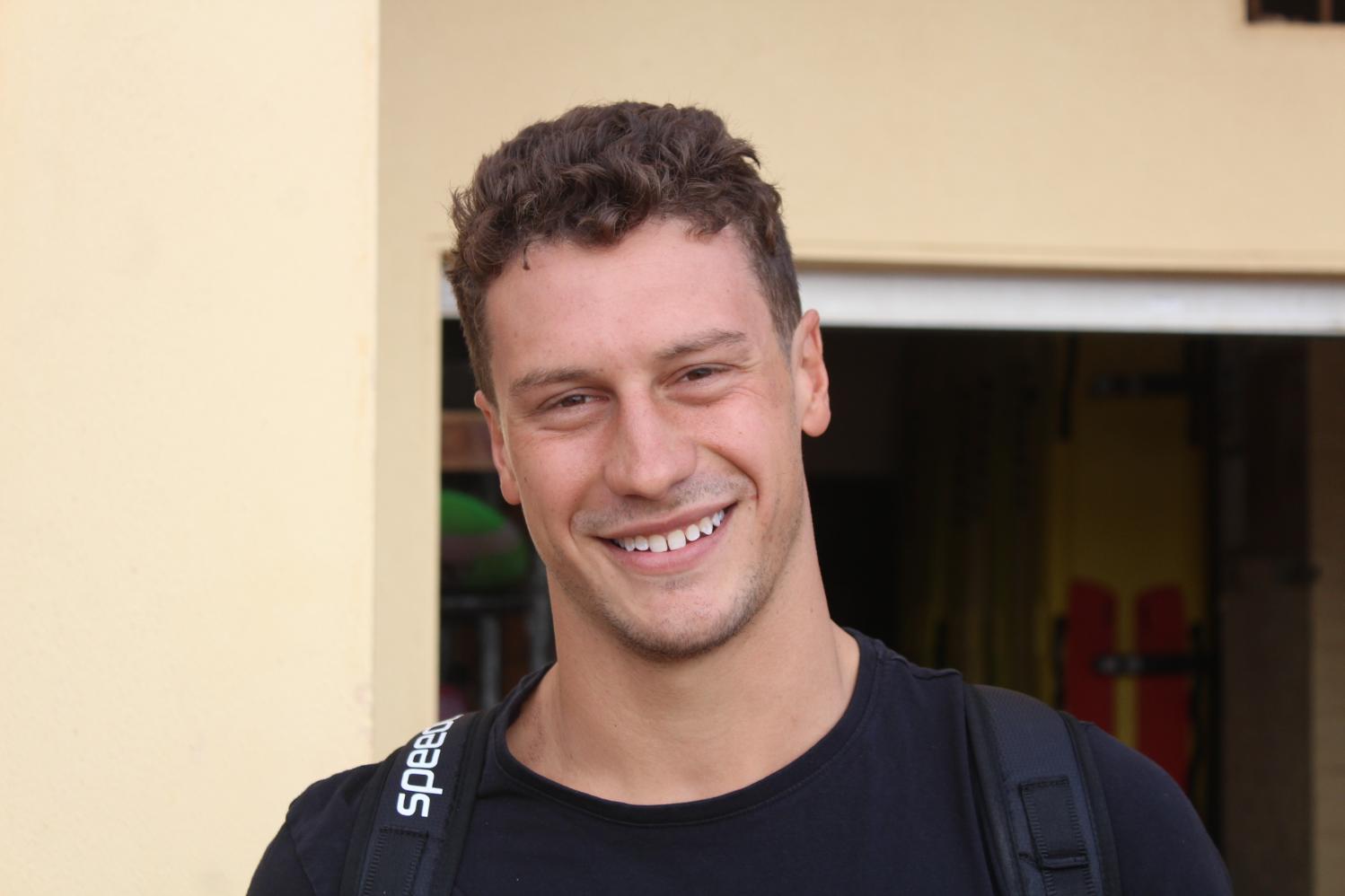 The Nutri-Grain Ironman/Ironwoman and Summer of Surf series are a celebration of some of Australia's greatest surf lifesaving athletes. These are also placing an up-to-date focus on the role of surf sports in surf lifesaving not seen since the commencement of the movement when thousands used to attend carnivals. Those same carnivals generated funds for the surf clubs hosting them and enabled them to purchase equipment and improve facilities that in turn supported the saving of lives on our beaches. Surf Sports themselves are a means to hone the skills used by those who go the rescue of people in trouble in the surf.
One athlete taking part in both series is Newport SLSC's Jackson Borg, who states he 'wasn't great' at surf sports when he first commenced racing. His rise in the echelons of these contests he attributes to putting in the hard yards and going the distance, consistently.
However, it's his passion for the surf lifesaving movement, love of Newport Surf Club and being on the beach that has led to a sustained effort as both an active volunteer Patrol Member at Newport along with his success in the surf sports arenas.
To open our 2023 Profiles you could not get more Summery than a young man who has grown tall and into a great human being through his connection to the movement since five years of age.
Dive on in to this Issue's Profile of the Week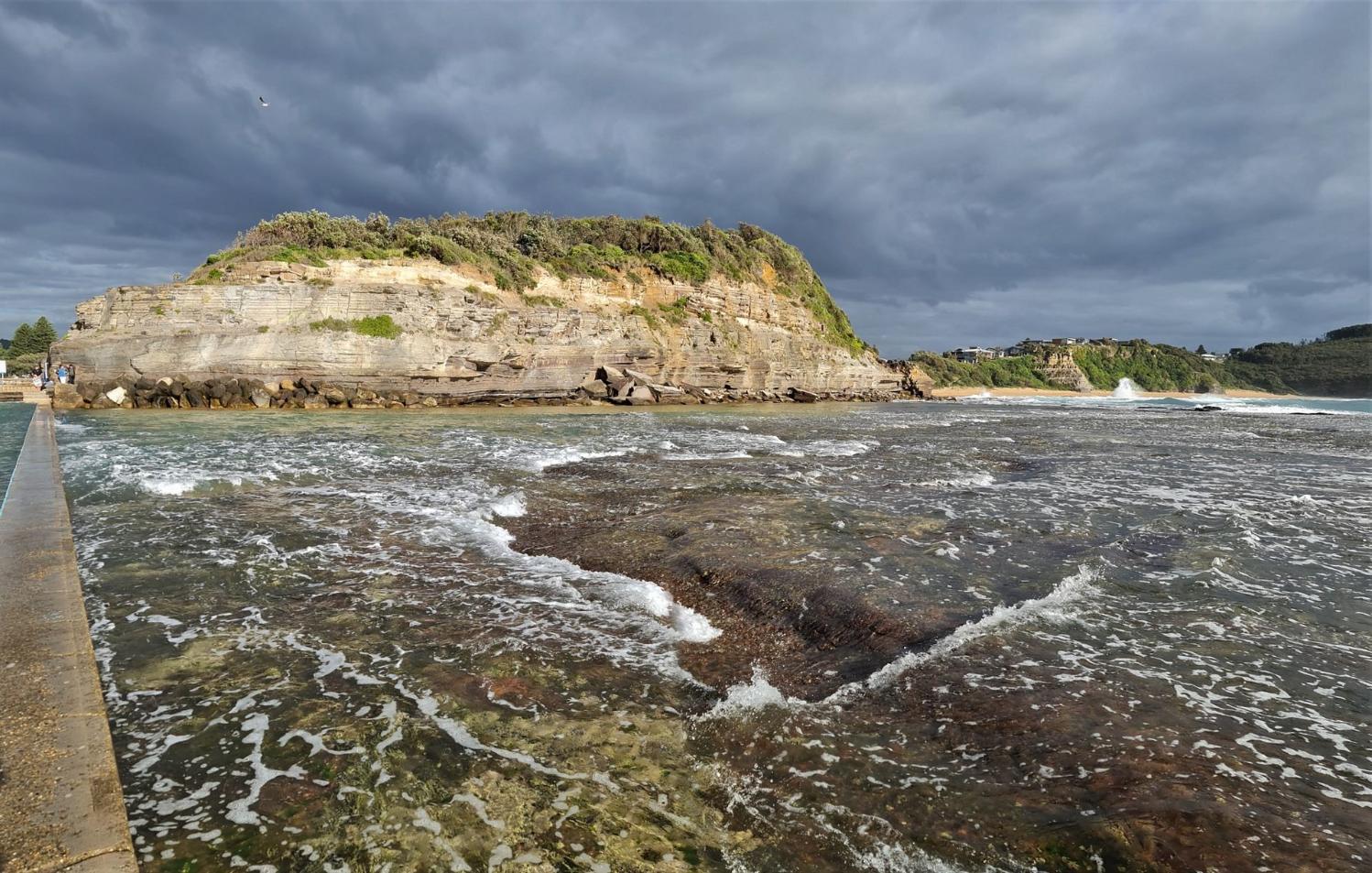 North Narrabeen headland from the rockpool, New Years Day 2023 - photo by Joe Mills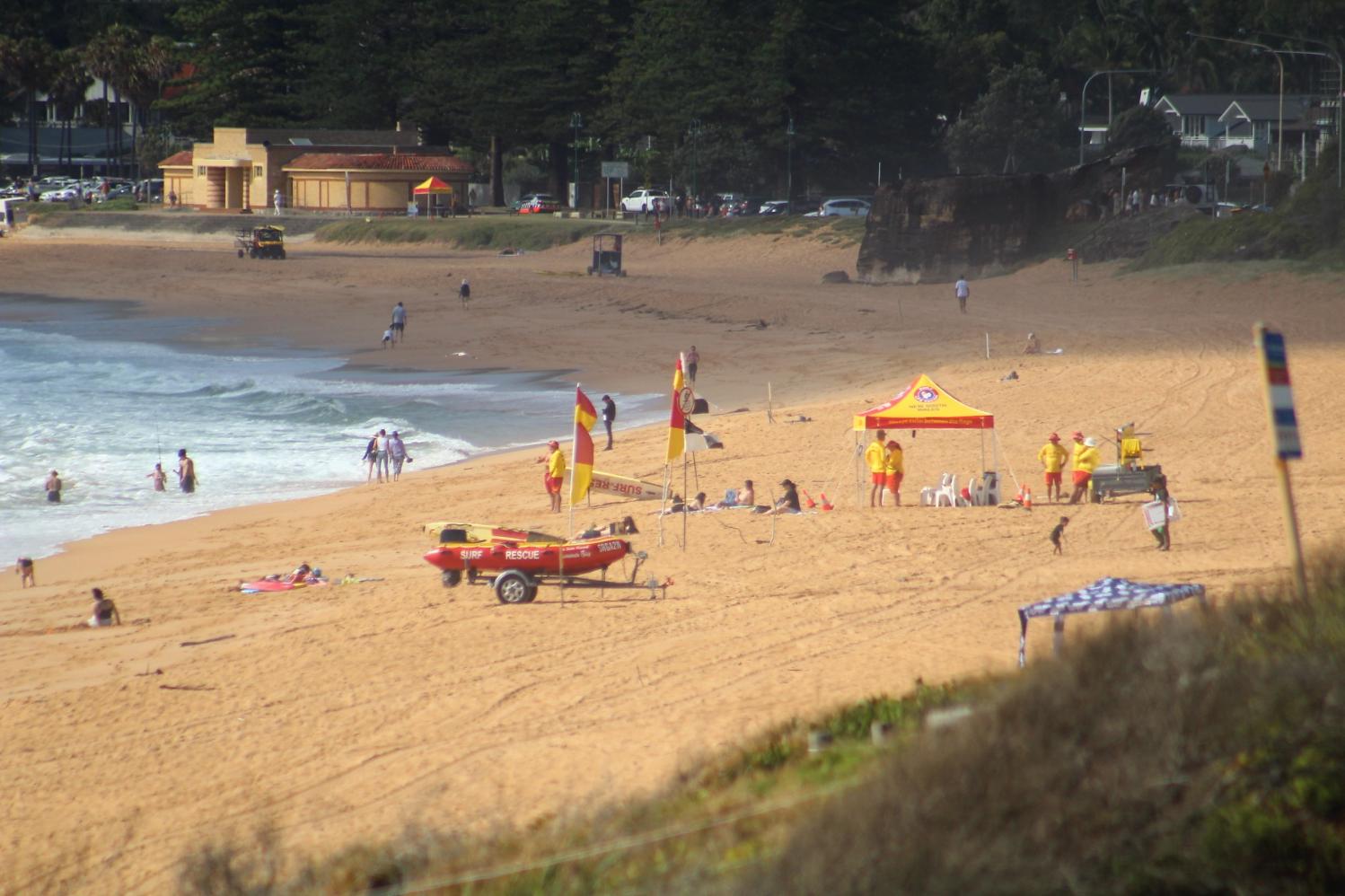 The view sotuh from North Palm Beach, New Years Day 2023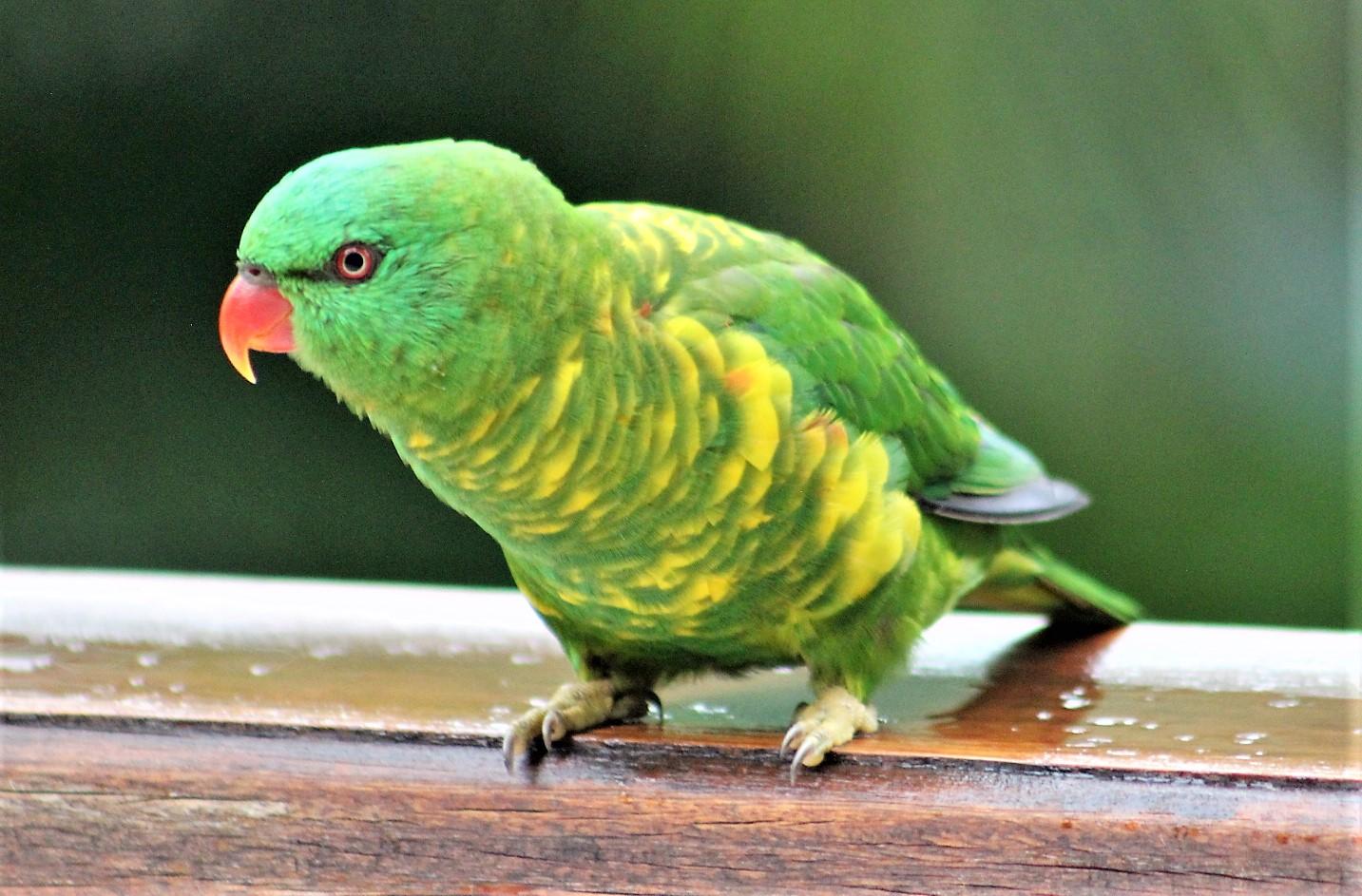 Scaly-breasted Lorikeet, January 11, 2023
Past Features Archives (pre 2014)
Pittwater Online News was selected for preservation by the State Library of New South Wales and National Library of Australia. This title is scheduled to be re-archived regularly.
Archived Issues (2014 on) may be accessed here: pandora.nla.gov.au/tep/143700