September 4 - 10, 2022: Issue 553
Avalon Quilters 2022 Exhibition Of Members Work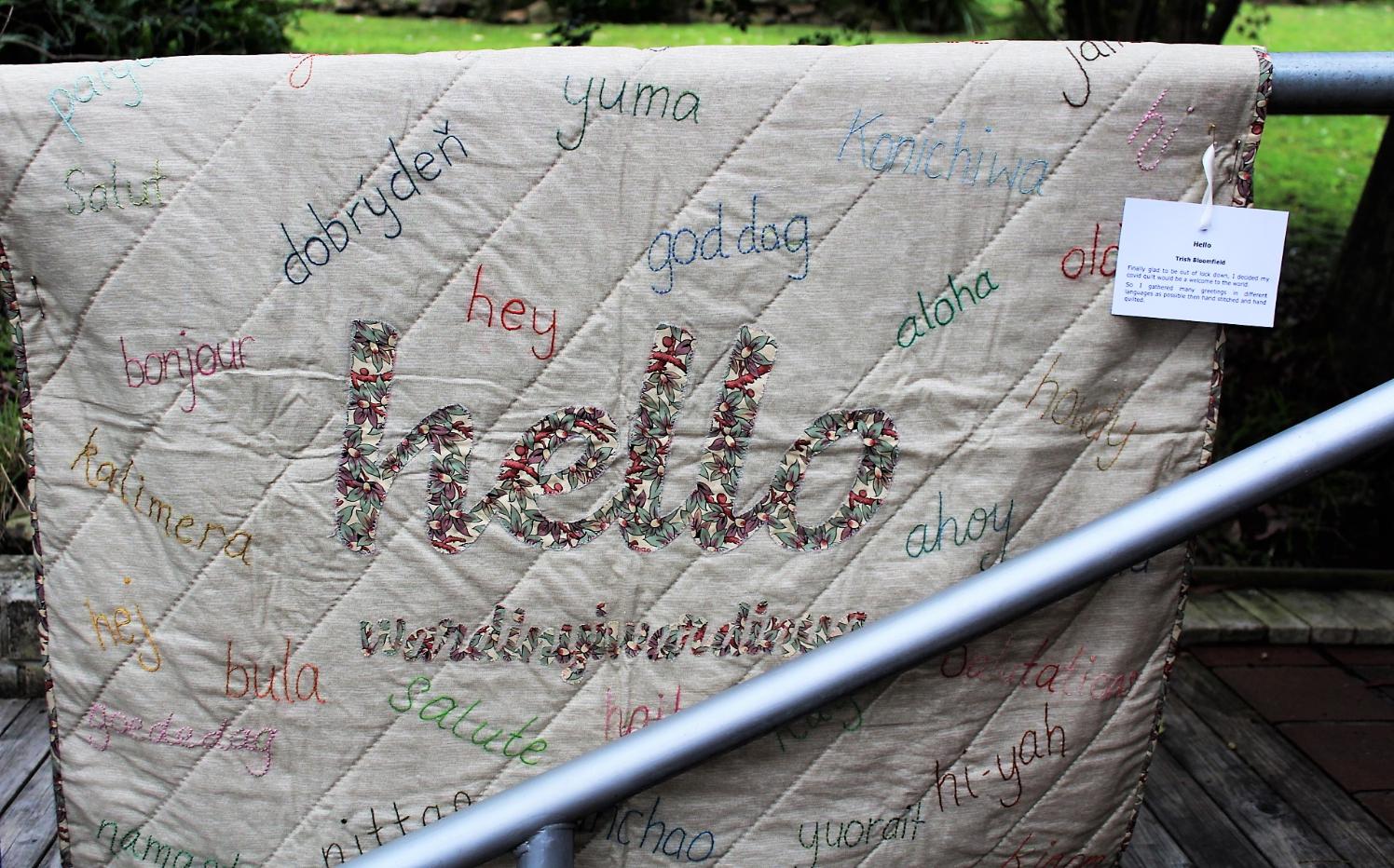 Quilt named: 'Hello' by Trish Bloomfield; ' Finally glad to be out of lockdown, I decided my covid quilt would be a welcome ot the world. So I gathered as many greetings in different languages as possible then hand stitched and hand quilted.'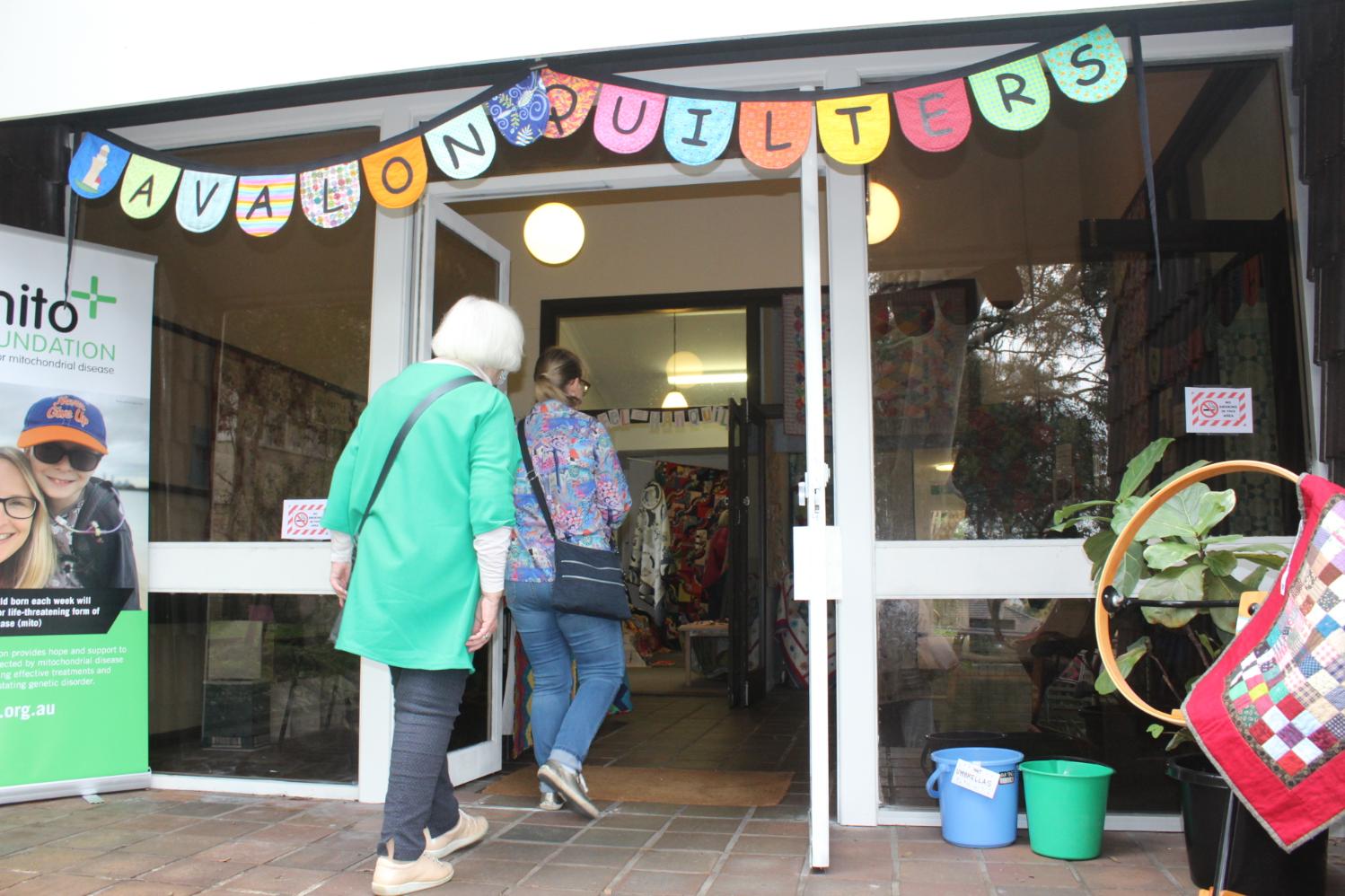 The 2022 Exhibition of Members Work by the Avalon Quilters, September 2nd and 3rd, showcased an amazing display of quilts made by members in Traditional and Contemporary designs. Every available space was filled with colour, even as you walked into the Avalon Uniting Church you were greeted with lovely displays that brought a smile.
The members started 'mucking in' on Thursday at 8am and finished at 8pm with the setup – 12 hours of work that showed, no pun intended.
First past the entrance foyer were quilts by visiting Improvisational Contemporary quilt specialist Jessica Wheelahan (@birdie_beetle) – this amazing one is 'Great Southern Land' and features in a book Jessica has penned.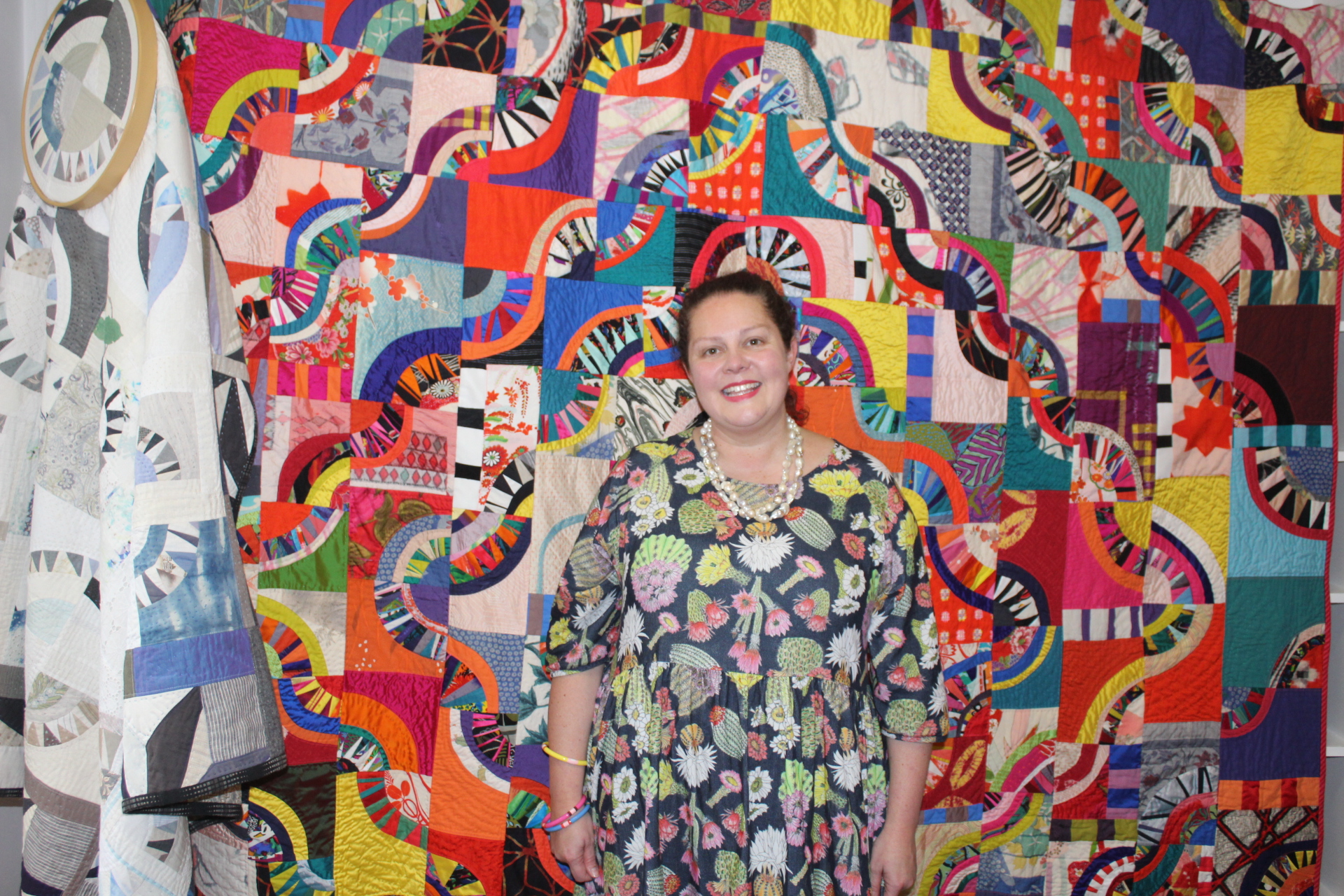 Jessica with 'Great Southern Land'
Visiting the annual Avalon Quilters Exhibition of Members Work is a rare treat – you are educated in the intricacies of what forms a quilt, what kinds there are and where the historical ideas incorporated into some stem from.
The 2022 Raffle Quilt, 'Which Way Now', with all proceeds from the Raffle Quilt ticket sales at this year's show will be donated, as in previous years, to Australian Mitochondrial Disease Foundation.
The Founders of the Australian Mitochondrial Disease Foundation are local residents Margie and Dr Doug Lingard.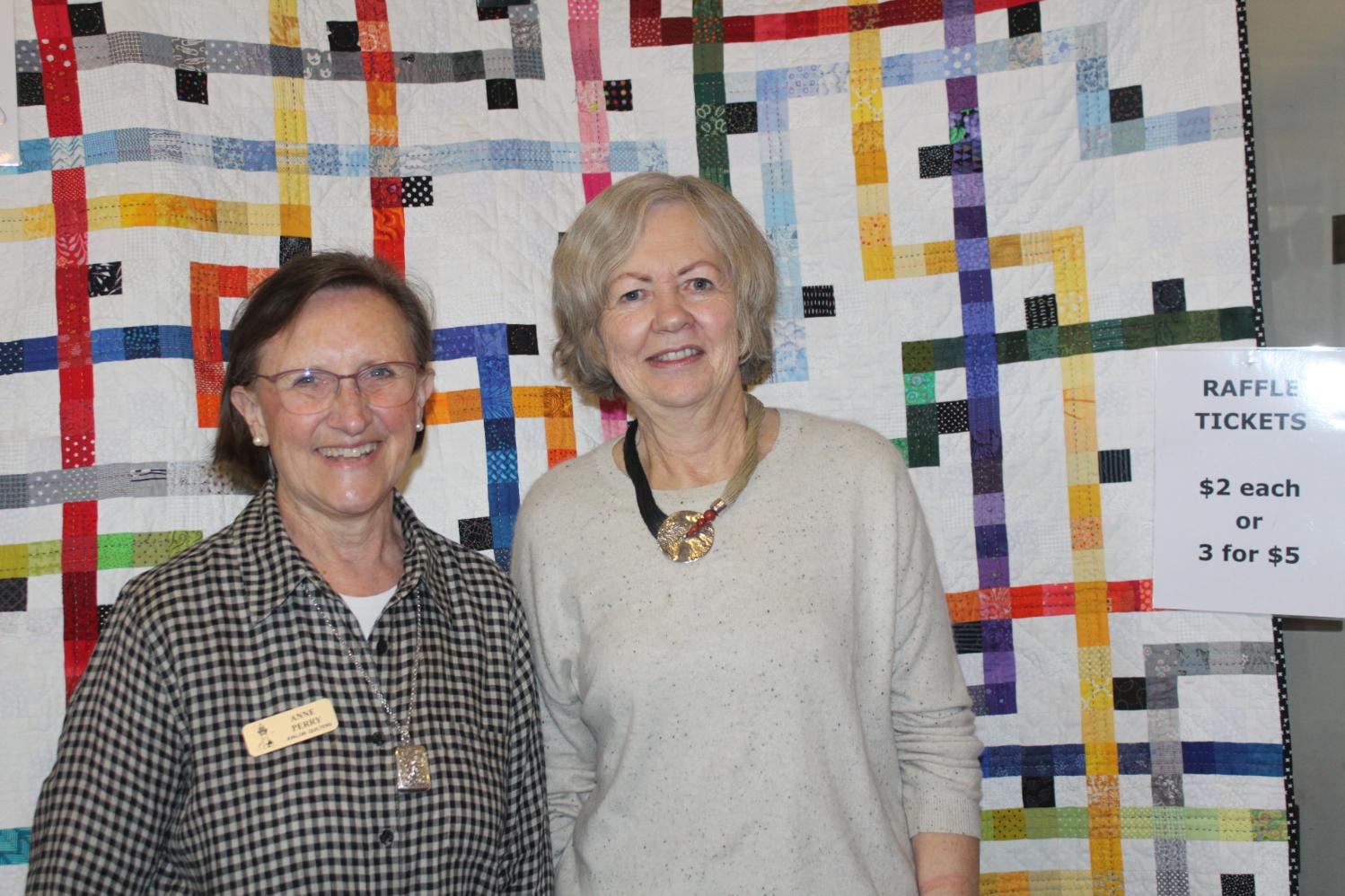 Avalon Quilters president Anne Spencer and Margie Lingard at the 2022 Avalon Quilters Exhibition of Members Work
Art News: September 2022
Council Unveils France Belle Parkers Outstanding Public Artworks On Coast Walk

Trifecta Of Amazing Creatives' Exhibitions At Manly Art Gallery & Museum Until Mid-October: Portrait Of House - The Drawn Line - Manly By Ferry

Ku-Ring-Gai Sculpture Trail For 2022 Eco Festival

Breathing Colour In Conversation features Church Point's Ceramics master

Mona Vale Artist To Exhibit In One Of Sydney's Most Unique Sculpture Events

The Savagery Of Sheep at Brookvale By Four Local Aerial Artists: Sydney Fringe Festival

Henry Lawson Walking Tour, Talk & Tea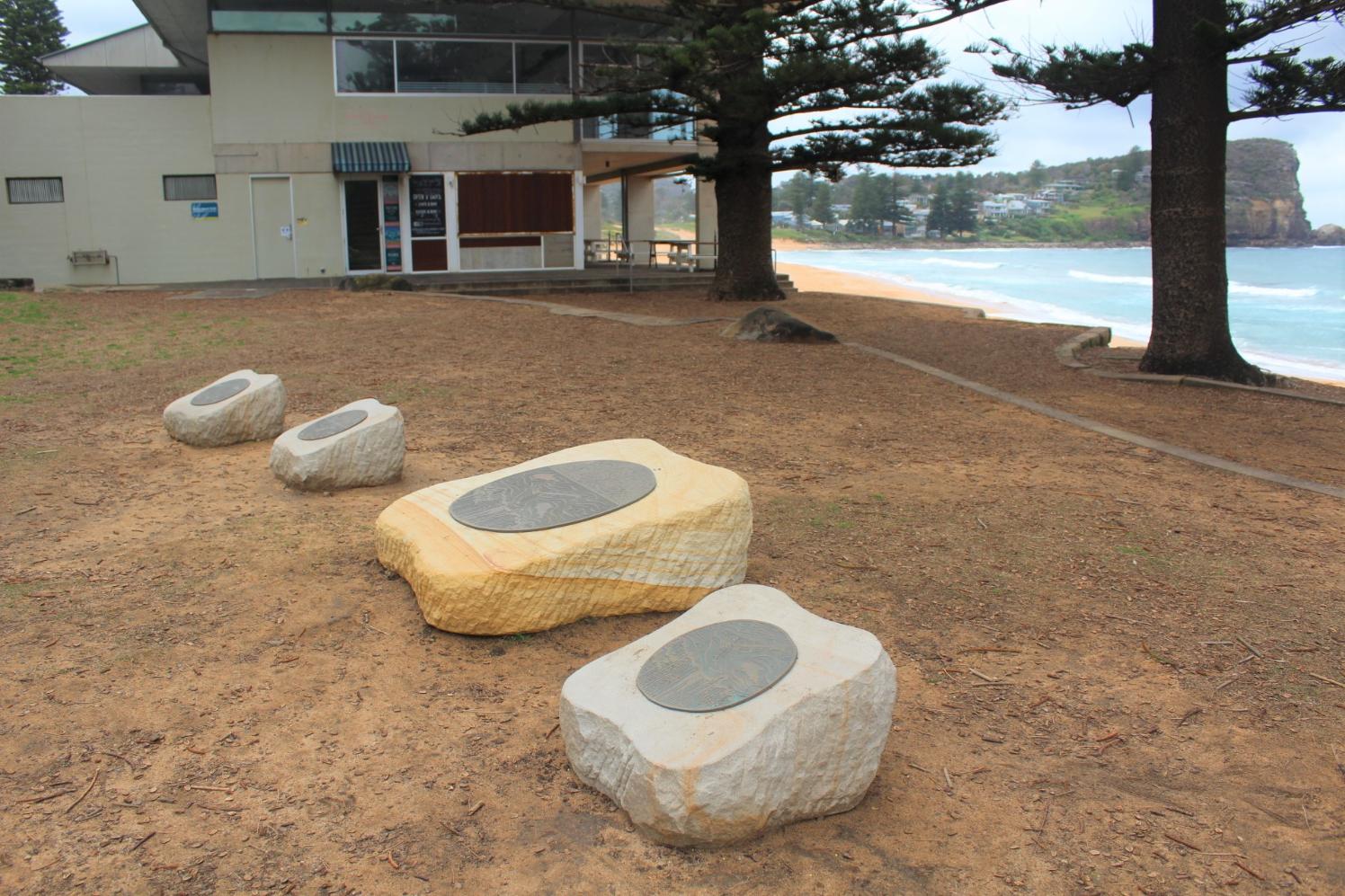 Whale Songs, 2022 - Frances Belle Parker with Urban Art Projects
Artist Of The Month Becomes Art News
During the past 12 years we have run an Artist of the Month page to celebrate and showcase local Artists in all mediums; Painting, Sculpture, Music, Literature, Photography, Theatre and more.
There was always more demand then could be fulfilled by showcasing just one Artist and running all others in the Events page or through Snippets in the Community News or Profile of the Week pages, or as stand alone Features.
Although these options will still remain open to local Creatives, an Art News page dedicated to helping Artists reach their local audience, and including everyone, launches this Spring so you can not only catch-up on what's been happening but also see what's coming up locally or further afield, especially when a local Artist is part of that Event.
If you have something coming up, something to say, or something to showcase, we want to hear from you.
As we still don't charge anyone for anything a few pointers on what you need to include in your 'package' to make it easier for us to help you.
Please include:
A biography of yourself: include what you have done before
A portrait (photograph) of yourself
What the Event is: and

when

and

where

it will happen
A sample/s of your work
Once you have those four 'needs' ready, email them to pittwateronlinenews@live.com.au with the heading 'Art News'.
Remember it's always a great idea to give people advance notice of your Exhibition or Event, so once you have firm dates, get in contact.
Why Soibada As A Sister Village For The Northern Beaches?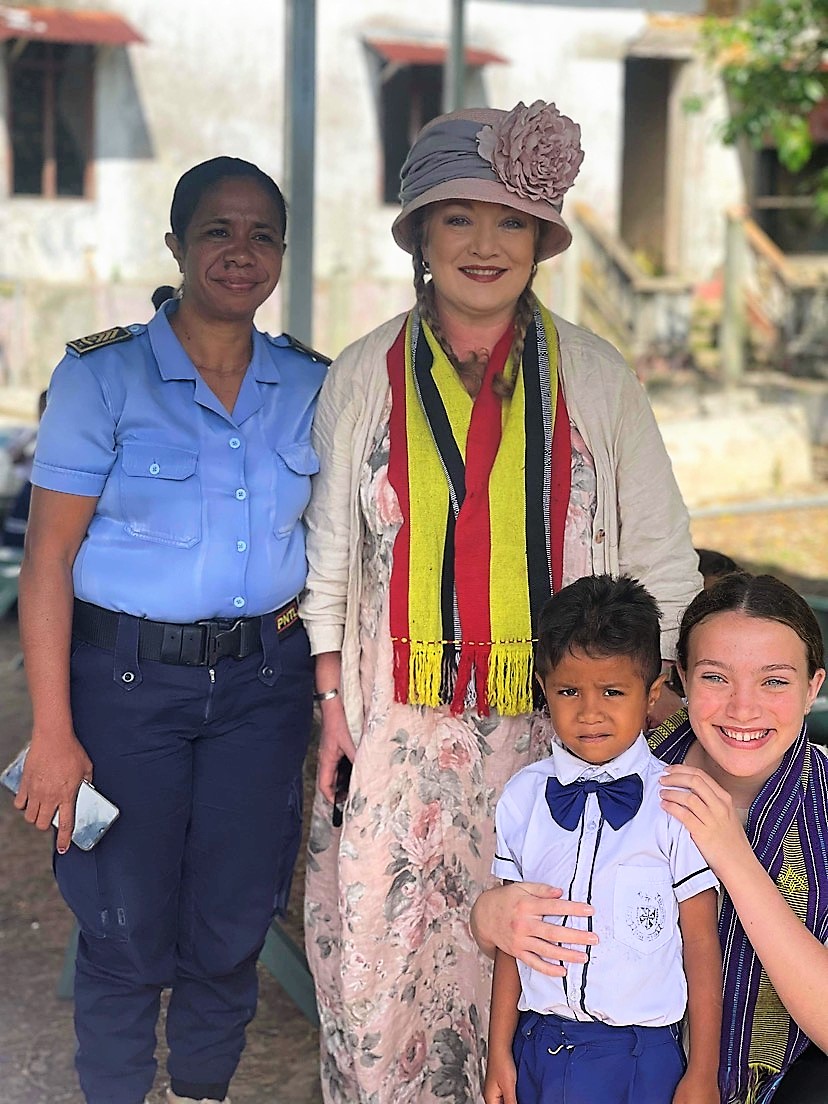 The little boy in the pic with Tamara and Armelle Harding is Graham Sloper
Since 2009 our community on the Northern Beaches has been reaching out in friendship to the tiny village of Soibada in Timor Leste (formerly East Timor). The development of this relationship was truly organic and has a sense of serendipity about it. Nobody set out to find a "friendship town" it just organically happened…………..and it continues to do so.
Local veterans often represent the Avalon Beach RSL Sub Branch at ANZAC Day ceremonies at schools on the Beaches. One year, as I spoke at Maria Regina Catholic Primary School I tried to focus the children on the role the Australian Defence Force plays in Peacekeeping, or Peacemaking, rather than the violent warfare they so often see in movies. "Where did you do this?" asked young boy. "East Timor" I said. Half a dozen voices called out "where is that?". The interest amongst the students was so intense that I was invited back to speak about East Timor and the longstanding relationship Australia has had with the island and her people since World War Two.
This was the first time I had spoken about my experiences deployed with Interfet to Timor in 1999. So many memories I had buried resurfaced, and I realised how much I needed to censor what I said. The children were so moved by the plight of children their age in the villages of Timor that they were driven to do something to help. It was obvious they were living the school motto of "making a difference". It was such a beautiful thing to see, and it was the beginning of my personal healing experience.
The teachers did their own research, interest piqued, and the momentum began. Kirsty Sword Gusmao, the Australian wife of Xanana Gusmao, leader of the Timorese Independence Fighters, Falintil, came to speak at school. She was followed by former Timorese Ambassador to Australia, Abel Guterres, who initiated the Friendship school relationship between Maria Regina Primary School and Soibada. As Abel and I walked across Dunbar Park for lunch at the RSL he asked me about doing something more – like linking up the two local governments. As I patted the baby I was wearing in a pouch I laughed and said no way did I have time for that with four little kids to take care of. He was very persuasive and less than ten minutes later I'd agreed!
That is how it started. Pittwater Council partnered with Soibada, official agreements between both Governments were signed and eventually groups of volunteers began to visit the village twice a year.
Female Lifesavers Dominate SLSNSW Awards Night: Wins For North Narrabeen SLSC, Warriewood SLSC, Dee Why SLSC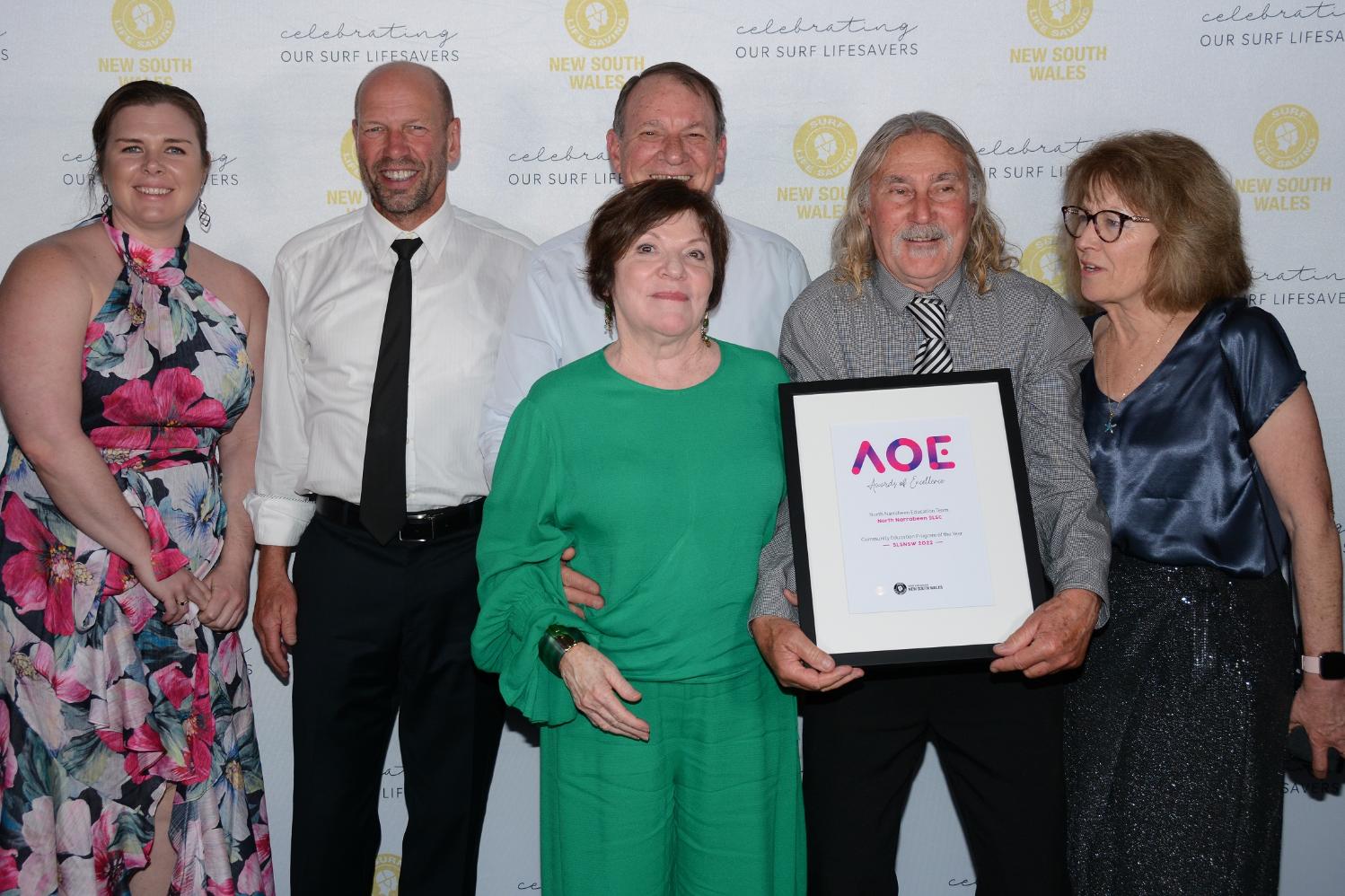 Community Education Program of the Year – North Narrabeen SLSC Education Team
Surf Life Saving NSW's network of volunteers were finally able to celebrate the season that was in style, coming together on Saturday night, August 27th, 2022, for the annual Awards of Excellence for the first time in three years.

An 'unprecedented' number of female lifesavers have cleaned up at the Surf Life Saving NSW Awards of Excellence over the weekend - a clear indication of the positive steps the organisation has taken towards equal opportunity.
Of the 24 awards available across five categories on the night, 13 were won specifically by female volunteers and a further five team or group-specific awards included female members.
"As a not-for-profit organisation we are very proud of our entire membership, but particularly the way our female volunteers continue to stand up and make a difference on our beaches," said Surf Life Saving NSW President, George Shales.
"There is no doubt in my mind that we are leading the way in terms of gender equality benchmarks for volunteer emergency service organisations and that's something we will continue to focus on and build upon.
"What a fantastic night to be a lifesaver."
Of the five 'Major Awards', each of the three individual awards - being the President's Medal, Volunteer of the Year, and the blue-chip Surf Lifesaver of the Year - went to deserving female nominees, while the Surf Sports category was dominated by female athletes. An outstanding female member was also recognised with the award for the Support Operations Member of the Year, a highly contested category.
Sydney Northern Beaches Branch flexed its Educational muscles, taking out three of the four available awards in the category. Warriewood SLSC saw Angela Shanahan and John Dulieu take out the Trainer and Assessor of the Year, respectively, while North Narrabeen SLSC's Education Team was recognised as the Community Education Program of the Year winners.
The North Narrabeen Education Team was motivated to look into running a community Education Program for communities residing in the Western suburbs with an aim of educating many of the nationalities that visit the local area.
The program provided awareness of water conditions and the welcoming atmosphere has given participants a better understanding of the ocean. The program has achieved what it set out to do and provided a good understanding for new potential members.
Congratulations to John Dulieu from Warriewood SLSC on being this year's Assessor of the Year. In addition to having the responsibility of being President of Warriewood SLSC, John is also an Assessor across all awards categories, which are SRC, Bronze, ART, IRB and is now and endorsed for the Gold Medallion. Along with his other roles, John is also the Branch Deputy Director of Education. He is passionate about ensuring the Northern Beaches has the desired skill set to keep our beaches safe Over the last 12-24 months, John has improved the standards and processes across the Branch for both training and assessing.
Congratulations to Angela Shanahan from Warriewood SLSC, winner of the 2022 Trainer of the Year. Angela has taken on the pivotal role once again this year as Warriewood's Chief Training Officer, a role that is expanding given the increasing volume of members requiring training. Angela is a highly respected member of the Surf Club and is a valued member of the Executive Committee. She is a 'doer' and is always the first to put her hand up and assist where possible, not only within the education portfolio. Angela has brought a higher standard of training to Warriewood and maintains a philosophy of quality not quantity, which has meant she is extremely successful as a CTO and as a trainer through a high level of engagement in training candidates.
Sydney Northern Beaches Branch also featured among the Lifesaver Awards when Patrol Captain of the Year was awarded to Kerry Morris of Dee Why SLSC. Kerry has been a patrolling member of Dee Why SLSC for the past 10 years and is a veteran when it comes to leadership and performing in a patrol environment and as a Patrol Captain. Kerry is proud of her history with the Club, achieving several awards since obtaining her Bronze Medallion and is always happy to maintain, up skill and retrain where and when needed.

Kerry is a motivational leader who is supportive, encouraging and enthusiastic. She inspires her patrol team and is always offering to mentor her members through leading the patrol if they have shown that they would like to be a patrol captain.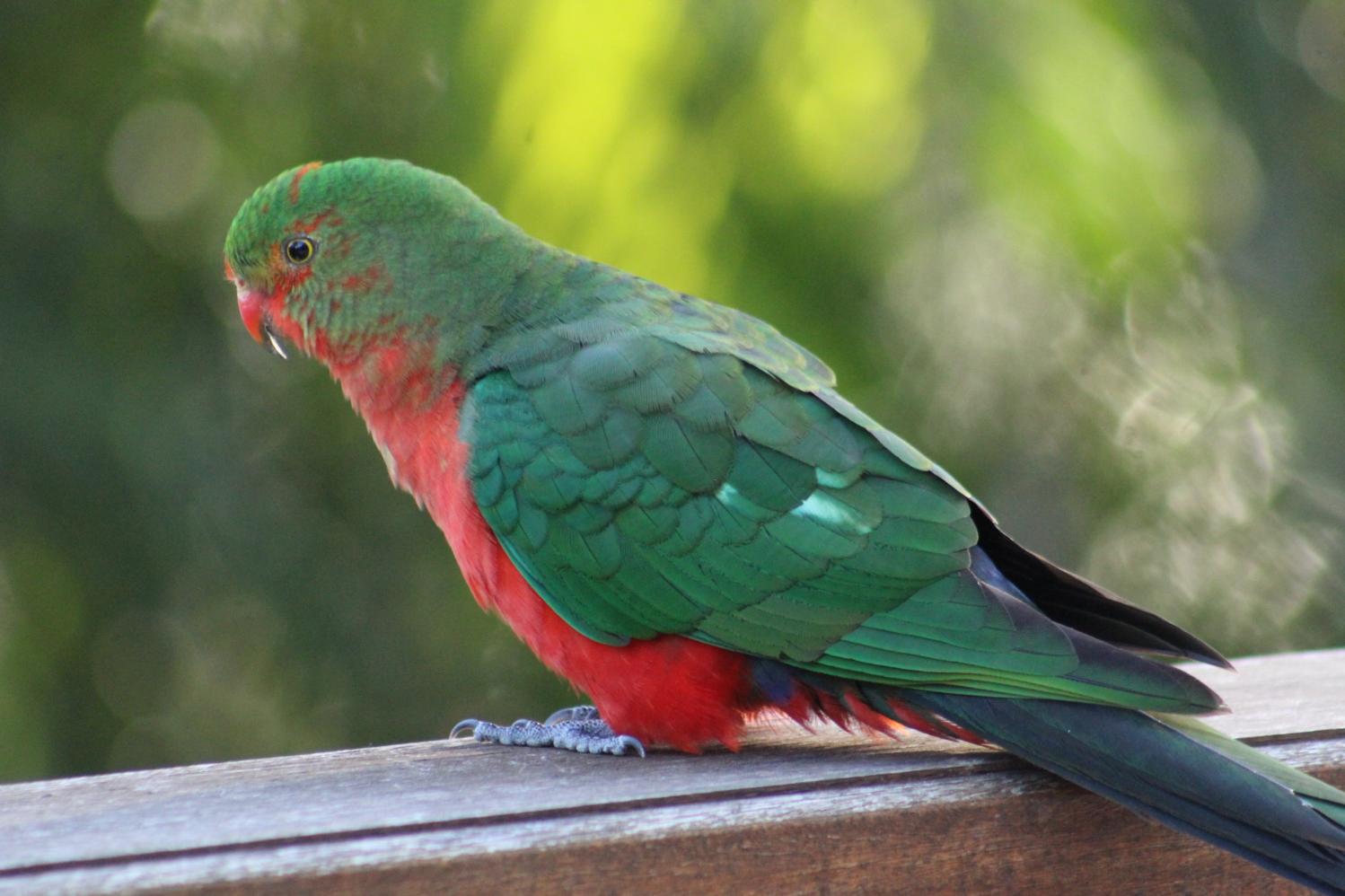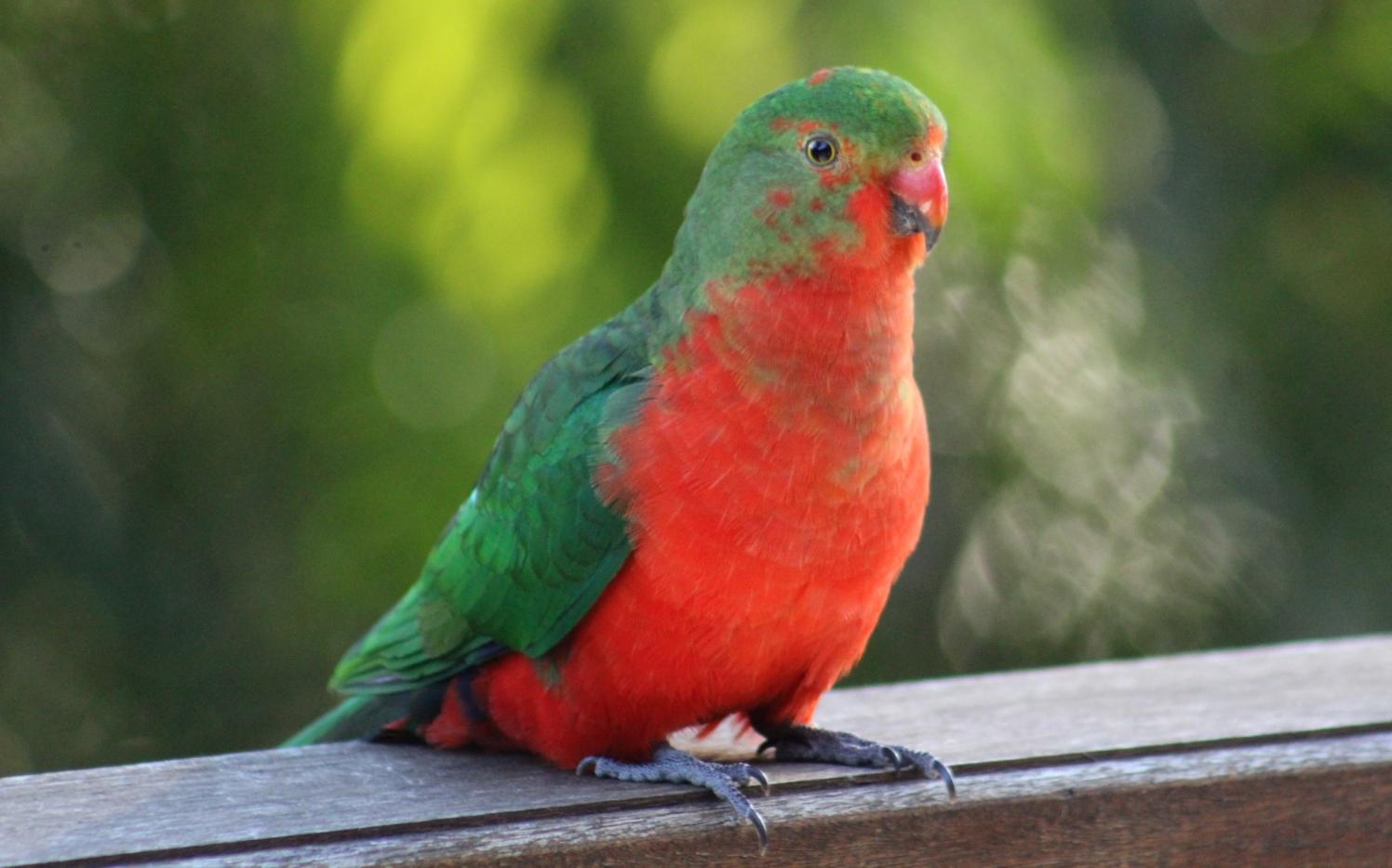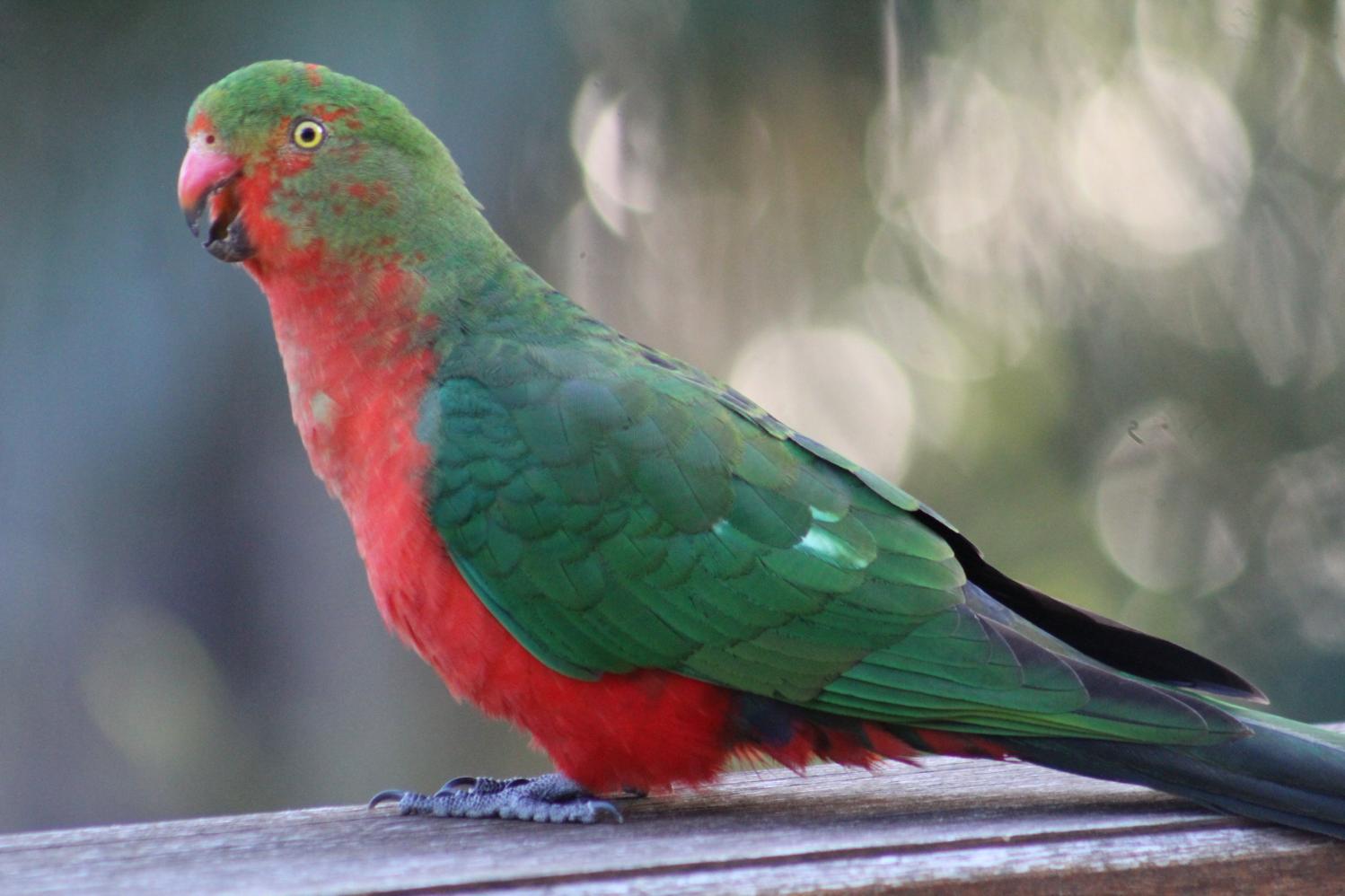 Male Juvenile King Parrot, larking about.
Past Features Archives (pre 2014)
Pittwater Online News was selected for preservation by the State Library of New South Wales and National Library of Australia. This title is scheduled to be re-archived regularly.
Archived Issues (2014 on) may be accessed here: pandora.nla.gov.au/tep/143700