September 4 - 10, 2022: Issue 553

Female Lifesavers Dominate SLSNSW Awards Night: Wins For North Narrabeen SLSC, Warriewood SLSC, Dee Why SLSC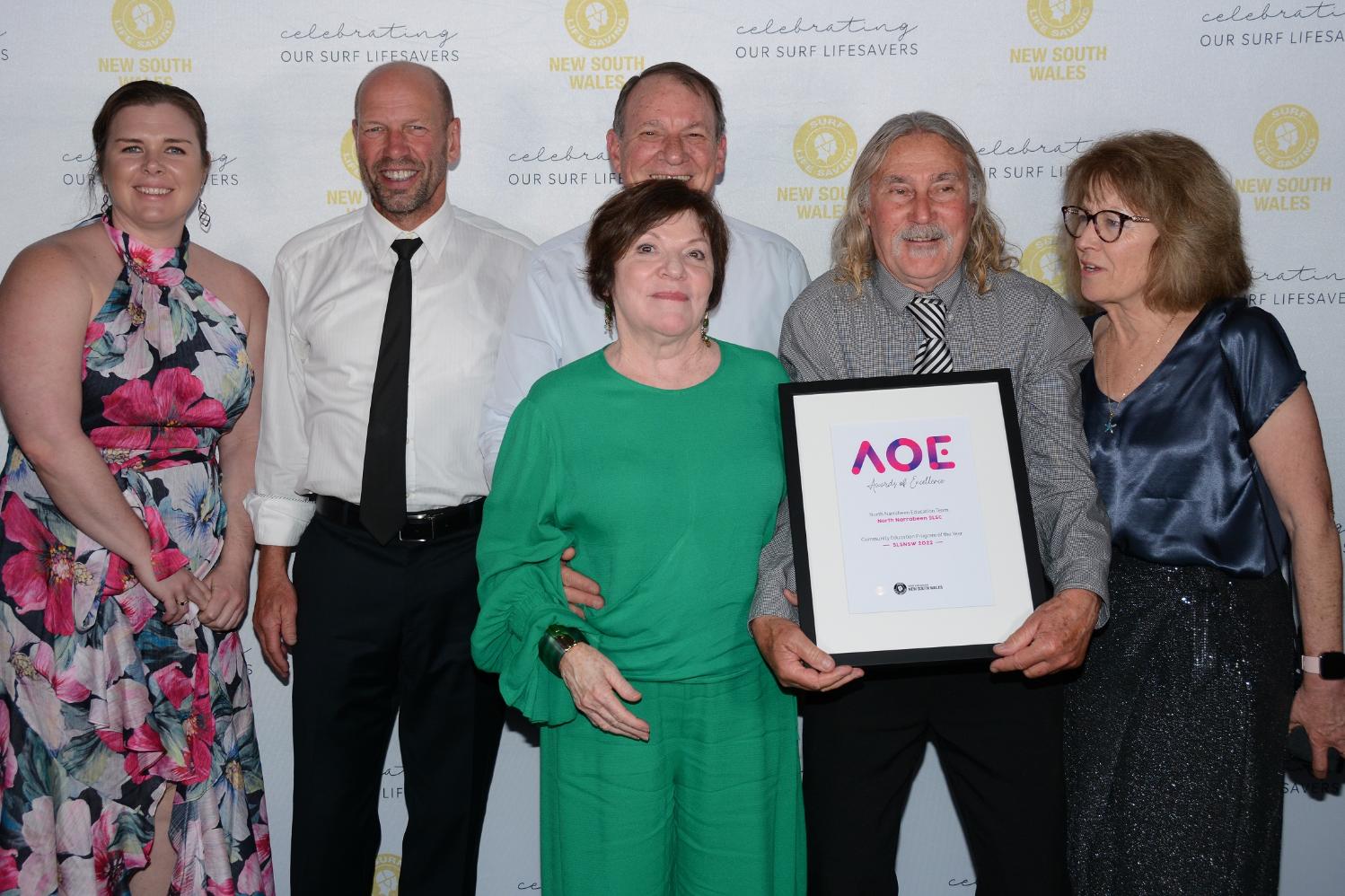 Community Education Program of the Year – North Narrabeen SLSC Education Team
Surf Life Saving NSW's network of volunteers were finally able to celebrate the season that was in style, coming together on Saturday night, August 27th, 2022, for the annual Awards of Excellence for the first time in three years.

An 'unprecedented' number of female lifesavers have cleaned up at the Surf Life Saving NSW Awards of Excellence over the weekend - a clear indication of the positive steps the organisation has taken towards equal opportunity.
Of the 24 awards available across five categories on the night, 13 were won specifically by female volunteers and a further five team or group-specific awards included female members.
"As a not-for-profit organisation we are very proud of our entire membership, but particularly the way our female volunteers continue to stand up and make a difference on our beaches," said Surf Life Saving NSW President, George Shales.
"There is no doubt in my mind that we are leading the way in terms of gender equality benchmarks for volunteer emergency service organisations and that's something we will continue to focus on and build upon.
"What a fantastic night to be a lifesaver."
Of the five 'Major Awards', each of the three individual awards - being the President's Medal, Volunteer of the Year, and the blue-chip Surf Lifesaver of the Year - went to deserving female nominees, while the Surf Sports category was dominated by female athletes. An outstanding female member was also recognised with the award for the Support Operations Member of the Year, a highly contested category.
Surf Lifesaver of the Year winner, Shannon Fox from Wollongong City SLSC, said she was very proud to be a part of the surf lifesaving movement.
"I can't believe it," she said after her win.
"Every second category was girls making a difference and having an impact tonight and inspiring everyone to stand up.
"That's been the best part of tonight."
It would prove a night of great success for Illawarra Branch, with Shannon's award coming after her own club, Wollongong City had earlier taken out the Innovation of the Year category for its 'Patrol Meights' program.
Donna Hargreaves from North Cronulla Surf Life Saving Club, is the recipient of the 2022 SLSNSW President's Medal. Donna is not only a Patrol Captain, Covid Officer, Trainer, Assessor and Admin Director, but incredibly she managed to get in over 135 patrol hours last season alone.
Donna is one of our most passionate inclusion advocates – managing the North Cronulla Sea Turtles inclusion group and taking on a leadership role for the Inclusive Events at our NSW Championships. Donna has been a driving force at Club, Branch and State level to ensure members with a disability can be given the same patrolling, education, and sport opportunities as any other member within the movement. She is also a great advocate for our surf sport officials – mentoring and encouraging others and officiating at multiple Branch, State and National events.
Donna is the ultimate all round volunteer, and we are incredibly proud to have her as part of our Surf Life Saving family.
Meanwhile, Bulli SLSC would claim three awards across the evening, including the Rescue of the Year. The Rescue of the Year is awarded to Bulli SLSC for their fast response during a mass rescue situation.
More than 60 members from Bulli SLSC, supported by Sandon Point SLSC, Woonona SLSC and Thirroul SLSC, responded and deployed Inflatable Rescue Boats (IRBs) within two minutes of the report coming through that a boat had overturned at Waniora Point.
In a fortunate turn of events, Bulli was preparing for a search and rescue exercise at the time, unrelated to the incident, and had boats and jetskis ready to go onshore which allowed for the quick response time.
When rescuers got to the boat, multiple persons were found to be caught in the hull, with lifesavers diving underneath to extract them. Four of the men were found to be unconscious and were transported back to Sandon Point beach, while three other men were treated with oxygen and first aid onshore. Local surfers who were in the water nearby assisted with the rescue effort, as did Illawarra Duty Officers.
Once on the beach, CPR was commenced on the four unconscious men by lifesavers, paramedics and members of the public and continued before they were transported by helicopter or road ambulance to hospital.
It resulted in one fatality, but without the quick response from lifesavers, could have been far more tragic.
Remarkably, water sports athlete Hannah Minogue would take home two awards, first being recognised as the Masters Athlete of the Year – largely thanks to her incredible showing at the Australian Championships in April – before being announced just moments later as the Athlete of the Year as well.
The Surf Sports category also highlighted the strength of North Cronulla SLSC, with the Coach of the Year (Tom Rampoldi), Youth Athlete of the Year (Lucy Flanagan) and Surf Sports Team of the Year (Open Beach Relay Team) all coming from the Sydney club.
"These girls just have this knowledge and understanding," Tom said of his daughters and Lucy.
"That's why they get to where they are, they're all switched on.
"Everyone's a good workers, everyone knows the processes that are required, they're a great group."
Sydney Northern Beaches Branch flexed its Educational muscles, taking out three of the four available awards in the category. Warriewood SLSC saw Angela Shanahan and John Dulieu take out the Trainer and Assessor of the Year, respectively, while North Narrabeen SLSC's Education Team was recognised as the Community Education Program of the Year winners.
The North Narrabeen Education Team was motivated to look into running a community Education Program for communities residing in the Western suburbs with an aim of educating many of the nationalities that visit the local area.
The program provided awareness of water conditions and the welcoming atmosphere has given participants a better understanding of the ocean. The program has achieved what it set out to do and provided a good understanding for new potential members.
Congratulations to John Dulieu from Warriewood SLSC on being this year's Assessor of the Year. In addition to having the responsibility of being President of Warriewood SLSC, John is also an Assessor across all awards categories, which are SRC, Bronze, ART, IRB and is now and endorsed for the Gold Medallion. Along with his other roles, John is also the Branch Deputy Director of Education. He is passionate about ensuring the Northern Beaches has the desired skill set to keep our beaches safe Over the last 12-24 months, John has improved the standards and processes across the Branch for both training and assessing.
Congratulations to Angela Shanahan from Warriewood SLSC, winner of the 2022 Trainer of the Year. Angela has taken on the pivotal role once again this year as Warriewood's Chief Training Officer, a role that is expanding given the increasing volume of members requiring training. Angela is a highly respected member of the Surf Club and is a valued member of the Executive Committee. She is a 'doer' and is always the first to put her hand up and assist where possible, not only within the education portfolio. Angela has brought a higher standard of training to Warriewood and maintains a philosophy of quality not quantity, which has meant she is extremely successful as a CTO and as a trainer through a high level of engagement in training candidates.
Sydney Northern Beaches Branch also featured among the Lifesaver Awards when Patrol Captain of the Year was awarded to Kerry Morris of Dee Why SLSC. Kerry has been a patrolling member of Dee Why SLSC for the past 10 years and is a veteran when it comes to leadership and performing in a patrol environment and as a Patrol Captain. Kerry is proud of her history with the Club, achieving several awards since obtaining her Bronze Medallion and is always happy to maintain, up skill and retrain where and when needed.

Kerry is a motivational leader who is supportive, encouraging and enthusiastic. She inspires her patrol team and is always offering to mentor her members through leading the patrol if they have shown that they would like to be a patrol captain.
Among the other major award winners were Julie Redfern, bringing the Volunteer of the Year award home with her to the Central Coast and her club, Terrigal, and Bronte SLSC was rewarded for its focus on support, succession planning, mentoring and skill development with the Club of the Year accolade.
Mid North Coast was recognised as Branch of the Year on the back of its all-round strength in lifesaving, governance, education and junior activities, and the President's Medal was awarded to long-time North Cronulla SLSC member, Donna Hargreaves.
Surf Life Saving NSW President, George Shales congratulated all winners on the night and said he was proud of the wide representation across the Branches.
"After an incredibly challenging season the field of candidates for all of the award categories was so strong, there were so many deserving recipients of the State awards," he said.
"I'm very proud to be leading an organisation that represents so many people who have no hesitation in giving up their time to protect the lives of others."
In related news Surf Life Saving Australia would like to congratulate George Shales OAM on being elected as Deputy President of SLSA. The announcement was made on Monday August 29th, 2022.
Mr Shales is the first Deputy President to be elected under President John Baker ESM, and we look forward to seeing them work together to save lives, create great Australians and build better communities.
George Shales OAM

ALL WINNERS
EDUCATION AWARDS
Trainer of the Year – Angela Shanahan, Warriewood SLSC
Facilitator of the Year – Kim Rayner, Tacking Point SLSC
Assessor of the Year – John Dulieu, Warriewood SLSC
Community Education Program of the Year – North Narrabeen SLSC Education Team
MEMBERSHIP AWARDS
Administrator of the Year – Jackie Bower, Tea Gardens-Hawks Nest SLSC
Youth Volunteer of the Year – Georgia Gaddes, South West Rocks SLSC
Services Team of the Year – Surf Rescue 30
Innovation of the Year – Patrol Meights, Wollongong City SLSC
SURF SPORTS AWARDS
Official of the Year – Mick Lang, Tacking Point SLSC
Coach of the Year – Tom Rampoldi, North Cronulla SLSC
Surf Sports Team of the Year – Open Female Beach Relay Team, North Cronulla SLSC
Youth Athlete of the Year – Lucy Flanagan, North Cronulla SLSC
Masters Athlete of the Year – Hannah Minogue, Bulli SLSC
Athlete of the Year – Hannah Minogue, Bulli SLSC
LIFESAVING AWARDS
Lifeguard of the Year – Reece Dobbin, Clarence
Youth Surf Lifesaver of the Year – Sven Loemker, Cudgen Headland SLSC
Patrol Captain of the Year – Kerry Morris, Dee Why SLSC
Support Operations Member of the Year – Nixy Krite, Bondi SBLSC
Rescue of the Year – Bulli SLSC, Illawarra Branch
MAJOR AWARDS
Presidents Medal – Donna Hargreaves, North Cronulla SLSC
Branch of the Year – Mid North Coast Branch
Club of the Year – Bronte SLSC
Volunteer of the Year – Julie Redfern, Terrigal SLSC
Surf Lifesaver of the Year – Shannon Fox, Wollongong City SLSC
Report/photos by Surf Life Saving NSW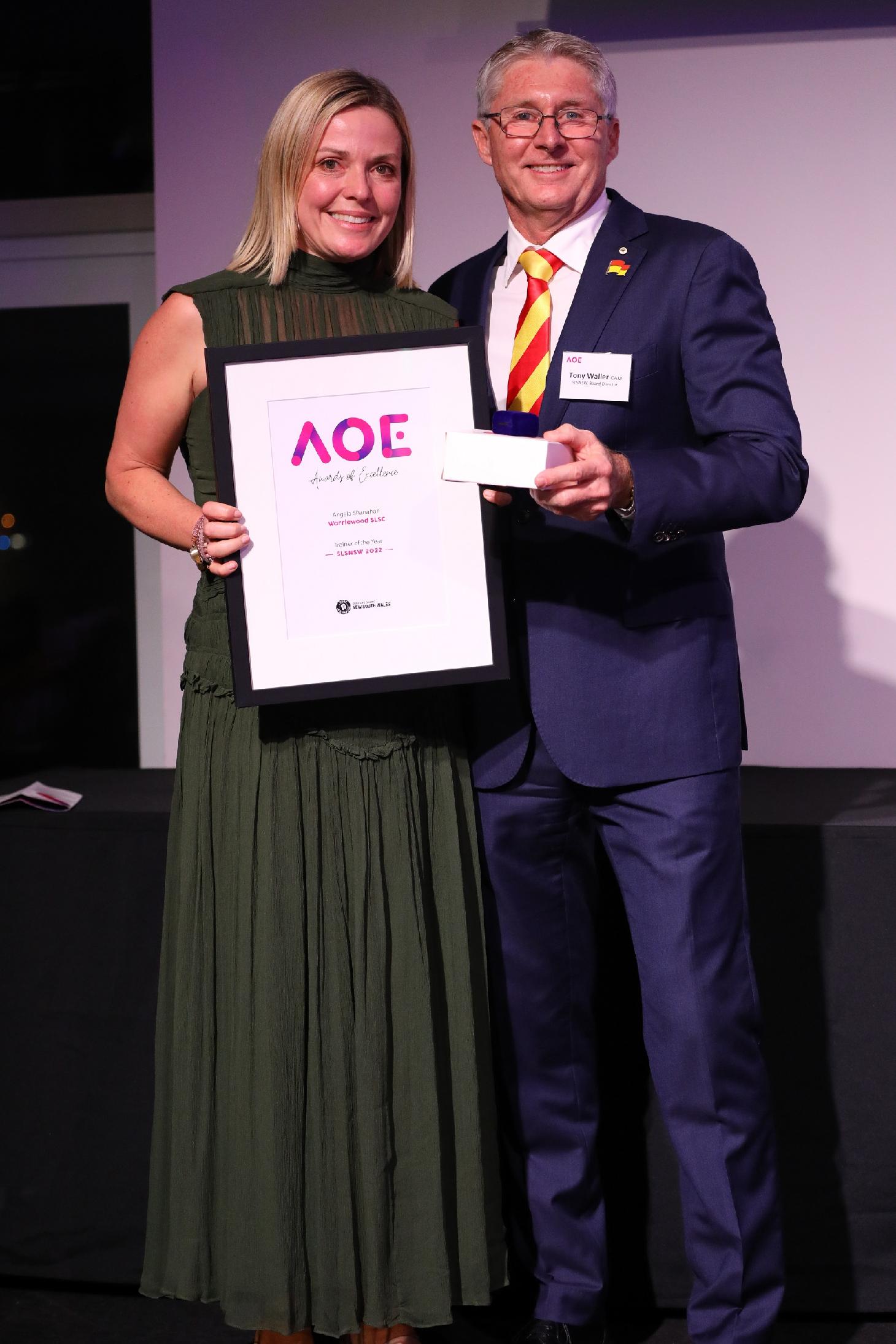 Trainer of the Year – Angela Shanahan, Warriewood SLSC with Tony Waller OAM, SLSNSW Board Director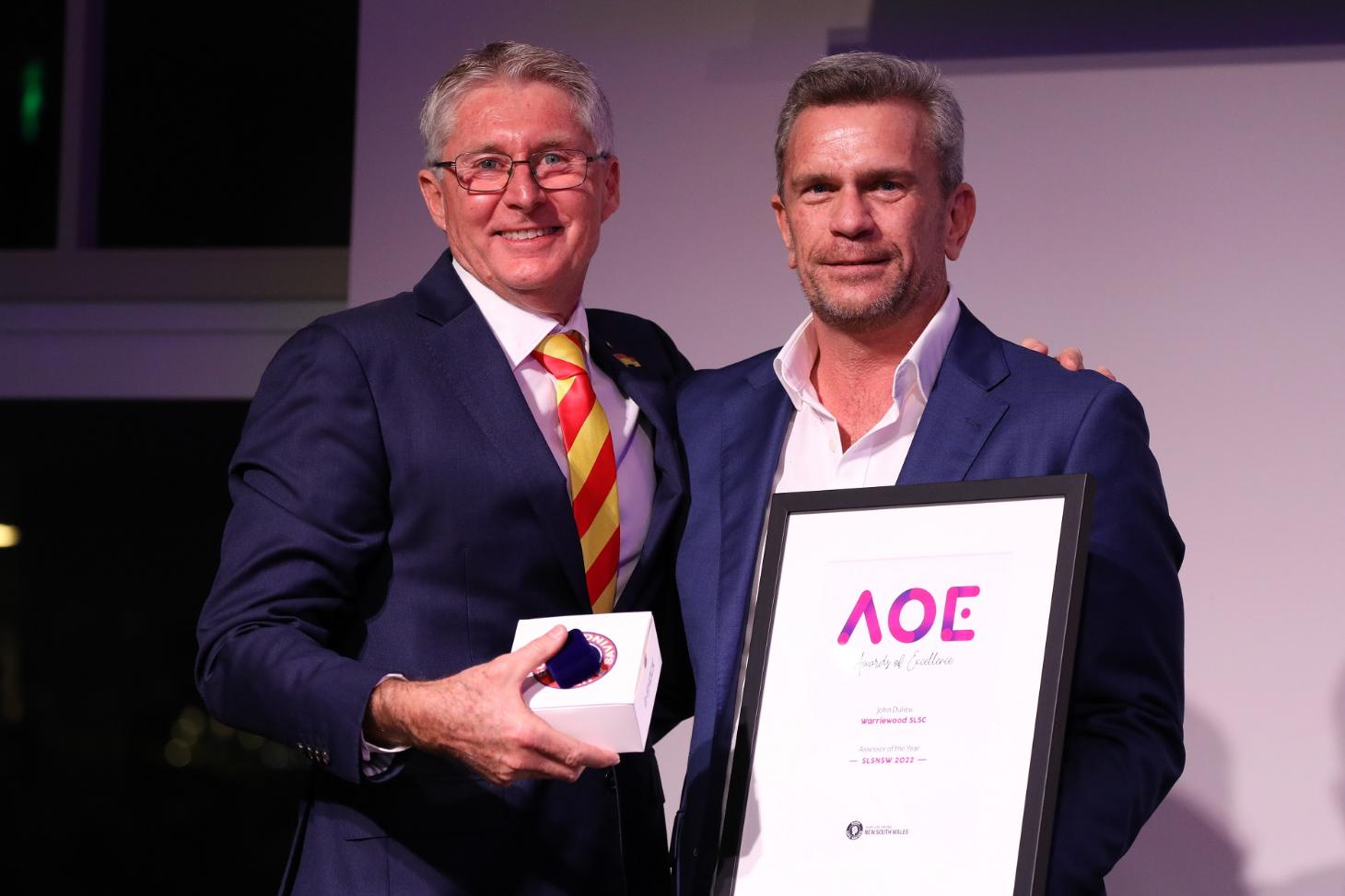 Assessor of the Year – John Dulieu, Warriewood SLSC with Tony Waller OAM, SLSNSW Board Director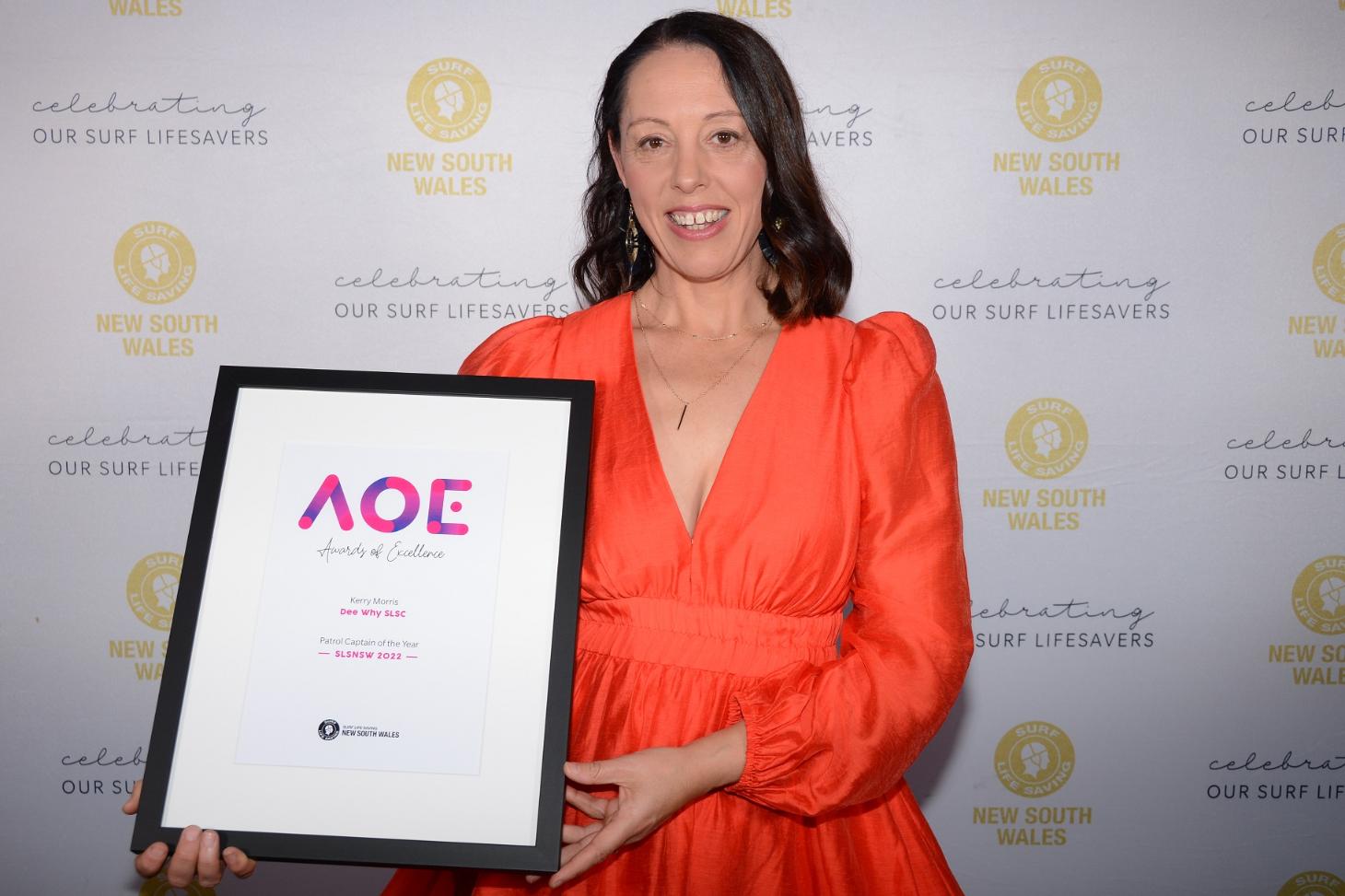 Patrol Captain of the Year – Kerry Morris, Dee Why SLSC