February 6 - 12, 2022: Issue 525
Works Begin On New Narrabeen Bridge For Walkers And Bike Riders + Some Narrabeen Lagoon Bridge No 1 History Notes

Narrabeen Lagoon bridge for walkers and cyclists site plan, 2022 - finalised. Image supplied
In 2018, Council engaged with the community on a proposal to build a new 3 meter wide pedestrian and cycle bridge alongside the existing road bridge.
The proposal was well-received by our community who are eager to see improvements to pedestrian and cyclist safety along this well-known pinch point.
Based on feedback received during consultation, the revised design includes:
Improvements to entry and exit points
Low-level lighting
Use of hardwood and stainless steels materials for handrails
Improved signage
The Revised Plans can be viewed in the Council's document library on this project's webpage at: yoursay/narrabeenlagoonbridge

Council commenced the tendering stage in September 2020. Construction was expected to commence mid-2021 but due to Covid was pushed back and has commenced this past week.
The proposed multi-use bridge will be a three metre wide pedestrian and cycle bridge located three metres to the west of the existing road bridge.
The new bridge itself will be approximately 110 metres and with the concrete lead-ins it will be approximately 130 metres all up.
The piers of the new bridge will be aligned with those of the existing bridge to maintain navigational channels beneath the bridge.
During extreme storm events Pittwater Road Narrabeen is subject to flooding. To reduce the flood risk and to comply with current bridge design standards, the height of the new multi-use bridge will need to be elevated above the height of the existing bridge.
Rob Stokes MP, Member for Pittwater, Minister for Infrastructure, Minister for Cities, and Minister for Active Transport said this week;
''It's great to see that Northern Beaches Council has commenced construction on a dedicated active transport connection over the Narrabeen Lagoon. This new three-metre wide bridge is the result of $3m in funding from Transport for NSW as part of the B-Line project. It will run alongside the Pittwater Road bridge and connect to the 8.4km Narrabeen Lagoon Trail.''
''At the moment, a one-metre wide section of the Pittwater Road bridge is shared by walkers, joggers and bike riders. It's led to bottlenecks and become a bit of a safety hazard. This project will make it safer and more inviting for people to walk, jog or ride along what is one of Sydney's great waterfront links. I look forward to trying it out when it opens in a few months!''
The existing path along the western side of the vehicle bridge along Pittwater Road will be temporarily closed during construction. Pedestrian diversions will be in place.
Completion of works are expected for May 2022, weather permitting.
The council also has Active Transport (walking and cycling) program Grant funding proposals for 2022/23 listed at present, seeking feedback from residents on opportunities to introduce more shared paths in 2022 and 2023. The projects proposed on their webpage are grant dependent, which means the council can only build them if they receive the funding under the NSW Active Transport Grant.
Those proposed are:
Bassett Street, Mona Vale - Shared path and pedestrian crossing upgrade
proposing a 2.5m shared path for pedestrians and bicycle riders which will provide an active travel connection between Mona Vale Beach and Winnererremy Bay as well as to commercial and industrial areas and Pittwater High School. Existing trees would be maintained. Length of path: 1060m Typical width of path: 2.5m
The proposal would also see improved pedestrian and cyclist crossing points at:
1. Bassett Street – 2.5m shared path on the southern side, between Barrenjoey Road and Mona Street
a. Improved crossing at Tengah Crescent and Perak Street
2. Mona Street – 2.5m shared path on the eastern side between Bassett Street and Pittwater Road
b. Upgrade existing pedestrian crossing to a raised combined pedestrian and bicycle crossing
Jacksons Road, Warriewood - Shared path and pedestrian crossing upgrade
A 2m shared path for pedestrians and bicycle riders through Warriewood Valley Sportsground which will provide active travel connections to the Narrabeen Education Precinct, sporting facilities, Warriewood B-Line, Warriewood Square and other key destinations.
The upgrade to the pedestrian crossing in Jacksons Road, near the Boondah Road intersection, to a raised pedestrian and bicycle crossing will connect existing and planned shared paths.
Future shared paths will be constructed as part of the Warriewood Valley Community Centre and Boondah Road upgrade.
Collins Street, North Narrabeen - Shared path
Proposing to provide a 2.5m shared path on the eastern side of Collins Street and Lake Park Road between the existing shared path in Walsh Street and Narrabeen Lagoon.
Council states this will provide a valuable connection for pedestrians and bike riders in the local area to access facilities such as Pittwater Rugby Park, Warriewood B-Line and recreational facilities around Narrabeen Lagoon. However it should be noted that the proposal involves removing four on-street carparking spaces.
Pittwater Road, Queenscliff - Pedestrian and cycle bridge upgrade
Addiscombe Road & Kenneth Road, Manly Vale - Shared path and pedestrian crossing
Highview Avenue, Manly Vale - Footpath and stairs
Blackbutts Road, Frenchs Forest - Shared path
Allambie Road, Allambie Heights - Shared path
To find out more and view the plans visit: yoursay/202223-active-transport-proposals

Comments for all proposals close Friday February 18th 2022 (5pm).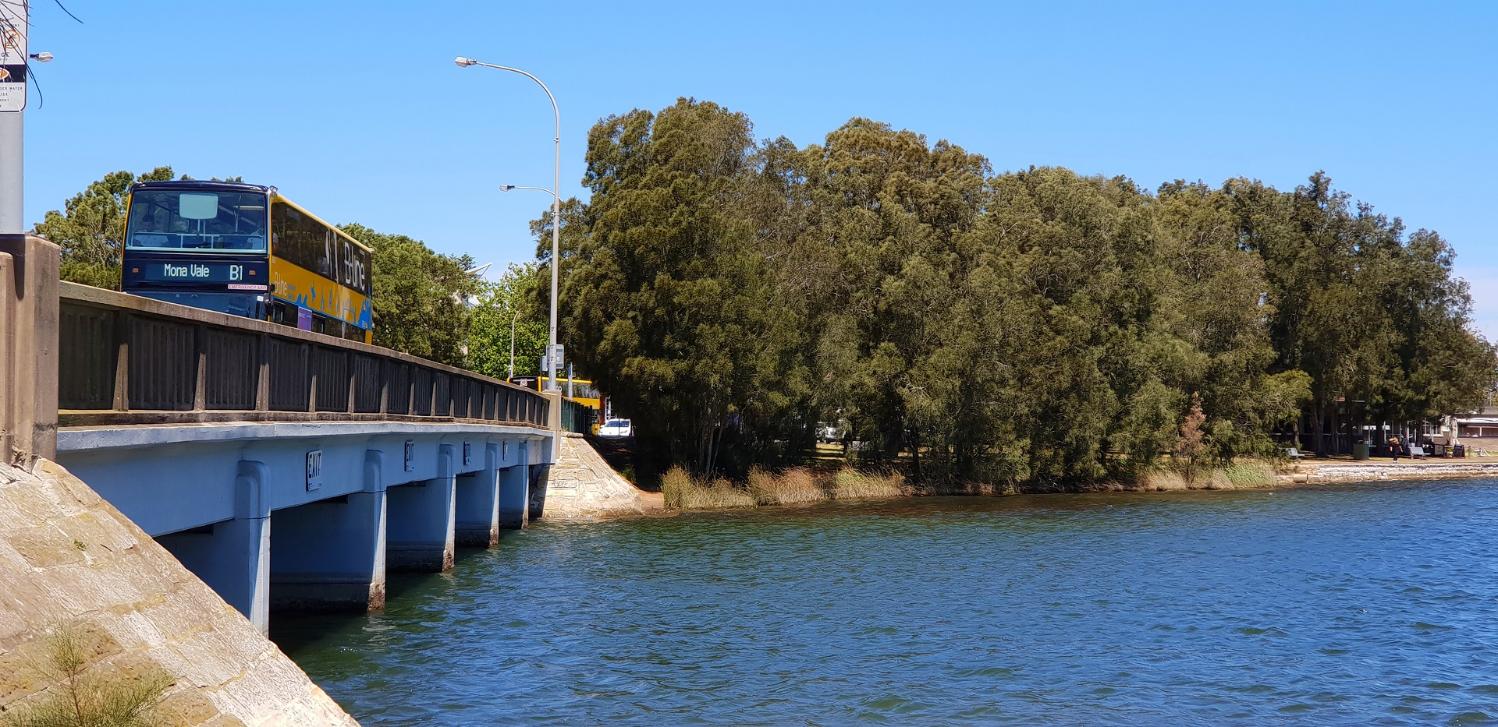 Where the new Walking and Cycling bridge will cross Narrabeen Lagoon.
Surfers Make Light Work Of Heavy Conditions At Hyundai Australian Boardriders Battle Newcastle Grand Final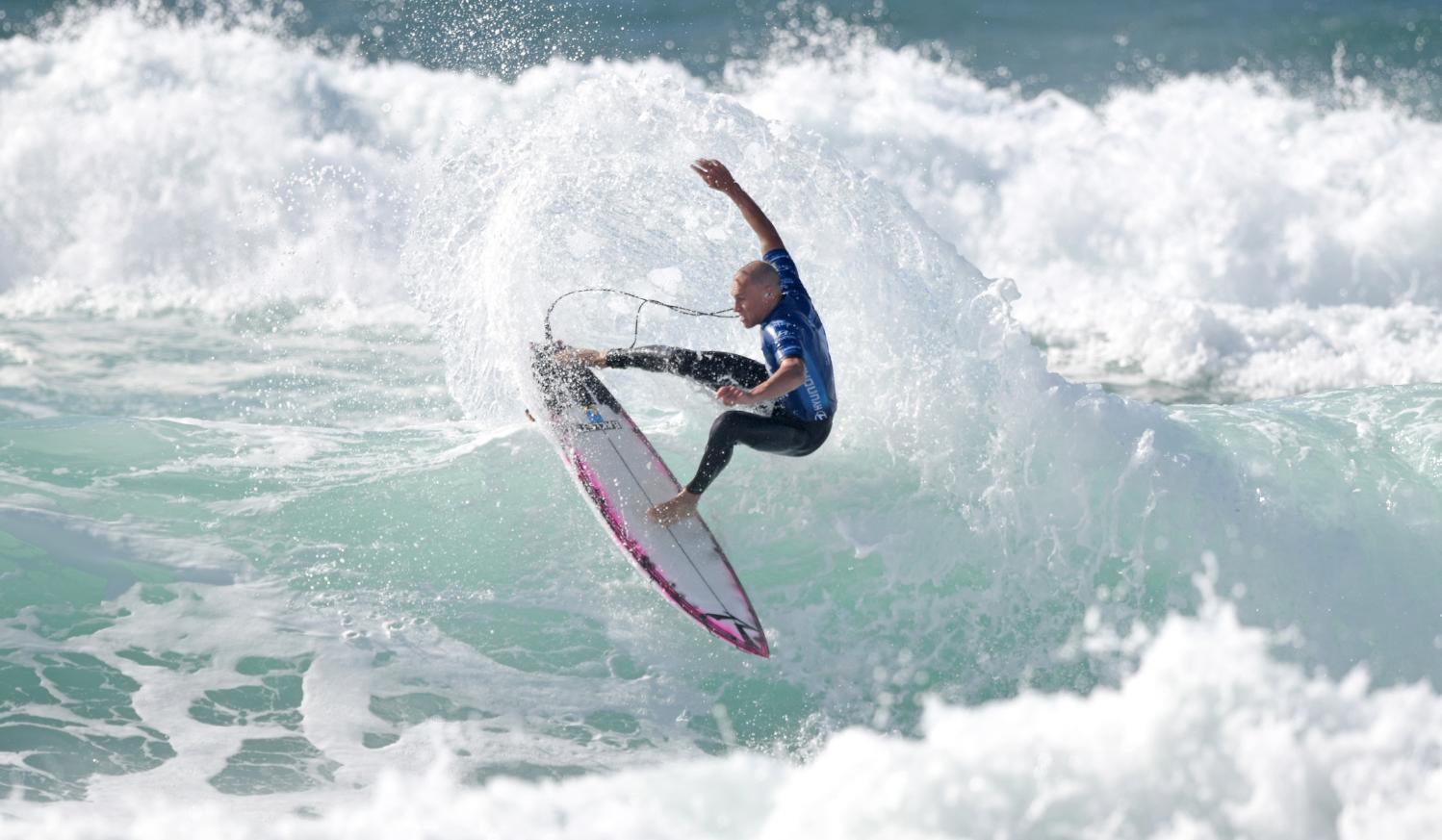 Lliam 'Letty' Mortensen,
Day 1 ABBNF2022
.Photo:
Blainey Woodham/Surfing Australia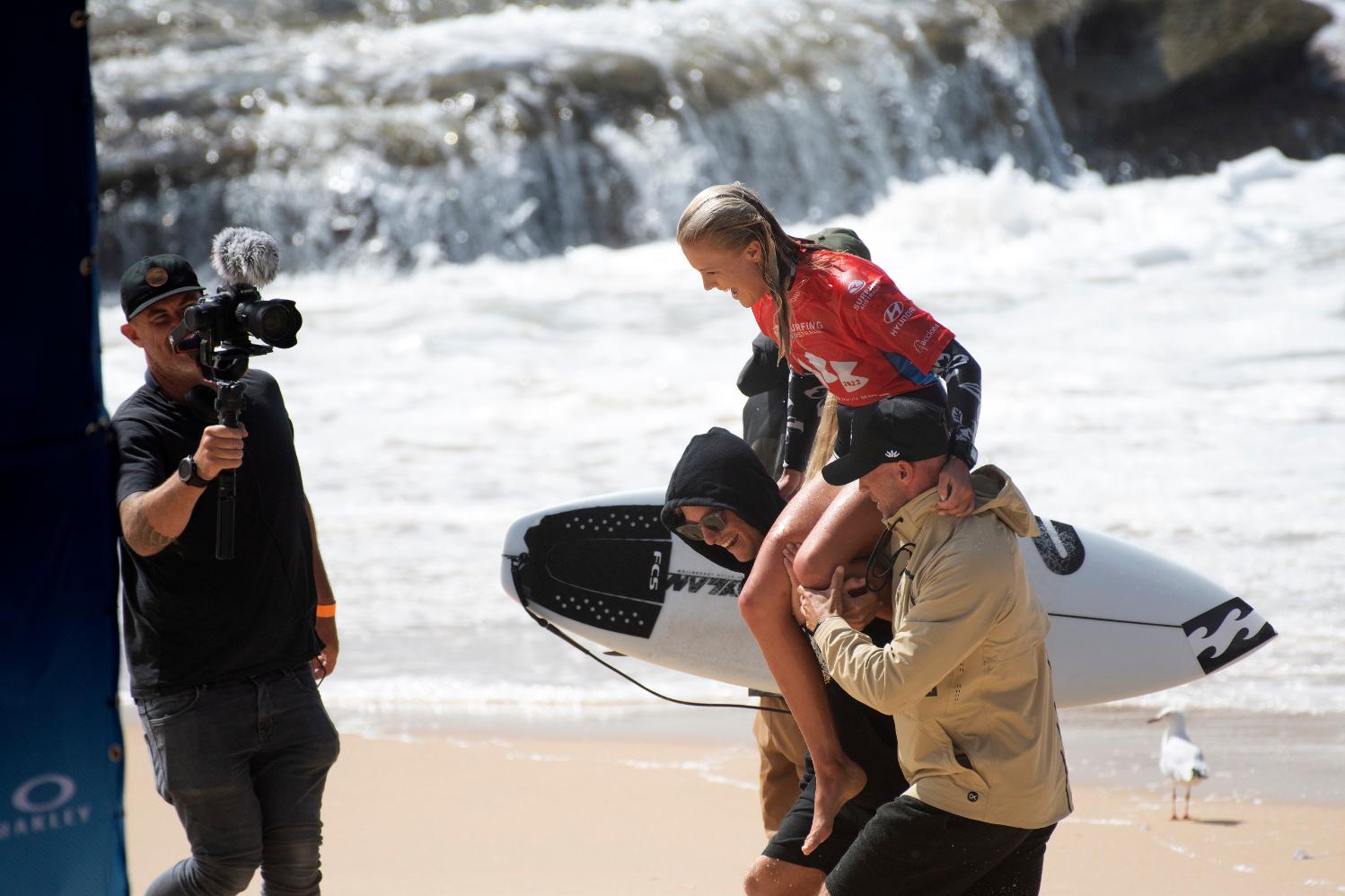 Tru Starling being chaired by team mates after her Heat, Day 1 ABBNF2022. Photo:
Ethan Smith/Surfing Australia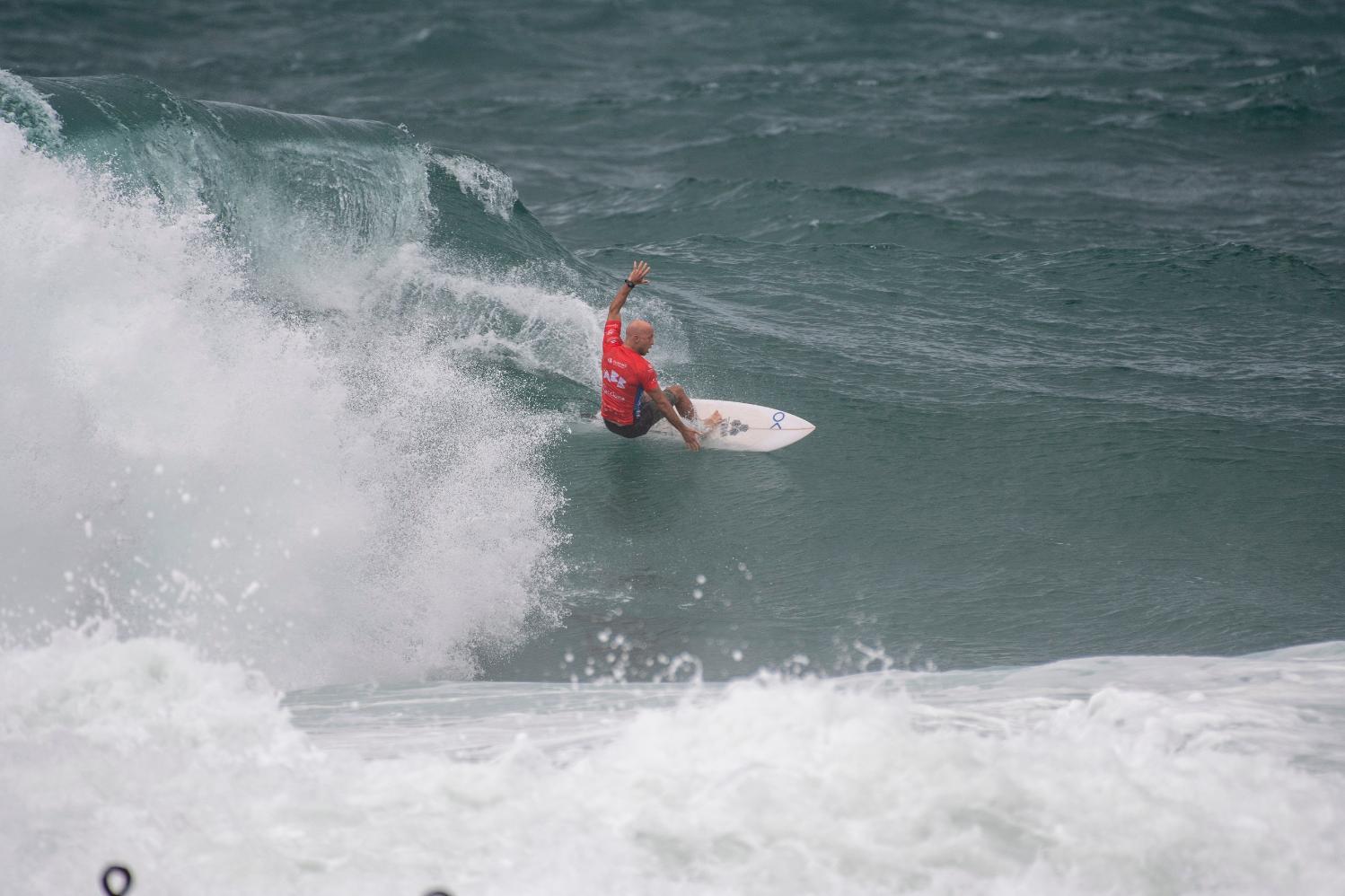 Nathan Hedge, Day 1 ABBNF2022. Photo:
Ethan Smith/Surfing Australia
Saturday, 5th February, 2022
By Surfing Australia
Despite a day of challenging surf and windy conditions, The Hyundai Australian Boardriders Battle Grand Final got off to flying start at Newcastle with the Open Men, Open Women, Masters and Juniors all surfing their individual heats.
Surfing for her beloved Snapper Rocks Boardriders, Kobie Enright found a diamond in the rough in her Open Women's heat as she mustered up a handful of beautiful forehand carve to post a solid 8.13 wave score. Enright looked majestic as she swooped through an array of difficult waves to find the clean sections that allowed her to nail the aforementioned turns.
"That was so difficult out there. It was definitely the most exercise I have done this year I reckon," said Enright. "Most heats prior to me had pretty low scores so I was just aiming to do one or two turns on a wave then you could potentially get a good score. I got lucky and got one really good section and the judges seemed to like it."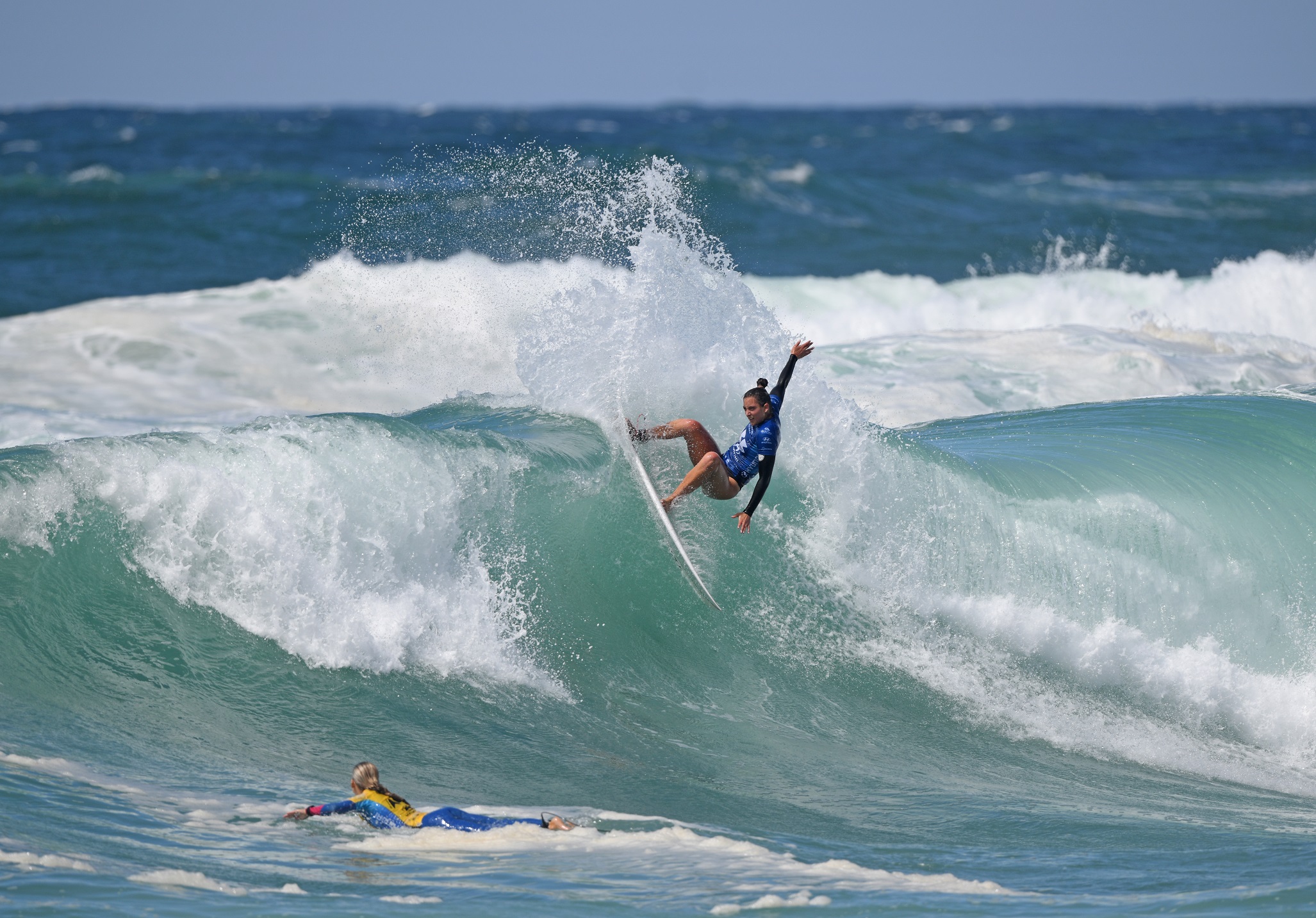 Kobi Enright on that golden wave. Credit: Blainey Woodham/Surfing Australia
Sophie McCulloch followed suit a few heats later as she posted a massive 8.38 wave score for her local North Shore Boardriders Club.
Hughie Vaughan put on a clinic in the junior men's division as he surfed an impeccable heat for his local North Shelly Boardriders Club. Vaughan's patient approach to wait out the back for a sizeable wave paid dividends as he caught a massive set that allowed for a chain of powerful snaps and carves. Vaughan was awarded with an 8.75, the highest wave score of the day.
"The waves seemed to be really fun in that heat," said Vaughan. "I thought there was potential for a big score if you could catch a set out the back and then get it to run the whole way through. Thankfully, I found one and it offered a series of sections to do turns."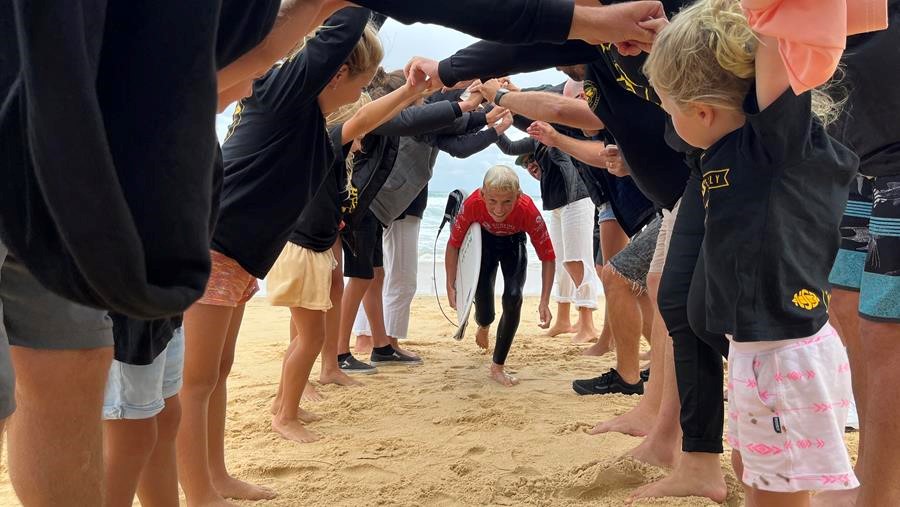 Hughie Vaughan runs the North Shelly tunnel. Credit: Ethan Smith/Surfing Australia
2022 Hyundai Grand Final Leaderboard (End of Day 1):
Nth Narrabeen BRC
Coffs Harbour BRC
Nth Shelley BRC
North Avalon Surfing Association (NASA)
First Fun Run Of The Year Draws Thousands: Beach2Beach Runs March 27, 2022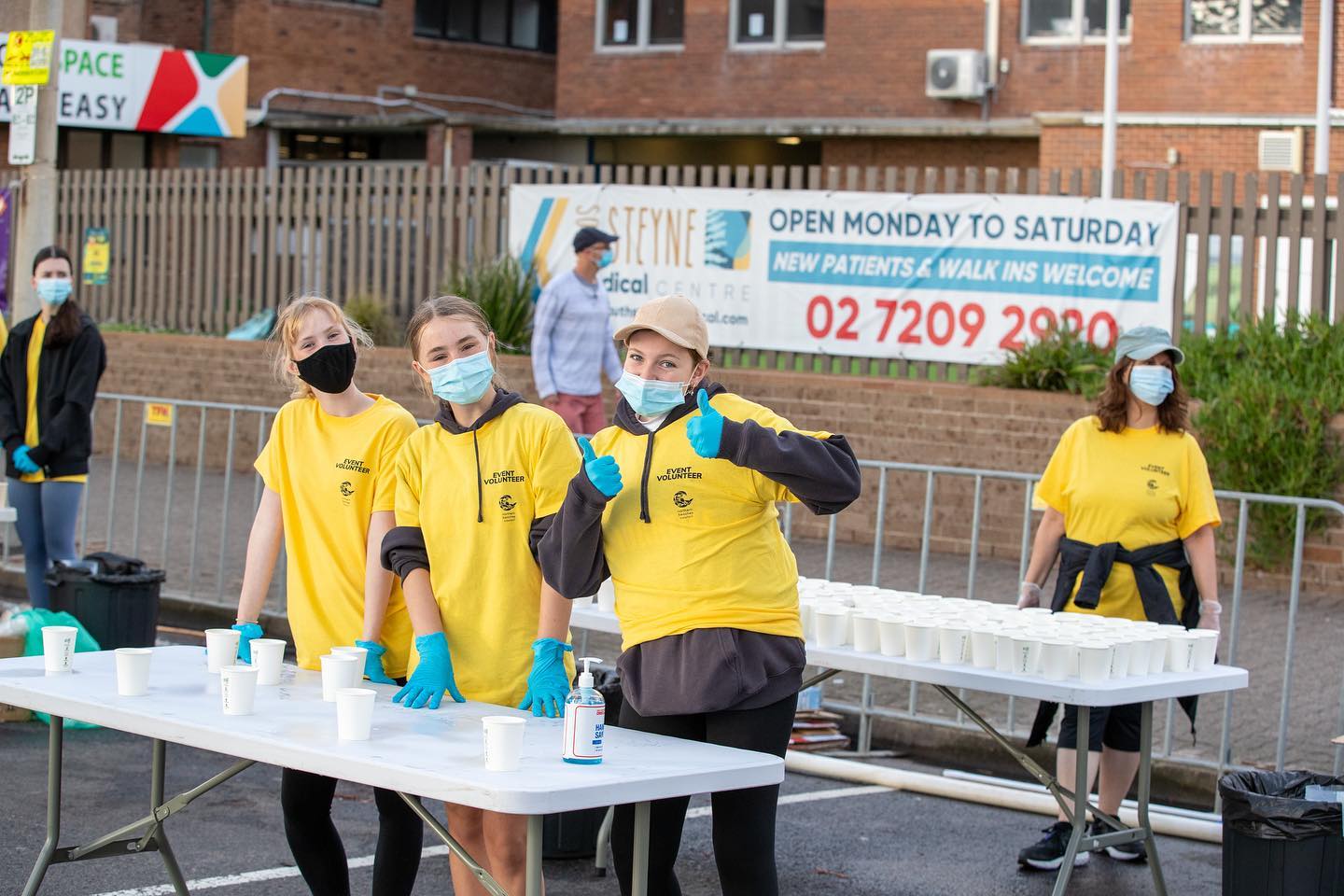 Sun Run fun - volunteers. Image supplied
More than 4300 runners eagerly hit the streets on Saturday February 5th in the annual Sun Run. The first major fun run of the year saw participants compete in either the 10km or 7km event from Dee Why to Manly taking in the picturesque views of Curl Curl, Freshwater and Queenscliff beaches along the way.
Mayor Michael Regan congratulated the winners and all the participants who were clearly happy to enjoy the fresh air and up-beat vibe after a challenging couple of years.
"Today's event has had a massive positive impact on the morale of the community after enduring an extensive lockdown last year and continual restrictions," Mayor Regan said.
"We are fortunate it is one of very few events that has been delivered each year on the same weekend throughout the current pandemic.
"It was tremendous to see so many people enjoying themselves on one of the most picturesque running routes in the country whilst also supporting local businesses and raising much needed funds for charity.
"Over $60,000 has been raised for charities across the state which is a fantastic effort. Congratulations to all the winners – we hope to see you again next year."
In total $65,225.85 was raised with the Northern Beaches Women's Shelter topping the fundraisers listed at $12,590.77. Others included Kidney Health Australia ($3,741.25), The Dreaming Foundation ($3,567.50), The Kids' Cancer Project ($3,449.25), Breast Cancer Network Australia($3,168.44), Cancer Council NSW ($2,758.75), Dementia Australia ($2,482.75),and RSPCA NSW($2,233.69) also had thousands raised for their work.
All up 124 charities had funds raised for them by 115 teams and 990 fundraisers.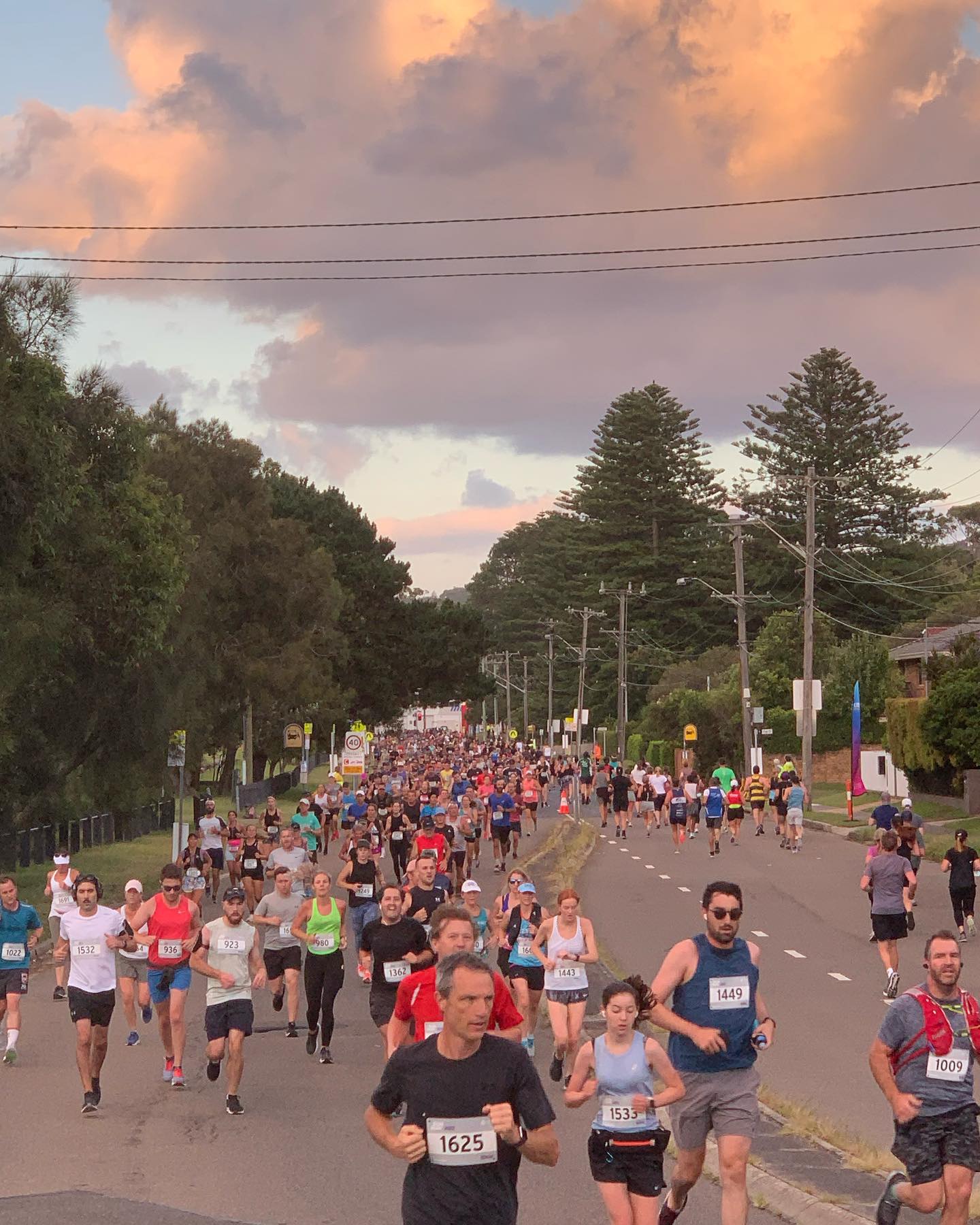 The next big fun run will be the Beach2Beach Charity Fun Run & Festival from Dee Why to Newport.

Considered Sydney's most scenic fun run, the Beach2Beach Charity Fun Run & Festival, celebrates its 28th year on Sunday, 27 March 2022. Organised by the Rotary Club of Brookvale, Courses start at Dee Why Beach (13km), Warriewood (6km), and Mona Vale (3km) and end with a Family Festival at Newport Beach.
Event Ambassador Guy Leech thinks the shorter courses are a wonderful initiative, saying: "It's great for serious runners to compete over the traditional longer distance, but the short course option means more parents can now run with their children. With childhood obesity now such a massive problem in Australia, this not only helps teaching kids about the importance of a healthy lifestyle, but it's just a whole lot of fun! I'll definitely be starting at Mona Vale and running with my 8 year old, Phoenix."

Beach2Beach is keen to have more school students and Teams involved in this big charity event and so have added a major incentive for ALL Schools and larger Teams to register of a 25% cashback of entrance fees. Those eligible for the 25% Cashback Offer are;
Schools: Every Primary or High School that enters a Team in the 2022 Beach2Beach will receive a guaranteed 25% 'cashback' on all entry fees for their Team. That's automatic cash straight back to the school, to be spent on any worthwhile initiative that benefits students, or money that can be given directly to each school's chosen charity.
Other Teams: The same 25% Cashback will be applied to any group or organisation that enters a Team of 25 or more, the cashback going directly to the Team's chosen charity.
Additionally, the Early Bird discount applies until March 15.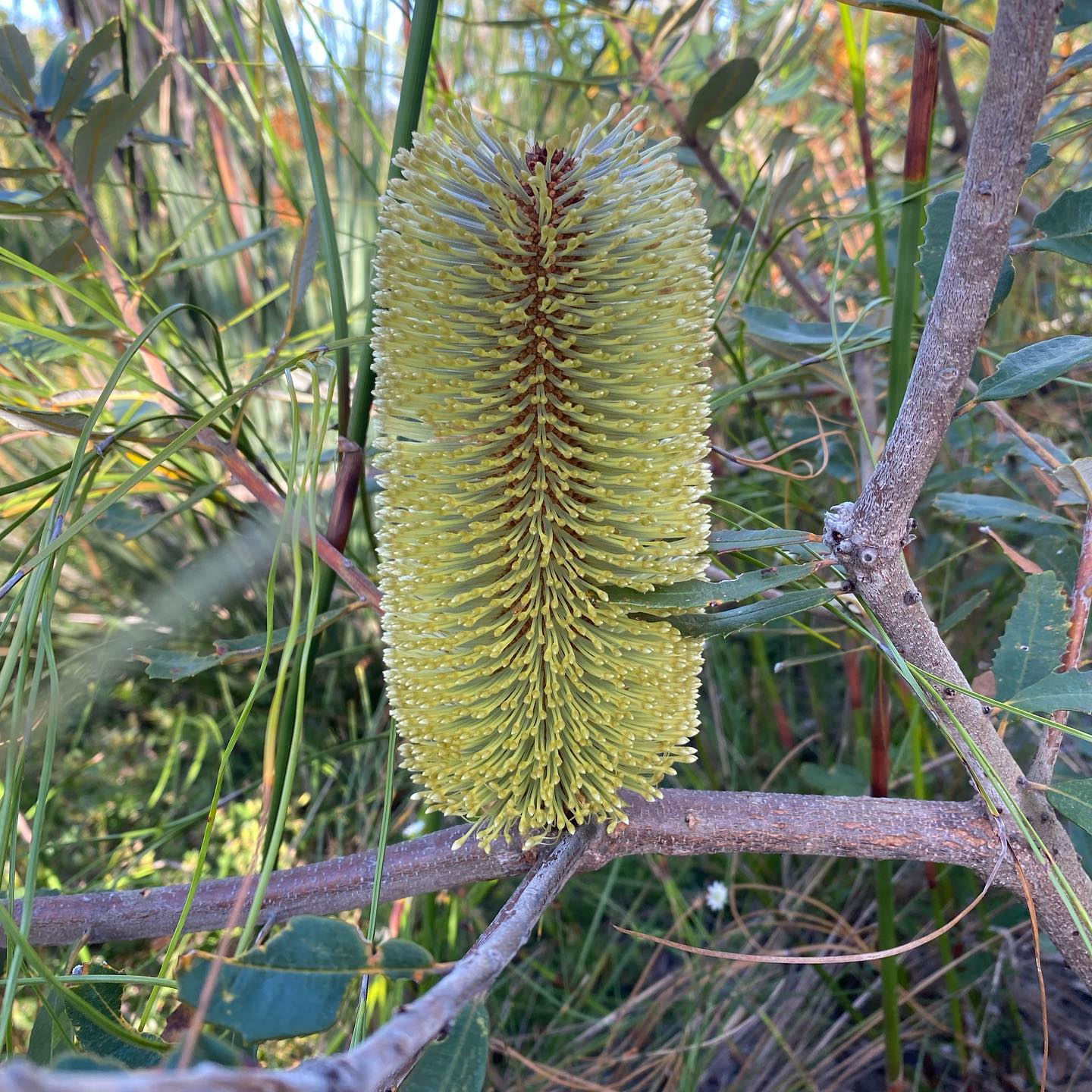 Costal Banksia, Banksia integrifolia. Photo: Selena Griffith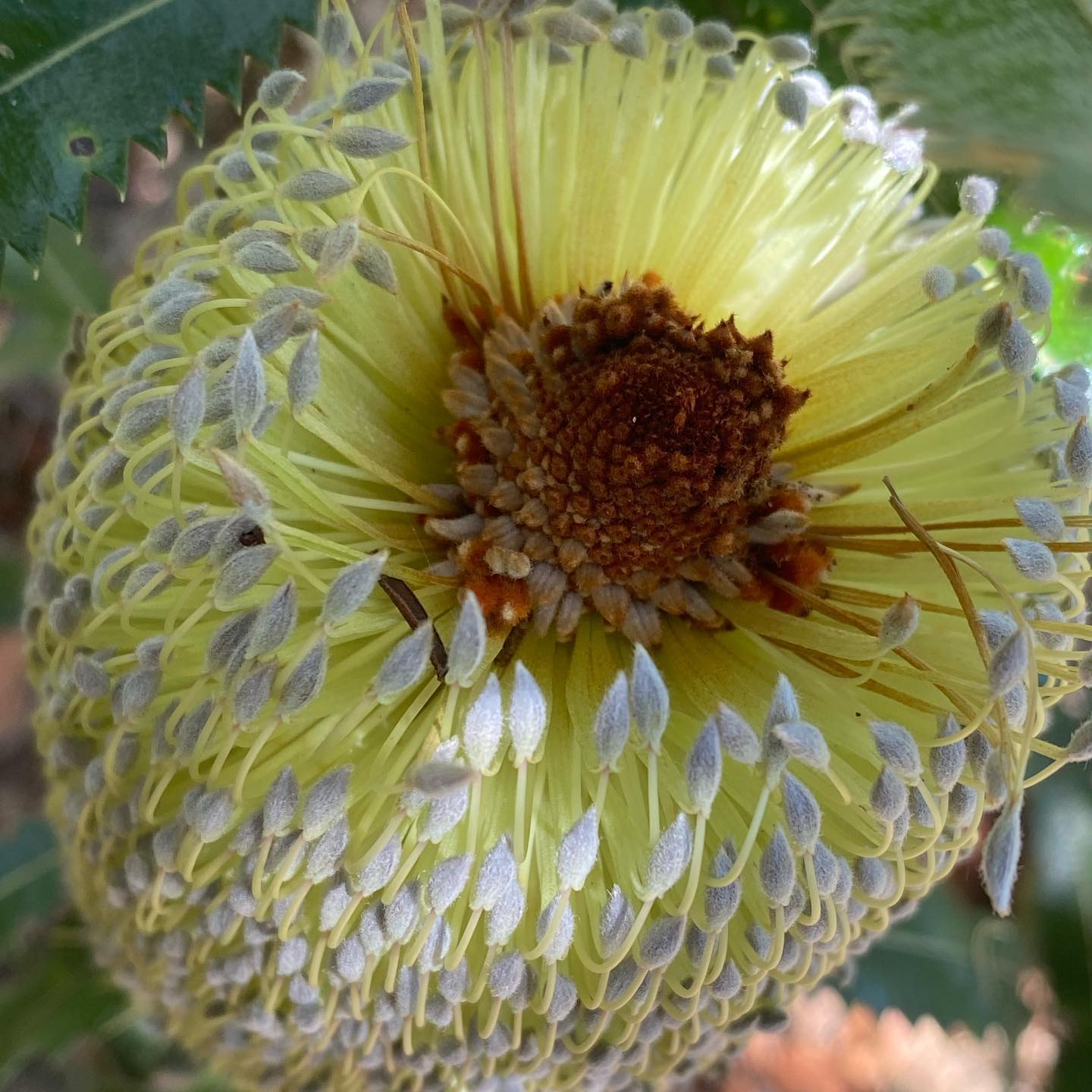 Old man banksia, Banksia serrata. Photo: Selena Griffith
Past Features Archives (pre 2014)
Pittwater Online News was selected for preservation by the State Library of New South Wales and National Library of Australia. This title is scheduled to be re-archived regularly.
Archived Issues (2014 on) may be accessed here: pandora.nla.gov.au/tep/143700