August 1 - 7, 2021: Issue 504

Pittwater Residents Fed Up With Council 'Fob Offs' When Called To Address Illegal MTB Trails Impact On Endangered Ecological Communities, Wildlife; Councillor Amon Labelled 'Irresponsible' By Residents And Bushcare Groups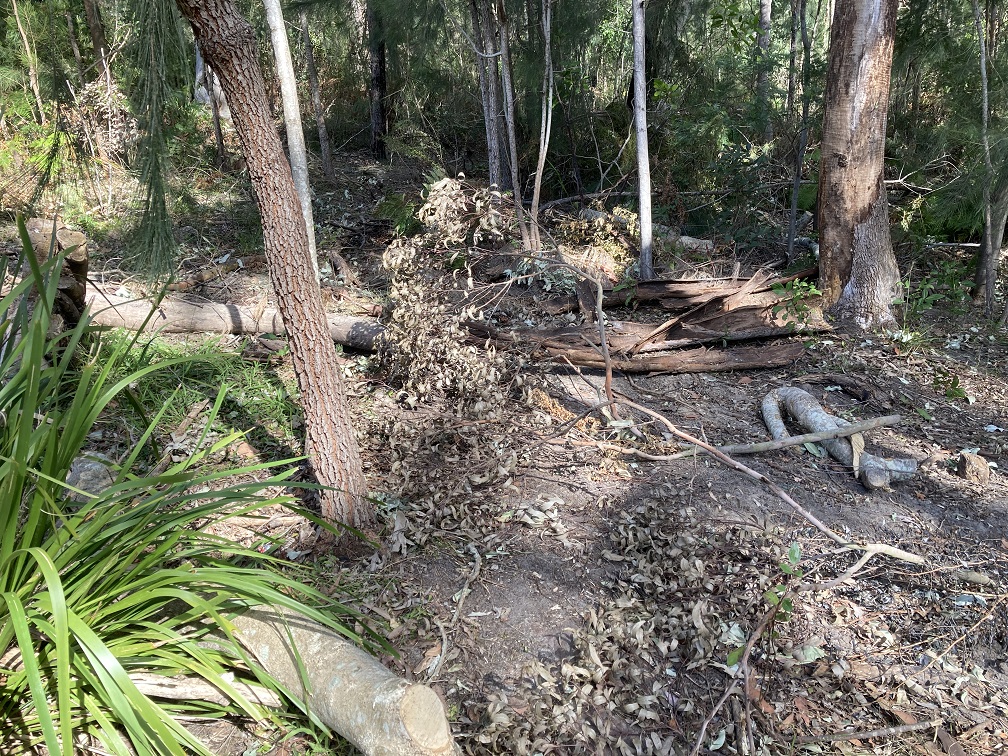 Bark stripped from trees - trees cut and strewn across path - Photo supplied
Bush Care groups that have worked for decades restoring Bilgola Plateau bushland are appalled at the bike tracks that have been built through this restored bushland - the second incidence of this occurring. The internal grassy area of the park is now a dust bowl, which will become a quagmire when next it rains - but this is not their main concern.
The Pittwater Natural Heritage Association strongly objects to Council permitting children to construct bike tracks and jumps in the bushland alongside this green space. This is Duffy's Forest Endangered Ecological Community bushland. A bushcare group has been working there for many years weeding and restoring areas that were formerly degraded by bike riding.
''We consider Councillor Rory Amon is irresponsible in his duty of care for our natural environment in encouraging this activity and supporting a petition to Council to permit the bike track construction.'' the PNHA stated this week
''As well as damaging the bush by cutting down shrubs and damaging mature trees in the bushland areas, the walking track around the northern section has been taken over and damaged by bike riders and the internal grassed area has been made dangerous to other users of the park.
''Allowing track construction in this reserve sets a destructive precedent for other bushland areas. We expect, as a council proud of its care of the environment, that Council will take immediate action to repair the damage caused in the reserve and to prevent it recurring.'' the Association states
The reference to Mr. Amon is in regard to a call by some Bilgola Plateau residents to the councillor to stop the reinstatement of the green area, known locally as the Bilgola Plateau Village Green, to its former state prior to the track being built, and Mr. Amon simply acting on their behalf as called to.
Mr. Amon subsequently started a petition on July 14, 2021 wherein he called this destruction 'harmless mounds/bike jumps' which generated, according to his posts on social media, over 200 signatures.
The Population of Bilgola Plateau, according to the 2016 Census, is 3,518.
Cr. Amon has also posted replies received on social media that he states he has received from Northern Beaches Council CEO Ray Brownlee, one of which reads;
''Hi Rory

No action will be taken. I will advise you prior to any actions if they were contemplated on safety grounds.

Ray.''
An earlier reply, purported to be from Mr. Brownlee, and also posted by Mr. Amon as a screenshot on social media, states;
'Our position is we usually only fill/level jumps that pose a risk to public safety'.
Residents who have contacted Pittwater Online News from Bayview, Ingleside, Narrabeen, Warriewood, Mona Vale, Newport, Bilgola, Avalon, Whale Beach and Palm Beach all state they have been 'fobbed off' by the Northern Beaches Council to various people and various departments, and been given the impression it was hoped they'd give up, and hang up. Some state they have been told, outright, no action will be taken about the destruction in our reserves and Wildlife Preservation Areas by all these illegal trails.
The 'our position' statement illustrates the perception among MTB riders destroying our reserves that the Council is 'working with them' and complicit in enabling this destruction and excise of public space.
This green is used by Bilgola Plateau Public School as their sports ground during term. This alone will require this area to be reinstated to its former state prior to the schoolchildren being able to safely use it again - at the cost of the ratepayer.
Mr. Amon has recently announced he will stand for a seat as a 'Pittwater Ward' Councillor in the 2021 local government elections, leading some to surmise his current interest is part of his 'standing for Pittwater' campaign and shows he's focused on his latest political win rather than saving this space for the other children and people by demonstrating he can be a responsible guardian thereof.
Cr. Amon has been requested to modify incorrect messaging on social media for what are regarded as lobby groups to appear to be more accurate and less misrepresentative. According to his critics, Reviews of Environmental Factors (REF's) are just boxes to be ticked, and should not be taken into account when deciding a matter - even before they've been written into a report form they are to be ignored, disregarded.
A Review of Environmental Factors (REF) is an environmental assessment used to determine whether an activity should be approved by taking into account all matters that affect or may affect the environment.

As part of a 'campaign' to seek re-election as a Councillor this is unfortunately advocating for the environmental destruction of Pittwater, and in doing so, aligning his political party as well as the Council as being for the destruction of the environment as its own policy and practice, as well as disregarding the LEP and POM's already in place.
Cr. Amon's and the Council's apparent disregard for the still in place Pittwater LEP and POM's (Plan of Management) is not the only problem that has evolved very quickly from the Bilgola 'pump track'.
The handfuls of youngsters who built these tracks have been abusive towards anyone else who wishes to use the park and used bully-boy tactics to stop other younger children from using 'their pump track'. Given the 'example' being set by Cr. Amon and the messaging from Council that backs up their excise of this public space, these abused youngsters have then set off into the adjacent bush to destroy that through building their own tracks for bikes.
No action has been taken about these, either, yet.
Residents of Bilgola Plateau state a lot more bush and some laneways have now been destroyed this week with many of the previously safe walking tracks now very dangerous, especially so for every other resident that uses them. A massive hole has now been dug by youngsters, encouraged by the 'no action will be taken' announcement, in Weetawa reserve, so now children wanting to play football or cricket or anything at all in the reserve can no longer do so.
More ratepayers money down the gurgler to reclaim this public space for the actual public, and more fuel for those agitating to have Pittwater Council reinstated.
Further south, Warriewood-Mona Vale mum Nina Reynolds who lives alongside an illegally made bike track /pump track in the wetlands, another WPA now under the 'our position' of the Northern Beaches Council and its staff, had rocks thrown at her home on Friday evening, July 30th, by those using that pump track. One went straight through the lounge room window smashing it to pieces and spreading glass clear across the room and into the hallway. The Reynolds' two young children were home and thankfully not hurt, although the youngest could not get to sleep that night, asking his mum over and over 'are they coming back?'
Nina's husband is a keen MTB rider himself, only he sticks to the legal trails.
Nina has also contacted the Northern Beaches Council numerous times about this illegal incursion into a Wildlife Protected Area and been fobbed off via the 'transfer from one person to another until you get tired policy' residents state has become Council practice and also, was ultimately told to 'stop bothering them' in kinder terms.
Apart from the fact that this 'position' now means the rare and endangered wildlife that lives there has been chased from this WPA and trees destroyed, Mrs. Reynolds states the public pathway used as a run up into these jumps is dangerous and the public pathway bridge also providing access needed replacing due to the impact bike use has had on it.
Her greatest fear is that the numerous older residents who live in this area and use these paths as well, will be knocked down by a youngster going too fast along it.
Nina has actually approached the Council to build a pump track for the local teenagers and those younger in some safer place, but nothing came of that.
''We've been here a few years now and all there is for the kids around here is basketball court recently built and the skate park at Mona Vale,'' she said yesterday.
'' I'm against this because it is in a protected wildlife reserve for starters but also because of the noise. I live next door and constantly have kids screaming and yelling and sweating a LOT and I have small kids, I do not need them hearing f this and c word all day. They litter constantly, they set fire to a car seat in there before, they are destroying the vegetation and chopping down trees and chasing away the water dragons and birds and other wildlife. They are ruining the bridge next to it and the pathway itself. I have spoken to multiple residents who say they've nearly been taken out by kids as they 'send it' for a good run up. Seems innocent and fun until you live next to it and teens come drinking there at night and smoking and swearing and throwing glass bottles everywhere.'' Mrs. Reynolds said
With Helicopters being called in to rescue bike riders on illegal trails becoming an almost weekly occurrence in the area lately, including a 12 year old who suffered a serious head injury on illegal bike jumps constructed in Whitney Reserve, Mona Vale, a video surfacing last year of a wallaby being run over by a MTB on an illegal track at the Ingleside end of Garigal National Park, and images sent in of illegal tracks and marks over sacred sites in the same, the community expects the Council, and those who purport to speak for it, to look after these reserves and encourage the safe pursuit of this sport in those areas and places already allocated to it.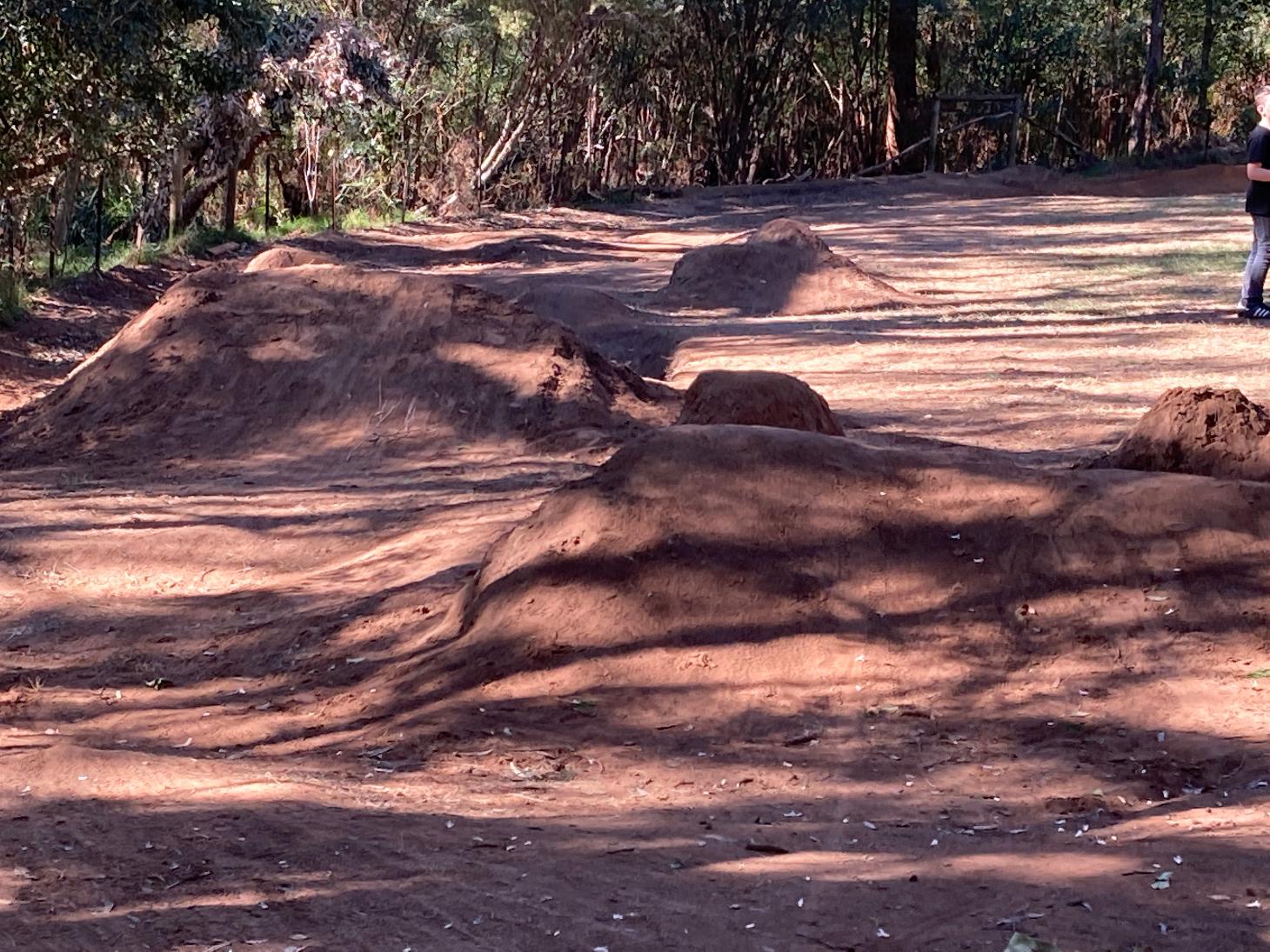 Damage within the grassed area at Plateau Park, Bilgola - image supplied
NB: This report has been modified and updated on August 3rd, 2021 as images qualifying the statements made by PNHA and residents were received and statements that are unproductive removed.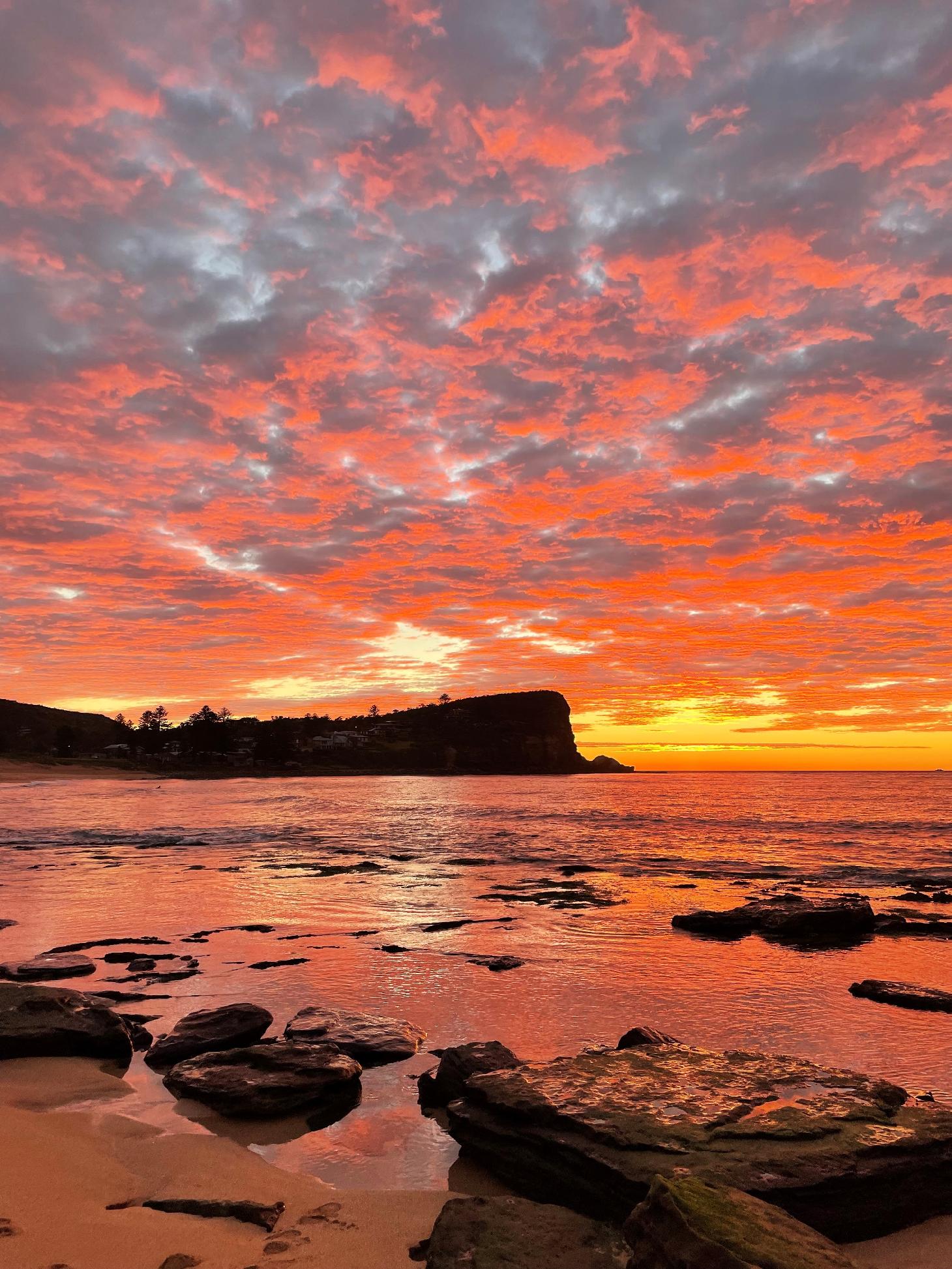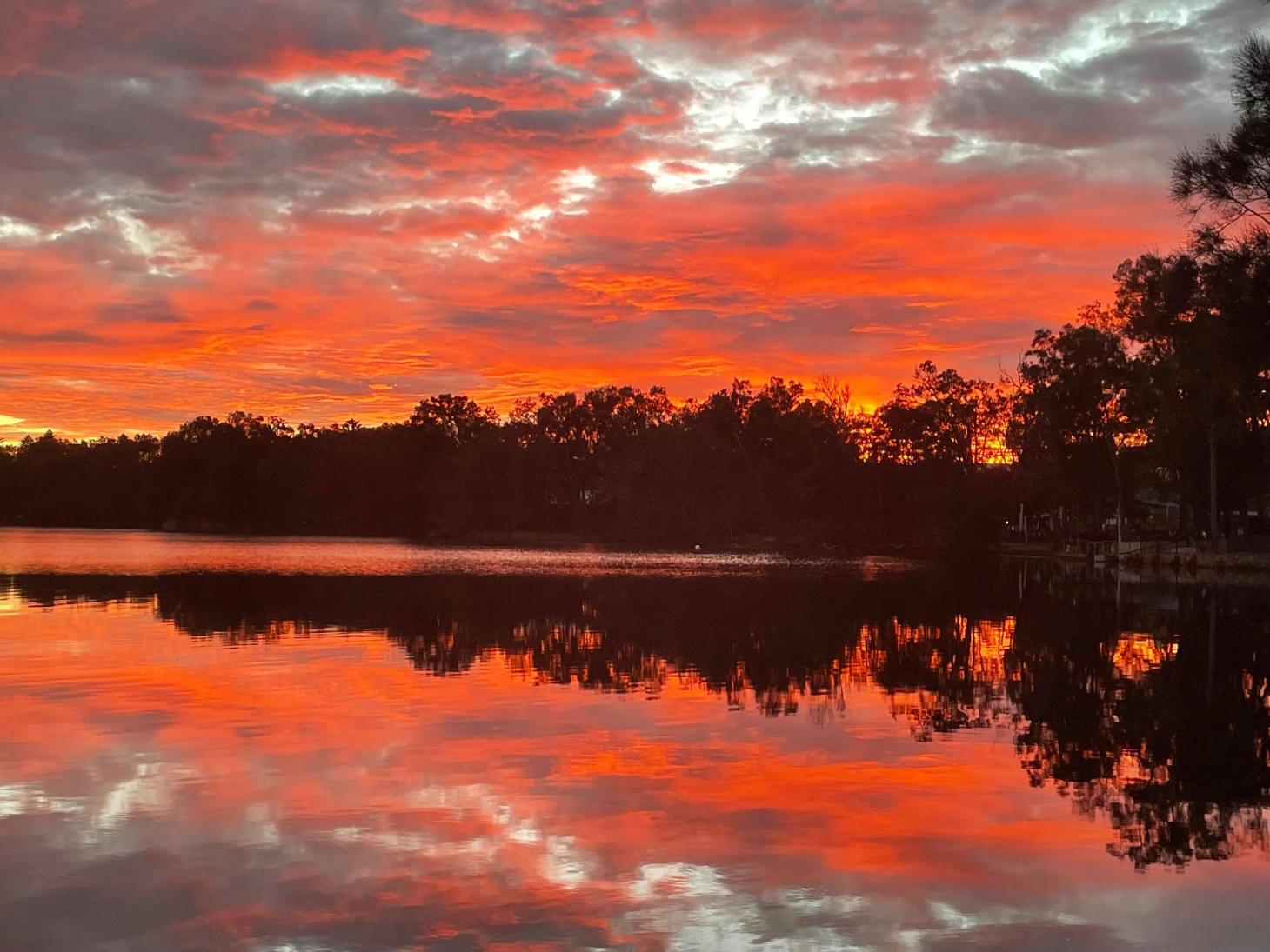 Sunrising at Narrabeen Lagoon, July 31, 2021 - photo by Margaret Woods
Past Features Archives (pre 2014)
Pittwater Online News was selected for preservation by the State Library of New South Wales and National Library of Australia. This title is scheduled to be re-archived regularly.
Archived Issues (2014 on) may be accessed here: pandora.nla.gov.au/tep/143700