July 25 - 31, 2021: Issue 503

Lucky To Live Here: July 2021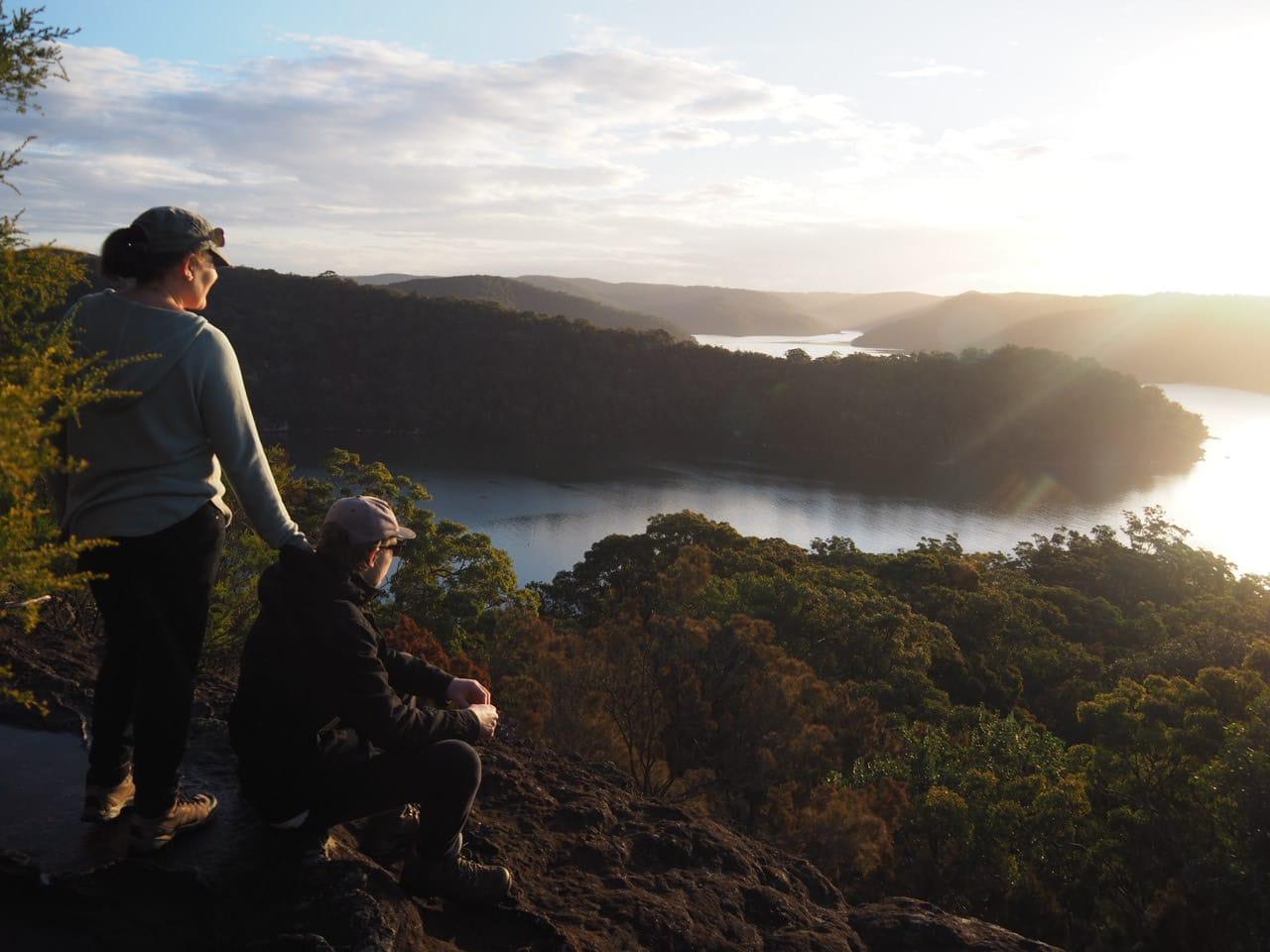 Sunset in Ku-ring-gai Chase NP - on the Topham Track, July 2021 - photo by Dave Murray
During the last few weeks, since stay-at-home safety measures were instigated, residents have used the opportunity of daily exercise to take photographs to celebrate and remind each other of how lucky we are to live in a place where beauty surrounds us and you may take bushwalks, go sailing, or look outwards at the outstanding views this place provides - all as a measure to cheer each other up and remind us that even during these current challenges we are blessed to be living in this place.
Within 10 kilometres of your home here are beaches, community reserves, playing fields, spots to fish from, breaks to surf, and estuary you can sail on and a national park you can hike or stroll through.
''I feel so grateful to live on Pittwater at this awful time! We managed a walk on Newport Beach in glorious Winter sunshine in between storm fronts, were cosy and safe in front of the fire watching the wild wind the next day, and then able to have a perfect sail in light Westerly wind up the silver pathway to Broken Bay and around to Bangalley Headland - all legal as within 10km of home!'' Suzanne D remarked this week.

'I enjoy catching moments, for friends that live here and those that have moved away. Some live in retirement homes in our area and can't get out to these places…and this is where I live. When I film it I realise how beautiful it really is.' - Adriaan

Messages from those in western Sydney, at Liverpool and surrounds for example, also tell us how lucky we are and how much they'd love to be living in Pittwater at this time. These photos lift up their hearts too.
So for them, and for all of us here who may forget during the frustrations associated with trying to study at home or being worried to the point of being awake all night over the loss of work and how that may impact on their businesses and even just putting food on the table, a few moments of relief and determinedly focusing on 'counting our blessings' and deciding to see the best in each other, and do the best we can for each other, is minutes spent meeting negatives with positives.
At Belrose, Narrabeen and Elanora, where more and more residents are now under 14 days of isolation due to being contacts of those who were at Glenrose shopping centre where the disease we're all 'sick' of was detected, neighbours are putting up a 'Christmas in July' lights display to cheer each other up. Others are offering to drop food off to those in isolation.
At Ingleside, Mona Vale, Bayview, Church Point and all offshore areas, people are sharing images, paintings completed, children collecting Northern Beaches Secret Rocks, birds spotted, bushflowers commencing to bloom and even photos of flowers from their own gardens - all to cheer each other up and a have a second of delight, of smiling.
When we see each other out on our walks a return to a 'good morning' or 'good afternoon' has become the norm again - something that was not present when we're all rushing to get t the next place, do the next thing - we may not see the grin behind the mask, but our eyes are smiling.
Pittwater Online News hopes some of these photos, thank you to all who shared, will bring a smile to Readers this Issue and that, when it gets 'too much' we all remember to take a deep breath, look around, and find just one little thing to push back against that other lurgy with tons of sunshine, seabreezes and a dose of exercise - because we are Lucky to be living here.
This Issue's Pictorial RUNS HERE
Pittwater Residents Will Persevere In Demerger Campaign Despite
NSW Government Decision On Other Councils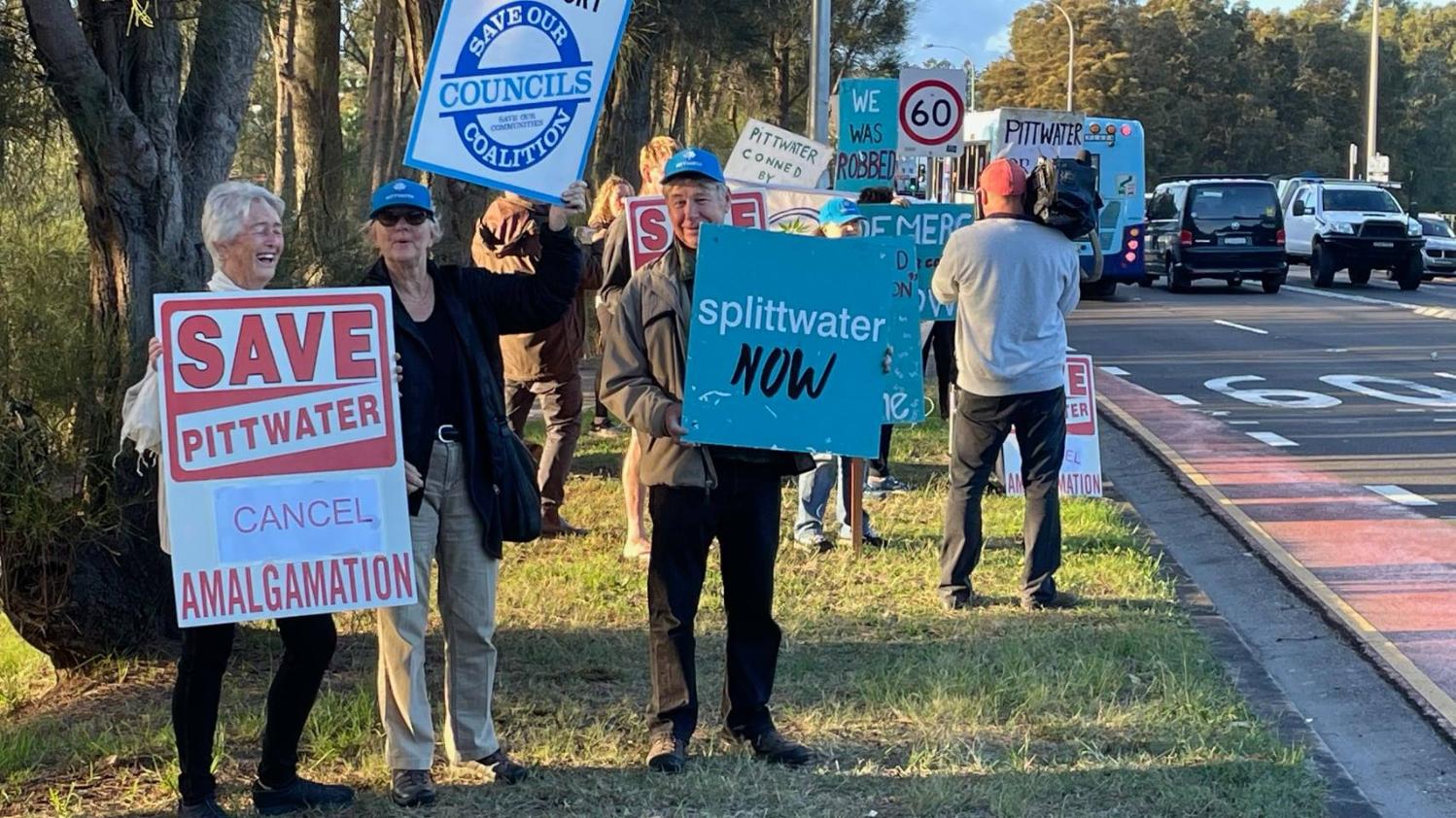 July 24, 2021
Pittwater residents will persevere in the fight for a council demerger despite the NSW government ignoring resident's wishes in two separately amalgamated council areas by refusing their proposals for demergers.
NSW Local Government Minister Shelley Hancock announced on Tuesday that the boundaries of Snowy Valleys Council and Cootamundra-Gundagai Regional Council would remain in place after their proposals for demergers had been assessed.
Mrs Hancock also announced on Tuesday an independent statutory review into the Local Government Boundaries Commission.
The review would examine the effectiveness of the membership composition, functions and processes of the commission, the minister said.
"The NSW Government will not proceed with the demerger proposals for Cootamundra-Gundagai Regional and Snowy Valleys councils," Mrs Hancock said in a media release distributed to a limited number of outlets.
"The reports do not provide a clear consensus on the issue of demerging and do not provide me with the necessary confidence to make these important decisions.
"This provides both councils with certainty and a plan for the future."
However, the commission itself in the case of Snowy Valleys recommended the demerger should go ahead - with three commissioners for and one dissenting.
In the case of Cootamundra Gundagai, the commission formally recommended against the demerger - after four commissioners were evenly split and the chair used their casting vote against.
Save Our Councils Coalition president Brian Halstead today said that Mrs Hancock had totally disregarded the wishes of the communities as well as ignored the Boundary Commission's recommendation by rejecting the Tumbarumba Proposal.
It appeared that the minister's decision had been delayed sufficiently that it would have been too late for the councils involved to seek a poll at the next local government elections - as is being carried out by the Inner West Council.
"Given that the local government elections have now been delayed [to December 4, 2021], it may be possible for merged councils to seek a poll when they are held," he said.
"In light of the minister's treatment of the communities' wishes, the best answer may be the reintroduction of the Shooters, Fishers and Farmers Party demerger bill that was previously defeated in the lower house last time.
"We would call on the two Nationals (NSW Deputy Premier) John Barilaro and Steph Cooke, who have stated their support for the demergers, to cross the floor and support their communities."
The Protect Pittwater Association issued a statement today condemning the government's decision and its waste of public resources.
"The NSW government ignored what the community wanted when it first amalgamated councils and it continues to do so," the group said.
"The whole process has been marked by delays and now the government has ignored its own commission. On top of that, given an answer it didn't like, it's decided to call a review of that body.
"This has been an enormous waste of public money and the time of community members.
"Protect Pittwater will continue collecting signatures for our proposal but the only thing that will satisfy and give communities real certainty now are binding plebiscites in every former council area that has been amalgamated."
UTS local government specialist Joseph Drew today told Northern Beaches Radio that the amalgamations were not working and demergers were inevitable.
Associate Professor Drew, from the Institute for Public Policy at UTS, said expenditure for amalgamated councils had increased on average by 11.2 per cent and for staff by 15 per cent compared to those of their constituent councils.
That compared to estimates by the government's advisors on the mergers, KPMG, who had said costs would go down.
Amalgamations creating larger councils had led to the need for additional staff, particularly in middle management, and harmonisations, where the highest individual levels of service from previous councils would be adopted across the whole of a merged authority.
Frenchs Forest Place Strategy Now On Public Exhibition For Feedback Until September 3rd 2021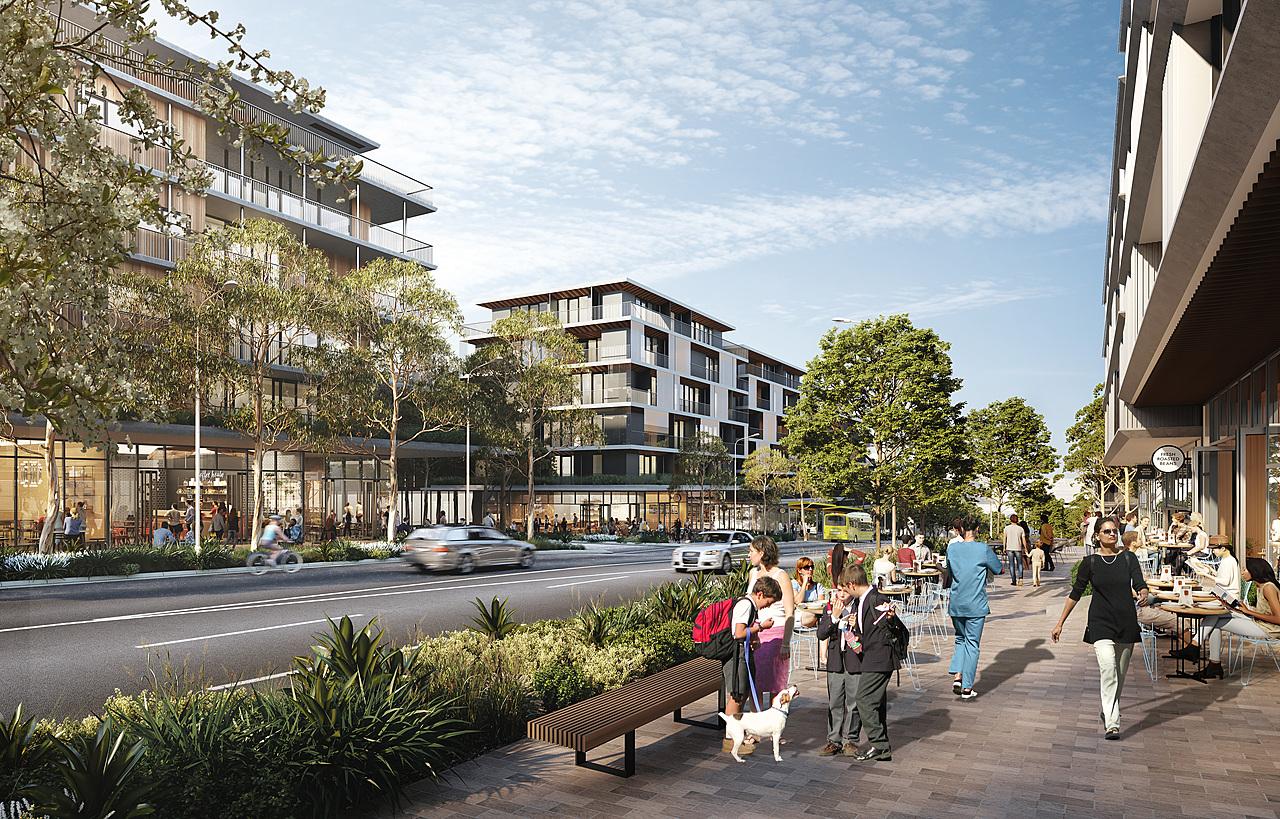 Frenchs Forest Road West Neighbourhood - Artists drawing, NSW Department of Planning, Industry and Environment
The Frenchs Forest Road West Neighbourhood will provide a range of housing and connect to the surrounding low-density residential areas. The new high street of Frenchs Forest Road West will have retail, office and medical uses that support the town centre and hospital. The area will be characterised by high-quality medium-rise apartment buildings, up to six storeys high, and a busy streetscape. The new high street will be focused on people, with no vehicle access from Frenchs Forest Road West.
A reinvigorated vibrant town centre, 2000 new homes, road upgrades and more public space form a 20-year vision to support the future growth of Frenchs Forest.
Minister for Planning and Public Spaces Rob Stokes released the Frenchs Forest Place Strategy for public consultation on Friday July 23rd, saying it set out what was needed to support a predicted population growth of 39,000 new residents by 2036.
"Frenchs Forest is a popular area which has grown significantly in recent years and this strategy outlines how we can help fast-track approximately 2,000 new homes and provide the infrastructure and services needed," Mr Stokes said.
"The Frenchs Forest plan is about providing more employment on the beaches so our community doesn't have to travel vast distances for work. A town centre next to a brand new hospital is an incredible opportunity for more jobs where people live."
Minister for Education Sarah Mitchell said a key part of the strategy was a new home for The Forest High School at Allambie Heights.
"The new location of The Forest High School is a fantastic result for the local community with the school moving 1.5km into new, state-of-the-art facilities," Ms Mitchell said.
"The community will be able to provide feedback on the new facilities and I am incredibly excited about opportunities this project will offer current and future students of The Forest High School."
The draft place strategy will deliver:
a new town centre with shops, restaurants, cafes and offices;
1.5 hectares of new public open space including a 1,665 sqm plaza;
easier walking and cycling connections, upgrades to local roads, a new bus interchange and direct access to the city through the Western Harbour Tunnel and Beaches Link.
2,000 new jobs, mainly in health and education to support the Northern Beaches Hospital; and
2,000 new homes (1,000 of these in the town centre; 1,000 in the adjacent residential areas) with a range of housing including townhouses, terraces, apartments and aged care; and homes for key workers such as nurses and paramedics
The Department has provided the Northern Beaches Council with $6.16m funding under the Precinct Support Scheme to upgrade three local parks in Frenchs Forest – Brick Pitt Reserve, Akora Reserve and Rabbett Reserve.
The draft Special Infrastructure Contributions (SIC) supports the strategic objectives of the draft place strategy and will help provide up to $37.3 million to pay for the infrastructure needed for the development of Frenchs Forest.
The Forest High School will be relocated to a new site in a portion of 187 Allambie Road, Allambie Heights. The new site is located within the current intake area of the school. Development of the new town centre will only occur once the new high school opens.
Endangered Little Tern Colony On Central Coast Has Most Successful Breeding Season In Over 20 Years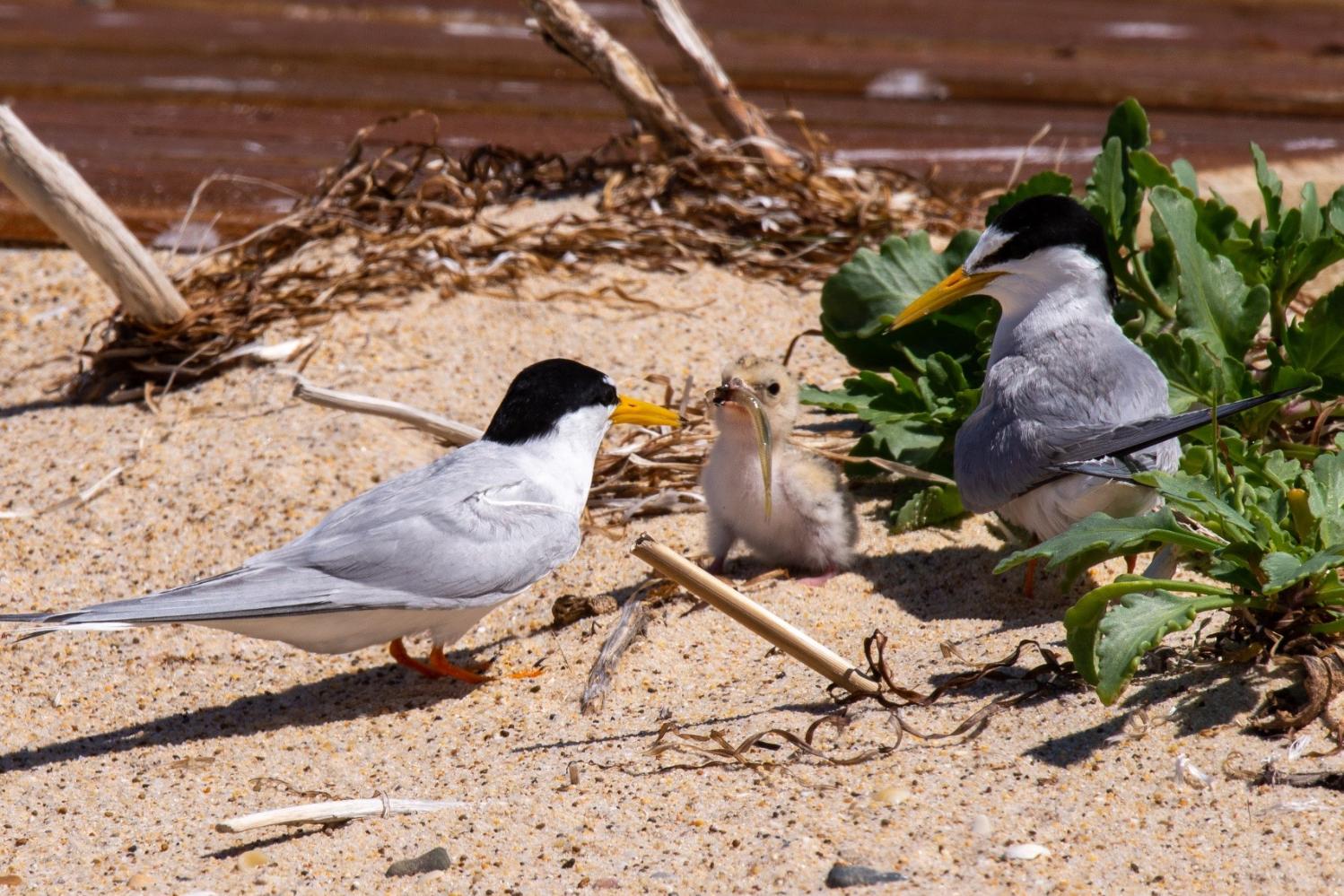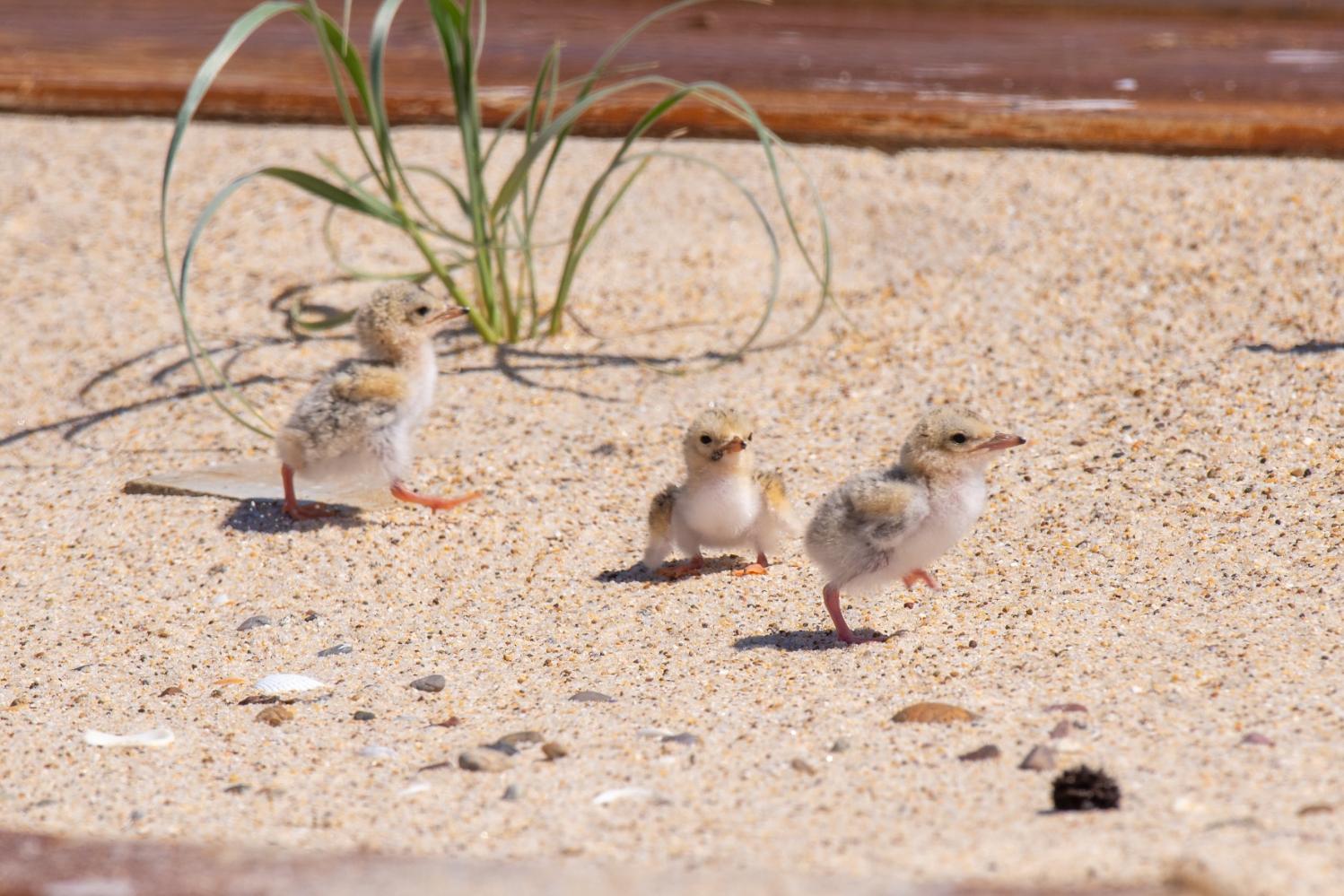 For those who enjoyed last Issue's 'Ground Nesting Birds of Pittwater', some great news from the Central Coast - it's worth noting that Little Terns have been seen and recorded in our area and now we may have even more of them visiting!!:
Tuesday, 20 July 2021 - From Central Coast Council
Central Coast Council's work to protect the Little Tern has seen record numbers of the endangered coastal bird at Karagi Point North Entrance, officially marking the site as crucial for the species' ongoing conservation.
Council Environmental Education Officer, Nick Carson said the Karagi Point breeding colony was considered the most important nesting site in NSW for the 2020/21 breeding season.
"In December last year we knew we were on track for a record baby boom of the feathered kind, but even then our estimated numbers were still shy of the final results," Mr Carson said.
"With an estimated 72 breeding pairs, 97 nests, 236 eggs (approximately 2.4 eggs per nest) and 152 chicks being observed, these figures were greater than what was observed at any other site in NSW for the 2020-21 breeding season.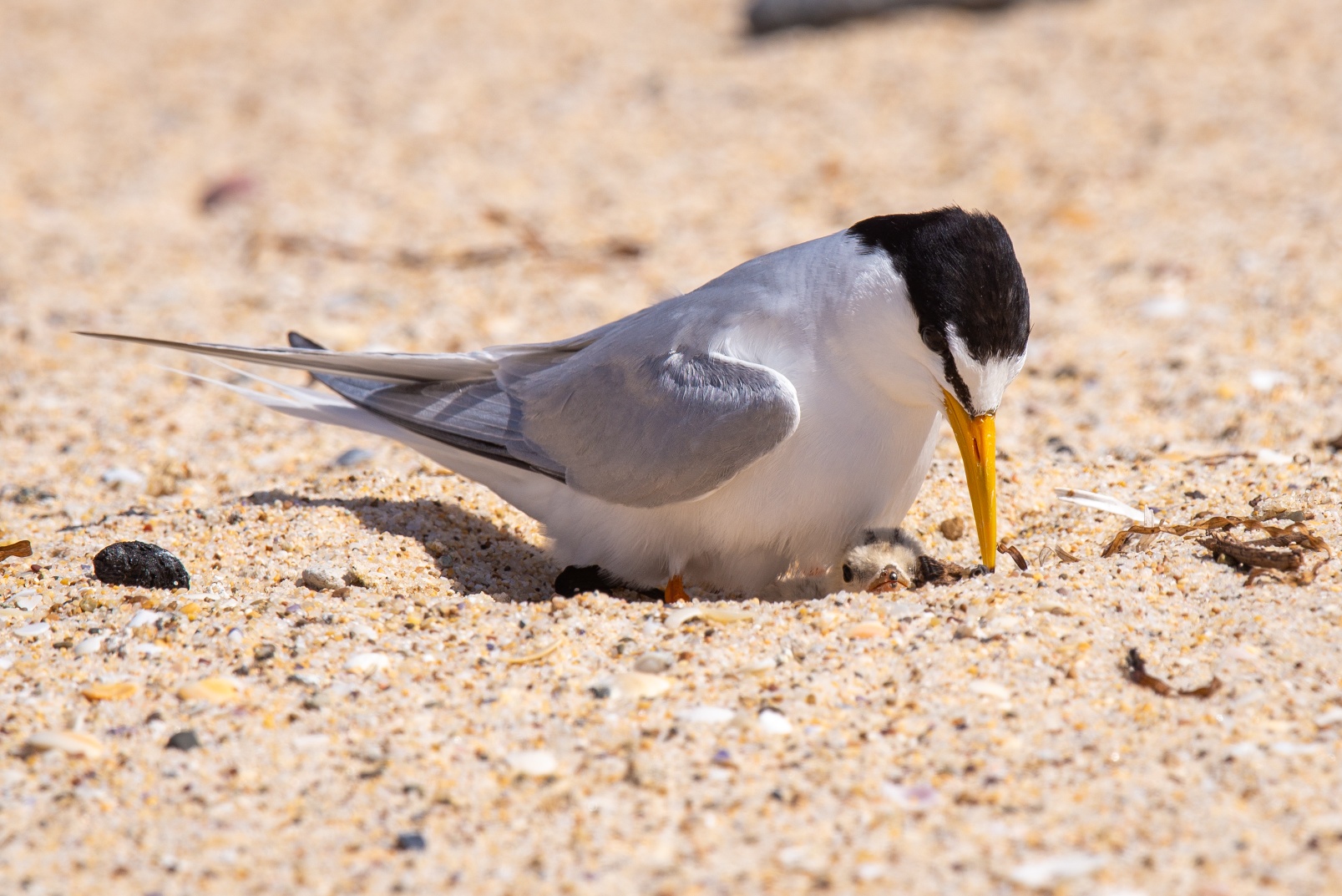 "An average of 0.71 chicks successfully fledged per breeding pair, and with only 350 chicks believed to have successfully fledged throughout the same period in NSW, this means that one seventh of the population can be attributed to Karagi Point alone.
"This was clearly the most successful breeding season seen at Karagi Point in over 20 years of monitoring. We're very lucky to have Little Terns visit us from as far away as Indonesia and South-east Asia every summer and it is exciting to be part of something so special as ensuring the survival of a species into the future.
"This incredibly successful (and encouraging) breeding season can be accredited to best practice management and monitoring by Council, abundant food sources and a healthy adjacent lake system."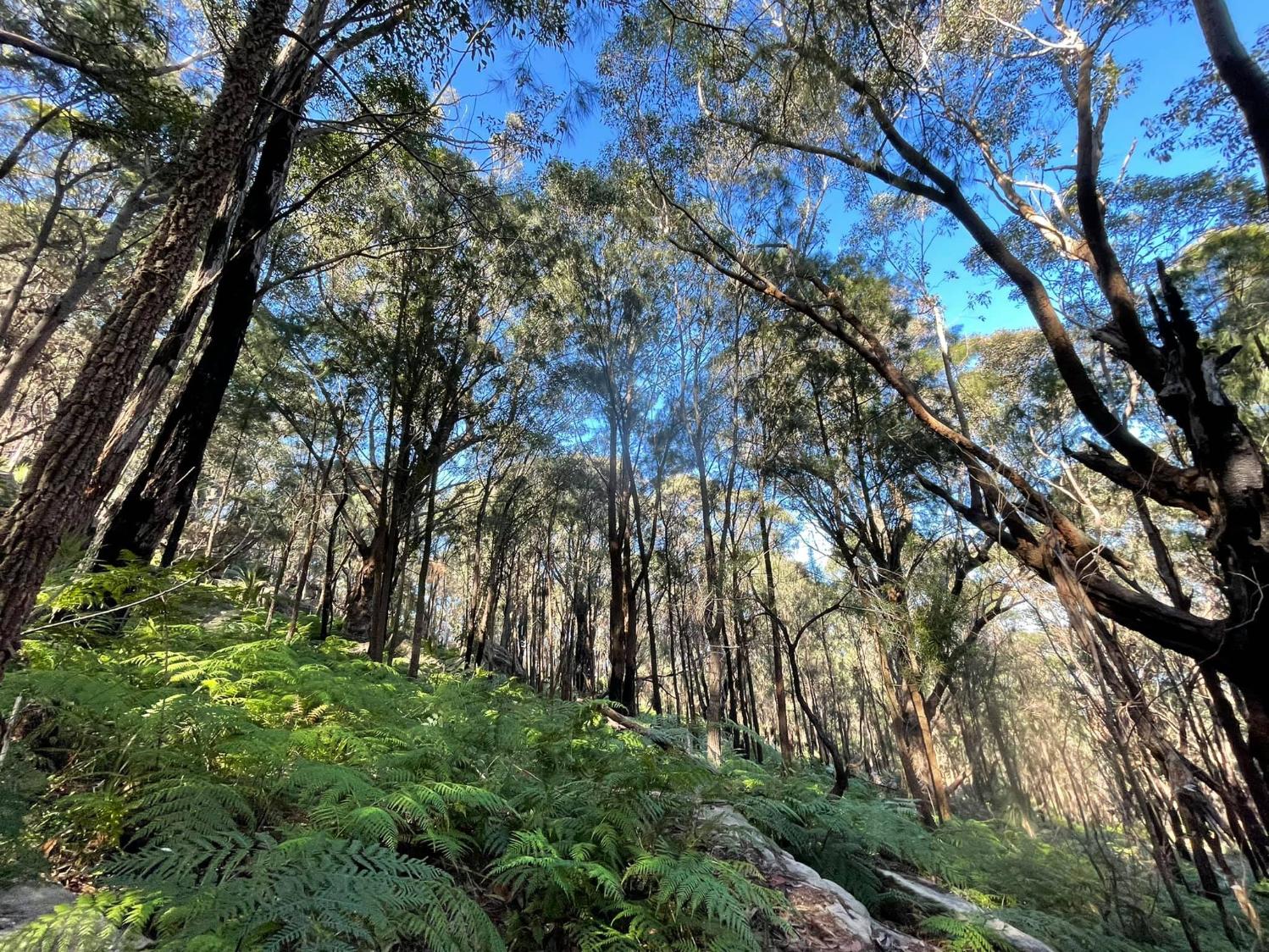 Above Deep Creek, Narrabeen - a cathedral of natural beauty - photo by Margaret Woods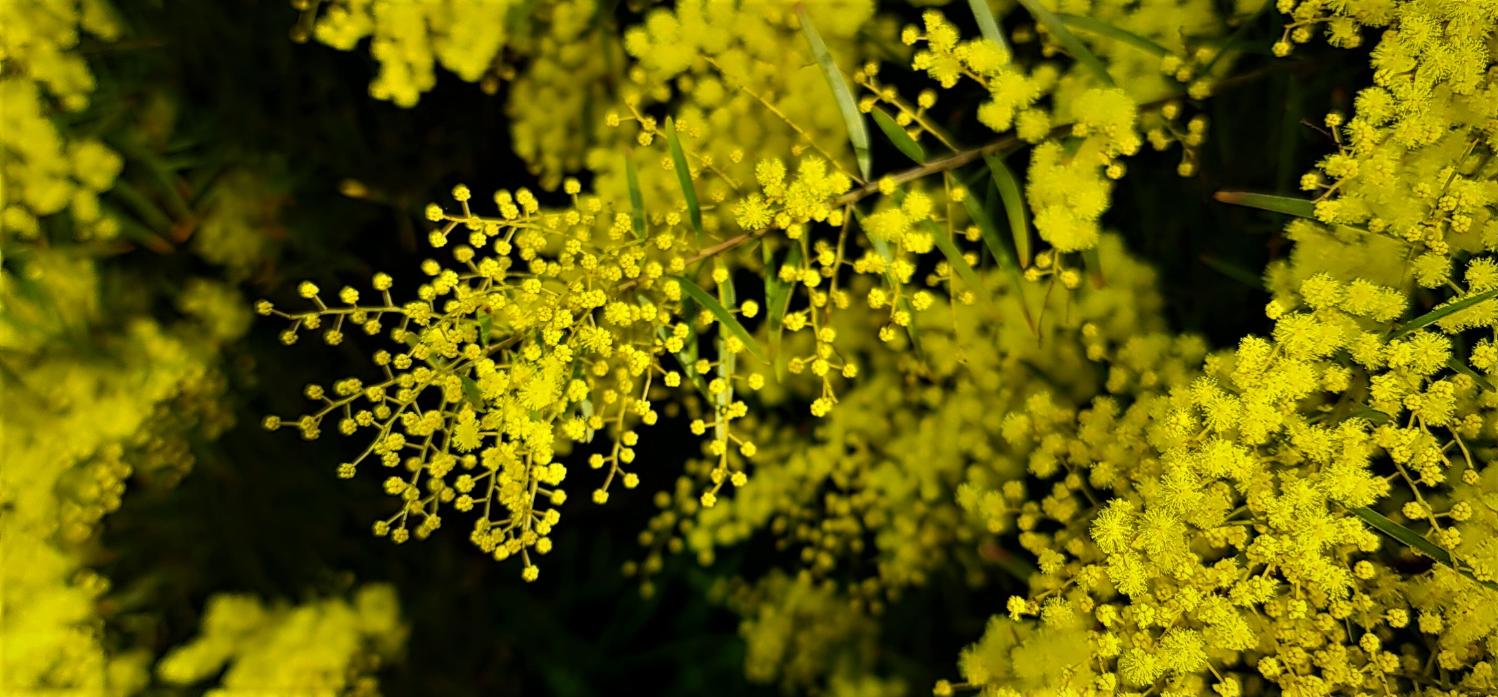 Late Winter flowerings, Warriewood, July 2021, photo by Joe Mills.
Past Features Archives (pre 2014)
Pittwater Online News was selected for preservation by the State Library of New South Wales and National Library of Australia. This title is scheduled to be re-archived regularly.
Archived Issues (2014 on) may be accessed here: pandora.nla.gov.au/tep/143700