April 18 - 24, 2021: Issue 490

Stop PEP-11 Paddle-Out At Mona Vale Shares Community's Vision For End Of This Licence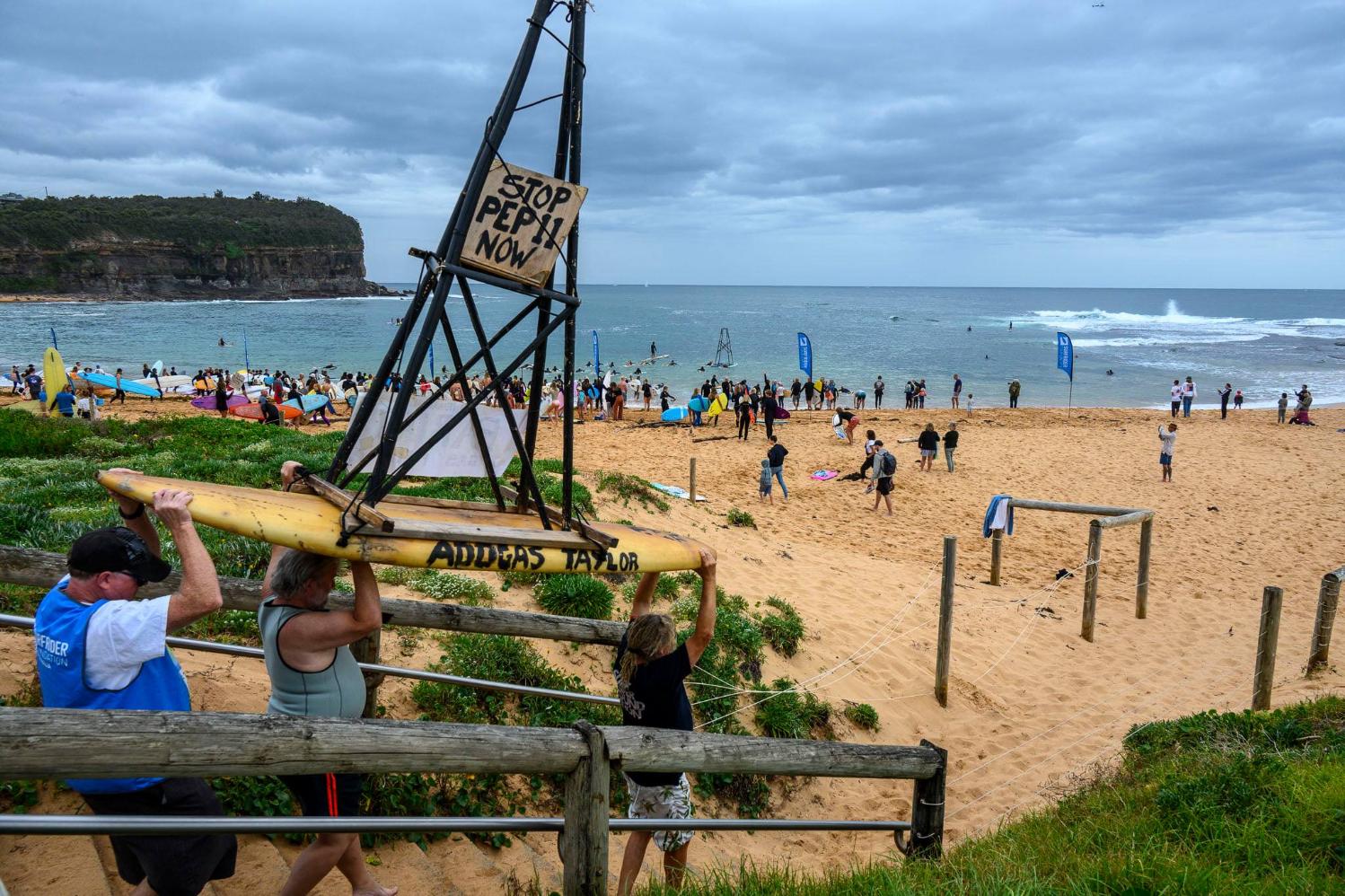 Over two months have elapsed since the expiry of the PEP-11 exploration Permit (February 12th, 2021) with the proponents free to pursue further development until a decision is made by Federal Minister for Resources, Water and Northern Australia, the Hon Keith Pitt MP.
Mr. Pitt is maintaining a deafening silence on the subject after stating on February 5th, 2021, ''I am waiting on Mr Barilaro's advice as the other joint decision maker. And once again, we will work our way through this systematically and methodically and make decisions based on facts. Minister Barilaro is the joint decision making authority. He will put forward New South Wales view. Based on that advice, plus my own, and of course the world class regulator in NOPSEMA, we'll make a decision.''
NSW Minister Barilaro stated on February 17th, 2021 he had written to Mr. Pitt stating his position was not to renew the licence. However, Mr. Barilaro did close his statement passing the buck back to the federal minister, reminding all that the licence had first been issued by the federal level and the final decision rests with them, not him, so no fire may fall on the state government's head when the federal government does as it has indicated it will.
Given Mr. Pitt was asked on that same date, February 4th, how drilling for gas fits in with net-zero emissions, and started deflecting with refrains about the also less popular by the day Angus Taylor and how 'gas will be an important part of our recovery' it's fairly obvious by now there is absolutely no intention of doing anything other than 'business as usual'.
Lack of willpower, lack of representation of those who voted them in, lack of integrity and lack of intelligence to this degree would be a comedy if it wasn't already a tragedy unfolding and manifesting all around us, through everything, right here and now.
The ABC 4 Corners program of this past week 'Fired Up' shines an indelible light on the federal government's 'gas fired recovery' spiels and who was appointed to finesse this agenda for themselves. Visions of pigs lined up at a trough abound, except that would be discourteous to the real species this has been derived from – they are much cleaner, much purer of heart.
Unfortunately it's one load of balderdash too much for residents and as the proponents keep making announcements of advancing their plans for drilling and installing a well – the latest released this week, the deafening silence begins to take on another inferred tone.
The Australian public has grown weary of the millions being ignored to further the greed of a handful and are meeting the slyness deduced in the months long silence and it's morally illegal licence to complicity keep advancing such schemes, along with Mr. Pitt's invisibleness, with being quite visible, completely apparent and nosily upfront.
On Saturday April 17th, while the Narrabeen Classic was being surfed in pristine waves two beaches south, locals gathered at the Mona Vale Basin to reiterate their opposition to any renewal for the PEP-11 license.
This was a #stopPEP11 paddle-out, one of three that are being rolled out in coming weeks, and saw a healthy turn out (at relatively short notice), including Surfing Australia Chair Layne Beachley AO, Tom Carroll, Oli and Louis Leimbach from Lime Cordiale, MP for Pittwater, the Hon. Rob Stokes, Pru Wawn and Jack McCoy along with local surfers and grommets, all there to show their opposition to mining for gas off our Sydney beaches.
Terrigal will host a paddle-out on March 24th and Newcastle takes its turn on May 1st.
The paddle-out is, traditionally, an ocean-based ceremony consisting of a mix of spiritual, metaphysical, and ritual actions that acknowledge, remember, and celebrate a fallen peer. It's a symbolic rite of passage that showcases traces of connection and separation, departure, and continuity.

It's a ceremony of mourning - a final farewell, a funeral.
At the Mona Vale Stop PEP-11 paddle-out Layne Beachley said, ''It's just an absurd decision to consider drilling for oil and gas off one of the most populated pristine coastlines in the world.''
''It beggars belief that there is even a consideration of renewing this (licence) when we know this form of mining is now archaic. We need to start heading towards renewable energy, and, in the event that something goes wrong, it will be catastrophic.
Let's get rid of this and embrace renewable energies so we can transform the world we live in.''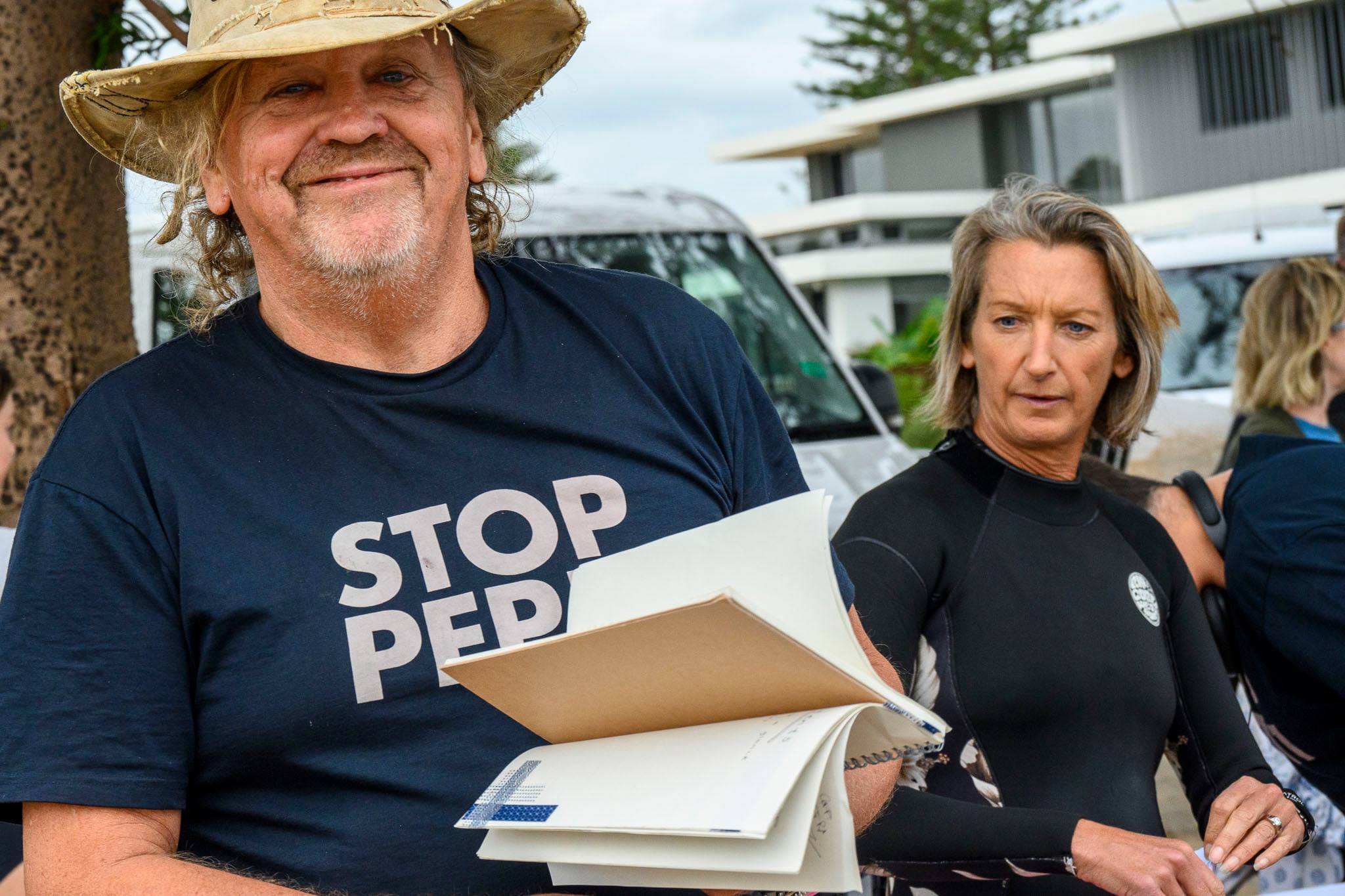 Brendan Donohoe, President of Surfrider Foundation Northern Beaches and Layne Beachley AO at Mona Vale Basin on Saturday

Oli Leimbach said ''We grew up on these beautiful pristine beaches and you don't realise how beautiful these waters are until you've travelled the world and then come home.
We go to California quite a lot and when you go down to the beach there we were surprised as although you have this vision of the Californian beaches being beautiful, which they are, you can see oil rigs out on the horizon. It's a massive eyesore.
Earlier Layne Beachley was talking about walking along Huntington beach and finding oil on her feet.''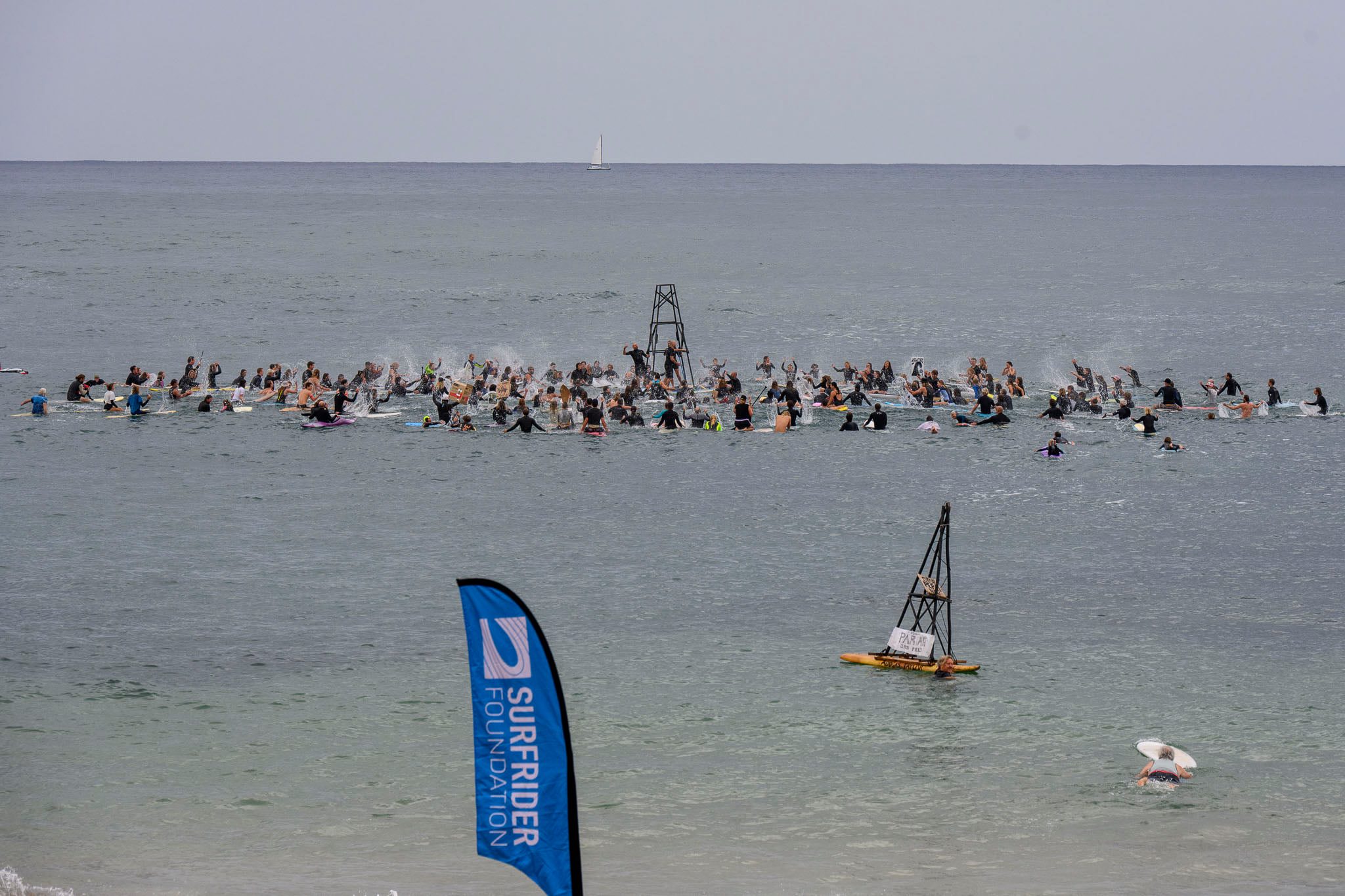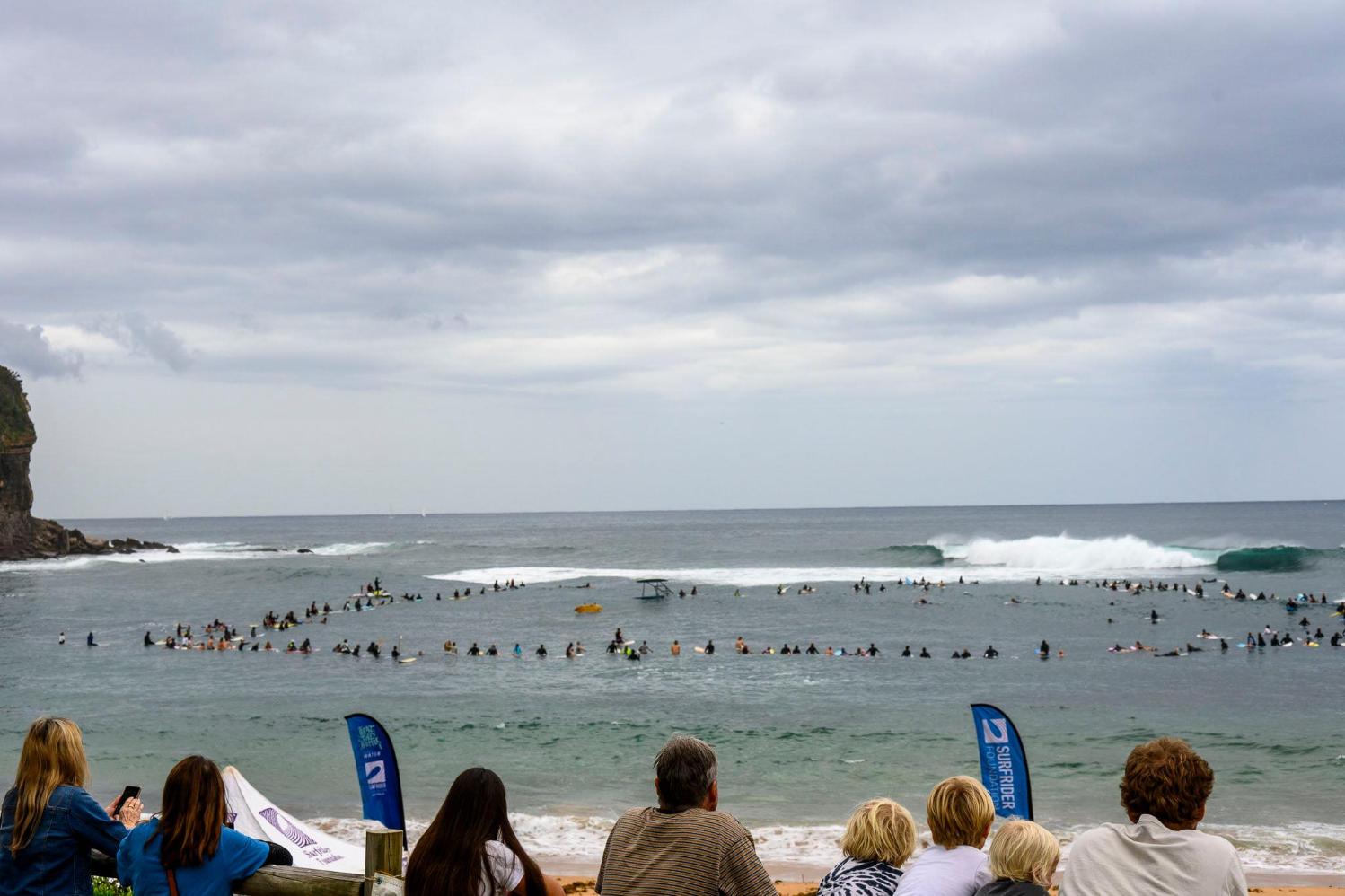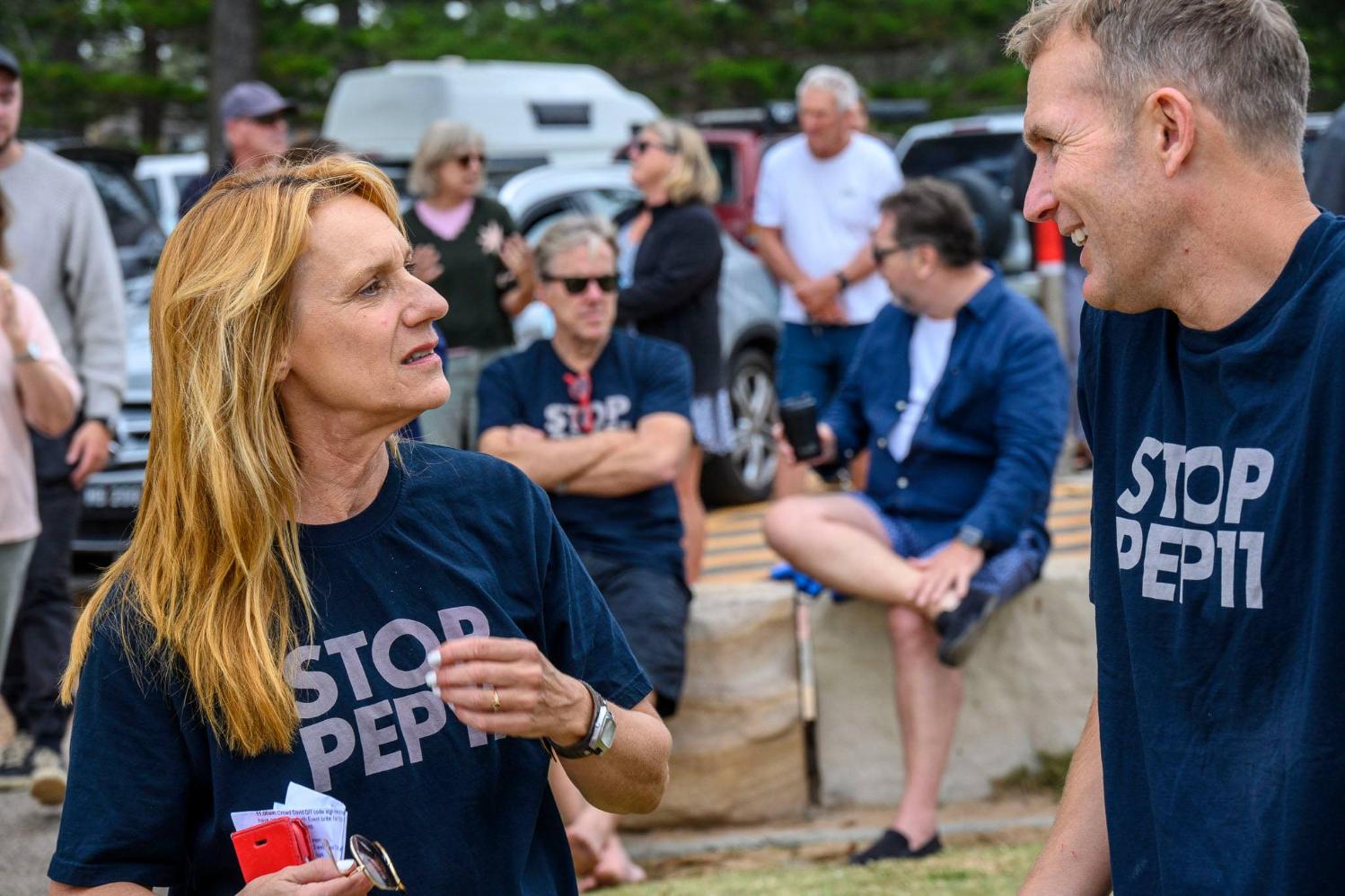 Rowan Hanley, volunteer member of Surfrider Foundation Northern Beaches talking to MP for Pittwater Rob Stokes at the Stop PEP-11 paddle-out. Photos by
North Narrabeen Welcomes Back Championship Tour At WSL Rip Curl Narrabeen Classic Pres. By Corona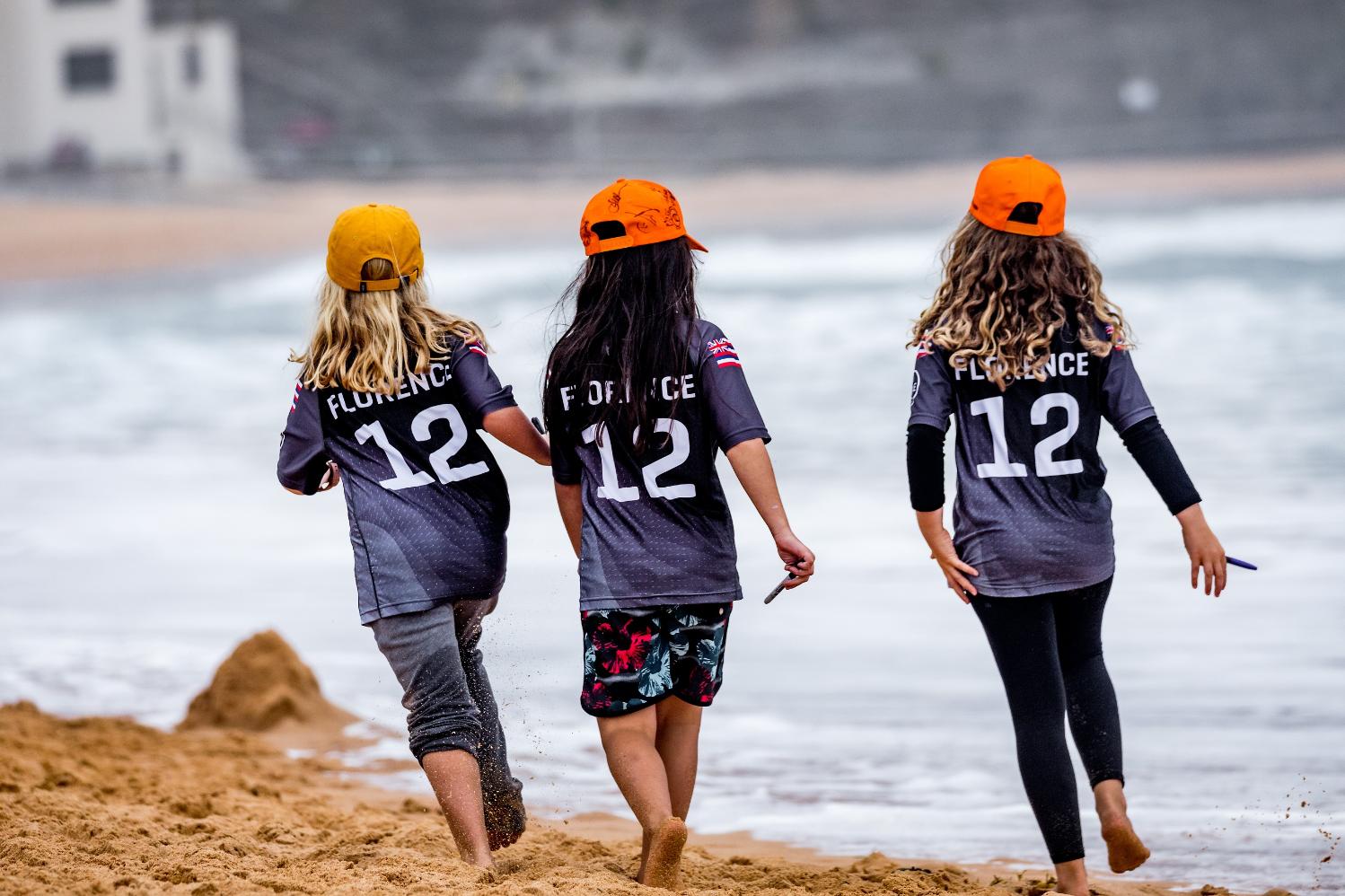 A boon for all generations of those passionate about surfing - John John Florence fans at North Narrabeen as the surfing commenced on Saturday. Credit: © WSL / Cait Miers
Shaky Start for Women's Top Four
Fanning Set For Elimination Round Showdown at Narrabeen
Amuro Tsuzuki Gets Start on Championship Tour
More Available at WorldSurfLeague.com
Saturday April 17, 2021
Report by WSL
The Rip Curl Narrabeen Classic presented by Corona, the third stop on the World Surf League (WSL) 2021 Championship Tour (CT), commenced in tricky conditions for the women's and men's opening rounds. The top four women on the Leaderboard had shaky starts to their Narrabeen campaigns, while the men's heats saw domination from the high seeds. The stage is now set for the Elimination Rounds.
Three-time World Champion Fanning Returns to Competition
Fans eagerly awaited Rip Curl wildcard Mick Fanning's (AUS) competitive return at North Narrabeen in Heat 6 of Round 1, his first time back in a CT jersey since retiring from full-time competition in 2018. Coincidentally, Fanning came up against reigning World Champion Italo Ferreira (BRA), who he competed against in his last heat back in 2018, along with Aussie rookie Morgan Cibilic. Three-time World Champion Fanning had his work cut out for him as Ferreira posted the highest two-wave combination of the day with his trademark display of aerial and sharp surfing. Fanning was unable to find his winning rhythm and will take his chances again in the Elimination Round when competition resumes.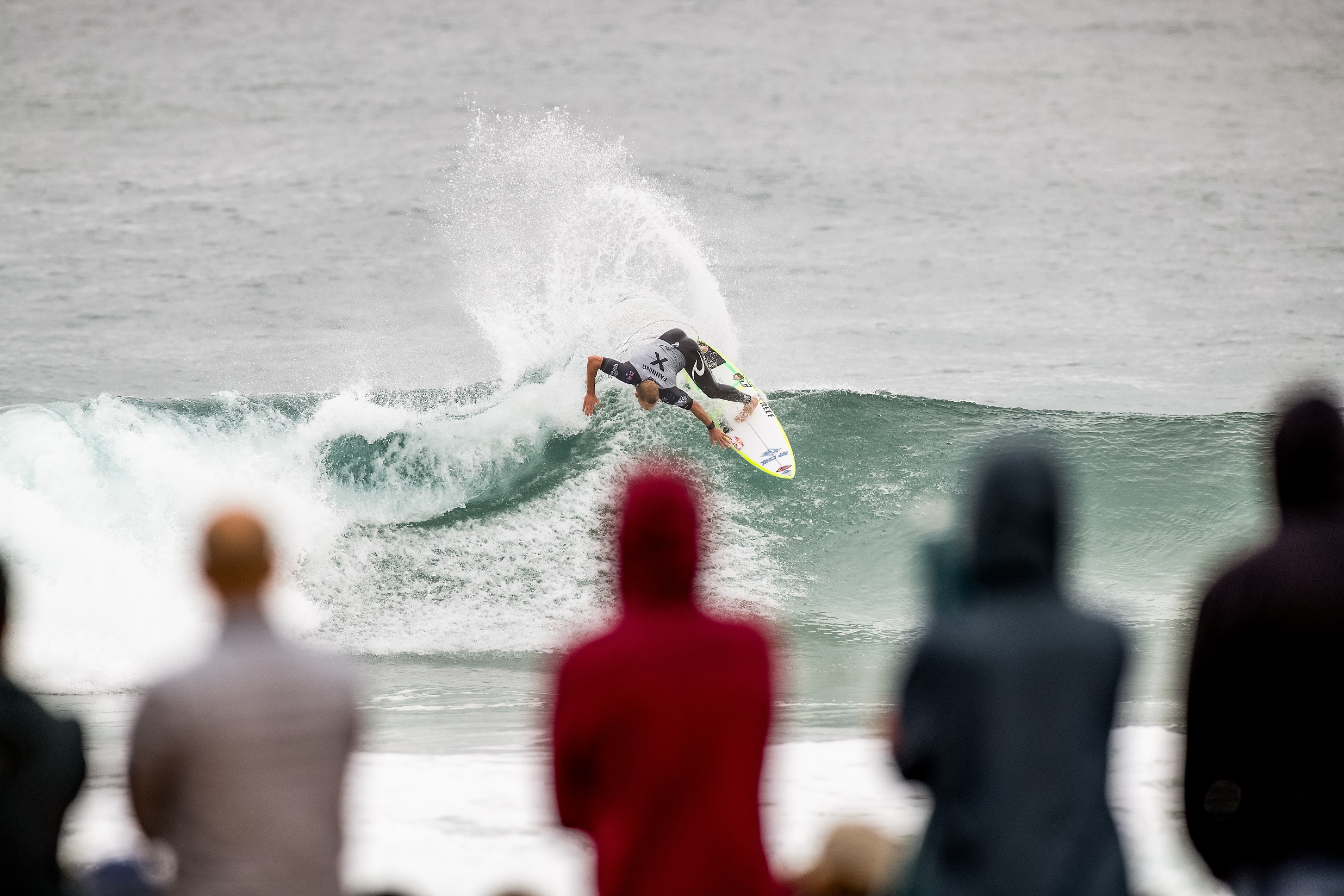 Fanning in his first Heat at Narrabeen. Credit: © WSL / Matt Dunbar
"It's amazing to see all of these fans down here," said Fanning. "I was actually quite emotional as I ran down the beach before paddling out hearing all of the cheers and seeing all the smiling faces. I'm really disappointed I didn't put on more of a show though. It was always going to be such a tough task against Italo (Ferreira) and Morgan (Cibilic), they got first and third at the last event so are in epic form. I'm just hoping in my next heat I can get a bit more opportunity and put on more of a show."
"I have great memories with Mick (Fanning) and it is always a pleasure to surf with him," said Ferreira. "I was excited for that heat and to put everything on game. I hope I can keep going and pushing the limit. It is hard out there, the swell is the other direction so it makes the waves kind of close out, but sometimes it is good. My board is fast so I can make the closeouts. I am so excited for the next challenge."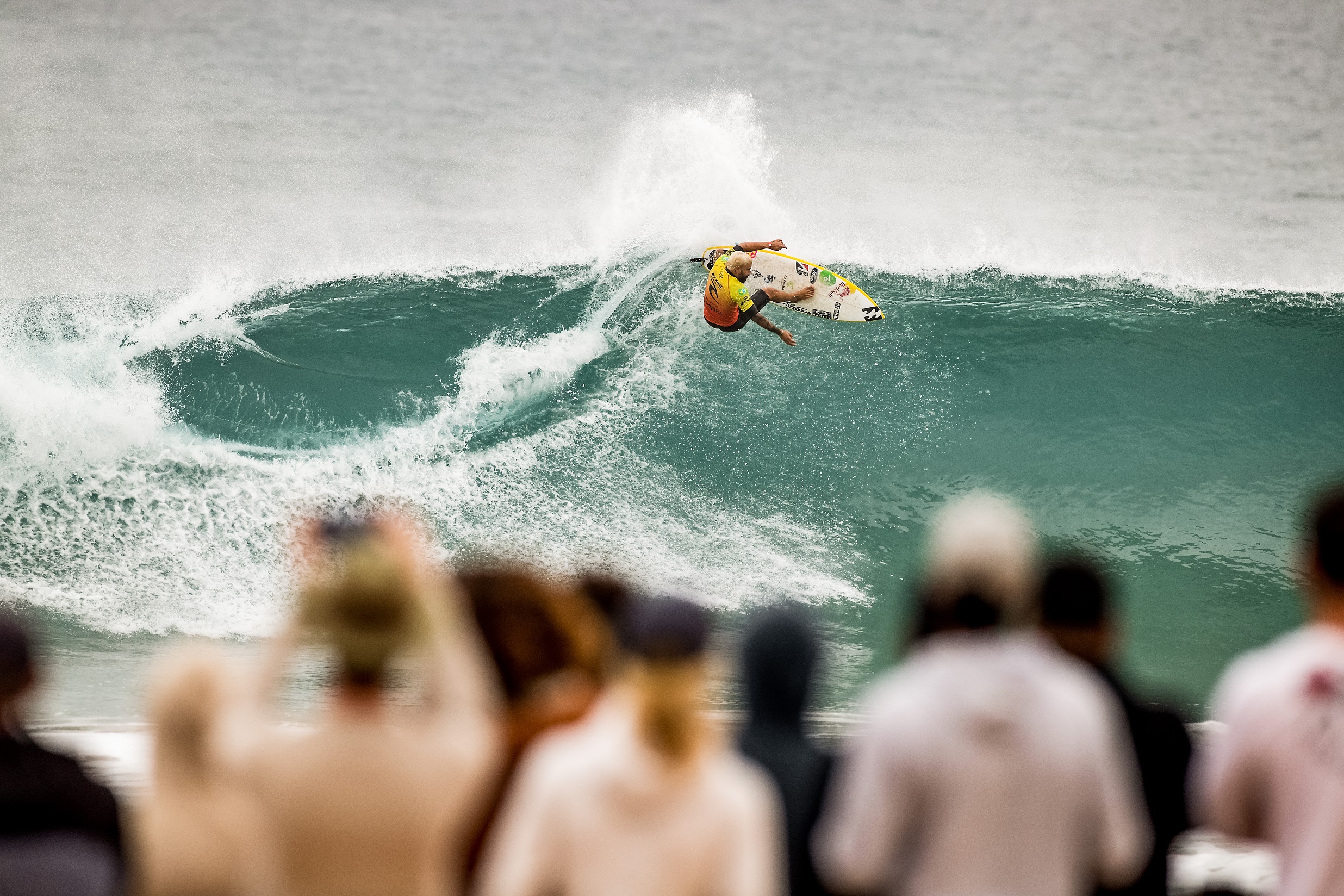 In form Ferreira in his first Heat at Narrabeen. Credit: © WSL / Matt Dunbar
Australia SailGP Team For Season Two From (Mostly) Around Here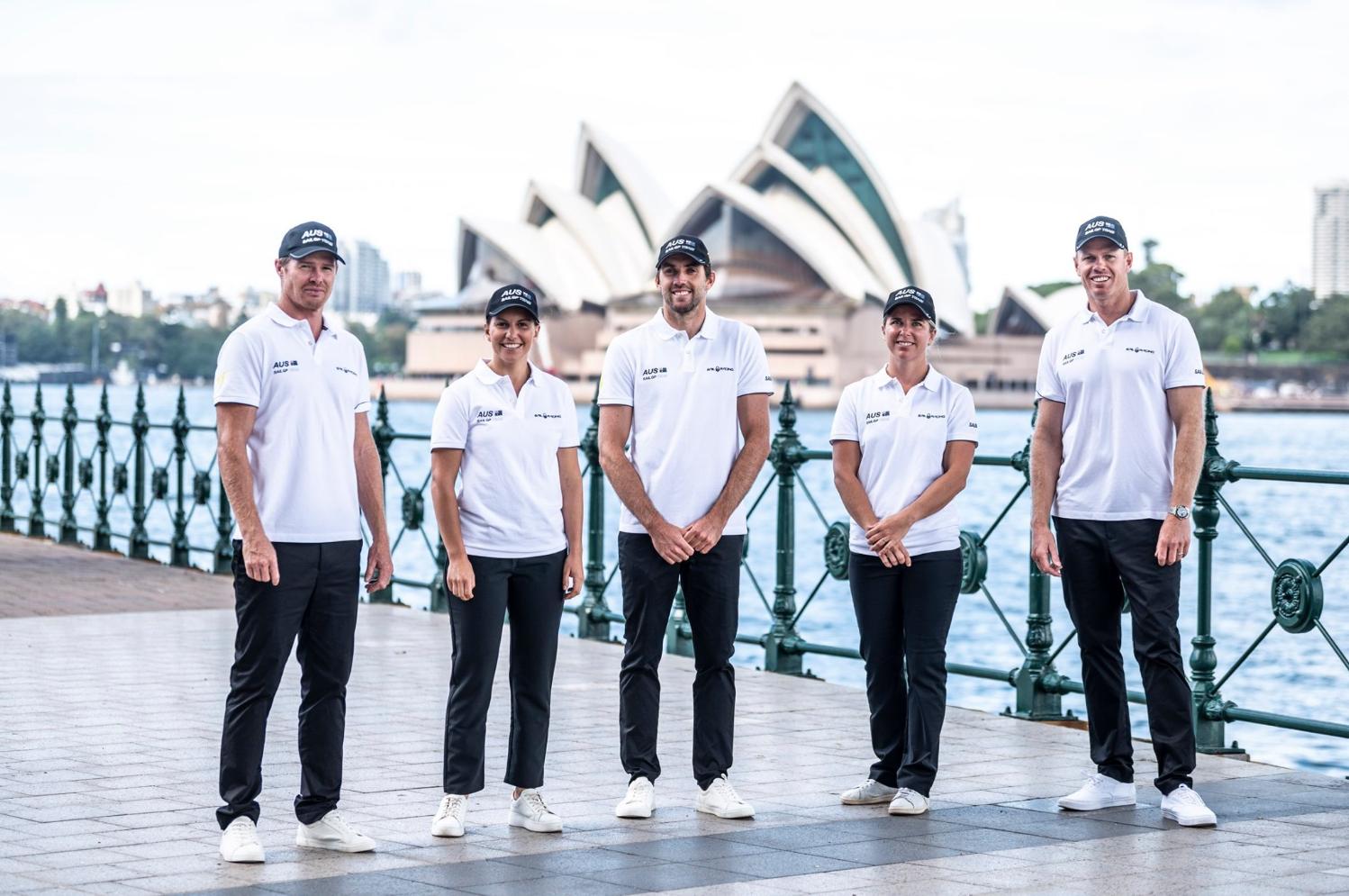 (L-R) Tom Slingsby, Lisa Darmanin, Jason Waterhouse, Nina Curtis and Sam Newton. © Australia SailGP Team
On April 8th, while you were on holidays, Olympic gold medallist and defending SailGP Champion Tom Slingsby revealed his team line up set to defend Australia's championship title in SailGP Season 2.
After securing a history making win as the inaugural SailGP Champion, Slingsby, the Australian team helm and CEO, and former Gosford Sailing Club (GSC) sailor has selected several members of his winning squad to join him in Season 2, which commences in Bermuda on April 24-25.
In addition to Slingsby the returning athletes from his winning squad include Kyle Langford, 31, of Lake Macquarie, New South Wales (wing trimmer); Jason Waterhouse, 29, of Newport and a member of both the Palm Beach Sailing Club and RPAYC (flight controller) Sam Newton, 35, of Sydney (grinder) and Kinley Fowler, 33, of Perth, Western Australia, (grinder/flight controller).
Nick Hutton will join the Australian team for Season 2 as a grinder, replacing Ky Hurst who has stepped aside from the team to spend more time with his family in Australia. Hutton, hailing from the United Kingdom, is the only international member of a majority Australian crew. He joins the team with a wealth of experience onboard the high-speed F50 catamaran, having previously sailed in the Great Britain SailGP Team. He will join the crew after recently competing with the British Challenger for the 36th America's Cup.
The squad also includes the two successful candidates from the Australia SailGP Team female development programme, Olympic silver medallists Lisa Darmanin, 29, also of the Palm Beach Sailing Club and RPAYC and Nina Curtis, 32, Palm Beach Sailing Club and RPAYC who started out sailing at the Avalon Sailing Club. The initiative, launched last year, aims to fast-track the inclusion of female athletes in the league.
Commenting on the team line up for Season 2 Slingsby said: "Our squad features some of our nation's most talented sailors, including Olympians, Sydney To Hobart alumni and America's Cup champions. We've proven what a strong team we have after our success in Season 1 and their ability and experience on the F50 is going to be crucial when we go up against tough new competition this season, like Peter Burling's New Zealand Team and Jimmy Spithill's USA Team.
"We have used this time off between seasons to review our performance as a team and assess improvements we can make. We are coming back more hungry than ever, with the goal to bring home the Championship trophy again for Australia."
The dynamic league's expanded Season 2 calendar will consist of eight Sail Grand Prix events, beginning in Bermuda on April 24-25, and visiting Taranto, Italy (June 5-6), Plymouth, Great Britain (July 17-18), Aarhus, Denmark (August 20-21), Saint-Tropez, France (September 11-12), Cádiz, Spain (October 9-10), Christchurch, New Zealand (January 29-30, 2022) and San Francisco, USA (March 26-27, 2022).
Australian fans will be able to watch Slingsby and his crew defend their title on FOX SPORTS, SailGP's Official Broadcast Partner in Australia, who will air each of the global races on the network, starting with the Bermuda event, and via the award winning SailGP APP.
Keeping it all local, the Australian SailGP crew capsized the US SailGP F50 foiling catamaran during a practice session on Bermuda's Great Sound on Friday, much to Jimmy Spithill's alarm and then bemusement when it turned out no one was hurt and no damage was done to the vessel. Due to COVID-19 restrictions in Bermuda, only four boats are allowed in the water at a time, and the Jimmy Spithill led US Sailing Team had already been on the water for their practice session, and loaned their F50 to the Australians for the session.
The SailGP organisers made an on-board video available after the incident.
"There was clear damage to the top of the wing, likely caused when it hit the surface of the water with some force and ended submerged - with the Aussies all taking cover on the raised starboard side of the upturned F50," SailGP reported.
"Today, the Australia SailGP Team capsized during training on the Great Sound. No injuries were sustained," SailGP said in a statement.
"The Australia team was training on the United States F50 at the time. The boat is being towed back to dock to assess the damage, but minimal damage is expected.
"The capsize today reiterates why it is so essential that the world-class athletes have time to train on board these boats and the importance of on-water safety trials taking place prior to racing," the SailGP statement added.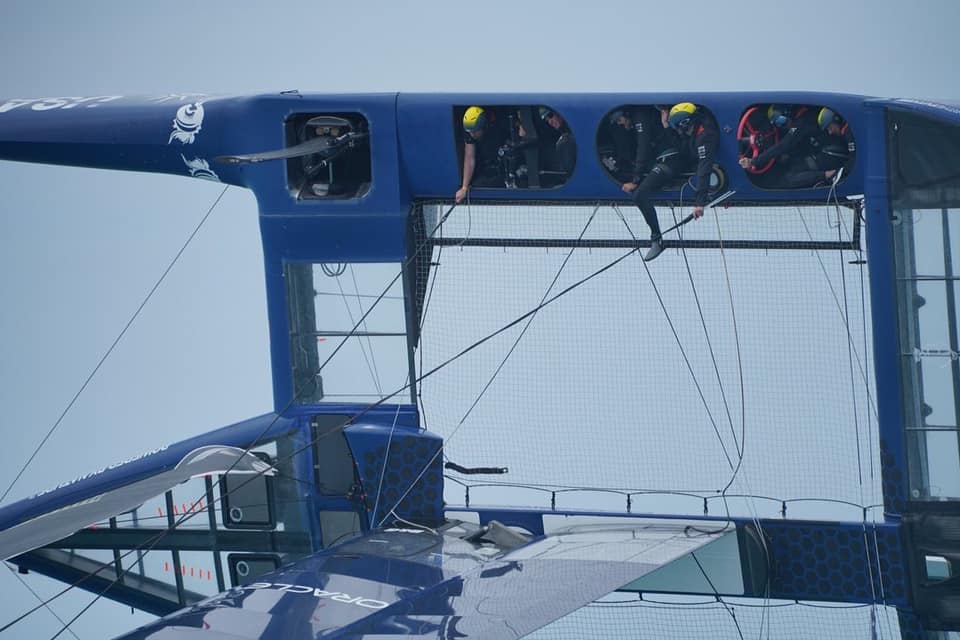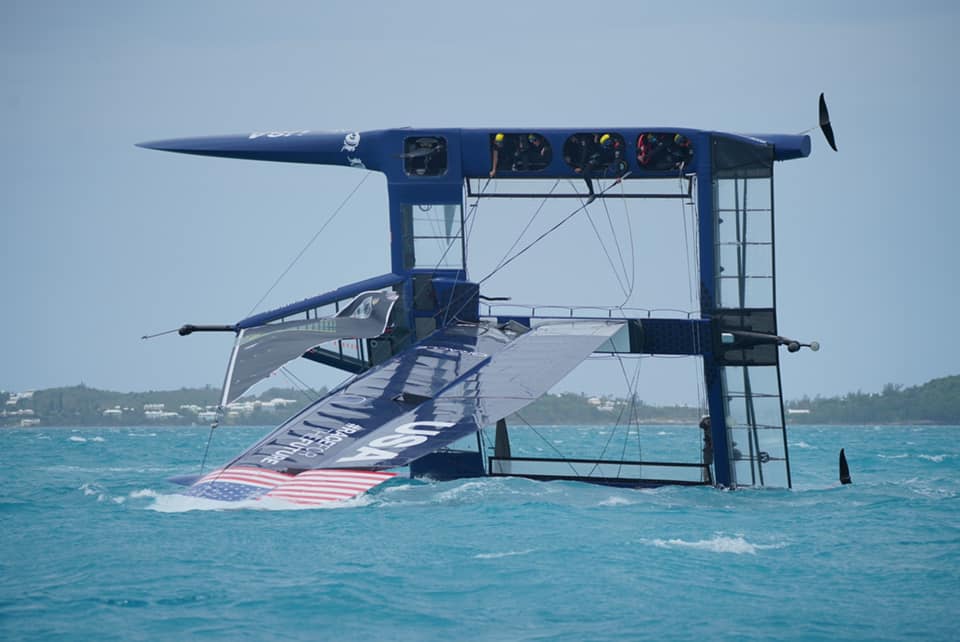 Whoops a 'daisy: Australia SailGP capsizes in the Great Sound, Bermuda - Friday,April 16, 2021 - photo © SailGP

United States SailGP Team took to social media to poke a bit of fun at their rivals after learning that their crew was safe and their boat had only suffering minimal damage.
"Our team is happy to hear that all crew are safe and accounted for and damage is minimal," the team said.
"Apparently Tom Slingsby [Team Australia helmsman and CEO] wasn't used to going that fast."
"Oi James Spithill sorry about your boat mate, I know we promised we'd return it on one piece
"We had our first capsize today on the Great Sound whilst training on United States SailGP Team F50. All crew are safe and sound
"Jimmy, we believe we owe you a beer....or 10"
Yep: Straya!
A reminder that you can follow via the SailGP APP. and keep updated at: https://sailgp.com/
2021 Junior Lifesavers Of The Year Announced: Warriewood's Vivek Sirkari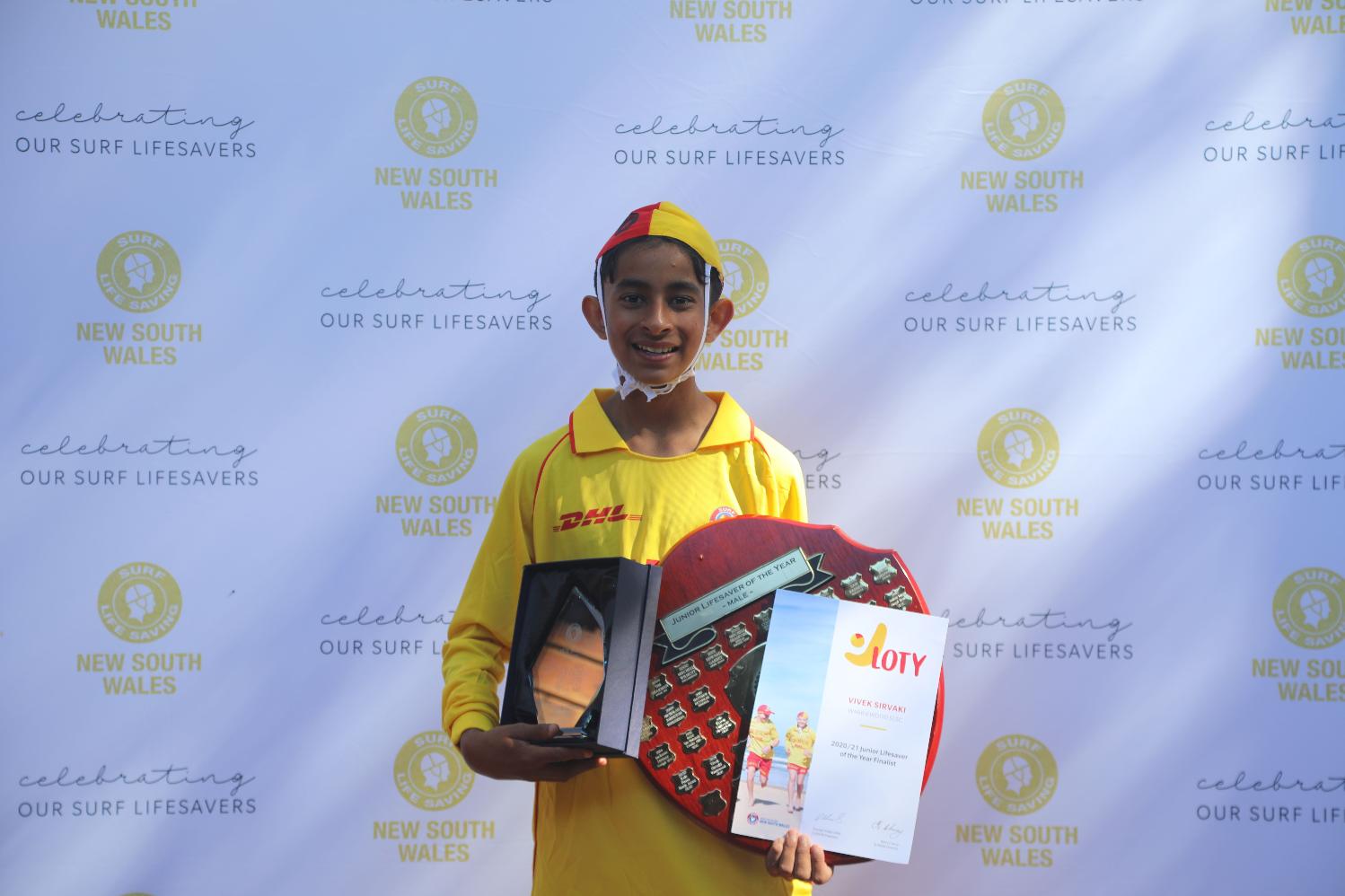 Vivek Sirkari from Warriewood SLSC. Photo by SLS NSW
The 2021 Junior Lifesavers of the Year from every Surf Life Saving Branch in NSW have come together in Sydney last week to challenge themselves and learn new skills. Of the 22 young participants, the overall NSW Junior Lifesaver of the Year (JLOTY) award was presented to Taylah Moffitt from Kempsey Crescent Head SLSC and Vivek Sirkari from Warriewood SLSC.

These outstanding young members were selected after panel interviews and enjoyed three days of fun, adventure and leadership training on Sydney's Northern Beaches.
SLSNSW President George Shales OAM said the selection of an overall winner this year was extremely tough, with such a high calibre field of young leaders participating in the JLOTY program. This is the 32nd year of the award program, recognising the achievements and contributions of the state's most outstanding Under 14 members.
"Our young members are the future of our movement," he said before announcing the winners for 2021. "We are re-imagining Surf Life Saving in NSW over the next few years and the people in this room are going to be the ones to achieve that."
The 2021 NSW Male Junior Lifesaver of the Year is Vivek Sirkari from Warriewood SLSC and the Sydney Northern Beaches Branch.
Vivek has been involved in Surf Life Saving for five years and has enjoyed developing his skills in the surf, successfully completing his Surf Rescue Certificate and building on what he has learned during the Nippers program. He says he can't wait to do his Bronze Medallion and go onto training as a crewman and eventually driver of the Inflatable Rescue Boats.
Vivek has issued a challenge to Warriewood club president John Delieu, who he says is an inspiration to him. "He'd better watch out because I'm coming for his job," says Vivek.
When asked what sort of program the young lifesaver would like to initiate if he had the chance, Vivek said it would be a Branch level program which improves water skills for those who are not strong swimmers. He says that as one of the smallest Nippers in his age group and a weak swimmer to begin with, his proficiency and skills in the surf have improved exponentially through the involvement in the Nippers program.
"While swimming in a pool is good, there are many techniques required to swim safely at the beach and I want to help people develop these skills so they have a greater chance to be safe in the water," he said.
After the presentation, a stunned Vivek spoke about his journey in Surf Life Saving and his love of his club.
"I started off as a little kid who never wanted to go in the water, I was such a puny boy and I was so afraid, and now I'm so comfortable on the beach, it's like a second home.
"My parents were born in South Africa and because of Apartheid they were unable to take part in Surf Life Saving. Coming to the Junior Lifesaver program was such a big opportunity, I would not want to waste it," said Vivek.
A very proud mum, Karuna, explained why she was so keen to get Vivek and his brother to do Nippers.
"I've always loved the beach and so I wanted him to be safe, so we got him and his brother to Warriewood SLSC to join Nippers. He has had so much support from the other Nippers, the Age Managers, the club itself… there was no one who thought it was too hard to teach him and they rallied around him.
"His achievement today is an absolutely massive achievement for Warriewood as a club, it's just amazing, the volunteering spirit and the helpful nature of everyone on the beach there."
Karuna recalls her own childhood growing up in Durban in South Africa under Apartheid, where the surf club was only accessible to white people and she said she was incredibly grateful that Surf Life Saving in Australia is so inclusive and welcoming.
"In Durban where I grew up, I remember seeing people in pink shirts out on the beach and asked my dad, 'can I do that?'. And my dad's response was, 'that's not for us'," she recalls.
"Coming to Australia and him being part of this opportunity is like a dream come true for me."
The 2021 NSW Female Junior Lifesaver of the Year is Taylah Moffitt from Kempsey Crescent Head and the Mid North Coast Branch.
Branch - State Surf Boat Carnivals Go Ahead Give A Good Splash For Local Crews At Season's End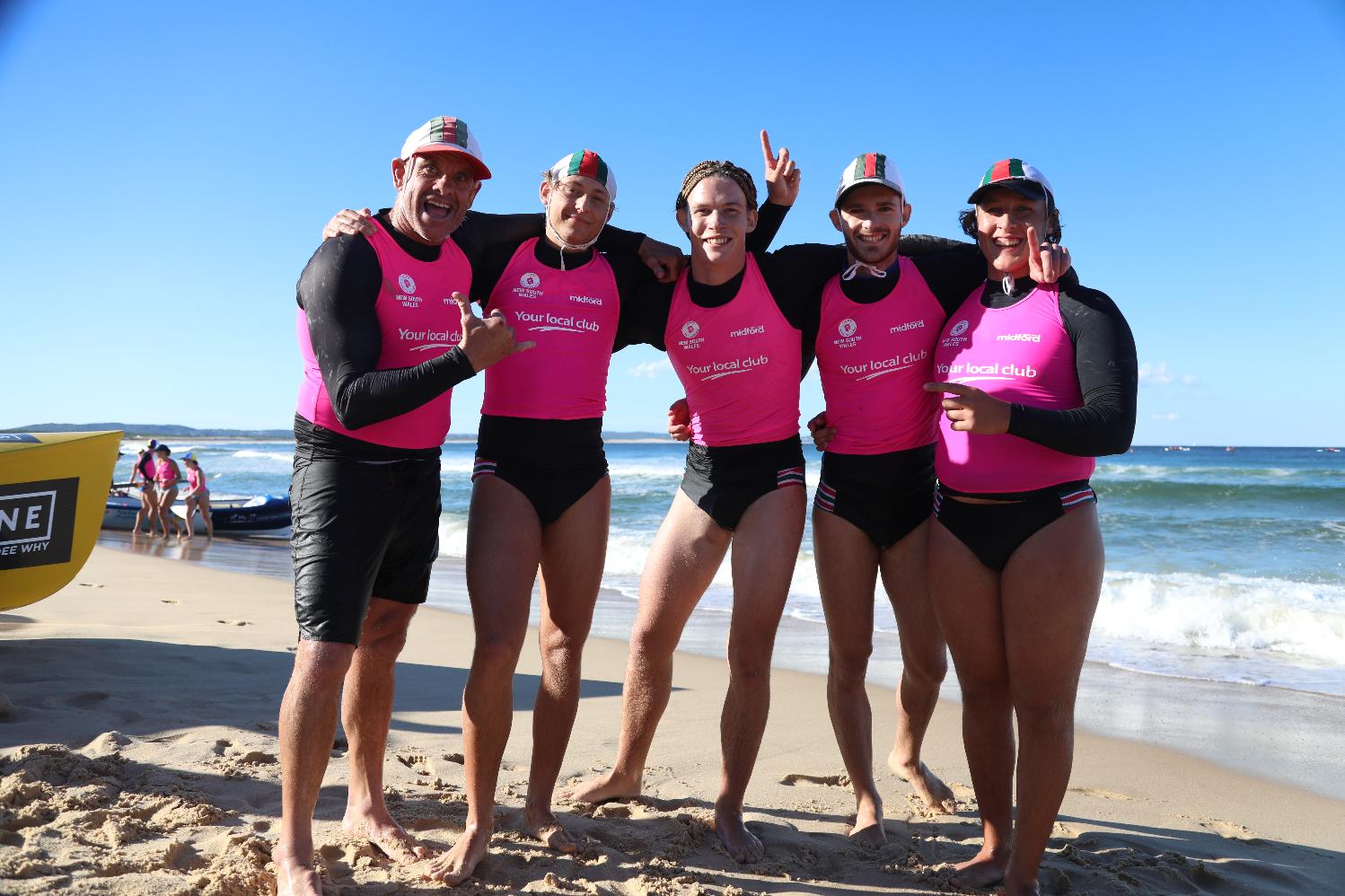 1st in U19 Men; Avalon Beach Hueys - State Champions. Photo by Surf Life Saving NSW

1st in U23 Women; Palm Beach Panthers - State Champions. Photo by Surf Life Saving NSW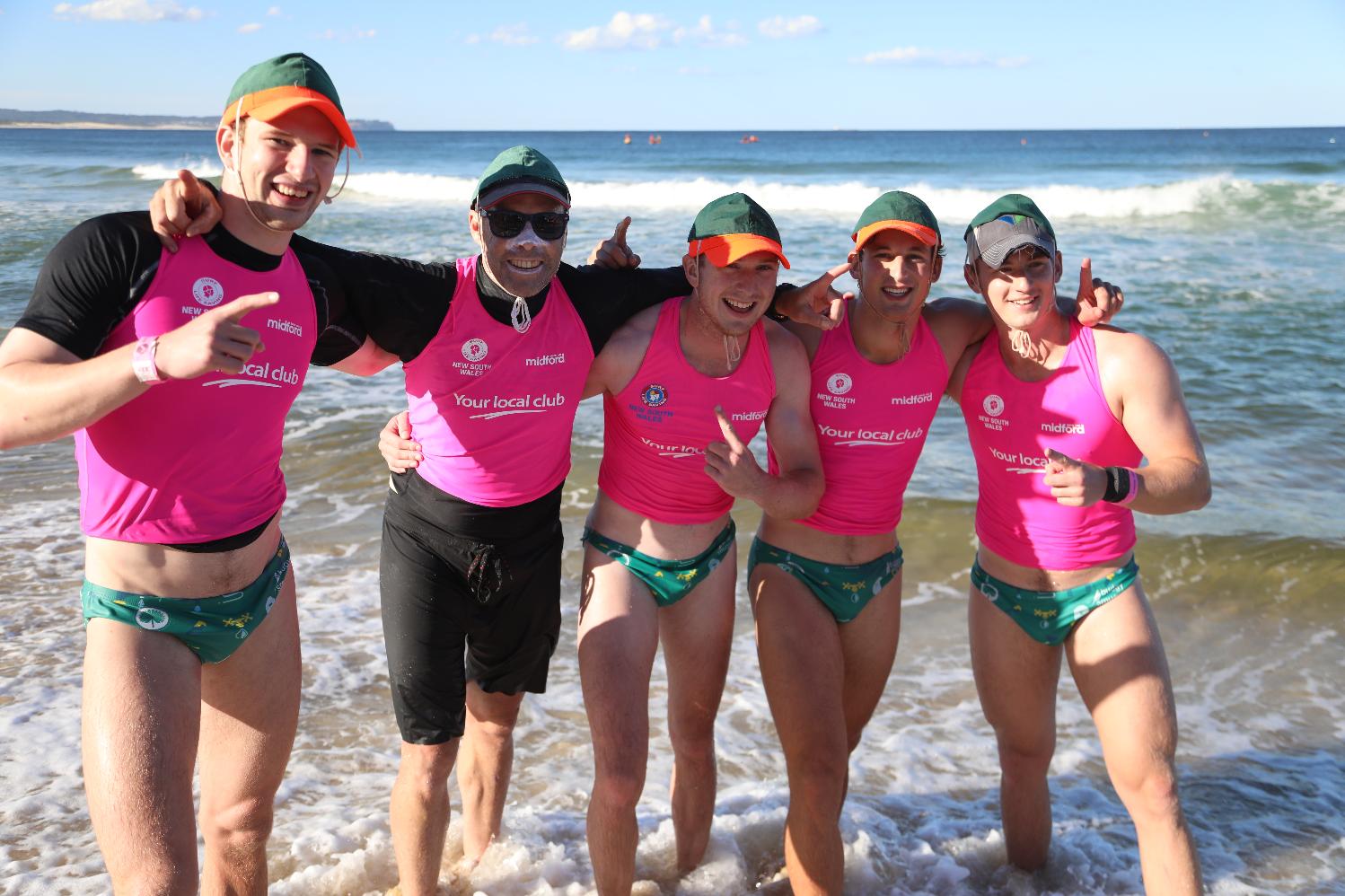 1st in U23 Men; Palm Beach Plumbers - State Champions. Photo by Surf Life Saving NSW

It's no secret that pour local surf club's boat sections have had a rough run over the past Season - when Covid-19 outbreaks weren't shutting down carnivals, the weather would chime in and send dangerous conditions that resulted in the cancellation or postponement of some of the treasured events on the annual Surf Boat Carnivals calendar.
The passion for this sport and to continue training and working at getting better, for many local crews a year-round occupation, although curtailed has been pursued - perseverance being a key practice among the surf club's membership. The hard work of all the officials deserves three loud cheers as well, the constant changes and work arounds are a testament to the dedication of these volunteers even when up against it.
During the past few weeks a few gains were made though - the Surf Life Saving Sydney Northern Beaches Branch Carnival for Surf Boats was held at Palm Beach on Sunday March 28th and last weekend the cancelled due to conditions State Surf Boat Carnival was run through Surf Life Saving New South Wales with a good swell on the Saturday and sublime conditions on the Sunday.
Participants in the Branch Carnival extended a big thank to Palm Beach SLSC and the boat rowers for making the day a success - with some nice runners back to the beach as the day went on. The wonderful Bill Sheridan sent in some of his photos from the SLSSNB Branch Carnival - these run below. Bill shares some great images of the boat crews from this Season and reports that that at Warriewood Kathryn Maguire has taken to the big oar. The branch Boat championships was her second competitive outing.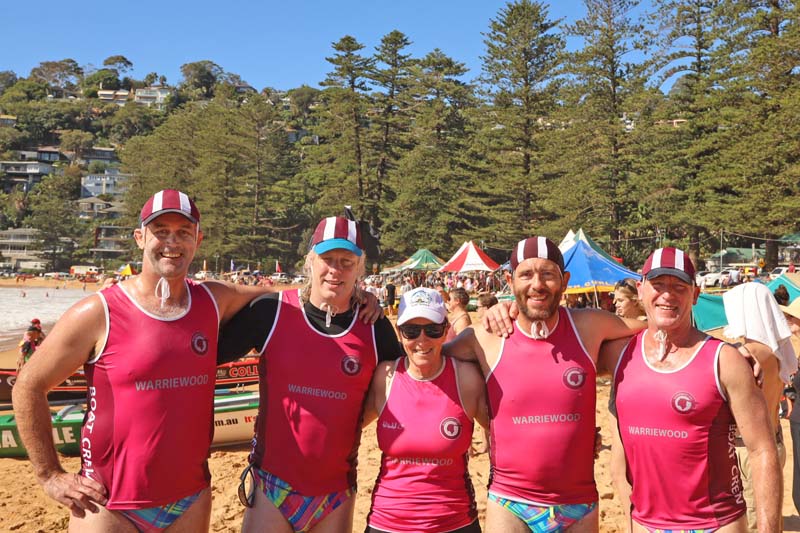 Kathryn Maguire in action and her crew - photos by Bill Sheridan

Great images from Malcolm Trees and Richard Black accompany Surf Life Saving NSW's report as well.
This week some of our local Surf Boat crews are heading north to compete in the Aussies 2021. The 2021 Australian Surf Life Saving Championships is hosted by Maroochydore SLSC, Alexandra Headland SLSC and Mooloolaba SLSC from 16 April to 24 April 2021.
Good luck to all those heading over the border!
Marlon Riley Wins 2021 NSW Bodyboard State Titles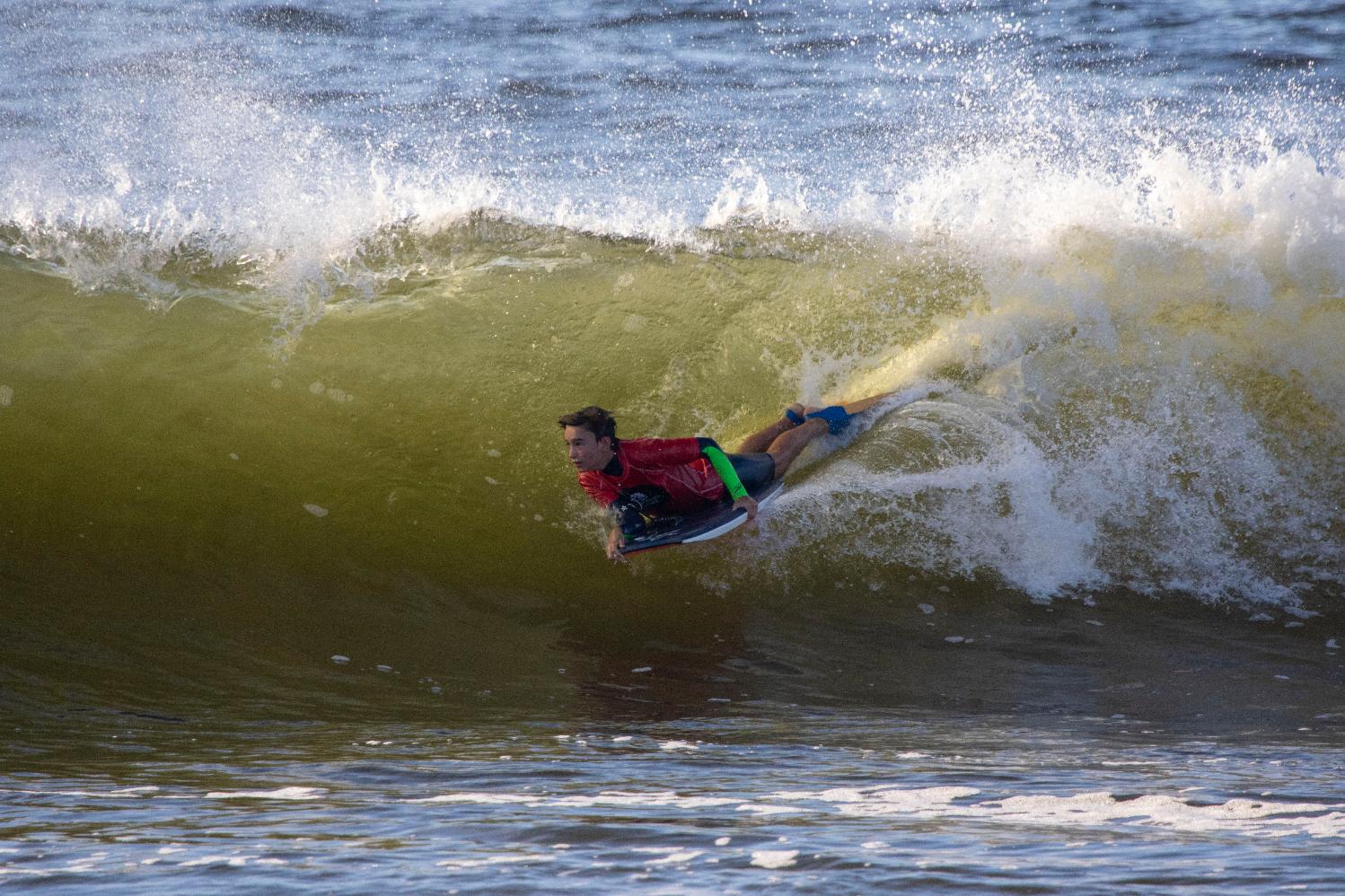 Marlon Riley in action. Photo by Josh Brown / Surfing NSW
Newport's Marlon Riley has had a great Autumn School Holiday's break, taking out the 2021 NSW Bodyboard Titles in clean two-foot surf at Nobbys Beach, Newcastle on Sunday March 28th.
Marlon completed a slew of technical manoeuvres on the final day of competition to take out both the Under-14 and Under-16 Boys. Marlon's standout performance was in
the 16 Boys final when he was able to notch up a 6.17 and a 6.33 to claim victory.
Surfing NSW reports the comp. commenced on the first day of the school hols, Friday March 26th, at Nobbys. All competitors in the event were competing for their opportunity to qualify for the NSW Team which will compete at the Australian Surf Championships later in 2021.
The 2021 NSW Bodyboard State Titles continued on the Saturday with some of the state's most promising bodyboarders attempting to cement themselves a spot into the finals day of competition.
Dee Why's Moz Abruhosa put on a clinic in the Over-45 Men's semi-finals, posting a gigantic 18.43 two-wave heat total, the highest of the event so far. Abruhosa performed an eclectic mix of forward and reverse spins on critical sections in the semi to cement his spot in the final prior to winning 1st place.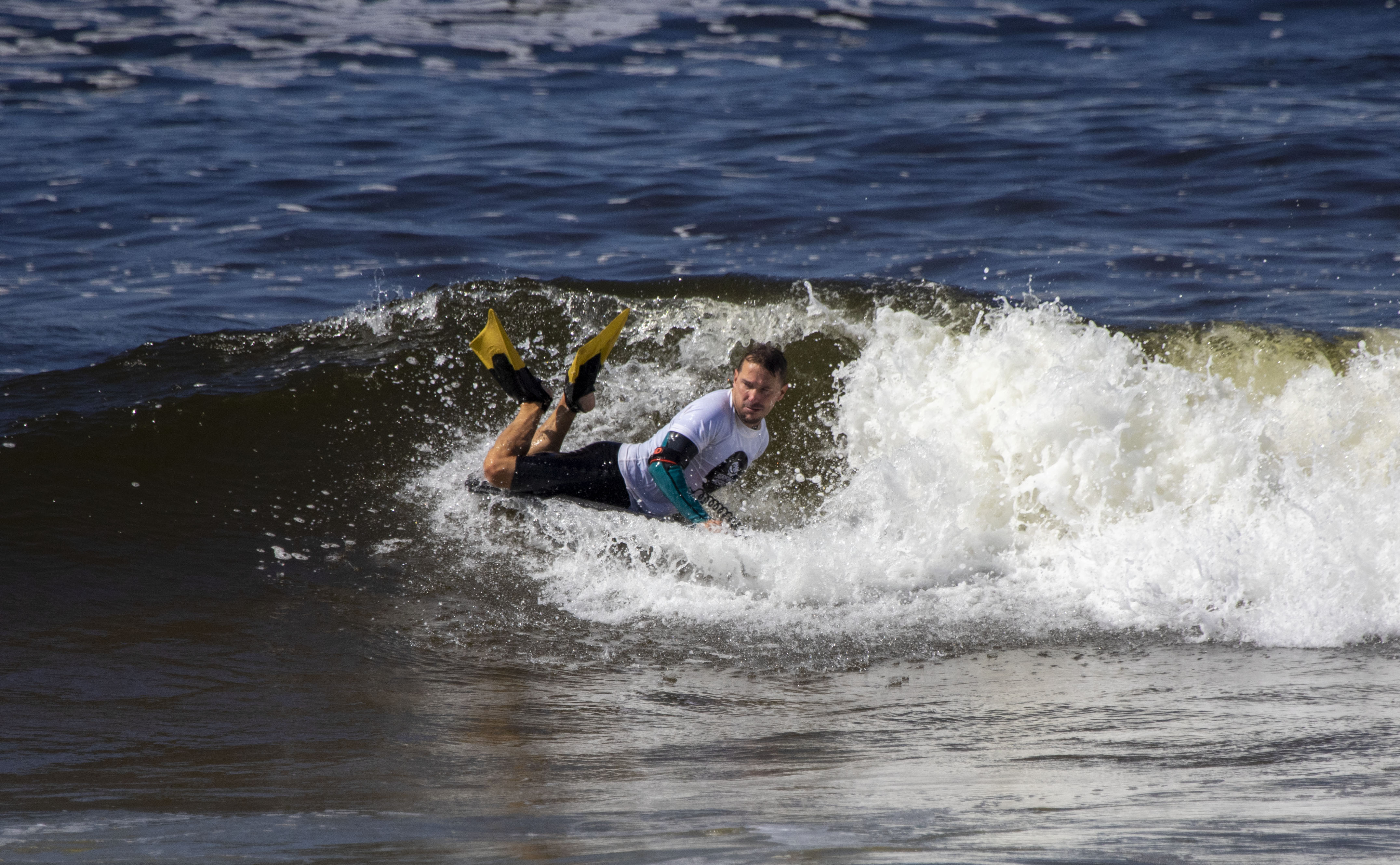 Moz Abruhosa - Photo by Josh Brown / Surfing NSW

Kaylah Pisani (Boat Harbour) appeared to be on the lookout for a title, claiming the first of two Open Women's finals dropping a 6.67. Much like her work on Saturday, Kayla Pisani (Boat Harbour) dominated the Open Women with a heat total of 13.5 with her two best waves being 7.5 and a 6 for a series of impressive manoeuvres. Mille Chalker (Tuncurry) secured the the second spot in this division with Deborah Partons (Newport) securing third.
The champions were to be determined on the accumulative results across both finals. Marlon shone through on the Sunday, claiming victory in the two age divisions he competed in.
The Under 18's saw two more locals secure places, with the winner being Holden Stubbs (Coffs Harbour) just ahead of Sam Giddy (Newport Beach) and Jordan Waights (Collaroy) securing the third place.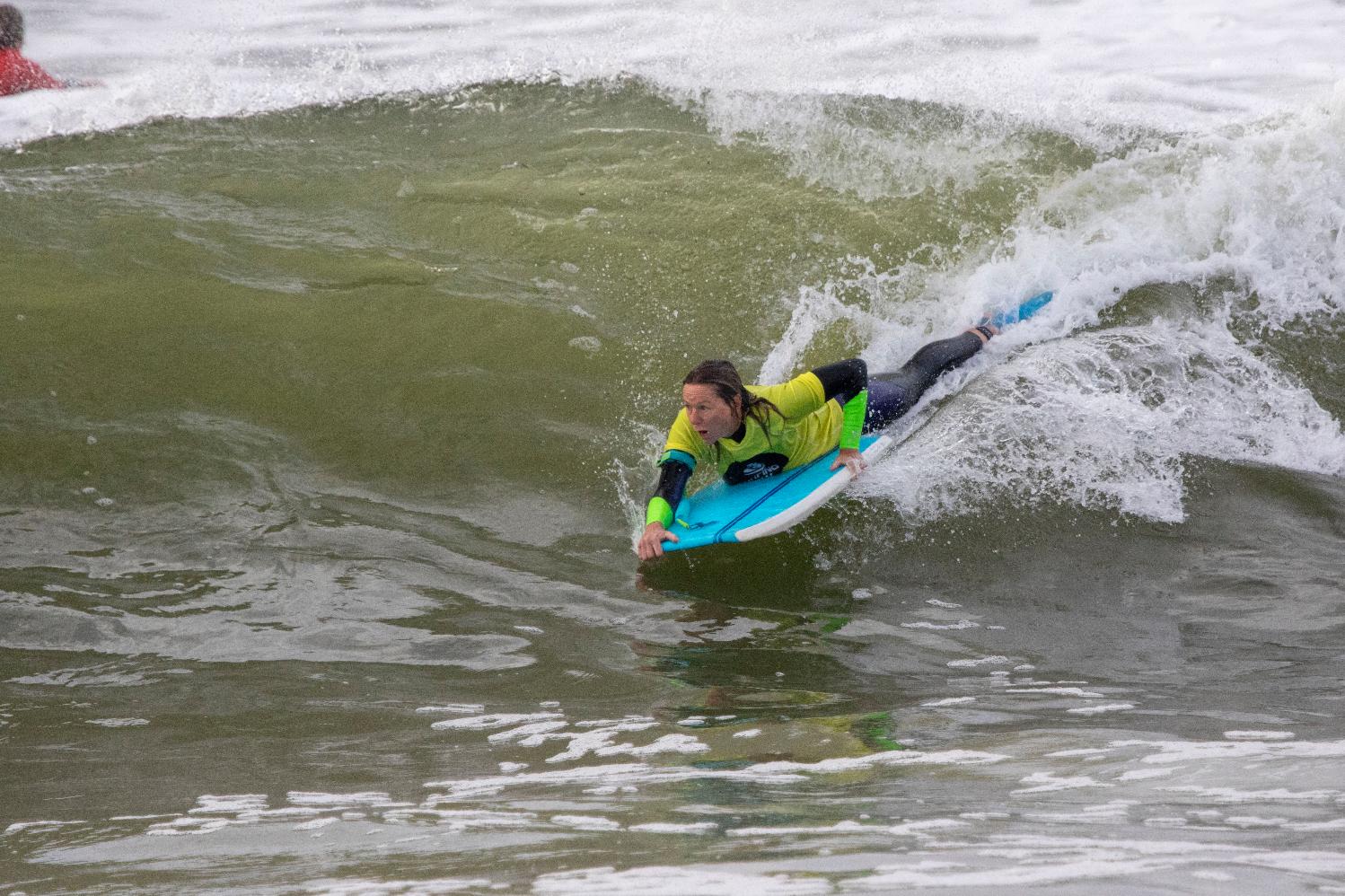 Newport's Deborah Partos in action.
Photo by Josh Brown / Surfing NSW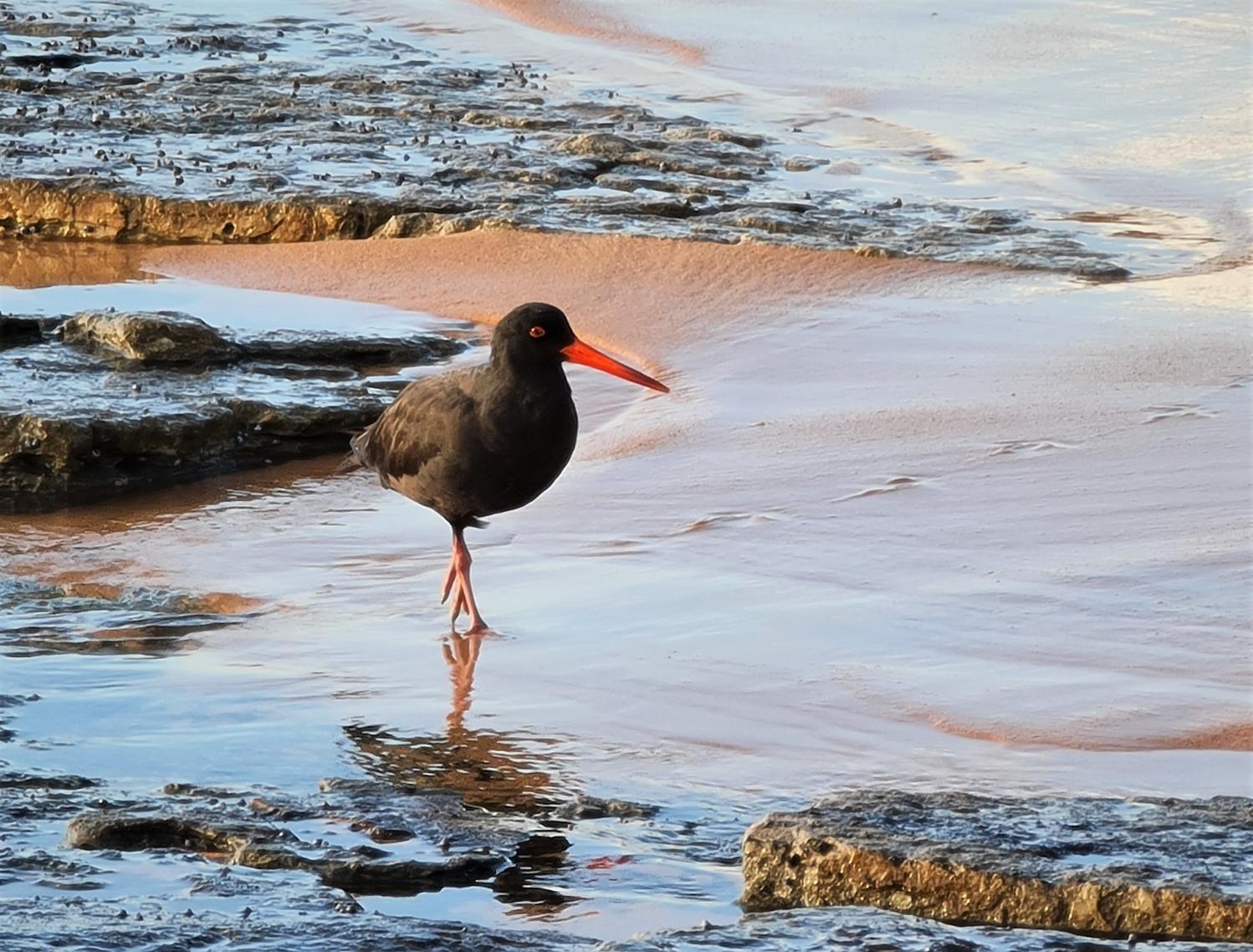 The Sooty Oystercatcher pair are back at Turimetta Beach and North Narrabeen rock platform - photo by Joe Mills, April 7th, 2021

Cowan Track Walk, April 13, 2021 - photo by Kevin Murray
The theme for the 2021 Seniors Festival is In Our Nature. The premise being that during challenging times, it's In Our Nature to connect, whether it's online, or out in the sunshine.
In our area a great number of our Seniors connect to the bush, the beaches, the bays, whether through surf sports or sailing or just paddling and enjoying the views, and the local flora and fauna, birds being a big hearable and seeable drawcard whether in our own gardens or in the National Parks and many local reserves we are fortunate to have as part of our home.
Many of our local elders are also great photographers who are mindful that some of their peers may not be able to access these places or do these walks and so capture their hikes to show the way and what was seen - pure poetry in images is often the result with requests for 'more!' visual tours from all.
This Issue some a celebration of the The Cowan Track by Kevin Murray runs HERE.
Past Features Archives (pre 2014)
Pittwater Online News was selected for preservation by the State Library of New South Wales and National Library of Australia. This title is scheduled to be re-archived regularly.
Archived Issues (2014 on) may be accessed here: pandora.nla.gov.au/tep/143700