April 18 - 24, 2021, Issue 490
2021 Junior Lifesavers of the Year Announced: Warriewood's Vivek Sirkari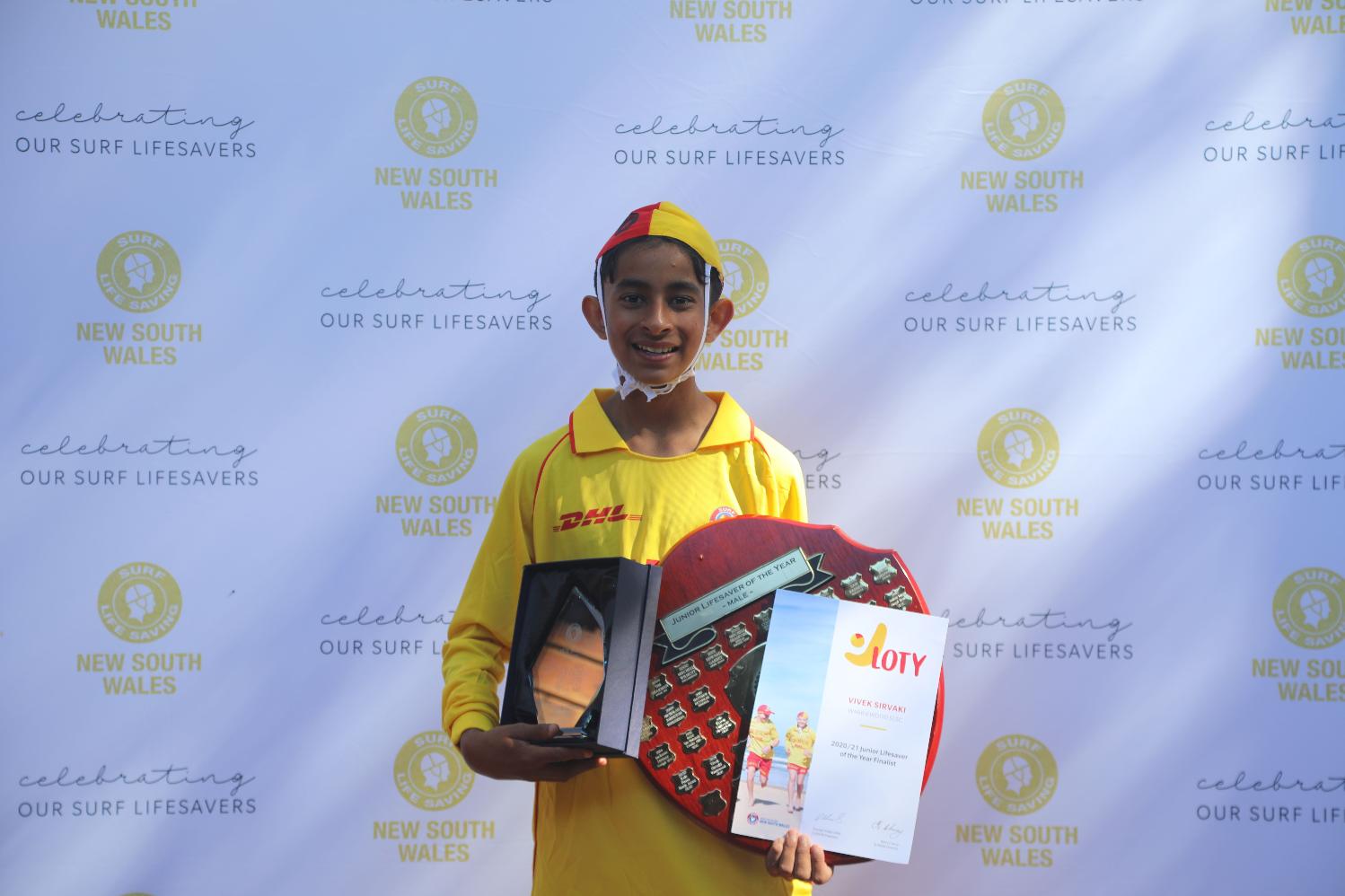 Vivek Sirkari from Warriewood SLSC. Photo by SLS NSW
April 14, 2021
The 2021 Junior Lifesavers of the Year from every Surf Life Saving Branch in NSW have come together in Sydney this week to challenge themselves and learn new skills. Of the 22 young participants, the overall NSW Junior Lifesaver of the Year (JLOTY) award was presented to Taylah Moffitt from Kempsey Crescent Head SLSC and Vivek Sirkari from Warriewood SLSC.

These outstanding young members were selected after panel interviews and enjoyed three days of fun, adventure and leadership training on Sydney's Northern Beaches.
SLSNSW President George Shales OAM said the selection of an overall winner this year was extremely tough, with such a high calibre field of young leaders participating in the JLOTY program. This is the 32nd year of the award program, recognising the achievements and contributions of the state's most outstanding Under 14 members.
"Our young members are the future of our movement," he said before announcing the winners for 2021. "We are re-imagining Surf Life Saving in NSW over the next few years and the people in this room are going to be the ones to achieve that."
The 2021 NSW Male Junior Lifesaver of the Year is Vivek Sirkari from Warriewood SLSC and the Sydney Northern Beaches Branch.
Vivek has been involved in Surf Life Saving for five years and has enjoyed developing his skills in the surf, successfully completing his Surf Rescue Certificate and building on what he has learned during the Nippers program. He says he can't wait to do his Bronze Medallion and go onto training as a crewman and eventually driver of the Inflatable Rescue Boats.
Vivek has issued a challenge to Warriewood club president John Delieu, who he says is an inspiration to him. "He'd better watch out because I'm coming for his job," says Vivek.
When asked what sort of program the young lifesaver would like to initiate if he had the chance, Vivek said it would be a Branch level program which improves water skills for those who are not strong swimmers. He says that as one of the smallest Nippers in his age group and a weak swimmer to begin with, his proficiency and skills in the surf have improved exponentially through the involvement in the Nippers program.
"While swimming in a pool is good, there are many techniques required to swim safely at the beach and I want to help people develop these skills so they have a greater chance to be safe in the water," he said.
After the presentation, a stunned Vivek spoke about his journey in Surf Life Saving and his love of his club.
"I started off as a little kid who never wanted to go in the water, I was such a puny boy and I was so afraid, and now I'm so comfortable on the beach, it's like a second home.
"My parents were born in South Africa and because of Apartheid they were unable to take part in Surf Life Saving. Coming to the Junior Lifesaver program was such a big opportunity, I would not want to waste it," said Vivek.
A very proud mum, Karuna, explained why she was so keen to get Vivek and his brother to do Nippers.
"I've always loved the beach and so I wanted him to be safe, so we got him and his brother to Warriewood SLSC to join Nippers. He has had so much support from the other Nippers, the Age Managers, the club itself… there was no one who thought it was too hard to teach him and they rallied around him.
"His achievement today is an absolutely massive achievement for Warriewood as a club, it's just amazing, the volunteering spirit and the helpful nature of everyone on the beach there."
Karuna recalls her own childhood growing up in Durban in South Africa under Apartheid, where the surf club was only accessible to white people and she said she was incredibly grateful that Surf Life Saving in Australia is so inclusive and welcoming.
"In Durban where I grew up, I remember seeing people in pink shirts out on the beach and asked my dad, 'can I do that?'. And my dad's response was, 'that's not for us'," she recalls.
"Coming to Australia and him being part of this opportunity is like a dream come true for me."
The 2021 NSW Female Junior Lifesaver of the Year is Taylah Moffitt from Kempsey Crescent Head and the Mid North Coast Branch.
Since starting Nippers in the Under 7s, Taylah has enjoyed participating and achieving her awards each year and is not involved in all areas of lifesaving – patrolling, competing and gaining new education awards. Her whole family is involved in the surf club and she sees the club as an extension of her family.
The young lifesaver has been recognised with Club Nipper of the Year, Branch Female Champion competitor and an achievement she is especially proud of, winning the Club Carnival Champion and highest point score award for the last four seasons.
With Crescent Head being such a popular tourist spot during peak periods, Taylah says patrolling her home beach is especially important and local hazards including the creek running out onto the beach on the outgoing tide, catches many holiday makers unaware and requires added vigilance from volunteers.
"I've learned a lot through SLS and with this knowledge I often help people in need, whether it's dealing with a bluebottle sting or helping someone with an oyster cut," she said.
Taylah's vision is that all young people have the opportunity to learn the skills she has. "I would create a partnership with the Department of Education so that all students could gain formal qualifications in basic first aid and CPR at a young age," she said.
"Whether they live on the coast or in the bush, giving young kids the skills to save lives could potentially save hundreds if not thousands of lives over a lifetime. It would also help young people get a job as it's a great qualification to put on their resume," she said.
Taylah was extremely honoured to have come from a small club on the mid-north coast and to be named the female Junior Lifesaver of the Year.
"All the guys here were awesome, we had a great time meeting each other and it's been really fun. There's so much that I've learnt. I'll definitely take back to my club all the leadership skills.
"I would love to eventually get my Gold Medallion and my future goal is to become a crewman or paramedic on the Westpac Life Saver Rescue Helicopter," she said.
2021 Junior Lifesaver of the Year Participants:
Far North Coast – Ethan Bayly
Far North Coast – Phoebe Link
North Coast – Oliver Rodgers
North Coast – Ava Wilson
Mid North Coast – Cooper Lorger
Mid North Coast – Taylah Moffitt (winner)
Lower North Coast – James Williams
Lower North Coast – Hannah Carmichael
Hunter – Riley Bawden
Hunter – Andie Widseth
Central Coast – Johnathon Hall
Central Coast – Tarah Bryers
Sydney Northern Beaches – Vivek Sirkari (winner)
Sydney Northern Beaches – Emelie Morris
Sydney – Noah Teitler
Sydney – Maggie Eisenhauer
Illawarra – Chae Conte
Illawarra – Codie Weber
South Coast – Jared Wood
South Coast – Lily Gazzard
Far South Coast – Jesse Coppin
Far South Coast – Sophie Bolton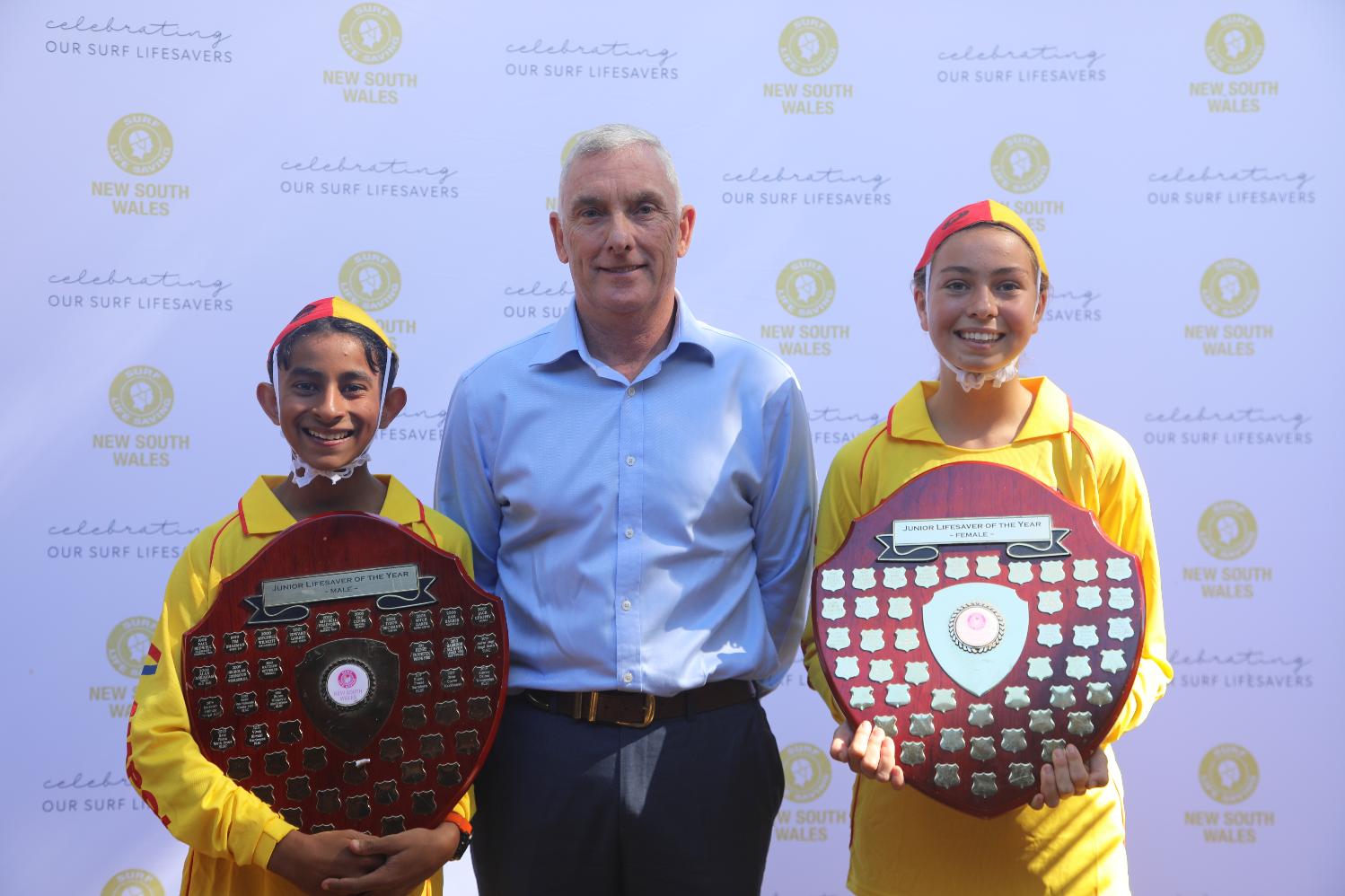 Image: Winners with SLSNSW President George Shales - photo courtesy SLS NSW