February 21 - 27, 2021: Issue 484

Shane Fitzsimmons Leads Charge For Graffiti Removal Day 2021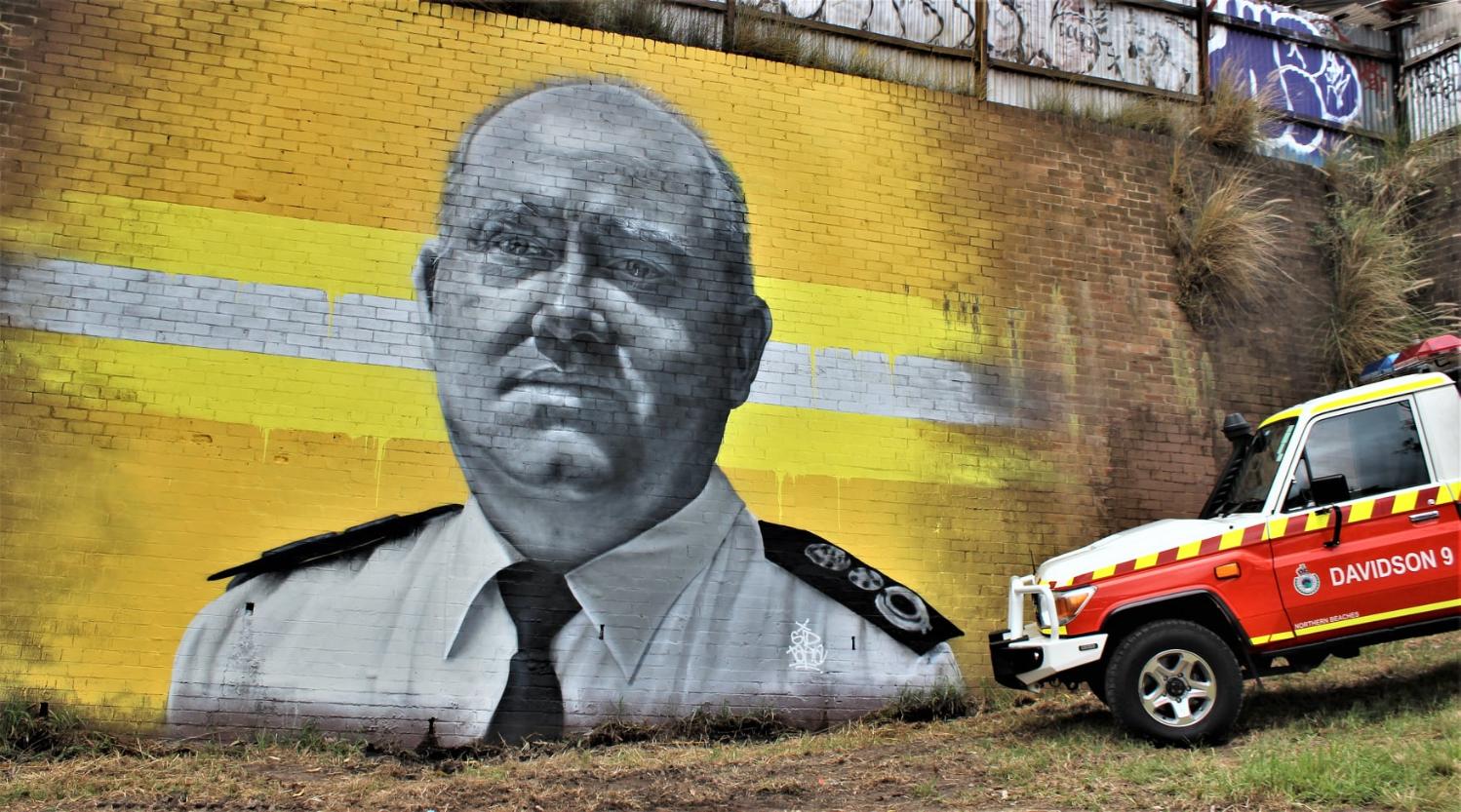 Above: Sid's mural of Resilience NSW Commissioner Shane Fitzsimmons great!
Photo courtesy NSW Gov. - Communities & Justice
On February 8th, 2021, NSW Attorney General Mark Speakman unveiled work by renowned street artist Sid Tapia, who has painted the Erskineville Railway Station mural to pay tribute to Resilience NSW Commissioner Fitzsimmons, and the brave efforts of the RFS.
"Our volunteer firies and other emergency services showed remarkable bravery in battling the ferocious 2019/20 bushfires that ravaged NSW. Their heroism and the leadership of their Commissioner is very deserving of recognition," Mr Speakman said.
"COVID-19 has reminded us of the importance of our homes and taking pride in our precious neighbourhoods. Graffiti Removal Day is the time to pick up a brush and reconnect with your local community in a COVID safe way."
In Council's Meeting Agenda an Item lists a Response to Councillor De Luca OAM's query on the Cost of Vandalism on Public Buildings in Narrabeen and Pittwater Wards.
Council's staff estimated that the removal costs for these wards from between January 1st 2016 to January 15th 2021 was $350, 000 for the Narrabeen ward and $500,000 for Pittwater. The 'tagged' vandalism for the FY18/19 was $57, 092 for Narrabeen and $69, 286 for Pittwater.
Council's records indicate that the most frequently vandalised buildings ion the Narrabeen ward are the St Matthews Farm sport amenities at Cromer and the Tramshed public amenities at Narrabeen.
In Pittwater it is the Avalon Beach SLSC and Mona Vale Kitchener public amenities that are most frequently targeted.
Clearly a little less 'toilet humour' and more murals alike that recently completed at Mona Vale would not go astray around here: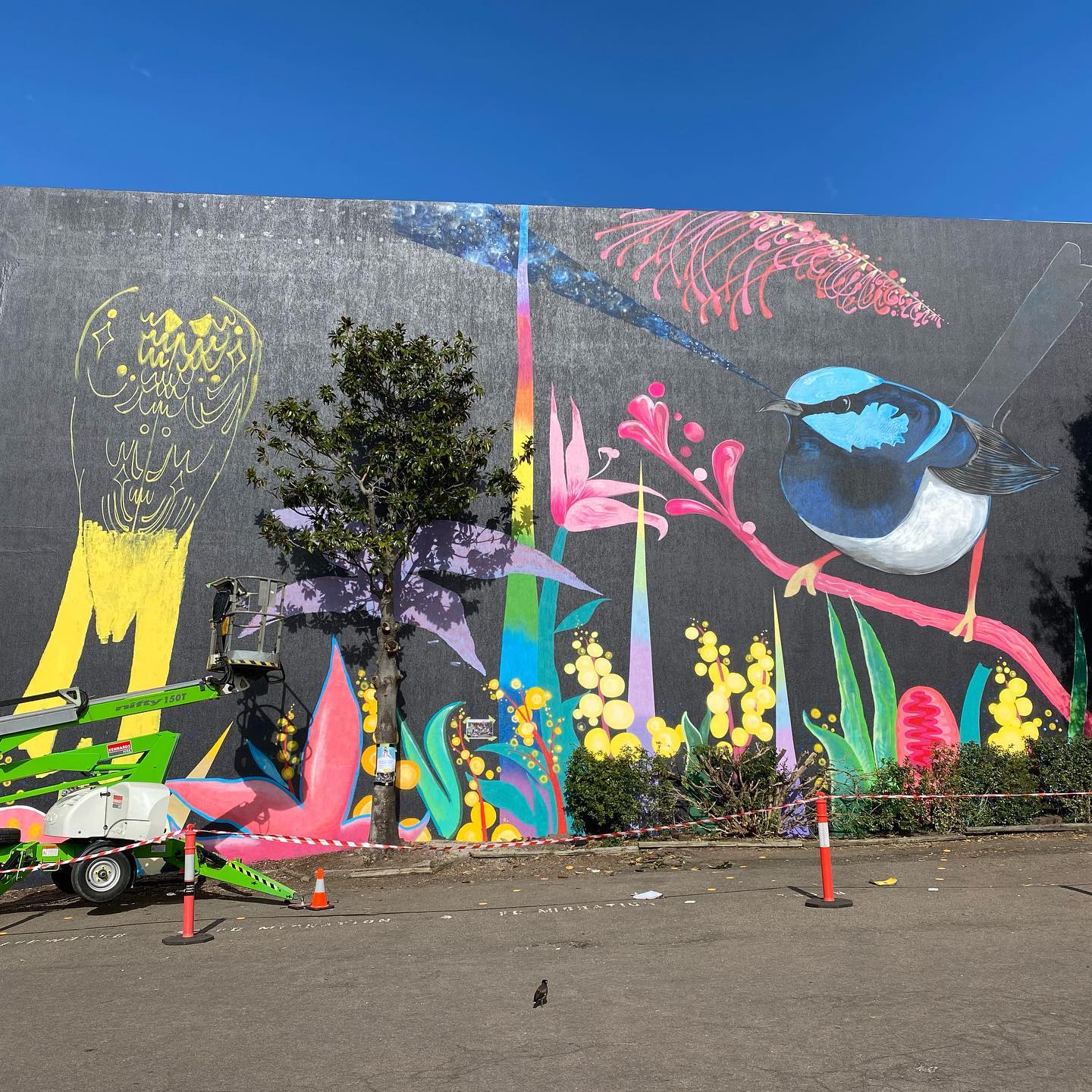 Mural taking shape at Mona Vale in August 2020 - photo by Selena Griffith.
Graffiti Removal Day calls for people to show pride in their local community by volunteering to remove graffiti in compliance with COVID safe guidelines.
Illegal graffiti costs the State more than $300 million in clean-up expenses each year.
Commissioner Fitzsimmons, the 2021 NSW Australian of the Year, said he was humbled by the artwork, and encouraged people across NSW to volunteer for Graffiti Removal Day on Sunday 28 March 2021.
"Volunteers are at the heart of Australian communities. I will forever be grateful to the volunteers who stood up to be counted during the worst bushfire season we've ever had. We saw courage and commitment from volunteers who continually put the wellbeing of their community before themselves," Commissioner Fitzsimmons said.
"2020 was a year like no other and many are still dealing with the impacts of drought, bushfires, floods and storms, and COVID-19. In the face of these challenges, it is our community spirit that empowers us to rebuild, recover and begin to heal."
The Federal Government 'Media' Bill That Seeks To Reverse The Democratisation Of News In Australia: A Local Perspective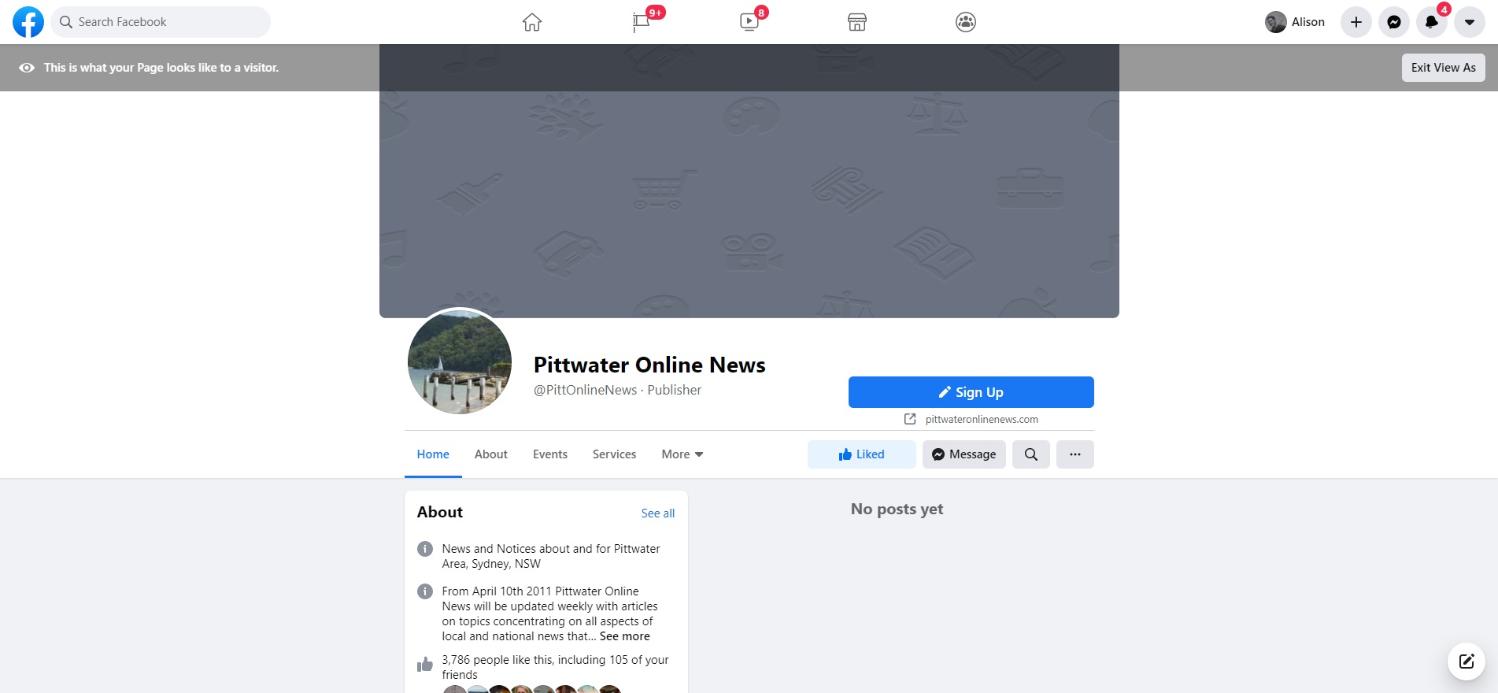 Pittwater Online's Facebook platform page - as seen from a Visitor's Point of View from Thursday, February 18th, 2021
Well, it seems our days of flying under the radar have ceased - no longer are we happily being ignored, belittled, scoffed at and told we're 'not a real news service'.
Darn it!
The Australian Government's attempts to ensure the big media billionaires get a few extra guaranteed billions have backfired - the democratisation of media that came with the freedom inherent in the tenants of making the World Wide Web freely available, as was stated by its originators and specifically Sir Berners-Lee who made his idea available freely, with no patent and no royalties due and the World Wide Web Consortium that decided that its standards should be based on royalty-free technology, so that they easily could be adopted by anyone, has been corrupted by our own government.
Please ask yourself - just who is the Treasury Department's News Media and Digital Platforms Mandatory Bargaining Code Bill 2020 actually for?
Under the current iteration of the code, this legislation applies only to 'registered media organisations' and grants them an extreme level of access to EVERY search engine algorithm from what the government refers to as 'designated digital platforms', not just Google and Facebook.
To become a 'registered media organisation' you must have at least $150,000 in yearly revenue and be subject to the jurisdiction of the Australian Press Council. This pretty much kills off most small independent journalists operating on other sites, along with all your little news services for your local organisations and their sites, as they are now forced out of the algorithm by Guess Who?
Pittwater Online News is a FREE News Service.
Pittwater Online being 'blanked' by the Facebook platform, in being where we 'post updates between Issues', such as the recent daily Health Updates around the 'Avalon Cluster' in terms easily understood, or events sent in as we head towards the weekend, is actually blanking the community. We receive nothing from any government department or agency, and no one has paid us yet to post their event. Even on the website Events have been charged at what it costs us to run them and most don't even bother to honour the Invoice.
the facts are - we don't CHARGE ANY $ for profit and that generated by the handful who do pay is donated back into the community - 110% of it - to surf clubs, youth organisations, it has bought food for people going hungry in 2020, locally, goes to the SES, the firies, you name it, they get it.
Further, it costs around 20k per year, from our own pockets, to run it, and around 10 thousand hours annually are done, unpaid, to get each Issue out - approx. 6, 250 by The Dill (Editor) and around 4 thousand, at least, by Contributors/Reporters (Approx. $500,000.00 in unpaid wages @ $50.00 per hour) and what's more those Contributors/Reporters are YOU - the community!
Lastly, Pittwater Online News is a 'news service' which places us outside of the realms of what is commonly referred to by circumspect Australians as the current 'media circus' that owns or runs Rupert Murdoch's News Corp, Nine Entertainment or Seven West Media Limited.
Murdoch-owned titles account for nearly two-thirds of metropolitan circulation, while Nine-owned papers account for a further quarter (26.4 per cent). Seven West Media Limited is Australia's largest diversified media business, with an extensive presence in broadcast television, print and online publishing. Rural and regional media is dominated by Australian Community Media (formerly Rural Press), with significant holdings in all states and territories, including the recently launched alternative to what used to come out of Manly.
News Corp (Murdoch) and Nine Entertainment Co. (Fairfax) have made no secret and even boasted in their publications that it is them that has lead the charge for this News Media and Digital Platforms Mandatory Bargaining Code Bill 2020 for themselves to profit by.
The current Australian Government makes little secret of the fact that they maintain close relationships with those at the head of these news and favour those who run what they want as they want it run. The New York Times stated in its own take on what's happened this week that;
''Josh Frydenberg, who as federal treasurer would have enormous discretion over the new legislation, has media ties of his own. In 2016, he was the best man at the wedding of Ryan Stokes, who is a son of Kerry Stokes, the billionaire owner of Seven West Media, one of the companies that have reached a deal with Google.''
The 'deals' are being reported to be worth 30 million a year for the next five years for these conglomerates - around 150 million each from Google. Will we see new Australian content? Will we see an expansion of cadetships to train the next? Will we see some of our respected and trusted journalists and their voices returned to us again? Or will we see the 'personalities' have another brand new yacht and private plane proclaiming themselves fit for a knighthood?
Further, the NYT states;
''- 'The proposed code, which was originally designed to be voluntary, has evolved to become mandatory and tougher,' Paul Fletcher, the communications minister said, 'because that is what is needed to make the giant platforms pay closer attention to the value of credible information from established outlets'.

The code would apply only to media companies that registered and were approved as legitimate, making the government a convener of commercial deals — a role it already plays with the electricity market and other industries that require incentives to cooperate.''
''Credible'' Mr. Fletcher? Incumbent centric you mean.
Please recall that these are the news outlets that ran perpetual 'Arson' attacks headlines during our most recent bushfires, attacked Climate change facts as pure nonsense, as that could not be recorded as the predominant cause, and whose coverage led to resignations of brilliant journalists with integrity through publishing outright lies to prop up a dead industry, coal, and ignore the ramifications of its continued production for use.
Even one of their own walked out in disgust;
"I reached the conclusion that you can venerate a contest of ideas, if you will, and we all do and that's important, but it shouldn't be in a way that hides agendas. A contest of ideas shouldn't be used to legitimise disinformation. And I think it's often taken advantage of.

And I think at great news organisations, the mission really should be to introduce fact to disperse doubt — not to sow doubt, to obscure fact, if you will." - James Murdoch on why he resigned from News Corporation, quoted in The New York Times, October 10th 2020
These are the news outlets that turn up uninvited at the funerals of young people who have suicided to intrusively photograph their crying family members and run that on their Front Page.
Do that anywhere else and you'd get arrested - it's stalking. There's no 'right to know' pass there.
Just as much of the Australian population has lost trust in our politicians, so many now also disdain the lolling around on coaches and fake smiles of those who opine in favour of agendas sent down from their masters and look and sound to all like the donkeys braying from monkey mouths that has become our Australian media - thank God for the ABC - and thank God theirs is the website the bulk of us still turn to - even with these muckity manipulations of what government is actually for.
Who will redeem them - these forfeiters of their honoured place in the Fourth estate?
Because it is an honour and a privilege to get to share people's stories, respectfully, without intrusion and without sensationalising it to milk more emotion from already exhausted readers-listeners and viewers. You are not in an amateur theatre group - you are reporting the news. Your job is to help keep your communities informed about anything that may impact on them and perhaps provide some beauty, some smiles, some connection. You are not more important than who you are speaking to, photographing or interviewing - be polite, ask permission, don't turn up with that 'lucky we're here' attitude.
Lucky there's a report to be made you mean.
At the Senate hearing on media diversity hearing on Friday, February 19th, Former prime minister Kevin Rudd compared the news ban imposed by Facebook on Australian news companies to the dominance of News Corp in the print media market.
"The problem that we've seen within Facebook's actions in the last 24 hours is that they give us a graphic example of what a very large new media monopoly can do to abuse its power," Mr Rudd said at the inquiry. "The problem with the government's current response to the challenges of the digital media marketing code is that it seeks to solve one problem ... by enhancing the power of the existing monopoly – that's Murdoch."
Of course, Mr. Rudd and Mr. Murdoch had 'form' during Mr. Rudd's last run at a federal election when one of his mastheads ran "Kick this mob out." just 11 days after a court judgment that would see News Corp collect $882 million from the Australian taxpayer, and 19 days short of the ATO's expiration date to appeal this judgement. In a February 17, 2014 AFR report 'News Corp's $882m blew the budget' Neil Chenoweth reported that;
''The galling feature for the Tax Office is that the original deals that cost taxpayers $882 million cost News nothing.

In a 1989 meeting, four News Corp Australia executives exchanged cheques and share transfers between local and overseas subsidiaries that moved through several currencies.

They were paper transactions; no funds actually moved. In 2000 and 2001 the loans were unwound. With the Australian dollar riding high, News Corp's Australian subsidiaries recorded a $2 billion loss, while other subsidiaries in tax havens recorded a $2 billion gain.

By last July that paper "loss", booked against News Corp's Australian newspaper operations, had become an $882 million cash payout.

Under a legal arrangement when the company was spun off last June, News was forced to pass all of the tax payout to Mr Murdoch's 21st Century Fox.

News Corp said it had retained $A81 million because it faced income tax charges on the interest payments by the Tax Office. However it seems unlikely to actually pay these funds: News Corp Australia carried another $1.5 billion in tax deductions from a separate paper shuffle that it made when News reincorporated in the US.''
Meanwhile, back in Tuesday, February 16, 2021 The Hon. Frydenberg, Treasurer and the afore quoted The Hon Paul Fletcher announced in a joint media release that ''The Government will this week introduce technical amendments to the News Media and Digital Platforms Mandatory Bargaining Code that will enhance the way it operates and strengthen its ability to foster more sustainable public interest journalism in Australia.''
NSW Secures Surfing World Championship Tour Event For North Narrabeen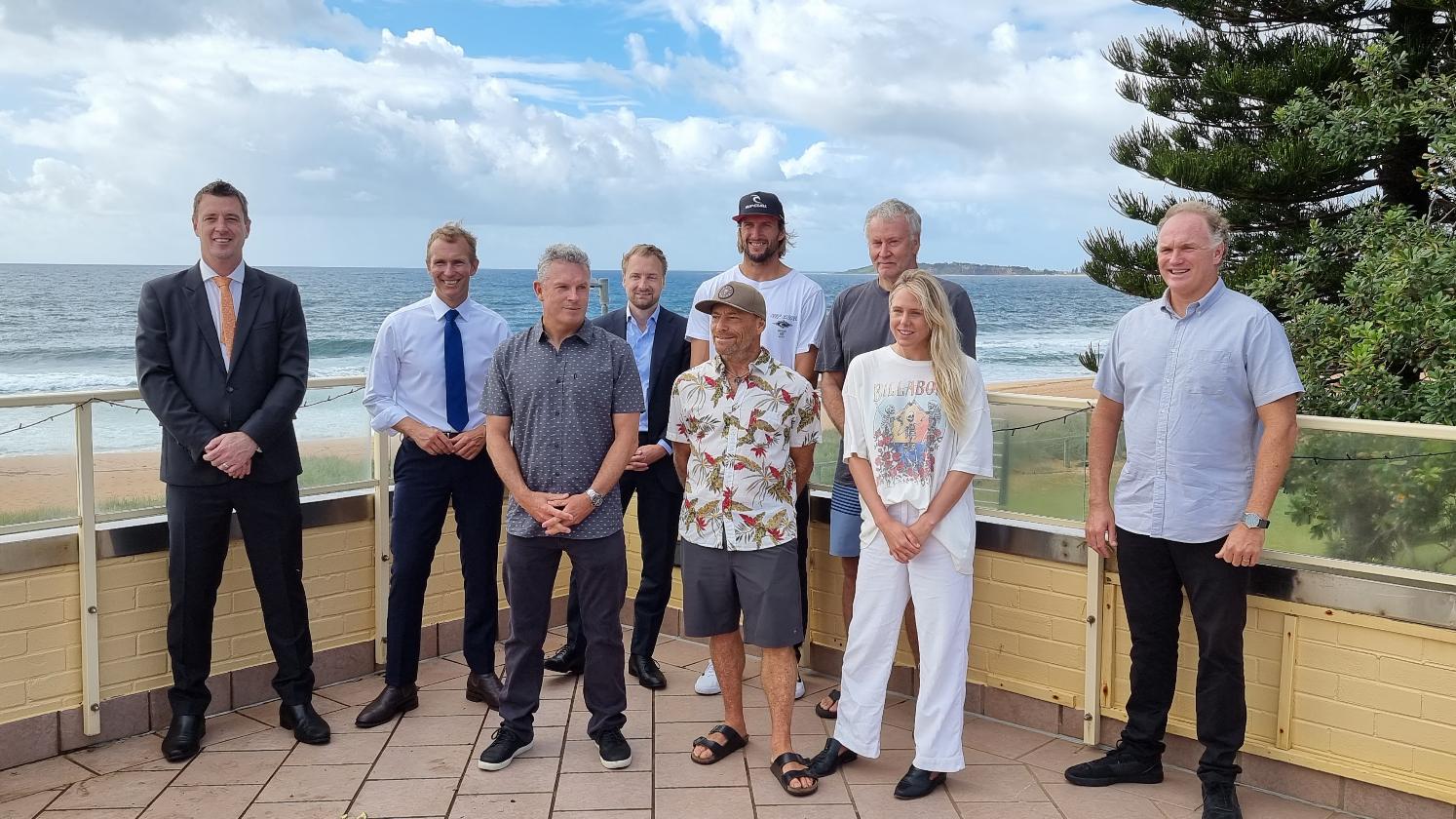 Last Issue Pittwater Online News brought Readers the great news that
WSL 2021 Championship Tour In Australia Starts In Newcastle During Autumn School Holidays
.
This week The Hon. Rob Stokes, MP for Pittwater, has been among New South Wales State Government Ministers and Council to announce that North Narrabeen will be the location and focus for another of these great WSL Championships.
Narrabeen will host one of the biggest events on the global surfing calendar when the World Surf League (WSL) Championship Tour comes to town, thanks to a partnership between WSL and the NSW Government.
The partnership means the WSL will now host two Championship Tour events in NSW, with Newcastle debuting as the opening event of the Australian leg of the tour in April 2021.
Deputy Premier John Barilaro said the Narrabeen Championship Tour event will see some of the world's biggest athletes battle the waves to win a share of over $1 million in prize money.
"Here in NSW we have shown our ability to host premier events while keeping people safe," Mr Barilaro said.
"When the WSL scanned the world for the safest beaches to relocate some of their prized Championship Tour (CT) events, NSW was the first choice.
"NSW will deliver not one, but two CT events in 2021 after the WSL announced Newcastle would host the first CT event in NSW in nearly three decades, in place of the iconic Bells Beach Pro.
"Today, thanks to the NSW Government, we can announce Narrabeen will host a championship event in place of the Gold Coast's Snapper Rocks.
"NSW will be Australia's surfing state and sporting capital of the nation and this partnership with WSL will pave the way for us to host future tournaments in country towns, creating a safer and stronger regional NSW."
Minister for Jobs, Investment, Tourism and Western Sydney Stuart Ayres said securing a second WSL Championship Tour event for NSW was testament to the state's event hosting capabilities and world-class beaches.
"Yet again NSW is the destination of choice for this major international WSL event, giving us the chance to showcase the beautiful Northern Beaches to the world and welcome competitors, spectators and supporters to Greater Sydney to stay and spend locally," Mr Ayres said.
Member for Pittwater Rob Stokes said Narrabeen is the perfect location to host a globally significant surfing championship.
"This highly coveted Championship Tour will bring much-needed tourism dollars into local shops, cafes, restaurants and accommodation providers on the Northern Beaches, a timely boost following the recent lockdown during the busy holiday period," Mr Stokes said.
"I'm thrilled to see this spectacular surfing event come to our shores and I know the community will love this opportunity to showcase the local area on a global stage.
"This competition will not only be fantastic to watch but will allow Aussie surfers to put their skills to the ultimate test ahead of the 2021 Tokyo Olympics, when surfing is set to make its debut."
World Surf League Asia Pacific General Manager Andrew Stark said the WSL is excited to have the Championship Tour coming back to Australia in 2021 with an added event.
"This year, the Aussie CT leg is looking very different to what we're used to due to COVID-19, with the addition of three new stops. Although it's very disappointing to miss locations like Bells Beach and Snapper Rocks this year, we are stoked to add Newcastle and North Narrabeen to the schedule.
"We would like to genuinely thank all of our partners for their patience, understanding and support during this extremely difficult time. The WSL can't wait to get the tour back underway and run epic and safe events for our athletes, fans and partners in Australia."
Council and the State Government will co-sponsor the event for elite athletes who have a huge fan following in the surfing world. Mayor Michael Regan said landing the event from 16-26 April was a coup for the Beaches, giving the community something to look forward to after a very challenging year.
"This is a huge opportunity to showcase the Northern Beaches on the world stage for ten days," Mayor Regan said.
"The WSL is a perfect fit with the lifestyle we are very proud of in our coastal community.
"We welcome this opportunity and the promise of much-needed economic activity and jobs for our local businesses. It will be a great boost to the morale of the local community who were hit hard by the COVID-induced three-week lockdown at Christmas.
"With surfing to make its Olympic debut in Tokyo this year, there will be additional interest on the tussle at this elite level of the sport."
Over 50 professional surfers will compete for a prize purse of over $1 million, including 11-time world champion Kelly Slater (USA), John John Florence (USA), Gabriel Medina (Brazil), 4-time world champion Carissa Moore (USA) and our own Australian stars, Stephanie Gilmore, Tyler Wright, Sally Fitzgibbons, Owen Wright and Julian Wilson.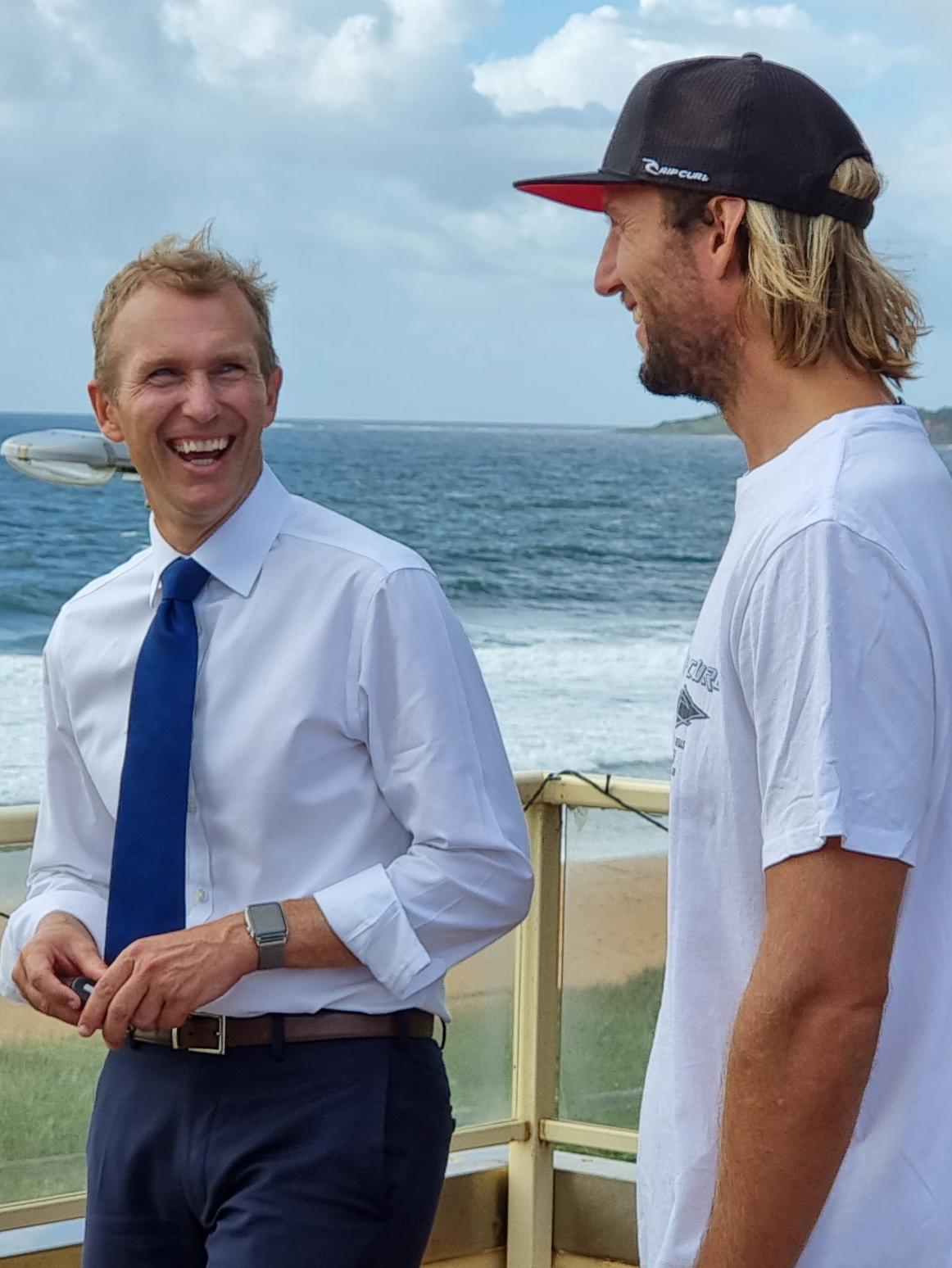 Owen Wright with Rob Stokes earlier this week. Photo by AJ.
Mona Vale Road Upgrade: February 2021 Pictorial Update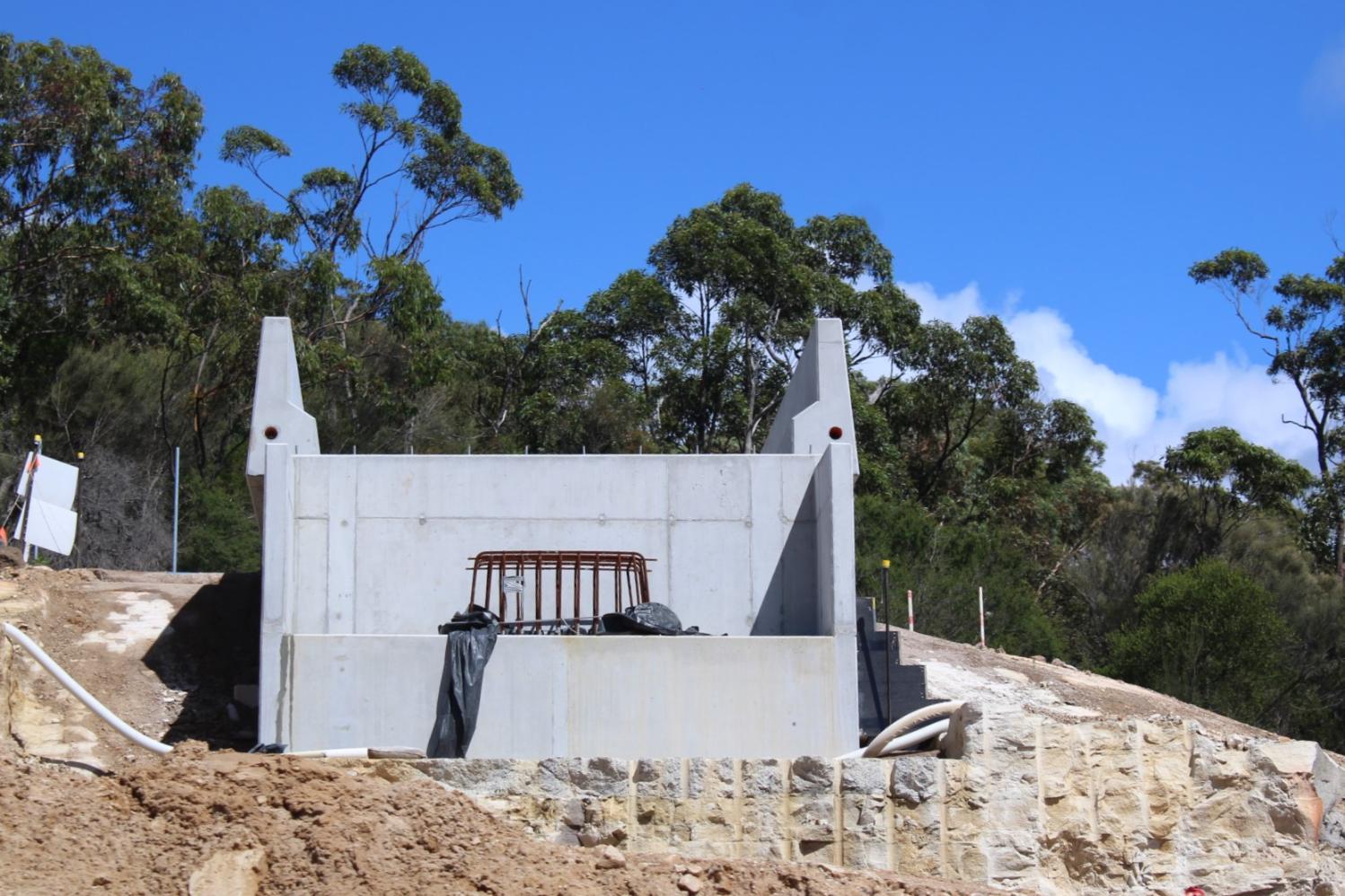 Pittwater Online News staff did a run along the Mona Vale Road upgrade works (East) just before the lockdown of December 2020 and took some photos along with some taken earlier this week, Tuesday February 16th 2021, which show a fair amount of work has been done since the contractors came back to work in January 2021. Apart from Noise Abatement walls going up near the Mona Vale Cemetery end, and the commencement of the Fauna Bridge crossing near Katandra Bushland Sanctuary, some landscaping is starting to be installed.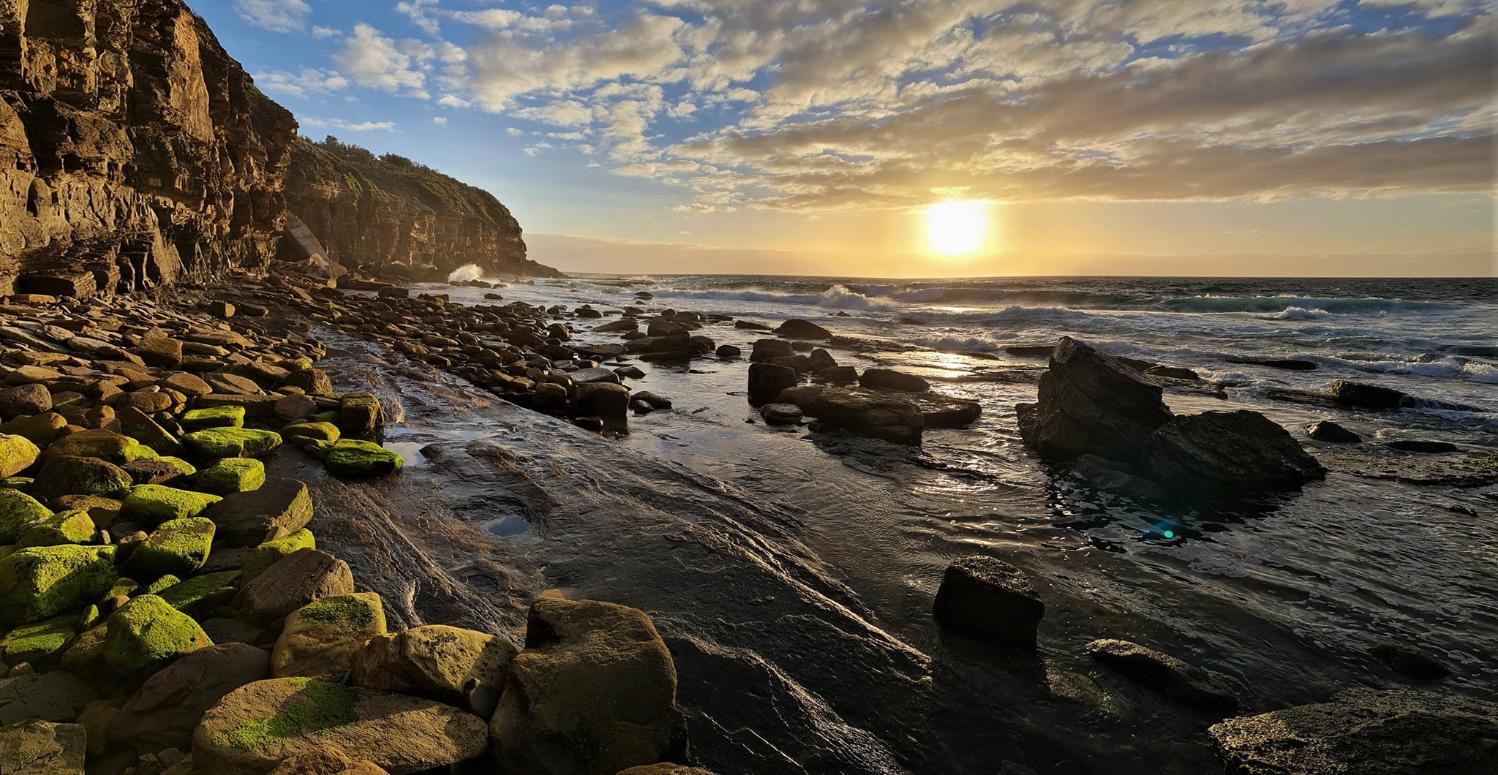 Sunrise at North Turimetta Beach, February 2021 - photo by Joe Mills.
Past Features Archives (pre 2014)
Pittwater Online News was selected for preservation by the State Library of New South Wales and National Library of Australia. This title is scheduled to be re-archived regularly.
Archived Issues (2014 on) may be accessed here: pandora.nla.gov.au/tep/143700