February 14 - 20, 2021: Issue 483
WSL 2021 Championship Tour in Australia Starts In Newcastle during autumn school holidays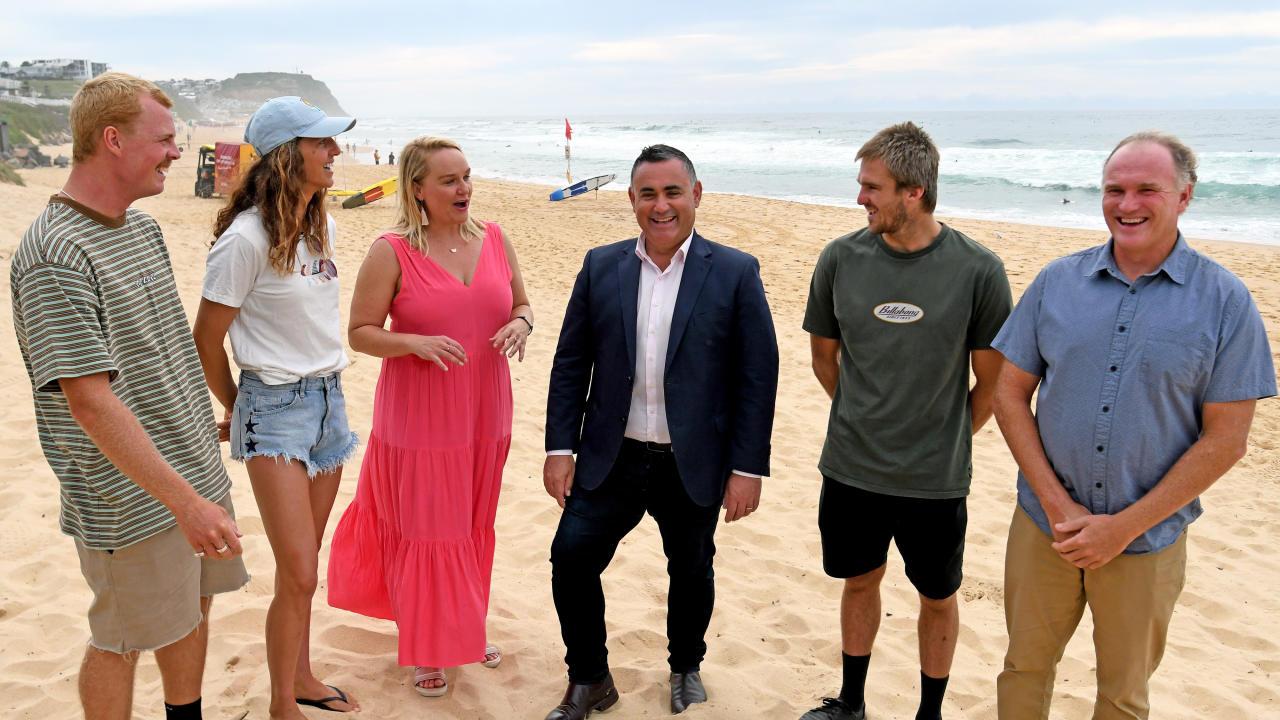 NSW Deputy Premier John Barilaro at Newcastle Pro Announcement with Newcastle Lord Mayor Nuatali Nelmes, WSL's Andrew Stark and surfers Ryan Cllinan, Jackson Baker and Philippa anderson. - WSL / JAKE WHITE
Great news from the NSW State government and the World Surf League last weekend -the world's top surfers will compete in Newcastle from 1 to 11 April this year with the NSW Government securing the opening round of the prestigious World Surf League's 2021 Championship Tour in Australia. Just in time for the Autumn school holidays!

Deputy Premier John Barilaro said that when both the Sunset Open in Hawaii and the Santa Cruz Pro in California were cancelled due to COVID, World Surf League looked to NSW to host the competition.
"Due to COVID, a number of WSL competitions were being cancelled globally and NSW was seen as an ideal and reliable destination to salvage the competition," Mr Barilaro said.
"The Championship Tour is the sport's premier competition and will attract 52 of the best international surfers including the likes of Kelly Slater, John John Florence, Stephanie Gilmore, Tyler Wright, Carissa Moore and Gabriel Medina, along with Aussies Sally Fitzgibbons, Julian Wilson, Owen Wright and Ryan Callinan.
"With only a few months to go until surfing makes its debut at the 2021 Tokyo Olympics, this event also gives our best Aussie surfers a valuable opportunity to put their skills to the test in an elite competitive environment.
"Sun, surf and sand are a way of life in our coastal towns and we're doing everything we can to ensure our coastal communities can reap the recreational, tourism and economic benefits that surfing provides."
Minister for Jobs, Investment, Tourism and Western Sydney Stuart Ayres said the event would profile Newcastle to new audiences and potential visitors by showcasing the strengths of the region.
"This is a huge opportunity to promote Newcastle, its world-class waves and the region's natural assets and visitor attractions to tens of millions of avid surfers and potential holidaymakers around the globe.
"The profile of the WSL Championship Tour will undoubtedly put Newcastle front of mind for many fans and start the all-important 'dreaming' phase of planning a holiday for when we can welcome international visitors again.
"The NSW Government has a bold vision for NSW to be the premier event destination of the Asia-Pacific by 2030, and we are proud to secure significant international events of this calibre to help us achieve that goal.
"NSW has demonstrated its ability to host COVID-safe events and our Government's confidence to get businesses in Sydney and the regions back on track – this event will be another important step forward in our state's recovery from the pandemic."
World Surf League Asia Pacific general manager Andrew Stark said the Newcastle event will see the world's best surfers compete in a bid to win a share of over $1 million in prize money.
With over 35 years of professional surfing history, Merewether Beach in Newcastle is the perfect location to launch the CT Australian leg in 2021. The beach break peaks and right-hand reef of Merewether is responsible for unearthing surfing legends such as Mark Richards, Luke Egan, Matt Hoy and Ryan Callinan to name a few. The biggest names in surfing have taken event wins in Newcastle including current CT competitors Kelly Slater, Stephanie Gilmore, Sally Fitzgibbons, Julian Wilson, Yago Dora, Malia Manuel, Bronte Macaulay and Johanne Defay.
"WSL is excited to be commencing the Australian leg of the CT at the world-class break in Newcastle," said WSL APAC General Manager, Andrew Stark. "We sincerely thank the NSW Government for all of their support in not only holding a CT event but for also agreeing to land our flight and accommodating our quarantining international competitors. We're also extremely thankful for the support of the City of Newcastle to enable the event to proceed and we look forward to working with the local community in the delivery of the event."
"We're excited to host the opening event of the Australian leg of the WSL Championship Tour in Newcastle and share the city's fantastic surf breaks and truly spectacular coastline with the world," Mr Stark said.
The 2021 Newcastle Pro will not only be the first time world title points have been on offer at the location since 1991 but also the first combined male-and-female CT event to be held in NSW since the Coke Classic at Manly in 1999.

Merewether local and current World No. 9 Ryan Callinan will be looking to take home a win at his home beach for this one-off CT event in Newcastle. If he does, it will be the first time a Novocastrian male has won a major event on home soil in the 36 year history of Surfest, something that would be much to the delight of Surfest co-founder and local legend Warren Smith who will be heavily involved with his team in the operation of the upcoming CT.
"Having grown up in Newcastle it's always been an amazing experience competing in the annual QS event in front of a home crowd," Callinan said. "Every year we get some of the best surfers coming to Newcastle and for this year to be a championship tour event will make it that much more exciting. Not just for myself but the whole surfing and wider community. I think everyone will really embrace this and love to see the best surfing in the world go down in our hometown. I feel I can speak for all the competitors that we are so excited to get the CT underway in a safe way and I couldn't be prouder to see it get underway in my hometown."
WSL will be working closely with the Merewether Surfboard Club to incorporate the local surfing community into the event where possible. This will be most significantly through the club being awarded wildcard spots for members Philippa Anderson and Jackson Baker.
"Merewether Surfboard Club is excited by the news that the WSL will be bringing a CT event to our local break," said Craig Long, Merewether Surfboard Club President. "We are a club with a long proud history and look forward to watching our members competing on the world stage at home. Merewether is a world-class wave so with a bit of luck it will turn on and showcase the world's best surfers. We look forward to working with the WSL to make this a memorable CT event."
For Pittwater locals, a visit north will also be a return to enjoying a much loved part of our near neighbours coastline - it may not be rowing there in a surf boat, as Palm Beach residents did during the 1930's, but it will be a return to enjoying a great surfing event on our coast after so many were restricted during recent times.
The 2021 Championship Tour schedule currently includes events in Australia, Brazil, South Africa, Tahiti, and the United States.
The Championship Tour is broadcast on Channel 7 and Fox Sport in Australia, with international broadcast partnerships for coverage in Asia, Europe, and the United States.
The WSL Championship Tour Newcastle is supported by the NSW Government through its tourism and major events agency Destination NSW, and City of Newcastle.