January 31 - February 6, 2021: Issue 481

The Inaugural Patrick Alexander Soars Cup
The inaugural Patrick Alexander Soars Cup for the Newport Breakers Colts vs. Grade Test Cricket Match was played on Saturday 30 January 2021, at Newport Oval.
With pre-season rugby training starting on Thursday, this was the final chance for the victor to secure Season long bragging rights.
The Colts side claimed underdog status and according to their Skip Remy Kovacevich, pre-match, they're a "humble young side holding on to back to back premierships. These guys know how to win and will do so at all costs. Do not count them out"
The Grade side was led by Captain Joey Osborne and was selected without the need for tree outs or a net session. The old dogs were quietly confident that they'd get one up on their young upstart protégés to engrave their name on the inaugural Patrick Alexander Soars Cup.
As can be seen from the team shirts for each side, some quite famous cricketers laid a claim to being part of this well contested Inaugural Newport 'test' match on the velvet green pitch at the south end of Newport proper. Their style, finesse, fleetness and the general atmosphere of bonhomie was well appreciated by the crowd. There was a lot of ye olde 'swing and a miss' witnessed but also a fair amount of bat to ball connection speedily sending fielders towards the boundaries - all boundaries.
Although recent rain made the outer ground a place to be reckoned with for those unsure of foot, some stylish fielding meant the the batters had to quicken their pace between wickets - no time for hesitation here!
This was a limited overs match so the players could enjoy the cool of the evening - and an excellent time was had by all.
Some of the action runs below and there's more in this week's Pictorial.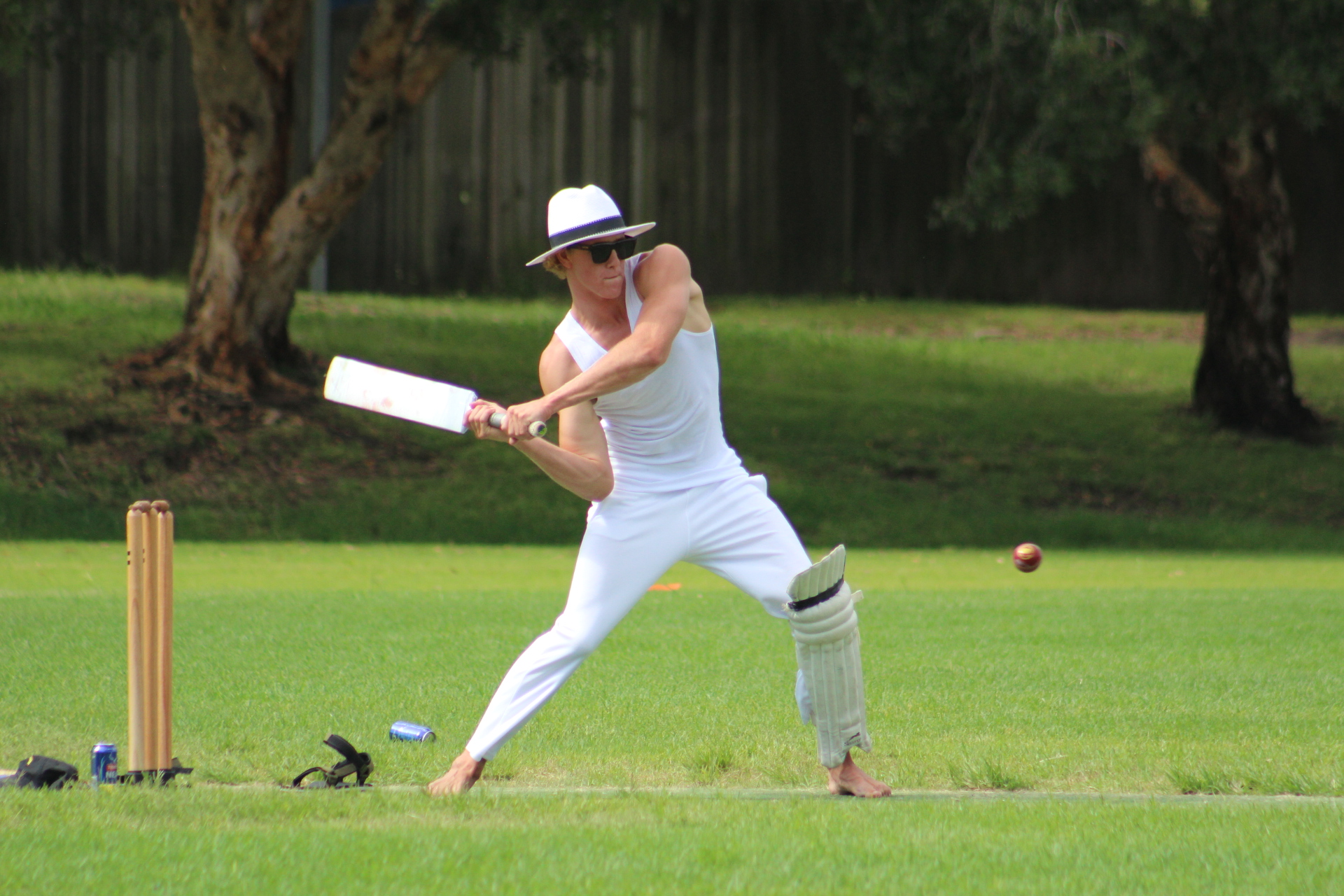 Photos by A J Guesdon, 2021.
Near Drowning Leads To Launch Of Innovative Learn To Swim Campaign: Surf Life Saving NSW Has Programs For All Ages And Peoples - They Are Available To Everyone
Two rescues performed by off-duty surf lifesavers, which saved the lives of eight men from Western Sydney, were the inspiration for a new learn to swim program that was officially launched on the Australia Day long weekend in Cronulla.
During the long weekend of October 2019 a group of men from a Western Sydney Mosque were on a father-son camping weekend at Seven Mile Beach near Forster on the NSW North Coast. Several men and their sons ventured into the water for a swim not realising they were heading straight into a rip. The group were quickly swept out by the strong current and began struggling to stay above water.
Hearing cries for help, a group of off-duty surf lifesavers from Palm Beach SLSC and Mona Vale SLSC, who were camping at the same campground as the men, raced down to the beach to rescue them. Two of the men almost drowned, were treated by paramedics and required hospitalisation.
It was this lifesaving rescue, and a similar one the following day involving the same group of men, that inspired Omar Mahmoud and Feroz Sattar to form Swim Brothers, after seeing the success of the similar Swim Sisters program which partnered with the Garie Surf Life Saving Club in Sydney to assist women to achieve their Bronze Medallions and become surf lifesavers.
Swim Brothers is an innovative new learn to swim program that is providing men from diverse communities with culturally-appropriate learn to swim training – both in the pool and in the surf.

Omar and Feroz realised that many people in their community have limited swimming ability in the pool and the surf and decided to do something about it.
"There are challenges with men from our communities being able to access surf and beach safety programs in a culturally sensitive format. Swim Brothers specifically tailors all aspects to address this and make this important skill accessible to all," Feroz Sattar said.
"It's interesting because we developed this program - but we are also the target market for it as well. I had started this program with Feroz and immediately learned that I was not as good a swimmer as I thought. And the importance of beach and surf safety was further reinforced," Omar Mahmoud said.
According to the NSW 2020 Coastal Safety Report, men are over-represented in coastal drowning deaths, making up 88 percent of people who drowned during the 2019/20 season.
Steven Pearce, CEO of Surf Life Saving NSW, said that Surf Life Saving NSW was fully supporting the Swim Brothers program, to help reduce the number of drowning incidents involving people from culturally and linguistically diverse communities.
"What Feroz and Omar have done in establishing the Swim Brothers program is to be commended. When it comes to coastal drownings, people from Western Sydney, particularly people from diverse communities, are identified as an at risk group," Steven Pearce said.
"The Swim Brothers collaboration gives us a fantastic opportunity to use our expertise to deliver vital beach and surf safety messages alongside the all-important practical swimming and water confidence skills that Swim Brothers works towards.
"For participants and their families, this program also helps create generational change amongst at risk communities and helps raise awareness of the importance of learning to swim and how to stay safe at the beach.
"There is always the opportunity for participants of the program to work towards becoming volunteer surf lifesavers, helping save lives and giving back to communities through our organisation," he said.
Surf Life Saving NSW provides Beach Safety Talks, where lifesavers come to you and deliver a fun and interactive presentation tailored to your groups' needs, Beach Workshops, where for a more hands-on experience, you can join lifesavers on the beach and learn practical water safety skills in the surf and coastal pools, and have partnered with NSW Police, the Royal Life Saving Society - Australia and Northern Beaches Council launched a video on December 11th 2020 which is subtitled in eight different languages and encourages international students to enrol in swimming lessons and familiarise themselves with water safety when swimming in the ocean, rock pools, rivers and pools or rock fishing.

Some of the recommended safety tips include:
Never swimming alone
Wearing a life jacket when fishing and boating
Avoiding alcohol around water and not drinking if you plan to swim
Learning Cardio Pulmonary Resuscitation (CPR)
We Link here to these captioned videos in Portuguese - Korean - Japanese - Hindi - Mandarin - Nepali - Vietnamese - Spanish - English.
That's not all that's available though.
Surf Life Saving NSW also provides virtual programs for multicultural community groups, University and TAFE students that are an engaging and interactive way for participants to learn about beach and surf safety. Upon registration, group contacts will receive fun and educational downloadable resources and activities along with digital activity links for use by participants to solidify their learning.
For primary schools, high schools and community groups they currently run the Lifesaver for a Day Program. In this interactive session, participants have the opportunity to become involved in discussions as they navigate through a series of activities in a surf lifesavers day. Participants will learn about beach and coastal hazards and the ways they can ensure they stay safe while at the beach.
The sessions are a virtual experience providing participants with opportunities to talk to a surf lifesaver and have lots of fun while asking questions, learning how to identify hazards on our coastlines and how to stay safe at the beach.
For adults there are three options offered:
Lifesaver for a Day (Adult Program in English) -

standard program provided in written and spoken English.

Lifesaver for a Day (Adult Program for low-level ELP groups) -

low-level ELP program with modifications to suit low-level ELP audiences and inclusive of some written translations of key messages for participant languages.

Lifesaver for a Day (Adult Program in Arabic) -

Arabic language program provided completely in spoken and written Arabic.
Please share what's available with anyone you know would benefit from these great Programs and videos.
Let's keep focused on saving lives on all our beaches!

Swim Brothers by Surf Life Saving NSW
Thank You To Our Frontline Workers On Australia Day From Our Local Rotary Clubs - Rotary's Centenary Of "Doing Good" DownUnder Year
L to R:- Rob Haines (President, Upper Northern Beaches Rotary), Jennifer McConnell (A/General Manager, Mona Vale Hospital), Maria Manna (NSW Dept of Health), Lindy Myers (President, Balgowlah Rotary) and Liz McDougall (President, Dee Why-Warringah Rotary). Handing over $50 vouchers, with frontline medical staff from Mona Vale hospital.
Across Australia, the National Australia Day Council (NADC) has partnered with Rotary to provide a series of events on Australia Day. Local Rotary Clubs were planning a community event in Mona Vale on Australia Day but when lockdown was announced in December they had to look elsewhere.
They decided to put money back into our local economy through restaurants which have been badly hit, whilst recognising the extraordinary work done by our front-line workers, including Covid-19 testing and tracing teams and bushfire fighting personnel.
The grant provided by the NADC purchased over 300 $50 vouchers to be used at specific local restaurants. These were distributed through frontline organisations, including the NSW Health (Northern Beaches section of Northern Sydney district), Northern Beaches Lifeline telephone councillors, the local State Emergency Service, and the Rural Fire Service, to local frontline workers for Australia Day.
This project was implemented by the local Rotary Clubs of Upper Northern Beaches, Balgowlah and Dee Why-Warringah, contacting both the restaurants and the frontline workers.
By honouring our front-line workers, the Rotary Clubs have imparted the sentiment behind this year's National Australia Day theme – Reflect, Respect and Celebrate, which has been promoted on television and in the press.
All recipients and restaurants have been very appreciative of the initiative.
L to R: - Roger Gray (Balgowlah Rotary, Liz McDougall (President, Dee Why-Warringah Rotary), Lindy Myers (President, Balgowlah Rotary), Donna Favaloro (Crisis Support Manager, Lifeline Northern Beaches) and David Thomas (CEO, Life Line Northern Beaches). More Vouchers being handed over.

RFS (Terry Hills) volunteer Murray Lowe and his wife Lisa, enjoying a meal at Sandstone Café, Terry Hills with restaurant manager Vinnie.

The vouchers are just one of the works undertaken by our local Rotary clubs in the past few challenging months.
In December SHINE for Kids were overwhelmed by the generosity and kindness of local people placing gifts under the annual Tree of Joy at Warriewood initiative run through the Rotary Club of the Upper Northern Beaches.
In November the club commenced it's first crowdfunding campaign, encouraging members and the community to put their Hats on to help the Avalon Youth Hub and donate what they could, quickly raising over a thousand dollars for the Hub.
Members in our other local clubs repair toys for children, organise the annual Manly Fun Run & Walk, knit babies blankets - in fact, everywhere you look you will find a Rotary member doing good in a wide variety of areas and actions in our community.
This year the 79 Rotary clubs in the area stretching from the Blue Mountains to the sea north of Sydney Harbour, reaching across the Hawkesbury River and north to Toukley on the Central Coast of which our local clubs are a part of, will join with the 1100 Rotary Clubs across Australia in celebrating Rotary's Centenary of "Doing Good" DownUnder!!
As part of the Centenary a set of new commemorative coins will put Rotary into the hands of every Australian in this centenary year and beyond.
The Royal Australian Mint recently announced that they will launch a pair of coins in 2021 for the centenary.
A $1 coin will go into general circulation and also be available in a commemorative collectors pack for $15. A special minting of a silver $5 coin will be available for $100 marking 100 years of Rotary service and launching into the next 100 years.
The new coins will be launched in Sydney this coming Thursday, February 4th, along with a set of commemorative stamps.
Flannel Flowers(Actinotus helianthi), Mackerel Track - photo by Selena Griffith, January 27, 2021
Native hyacinth orchid (Dipodium punctatum), Little Mackerel, Currawong, photo by Selena Griffith, January 27, 2021

View over Great Mackerel Beach, photo by Selena Griffith, January 27, 2021
Past Features Archives (pre 2014)
Pittwater Online News was selected for preservation by the State Library of New South Wales and National Library of Australia. This title is scheduled to be re-archived regularly.
Archived Issues (2014 on) may be accessed here: pandora.nla.gov.au/tep/143700