July 19 - 25, 2020: Issue 458

North Avalon Beach Headland Changes Again: Storm Swell July 2020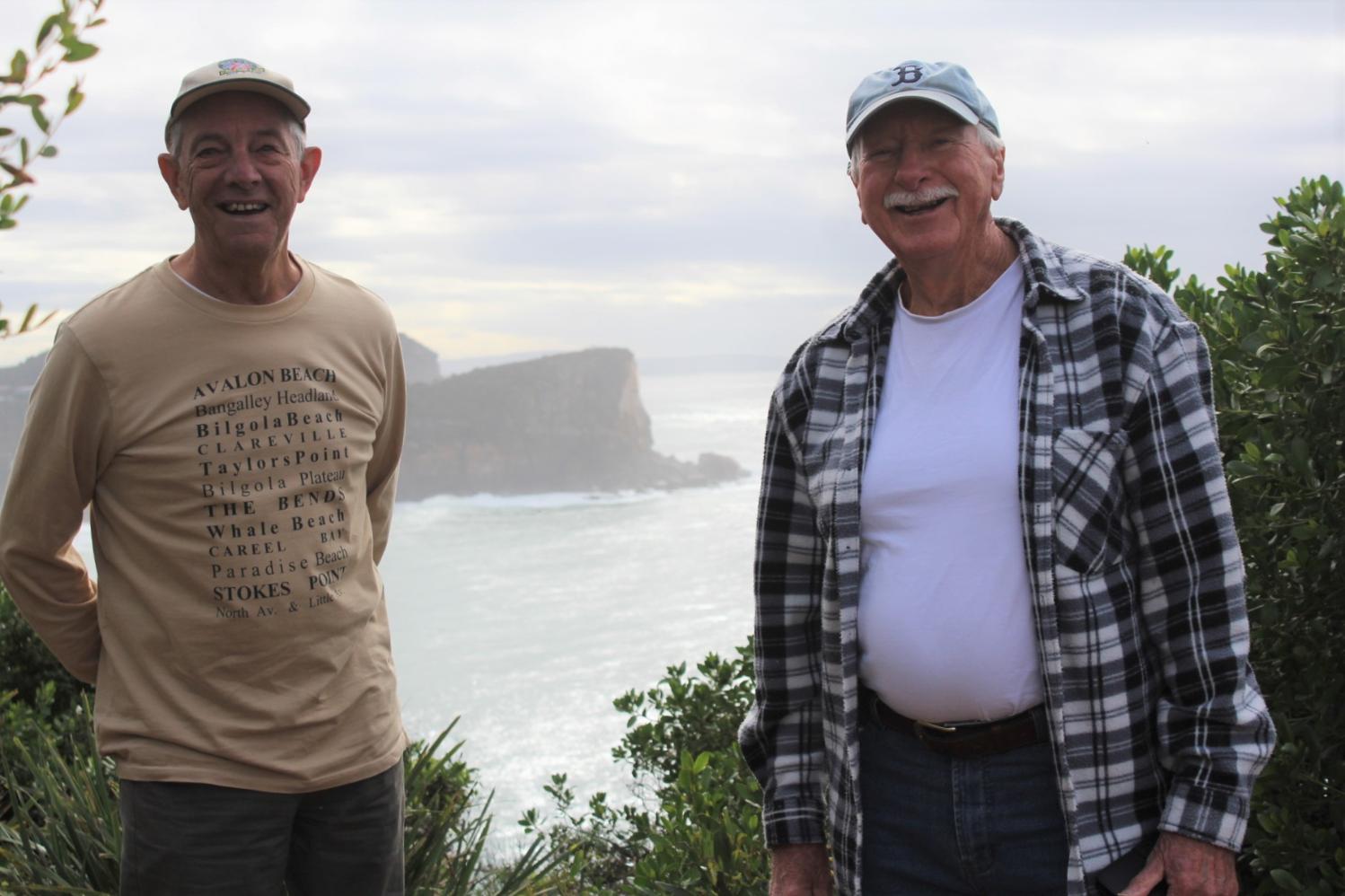 Historian Geoff Searl OAM, President of Avalon Beach Historical Society with fellow member and Historian Roger Sayers at the Avalon-Bilgola Lookout yesterday, Saturday July 18th, looking at latest change to North Avalon Beach headland.photo by A J Guesdon, 2020.
With swell hitting the New South Wales coast in waves measuring up to 11 metres, the large boulder of rock that fell from North Avalon Beach in August 2017 has succumbed to the sea on Friday, July 17th, finally toppling under a week long barrage of waves, some leaping cliff height high on impacting coastal rock shelves.
The latest history in the making change is one of many on record, dating back to the 1860's - more in this week's History page.
The low-pressure system sent powerful surf onto the coastlines, arriving on Tuesday, and has been the cause of the Bureau of Meteorology issuing Hazardous Surf Warning all week. By Saturday the unrideable waves became smoother, causing experienced surfers to find and ride the swell as the waves hollowed out on some beaches.
More photos from along our stretch of beaches in this week's Pictorial.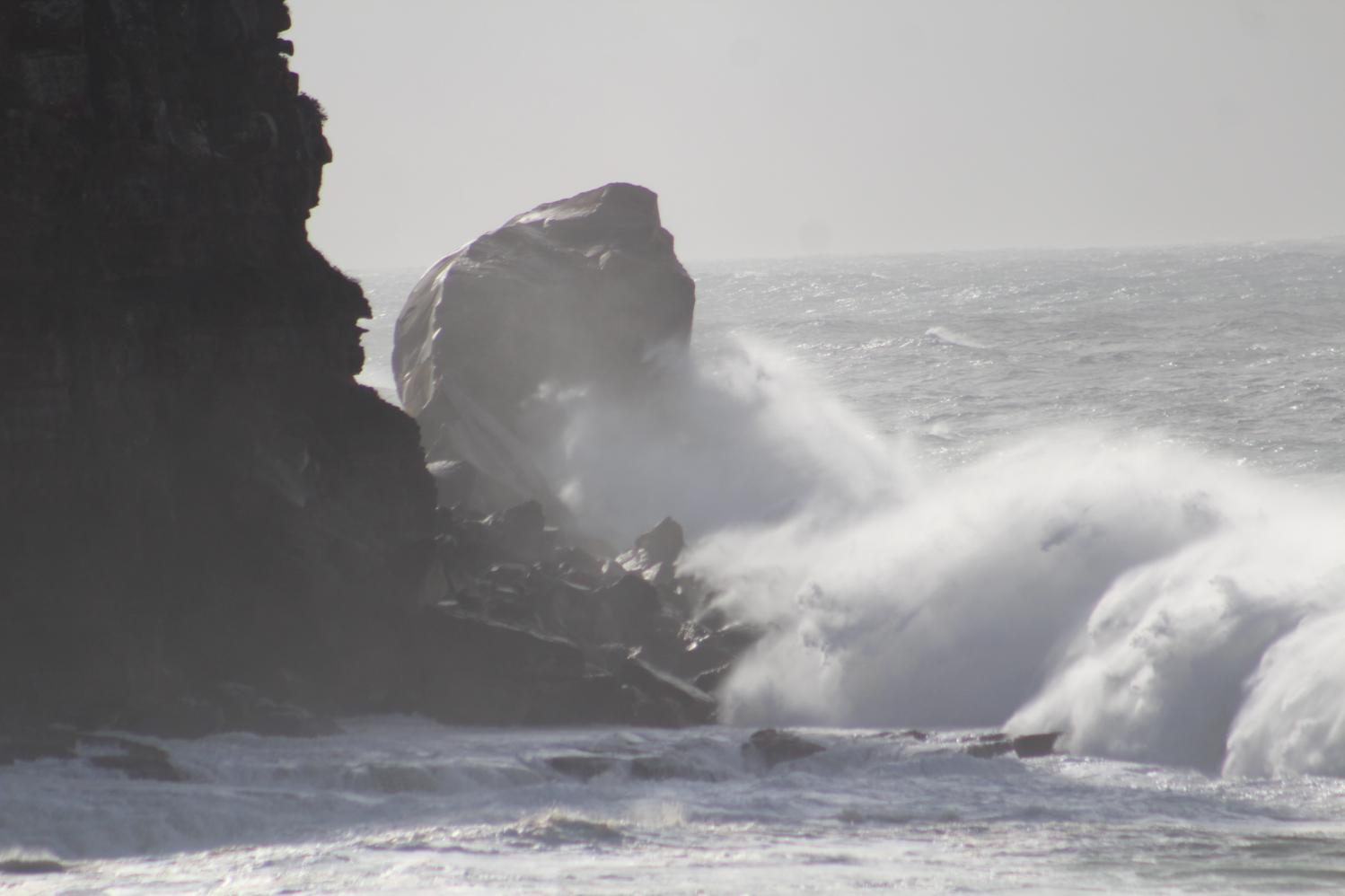 Before:
July 15, 2020: storm swell - more in this Issue's Pictorial 'Out & About'. A J Guesdon photos.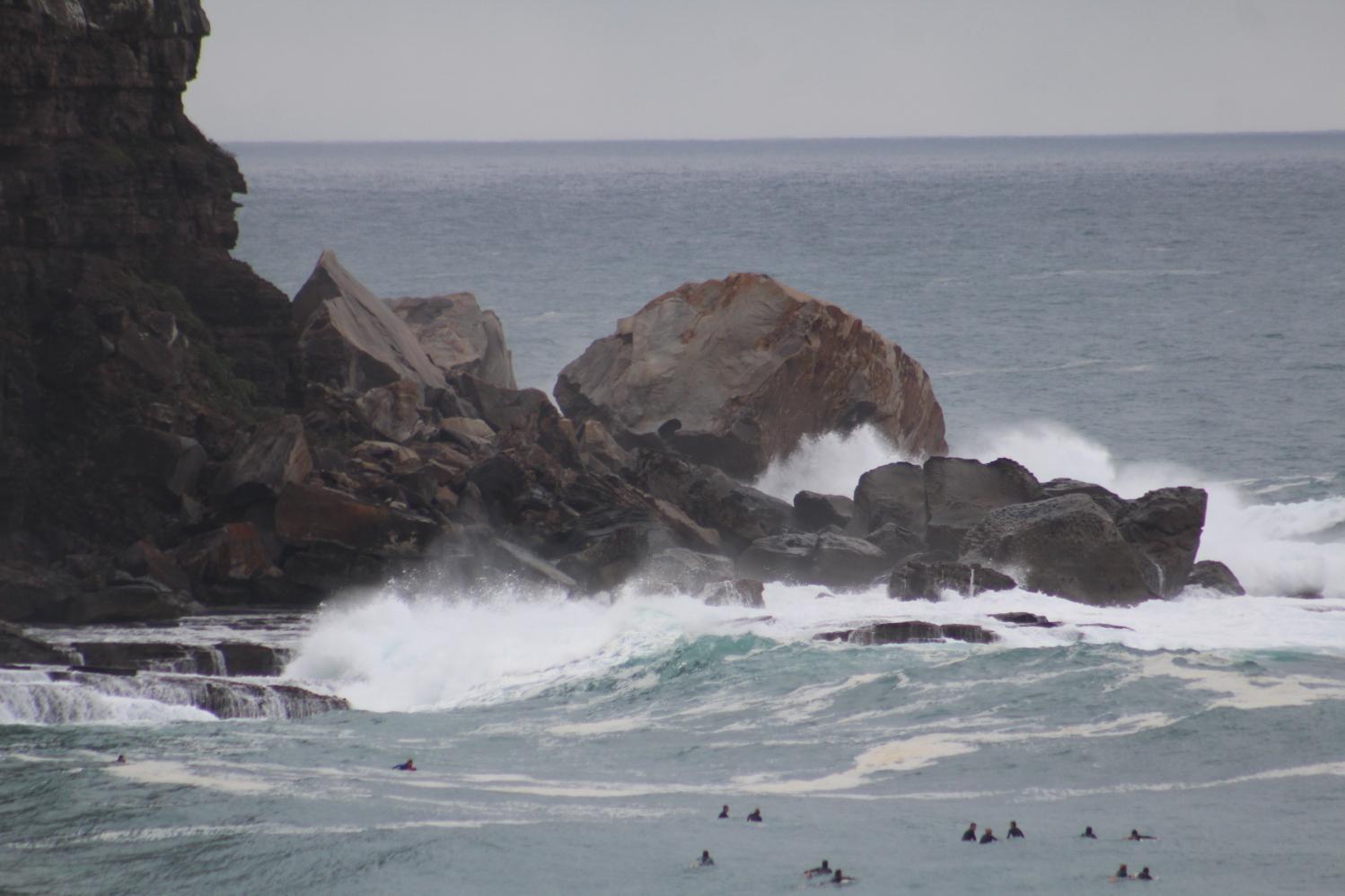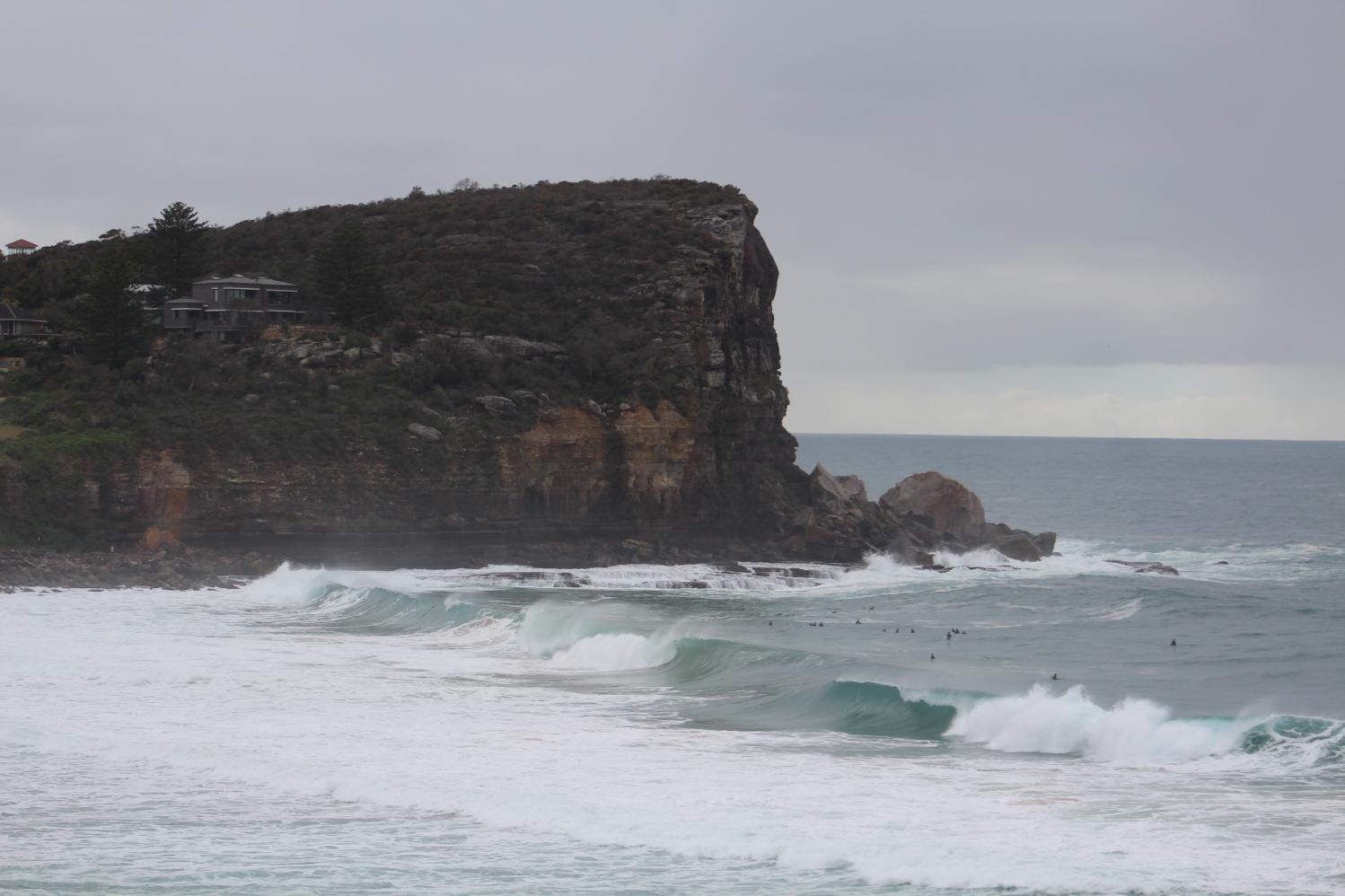 After:
July 18, 2020: storm swell - more in this Issue's Pictorial 'Out & About'. A J Guesdon photos.
2020 Edition Of 24 Hour Row For Mental Health Goes Australia Wide: Funds Raised Support One Eighty - Gotcha4Life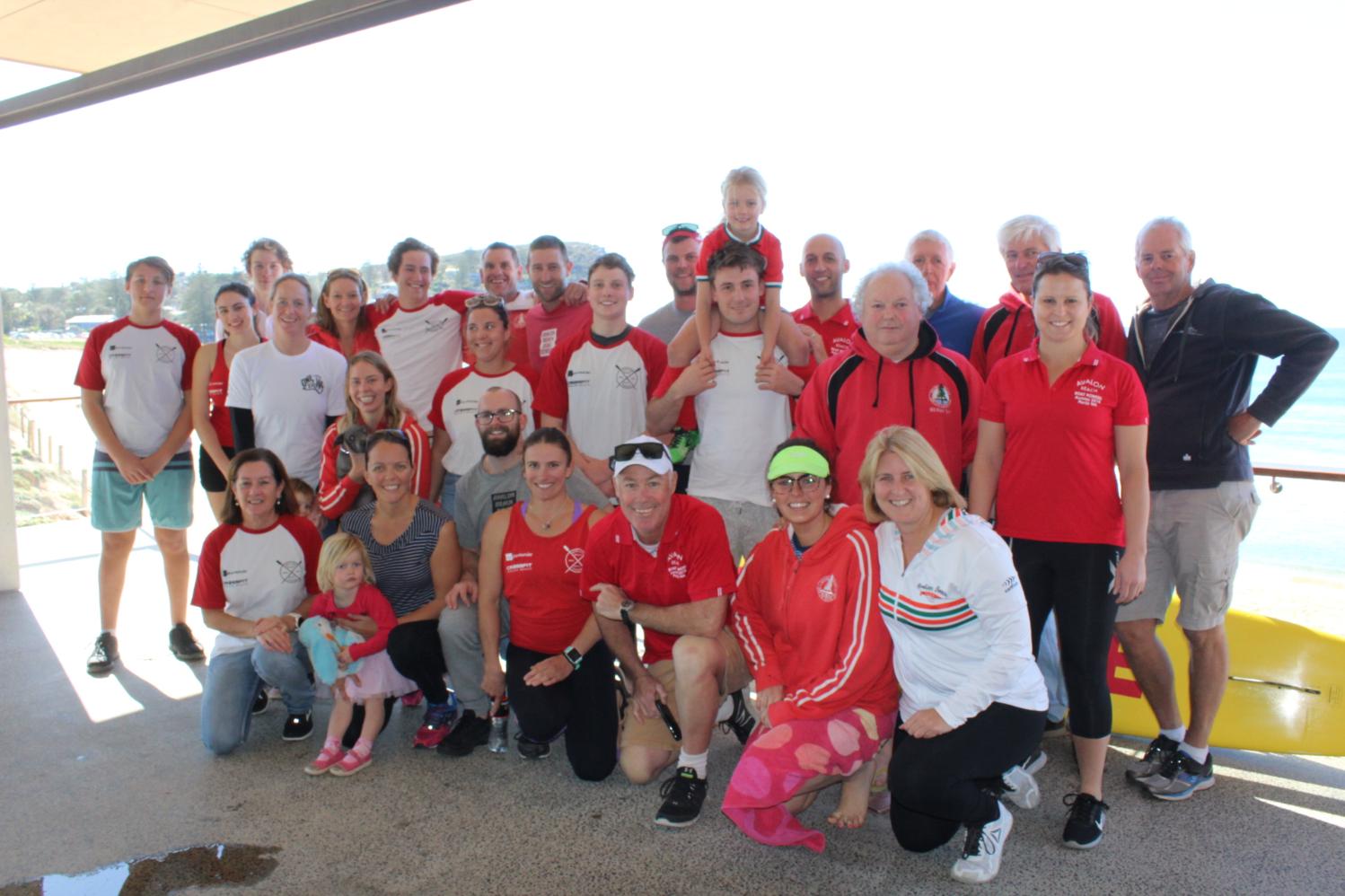 Australian SLSC Boat Rowers will be rowing for 24hrs to raise money and awareness for local charities One Eighty and Gotcha 4 Life on 22-23 August 2020. This year 14 clubs from NSW, Queensland, South Australia, Victoria have already signed up to join in. Photo: part of the Avalon Beach SLSC Team of Rowers from 2018 - A J Guesdon photo.
Over 500 surf club members will take part in this year's 24 Hour Row for mental health supporting Gotcha4Life and One Eighty.
After the success of the Avalon Beach 24 Hour Row over the past two years, the event is expanding in 2020 with a total of 14 Surf Life Saving Clubs signing on to row and raise money and awareness for mental health charities Gotcha4Life and One Eighty this August.
The brainchild of one of the country's top surf boat coaches Nathan Wellings and his wife Mel, the event began in 2018 after a tragic spate of youth suicides in the Northern Beaches area.
"Our local community was struggling to come to terms with the loss of a number of our young people and our team of surf boat rowers wanted to do something positive to help," said 24 Hour Row founder Mel Wellings.
"We set up a couple of rowing machines at the club and rostered everyone to row for an hour each, over 24 hours. It was such a great event, with great support from all the community, not just our club members. We even had the local member Rob Stokes jump on a machine and row for an hour with us. He didn't do too bad a time either," said Mel Wellings.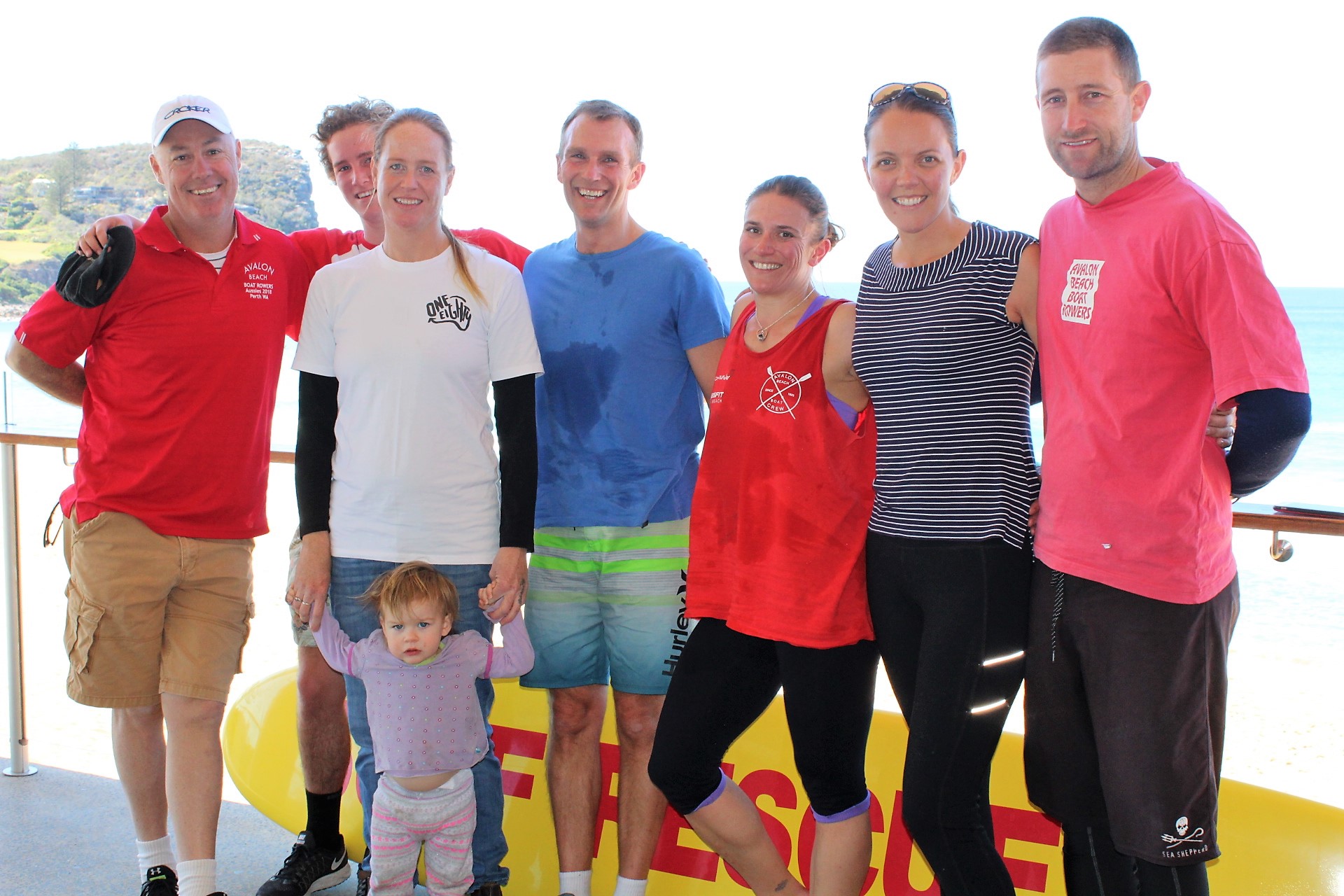 AVSLSC President Ashley Cardiff, Ben Wilson*, Leanne Westlake, The Hon. Rob Stokes, MP for Pittwater*, Bec Lock*, Mel and Nathan Wellings. *First rowers in 2018 - A J Guesdon photo.
This year the word is out and with 14 clubs from NSW, Queensland, South Australia, Victoria signing up. "We expect there to be some healthy rivalry between clubs this year with both the fundraising side and the total distances that each can row in the 24 hour period," said Mel.
For the first time 24 Hour Row team will link up each of the locations via Zoom and broadcast live through Facebook for the entire event so everyone is connected and anyone can tune in to see the progress and donate.
All funds raised are shared between two mental health organisations who are making a difference through outreach and community programs with the aim of reducing suicide deaths.
Local youth mental health charity One Eighty is leading the way for peer-to-peer models of community support with a vision for future free of youth suicide through prevention and early intervention. While Gus Worland's Gotcha4Life works with and funds sustainable educational workshops, training programs and products to build mental fitness right across Australia to create strong, open and binding relationships.
Surf Life Saving NSW have also come onboard as a partner to help promote the event through its Memorandum of Understanding with Gotcha4Life.
Find out more HERE - including how to sign up to row or donate to rowers.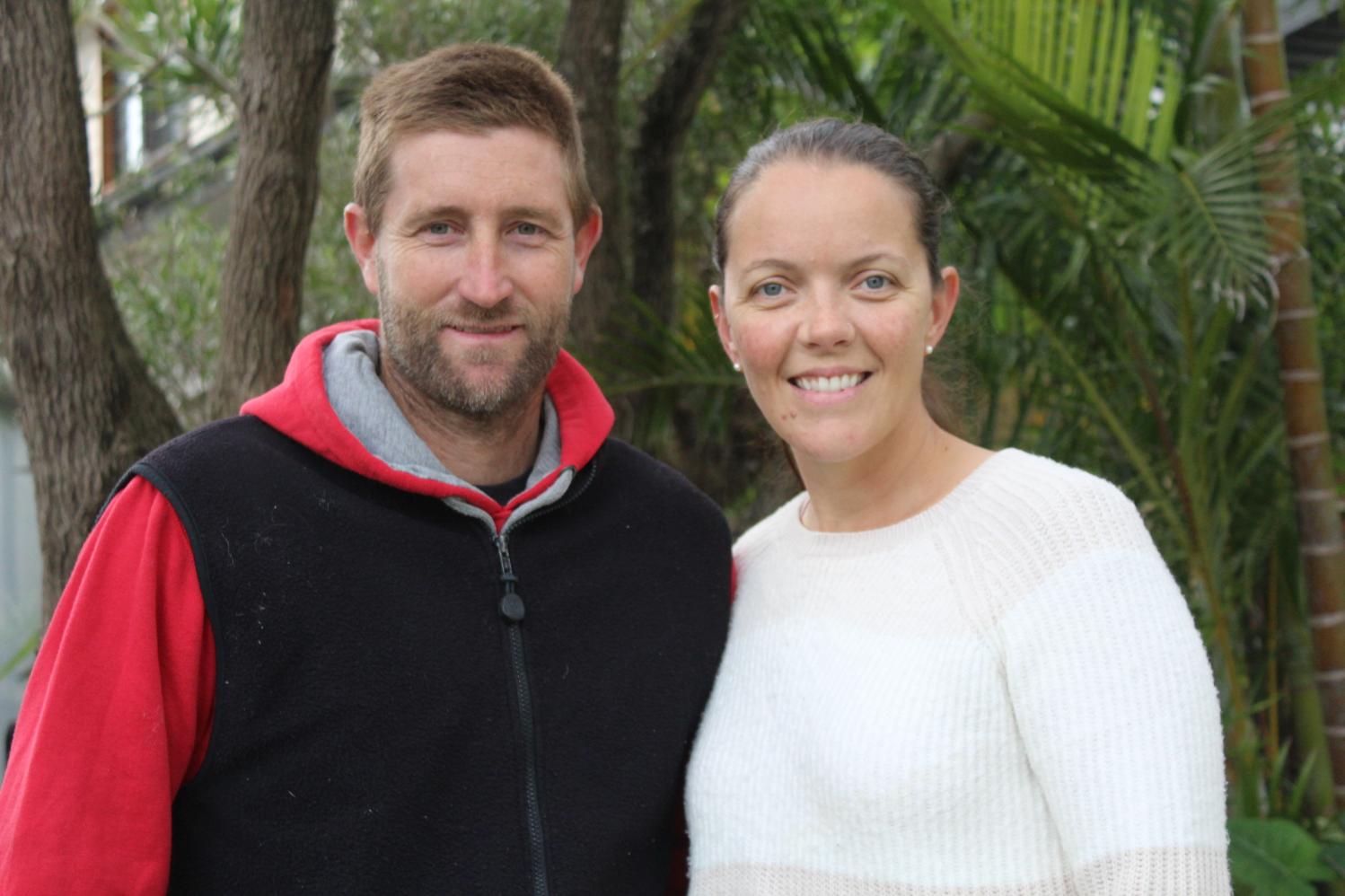 Nathan and Mel Wellings yesterday, Saturday July 18th, 2020 - getting ready for the 3rd Annual 24 Hour Row for Mental Health. A J Guesdon photo.
Holly Builds A Blooming Great Career: Apprenticeships 2020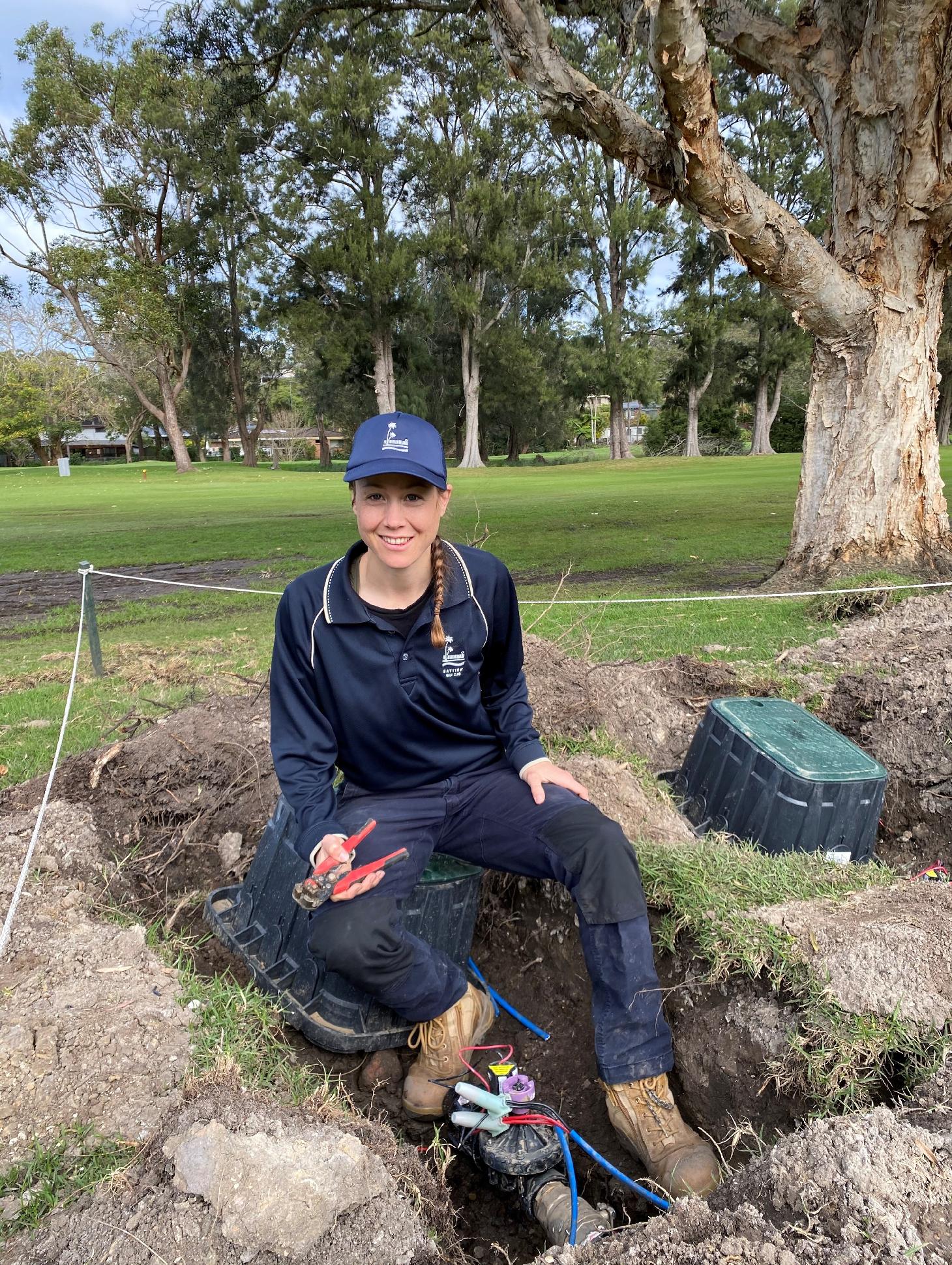 TAFE NSW graduate Holly Ross is calling on other women to buck the trend and pursue a blooming great landscaping career.

According to Job Outlook, the number of people working as landscape gardeners grew very strongly over the years 2011-2016, however only 5% of landscape gardeners are female.
An exception to the rule, Holly said she already had a burgeoning career in the equine industry but felt she wanted a new challenge and needed new skills to help her along the way.
"I had achieved my dream job at a young age and was no longer challenged. I liked the construction side of farm work and had always enjoyed working in the gardens as well. Most high equine businesses have elaborate gardens that need upkeep for showcasing their horses," Holly said.
"I wanted a broader range of practical skills for future projects that weren't solely tailored to the equine industry. Once I discovered I could study Landscape Construction at TAFE NSW, I knew it would be the perfect fit."
Holly relaunched her career by securing an apprenticeship with a landscape design company and commenced the Certificate III Landscape Construction at TAFE NSW Ryde to help her grow her skills.
Holly said, "The best thing about studying at TAFE NSW Ryde is that there are many green spaces where students are able to complete hands-on projects and build their skills. I felt a sense of achievement completing these projects as I knew other students on campus would benefit from and enjoy the spaces I had helped to design."
Now working at Bayview Golf Club in Mona Vale, Holly says she enjoys putting the horticultural and landscaping skills she gained at TAFE NSW into practice developing the course and maintaining the gardens and is encouraging more women to become trade qualified.
"I really want to encourage others to pursue an apprenticeship and specifically to boost confidence in women to follow their passion and pursue a trade.
"I am proud to say I am a tradesperson now, but it doesn't stop there. I intend to return to TAFE NSW soon to progress my studies further in other areas, developing more skills and broadening my knowledge. The options are endless."
With the NSW Government investing over $285 million to fund the qualification fees for 100,000 new apprentices from 1 July 2018, there's never been a better time to apply for a fee-free apprenticeship in NSW.
To find out more about studying landscape and horticulture at TAFE NSW in Semester 2 visit www.tafensw.edu.au or call 131 601.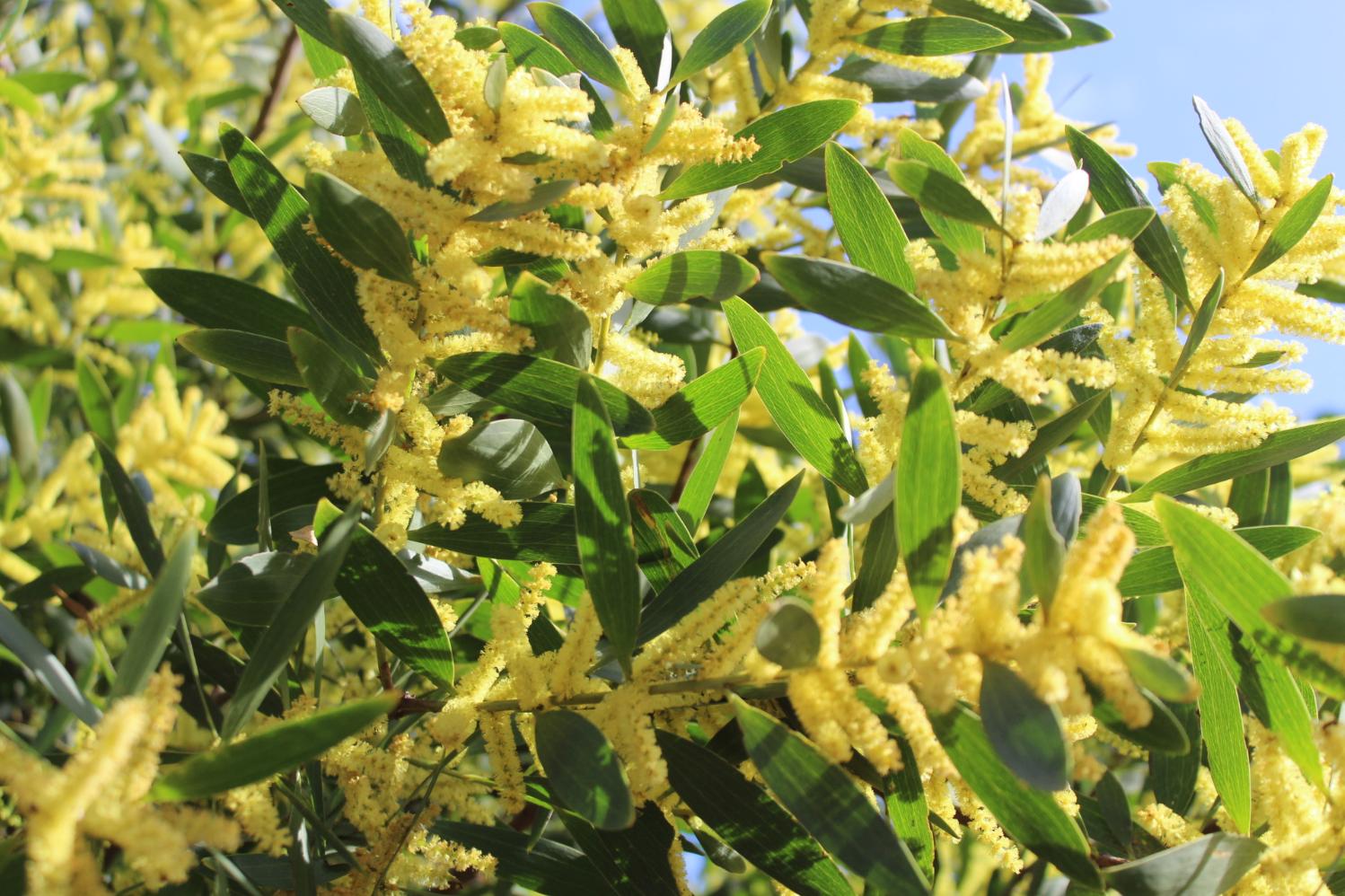 Bright plashes of yellow are everywhere from Winter Wattle blooming. A J Guesdon photo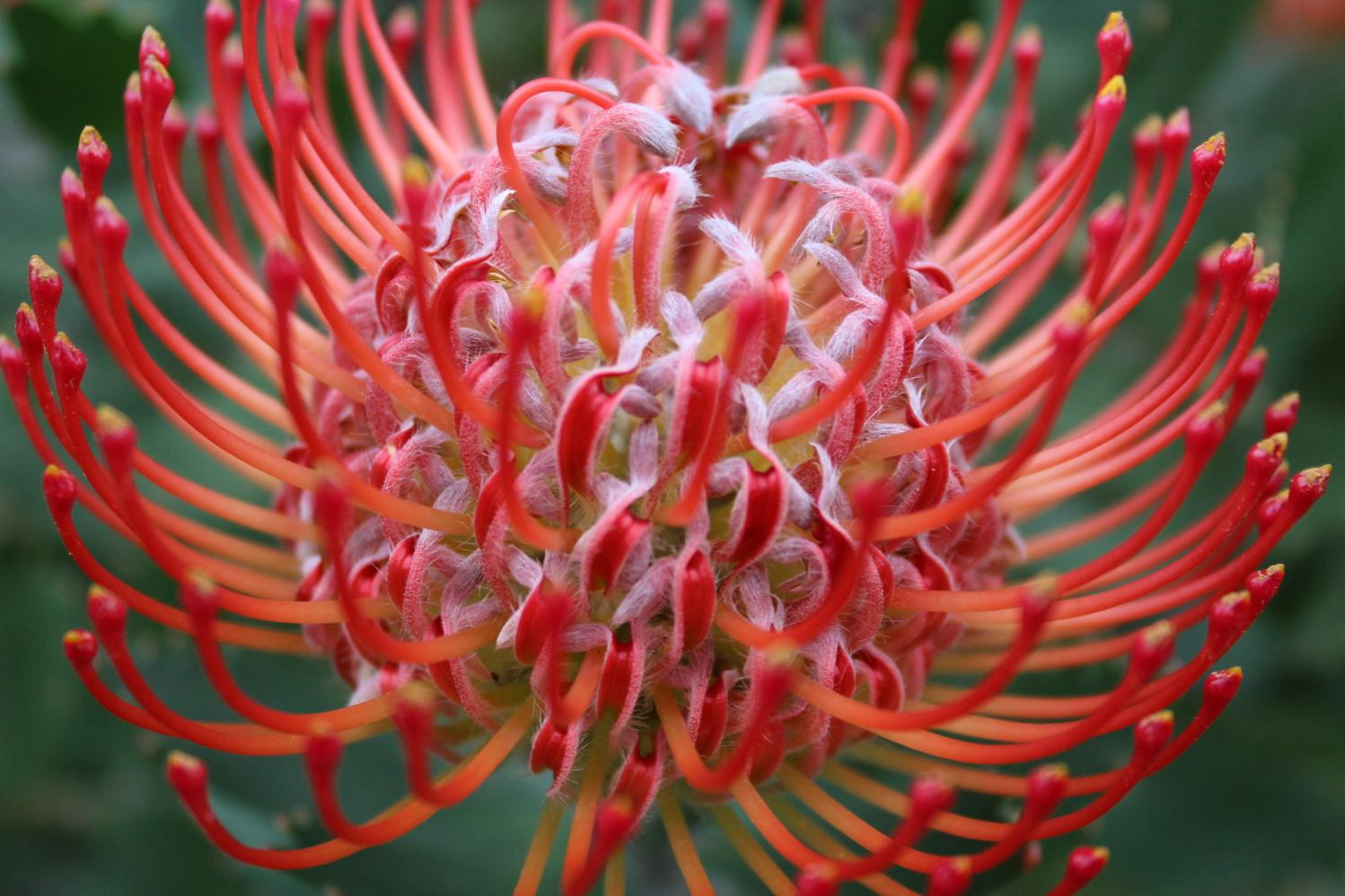 Leucospermum cordifolium - 'pinwheel' or 'nodding pincushion' - part of the Proteaceae family - flowers Winter to Spring in Australia, native of South Africa and Zimbabwe. A J Guesdon photo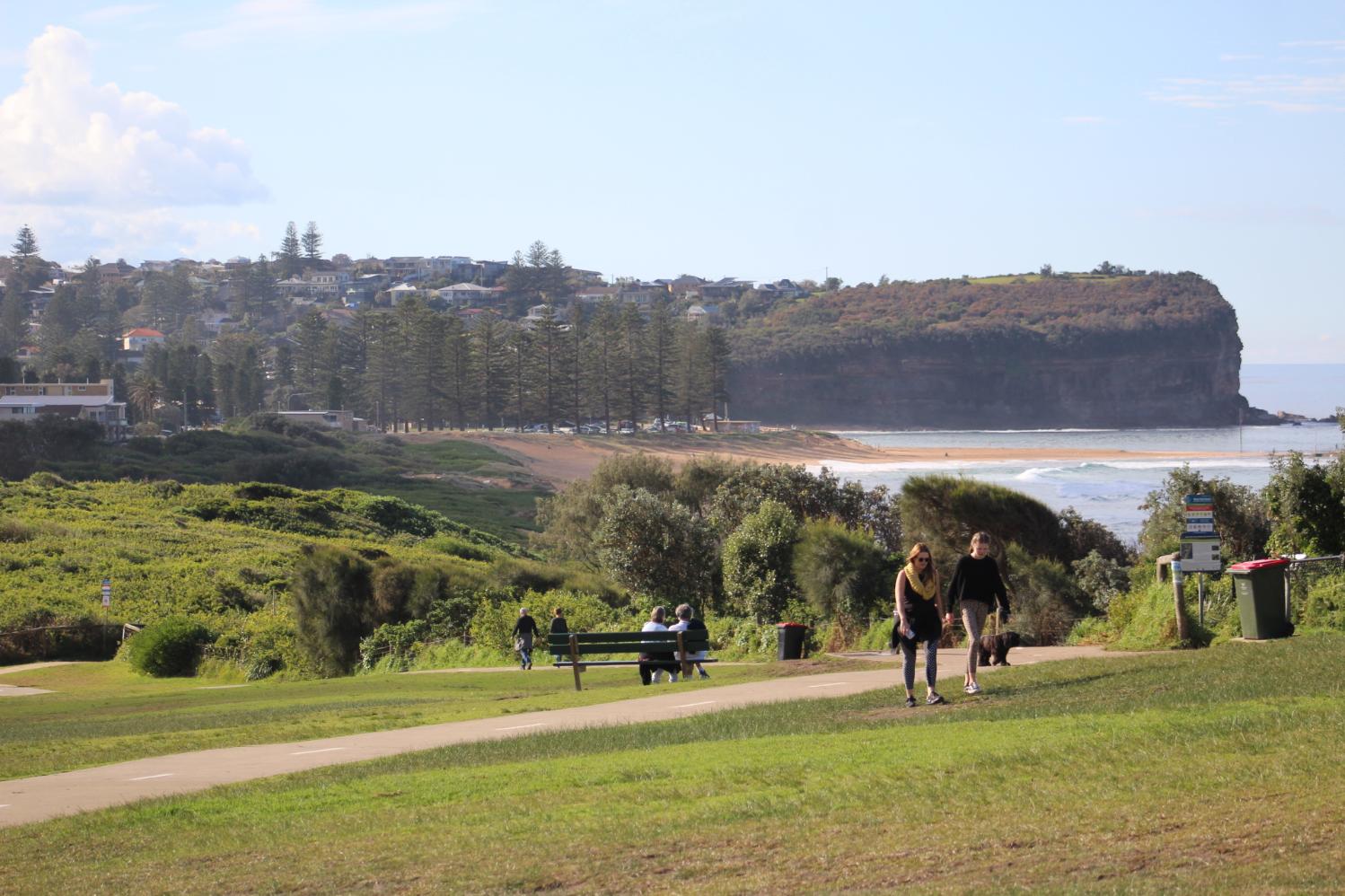 Glorious Mona Vale on a beautiful Winter's afternoon, July 13, 2020 - A J Guesdon photo
Past Features Archives (pre 2014)
Pittwater Online News was selected for preservation by the State Library of New South Wales and National Library of Australia. This title is scheduled to be re-archived regularly.
Archived Issues (2014 on) may be accessed here: pandora.nla.gov.au/tep/143700