April 26 - May 2, 2020: Issue 447
CHLOE CARR OF BUNGAN BEACH AND KALE PUATA OF NORTH AVOCA WIN 2020 STATE AWARD FOR JUNIOR LIFESAVERS
OF THE YEAR
2020 NSW Junior Lifesaver of the Year Presentation - video by SLS NSW
The 2020 NSW Junior Lifesavers Of The Year (JLOTY) Have Been Decided.
For the first time in its 32-year history, the process for the selection of the prestigious awards for 13 and 14-year old lifesavers has been completed online due to the COVID-19 pandemic.
Despite not being able to attend the annual camp, the young leaders have spent time working on their digital presentation and interview skills.
Many have also been carrying out tasks to assist their clubs and communities where they can, during the COVID-19 crisis. Everything from engaging the younger Nippers in online activities to helping their club management teams with scanning and even helping with club presentations.
Surf Life Saving NSW Director of Membership Kerry Clancy said it's fantastic to see the youngest lifesavers in the movement step up at this time.
"Each year the calibre of our finalists is raised. This year is no exception and each have been outstanding with the move to digital interviews," said Clancy.
"I commend each one of our 22 finalists from right across the state and I encourage them to continue to be strong and enthusiastic leaders in their clubs and branches," she said.
This year's presentation was hosted on Thursday 16 April by Australian Olympic rowing hopeful and Indoor Rowing World Record holder Georgie Rowe from Collaroy SLSC. Just days after breaking the world half marathon record, Georgie said she was honoured to present the two 2020 NSW Junior Surf Lifesavers of the Year with their awards.
"To have the courage and perseverance to come this far in this award process is an amazing feat," said Rowe. "They have each shown to be valuable members of their club and great representatives of both their clubs and branches through their volunteering and lifesaving skills.
"Some of them have been involved in their clubs since they were six-years old and the passion they have is so inspiring," she said. "They want to develop some amazing projects to help make Surf Life Saving stronger into the future. They all have the world at their feet and I can't wait to see where their passion takes them."
The 2020 NSW Female Junior Lifesaver of the Year is Chloe Carr from Bungan Beach SLSC on Sydney's Northern Beaches.
Chloe is a virtual newcomer to Surf Life Saving, but in her 12 months of being a member she has achieved her SRC (Surf Rescue Certificate), substituted on patrols with members she hadn't met, if nothing else but to expand her knowledge and patrol experience.
Chloe has goals and direction that will not only take her further in Surf Life Saving, but she has shown that she is driven to take what she has learnt on the beach and convert those skills to help her in all areas of her life.
Chloe is not afraid to admit that obtaining her SRC and participating in the JLOTY program has boosted her confidence, taught her how to work in a team and even become a better water person. Through the JLOTY program Chloe has shown that everyone can have a voice.
Chloe would like to encourage more people within her community to participate in Surf Life Saving because she believes that learning about the beach and her community opened her eyes to the world and all its possibilities.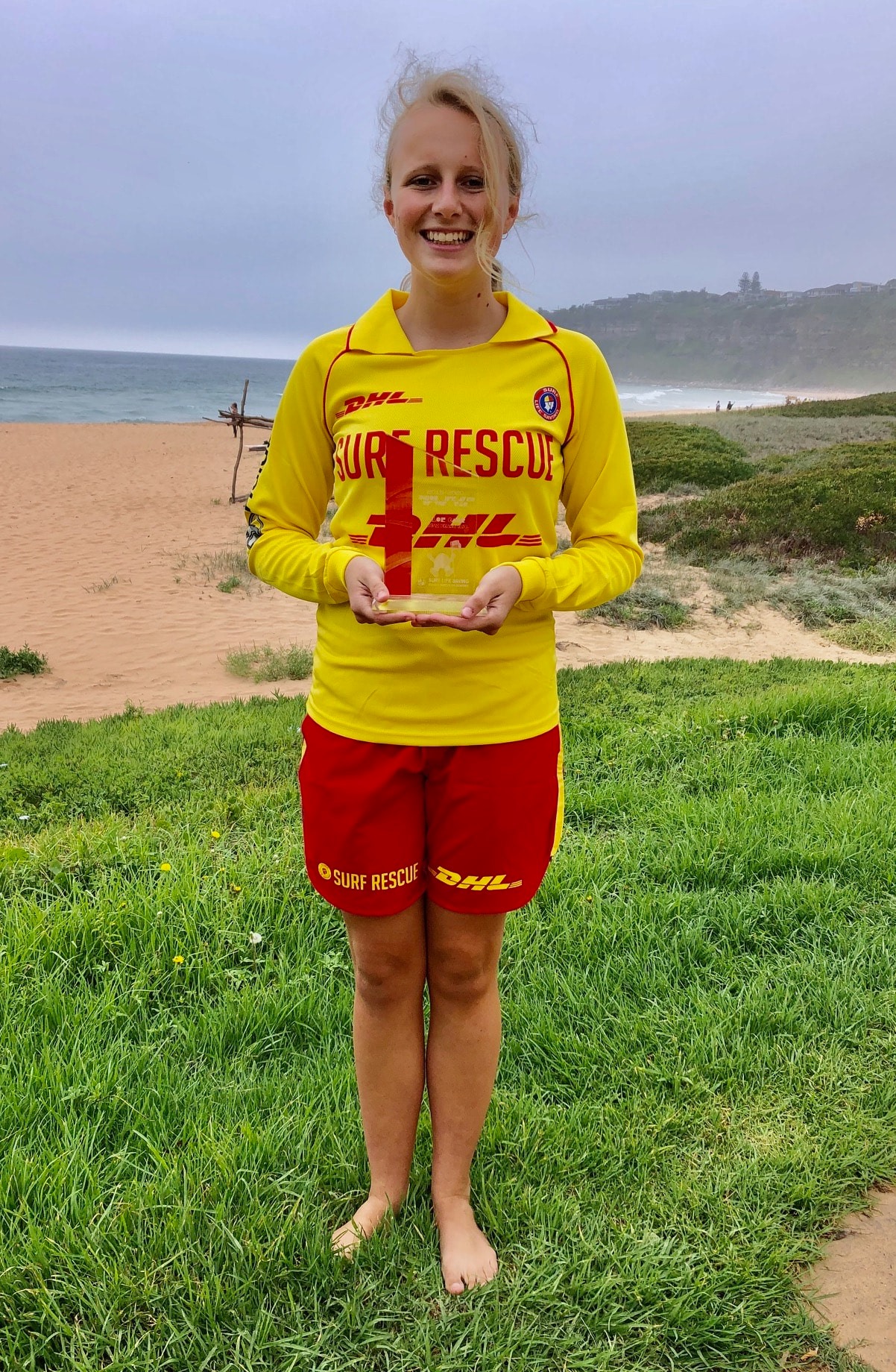 Chloe with her Surf Life Saving Sydney Northern Beaches Branch 2020 JLOTY Award on Bungan Beach
The 2020 NSW Male Junior Lifesaver of the Year is Kale Puata from North Avoca SLSC on the Central Coast.
Kale has enjoyed many different areas of Surf Life Saving since starting as a six-year-old. The highlight for him was being part of the Surf Life Saving Central Coast Rookie Program.
After gaining his SRC (Surf Rescue Certificate) he has been involved in leadership camps, fundraising and he also loves competing and representing his club.
Kale would love to see a Rookie Buddy program set up within Surf Life Saving to help build member confidence and experience.
The panel said Kale was very earnest in all his responses and were impressed with his commitment to continue to develop as a leader in his club and community.
This is the first time both Bungan Beach and North Avoca lifesavers have taken out the Junior Lifesaver of the Year award.
Surf Life Saving NSW President George Shales said he was thrilled with the calibre of the finalists.
"I'm extremely proud of our 22 remarkable young lifesavers, who are no doubt leading the way with an amazing team of like-minded club-mates. Their energy is just what we need at this time and I encourage each of them to maintain their positive attitude and continue their great work into the next season.
"Congratulations to Kale and Chloe on being named our 2020 Junior Lifesavers of the Year. You join a long list of highly successful and inspiring previous winners. There are great things ahead for you. Make the most of every opportunity," said Shales.
2020 SURF LIFE SAVING NSW JUNIOR LIFESAVER OF THE YEAR FINALISTS
FAR NORTH COAST:
Amelie Dugard, Lennox Head – Alstonville SLSC
Lawson Shirley, Byron Bay SLSC
NORTH COAST:
Nikita Braine, Red Rock – Corindi SLSC
Nick Alford, Woolgoolga SLSC
MID NORTH COAST:
Bronte McAllister, Tacking Point SLSC
Jackob Ross, Tacking Point SLSC
LOWER NORTH COAST:
Grace Romer, Forster SLSC
Camden Ceccato, Cape Hawke SLSC
HUNTER:
Taylin Ingram, Caves Beach SLSC
Blake Masters, Dixon Park SLSC
CENTRAL COAST:
Brooke Gillett, North Avoca SLSC
Kale Puata, North Avoca SLSC (winner)
SYDNEY NORTHERN BEACHES:
Chloe Carr, Bungan Beach SLSC (winner)
Christian Selvaratnam, South Narrabeen SLSC
SYDNEY:
Yasmeen Janschek, Coogee SLSC
Rory Davey, Bondi SLSC
ILLAWARRA:
Lucy Landon, Port Kembla SLSC
Eamon Ritter, Scarborough-Wombarra SLSC
SOUTH COAST :
Mia Bolte, Shellharbour SLSC
Noah Parker, Gerringong SLSC
FAR SOUTH COAST :
Imogen Bichard, Pambula SLSC
Jayden Reyneke, Pambula SLSC