April 26 - May 2, 2020: Issue 447
Pittwater dodges major COVID-19 outbreak so far –
with no new cases since Easter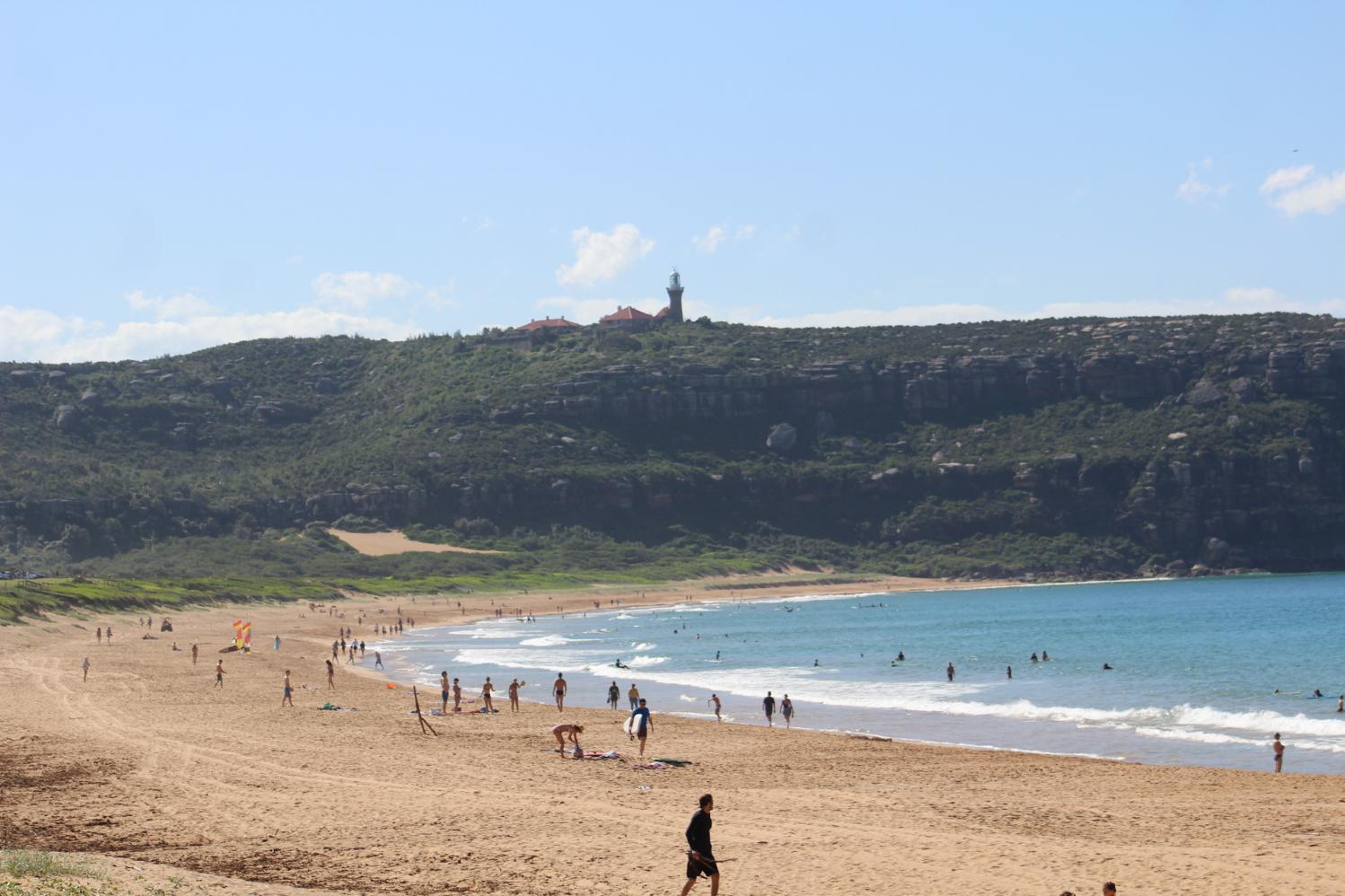 Palm Beach on Saturday April 25, 2020
by Miranda Korzy

Pittwater has so far dodged a major COVID-19 outbreak but an infectious diseases expert does not see any prospect of us going it alone to relax social distancing.
No new cases of COVID-19 have been recorded in the area extending from Palm Beach to Narrabeen Lagoon and inland to Terrey Hills – roughly coinciding with the former Pittwater Council area – since Good Friday, NSW Health statistics show.
And in total, only 39 cases have been confirmed for the same area, the department's figures from yesterday indicate (see statistics and graph at end of story).
However, Sydney University Infectious Diseases Professor Lyn Gilbert warns that the area cannot implement new social distancing rules on its own.
"I would think it highly impractical, impossible to police/monitor and difficult to justify, within a greater metro area like Sydney," Professor Gilbert said in a statement to Pittwater Online News yesterday.
"Even though there have been more cases in NSW (and Sydney) overall than in some other parts of Australia, the rate has, nevertheless, been low and is becoming lower."
The whole of the Northern Beaches Local Government area accounts for 154 confirmed cases in total, with individual new cases reported on April 13, 14, 18 and 19.
However, NSW Health reports no COVID-19 clusters for the Northern Beaches Council area and it is not listed as an area of concern for community transmission.
Across NSW, 2,994 coronavirus cases have been confirmed, with 2,193 of those patients having recovered.
Professor Gilbert also disagreed with a suggestion that Pittwater as a whole could isolate itself from the rest of the state to prevent new infections spreading to the area.
"It's hard to imagine the residents of Pittwater agreeing to be confined to their own region, even if it meant more freedom within it," she said.
"Moreover, it's hard to image any state government recommending different rules for different regions other than in situations when they may have to impose stricter rules because of an outbreak (as occurred in the North-West region of Tasmania, recently)."
At Northern Beaches Hospital, a spokeswoman yesterday said two patients had been admitted with COVID-19 during last week and were in a stable condition. These were the only patients currently at the hospital infected with the virus.
However, NBH had increased the number of tests being carried out in its COVID-19 clinic to about 100 per day, she said.
Hospital precautions also included checking patients', staff and visitors' temperatures before they entered the facility and asking questions about their health.
"It's quietening down but we're prepared for anything that comes along," the spokeswoman said.
"The flattening of the curve means that it's not as big as it could have been."
NSW Health reported earlier yesterday that 35 people had died in the state from the disease.
However, a further patient – an 83-year-old man – lost his life yesterday morning, one of six to have died at Anglicare's Newmarch House aged care facility at Kingswood, in far western Sydney.
Nationwide, 6,695 cases of COVID-19 have been confirmed, 80 have died and 5,372 have been reported as recovered from COVID-19.
To learn how to protect yourself and others from COVID-19 see: https://preview.nsw.gov.au/covid-19
Confirmed COVID-19 Cases in Pittwater (by postcode for place of residence) as of yesterday
2108 Palm Beach and offshore communities - 1
2107 Whale Beach, Avalon, Bilgola and Clareville – 6
2106 Newport – 5
2105 Church Point, Elvina Bay, Lovett Bay and Scotland Is – 0
2104 Bayview, Ingleside – 2
2103 Mona Vale – 5
2102 Warriewood – 7
2101 Eleanora Heights, North Narrabeen – 9
2084 Akuna Bay, Cottage Point, Duffys Forest and Terrey Hills - 4