February 9 - 15, 2020: Issue 437

Newport Breakers Rugby Club BlazeAid Volunteers Make A Difference At Braidwood Rebuilding Fences And Installing A Wildlife Enclosure For Injured Animals And Orphaned Kangaroos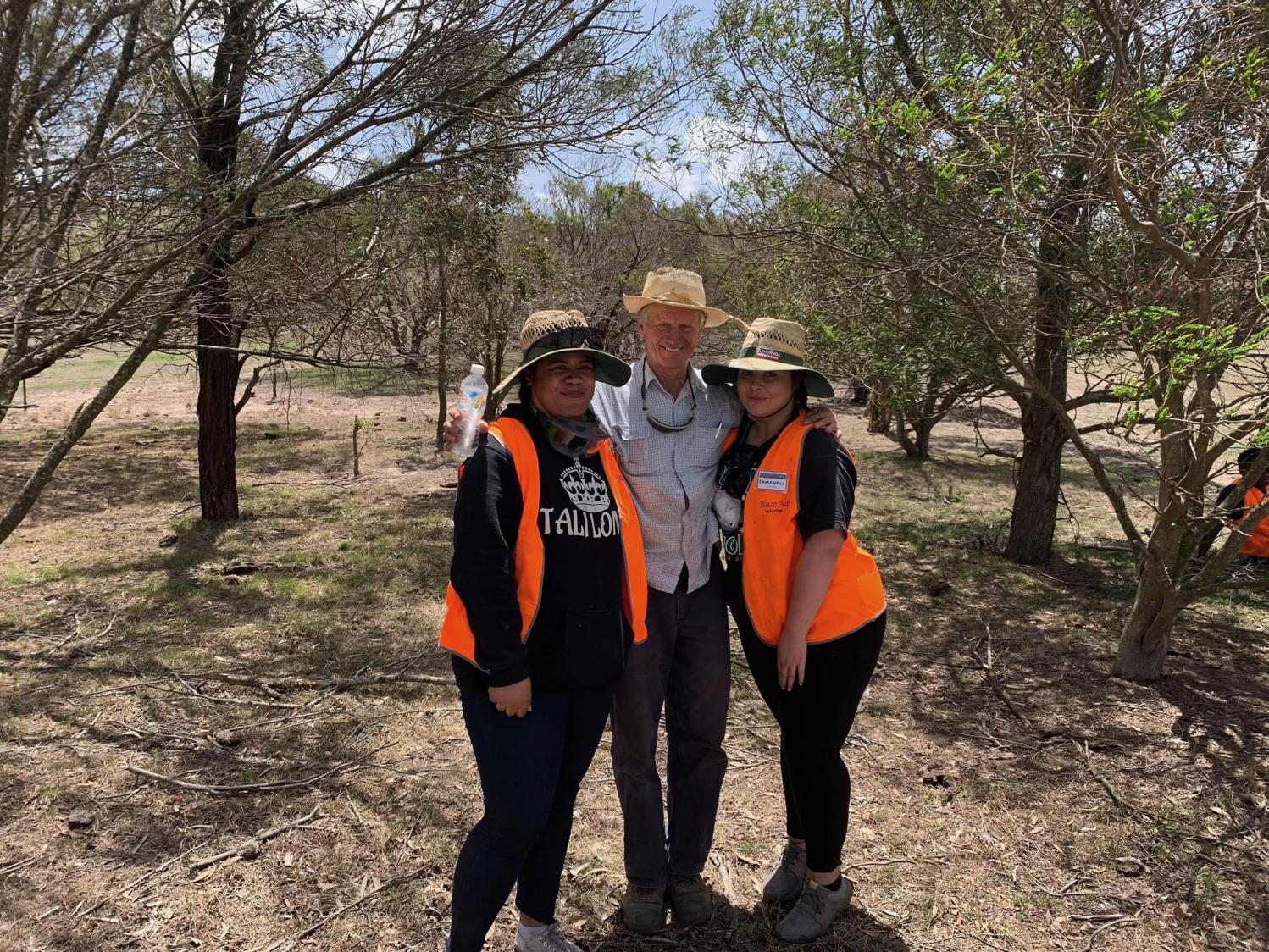 Newport Breakers BlazeAid girls at Braidwood with Marty, a farmer the crew helped, Feb 2020 - photo courtesy Samantha Citaa Maletta
Last weekend, January 31st, February 1st to 2nd, over 30 Newport Rugby Club Members and The Broken Breakers, the Newport Rugby official supporters group, and friends, all made their way to Braidwood and did two days hard work in 43 degrees heat re-building a farmers fences and building wildlife enclosures for injured wildlife, particularly for orphaned kangaroos.
The farmer, Marty, said the work would have taken him months to do on his own, and that some of the fences destroyed had stood for close to 80 years prior to the recent firestorms.
The animal enclosures were challenging as they had to dig down and install netting beneath it to keep out foxes as well as placing some above to keep out eagles.
Samantha Citaa Maletta one of the ladies who head to Braidwood with the Breakers crew, said late on Saturday February 1st:
Our Breaker family woke up early with the sun this morning, we headed straight to meet and lend a hand to Marty a local farmer who owns a cattle farm.

To give you some perspective, before these fires, Marty had almost 500 animals. He is now selling off his last 12, as Braidwood is still battling tough drought conditions, with Canberra having to truck in ten Mack trucks full of water to the town every morning just to get the locals by.

The fire crossed through this farm 4 times creating extensive damage to his property.
Team Navy ASRL Open 2020 Set for Mollymook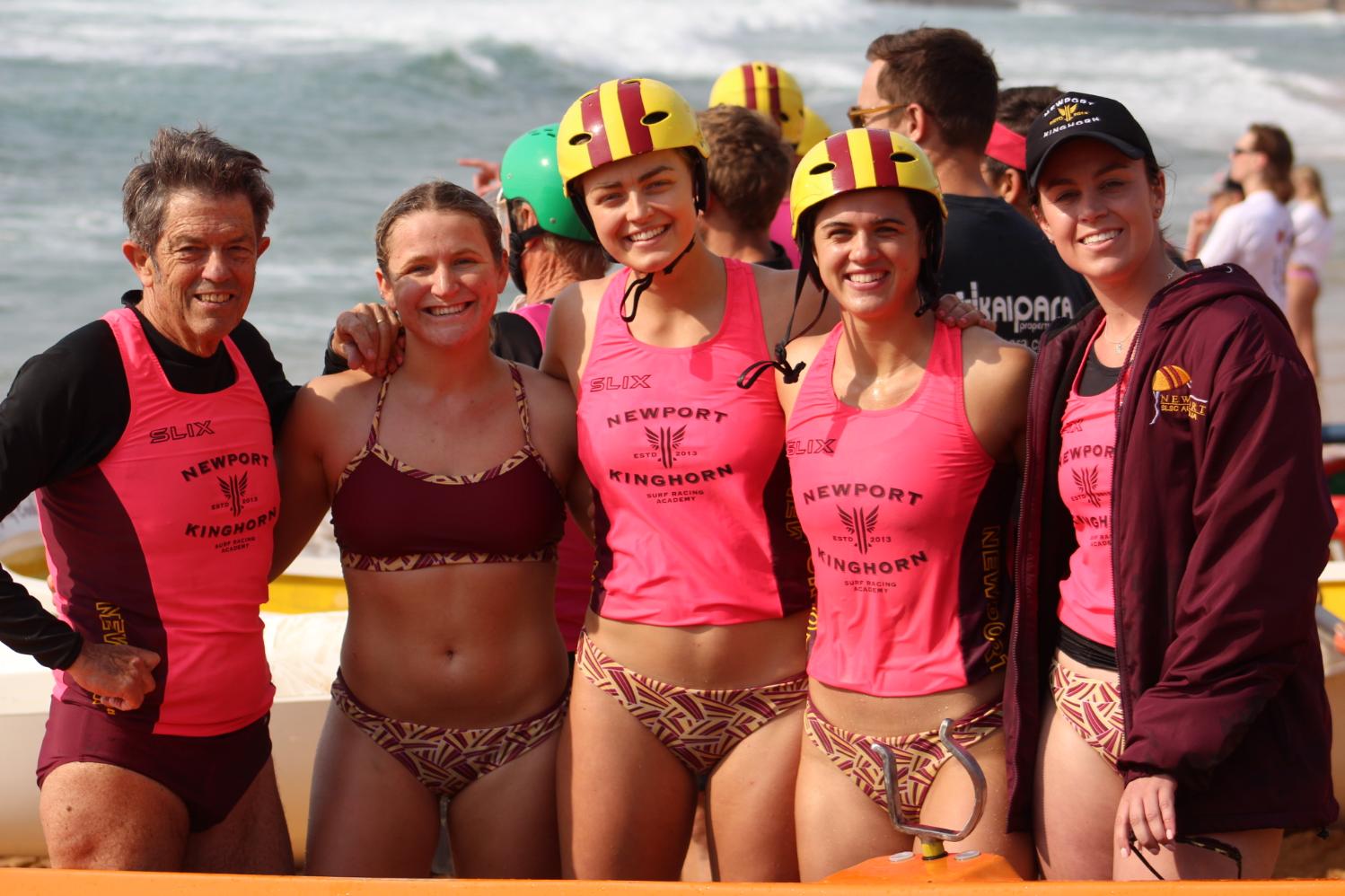 Newport Surf Club's Thunder Crew - NSW Representatives - A J Guesdon photo, 2019
With brilliant support from Team Navy, Destination NSW, Shoalhaven City Council and the Mollymook SLSC, 345 Crews are heading to Mollymook for the 2020 ASRL Open, February 14-16.

Team Navy ASRL stated this week they are excited to bring economic benefit to the area and show Australia that the Shoalhaven area is back open for business.
"We encourage everyone within our movement to come to the ASRL Open and provide their support to the locals with your attendance as the community desperately need the help."
Comprising the 2020 Trans-Tasman Surf Boat Test Series, the Northcliffe Krankits will make their second consecutive Australian Surf Boat Team as they once again don the green and gold to represent their country as Australia's Open Female crew. Shane Geloven's Bulli Gold will be Open Male representatives. The U23 Female division will welcome back North Cronulla Funky's to their second straight Australian Team run - 2020 will mark the fourth consecutive year North Cronulla has had a crew part of the U23 development program- while a father-son combination pulling on the green and gold with South Curl Curl's U23 Male crew as Sam Lowery will be swept by father Rob, who made his Australian Surf Boat Team debut in 2018, as the male development crew for the 2020 Trans Tasman. The U23 Trans-Tasman Male Crew from: South Curl Curl are Brady Holland, Sam Lowery, Kris Martyn, Owen Sheather and Rob Lowery.
The U23 Female division Australian Trans-Tasman Team representatives just beat the Palm Beach Piranhas and Newport Thunder to secure their spot.
The ASRL Open also will also host the 2020 Interstates Competition, with local club crews representing NSW once again this year. Pittwater Online spoke to Newport SLSC Sweep Michael King, who has grown up around surf boats through his dad's Bert Kings' and his own passion for the sport. In 2020 the Newport Thunder, the Gold Medal winning crew at the 2019 Aussies, will represent New South Wales in the Interstates Under 23 Female division.
"We're looking forward to the Interstates competition," Michael said this week, " and carrying that momentum through to the Aussies in April."
"Newport has made a concerted effort this season to increase our female rowers in surf boats and currently have two Under 23 Female crews and four female crews overall with the two Womens Open teams, Newport SLSC Firefish and Newport SLSC Jacksons both competing in the ASRL Open this year. In fact, when women were officially allowed to participate in races 25 years ago, Newport had one of the teams competing in those first races."
The Newport Thunder crew of Meagan Barr, Abby Ballesty, Tara Doyle, Claudia Harris, and Michael King were Finalists in the 2019 NSW Awards of Excellence in the Surf Sports Team of the Year category, dominated at the Collaroy Young Guns carnival on January 10th 2020, backed that up at Queenscliff on Saturday 18th January, and secured their sky blue cap, becoming the third Newport crew to represent NSW.
The following day at Queenscliff, the Thunder and Shellfish represented the Sydney Northern Beaches Branch in the Surfboat Interbranch Championships. Both crews contributed to SNB winning – the U23 Women also winning their division.
On Saturday 25th, at the other end of the beach at Manly, the Thunder won all their races in difficult conditions… Except the one that counted. A sneaky last wave of the set hit hard and rolled the boat. Undeterred, the team righted the boat and completed the course.
Newport's novice U23 Women crew had their first start with great persistence. Newport's U23 Men 'White Tips' had their best racing of the season, just missing out on the final. The Newport Shellfish were a very close third, a win would have put them in the mix for the NSW team. They too are heading south for the 2020 ASRL Open.
"Mollymook is a lovely spot to do this carnival and we're all looking forward to spending time and money there to help the local community begin to recover from what it has been through this bushfire season." Mr. King said.
"The ASRL Open is a favourite among all surf boat crews and clubs, and is a great chance to catch up with friends from far away and do our best for Team New South Wales." Michael said.
This year the Open Male and Female are both up on last year, up 7% combined, there has been a massive 47% increase in Under 23 Female crew, in fact, Female numbers are up over 10% across all categories.

The 2020 ASRL Open will be live streamed on all three days - so even if you cannot go south, you can cheer them on from here.
Wet Feathers Day - A J Guesdon photo, February 9, 2020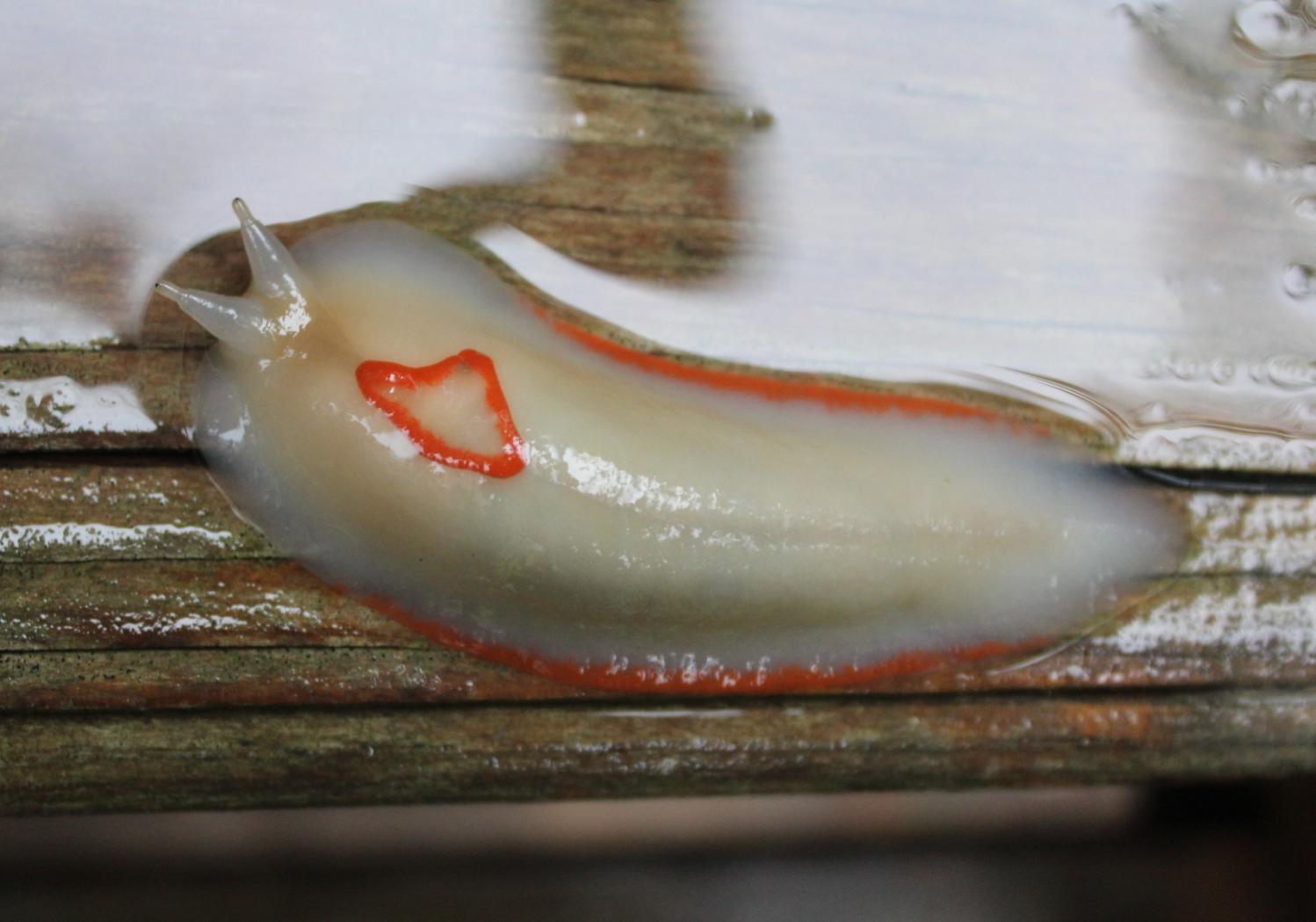 Rain Day: Slugs on our Steps - A J Guesdon photo
February 9, 2020
Revelling in the wonderful rain we've had this week is this Red Triangle native slug on our Pittwater Online steps. This slug (Triboniophorus graeffei) feeds on microscopic algae on smooth bark eucalypts, and algae on other smooth surfaces, leaving a narrow wiggly track. The Red Triangle Slug is Australia's largest native land slug. The distinctive red triangle on its back contains the breathing pore.
More at: https://australianmuseum.net.au/learn/animals/molluscs/red-triangle-slug/
Past Features Archives (pre 2014)
Pittwater Online News was selected for preservation by the State Library of New South Wales and National Library of Australia. This title is scheduled to be re-archived regularly.
Archived Issues (2014 on) may be accessed here: pandora.nla.gov.au/tep/143700