August 25 - 31, 2019: Issue 418

The New Mona Vale Hospital Kiosk Is Open For Business: + Some Mona Vale Hospital Auxiliary AGM 2019 Updates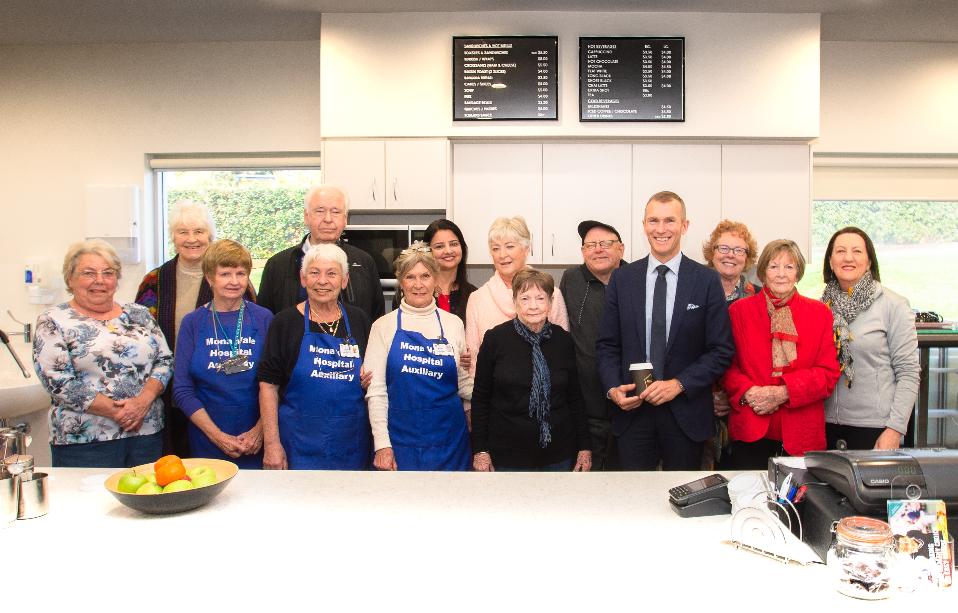 In the New MVH Kiosk on Friday, August 23rd, 2019 - Left to right: Pauline Wells, Jenny Parker, Carol Ingleby, Jim Parker, Vivien Wadley, Michele Moore, Pooja Punia, Waveney Perman, Val Wallis, John Saunders, The Hon. Rob Stokes MP for Pittwater, Yvonne Parsons, Bev Pretti, Robyn Cole. Photo by Michael Mannington,
Community Photography
.
On Friday March 23rd a catch up with members of the Mona Vale Hospital Auxiliary provided an insight into the hard work the volunteers are still doing.
Earlier this month the Mona Vale Hospital Auxiliary held their 2019 Annual General Meeting during which Yvonne Parsons was returned as President.
In her report for the 2018/2019 AGM the president spoke about the changes to health in our area impacting on the Auxiliary in loss of memberships and long standing benefactors deciding to support other organisations. Thankfully the local group of volunteers still has a strong nucleus of members and has attracted new members as well.
The Auxiliary has continued to run the kiosk, hold stalls and do sausage sizzles as well as stalls in Avalon for Mothers and Father's Day, a Christmas pop up shop in Pittwater Place, and have held two election day stalls at Mona Vale and also continued to provide weekly High Tea for rehabilitation patients.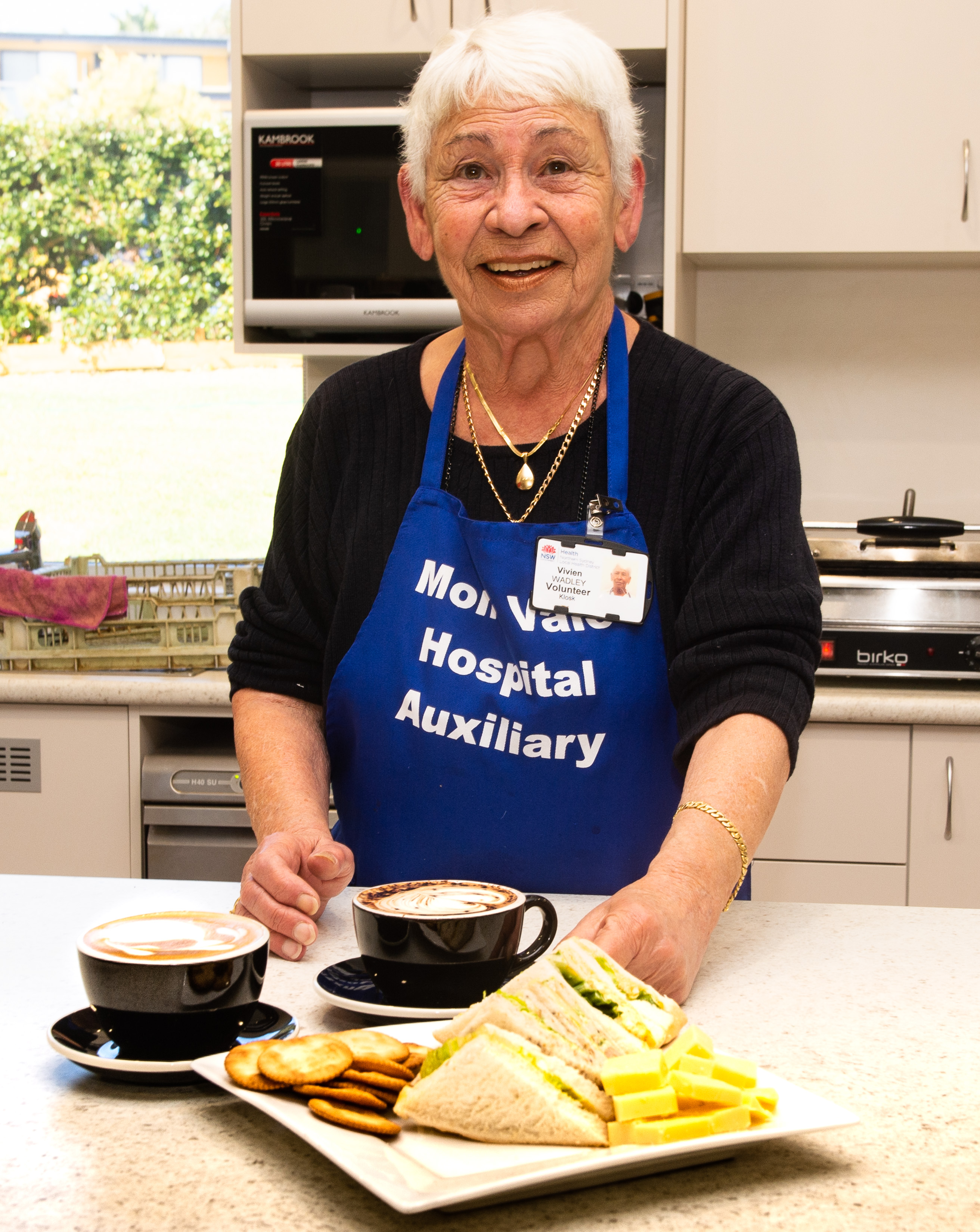 The Treasurers AGM report showed the funds raised by the Mona Vale Hospital Auxiliary that had been donated to Mona Vale Hospital. Last year the Auxiliary funded 84 thousand dollars worth of equipment and upgrades at the hospital and this year the report shows that has been topped by 111 thousand dollars for works.
In September 2018 MP for Pittwater Rob Stokes announced a new purpose-built kiosk would be constructed at the hospital as part of the introduction of the new Urgent Care Centre. The hospital's kiosk was to be relocated into a modern, purpose built space with convenient access at the front of the hospital.
This week Mr. Stokes visited the new kiosk premises.
''The Auxiliary do an amazing job and it's fantastic they've now got a brand new kiosk.'' Rob said
"There's almost 400 staff employed at Mona Vale Hospital plus patients, visitors and multiple construction crews working on the new hospital buildings – so there's plenty of activity.
"The kiosk's new position at the front of the hospital campus means it's now even more accessible.
"Proceeds are reinvested back into the hospital by the Auxiliary – so it's a great place to grab a coffee.''
As can be read above, that new kiosk is now open!
The MVHA's members say:
''Come and taste our new blend of coffee, freshly brewed on-site. Bring a mate along to buy 1 and get 2nd coffee free. Choose from hot and cold drinks, ice creams, hot pies and rolls to fresh wraps and sandwiches. Address 18 Coronation Street (next to Urgent Care) Mona Vale Hospital. Opening hours 8.30 – 3pm Monday to Saturday. All proceeds will go towards the hospital.''
The MVHA would also like everyone to know they are holding their annual Father's Day stall this coming Friday - details:
Fathers Day stall at Avalon Parade, Avalon(near ANZ Bank): August 30th 9am-3pm selling knitting, sewing craft, jams etc.
Full report HERE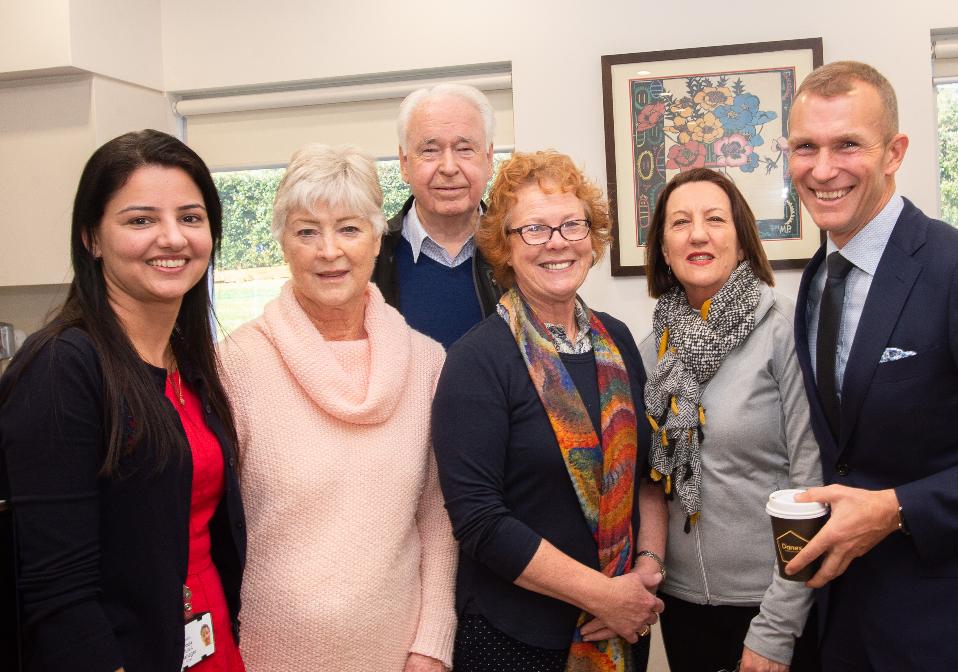 L to R: New Kiosk manager Pooja Punia, MVHA members Wave
ney Perman,
Jim Parker, Y
vonne Parsons (president), Robyn Cole and The Hon. Rob Stokes, MP for Pittwater.
Photo by Michael Mannington, Community Photography.
Mackellar's Jason Falinski Taking Care Of Electorate: August 2019 Updates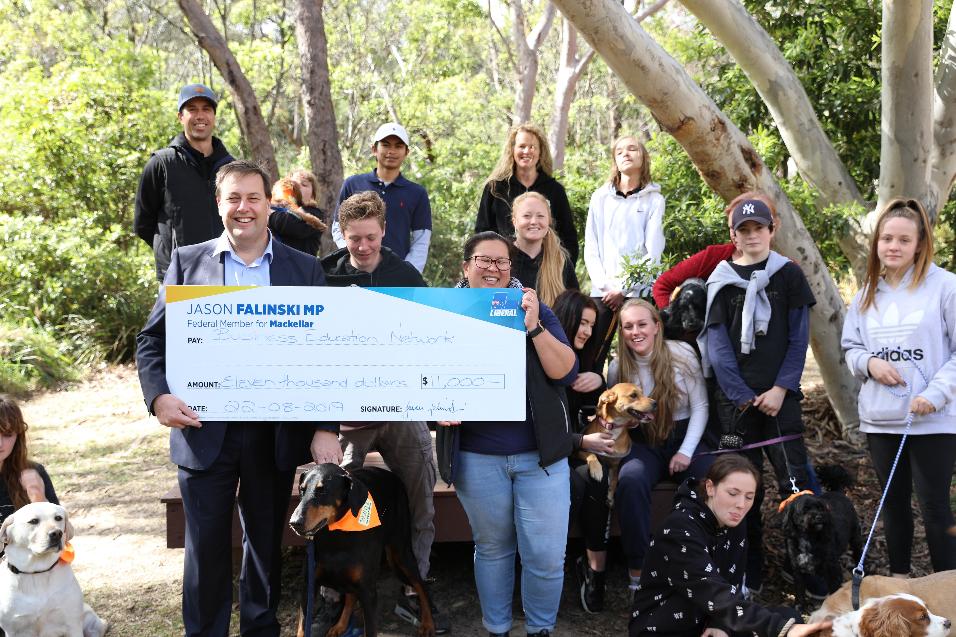 Jason Falinski MP and Executive Officer of the Business Education Network, Sam King along with Students. Photo taken on Thursday, 22nd of August 2019. Photo supplied
Federal MP for Mackellar Jason Falinski has hit the ground running post the 2019 Federal Election.
On Thursday he announced $11 000 towards the upgrade of the car park for the Business Education Network (BEN) in Ingleside. The money is from the federal government's 'Stronger Communities' grant program.
"I am proud to support the great work of the Business Education Network. Located in the beautiful bush at Ingleside, they have needed an upgrade to their car park for some time" said Mr Falinski.
The BEN is a not-for-profit led by Executive Officer, Sam King that helps young people transition from their teenage years to adulthood. They provide vocational programmes, mentoring and support to young people around Sydney.
"I have known Sam King and the work she and her team does at the BEN for many years. It is a pleasure to be able to support her in this way."
The Business Education Network Grant follows on from a spate of funds secured for local organisations in recent weeks.
On Wednesday, August 21st, Mr. Falinski announced the Australian Government has awarded two organisations in Mackellar a share of $5.6 million for business supports to help them transition into the NDIS.
The successful recipients received funding under the first round of the Boosting the Local Care Workforce program's Transition Assistance Funding, which is designed to support a skilled and sustainable NDIS workforce in communities across Australia.
Mackellar MP, Jason Falinski said House with No Steps and Ability SDA pty ltd will receive $20,000 each in funding to build their workforce and develop their capabilities to effectively operate in the NDIS.
"These funds will help local organisations transition to the market-driven NDIS model. This will ultimately empower people with a disability right across our community through providing them more choice when it comes to support options". Mr Falinski said.
Earlier this month, on August 15th, Mr. Falinski announced students at Northern Beaches Christian School in Terrey Hills will benefit from new outdoor learning and playground spaces thanks to a Federal Government grant.

Member for Mackellar Jason Falinski stated the Australian Government would provide $250,000 towards the project at Northern Beaches Christian School through the Capital Grants Program.
"Students and teachers thrive when their schools have modern and up-to-date facilities – that's why the Government is proud of the Capital Grants Program, which has benefited thousands of schools across the nation," Mr Falinski said.
"The Government has committed $703 million until 2022, which provides funding for non-government schools to improve capital infrastructure.
"These upgrades will help advance Northern Beaches Christian School and ensure our classrooms have modern facilities.
"I congratulate Northern Beaches Christian School for their successful grant and look forward to seeing the impact these improvements will have in our community."
Schools that want to learn more about the Capital Grants Program can visit https://www.education.gov.au/capital-grants-non-government-schools.
While on students, Mr. Falinski is encouraging young people people between the ages of 16 to 25 to submit a speech to him, that he will read out in Parliament. In previous years this has been a huge success, and Mr. Falinski trusts it will be the same this time.
On Tuesday August 20th Mr. Falinski stated council has approved Telstra's application to build a phone tower at the RSL War Vets site. Initially, the council intended to block Telstra's development application to build the War Vets phone tower. They had approached Telstra and encouraged them to withdraw their application citing visual concerns.
"When this issue was brought to my attention, I immediately thought of the hundreds of residents who are in desperate need for the phone reception that this tower will provide." Mr Falinski said.
"The tower is not just about giving the residents the convenience of phone reception in their own homes – it's actually a matter of life and death."
"Considering the age demographic of residents, even something as simple as a fall, can prove fatal. Being able to call for help on a phone is vital."
The MP for Mackellar is reminding residents that the Mackellar Community Grants are open until August 26th.
All Humps And Bumps On Day 6 At Hamilton Island Race Week 2019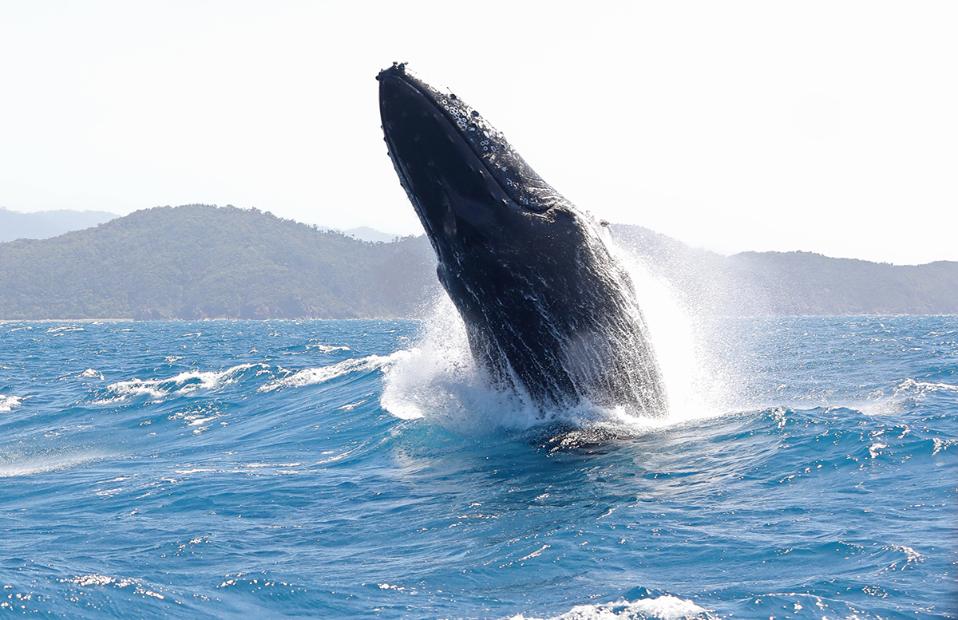 Humpback whale breaching day 6 HIRW 2019 - photo credit Bow Caddy Media
Sydney boats Hooligan, Marcus Blackmore's TP52, and Team Hollywood, Ray Roberts' Botin 40, have captured the top divisional prizes at Hamilton Island Race Week on the penultimate day, when the whales came out to play in Whitsunday Passage.

On Thursday, the brand new Tf10 Mad Max up on one hull through a gybe and Kim William's Melges 32 Rock n Roll living up to its name by performing a massive wipe-out at the northern end of Dent Island in a gust made for a colourful day four of racing at Hamilton Island Race Week.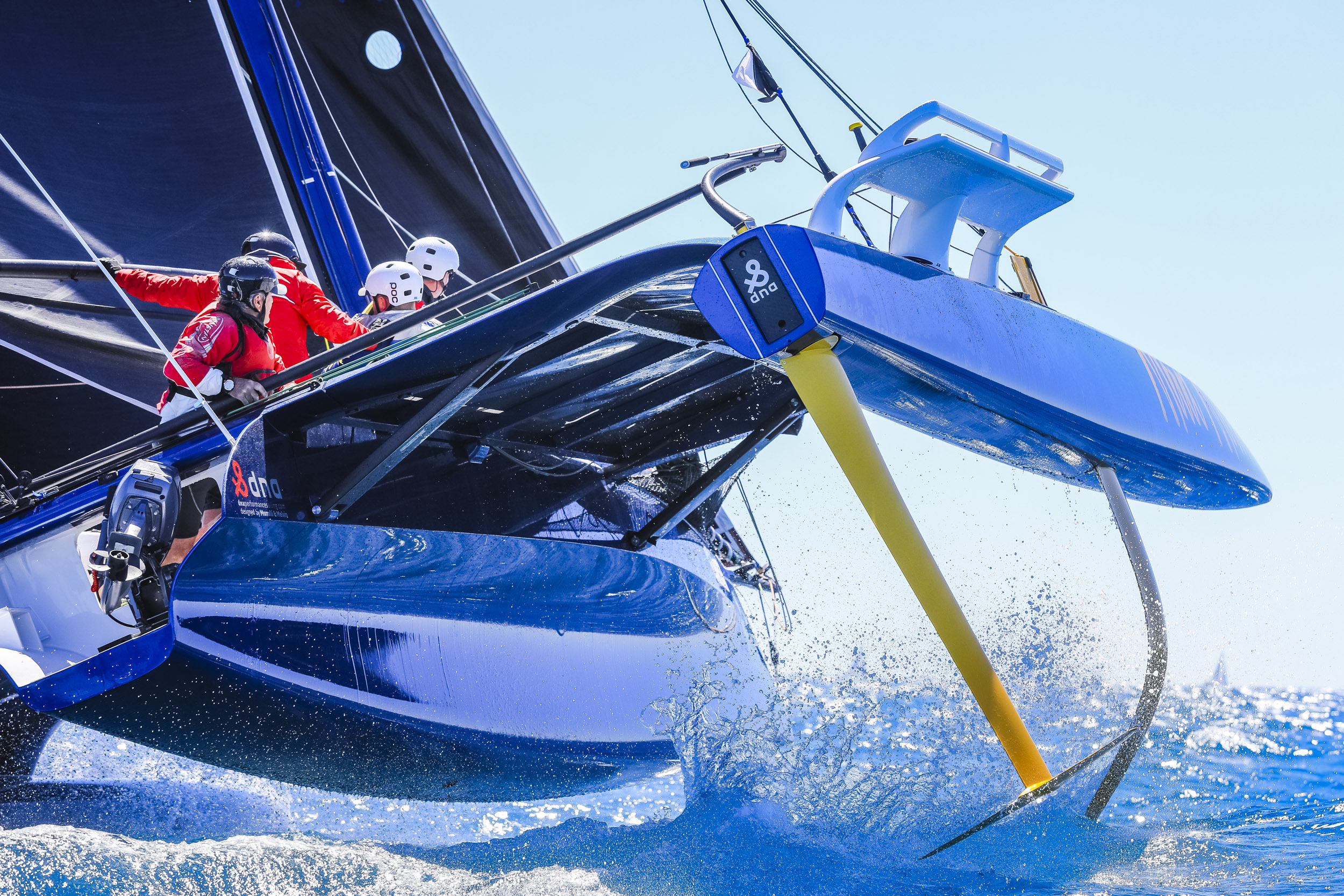 HIRW19 Mad Max Tf10 through a gybe - photo by Salty Dingo 2019

This was after some morning frivolity when crews dressed up as superheroes, Star Wars characters and a boatload of vitamin-fuelled (some suggested), green-suited aliens on Marcus Blackmore's IRC division 1 clear leader, Hooligan.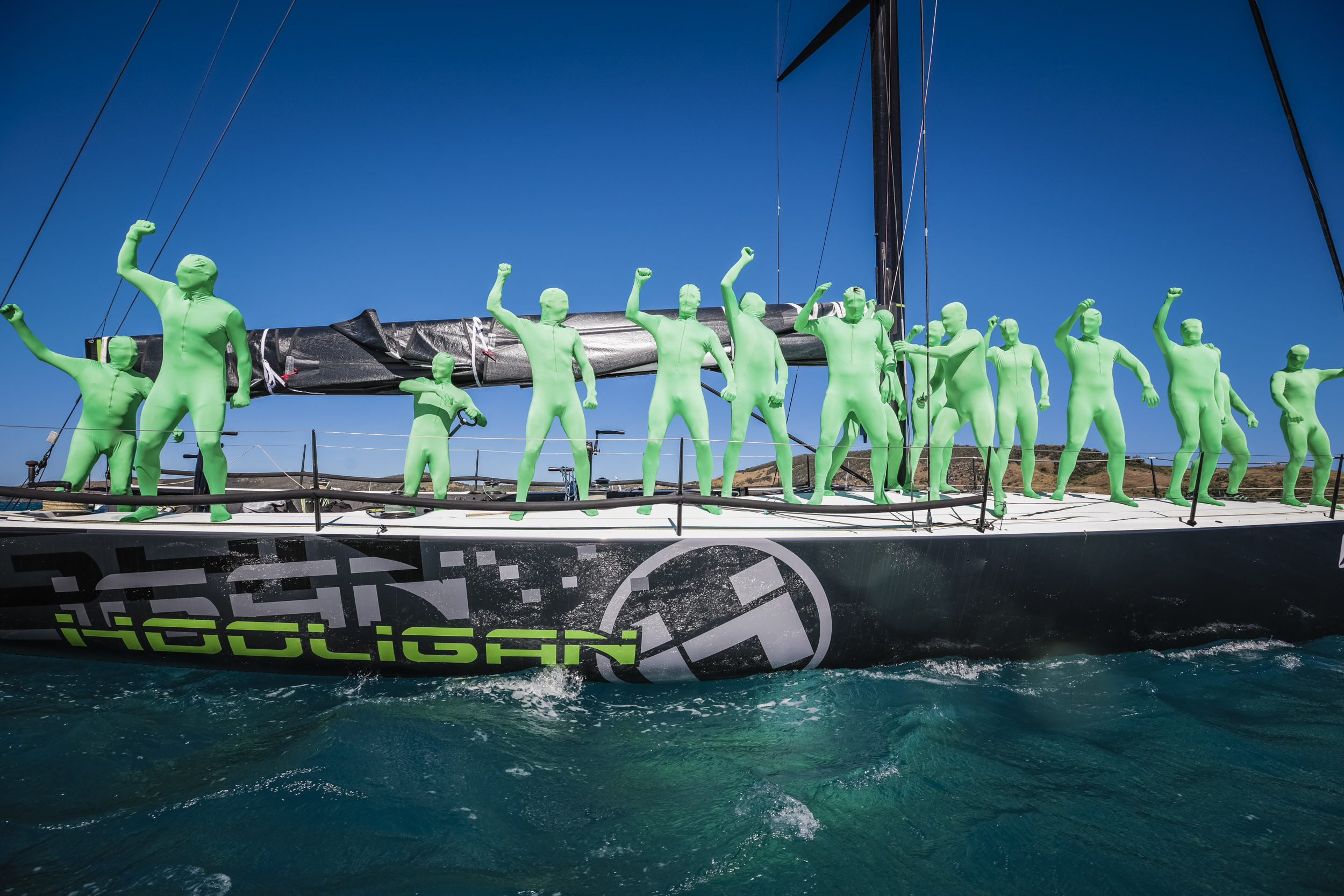 The aliens on Hooligan Prix d-Elegance - photo by Salty Dingo 2019
The second-largest fleet in event history is finding the 36th edition the windiest for some years and the trade winds are set to hold for the series' two remaining days. On the cards for Friday was 20-25 knots though a daily trend is fresh morning breeze which moderates significantly after lunch.
More in HIRW 2019 report Lisa Ratcliff HERE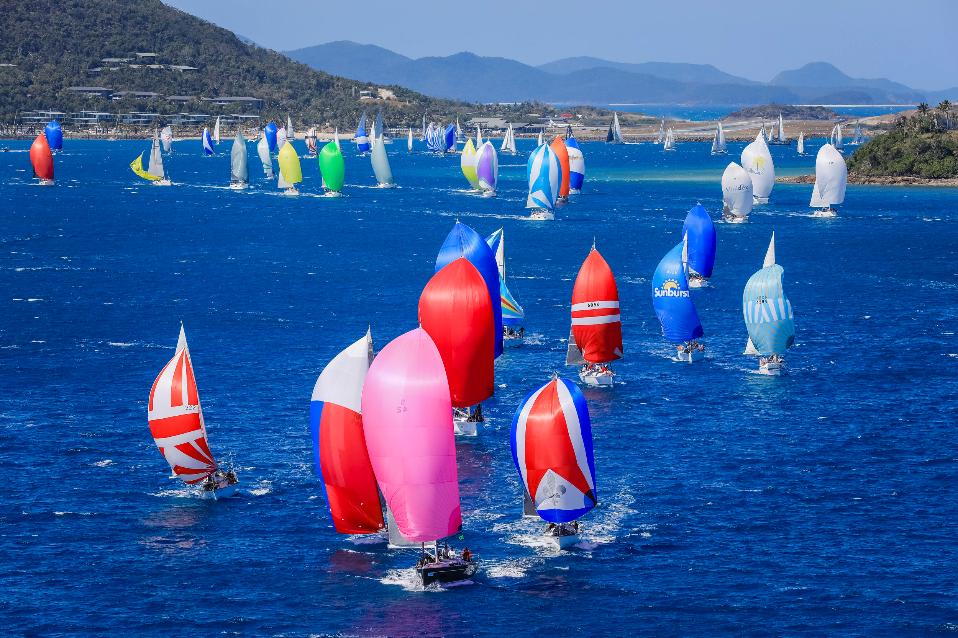 HIRW19 Day 6 spinnakers leaving Dent Passage - photo by Salty Dingo 2019
Last Week Of Winter In Pittwater 2019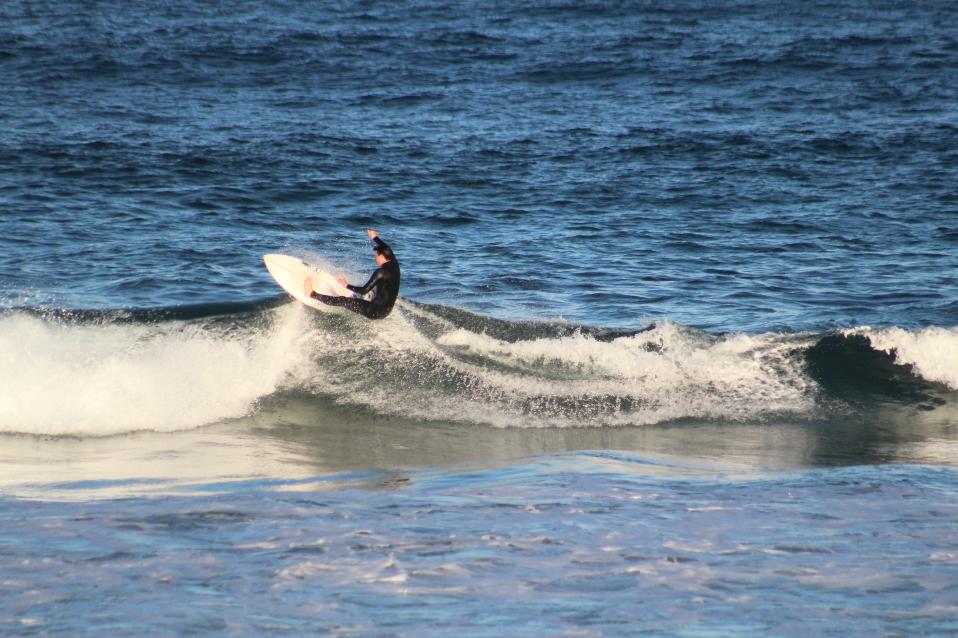 Past Features Archives (pre 2014)
Pittwater Online News was selected for preservation by the State Library of New South Wales and National Library of Australia. This title is scheduled to be re-archived regularly.
Archived Issues (2014 on) may be accessed here: pandora.nla.gov.au/tep/143700