August 25 - 31, 2019: Issue 418
Mackellar's Jason Falinski Taking Care of electorate: August 2019 updates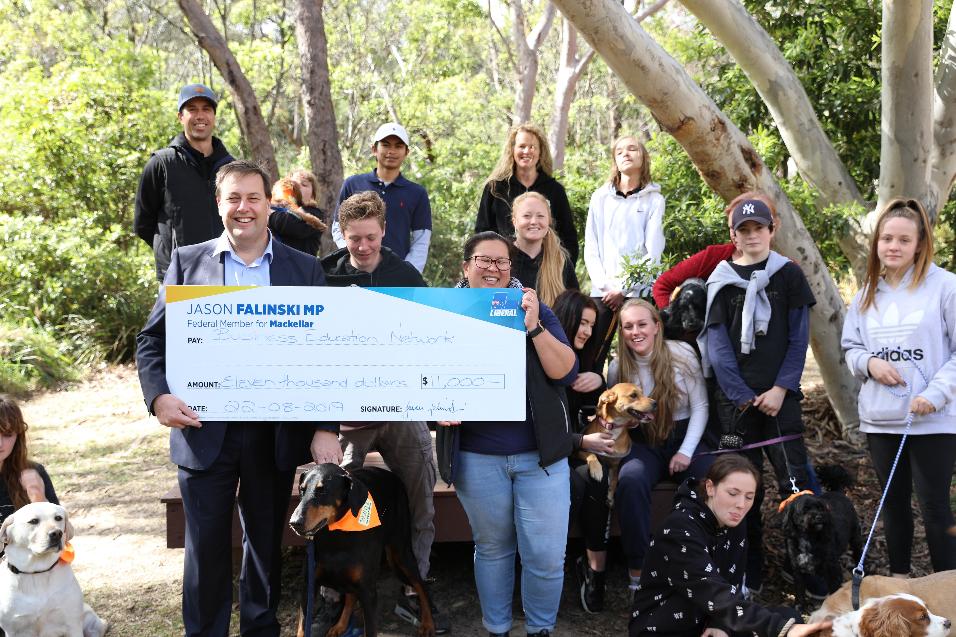 Jason Falinski MP and Executive Officer of the Business Education Network, Sam King along with Students. Photo taken on Thursday, 22nd of August 2019. Photo supplied
Federal MP for Mackellar Jason Falinski has hit the ground running post the 2019 Federal Election.
On Thursday he announced $11 000 towards the upgrade of the car park for the Business Education Network (BEN) in Ingleside. The money is from the federal government's 'Stronger Communities' grant program.
"I am proud to support the great work of the Business Education Network. Located in the beautiful bush at Ingleside, they have needed an upgrade to their car park for some time" said Mr Falinski.
The BEN is a not-for-profit led by Executive Officer, Sam King that helps young people transition from their teenage years to adulthood. They provide vocational programmes, mentoring and support to young people around Sydney.
"I have known Sam King and the work she and her team does at the BEN for many years. It is a pleasure to be able to support her in this way."
The Business Education Network Grant follows on from a spate of funds secured for local organisations in recent weeks.
On Wednesday, August 21st, Mr. Falinski announced the Australian Government has awarded two organisations in Mackellar a share of $5.6 million for business supports to help them transition into the NDIS.
The successful recipients received funding under the first round of the Boosting the Local Care Workforce program's Transition Assistance Funding, which is designed to support a skilled and sustainable NDIS workforce in communities across Australia.
Mackellar MP, Jason Falinski said House with No Steps and Ability SDA pty ltd will receive $20,000 each in funding to build their workforce and develop their capabilities to effectively operate in the NDIS.
"These funds will help local organisations transition to the market-driven NDIS model. This will ultimately empower people with a disability right across our community through providing them more choice when it comes to support options". Mr Falinski said.
These local providers can use the funding for tailored business advice, software upgrades and other one-on-one supports that will help them to transition from block funding to the consumer-driven model of the NDIS. The objective of the Transition Assistance Funding is to help providers transition to the NDIS while also creating more jobs in the disability and aged care sectors, particularly within regional, rural and outer metropolitan areas across Australia.
"The NDIS provides a great opportunity for local businesses, and these grants will give them a hand up when it comes to having the tools and capabilities needed to deliver first-class supports to NDIS participants."
­"An additional 90,000 full-time equivalent employees are required to meet the demand for NDIS services over the next five years, which is why the Government is investing in programs that support providers to transition and develop their workforces.' Minister for the NDIS, Stuart Robert said.
'I would encourage local organisations eligible for grants through this program to apply for future funding rounds, because a solid provider market is the foundation for a sustainable NDIS'
A further funding round for the Transition Assistance Funding program will open later this year. Providers are encouraged to visit the Boosting the Local Care Workforce website at blcw.dss.gov.au, to access business resources, including NDIS Demand Map and the NDIS readiness assessment tool.
Earlier this month, on August 15th, Mr. Falinski announced students at Northern Beaches Christian School in Terrey Hills will benefit from new outdoor learning and playground spaces thanks to a Federal Government grant.
Member for Mackellar Jason Falinski stated the Australian Government would provide $250,000 towards the project at Northern Beaches Christian School through the Capital Grants Program.
"Students and teachers thrive when their schools have modern and up-to-date facilities – that's why the Government is proud of the Capital Grants Program, which has benefited thousands of schools across the nation," Mr Falinski said.
"The Government has committed $703 million until 2022, which provides funding for non-government schools to improve capital infrastructure.
"These upgrades will help advance Northern Beaches Christian School and ensure our classrooms have modern facilities.
"I congratulate Northern Beaches Christian School for their successful grant and look forward to seeing the impact these improvements will have in our community."
Schools that want to learn more about the Capital Grants Program can visit https://www.education.gov.au/capital-grants-non-government-schools.
While on students, Mr. Falinski is encouraging young people people between the ages of 16 to 25 to submit a speech to him, that he will read out in Parliament. In previous years this has been a huge success, and Mr. Falinski trusts it will be the same this time.
On Tuesday August 20th Mr. Falinski stated council has approved Telstra's application to build a phone tower at the RSL War Vets site.
Initially, the council intended to block Telstra's development application to build the War Vets phone tower. They had approached Telstra and encouraged them to withdraw their application citing visual concerns.
"When this issue was brought to my attention, I immediately thought of the hundreds of residents who are in desperate need for the phone reception that this tower will provide." Mr Falinski said.
"The tower is not just about giving the residents the convenience of phone reception in their own homes – it's actually a matter of life and death."
"Considering the age demographic of residents, even something as simple as a fall, can prove fatal. Being able to call for help on a phone is vital."
Mr Falinski created an online petition which quickly grew to just under 300 local signatories. Following multiple emails to council and local media attention, the Council removed the DA from the planning committee agenda where it was scheduled to be rejected and agreed to meet with Telstra to revisit the proposal. Following this meeting Northern Beaches Council decided to approve Telstra's development application.
Also on Tuesday, August 20th, Mr. Falinski was asking the electorate to contribute to the Federal Government's Inquiry into Supporting Australia's Exports and Attracting Investments
The government inquiry has recently been launched to investigate Australia's export industry and how to attract more investment for local business. The inquiry is being led by the Joint Standing Committee on Trade and Investment Growth, chaired by the Member for Dawson, George Christensen.
Mackellar MP Jason Falinski, wants Northern Beaches based businesses to contribute to the inquiry.
"The Northern Beaches is home to a number of businesses which currently export overseas or who could potentially expand their business into the overseas market." Mr Falinski said.
"We want to hear from the front line – the businesses which are affected the most by government red tape and bureaucracy. Where there is room for us to change, we will do so but first we need to know what gets in the way of a business being able to grow through exports and attract more investment."
The inquiry's Terms of Reference are as follows:
The Committee will inquire into and report on:
Understanding Australian businesses' ambitions to grow via export and attracting investment;
Identifying local regulatory barriers to businesses being able to realise their ambitions; and
Identifying best practice regulation that evidence shows supports export and investment growth, whilst protecting the national interest.
Submissions from interested individuals, businesses and organisations are invited by Monday, 23 September 2019.
Submissions can be made here: https://www.aph.gov.au/Parliamentary_Business/Committees/OnlineSubmission
Further information about the Committee's inquiry, including the full terms of reference and details on ow to lodge a submissions are available on the Committee's webpage here: https://www.aph.gov.au/jsctig
The MP for Mackellar is reminding residents that the Mackellar Community Grants are open until August 26th.
Under the Program, the Government will provide up to $150,000 per electorate in 2019-20 for up to 20 projects that enhance local environments. Grants will range from $2,500 to $20,000 per project.
"The Communities Environment Program is backing Australian communities to deliver environmental outcomes in their area," Environment Minister Sussan Ley said.
"This is about the Government empowering communities, respecting their ability to identify local priorities and, then, backing them with financial support.
"The cumulative impact of local communities across metropolitan and regional Australia all getting involved in these environmental projects will be significant."
The Communities Environment Program would play a key role alongside the Government's commitments to the Environment Restoration fund, Landcare and Waste and Recycling initiatives.
"Local Members will work with their communities before nominating the projects in their electorate," Assistant Minister for Waste Reduction and Environmental Management, Trevor Evans, who will manage delivery of the Communities Environment Program, said.
"Members from all parties will consult with community environmental groups, conservation volunteers and local residents to deliver projects such as cleaning local waterways, protecting local habitat areas, planting trees, reducing litter and other innovative concepts," Assistant Minister Evans said
Mr. Falinski, Member for Mackellar, has forwarded the following to be shared this week, which also includes an allocation for the
Stronger Communities Programme Round Five
in the Electorate of Mackellar.
Stronger Communities Programme Round Five
Grants of up to $20,000
for small capital projects that deliver social benefits to communities across the Mackellar electorate
. Aiming to improve local participation and to enhance our vibrant community.
Fill in the Expression of Interest form
HERE
before 26 August 2019!
Communities Environment Program
Grants of up to $20,000 for small-scale, community-led projects for environmental priorities such as:
waste, litter and plastic reduction
protecting native animals, including our threatened species
weed eradication
restoring and improving coastlines, wetlands, riverbanks and waterways
greening parks and urban areas.
Fill in the Expression of Interest form
HERE before 26 August 2019!