August 4 - 10, 2019: Issue 415

Barrenjoey Commercialised: To Be Or Not To Be Back On The Table Again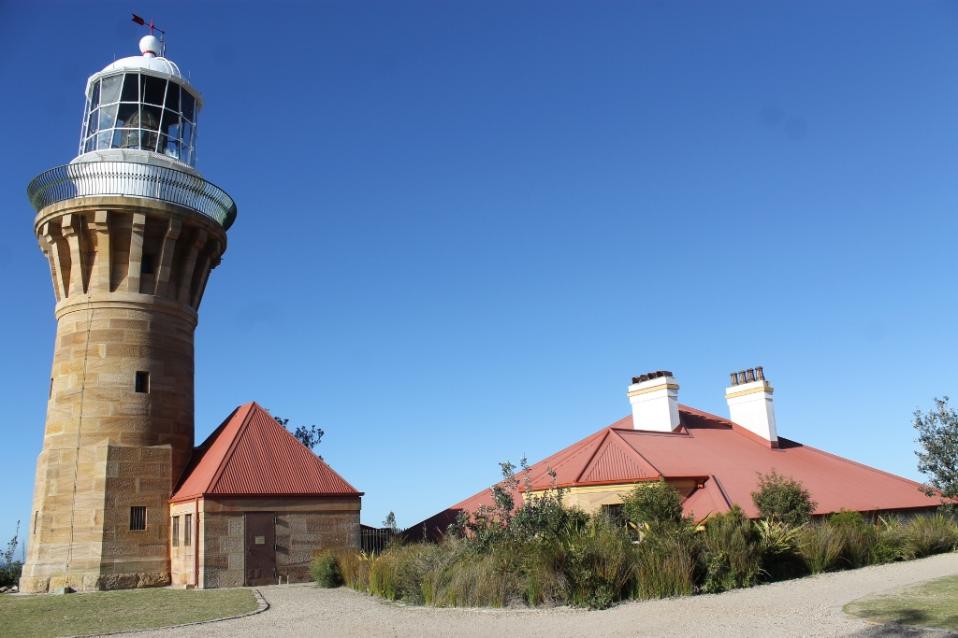 In July 2013 a proposal to commercialise Barrenjoey Headland and its buildings was opened for community feedback and met vocal opposition from residents of Pittwater, backed up by thousands from elsewhere.
In those places where lightstations and their historic buildings have been made into commercial ventures the records show these are, in effect, excised from the community who are only allowed access once or twice a year over a single weekend.
In August 2013 an announcement was made by then Environment Minister Robyn Park and MP for Pittwater, the Hon. Rob Stokes, that the proposal was quashed.
The idea is now back on the table with documents released on Friday August 2nd, 2019 relisting the proposal.
The stroll along Station Beach and up the track to Barrenjoey Headland is listed as one of those 'must do' items for International and Domestic visitors because the beach is a beautiful pristine place with resident birds, the chance to see fairy penguins and seals and views to the green hills of the National Park. The walk through bush and then the view atop the Barrenjoey National Park headland is second to none, while being able to access historic buildings still as they were when first constructed allows visitors to step into a past unchanged by the commercial aspects that change that same experience elsewhere.
Anytime of the year you will find visitors on the beach wending their way to Barrenjoey. On a bitterly cold Winter's morning with fog rolling in a few weeks ago, two German tourists on Station Beach's southern end asked the best way to get to the track up Barrenjoey headland. They weren't the only visitors seen.
The place is listed on tourism websites and known world wide and domestically for its 'Nature, National Park and Beaches'. Just as millions visit Manly each year, millions come to Palm Beach too.
Station Beach, with Barrenjoey in the background, features in many a wedding photograph. This specific [Barrenjoey] area is the site of films, of a television program, it is the place tours are conducted in, is utilised by walkers, paddlers, rowers, sailors, families with small children.
The contribution to the local economy and the beacon the Barrenjoey Lighthouse remains places Palm Beach on the world stage as one of the few remaining unspoiled destinations that remains accessible to all, all year round.
Feedback for the proposal closes September 15th.
SLS NSW Board Riding Championships Return To Iconic North Narrabeen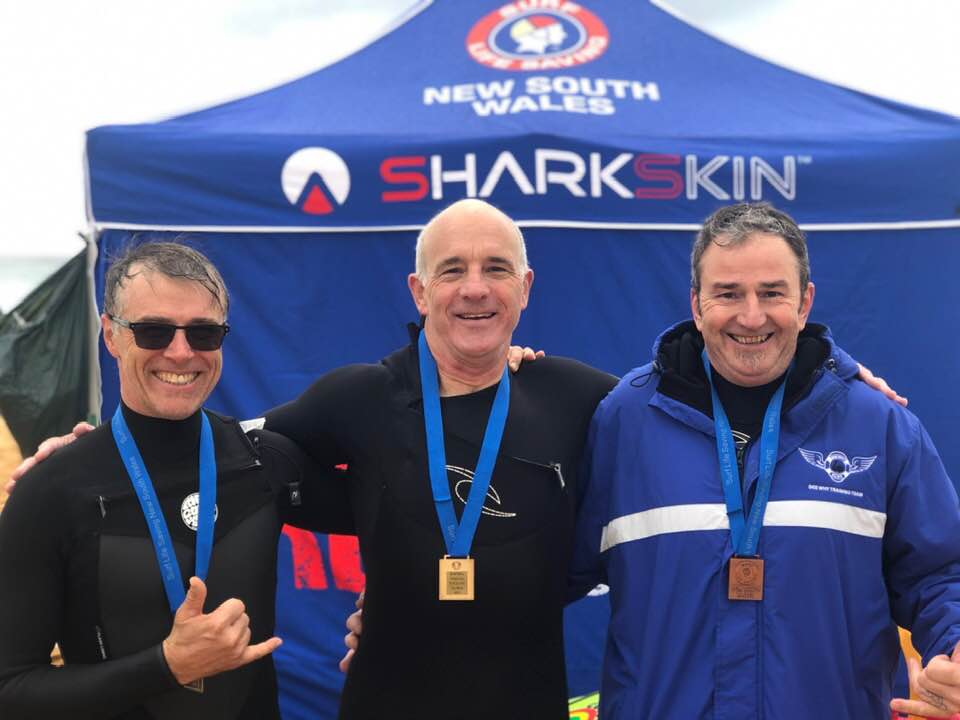 Congratulations boys, Grant Salmon 1st from Avalon Beach (middle), Rob Hatton 2nd Woonona (left) and Warren Hannon Dee Why 3rd (right) NSW STATE SLSA Longboard Champions - photo by Adriaan van der Wallen
Decent three-to-four-foot swell and favourable winds are forecast for this weekend's 2019 Midford NSW Board Riding Championships at North Narrabeen. More than 125 surfers from 38 NSW Surf Life Saving Clubs from Narooma SLSC to Cudgen Headland SLSC will compete over three days of competition.
Hosted by North Narrabeen SLSC at its world-class surf break, club members as young as 13 as well as those in their 70s, will paddle out in this weekend's State Titles.
The Masters kicked off the Championships on Friday 2 August. Ryan Clark and Harries Carroll from Bronte Surf Life Saving Club impressed judges with both claiming gold in their age groups. Peta Howlett from Umina Surf Life Saving Club, Andrea Bohm from Freshwater Surf Life Saving Club and Sophie Wade from Palm Beach SLSC all used the favourable conditions to their advantage. Grant Salmon and Roger Sayers from Avalon Beach Surf Life Saving Club were also among the gold medallists.
The event will continue into the weekend with the Opens and Juniors in both long and shortboard divisions.
by Surf Life Saving NSW - MORE HERE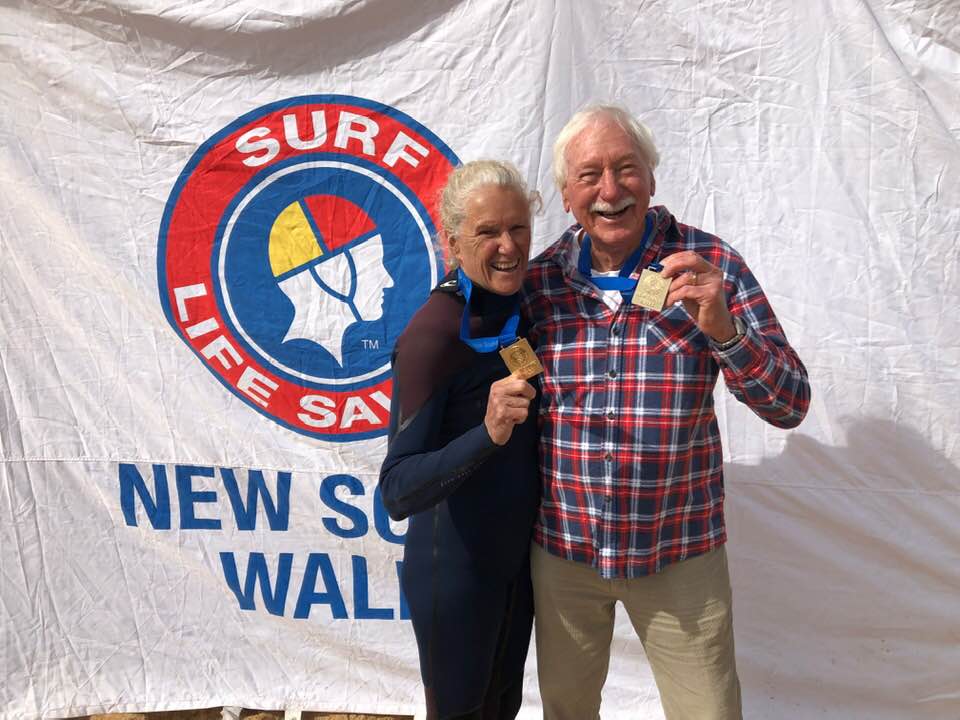 Roger Sayers from Avalon Beach 70 's and Andrea Bohm 60's from Freshwater NSW STATE SLSA CHAMPIONSHIPS gold surfers - photo by Adriaan van der Wallen
Frank Tolhurst Perpetual Trophy Coming Home To Pittwater From Helsinki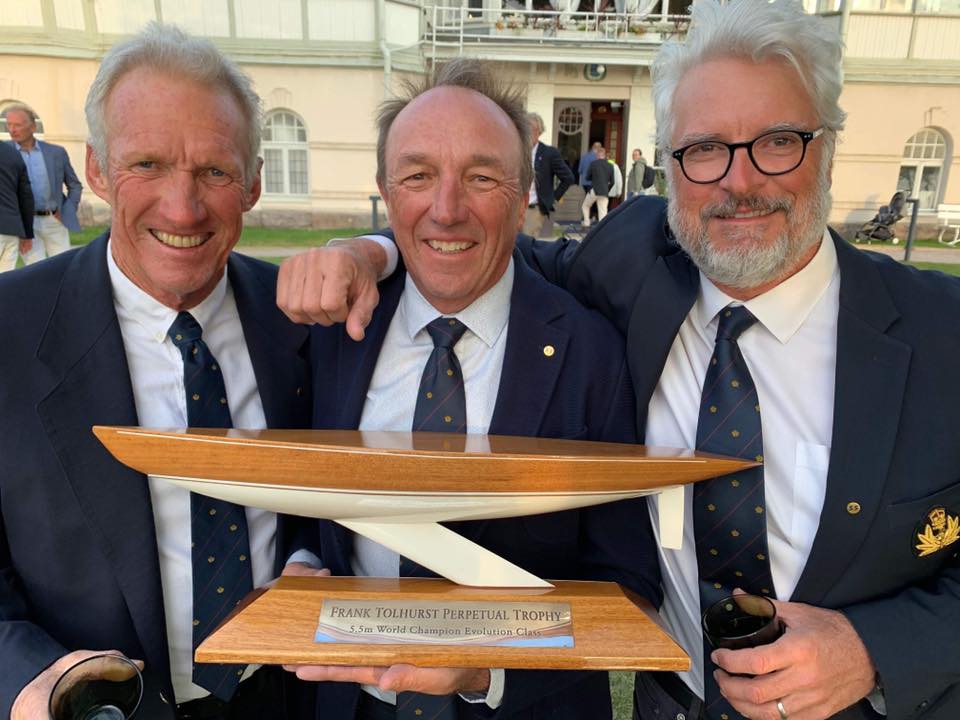 Congratulations to RPA's John Bacon, Terry Wetton and James Major for winning the Int. 5.5m Frank Tolhurst trophy for world champions in the ex Olympic 5.5 (Evolution) class in Helisnki this week.

The trophy honours legendary Australian Frank Tolhurst. Mr. Tolhurst was part of the Pittwater Fleet and was a successful businessman with diverse interests, including pastoral and construction works. Frank won numerous 5.5 Metre Class championships, including three World Championships. All his yachts bore the name "Arunga".
The Team will defend the trophy next January in Pittwater as the Royal Prince Alfred Yacht Club hosts the World Championship, commencing with the Scandinavian Gold Cup on January 4, with the 2020 World Championship running from January 9-13.
Ku-Ring-Gai dominated all week, as she did in last week's Hankø Evolution Cup, and finished 11th in the overall World Championship standings.
The RPAYC has an historic association with the 5.5M class. Club member, Bill Northam, won Australia's first ever sailing gold medal at the Olympics Games in the 5.5M at age 59. He remains the oldest Australian to win sailing Olympic Gold.
Northam sailed Barranjoey to Gold at the 1964 Tokyo Olympics crewed by Dick Sargeant and Peter 'Pod' O'Donnell. Beforehand, in 1963, he joined O'Donnell and Sargeant as crew on Sir Frank Packer's Gretel, the Challenger for the 1963 America's Cup.
Mona Vale Teenagers' Passion For Stars And Photography Winning Awards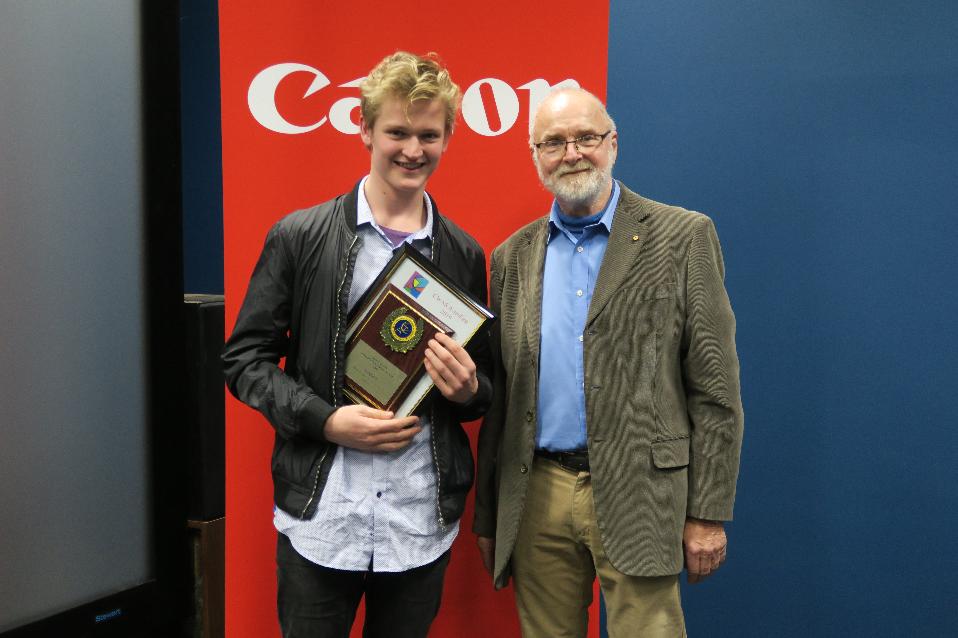 Dr. Malin presented Austin with his award. Photo © John Sarkissian OAM
Astrophotography by Austin Turpin

Mona Vale's Austin Turpin, 15, has won the junior section of the 2019 David Malin Awards with a great self photograph he took while holding a blue light beam to the star-lit sky.
Mr Turpin's photo was later announced as the cover photo for the 2019 Australasian Sky Guide, an astronomy magazine distributed throughout observatories nationwide.
The teenager said the announcement was deeply humbling.
"I can't believe it," he said.
"I think I'm going to be in shock for a little while."
Mr Turpin said his eyes were set on conquering the Deep Sky category in the future.
"I'm going to invest in gear that will allow me to take those photos."
"If I could get there, to those sorts of photos of the Nebula, then I would be so happy, that's what I want to win."
Mr. Turpin's "Things I never get to see" was also recognised in this year's David Malin Awards, making the Highly Commended list.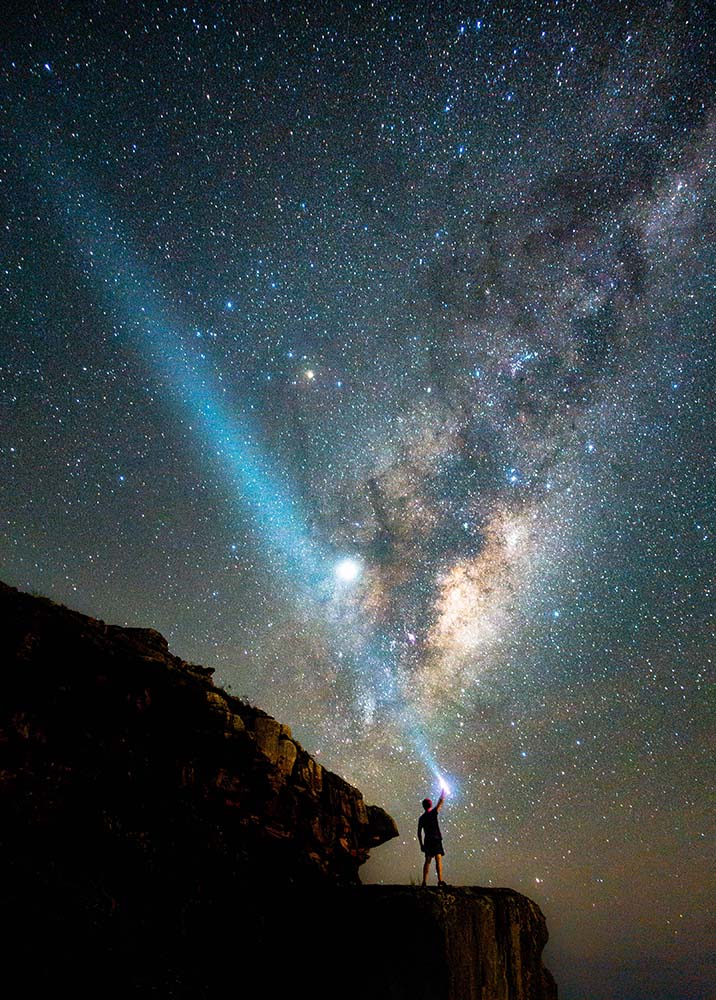 Austin Turpin's How Small It Makes Me Feel won the junior category. (Supplied: CWAS/Austin Turpin)
The Central West Astronomical Society oversees the CWAS Astrophotography Awards judged by Dr David Malin - the "David Malin Awards". The judge, Ingleside gentleman and renowned scientific image-maker David Malin after whom the awards were named, praised the quality of the 261 space-related photographs and animated sequences which were submitted.
"We've been running this for 16 years now and this is the best year we've ever had," Mr Malin said.
"They're just fantastic, absolutely stunning."
In the 2019 Australia Day Honours List, Dr David Malin, was made a Member in the Order of Australia, AM, "for significant service to science as an astronomer and astrophotographer".
This year's CWAS Astrophotography Awards continued to build on the experience of previous years to help make it the premier competition of its kind in Australia. The competition had three sections of entry - General Section, Open Themed Section and a Junior Section (18 or younger). The general section is divided into five categories; Wide-field (camera shots), Deep Sky (telescope shots), Solar System, Nightscapes and Animated Sequences. The Animated Sequences category has two subsections - Scientific and Aesthetic. The Junior Section had one open category and entries could be of any astronomical subject, and could be an animated sequence.The Open Themed Section - "Memories of Apollo", brought focus on the 2019 celebrations of the moon landing and Australia's part in this.
This was won by Neil Creek and shows an elderly man passing the glowing Moon to a young girl - the photo features Neil's father and niece.
Mr Creek said his photo was trying to illustrate the Moon landing was still as significant now as it was 50 years ago.
"I think it's important that we have a vision of what we can be as a species, as the human race," Mr Creek said.
"Looking to the Moon in the '60s drove us to reach further and be better.
"It's exciting for me to be able to use my photo to hopefully inspire people with that same wonder that everyone felt when we went to the Moon."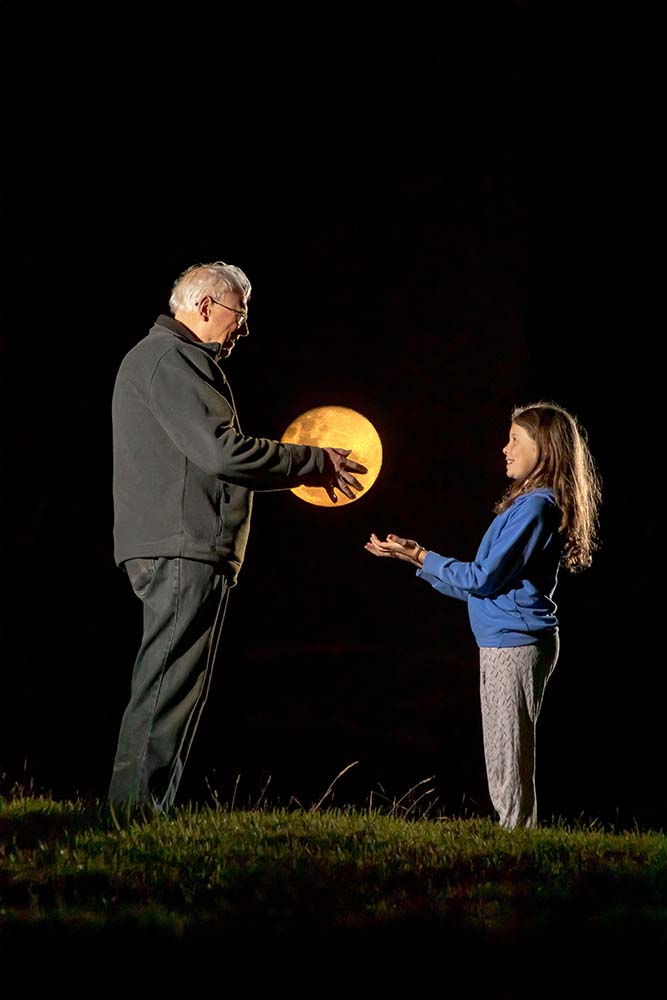 "Lunar Generations"- (Supplied: CWAS/Neil Creek)
The "David Malin Innovation Prize" is awarded at Dr Malin's discretion for a striking astronomical image that shows exceptional imagination, innovation or an unusual approach in any of the categories.
An additional prize, "The Photo Editor's Choice", is also awarded.
The Solar System category is for images of solar system objects taken with a telescope. Wide-field solar system shots may be entered in the Wide-Field or Nightscape categories depending on the subject and composition.
The Nightscapes is intended to showcase the increasing popularity and evolution of this relatively new genre of astrophotography, combining beautiful foregrounds with a night sky scene - often in a single exposure (HDR is OK) or as a multi-shot panorama.
Animated Sequences are videos that are intriguing or highlight concepts and events not obvious or significant in stills.
This isn't the first time Austin's photographic skills have been recognised. In 2018 his Our Place Among the Stars, won the Lower Secondary (Years 7–9) category in the ATOM Photo Comp.
The ATOM Photo Comp provides Australian and New Zealand photographers with the opportunity to submit a set of three photographs adhering to a theme, with an accompanying written statement. In 2018 the theme was 'This Makes Me Happy'.
ATOM stands for 'Australian Teachers Of Media'. Australian Teachers of Media Inc. (ATOM) is an independent, not-for-profit, professional association that has been promoting the study of media and screen literacy for over fifty years. Their goal is to empower students, teachers, parents, and film enthusiasts to analyse and better understand the screen products we enjoy.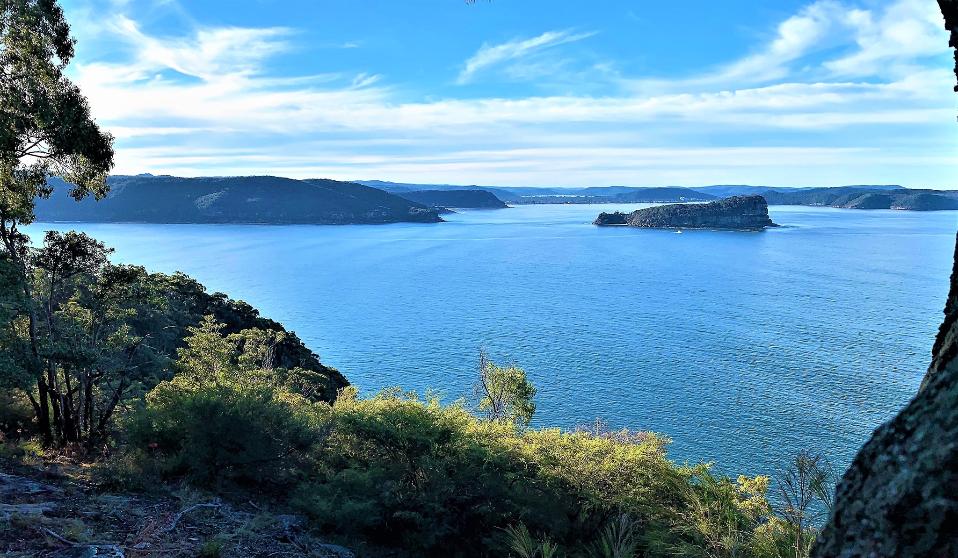 Lion Island from West Head, July 30th 2019 - photo by John Vaughan
Past Features Archives (pre 2014)
Pittwater Online News was selected for preservation by the State Library of New South Wales and National Library of Australia. This title is scheduled to be re-archived regularly.
Archived Issues (2014 on) may be accessed here: pandora.nla.gov.au/tep/143700