August 4 - 10, 2019: Issue 415
Mona Vale Teenagers' Passion for Stars and Photography Winning Awards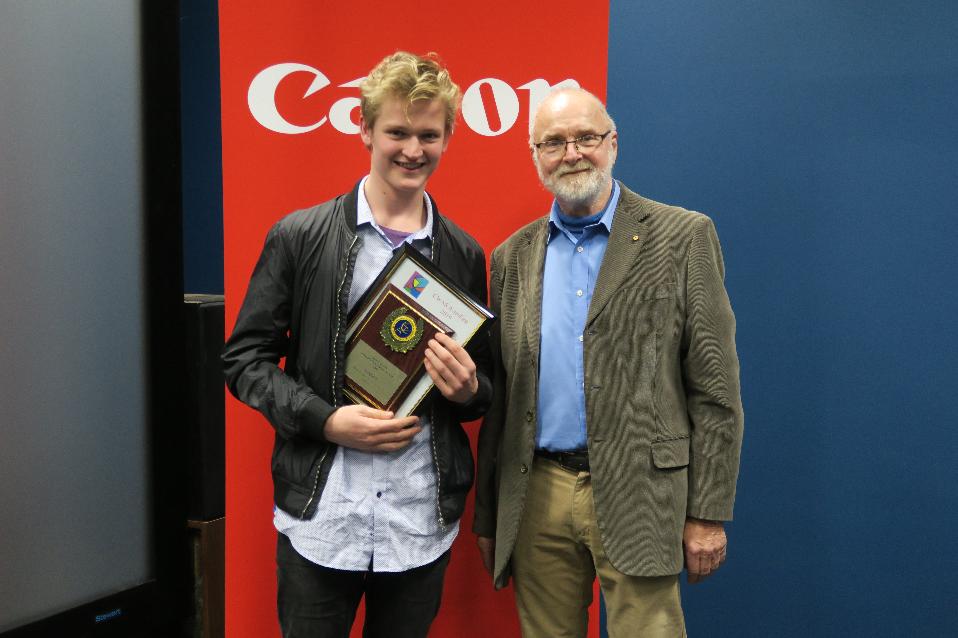 Dr. Malin presented Austin with his award. Photo © John Sarkissian OAM
Astrophotography by Austin Turpin

Mona Vale's Austin Turpin, 15, has won the junior section of the 2019 David Malin Awards with a great self photograph he took while holding a blue light beam to the star-lit sky.
Mr Turpin's photo was later announced as the cover photo for the 2019 Australasian Sky Guide, an astronomy magazine distributed throughout observatories nationwide.
The teenager said the announcement was deeply humbling.
"I can't believe it," he said.
"I think I'm going to be in shock for a little while."
Mr Turpin said his eyes were set on conquering the Deep Sky category in the future.
"I'm going to invest in gear that will allow me to take those photos."
"If I could get there, to those sorts of photos of the Nebula, then I would be so happy, that's what I want to win."
Mr. Turpin's "Things I never get to see" was also recognised in this year's David Malin Awards, making the Highly Commended list.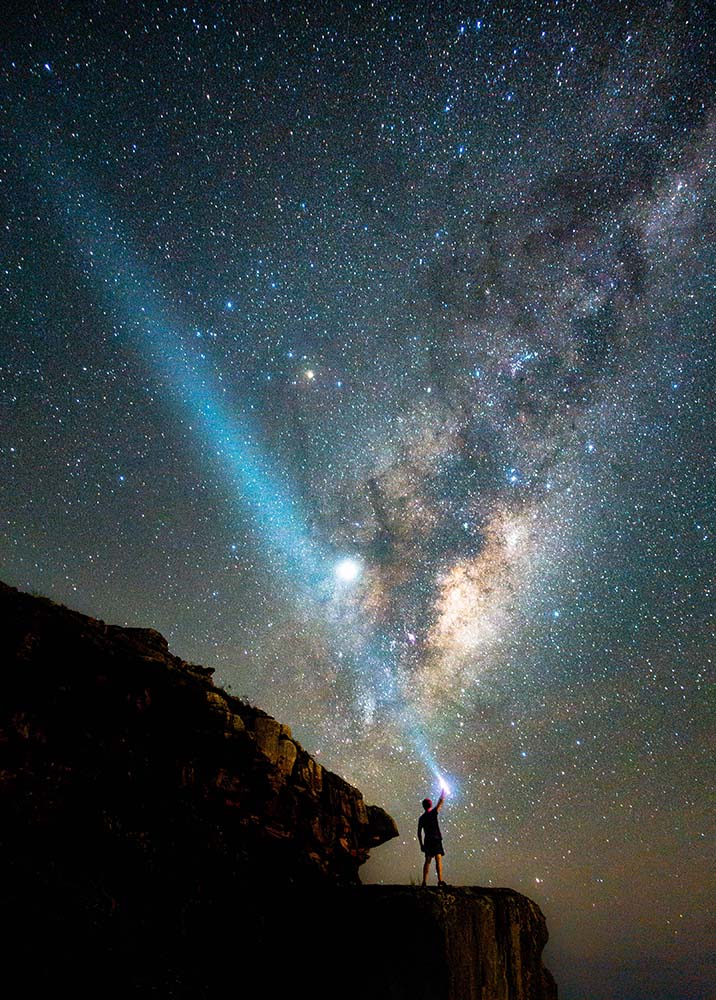 Austin Turpin's How Small It Makes Me Feel won the junior category. (Supplied: CWAS/Austin Turpin)
The Central West Astronomical Society oversees the CWAS Astrophotography Awards judged by Dr David Malin - the "David Malin Awards". The judge, Ingleside gentleman and renowned scientific image-maker David Malin after whom the awards were named, praised the quality of the 261 space-related photographs and animated sequences which were submitted.
"We've been running this for 16 years now and this is the best year we've ever had," Mr Malin said.
"They're just fantastic, absolutely stunning."
In the 2019 Australia Day Honours List, Dr David Malin, was made a Member in the Order of Australia, AM, "for significant service to science as an astronomer and astrophotographer".
This year's CWAS Astrophotography Awards continued to build on the experience of previous years to help make it the premier competition of its kind in Australia. The competition had three sections of entry - General Section, Open Themed Section and a Junior Section (18 or younger). The general section is divided into five categories; Wide-field (camera shots), Deep Sky (telescope shots), Solar System, Nightscapes and Animated Sequences. The Animated Sequences category has two subsections - Scientific and Aesthetic. The Junior Section had one open category and entries could be of any astronomical subject, and could be an animated sequence.The Open Themed Section - "Memories of Apollo", brought focus on the 2019 celebrations of the moon landing and Australia's part in this.
This was won by Neil Creek and shows an elderly man passing the glowing Moon to a young girl - the photo features Neil's father and niece.
Mr Creek said his photo was trying to illustrate the Moon landing was still as significant now as it was 50 years ago.
"I think it's important that we have a vision of what we can be as a species, as the human race," Mr Creek said.
"Looking to the Moon in the '60s drove us to reach further and be better.
"It's exciting for me to be able to use my photo to hopefully inspire people with that same wonder that everyone felt when we went to the Moon."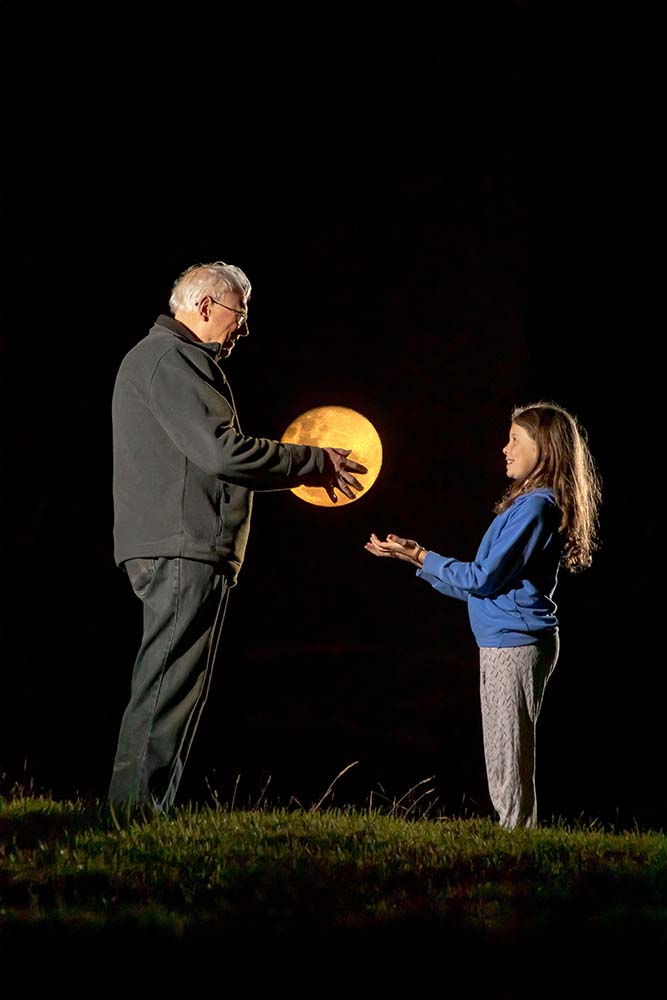 "Lunar Generations"- (Supplied: CWAS/Neil Creek)
The "David Malin Innovation Prize" is awarded at Dr Malin's discretion for a striking astronomical image that shows exceptional imagination, innovation or an unusual approach in any of the categories.
An additional prize, "The Photo Editor's Choice", is also awarded.
The Solar System category is for images of solar system objects taken with a telescope. Wide-field solar system shots may be entered in the Wide-Field or Nightscape categories depending on the subject and composition.
The Nightscapes is intended to showcase the increasing popularity and evolution of this relatively new genre of astrophotography, combining beautiful foregrounds with a night sky scene - often in a single exposure (HDR is OK) or as a multi-shot panorama.
Animated Sequences are videos that are intriguing or highlight concepts and events not obvious or significant in stills.
This isn't the first time Austin's photographic skills have been recognised. In 2018 his Our Place Among the Stars, won the Lower Secondary (Years 7–9) category in the ATOM Photo Comp.
The ATOM Photo Comp provides Australian and New Zealand photographers with the opportunity to submit a set of three photographs adhering to a theme, with an accompanying written statement. In 2018 the theme was 'This Makes Me Happy'.
ATOM stands for 'Australian Teachers Of Media'. Australian Teachers of Media Inc. (ATOM) is an independent, not-for-profit, professional association that has been promoting the study of media and screen literacy for over fifty years. Their goal is to empower students, teachers, parents, and film enthusiasts to analyse and better understand the screen products we enjoy.

Since 1982, the ATOM Awards have been celebrating the best of Australian and New Zealand screen content from the education sector and screen industry professionals. They are the second-longest-running film and media awards in Australia, behind the AFI/AACTA Awards, having been held annually for over thirty-five years.
Unfortunately Austin was unable to attend the award ceremony in Melbourne last year as he was studying in Germany, but he shared his comments.
"Firstly I would like to thank ATOM, Ted's Cameras and Quantum for organising the competition. I would also like to thank the other competitors who submitted photos, because the standard was high and it would have been difficult to decide a winner.
These images which were taken on a freezing cold night in the Blue Mountains actually mean quite a lot to be because back in 2015 I use to aim my iPad up at the sky and try and take a photo of them. This lead to me getting a camera and my interest developed out from there. I have many interests but photography remains my favourite and it doesn't matter where I am in the world, I can look up at the stars and really feel at home."
Our Place Among The Stars
PHOTOGRAPHER
Austin Turpin
WINNER OF
Lower Secondary Category
WRITTEN STATEMENT
The stars have astounded and inspired me even before I started photography. It was this love for the stars that lead me to start taking pictures of them, which ended up as photography in general being my passion, so I saw it fitting to submit photos of stars. Obviously a very slow shutter was used; 20–30 seconds is my usual. The problem with such a slow shutter is how hard it is to stay still for so long! They ended up turning out very well though, and I'm very happy with the results.
We were on a trip to the mountains. I knew there was no light pollution there so it would be the perfect place and time. Just when I started to get excited, I realised that the moon was out, and very close to the Milky Way. We went quite early to try and take photos before it bleached the whole sky, and it worked. In my opinion, the moon created an amazing silhouette around me. I set my camera to a timer and ran for it.
The third photo was actually in my driveway, but the other two were in the mountains and the glowing object in the third photo is a candle I lit to find my way around, but I ended up using it as a prop, and I'm glad I did.
The stars make me happy, and I feel at home when I gaze up at them, despite where I am in the world.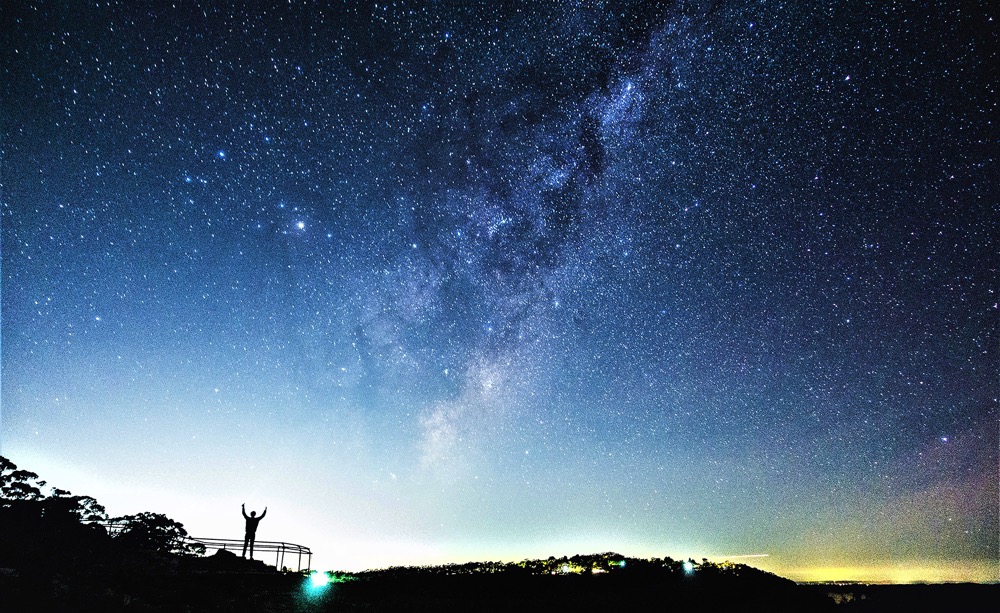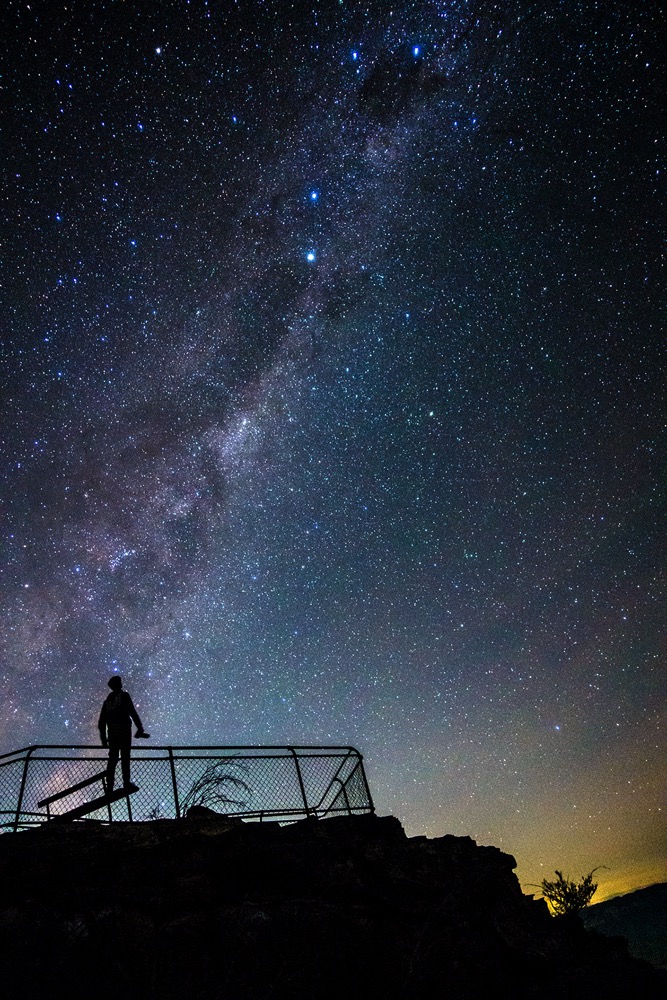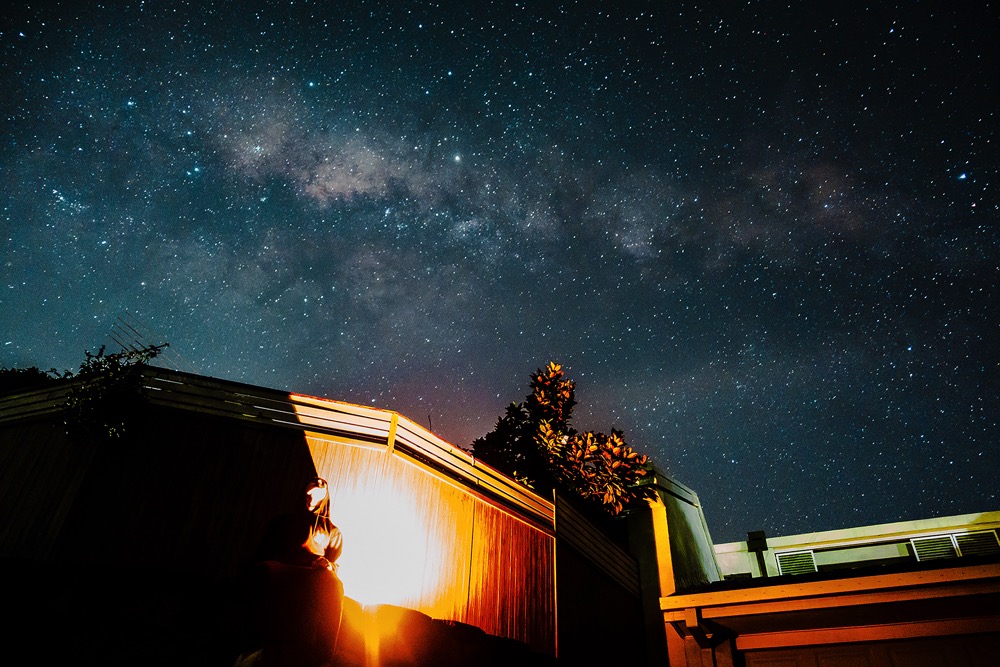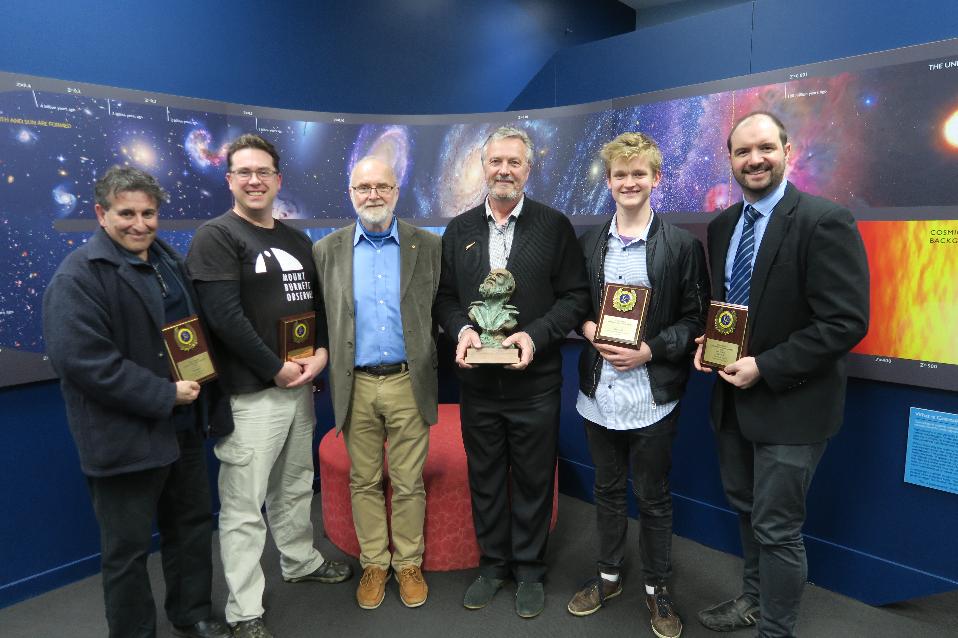 David Malin Award 2019 Category winners with David Malin. L-R: Eddie Trimarchi (Solar System), Neil Creek (Theme), David Malin, Peter Ward (Deep Sky & Joint Overall Winner), Austin Turpin (Junior), Luke Tscharke (Photo Editor's Choice).
Absent: Phil Hart (Animations and Joint Overall Winner), Troy Casswell (Wide-Field) and Steven Morris (Nightscapes).
Photo © John Sarkissian OAM