August 4 - 10, 2019: Issue 415
SLS NSW Board Riding Championships Return To Iconic North Narrabeen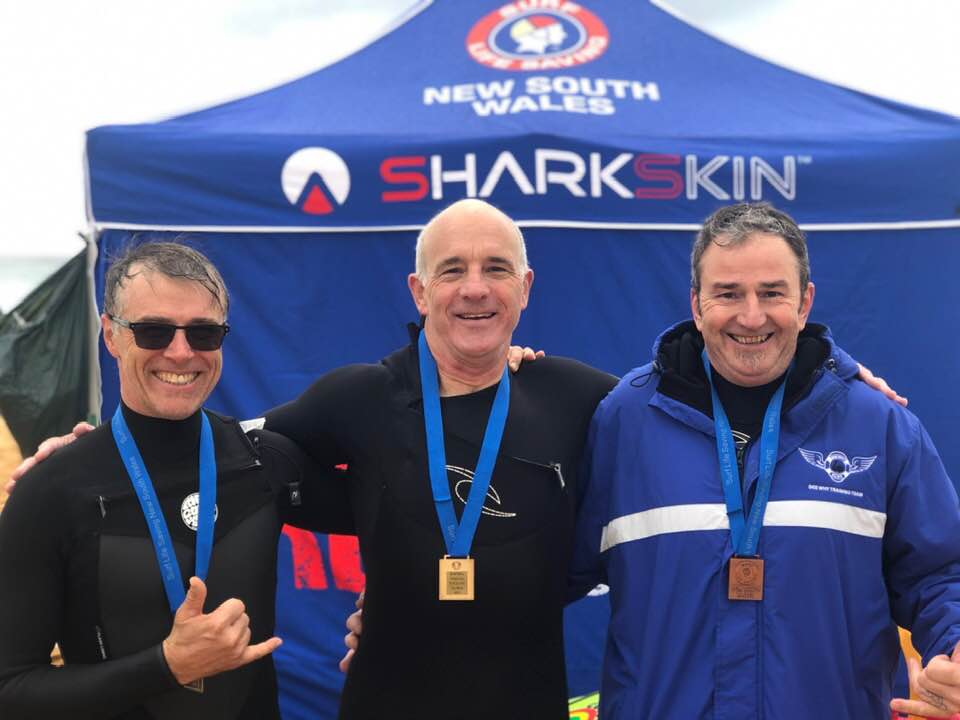 Congratulations boys, Grant Salmon 1st from Avalon Beach (middle), Rob Hatton 2nd Woonona (left) and Warren Hannon Dee Why 3rd (right) NSW STATE SLSA Longboard Champions - photo by Adriaan van der Wallen
Decent three-to-four-foot swell and favourable winds are forecast for this weekend's 2019 Midford NSW Board Riding Championships at North Narrabeen. More than 125 surfers from 38 NSW Surf Life Saving Clubs from Narooma SLSC to Cudgen Headland SLSC will compete over three days of competition.
Hosted by North Narrabeen SLSC at its world-class surf break, club members as young as 13 as well as those in their 70s, will paddle out in this weekend's State Titles.
The Masters kicked off the Championships on Friday 2 August. Ryan Clark and Harries Carroll from Bronte Surf Life Saving Club impressed judges with both claiming gold in their age groups. Peta Howlett from Umina Surf Life Saving Club, Andrea Bohm from Freshwater Surf Life Saving Club and Sophie Wade from Palm Beach SLSC all used the favourable conditions to their advantage. Grant Salmon and Roger Sayers from Avalon Beach Surf Life Saving Club were also among the gold medallists.
The event will continue into the weekend with the Opens and Juniors in both long and shortboard divisions.
Fans of the Bondi Rescue television series are in for a treat again this year with competition veterans and defending state champions Anthony 'Harries' Carroll and Ryan 'Whippet' Clark flying the flag for Bronte SLSC. Bronte is fielding an impressive 37 competitors this year.
Surfers will compete in 15-minute heats followed by semi-finals and finals which will be judged following international surfing guidelines rewarding surfers based on their ability to show speed, power and flow throughout the length of a wave.
Surfing NSW is assisting with sourcing fully accredited judges for the competition and provide guidance to deliver an event worthy of a State Championship. Surf Life Saving NSW and Surfing NSW signed an agreement in 2018 formally recognising the relationship between the two organisations working together on NSW beaches. The relationship includes the rollout of the Surfing NSW Surfers Rescue program.
Surf Life Saving NSW Surf Sport Manager, Rob Pidgeon said the Midford NSW Board Riding Championships is unique in the diversity of competitors that it attracts - both from an age and a geographic perspective.
"Surfing is a very accessible sport that is enjoyed by people of all ages and backgrounds, right along our coastline. The Championships really reflects that.
"Board riding gives individuals the chance to represent their clubs at state-level who wouldn't normally compete at our traditional State Champs."
Pidgeon said conditions for the Championships this weekend are looking good with early forecasts indicating solid swell and good wave height favourable for North Narrabeen.
"The surf hasn't really been up over the past few weeks. We're hopeful of some contestable surf to give competitors the opportunity to really show-off their skills. North Narrabeen is such an iconic venue and we're looking forward to a great weekend of board riding," said Pidgeon.
The 2019 Midford NSW Board Riding Championships will be held at North Narrabeen from Friday 2 to Sunday 4 August inclusive. The opening heats will got underway on Friday morning.
by Surf Life Saving NSW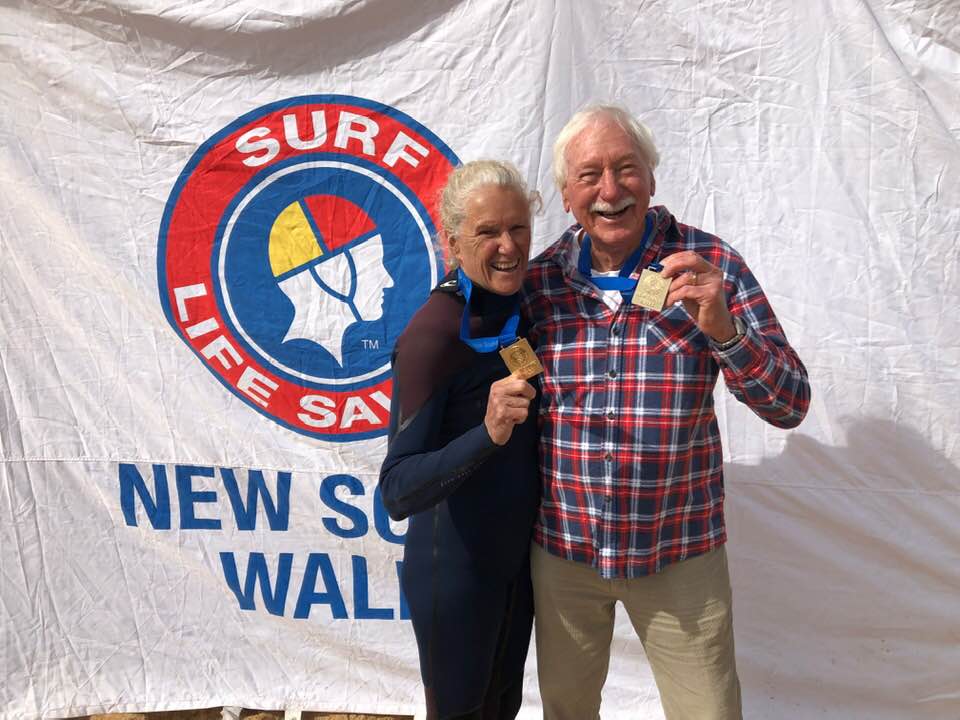 Roger Sayers from Avalon Beach 70 's and Andrea Bohm 60's from Freshwater NSW STATE SLSA CHAMPIONSHIPS gold surfers - photo by Adriaan van der Wallen