July 21 - 27, 2019: Issue 413

Beryl Driver OAM: Her 21st Variety The Children's Charity B To B Bash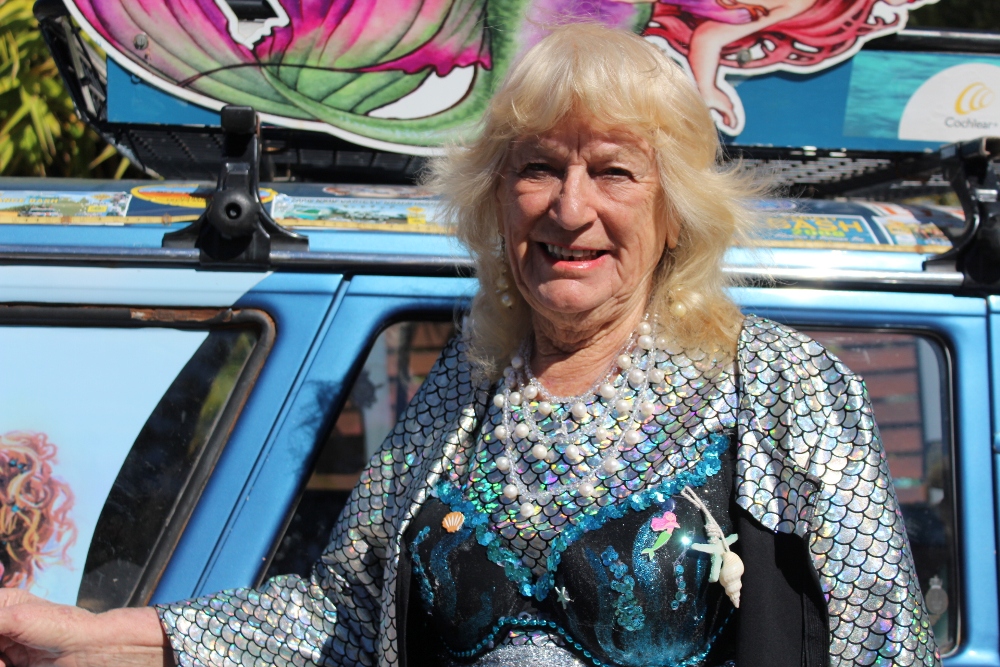 Beryl Driver OAM - a Palm Beach Mermaid!
Guess who's celebrating a 21st during her 86th year on this planet?
That effervescent Mermaid of Palm Beach - Beryl Driver OAM!
This time next week, Sunday July 28th, Beryl Driver and Viktorija McDonell will be setting forth from Bondi on a 3869 kilometre journey to Batt Reef in Port Douglas. This will be Beryl's 21st B to B Bash.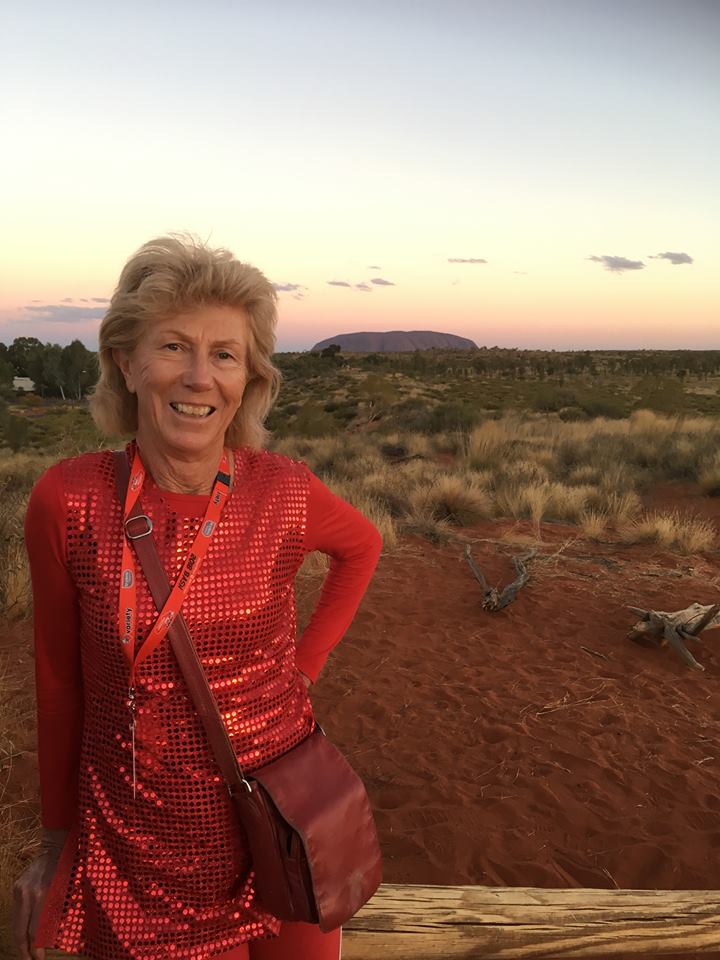 Viktorija McDonell

The Variety Bash started in 1985, when entrepreneur and adventurer Dick Smith took a group of intrepid motorists from Bourke NSW to Bourketown Queensland in old cars, raising $250,000 for charity along the way. Since that first event, over $200 million has been raised, changing the lives of thousands of children across Australia. Dick had friends from all walks of life – from multi-millionaires to battlers – and the event was his idea of a great equaliser. Touted as "a drive in the outback with a few mates", Dick made sure everyone was on a level playing field – all cars had to be over 30 years old and non performance modified, a sentiment the Variety Bash retains today.
Beryl and Viktorija will be making their way in Car 2108 - yes, she's a Holden: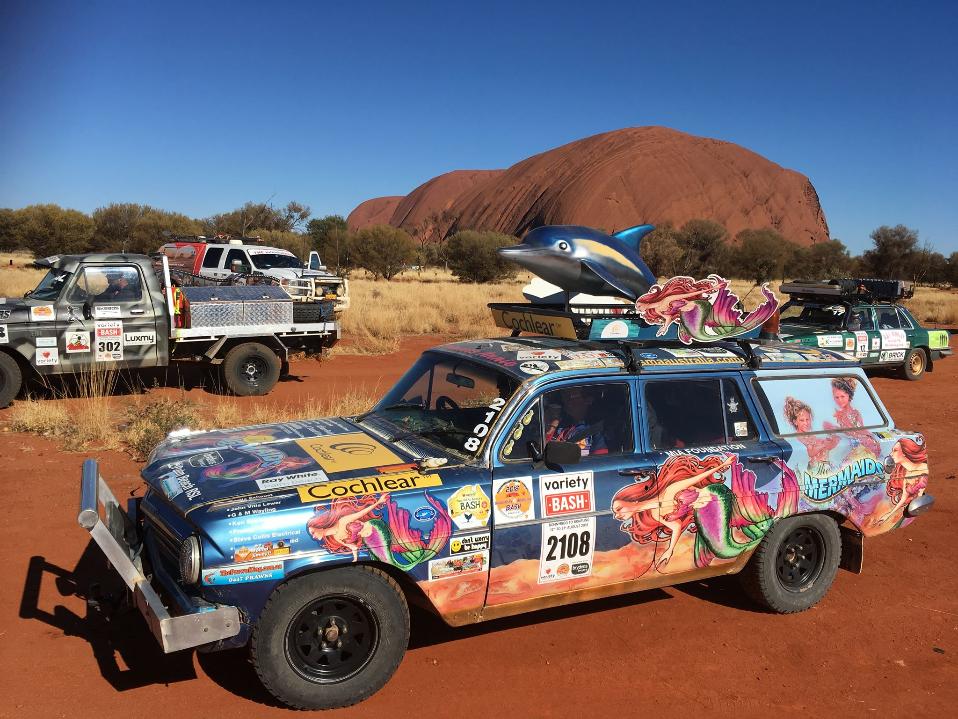 The Bash is not a race, rally or speed trial. The single most significant rule of the Bash is to relax and enjoy the Australian Outback and help raise funds for kids in need! Since that first event, over $200 million has been raised, changing the lives of thousands of children across Australia.
Beryl does more than the Bash year round though - her commitment and support of others has been a lifelong pursuit - in fact, that's her nature, her essence - her love for others, her love for the Australia you see outside the city.
Her decades of efforts for others were recognised in a 2013 award from Pittwater council and an OAM on the Australia Day Honours List of 2015, 'For service to the community through charitable initiatives'.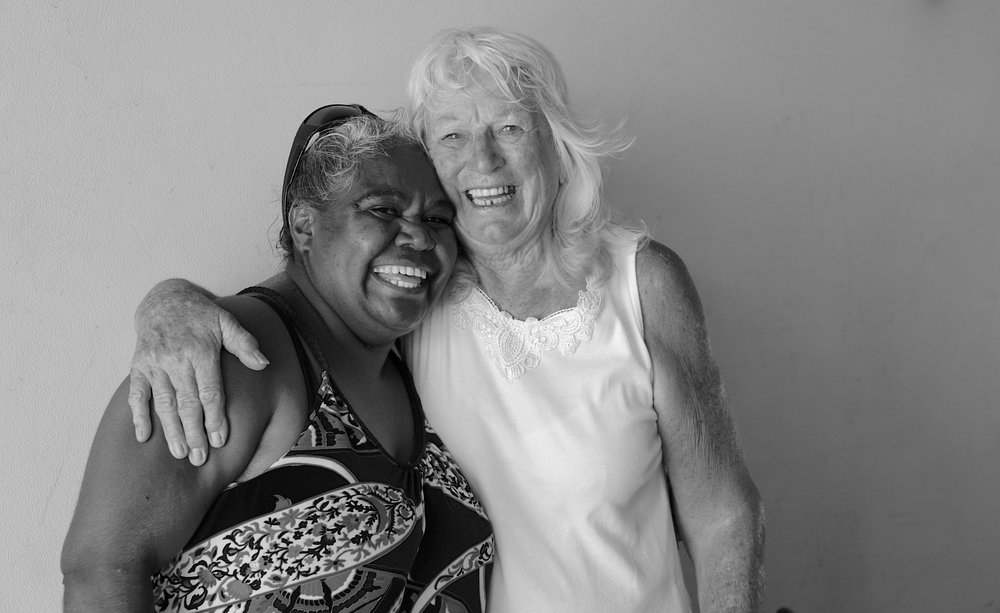 'Good Australian Friends' - by Adrian Boddy; - Adrian says
This happy duo was photographed at the South Narrabeen Surf Life Saving Club in the summer of 2016. Mary, on the left, is a community member of the Brewarrina Mob, from western NSW. Beryl Driver, OAM, (Variety Club Member) is one of her long-standing friends. Each year members of the Brewarrina community escape their summer heat and dust for coastal surf, sand and entertainment. Everyone has fun — including Mary and Beryl. [Bush to Beach Program at South Narrabeen SLSC]
In 2018 when Beryl had finished her 20th B to B Bash we asked if she was going to go for one more it was pretty obvious that she would be doing this year's Variety the Children's Charity Bash. Of course she would!
"21 is a pretty good number.... how many of us get a second 21st..." the Mermaid reasoned.
As soon as summer began to leave this year her supporters and her good self were raising funds; teas and afternoon get togethers, the Currrawong Day the wonderful ladies of Palm Beach Golf Club, and those brilliant Bridge players attend, just for Beryl's homemade sausage rolls!
On Monday July 15th the annual dinner took place at Club Palm Beach - and a fine time was had by all!
Winners Of The 2019 NSW/ACT State Sailing Awards Announced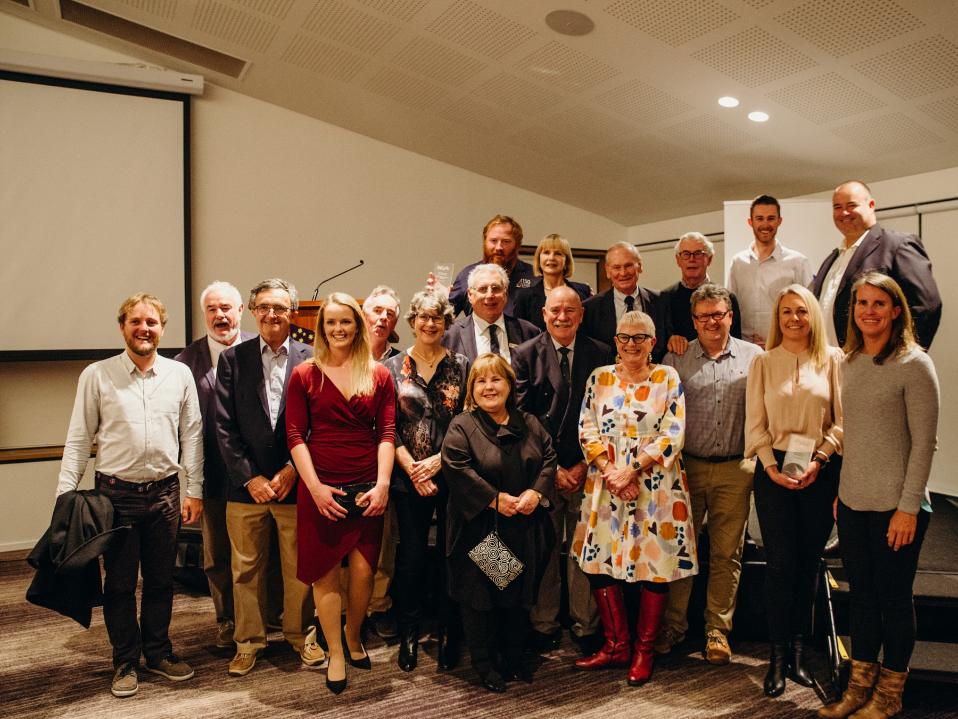 RPAYC has been recognised again this for the club's Excellence in Sailing credo: FEMALE SAILOR OF THE YEAR: Annie Wilmot & Natasha Bryant, YOUTH SAILOR OF THE YEAR: Daniel Links, INSTRUCTOR OF THE YEAR: Niall Powers ( Manly 16ft Skiff Sailing Club / The Royal Prince Alfred Yacht Club), OFFICIAL OF THE YEAR: Richard Slater, SPORT PROMOTION AWARD: Invictus Games Sydney 2018 presented by Jaguar Land Rover (The RPAYC shared with CYCA, MHYC, RSYS) and SPORT PROFESSIONAL: Tom Spithill
July 8, 2019

The Newcastle Cruising Yacht Club was the big winner of the 2019 NSW/ACT State Sailing Awards, taking out the Club of the Year Award and members Jan Howard and Mary Holly winning the inaugural SheSails Award.
The awards, held at the Cruising Yacht Club of Australia, showcased the most outstanding achievements by New South Wales and ACT members across the nomination period. The top individual awards for the night went to Middle Harbour Yacht Club/Royal Sydney Yacht Squadron's Martin Hill (Male Sailor of the Year) and Royal Prince Alfred Yacht Club's Annie Wilmot and Natasha Bryant (Female Sailors of the Year).
In handing out the Male Sailor of the Year Award, Vice-Commodore of the Middle Harbour Yacht Club Alister Copley highlighted that in October 2018 Hill won the Etchells World Championship in Brisbane ahead of a 90 plus boat field that included 7 past Etchells world champions, numerous champions from other classes and several Olympians.
The Royal Prince Alfred Yacht Club had a great night, boasting four winners from amongst its' ranks. Richard Slater was recognised as Official of the Year Award, Tom Spithill won the Sports Professional Award, Daniel Links the Youth Sailor of the Year Award and Annie Wilmot and Tash Bryant taking out the aforementioned Female Sailor of the Year. The club was also part of the great contingent of yacht clubs that made the sailing divisions of the Invictus Games Sydney such a success.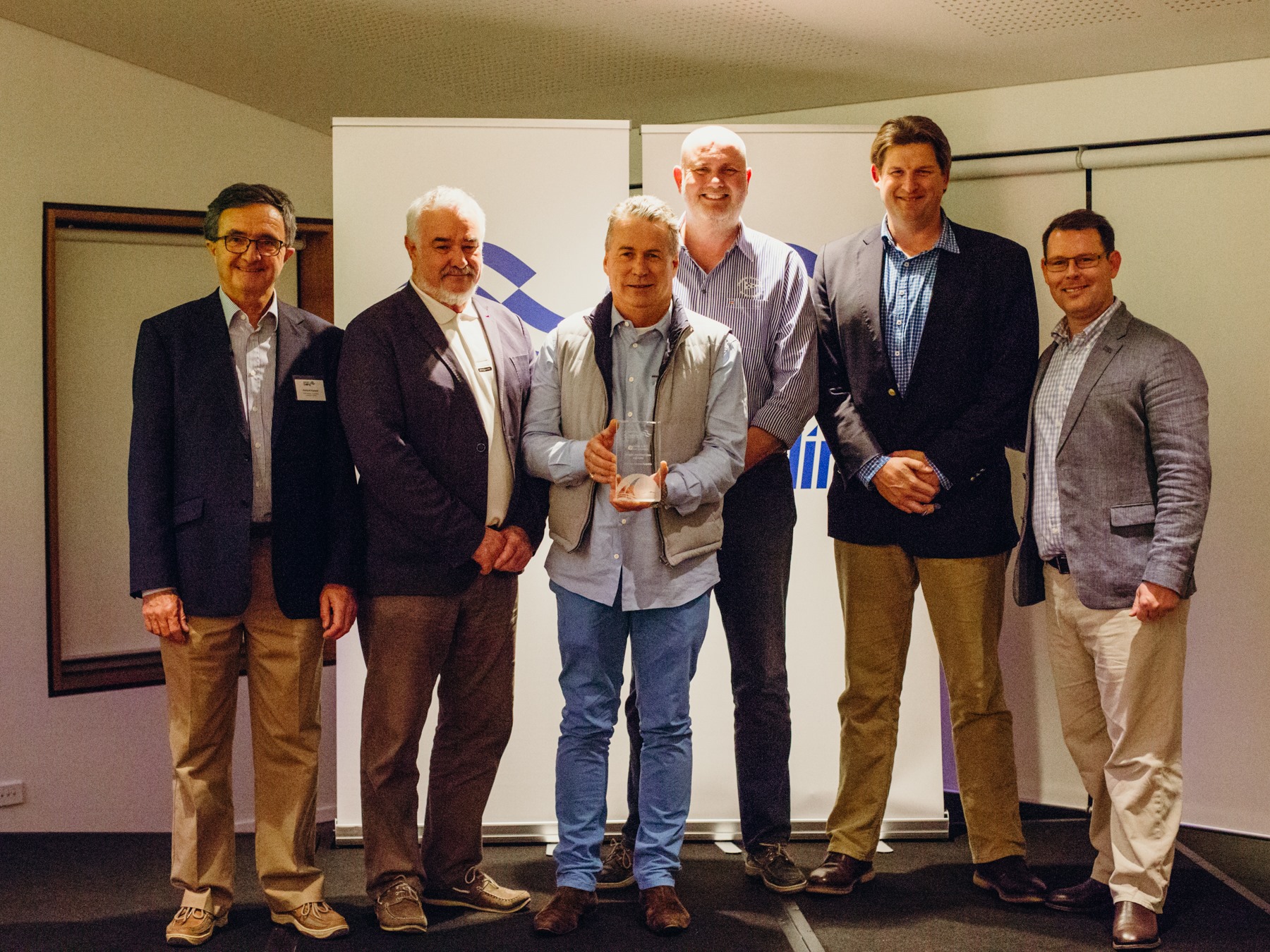 Invictus Games Regatta Organisers and Vice-Commodore of the Middle Harbour Yacht Club Alister Copley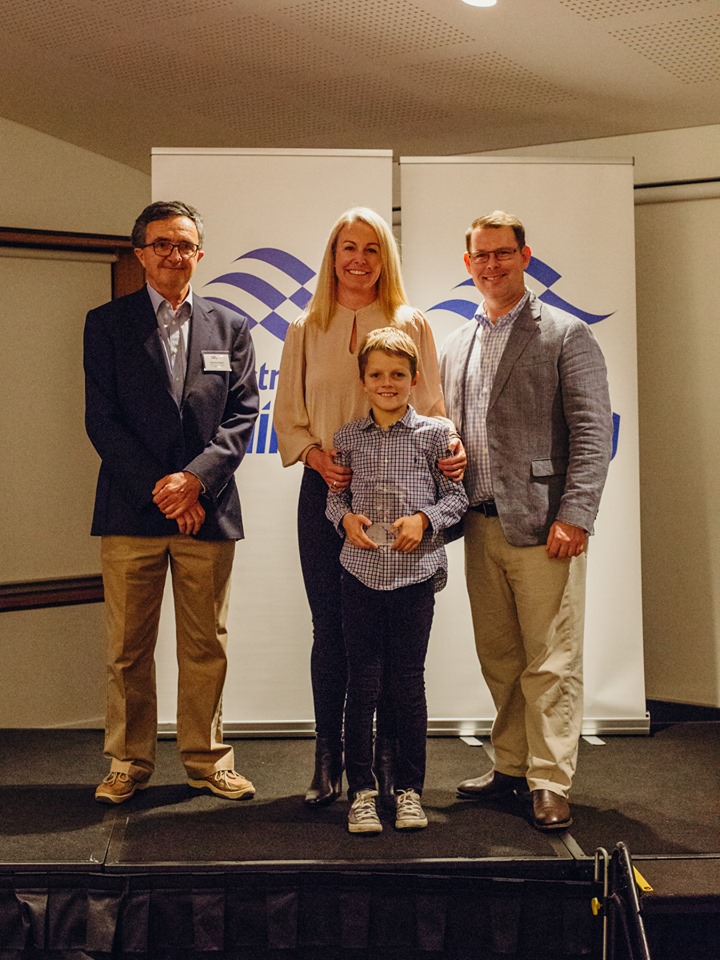 Daniel Links and his parents and Vice-Commodore of the Middle Harbour Yacht Club Alister Copley
Champions
Crowned At 2019 SkullCandy Oz Grom Open At Lennox Head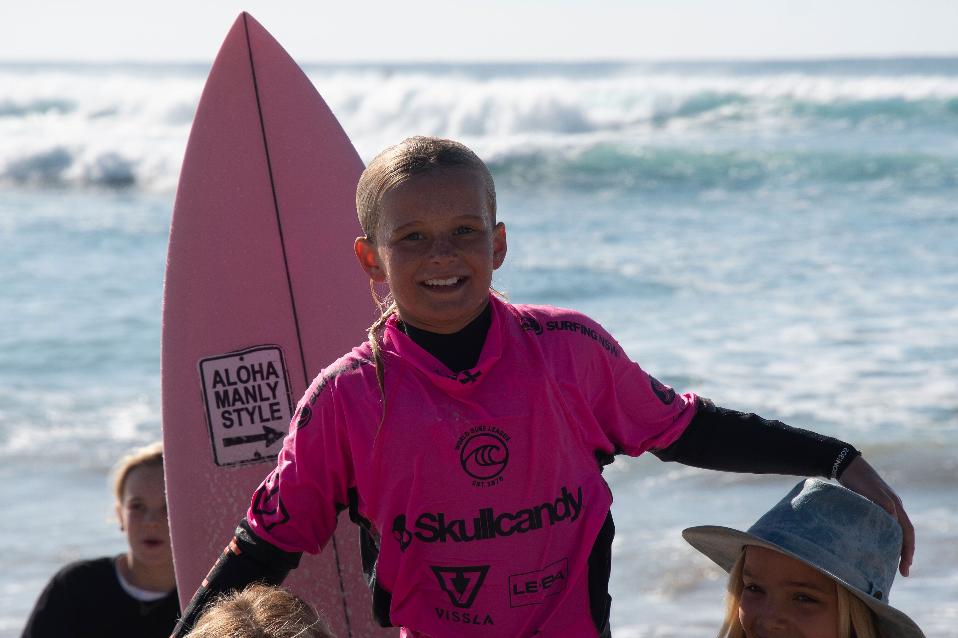 Ruby Rockstar Trew (Seaforth) - 1st in Under 12 girls - photo by Ethan Smith / Surfing NSW
LENNOX HEAD BEACH, LENNOX HEAD
Wednesday, 17 July 2019
Report by Surfing NSW/WSL
The 2019 Skullcandy Oz Grom Open presented by Vissla wrapped up today following a giant day of action in pumping four-foot waves that saw all champions crowned across the Pro Junior and age divisions.
Tane Bowden (NZL) claimed the second Skullcandy Pro Junior victory for New Zealand in as many years, taking out the Boys division. Bowden followed in the footsteps of 2018 Champion Kehu Butler, decimating the punchy surf with a combination of style and gusto. Bowden performed a variety of decent aerials and power-turns in the heat to get the edge over his fellow finalists, notching up a massive 17.30 two-wave heat total. The final followed a similar vein to Bowden's quarterfinal, where all competitors held onto excellent scores (eight-and-above) and remained within firing distance of taking the lead. Bowden will now venture to the final Pro Junior event in Bells where he hopes to cement his qualification spot into the World Junior Championships.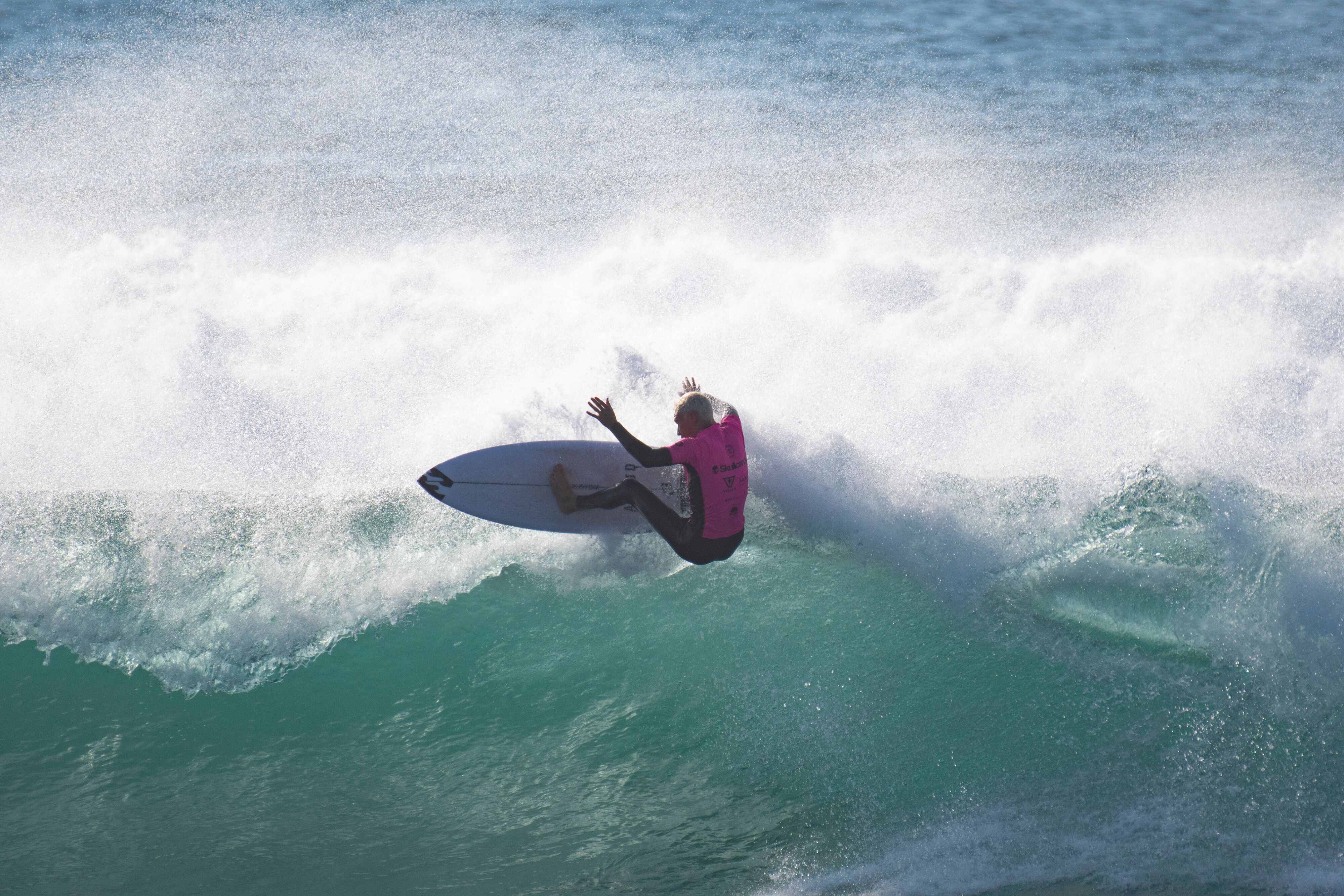 Tane Bowden - photo by Ethan Smith / Surfing NSW

"This feels so good and the waves were so much fun out there," said Bowden. "Having pumping surf for a Pro Junior event has really lifted everyone's game and made them surf better I think. Originally, I wasn't sure if I was going to go to Bells or not for the last event of the year, I just really wanted to see how I went here, but now that I've won this, I want to head down there and hopefully get another result to qualify for the World Juniors."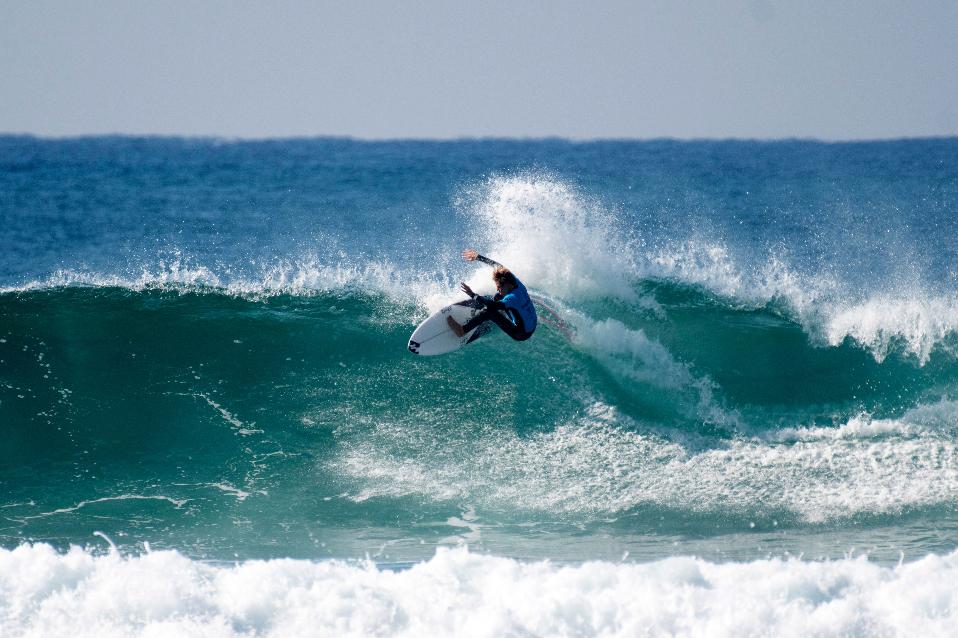 Xavier Bryce (Mona Vale) won 2nd place in Under 14 Boys - photo by Ethan Smith / Surfing NSW
Ain't No Party Like A DoggieRescue Puppy Party!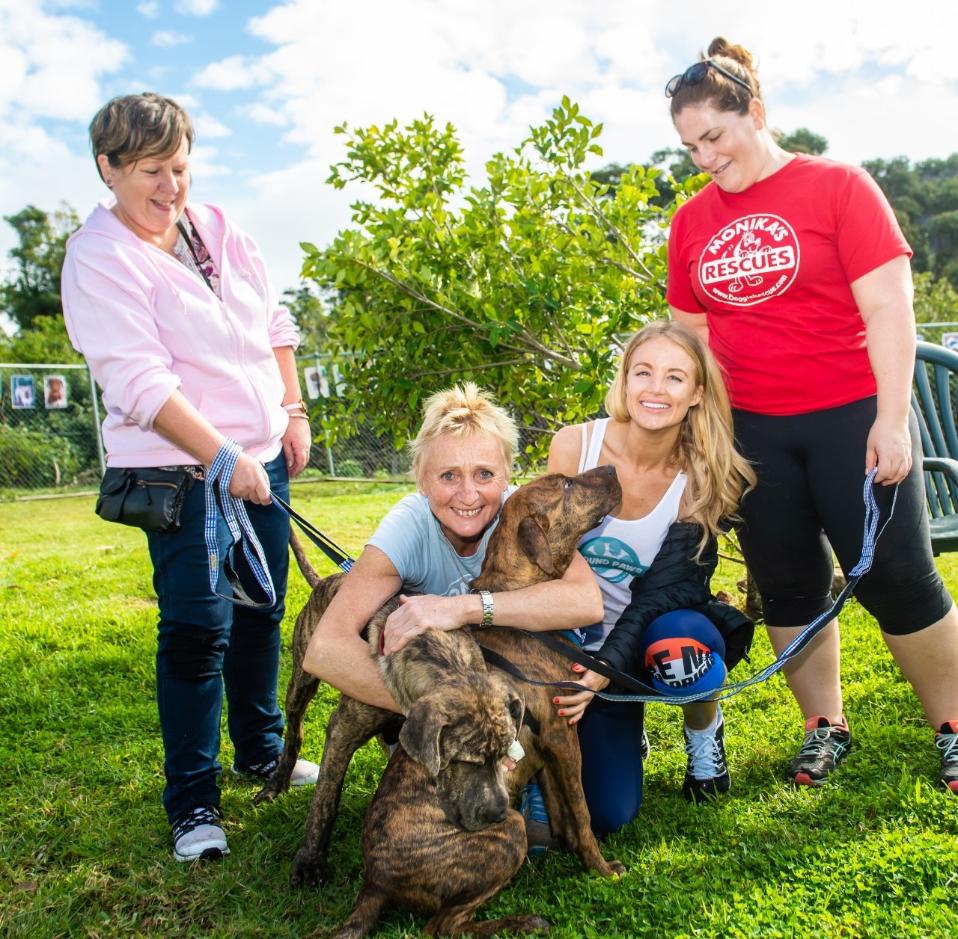 Sharyn Attenborough, Monika Biernacki, Brittany Bloomer & Natalie Burns. Dogs: Valentine looking down, Cupid looking at Brittany.
On Sunday July 7th Monika's DoggieRescue hosted a party of a different kind, nine of their puppies (all under 12 months old) enjoyed the sunshine and the shelters recently completed Freedom Park to meet and greet with the public. All nine dogs are residents of DoggieRescue and are looking for their forever home.
Monika's DoggieRescue is home to over 100 dogs and is raising awareness that shelters are home to all sorts of dogs including puppies.
Over 50 guests made their way through the Freedom Park to play, cuddle and take pictures with these gorgeous pups and it looks like they had great fun!
The stars of the day:
Four of the Valentines Litter (named because they arrived at the shelter on Valentines Day), Cupid, Kisses, Romeo & Valentine are now six months old and believed to be Sharpei x Mastiff. They were found in a rural tip, so Mum and Dad are a mystery. Their litter mates have found homes but these four are still looking!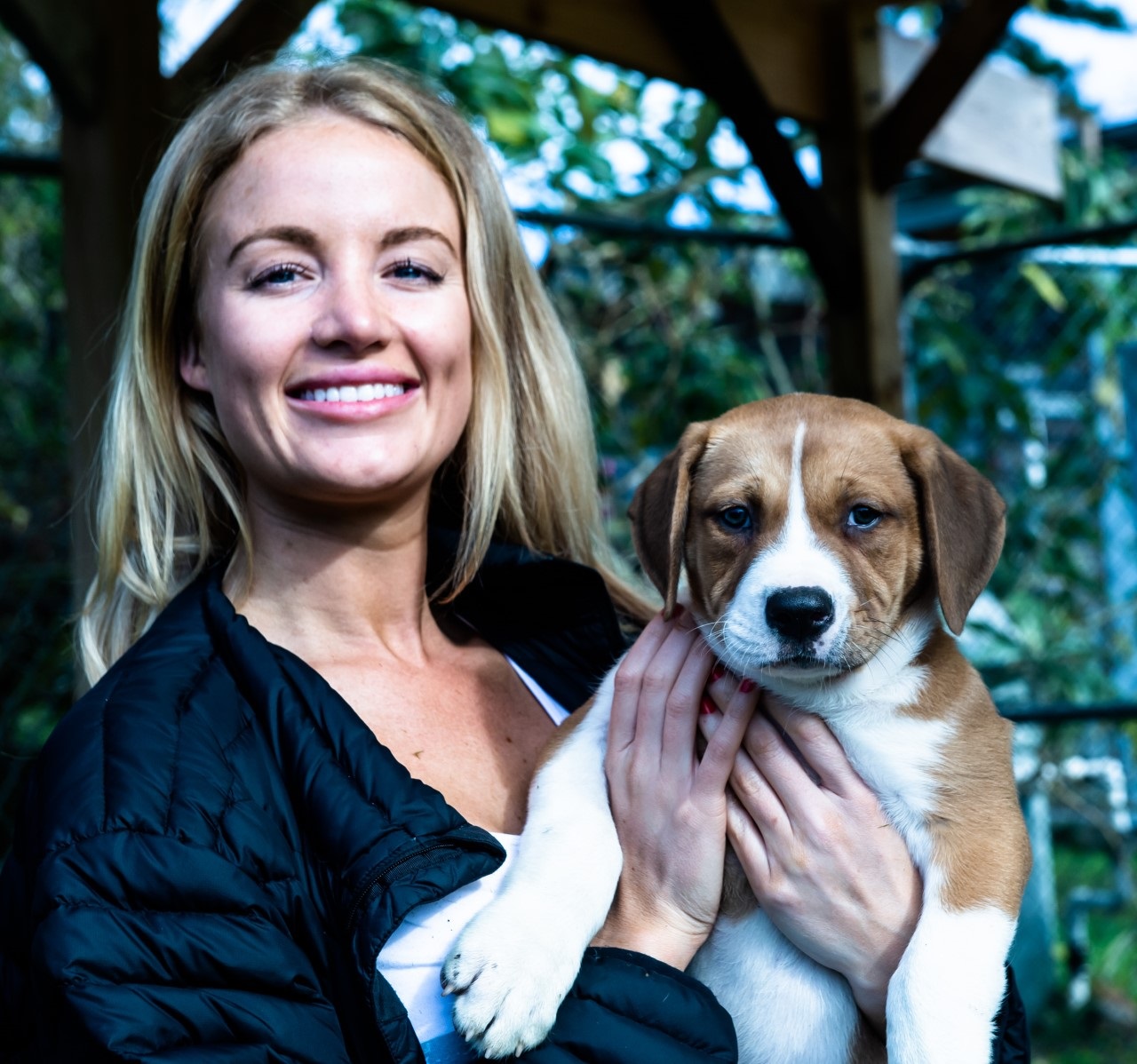 Brittany Bloomer & Toblerone

Two Chocolate Pups (named because they arrived on Mother's Day) Toblerone and Ferrero who are two months old, Mum is a Mastiff x and they are expected to be quite large. Mum gave birth in the pound and the three puppies arrived with Mum to the shelter when the pups were one day old. Sister Lindt has found her home so now it's the boys turn!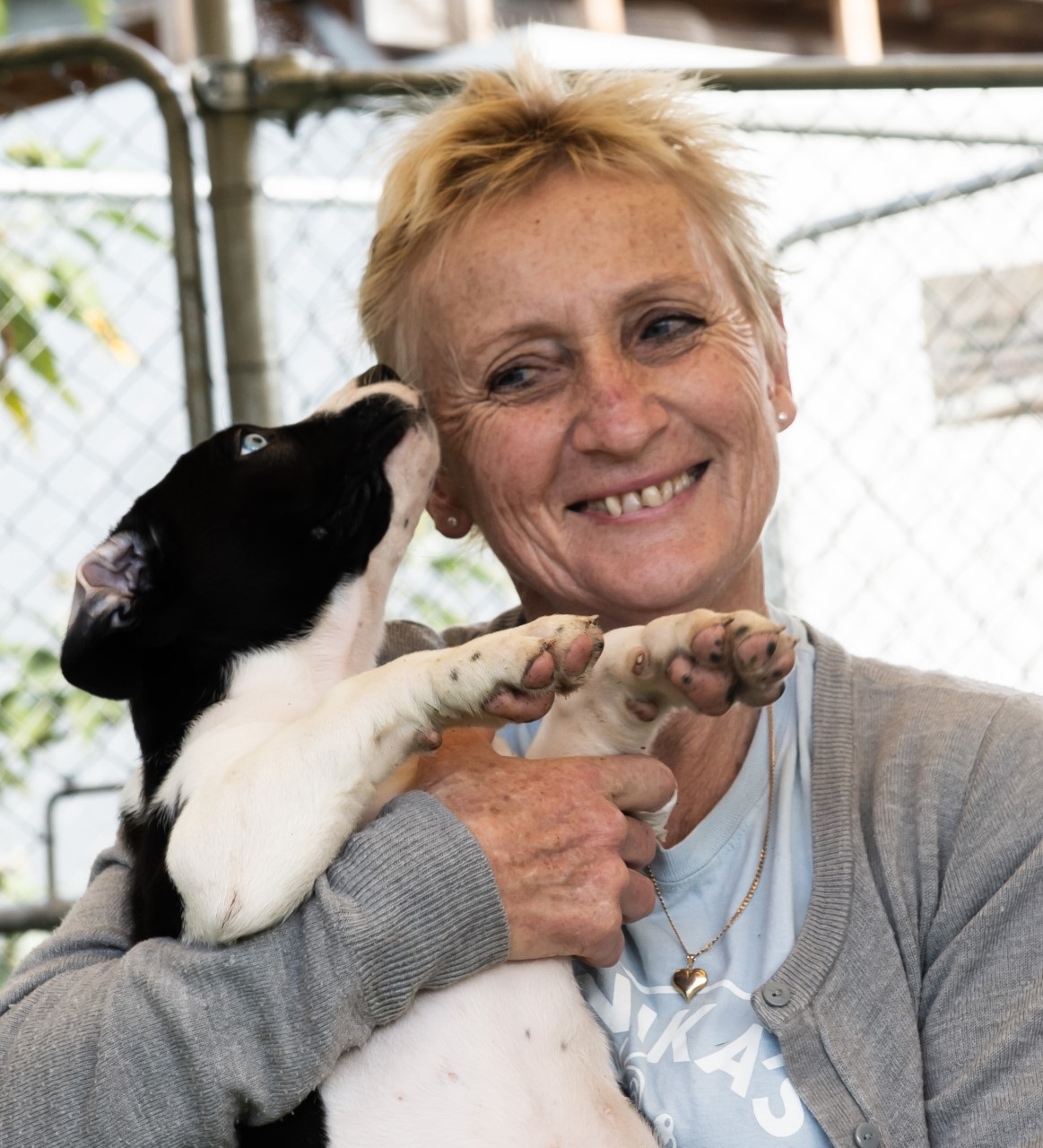 Ferrero & Monika Biernacki

Stevie Wonder, a partially blind 4 month old Border Collie x Maltese. His poor vision is caused by hydrocephalus (or water on the brain), Stevie is not a candidate for surgery to improve this condition and will always be a disability pup. He has a tendency to circle to the left and struggles with stairs but during his afternoon as the star of the show he was happy and playful enjoying cuddles and the occasional chew on a guest's shoe laces or finger!
Sylvester a 5 month weeks old and a beautiful black kelpie x, he is fortunate to be alive as he required emergency surgery for a bowel obstruction within days of being saved from the pound! Everything is new to Sylvester so he needs someone with patience to take the time to show him everything we take for granted.
Our last pup for the day is Lexi, at 8 months she's the oldest (and the biggest) pup in the park. She's a Bull Arab x who loved her time playing with the other dogs and just stretching out in the sun with a human for a cuddle. Lexi is so relaxed at times during the party she takes a nap!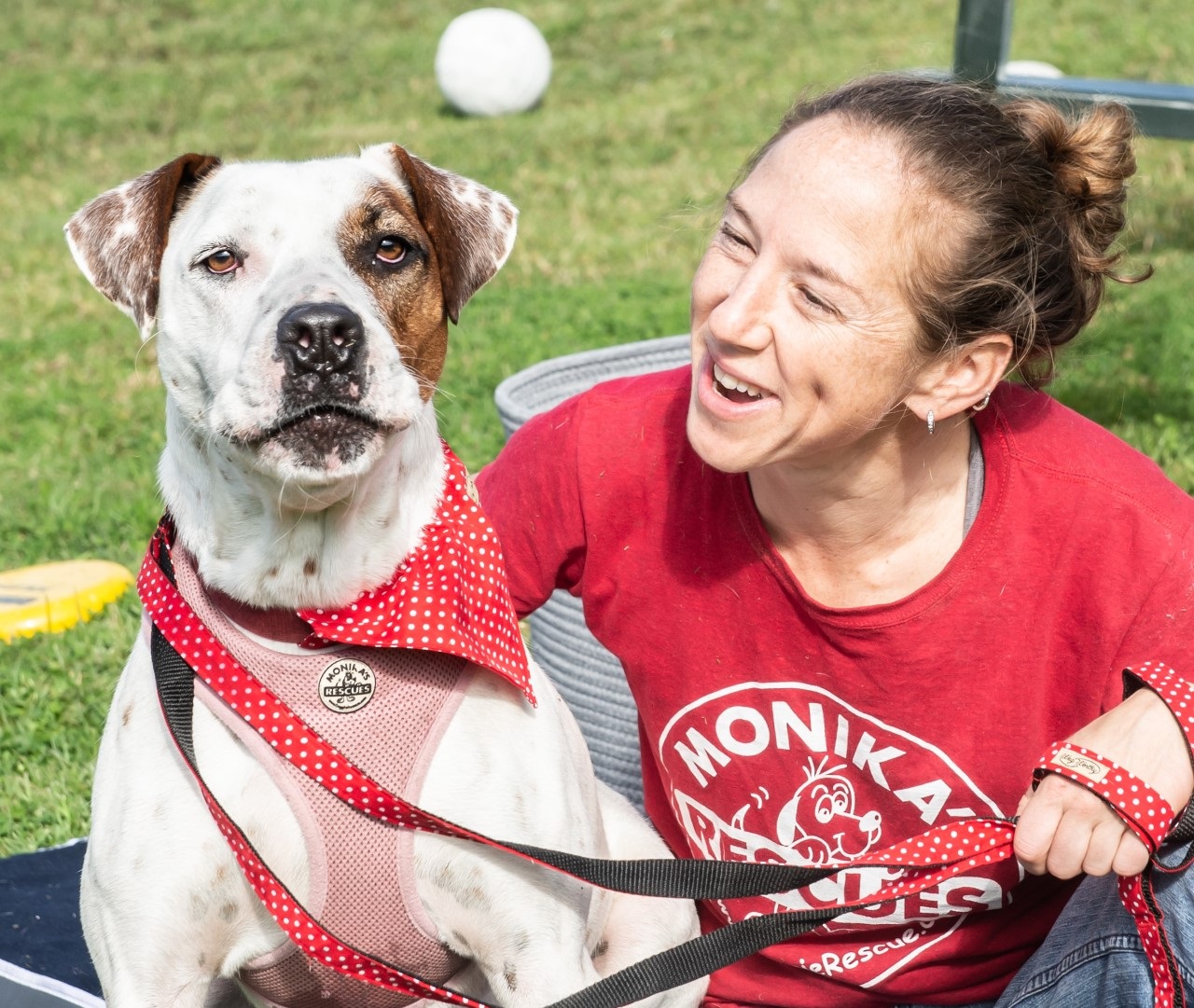 Lexi & Sura Katz

All of these dogs are gorgeous, sweet, gentle and ready for their forever homes. DoggieRescue will care for them until their forever home can be found but if you know someone looking to add to the family please share this story with them!
Rehoming Organisation No R251000024.
Report

by Jen Barbour, Photography by Michael Mannington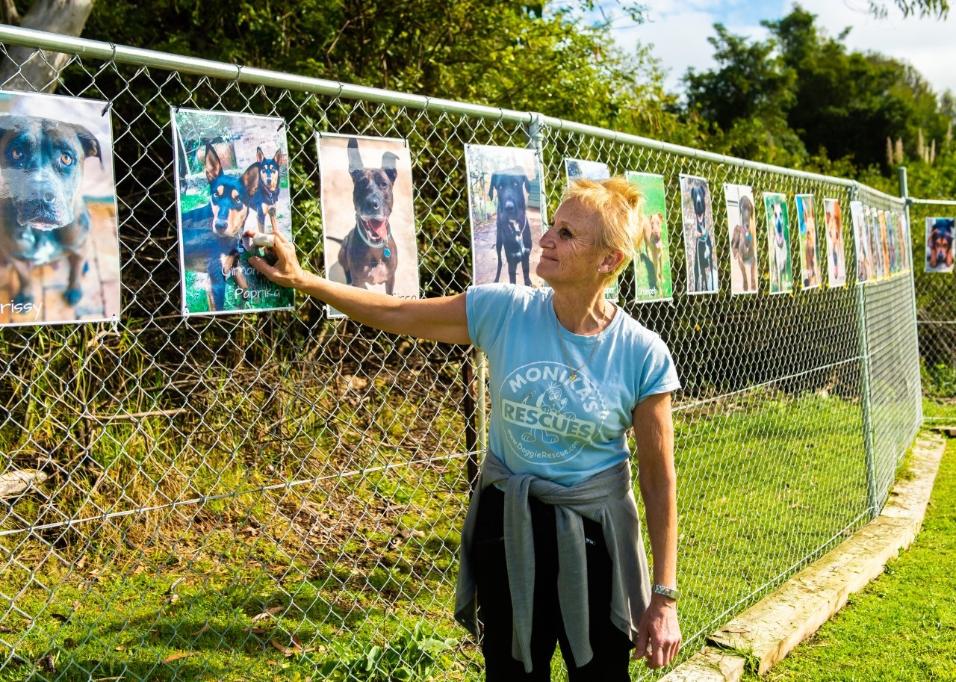 Monika Bernacki with some of the lovely dogs looking for a loving home.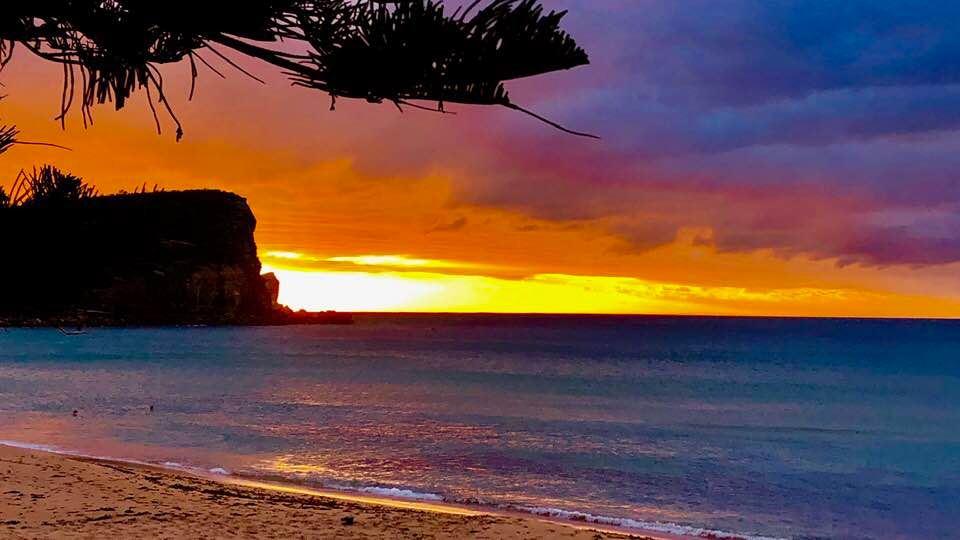 Avalon Beach sunset, July Winter school holidays 2019, photo by Adriaan van der Wallen.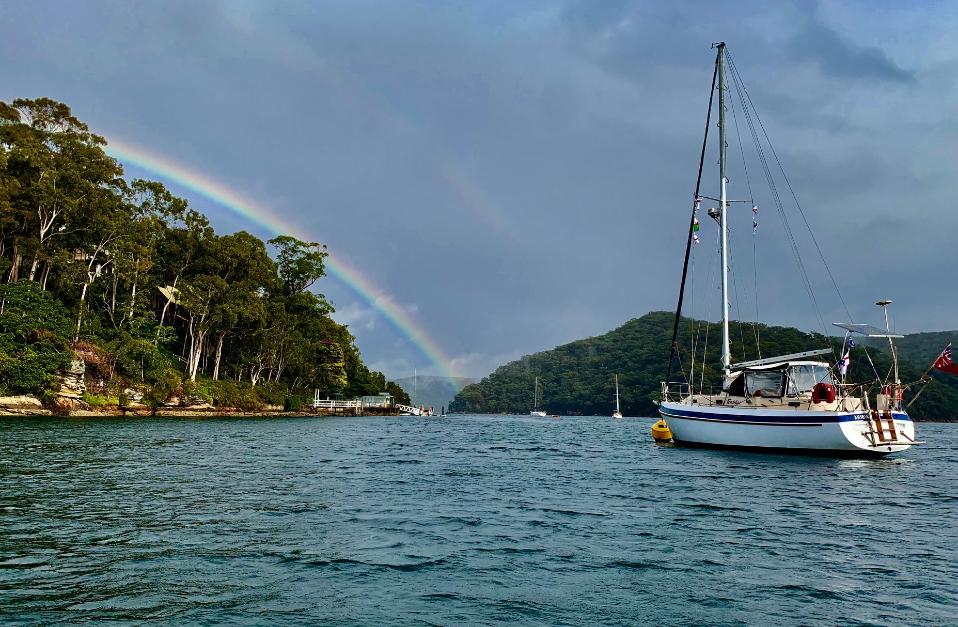 Cowan-Pittwatter Winter voyage 2019 - Rainbows over Cottage Point looking towards Cowan Creek with Tondelao close in view - photo by John Vaughan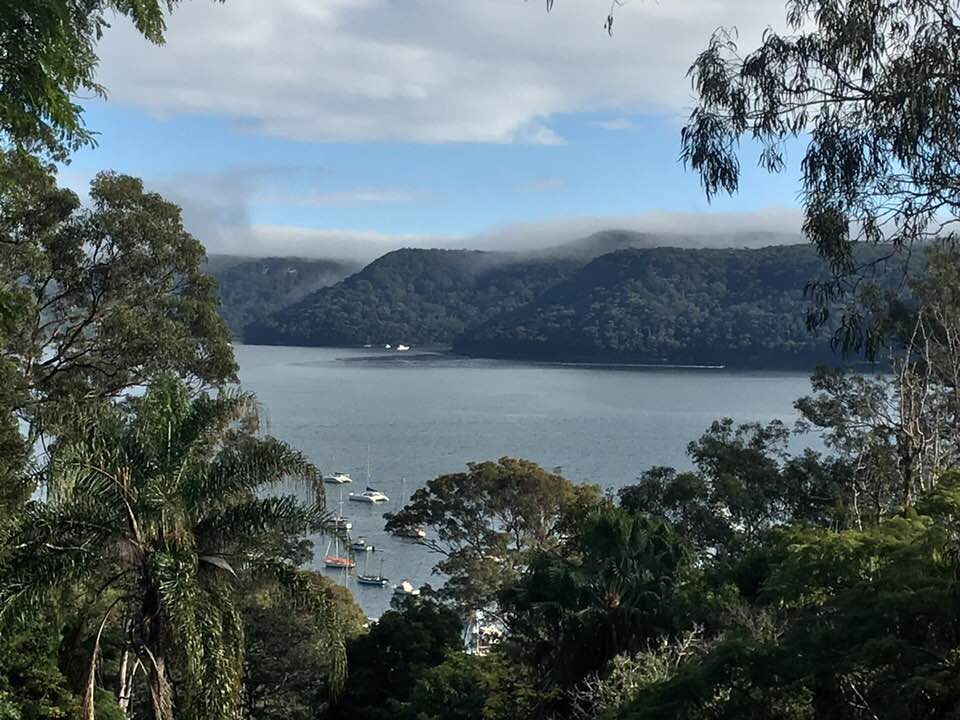 Winter Mists over Ku-Ring-Gai National Park and Pittwater - photo by Paul Wheeler
Past Features Archives (pre 2014)
Pittwater Online News was selected for preservation by the State Library of New South Wales and National Library of Australia. This title is scheduled to be re-archived regularly.
Archived Issues (2014 on) may be accessed here: pandora.nla.gov.au/tep/143700