June 30 - July 6, 2019: Issue 411

Advocates Condemn Mona Vale Hospital Demolition Announcement As Inquiry Into NBH And MVH Commences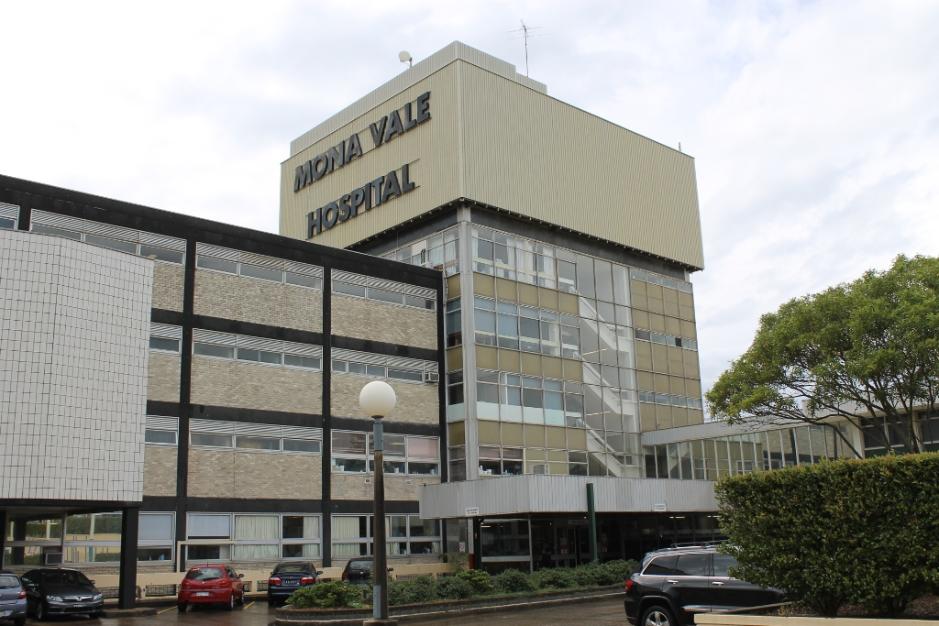 Hospital campaigners have condemned state government plans for the imminent demolition of Mona Vale Hospital's main building, just as a Parliamentary inquiry into the Northern Beaches Hospital begins.

Health Minister the Hon. Brad Hazzard was reported this weekend as saying construction crews are preparing to demolish the main building at Mona Vale Hospital – to be replaced by a new ambulance station.
On December 12th, 2018, Mr. Hazzard was recorded stating he had no plans to demolish the community hospital, although also stating then that;
'there may be parts of it with asbestos - I haven't seen anything at all about that. But there is no intent to demolish anything.'
On September 23rd, 2010 Mr. Hazzard addressed a question in Parliament to then NSW Minister of Health, Carmel Tebbutt, in asking the minister about asbestos in Mona Vale Hospital; 'How does the Minister justify asbestos still being in Mona Vale Hospital facilities?'
Yesterday, June 29th, Save Mona Vale Hospital chairman Parry Thomas said the community would be outraged by the demolition of the building while the inquiry is underway.
"It's offensive, appalling and unbelievable that the government would choose this point in time to demolish the hospital's main building - just as a Parliamentary inquiry is beginning into hospital services on the northern beaches," Mr Thomas told Pittwater Online News.
"It shows a total disregard for the community and Parliamentary process that they're not prepared to wait for the findings of the inquiry.
"The community has told them that they want Mona Vale upgraded and restored as an acute care hospital and we are outraged at the actions of the government."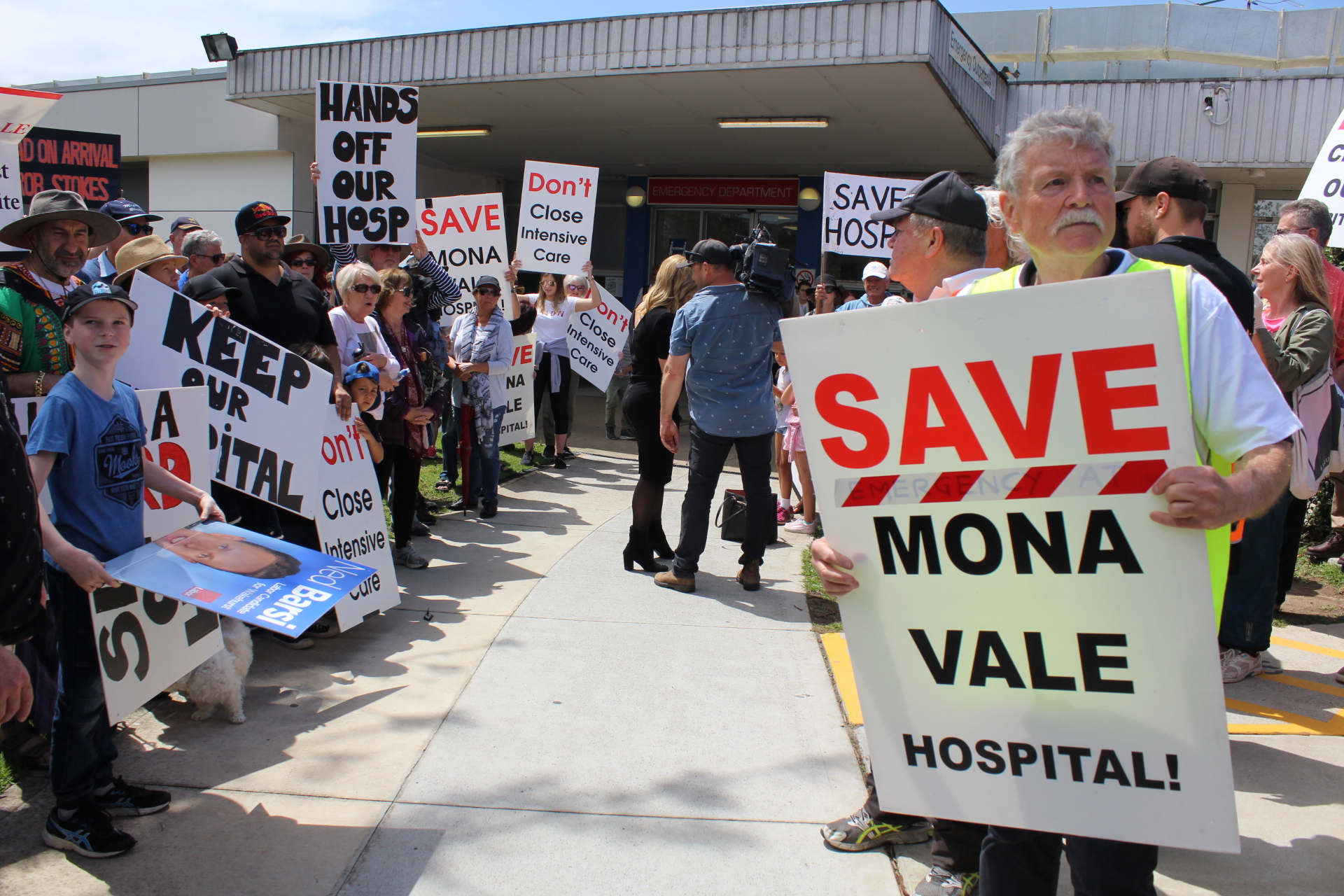 Terms of the NSW Upper House Inquiry into the Northern Beaches Hospital are wide-ranging, including: "The impact of the hospital on surrounding communities and health facilities, particularly Mona Vale Hospital, Manly Hospital and Royal North Shore Hospital".
Labor Health spokesman Walt Secord, who – established the inquiry earlier this month - said it would "help lift the cloak of secrecy surrounding the private-public partnership (PPP)".
"Since the Northern Beaches Hospital opened its doors late last year, it has lurched from crisis to crisis," Mr Secord said in a statement earlier this month.
"The hospital has been a basket case with patients sent to the Royal North Shore Hospital for treatment – bypassing the facility."
Submissions should be lodged by July 28 and the inquiry committee will report to Parliament by the first sitting day in 2020.
Mr Thomas encouraged everyone in the Northern Beaches community to make a submission to let Parliament know how the loss of acute services at Mona Vale Hospital has affected them and their families – and any impact they foresee in the future.
It is also a chance to reveal their experiences at Northern Beaches Hospital, he said.
"This is a unique opportunity to have your voice heard by making a submission – no matter how brief - to the inquiry," Mr Thomas said.
Full terms of the inquiry can be found at: HERE
Submissions can be lodged online at:
https://www.parliament.nsw.gov.au/committees/inquiries/Pages/inquiry-details.aspx?pk=2524#tab-submissions
Mr Thomas said Pittwater residents could follow the Save Mona Vale Hospital Facebook page to keep up to date on timing of the demolition.

REF For Station Beach Dog Trial Recommends Over 30 Mitigation & Monitoring Measures In Order To Proceed: Omits Mention Of Resident Seal And Little Penguin Colonies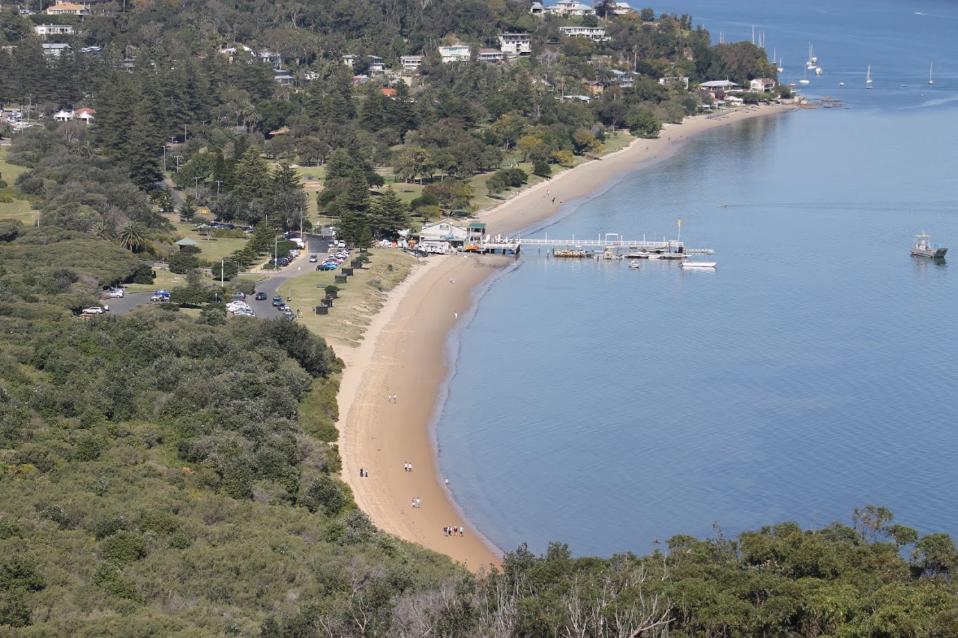 Barrenjoey/Station Beach.
The Review of Environmental Factors for the Station Beach off-leash dog trial has recently been made available by Council, inviting feedback from residents.
Concerns the Station Beach REF has not taken into account the Australian Seal Colony on Barrenjoey Headland or the Little Penguin (Fairy Penguin) colony on Lion Island, with both species seen regularly in the Pittwater estuary, are among a list of omissions residents have forwarded this week. These two long-term aquatic residents not being listed in the REF stands out in a week where local students have presented their efforts in support of the 2019 Project Penguin that celebrates and aims to ensure the continuation of Little Penguins at Manly and the news
running in this Issue
about the hard work of others to ensure the next generation gets to see Lion Island's Little Penguins too.
Not robbing those now growing tall or those yet to come of what we have enjoyed stands out at such times of positive actions. Who could or would claim a right to do so anyway?
The whole of Station Beach becoming a 'dog beach' and excising this area to the exclusion of all other residents, including the thousands of year round annual visitors to Palm Beach, has also been raised in a series of emails sent in to Pittwater Online News.

Along with the REF recommended installation of offshore markers to 'protect the endangered seagrass beds'.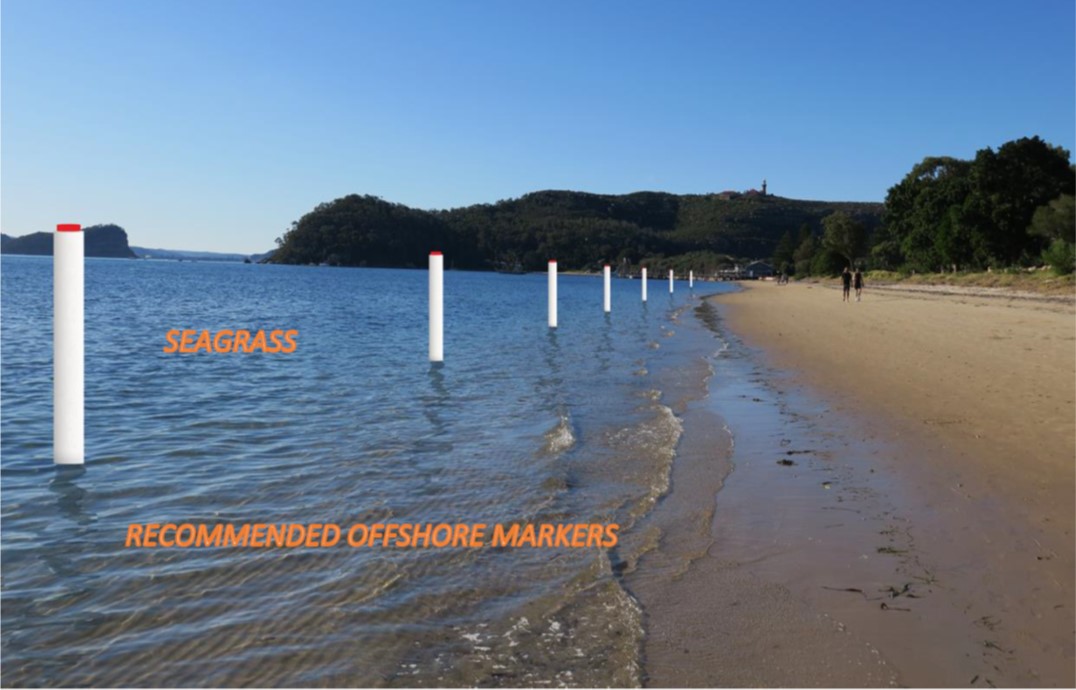 There are also expressions of disappointment that when the NSW Government Department of Industry expressed their major environmental concerns to the Council in their letters of 10 September 2018 and 15 November 2018, and preference for Council to evaluate alternative sites, that this was not followed up on.
Is there somewhere safer to both the residents with dogs that love a dip and their dogs too? Somewhere that won't impact on resident fauna? Won't impact on the hundreds of thousands of tourist visitors? Somewhere with safer parking? With sand that is groomed should someone negate to pick up their dogs' 'leavings'?
Although the REF lists over 30 mitigation and monitoring measures that will be required to run the trial no costings for these measures are available as yet.

The REF also acknowledges that many animal species, including birds such as the Critically Endangered Eastern Curlew, Far Eastern Curlew and Curlew Sandpiper are 'likely to occur within area' - and as residents have taken photographs of these species within the area, 'likely to occur' could have been listed as 'present' with a little more research. Other endangered species, known to occur within the area are listed as such - the turtles, the sea horses, the wealth of sea birds that frequent the national park end of this beach and its adjacent sands and waters.
The REF is required as part of Council's licence application to conduct the trial with the Department of Industry Lands & Water. The REF is publicly available on Council's 'Your Say' website page at Here:
LINK
.
Public submissions in response to the Review of Environmental Factors (2019) close at 3pm on Friday 12 July.
Responses can be made
Online
- If your submission includes attachments please email them to
council@northernbeaches.nsw.gov.au
or
and In writing - marked 'Station Beach Dog Off Leash Area - Proposed Trial' to Northern Beaches Council PO Box 82 Manly, NSW 1655
Council will consider a report about the proposed trial at its July meeting.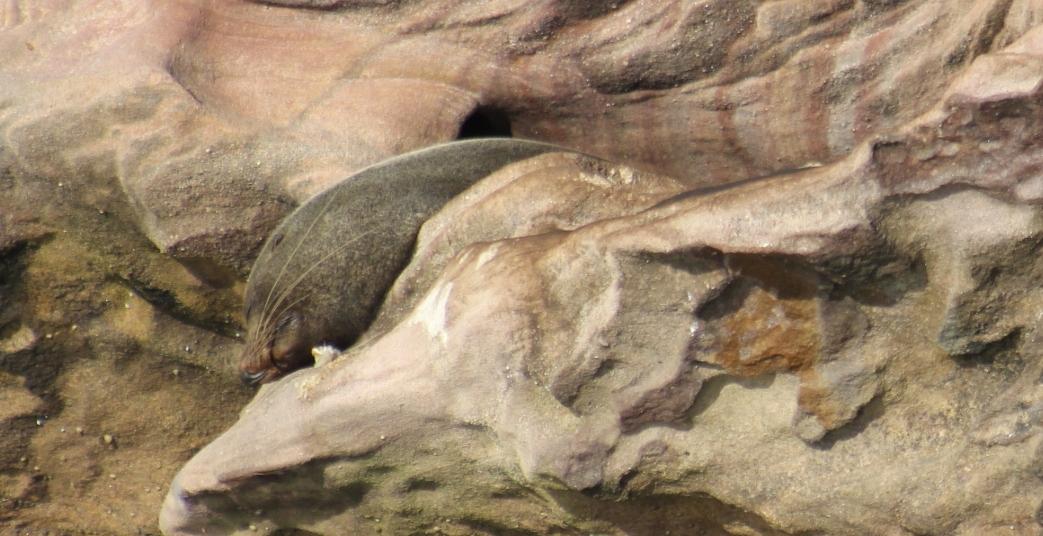 A Barrenjoey Seal - on Barrenjoey headland! - A J Guesdon Picture

Lion Island's Little Penguins (Fairy Penguins) Get Fireproof Homes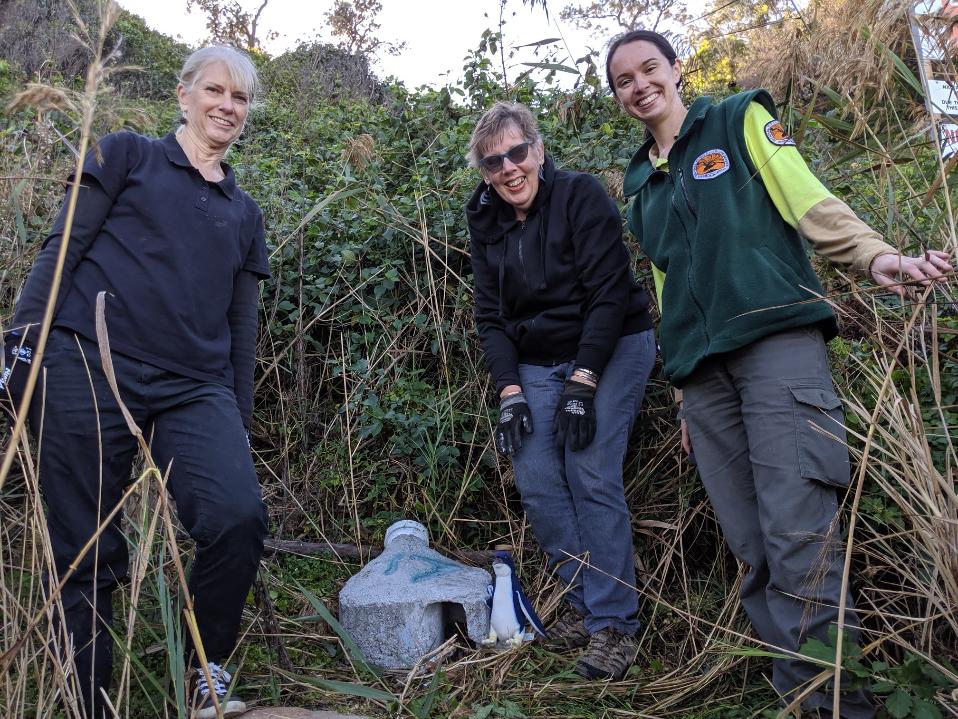 Fix it Sisters co-founders, Lynn Kristensen and Linda Prince (Fix it Sisters made the fireproof burrows) with a NSW National Parks and Wildlife Service ranger on Lion Island installing the burrows with their 'mascot'! - photo by and courtesy Fix It Sisters Shed.
Devastating news this week that 2 Little Penguins (Fairy Penguins) have been killed at Manly. Our hearts go out to their little penguin mates and all those who toil to keep them safe.

At Lion Island, NSW National Parks and Wildlife Service rangers have just installed 20 concrete burrows on the island, which are fire-proof and can also protect the creatures from foxes and goannas. The installations come in the wake of the bushfire of August 2018.
NSW Environment Minister Matt Kean said the burrow program was part of a push to protect the Little Penguins' future.
"We're installing these nests to protect penguins, enable them to nest and hopefully grow the population," he said.
The burrows were designed by wildlife rangers and manufactured by a women's shed group known as the Fix-It Sisters.
Co-founder Linda Prince said her group was delighted to take part in such a worthwhile project.
"It was hard work but we really loved doing it," she said.
"It took hours and hours but there was lots of laughs, lots of sore backs and sore hands."
NSW National Parks and Wildlife Service ranger Rachel Labador stated in an
ABC report by Jessica Kidd
that each burrow has been set up in a location where the rangers know the penguins have been prospecting and where they are likely to nest.
Ms Labador said she lines the new burrows with leaf litter and penguin poo so that any prospecting bird knows it is a safe place to nest.
"This is the primo penguin real estate," she said.
"Penguins like coming back to the same place, so if we can have a burrow that will last for decades we know that the penguins will keep using it."
If the burrows are successful in the forthcoming breeding season it is likely they will be installed at other Little Penguin colonies. Another Pittwater first thanks to the hard work of
NSW National Parks and Wildlife Service, their rangers and the great women at the
Fix it Sisters Shed.
Between June and August, male penguins return to their colonies to reconstruct old burrows, dig new ones and attract mates. So we're heading and into Little Penguin breeding season right now.

As visitors are not allowed on Lion Island unless they're rangers or those who have been given access permission to research for studies, Fix it Sisters Shed are allowing us to share their photos from the Little Penguins Project: Installation Day — at Lion Island.
in late May 2019.
Linda Prince, co-founder and Chief Sister, Fix it Sisters said this week;
"When the Fix it Sisters Shed were asked if we would build 20 burrows for the Little Penguins on Lion Island, we couldn't say yes quick enough. How could you not help these wonderful Little Penguins!"
"It was an exciting brief - 20 concrete and perlite burrows to be ready for the start of the breeding season. They were a brand new design and the Fix it Sisters' job was to manufacture them."
"We had sore hands and bad backs when we were making them over a few months, but the pain faded away when we travelled with our precious cargo by barge to Lion Island to help install the burrows - a joint effort between National Parks and Wildlife, the land care volunteers and us."
"Now we have been asked to make ten more burrows for the Little Penguin colony off the NSW South Coast. We can't wait!"
Some of the Fix it Sisters' photos from the installation day, which started very early in the morning with a group of staff and volunteers from NSW National Parks and Wildlife Service, the Office of Environment and Heritage and Hawkesbury Environment Network (HEN) - and the Fix it Sisters penguin mascot, run as this Issue's Pictorial.

The group were taken by
barge over to the island and after a cup of tea and a special penguin cupcake they spent the day getting the new penguin homes set up and ready to welcome some Little Penguins.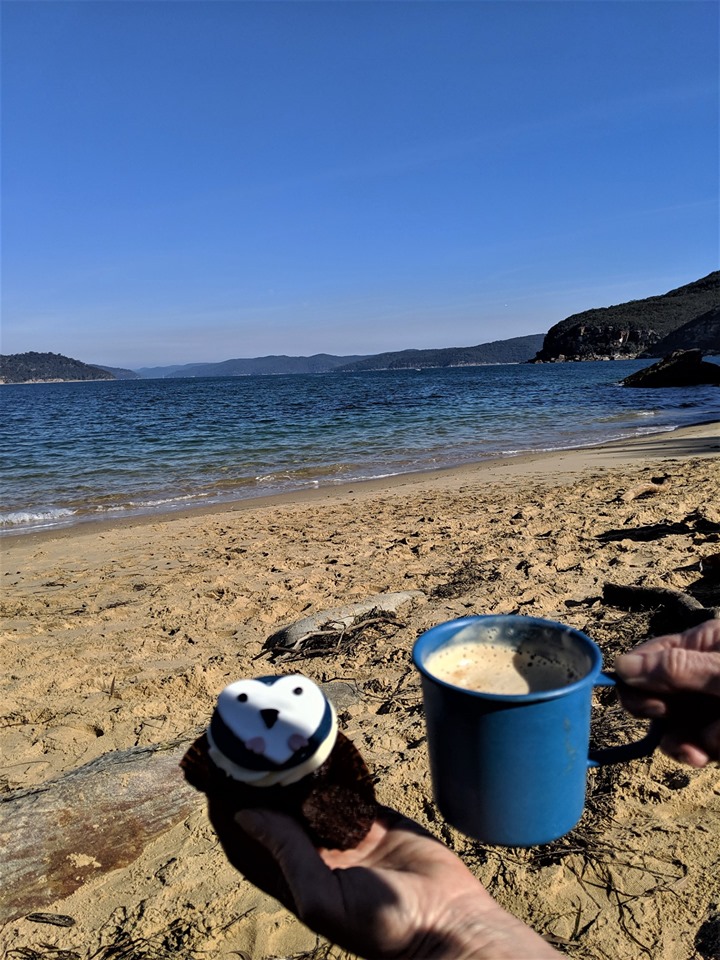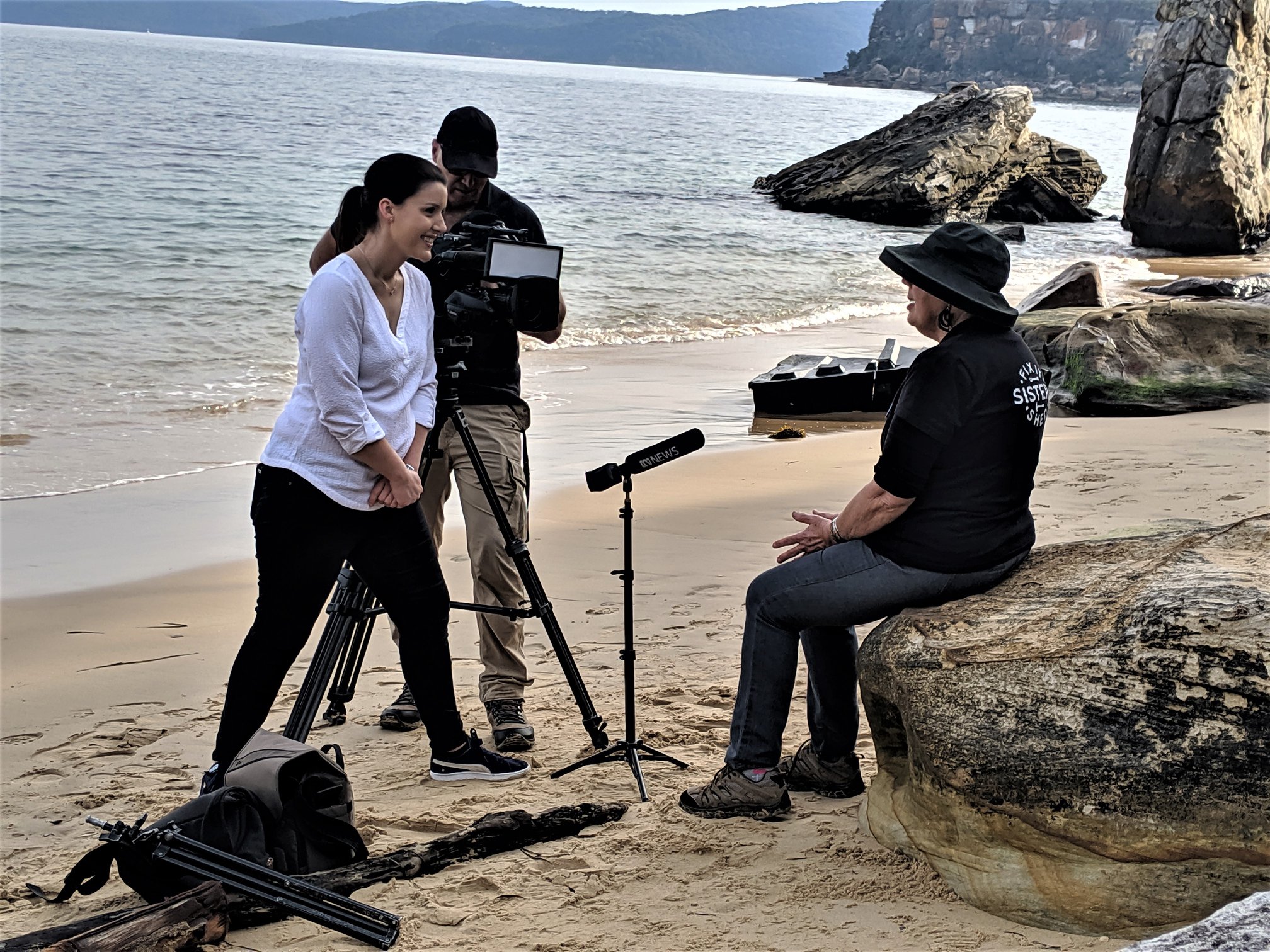 Did you know that we once had Little Penguins right along our beaches until feral animals and domestic pets devastated this population? Ken 'Sava' Lloyd recently shared:
They used to walk across Ocean St Narrabeen and nest under Ross Jorgensons house,and there was a colony at Bollicky Beach(Turrimetta) Nth. Narrabeen. You could hear them from up on the Plateau, Edgecliff Bolv. down in the surf.There was a bait ground just off Sth Narra SLSC. Sava
Fortunately Pittwater's Lion Island colony is seen playing and 'fishing' regularly in the estuary and off nearby beaches - still!
What great news for our community, especially since this is the 65th year people have worked at ensuring Lion Island's Little Penguins are safe on their home grounds.
Visit April 2019's Issue 401: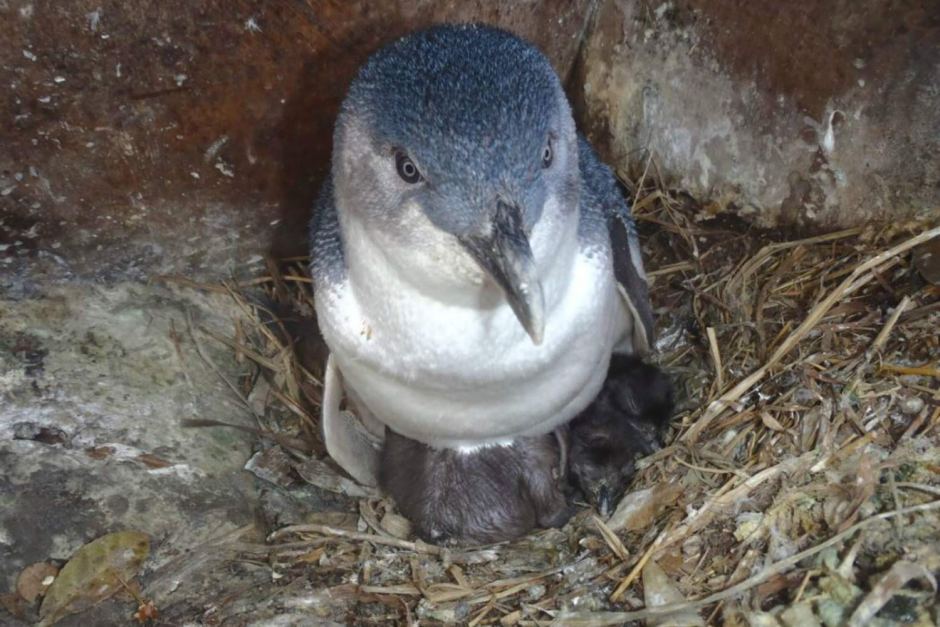 Little Penguin on nest - supplied
Project Penguin Expo Day 2019
On Thursday this week, June 27th, Taronga Zoo hosted the 2019 Project Penguin Expo. There were some brilliant ideas and projects on display - fantastic effort by everyone!
During early May 750 students across 5 Northern Beaches primary schools and 4 high school campus' converged onto Little Manly Beach and Collins Flat. Students were investigating how humans and introduced flora and fauna are impacting the habitat and breeding sites of the Little Penguin breeding population that lives there. They also collected a fair amount of plastic debris!
Students then commenced collaboratively designing, building and testing an innovative STEM prototype that aims to protect, conserve or raise awareness of this special animal.
On May 28th, 2019 more than 550 students from 5 Northern Beaches primary schools visited Taronga to connect with marine species and experts and continue to understand the threats that the unique breeding population of Little Penguins in Manly faces.
Thank you to all the local experts from NSW National Parks & Wildlife Service, NSW NPWS Penguin Warden Volunteers, Manly Environment Centre and Taronga Zoo staff for giving up your time to share your stories, experiences and knowledge.
Then the students applied their STEM-based skills to develop a prototype which increases predator protection, manages marine debris or raises community awareness.
For six weeks, school students learn everything about the Little Penguins that live in the Manly local area, becoming youth ambassadors for this locally threatened species.
As a culmination of the program the students start their own community education program by getting their conservation messages out to the public. Following the expo their work is displayed in various community locations within the Northern beaches area.
The colony of little penguins at Manly on Sydney Harbour is protected as an endangered population under the Biodiversity Conservation Act 2016. Areas of penguin habitat around Manly have also been declared 'critical habitat'.
Also running this Issue is some great news about work being done to help the Little Penguin colony on Lion Island - visit the Pictures page for more!
If you are near a little penguin colony, you can help protect these endangered native seabirds:
never allow your dog or cat to roam free in areas where the little penguin may have its breeding sites or burrows
if you see little penguins when you are near the coast, keep your distance - you may be near breeding sites or habitat areas which can easily be disturbed
NB: Protection of native animals - All native birds, reptiles, amphibians and mammals are protected in NSW by the Biodiversity Conservation Act 2016
Saving Grevillea Caleyi Project

Receives

Funding Boost: June 2019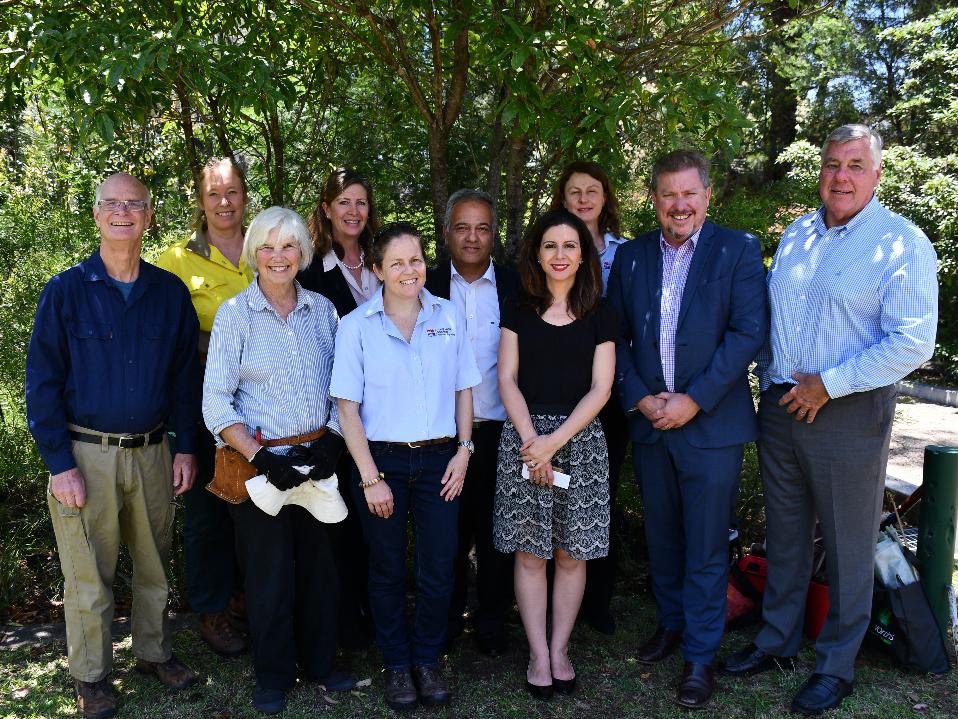 The team behind the Saving of Grevillea Caleyi
EFFORTS to restore habitat for the critically endangered Grevillea caleyi shrub in Northern Sydney are set to continue thanks to a funding boost from the Australian Government.
The Grevillea caleyi recovery, supported by Greater Sydney Local Land Services through funding of up to $250,000 from the Australian Government's National Landcare Program, will be run in partnership with the NSW Office of Environment and Heritage and local bushcare volunteers.
Project manager Rebecca Mooy said the funding would complement six years of restoration efforts to date at the Baha'i Temple site and at other locations in Terrey Hills where the species occurs.
"This project has focused on protecting vegetation on the grounds of the Baha'i Temple which is home to the endangered native plant which is only found in Northern Sydney," she said.
"Ongoing work will focus on protecting the endangered plant's habitat through weed removal by both professional contractors and volunteers, planting in buffer zones adjacent to core habitat, lessening disturbance through removal of dumped rubbish and installation of fencing, assessment of the habitat condition and vegetation monitoring.
Grevillea caleyi habitat is restricted to ridgetops within Terry Hills, Duffys Forest, Belrose and Ingleside.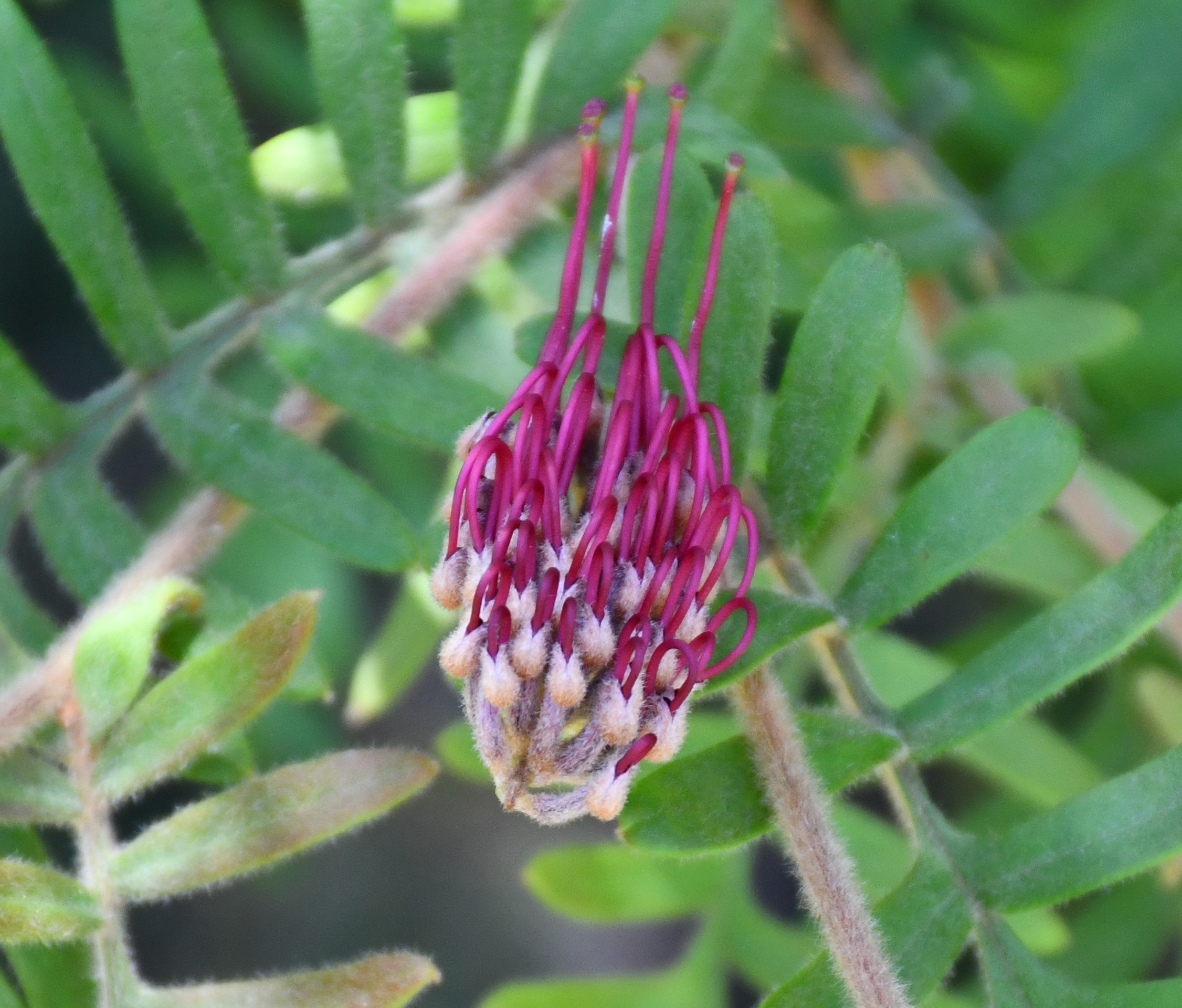 "Urbanisation over many years in these suburbs has decreased its habitat to just 15 percent of its original size, now an eight square kilometre area. The habitat that remains is fragmented and under threat from weeds, lack of fire in some places and to frequent fire in others, disturbance from vehicle, bikes, horse riding and rubbish dumping.
"It's great to see ongoing investment into this important species."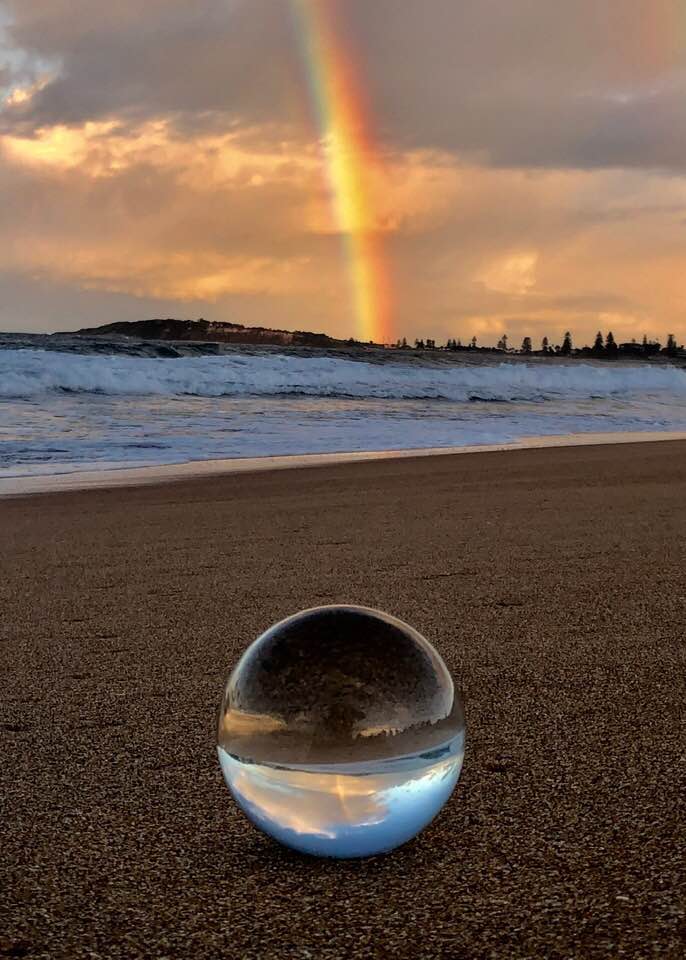 Narrabeen Light, June 26th, 2019 - photo by and courtesy Adriaan van der Wallen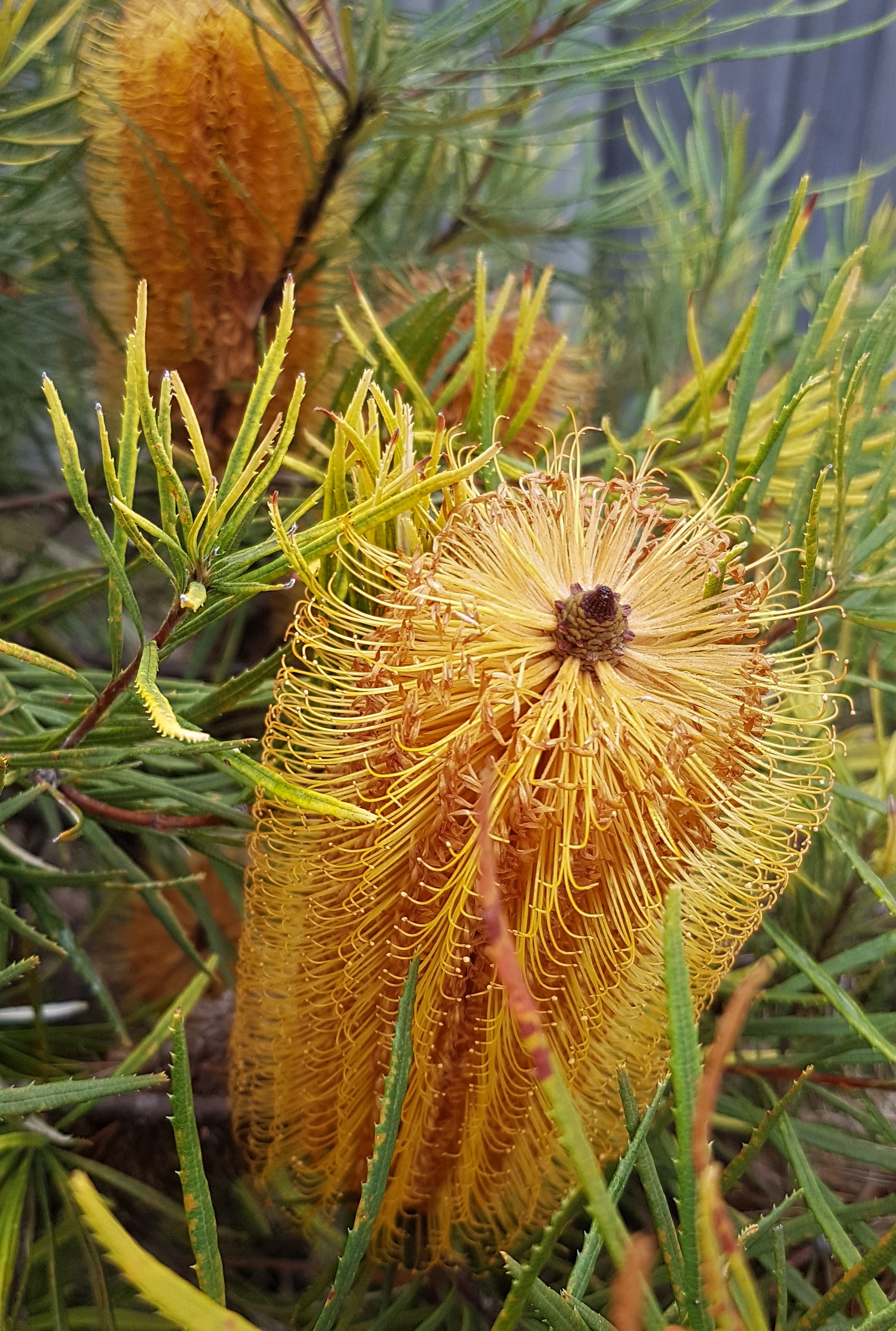 Warriewood Winter Banksia - photo by Joe Mills, June 2019
Past Features Archives (pre 2014)
Pittwater Online News was selected for preservation by the State Library of New South Wales and National Library of Australia. This title is scheduled to be re-archived regularly.
Archived Issues (2014 on) may be accessed here: pandora.nla.gov.au/tep/143700