February 24 - March 2, 2019: Issue 394
NSW Win Interstate Surfboat Championships: Local Surf Club Crews Dominate 2019 Team Navy ASRL Finals
BLUES CLAIM NATIONAL SURFBOAT CHALLENGE
It came down to a nail-biting final relay to determine who would claim victory in the Interstate Surfboat Championships at Elouera Beach on Friday February 15th. NSW successfully defended the title for another year.
Going into the final relay event, NSW and Victoria were tied on equal points with traditional rivals Queensland hot on their heels. South Australia and Western Australia also fielded full teams for this year's challenge.
Racing for double points, the eight-leg all division relay could have gone anyone's way with the lead boat changing a number of times during the race. The NSW team showed great fight, rowing solidly in each leg to come across the line in first place.
The crews competing for NSW this year were deserving of their place in the team after amassing points at various selection carnivals throughout the season.
North Cronulla SLSC demonstrated its depth in surfboats by having four crews selected to compete. National Club of the Year, Avalon Beach SLSC, fielded two junior crews with Palm Beach and Elouera rounding out the team.
NSW Team Manager Greg Heard said while all the crews performed solidly, it was the way the team came together and worked as one that made the difference to the result.
"It was great to see these clubs who are usually competing against each other, join forces to take on some of the best crews from around the country.
"Everyone supported each other, encouraging and cheering on the other crews when it was their turn to race. The atmosphere and excitement on the beach was great," said Greg Heard.
The Interstate Championship is a one-day-event and an opportunity for crews from around Australia to represent their state at a high level.
NSW were the defending champions and fielded eight teams at the event with Male and Female crews to contest the U19, U23, Reserve and Open Divisions.
Four clubs were represented with North Cronulla (4 crews) and Avalon Beach (two crews), joining Palm Beach and Elouera in the action.
NSW Surf Sports Officer Chiara Nowland is confident that those selected would give a good account of themselves in the battle for Interstate glory.
"There is a lot of depth in surf boat competition right now and we've seen a number of very promising results throughout the season.
"To pull on the sky blue cap is a fantastic opportunity for these athletes, and I am sure that those selected will be ready to defend the proud history of surf boats in NSW," Ms Nowland said.
The announcement comes on the back of a number of State appointed selection events; being Coffs Harbour, North Cronulla, Queenscliff and Manly Carnivals. Following which the selection panel were able to endorse the team.
NSW Surf Boat Interstate Team
U19 Male - Avalon Beach SLSC
Peter Carter (Sweep)
Lachlan Mills
Jordan Hawke
Regan Dale
Charlie Lewis
U19 Female - Avalon Beach SLSC
Peter Carter (Sweep)
Robyn Husband
Imogen Ponton
Ella Brady
Sophie Jones
U23 Male - North Cronulla SLSC
Mark McDonald (Sweep)
Jackson Ford
Tom Mailey
Matthew Workman
Matthew Hammond
U23 Female - North Cronulla SLSC
Mark McDonald (Sweep)
Hayley Urquhart
Maggie Mahoney
Madeline McDonald
Alysha Lerond
Reserve Male - North Cronulla SLSC
Adam Purdie (Sweep)
Jason Brown
Thomas Chapman
Ben Tanner
Andrew Smalley
Reserve Female - Palm Beach SLSC
Peter Spence (Sweep)
Stephanie Spence
Jordan Toombes
Jenniva Altherr
Alexis Bell
Open Male - North Cronulla SLSC
Adam Purdie (Sweep)
Mitchell Bouzounis
James Budd
Zachary Hughes
Jack Mentha
Open Female - Elouera SLSC
Grant Wilkinson (Sweep)
Laura Armistead
Samantha Hewitt
Sarah Hill
Tara Lal
Team Manager – Greg Heard
Assistant Team Manager – Donna Wishart
INTERSTATE PLACINGS
NSW
Victoria
Queensland
South Australia
Western Australia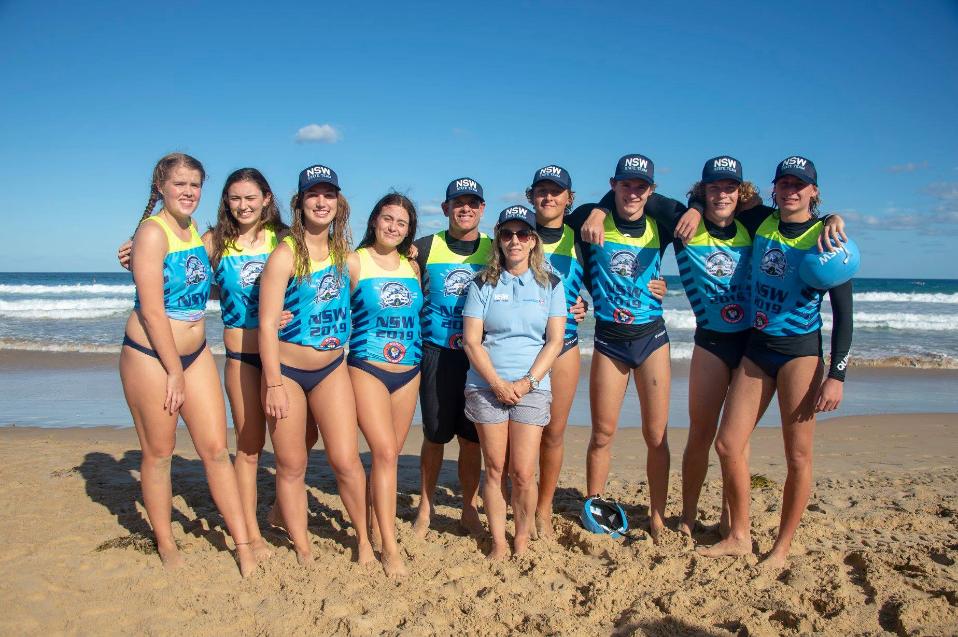 Avalon Beach SLSC NSW Representatives Surf Boat teams with Assistant Team Manager – Donna Wishart - Lachlan Mills, Jordan Hawke, Regan Dale, Charlie Lewis, Peter Carter (Sweep), Robyn Husband, Imogen Ponton, Ella Brady and Sophie Jones. Photo credit to Malcolm Trees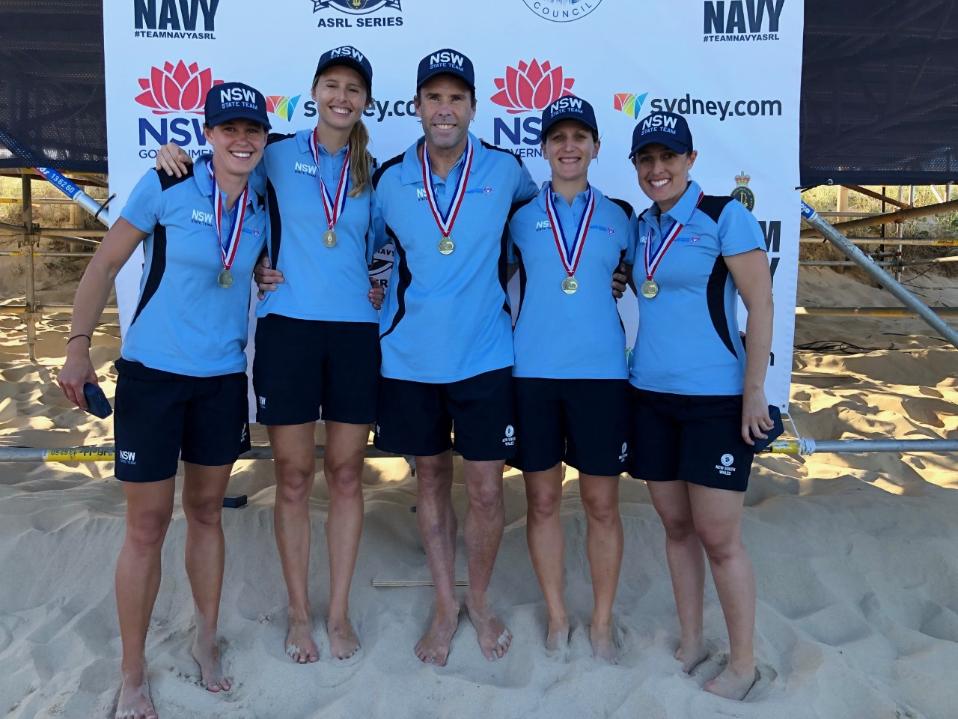 Palm Beach SLSC Reserve Female NSW Representatives Surf Boat Team - Peter Spence (Sweep), Stephanie Spence, Jordan Toombes, Jenniva Altherr and Alexis Bell
2019 ASRL Open
The Australian Surf Rowers League Open took place last weekend, February 15th to 17th with 328 crews from 86 clubs and six states taking part in the competition. Known as the biggest surf boat event in the world, this year the ASRL Open was hosted by Elouera SLSC.
The ASRL is committed to guiding the development and promoting the advancement of National surfboat competition at both grassroots and elite levels. The 'League' was born in New South Wales circa 1992 as the International League of Australian Surfboat Rowers Inc.

The ASRL Open was suspended on Sunday for 15 minutes due to our heroes of the surf, the water safety team, rushing down to North Cronulla to help save 40 people in a mass rescue!
State MP for Rockdale Steve Kamper and his wife Magda say they owe their lives to surf lifesavers and council lifeguards, who rescued more than 40 swimmers when a sandbank collapsed at North Cronulla beach.
In total 194 rescues took place on Sunday across Sydney Branch, including 3 mass rescues at Bronte, South Maroubra and North Cronulla. Congratulations to all lifesavers who patrolled on Sunday.

This is why we do what we do!
To our ASRL Open team, thank you so much! This includes;
- Tamara as referee, you were a rock for the carnival
- All officials, and a huge shout out to the girls in the bunker locked away for four days doing draws and results on the app
- The host club, what an amazing unit! Peter and the team, thank you
- The ASRL committee, weekly meetings were held for this event!
- The lifeguards, say no more! Gurus and the best at what they do.
- All of the water safety team
- The live stream team, three days strong!
- Photos - all credited to Malcolm Trees and Brendan Grant who did a marvellous job volunteer their time for this event!

Thank you to Team Navy, Destination NSW and the Sutherland Shire Council for their support of this event.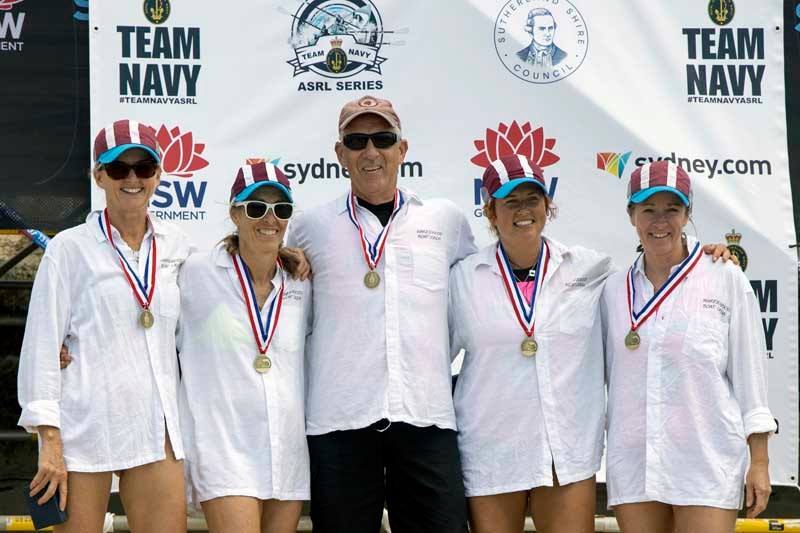 ASRL 200 Female - Warriewood Rustys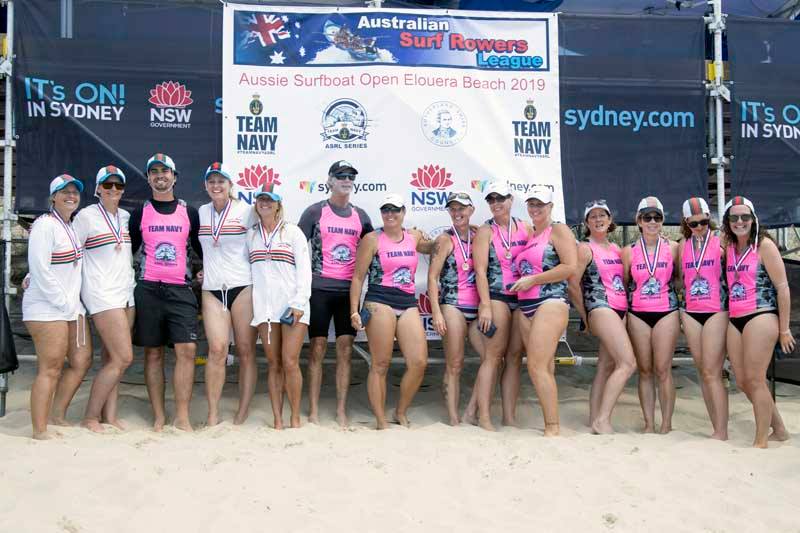 ASRL 180 Female - 1 - Batemans Bay Phoenix, 2 - Avalon Beach Antiques, 3 - Avalon Beach D B s
2019 ASRL Open Results

UNDER 19 FEMALE
1 – Queenscliff Rockets
2 – Avalon Beach Chanels
3 – Dicky Beach Tooshies
4 – Noosa Scrub Turkeys
5 – Wauchope Bonny Hills Team A
6 – Dicky Beach Dandelions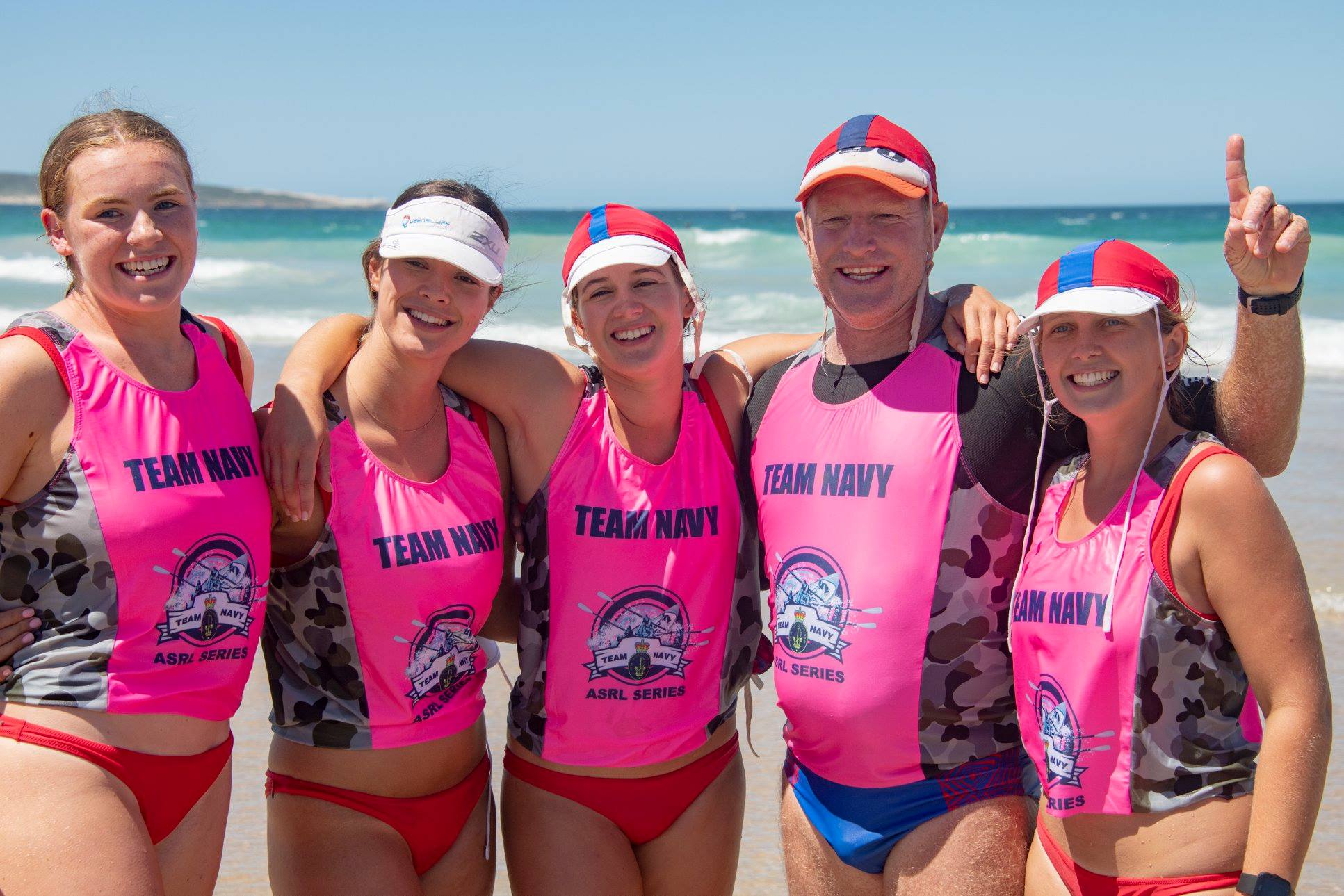 Queenscliff Rockets - Photos by Malcolm Trees and Brendan Grant

UNDER 19 MALE
1 – South Curl Curl Sneaky Nuts
2 – Palm Beach Plumbers
3 – North Cronulla Young Guns
4 – Dicky Beach Gerbils
5 – North Cronulla Yaps Juniors
6 – South Curl Curl Underdogs
UNDER 23 FEMALE
1 – North Cottesloe Resoulte
2 – North Cronulla Funky
3 – Newport Thunder
4 – Bilgola Rippers
5 – South Maroubra Motley Crew
6 – Tallebudgera Two Strokes
UNDER 23 MALE
1 – North Cronulla Funky Colts
2 – South Curl Curl Lamp
3 – Currumbin Krakens
4 – Palm Beach Peppers
5 – Northcliffe Hurricanes
6 – Alexandra Headlands Dusty Hill Wines
RESERVE FEMALE
1 – Noosa Head Chums
2 – Newport Nudibranches
3 – Batemans Bay Phoenix
4 – Umina G Stringers
5 – Tallebudgera Toucans
DNF – Palm Beach Pineapples
RESERVE MALE
1 – Currumbin Gunners
2 – Ocean Beach Sailfish
3 – South Curl Curl Sneans
4 – Glenelg Fury
5 – Gerringong Naps
6 – Mona Vale Chocolate
OPEN FEMALE
1 – Lorne Edge
2 – Tallebudgera Kaylews
3 – Palm Beach Patriots
4 – North Cronulla Bluey
5 – Eloura Wilko
6 – Avalon Beach OW
OPEN MALE
1 – Bulli Gold
2 – Batemans Bay
3 – North Cronulla Purds
4 – Avoca Z Crew
5 – Corrimal Black
6 – St Kilda Angry Otters
ASRL Open Masters Results
A remarkable achievement for our finalists!

160 Men
1 - Stockon Dad Bobs
2 - Glenelg Team A
3 - City Black
4 - Wanda Team A
5 - Dicky Beach Flashbacks
6 - Elouera
7 - Brighton Bad Boys
180 Men
1 - Kemspey - Crecent Tips
2 - Wanda Team A
3 - Currumbin Crusaders
4 - Jan Juc Team A
5 - Broulee Mixed Grill
6 - Somerton The Originals
200 Mixed
1 - Maroochydore Force
2 - Kurrawa Stiffs
3 - Noosa Heads Emus
4 - Gerringong VBS
5 - Mollymook Gus
6 - North Cronulla Vets
220 Mixed
1 - St Kilda Angry Dogs
2 - South Curl Curl White Beard
3 - Noosa Condors
4 - Freshie Vets
5 - North Cronulla Korvets
6 - Alex Headland 220 Excuses
240 Mixed
1 - Burnie Gold
2 - Dixon Park
260 Mixed
1 - Long Reef Vets
2 - Angelsea
180 Female
1 - Batemans Bay Phoenix
2 - Avalon Beach Antiques
3 - Avalon Beach D B s
200 Female
1 - Warriewood Rustys
160 Female
1 - Mermaid Pippies
2 - Broulee Griffin Braves
3 - North Cronulla Croquembouches
4 - Brighton Beetroots
Palm Beach SLSC: 11 Crews!
Last Friday, Saturday and Sunday Palm Beach SLSC had the second largest Carnival of the year at the ASRL Open at Elouera, the only event other than Aussies that every crew from every State around Australia attends and races at.
Palmy had 11 crews race, 9 made in to Finals Day and 4 made the ASRL Finals – this was the 2nd best effort from a club behind Nth Cronulla who had 6 in Finals (from their 20 crews!).
Congratulations to the Patriots, Pineapples, Peppers & Plumbers for making the Finals and bad luck to the Pty Ltd boys in the U/23 Men who were very unlucky to not be in the final!
ASRL OPEN CHAMPIONSHIPS RESULTS
Open Women - Patriots (Spency) – 3rd (BRONZE)
Reserve Women - Pineapples (Nick) – 6th
U/23 Men - Peppers (Coxy) – 4th
U/19 Men - Plumbers (Coxy) – 2nd (SILVER)
NSW State Team RESULTS
Congratulations to the Piccolos Reserve Women – Alexis, Jen, Jordo and Steph – who helped NSW win the Interstate Surfboat Title for yet another year. The girls got 3rd in their Individual race and helped NSW win both Relays they raced in – Congrats Girls.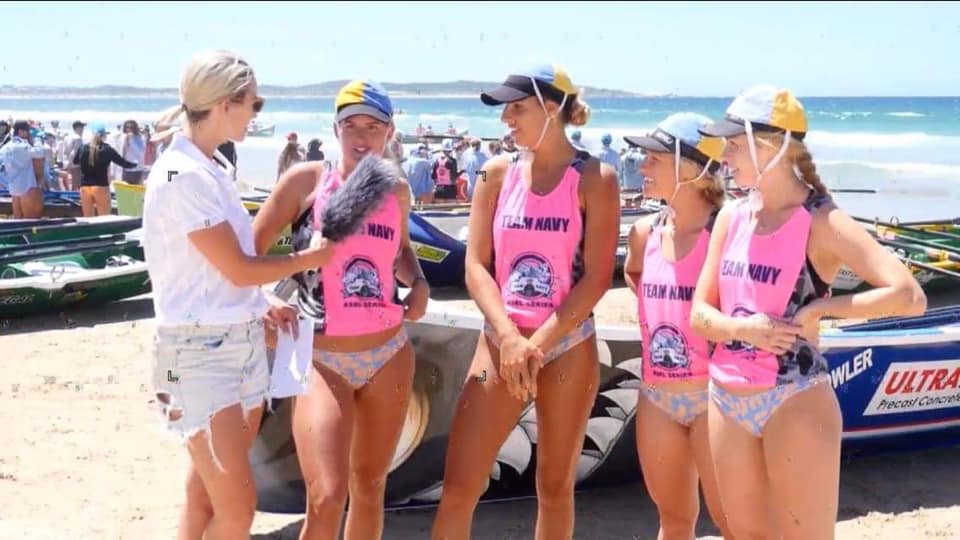 Bilgola SLSC's Billy Ripperz U23 women made the final at the Australian Surf Rowers League Open to finish in a line of 4 and be given 4th place. Brilliant effort!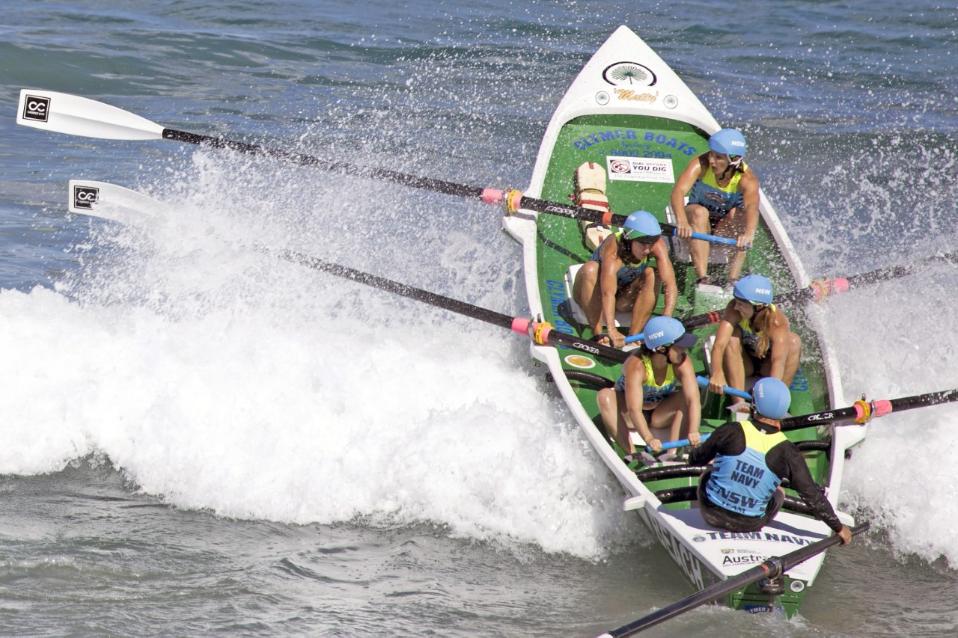 Palm Beach SLSC's Piccolos Reserve Women; Peter Spence (Sweep), Stephanie Spence, Jordan Toombes, Jenniva Altherr and Alexis Bell - photo by Bill Sheridan